Televisions and projectors rarely aspire to deliver quality sound. It's not entirely for a lack of trying. It can be tricky to get great audio performance out of small audio components, crammed into the chassis of some other device.
But for a truly immersive home theater experience, you really need both audio and video up par. Sound is critical to creating an immersive experience, it carries virtually all of the emotion of a scene. And you're not going to get sound worthy of an HDTV with a pair of speakers that are almost an afterthought in design.
Once you've realized you need more sound than your TV can provide, one solution is to make sound design a hobby. You could invest in, plan, and implement a multiple-speaker configuration. You could painstakingly measure the distance between each speaker unit, and you'd probably end up with something pretty impressive.
Bluesound Pulse SOUNDBAR 2i (Wireless Multi-Room Smart Soundbar)
But to pull off something like that, you'd also have to spend enormously, be willing to transform an entire room, and deal with an enormous amount of preparation and setup. Most people really don't want to undergo all of that, which is why someone might turn to a sound bar.
Most sound bars are frankly a bit unimpressive. The Bluesound Pulse 2i is a rare exception. Bluesound recently released this sound bar as its new flagship model, aspiring to be an all-in-one solution to the task of creating a wireless multi-room sound network. What does all-in-one mean, exactly?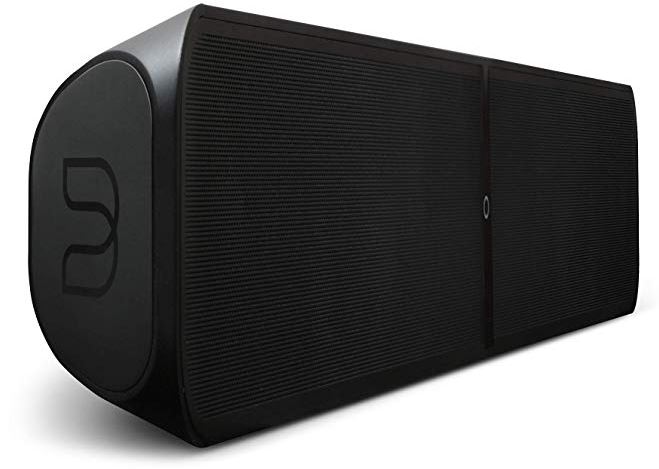 It basically means you don't need to run a bunch of separate tweeters or subwoofers to get balanced sound. Instead, you're supposed to be able to get everything you need for an immersive sound experience within one unit, sans all the additional equipment that would typically have to tag along.
Build & Design
Intended to fit just below a TV, the Bluesound Pulse SOUNDBAR 2i measures 16.5 x 7.8 x 7.55-inches. Though it's somewhat lengthy, it's weight comes in at only 11lbs, which makes this sound bar fairly easy to move from place to place. Movement is made even easier with the help of a recessed carrying handle on its topside.
On the top of the Pulse SOUNDBAR 2i, you'll also notice some bright analogue touch controls, stylishly backlit with white LEDs. From here, volume can be adjusted using standard +/- buttons. Those are matched up with common media controls, including a play/pause button, and forward/rewind buttons. The simplicity of this layout makes these controls instantly identifiable and effortless to use.

One control you don't see is an IR sensor. It's lurking on the topside of the Pulse SOUNDBAR 2i, and it helps make this speaker system capable of being controlled by remote. Like any IR sensor, you need line of sight between the remote and the speaker. Luckily. shouldn't be an issue considering there shouldn't be anything between you and the speaker to begin with.
Positioning a Smart Soundbar
Turning to its backside, the Pulse SOUNDBAR 2i uses two simple down-facing arms. These arms help stand-and-support the Bluesound Pulse SOUNDBAR 2i, but the can also be used for mounting. Applied to mounting instead of leaning-against the ground, you may find the included mount is somewhat flimsy.
Depending on how your audio is setup, you may need additional padding between the mount and the bar to completely eliminate vibration. It's something which can be fixed with minor effort, and it's a minor effort that only has to be made by someone who intends to use the included mounting equipment to attempt a wall-mount. It may also be worth noting a universal TV stand mount could be bought separately at little additional cost.
Sound Quality
How does the Pulse SOUNDBAR 2i perform with respect to its hardware? Internally, the Pulse is composed of six high-performance specialized audio drivers. Among them, a pair of 1" tweeters, a pair of 5.25" woofers, and a pair of 2" midrange drivers. The total soundscape and volume gets another small boost from the inclusion of two passive radiators, though the bulk of the benefits from those radiators go straight to bass tones.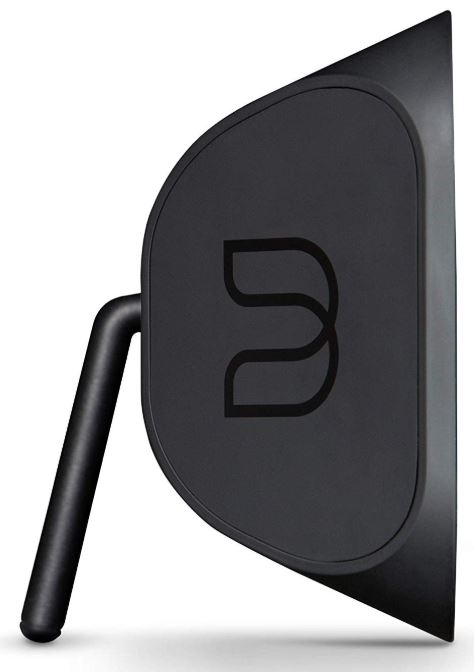 With respect to volume, much of that information can be gleaned from the fact this is a 150-watt bi-amplified speaker system. Again, much of that power goes right into the bass tones, which plays a large part in how the SOUNDBAR 2i manages to approach audiophile quality bass response without the need for a dedicated subwoofer.
To be clear, with dynamic drivers, having a dedicated subwoofer will always outperform other devices. That's because dedicated subwoofers can be constructed specifically to produce bass tones. That includes not only the audio driver itself, but the physical size and material construction of its casing as well.
Because this kit does not use a dedicated subwoofer, it would be hyperbole to claim the Bluesound Pulse SOUNDBAR 2i reaches audiophile quality with respect to its bass tones. But it does put out some very impressive bass compared to virtually any other comparable sound bar.
Digital Sound Signature
Apart from its physical design, many basic things work in favor of the Pulse SOUNDBAR 2i. For example, having Bluetooth connection with support for aptX means the Pulse SOUNDBAR 2i is capable of delivering basically the highest quality wireless streaming that money can buy.
That includes support for 16-bit to 24-bit sound and 45-20kHz sampling rates, which makes this sound bar among the first multi-room audio equipment to support high resolution to that extent. Whether you're taking advantage of higher resolution audio content or not, everything carried over the Bluetooth signal comes through as crisp and clear.
Another thing worth noting is how the Pulse 2i provides additional support for Dolby Digital, delivering an immersive audio experience. Bringing new life to favorite songs with vivid detail, the Pulse SOUNDBAR 2i also helps to push down the distortion and noise ratio towards 0.03%, allowing it to create immersive cinematic experiences in greater detail.
Inputs and Connectivity
At the back center, of the Pulse, you'll find the connection ports. First and foremost, there's a USB type-A port intended for flash memory sticks and similar peripherals. There's also a Type-B mini port, designed for product service. Additional connections include Toslink 3.5mm audio input, and a standard 3.5mm headphone output.

Having your sound equipment online creates some interesting possibilities. Perhaps most notably, the Bluesound Pulse 2i includes native support for Amazon's Alexa. With a little preparation, you'll be able to ask any Alexa device to play any song you want.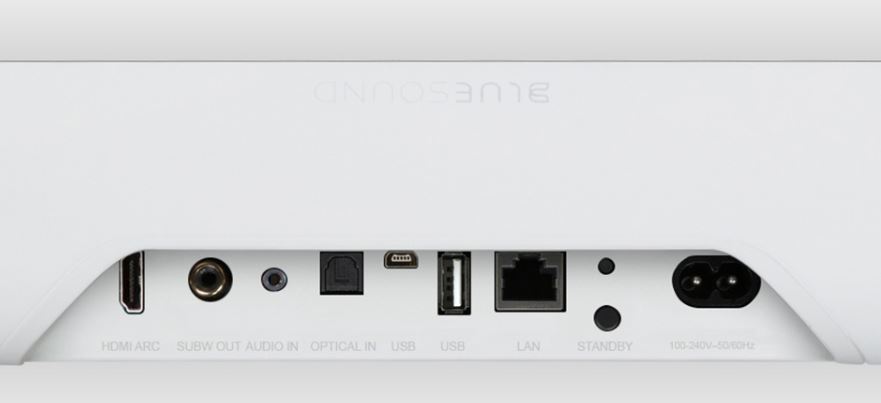 From the internet, from a radio service, or even from your personal library. And by connecting with AirPlay 2, you can stream music and podcasts throughout your home on any other Bluesound player. All connected in sync, and all controlled through the same app. AirPlay2 is also integrated with the entire Apple software ecosystem.
Ease of Use
As the core of its control center, the Bluesound Pulse SOUNDBAR 2i operates with the BlueOS free operating system. The BlueOS controller app give you detailed control over your listening. Just about everybody has an app these days. Many of them are tossed together quickly and cheaply, or just lack a certain amount of polish. But luckily, the BlueOS app is well designed, and they've clearly invested time and effort into developing it.
Setting up the Pulse is about as simple as downloading the app, from which point the app can finish the rest for you. Once you've got the app installed, you can setup listening preferences, get your ratio stations established, preset programming, create alarms, or otherwise get started listening.

Streaming Suppose
The open-access to streaming services really means the Pulse 2i has basically limitless ways to stream music through Bluesound Players in your home. With respect to music files, 2i supports access to Internet radio stations, cloud music services, and of course your own library. All the big names are represented, Spotify, Amazon Music, SoundMachine, and countless others.
Its physical hardware provides allowance of multiple outputs and inputs support a wireless hub for a home theater. And you can control it all wirelessly thanks to wide support on Android, kindle Fire, Windows, Mac OSx, iOS.

Other Considerations
Pulse supports common media formats like MP3, WMA, OGG, AAC. Additionally, because the Bluesound Pulse SOUNDBAR 2i is setting out to serve in the space of high definition audio, they've provided support for high resolution audio formats like FLAC, MQA, WAV, AIFF.
The SOUNDBAR 2i is available in matte black or white. It includes two AC power cords, one for Europe, one for North America. A Toslink Optical 3.5mm mini adapter. A short Ethernet cable. The quick setup guide, safety, and warranty guide.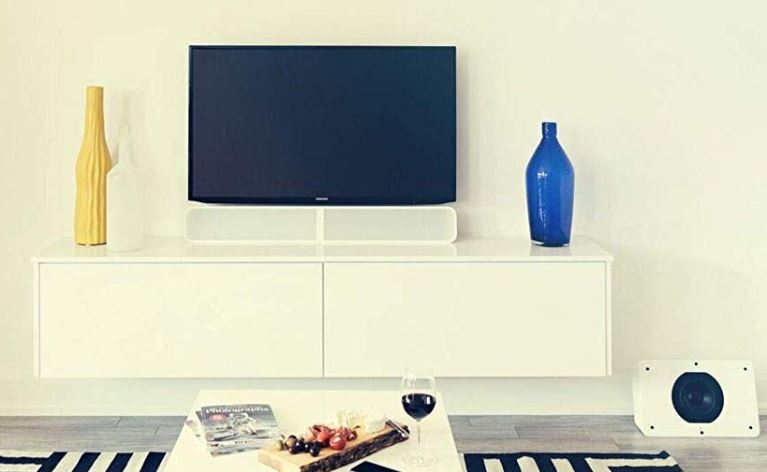 Who Should Choose the Bluesound Pulse SOUNDBAR 2i?
It can be tough to make an all-in-one product. A couple of things work in favor of the SOUNDBAR 2i. The slightly larger body helps provide pretty close to the deepest bass response you can get without a subwoofer. The soundscape is balanced because every tone has represented by drivers made to deliver excellence in their class.
This sound bar provides wide support for virtually every way you might imagine to play a song. Just about the only thing you can't do is turn the Pulse 2i into some kind of drum or flute. Whether you're looking for a simple television speaker or you've got ambitions of creating an entire home with immersive audio in every room, the Bluesound Pulse SOUNDBAR 2i Smart Soundbar is pretty compelling.
You can't actually recreate an audiophile quality home theater experience at this price range. But the Pulse SOUNDBAR 2i gets ridiculously close. With the tiniest bit of configuration, you can connect up to a wider network, move from one room to the next, and never miss a beat. And it's features like that which make this sound bar a worthy addition to almost any television.