Sometimes having a cable between earbuds isn't bad. Sometimes it's annoying. In almost every case, it's terrible for the longevity of the buds. Allowing you to listen to your music without feeling encumbered, it's easy to see the appeal of truly wireless earbuds.
But it's tricky to get rid of that wire. Each bud has to remain in-sync, communicating with their partner in real-time. Each has to operate on its own independent battery. Along with all the regular challenges of comfort and sound quality, additional challenges mean more places to make mistakes.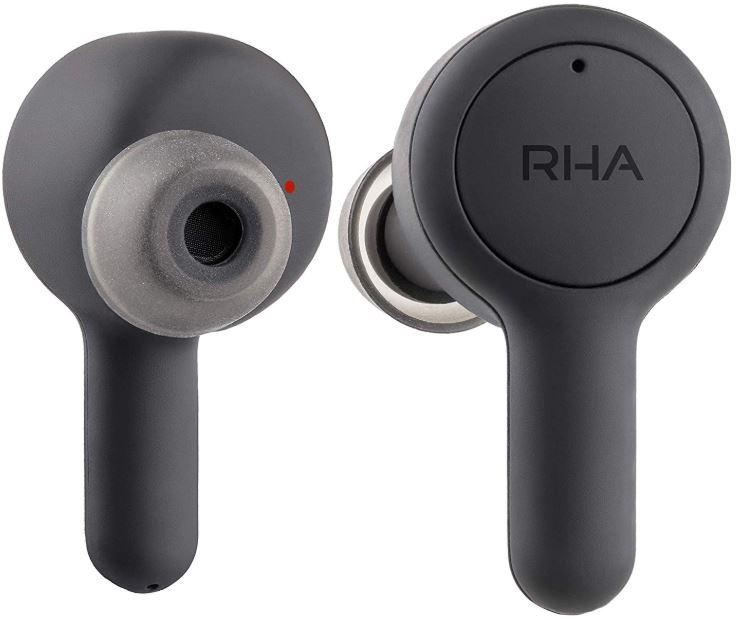 RHA TrueConnect: True Wireless Earbuds
Relative to cost and performance, the RHA TrueConnect: True Wireless Earbuds are comfortably categorized as mid-range earbuds. With respect to similar midrange equipment, they're actually near the top of the pile. They do not press into the realm of audiophile quality, nor do they attempt to do so.
They were made specifically made for sporting activity, but they're just as adaptable for other types of use. And that helps the RHA TrueConnect serve as general purpose buds, dynamic enough to deliver in a variety of common circumstances.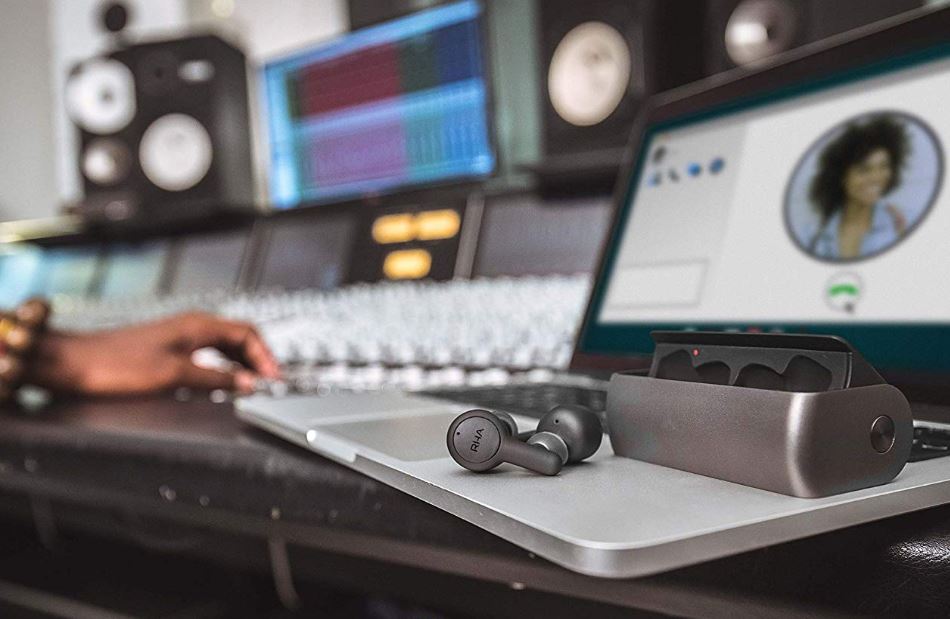 Build & Design
Each of the RHA TrueConnect earbuds use a circular design, made distinct with the help of a short protruding antenna. Aligned properly, the buds look like an exclamation point, or a musical note. The extended antenna isn't simply a stylistic decision; the stem-based design helps to maximize call quality.
With their weight combined, both earbuds come to about 13 grams. That's marginally heavier than similar earbuds, but it's not a difference that's felt in comfort. Nor is their use of IPX5 waterproofing. IPX5 indicates there's coverage for sand and grit, splashes, and even sustained pressure. You could safely run them under a slow running faucet. It's certainly enough for rain and sweat.
Whether or not you're actually out in rugged terrain, the IPX5 weatherproofing reflects very well on the overall durability of these buds. If buds like this end up serving for one day less than three years, it's probably because you accidentally lost one or both of the earbuds.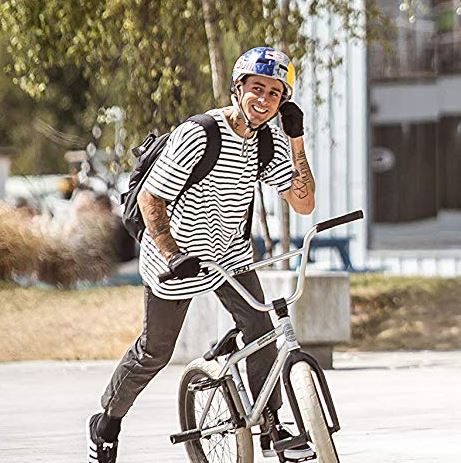 Carrying Case
Keeping track of independent earbuds can be tricky without a carrying case. When you're ready to store or charge the RHA TrueConnect True Wireless Earbuds, their included charging case can be pulled out for use. Most of these cases end up looking pretty cheap, the RHA case has a definitive style to it.
The black-and-gray chassis smoothly flips open, and clicks-closed in a satisfying way when its shut. The case is scarcely larger than the earbuds themselves, and exceptionally simple to carry in a pocket, bag, or otherwise tucked away.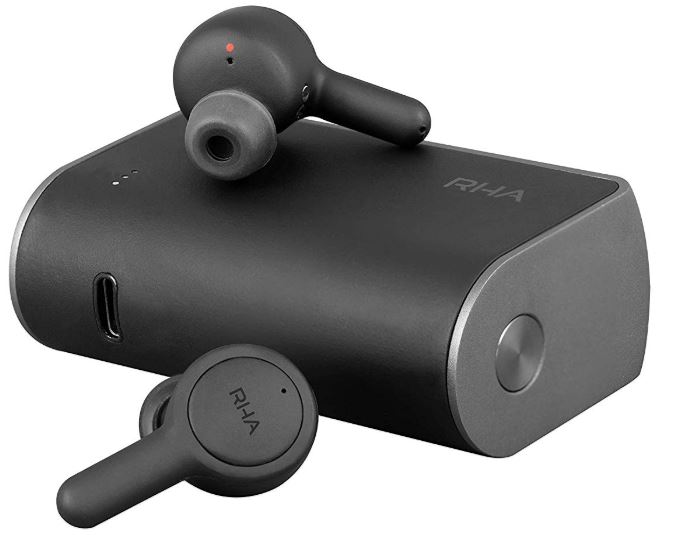 Battery Power
The majority of the reason why RHA TrueConnect True Wireless Earbuds are slightly heavier than similar sports earbuds is because of their slightly larger internal battery. Many athletic earbuds deliver on about 3-hours of battery life. That's not bad, if you're only going for a quick jog. But if you're planning on using the buds for more than a short excursion, or with the volume raised, then you'll find your 3-hour sports battery actually delivers closer to 90-minutes.
Using a slightly larger battery, the RHA TrueConnect True Wireless Earbuds can support about 5-hours of playback. That's nearly double the 3-hour standard. In addition to the charge within the buds, the charging case carries four additional charges. That allows you to push total playback time out towards 20-hours from a single charge.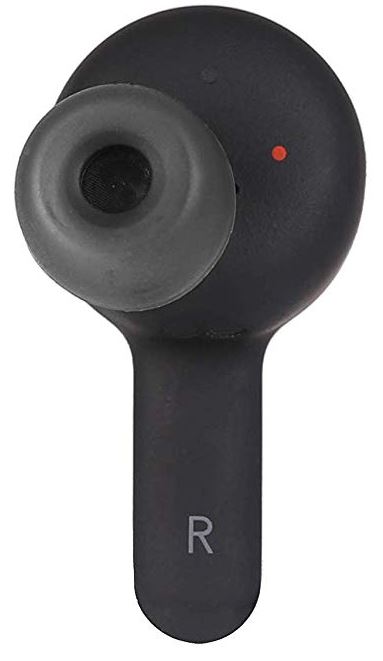 Recharge Speeds
Forgot to recharge your buds last night? Because you're charging right from the case, you don't have to worry about the earbuds being powered slowly by low-amperage charging wires or ports. The charging case is actually capable of delivering a fairly rapid charge. You can get 2.5 hours of play-time from about 15 minutes resting in the case.
How fast you'll get the case charged is another matter, which largely depends on the amperage of your USB port and charging cable. But restoring an empty battery to a full charge, you can expect about 100-minutes of downtime.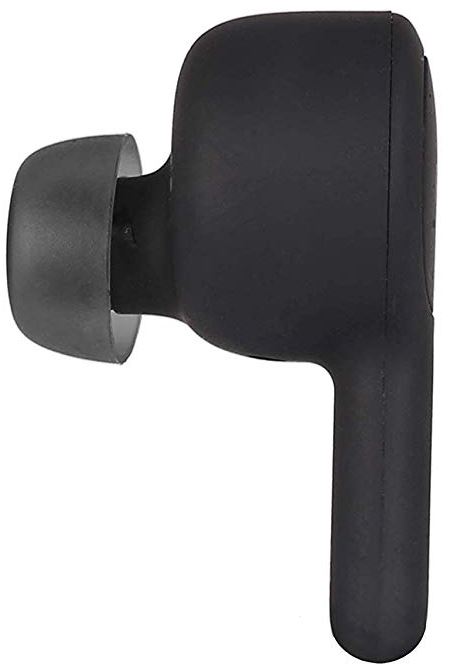 Adjustable Comfort
Getting comfort out of earbuds is about finding the right silicone ear tips. Often times, manufacturers purchase generic silicone ear tips to put on their headphones. That can make them easier to replace, especially over really lengthy periods of use. Conversely, it means the comfort is usually no better than average.
The RHA TrueConnect True Wireless Earbuds include seven silicone dual density ear tips, in three separate sizes. It also includes three comply foam RX-2000 ear tips, also in three separate sizes. And the silicone ear tips used here are not a generic part. They were made specifically for the RHA True Connect True Wireless Earbuds. It helps them fit securely with comply foam working with the included silicone ear tips.
When you're listening on the go, comfort doesn't just mean the silicone feels nice in your ear. Comfort includes the absence of anxiety about your buds suddenly coming loose. With seven sizes to choose from, once you've got the right fit, you can find that kind of comfort. Bend over with the buds on, move your head to the music, run up and down the block. The bud stays in your ear until its removed.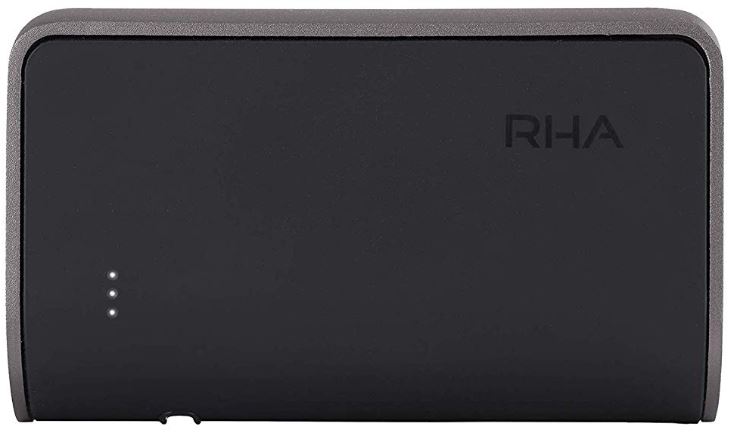 Sound Quality
6mm dynamic drivers are ever-so-slightly larger than the 5mm standard so commonly used. But this actually has a fairly minimal impact on the sound because of driver itself is slightly further back from the ear canal. TrueConnect deliver a fairly standard frequency range between 20-20,000 Hz, but the RHA TrueConnect have a really unique soundscape.
Sound engineers clearly worked hard to polish clarity in the treble range, and to give a sense of warmth to the bass. By contrast, the midrange is largely untouched. If you were to graph the tonal support, it would come out looking like a "U" shape. That gives the RHA TrueConnect a fairly unique sound signature.
With respect to listening to music or taking calls, these buds are nearly at the top of their class. But using a generalized design, the sound quality doesn't truly excel in any meaningful way. It's general consistency perhaps is its greatest merit.
Wireless Connectivity
For wireless devices like these, the majority of sound quality ends up depending on Bluetooth. At the heart of connectivity for the RHA TrueConnect True Wireless Earbuds is the latest and greatest iteration of Bluetooth, Bluetooth 5.
You may not have been keeping track. But there's been quite a few improvements in Bluetooth over the past few years. Power consumption is going down, reliable connections are getting stronger and moving greater distances. Notably, this also includes support for the SBC Codec, and native support for digital call assistants and calls.
You'll have no trouble connecting the RHA TrueConnect True Wireless Earbuds up to the Alexa or IFTTT network of a smart home. While support isn't native to the buds, and will have to be done on external software, Bluetooth 5.0 makes everything a little bit easier.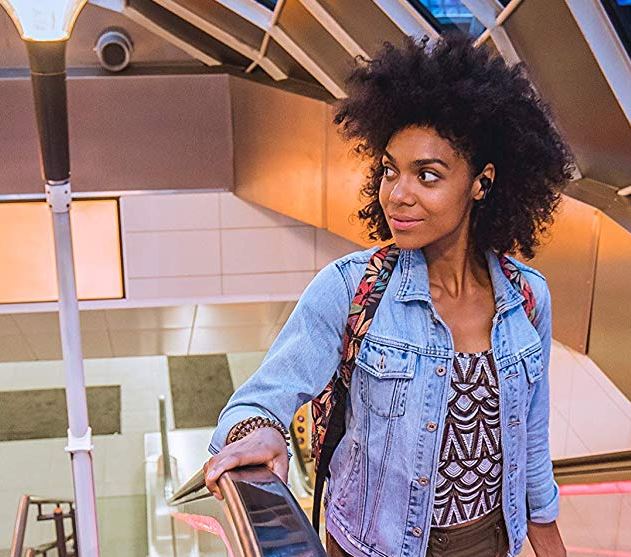 Microphone Performance
When it comes to making calls, RHA TrueConnect are mostly great. The extended antenna delivers incredibly stable connectivity. By itself, that gets you 90% of the way to excellent call clarity. However, the microphone is a mixed bag.
The earbuds provide excellent noise isolation for your own ears, but does little with respect to the microphone's isolation. When you're in an exceptionally noisy area, where you would otherwise not be able to take a call with your smartphone, the RHA TrueConnect will work no better.
That said, the microphone is excellent at hearing voice commands, even with some ambient city noise in the background. Clarity remains present even as you stress the maximum length of your connection, but ultimately the microphone's audio quality is in-line with that of a smartphone.
Other Considerations
Getting started is often the hardest part of anything. The same is true for these earbuds. Getting them paired together, and connected to your device, requires the usual set of protocols spelled out in the included user manual.
But once you've paired the buds together, they'll remember each other. The next time you pull them out of the case, they'll recall how to instantly connect with your devices. Beyond that, controlling the RHA TrueConnect is primarily done with the digital control assistant through their microphone.
The lifespan of battery-powered earbuds like these really depends on how often you use them. When you're using them heavily, every day, then you can expect about 3-years of use. That matches up quite well with the warranty. Anything short of frantic use will help push out that time line a few more years.
Putting aside the user manual, the RHA TrueConnect True Wireless Earbuds include the earbuds, charging case, and a USB-A to C charging cable. They also include a 3-year warranty.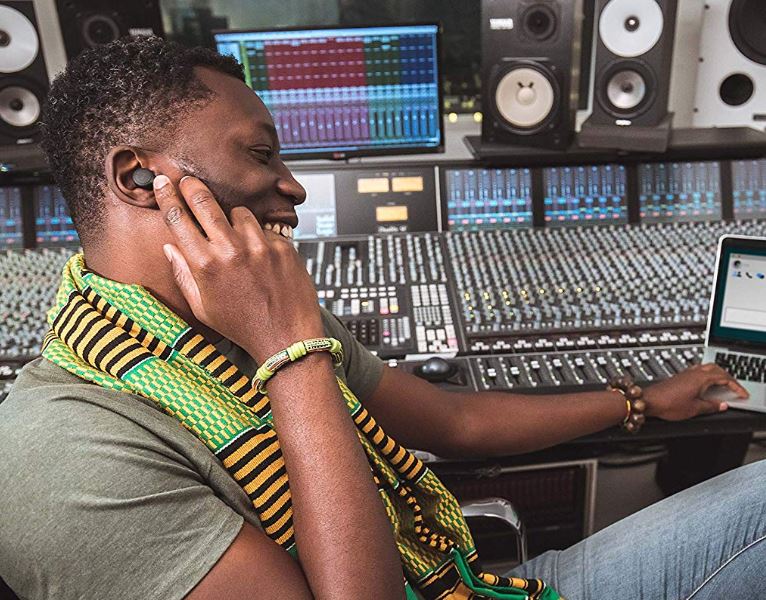 Who Should Choose RHA TrueConnect: True Wireless Earbuds?
In so many ways, these are among the most dynamic earbuds in this price range. They can sensibly be used for athletics, as well as for moving about the city. They're durable with IPX5 weatherproofing. They capable for taking calls, listening to music, and they remain comfortable for about as long as is possible.
Perhaps best of all, you don't end up spending much time micromanaging the charging case because the buds independently deliver powerful battery life. Once you add the charging case into the equation, the power potential is as great as a pair of full-sized headphones. The quick-charge design of the case doesn't hurt either.
If you increased were willing to double your budget, you could make meaningful gains in sound quality, and you could get a business-quality microphone. However, relative to their costs. The RHA True Connect True Wireless Earbuds are easy to recommend for anyone seeking truly wireless earbuds around this price range. They're simply hard to match.