Smartphone speakers aren't very good. Fortunately, anyone searching to supplement mobile speakers are in luck. It's really not that hard to find a solid portable Bluetooth speaker. Reliable connectivity, reasonably good battery power, and exceptional portability are usually quite affordable as well.
When you're choosing smaller speakers, you probably have smaller expectations. A smaller battery, lower maximum volume, and so forth. Sometimes you'll find speakers that violate those expectations in one way or another; a pleasant surprise awaiting discovery.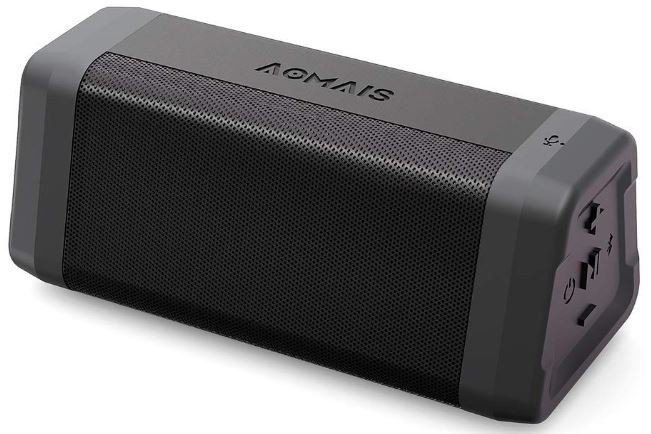 AOMAIS Real Sound Portable Bluetooth Speaker
The AOMAIS Real Sound is a little speaker with a big sound. After you've got its handheld body in your hands, the first thing you notice is how small it is. The second thing you notice is its volume potential. Certainly far more of a roar than you'd expect from such a small chassis.
When you're trying to find a portable Bluetooth speaker, there are several advantages going with a smaller piece of equipment. Driving comparably smaller audio equipment has ancillary benefits, like greater power efficiency, and battery longevity. It's by capitalizing in little differences like these that the AOMAIS Real Sound has managed to distinguish itself.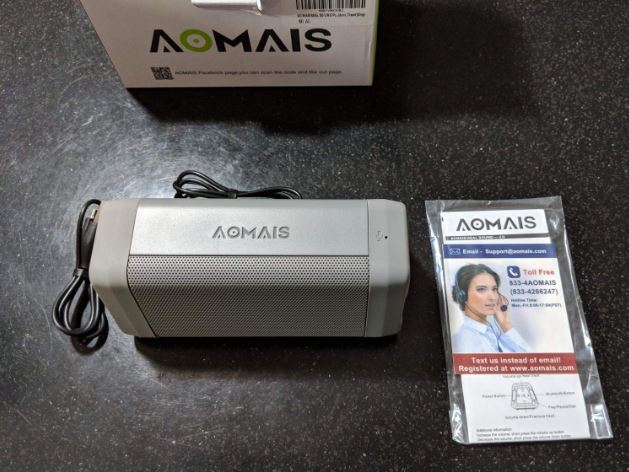 Build & Design
Measuring 5.5 x 2.7 x 2.7-inches, the Real Sound Portable Bluetooth Speaker is exceptionally portable. It weighs roughly 0.85lbs. The majority of this speaker is sealed up behind protective plastics, with few exceptions. Its front-face is entirely wrapped in a sound pre-filter used for the dynamic speakers lurking behind it.
This almost airtight build allows the chassis makes use of IPX4 waterproof protection. That's actually one of the lower weatherproofing protection ratings, but it's nevertheless equipped to handle everything short of a pool party. You're covered from dust and sand. You're also protected against rain, sweat, and the occasional splash. You could take the AOMAIS Real Sound with you into the shower every morning; but you wouldn't want to dip it in the bath.
Thickness aside, the chassis is actually narrower than a smartphone. The somewhat slim build of the speaker makes the entire device essentially handheld. You could just as easily slip it into a pocket, or carry it in a bag. If nothing else, the AOMAIS Real Sound Portable Bluetooth Speaker does live up to its claims of portability.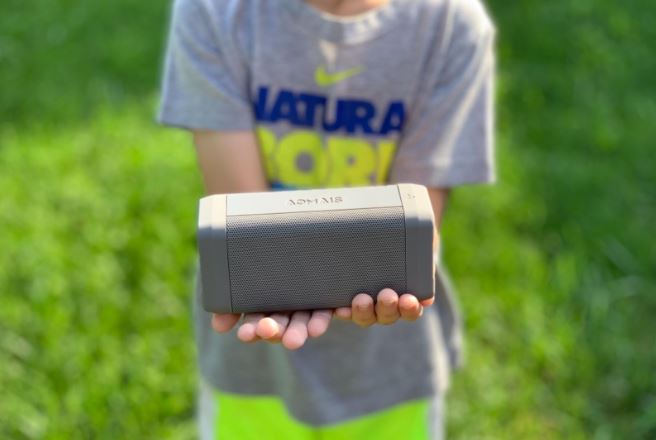 Control Buttons
Along the left-side of the AOMAIS Real Sound, you'll notice are some easy-to-identify analogue control buttons. The top and bottom buttons raise or lower volume levels, as indicated by +/- signs. The central button dividing them is the play/pause button. On either side of that, the power and Bluetooth pairing button.
The media control buttons are each elevated above the chassis. That allows you to use the AOMAIS Real Sound Portable Bluetooth Speaker while you're inside a completely dark room, or otherwise can't see the control panel. The power button and Bluetooth pairing button are not raised above the chassis, but their positioning makes them easy to find without looking as well.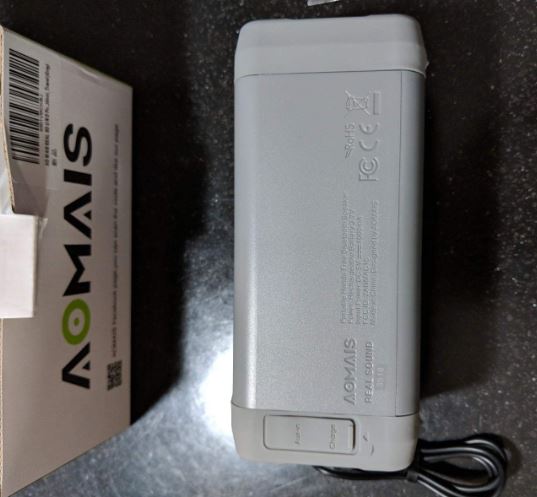 Battery Power
The AOMAIS Real Sound Portable Bluetooth Speaker is powered with a lithium-ion battery, modestly sized with a 2500mAh capacity. Adjusting your volume to 50% or below, you can expect roughly 20-hours of battery use. When you crank the volume well above 50%, you'll find the battery drops towards 12-hours rather quickly.
Of course, the kind of results you'll have in your own experience will vary. Battery consumption depends on everything from the temperature of the room, to the amount of bass and treble there is within a track. But the 20-hour estimates provided by AOMAIS actually hold up well to scrutiny. And that's actually fairly impressive given its small size, and equally proportioned cost.
Because there isn't an LCD display on the AOMAIS Real Sound Portable Bluetooth Speaker, there's no place to get a reading of the current battery charge. Instead, you read the battery by checking your connected mobile device. A reasonably simple solution to the problem, although it does mean you need to use their free app. If nothing else, it's an economical decision because adding an LCD to this speaker would certainly increase its price.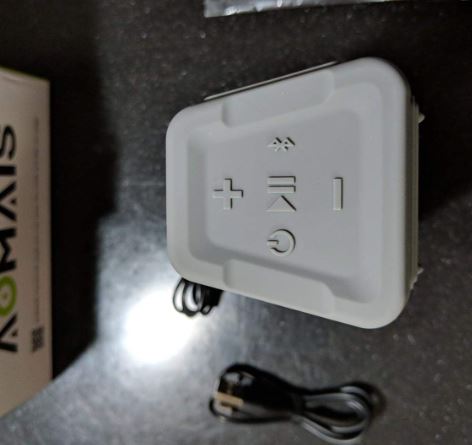 Audio Quality
Smartphone speakers are mostly 1-watt. On phones that are truly heavily loaded, you might find a pair of 1-watt speakers, combining together for an incredible total of 2-watts. Having to deal such low wattage limits can place heavy constraints on what mobile devices can do with respect to their sound. Wattage isn't everything, but it sure helps.
The AOMAIS Real Sound Portable Bluetooth Speaker draws the sound signal through an amplifier, before being pushed through a pair of 5W speakers. The total 10W output is roughly equivalent to the total power of ten smartphone speakers cranked to their maximum setting. It helps give them a clear voice you can carry with you.
Turned to its maximum setting, this speaker is loud enough to fill a smaller room. Something like a 40-person classroom would be well-within its capabilities. The audio is driven with the help of 45mm dynamic drivers. That's about the same size as the drivers you'll see with a pair of over-ear headphones. Except instead of being designed to project sound to a person's ear that's only millimeters away, they're specially tuned to project sound out towards a room.
Audio Design
Like any well-designed Bluetooth speaker, the cavitation of the internal chassis helps reverberation create stronger sound signatures. The total volume output is slightly increased, but the bulk of these benefits go towards bass tones, but contribute to an overall richer sound scale.
With respect to sound quality, it's always important to know where to set your expectations. There are certain types of bass you can get out of a 5W dynamic speaker. You can make that bass a bit heavier with certain types of design materials, with specific types of cavitation in the chassis, with passive radiators, and so forth.
And the AOMAIS Real Sound Portable Bluetooth speaker has managed to make its bass tones respectable. But at the end of the day, the laws of physics still apply. This small body and relatively low wattage can only do so much. The improvements made by AOMAIS are like taking an old car and giving it a tune-up. The bass sounds better than it really ought to, but it's not going to blow your socks off.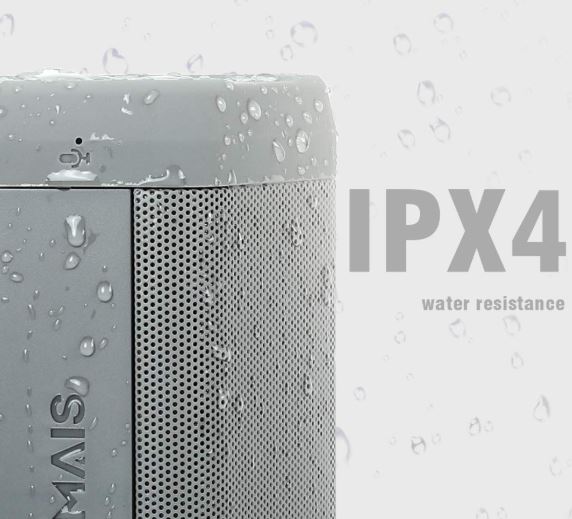 Connectivity
Connecting to the speakers happens over Bluetooth 4.2. Optimized for transmission distance, the AOMAIS Real Sound Portable Bluetooth Speaker has a playback distance of about 100-feet. Even as obstacles get in your way, those expected broadcast distances drop towards figures that remain reasonable, like 30-feet.
Additionally, EDR tech within this new version of Bluetooth supports data transmission up to 2.1 Mbps. That's both better bandwidth and also more power reduction. Improvements across the board, and without mentioning the best part. There's an included TWS function built-in to the speaker, allowing you to connect two pieces of REAL SOUND equipment together.
Just press the Bluetooth button for two seconds. You can make one device the left channel and one device the right channel, giving you a more complete sound. Whether you want it in a 360° radius around a room, or you want to emulate surround sound, inexpensive options are there.
Longevity
Built properly, sound equipment can last for quite a long time. When it comes to something the Real Sound Portable Bluetooth Speakers, the component that will eventually die is the lithium-ion battery. Quality batteries are built to last for several hundred full recharge cycles.
With frequent use, the battery ought to last at least three years. With somewhat regular use, you could see five years or more. It really comes down to individual use. Beyond that, the weatherproofing of the chassis helps keep everything else protected in the meanwhile. And that chassis is available in black, gray, and blue.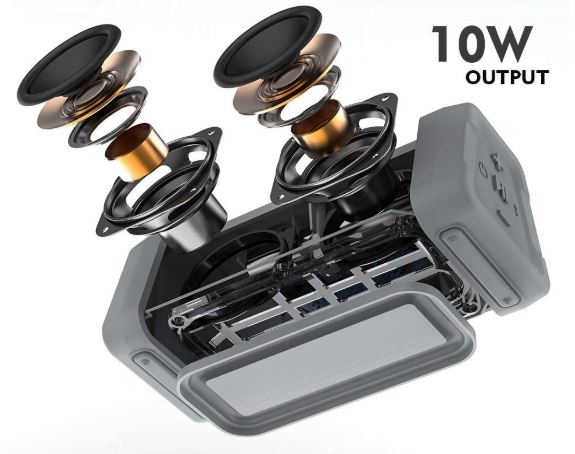 Other Considerations
There is one thing we haven't looked at: hands-free calling. The AOMAIS Real Sound has fairly accessible calling support. It's possible to connect up with voice services like the Echo, but support is carried out Amazon-side, through the Alexa app.
The microphone itself is about standard for sound gear in this price range, there's nothing impressive about it. You can't get amazing microphone performance in busy areas because there aren't any impressive noise cancellation features. But when you're not making those kinds of unreasonable demands, it's possible to take calls with clarity.
Clarity aside, the sound quality is on par with the speakerphone function of a phone. It may not be something you want to use on every call you take, but it gets the job done. Higher quality microphones a are really something you can't do without almost doubling the price of the AOMAIS Real Sound Portable Bluetooth Speaker.
That really strikes to the core of what this speaker is. It's about delivering on a basic, cost effective solution. It's not intended to replace your television speakers, it's for a quick sound box you can take from place to place.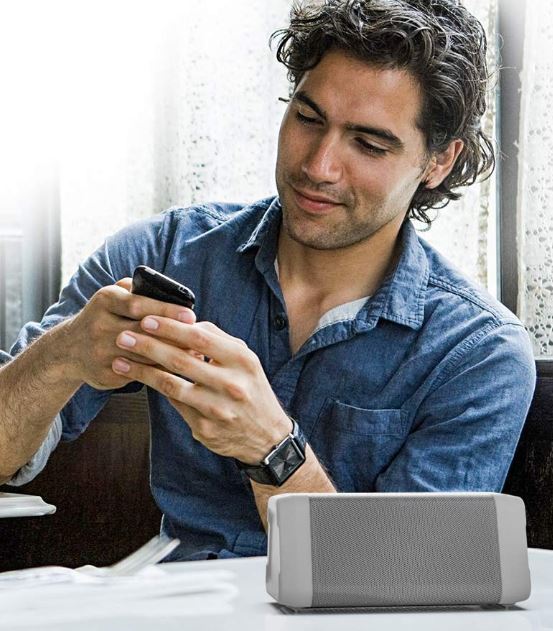 Who Should Choose the AOMAIS Real Sound Portable Bluetooth Speaker?
There are plenty of people who should not choose the AOMAIS Real Sound. This is a speaker designed with a heavy emphasis on portability. If you're willing to carry around something that's two or three times as large, then you can find an all-around better performance by choosing a larger speaker. Likewise, if you're willing to double or triple your budget, there are other options worth looking at.
The AOMAIS Real Sound Portable Bluetooth Speaker was made for people who really need that portability. And that reflects in almost every aspect of its design. Certainly in the impressive 100-ft range of connectivity, and easy-to-use analog controls.
Easy to pair with your phone, generally inexpensive, and boasting an above-average battery life, this speaker certainly has a great deal of value, relative to its low price. And that makes it worth a close look for anyone seeking a simple yet effective way to get beyond the tiny speakers present in your mobile devices.