Even if you're a serious gamer, an actual pilot headset would be gross overkill for gaming. Unless you're sitting two-feet away from a roaring engine, you just don't need a headset designed to sit you across from one. Nevertheless, pilot gear does have some of the best design out there.
Thrustmaster T.Flight U.S. Air Force Edition Gaming Headset
Drawing inspiration from that gear might be the next best thing. The reason why the Thrustmaster T.Flight Air Force Edition Headset looks so authentic is because it's authentic. These headsets are licensed by the U.S. Air Force, which allows Thrustmaster to make use of the Air Force logo, it's printed on each ear cup.
The look is classic and is clearly inspired by gear worn by pilots. Where you can find differences between this headset and the real thing, those differences were made in the interests of a better gaming experience. From the microphone to the comfort, everything has been adapted for gaming.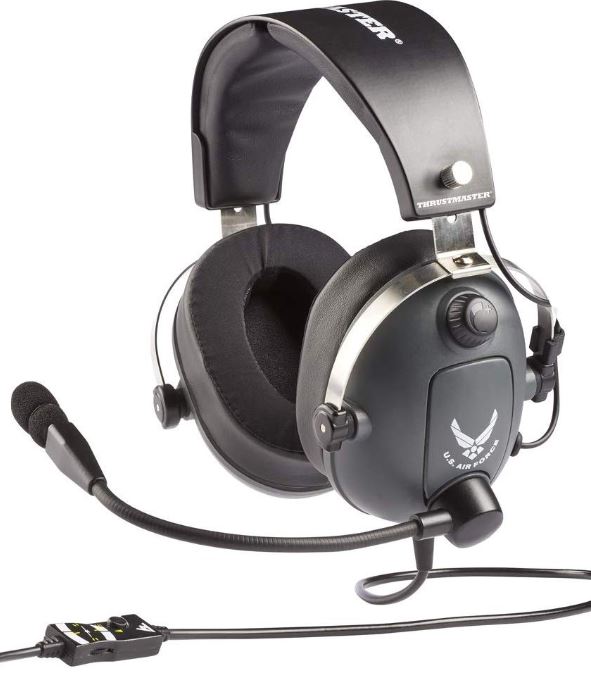 Build & Design
Beyond the aesthetic, there are a handful of parallels to military gear. The Thrustmaster T.Flight Gaming Headset isn't made to be indestructible, but it's visibly rugged. And it's thoroughly utilitarian, delivering on what a headset should give you with respect to clarity.
Another thing to notice is how the Thrustmaster T.Flight U.S. Air Force Edition Gaming Headset is not at all afraid of getting big. It's constructed with a pair of large 50mm drivers, joined with an over-ear design to help provide a modest degree of noise isolation. The partially metallic construction of the chassis has resulting in a headset that weighs more than a full pound.
Like military grade equipment, the T.Flight U.S. Air Force Edition Gaming Headset takes pains to deliver on utility. You can adjust the volume on the headset with a sizeable volume knob on the crest of the left ear cup, with tactile edges on the knob to guide your motion. And the unidirectional microphone can be wildly adjusted, or completely detached.
Another essential for any great gaming headset – there's an inline controller within hands reach of the connecting wire. The controller gives you access to the microphone gain and volume, helping adjust setting as you move from one game to the next.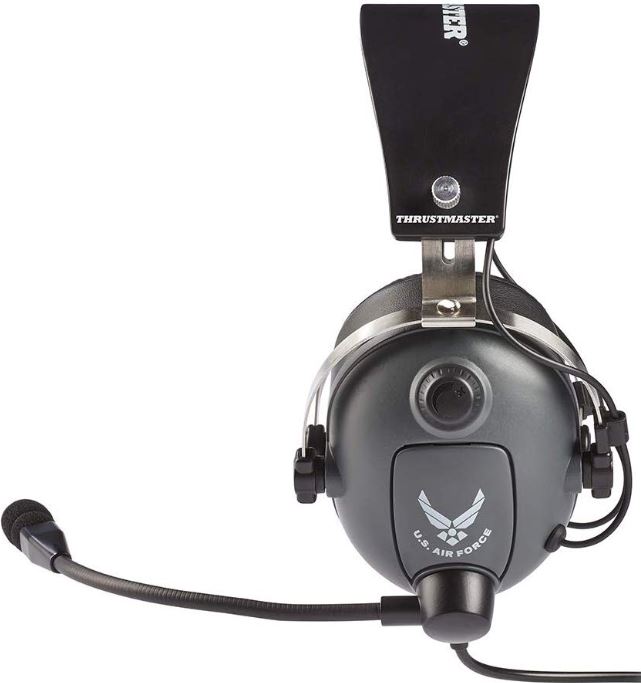 Sound Quality
It can be problematic to play games with a headset that's made for movies and music. The problem is – it's made for movies and music. Many people enjoy a little extra thump in their bass. Other people really enjoy clarity in the treble range. And most consumer headsets go out of their way to enhance these tones in one way or another.
Great gaming headsets usually aren't designed that way. Yes, gaming headsets still need to deliver on being immersive. There's a ridiculous amount of cinematic gameplay out there. But a gaming headset needs to deliver on clarity as well. You need to be able to hear someone creeping up behind you, or feel the rumble of an engine nearby.
With stable frequency response that's been optimized for gaming, the T.Flight U.S. air Force Edition Gaming Headset has been built for clarity first. The bass, mid-range, treble, has all been tweaked to help get that done. If nothing else, a clear soundstage puts you closer to what game developers want you to hear.
Clarity is by no means a bad thing for listening to music. But a clear soundstage isn't necessarily what people are looking when they're listening to their favorite music. If you find the default soundstage of the Thrustmaster T.Flight Gaming Headset a tad too sterile, you'll want to even things out to better match your tastes with an equalizer.
Having been gel-reinforced, the over-ear design offers slightly more noise isolation than you might otherwise expect. To get really great noise isolation, the T.Flight U.S. Air Force Edition Gaming Headset would have to use more substantial clamping force, which would compromise comfort. But the noise isolation is strong for what it is.
Comfort for Gaming
You might play for 20 minutes; you might play for 20 hours. However long you're at it, you want your headset to feel comfortable. And Thrustmaster T.Flight Gaming Headset is pretty close to a perfect score for comfort. The one issue is weight. Weighing just over one pound is a detriment to long-term comfort.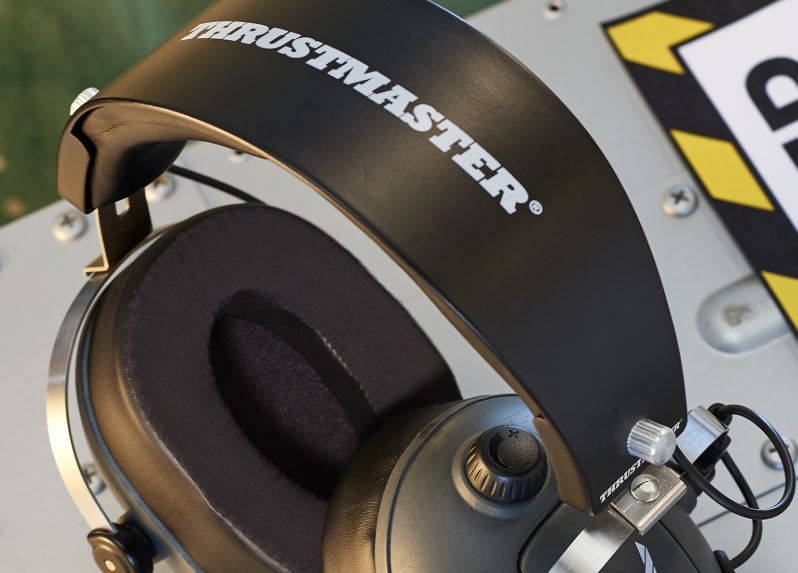 Over the course of hours, even a single pound of weight can wear on your neck. Some people are more bothered by this than others. It's something that really only kicks in after four or five hours of consecutive use, and it's something that can be remedied by simply dropping any pair of weighty headphones to your shoulders while you're not listening to them.
For unlimited comfort over the course of a day, you want a headset to be in the ballpark of eight or ten ounces. The vast majority of all gaming headsets push towards one pound. It's not something that seems to bother most gamers. But it's something to keep in mind if you're someone who plans on wearing your headset literally all day long.
Comfort with Performance
The T.Flight U.S. Air Force Edition Gaming Headset ear pads are really quite smartly designed. They're an example of where audio performance and comfort go hand in hand. The first thing to notice is the almost 1" depth of the ear cups.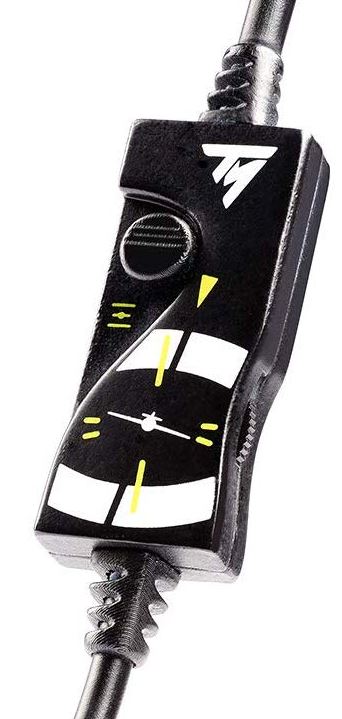 The deeper ear cups aren't just a matter of comfort. It helps to help create strong passive sound isolation, and it means there's a greater volume of air for the headphones to operate with. That can have a subtle impact on performance of sound, especially bass tones.
Those ear cups are padded with memory foam. As you probably know, memory foam is pretty good at absorbing heat. But the Thrustmaster T.Flight US. Air Force Edition Gaming Headset has interwoven gel along with its memory foam, allowing it to better dissipate heat, and keep heads cool during long game sessions.
Adjustability and Cleaning
The headband makes use of the same foam-and-gel construction, but feels as though it uses more gel. As you adjust the length of the headband, you can make use of thumbscrews to secure your new setting. That way you can't accidentally change your settings while moving around your headset. Pretty nifty design.
The faux leather covering of the cushions are a polyketone structure, quite smooth against the skin, and easy to wipe down. More importantly, it's durable under wear. By durable, I don't mean you should take a knife to them and see how things work out. They're durable in how they manage to hold-up against sweat, heat, and repeated skin contact. And those are the forces that usually break-down these pads over time.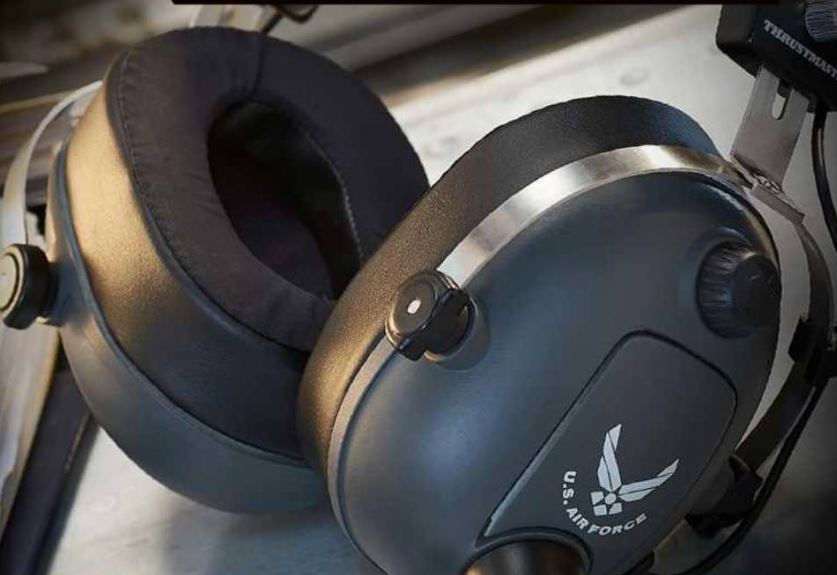 Lasting Power
It's a shame when something breaks. It feels like even more of a shame when the thing that breaks is somewhat trivial, like a small gash in the fabric. Unfortunately, the ear cups do not pop-off, and therefore can't easily be replaced. If you take care of them, this particular combination of fabric and foam will actually deliver considerably longevity.
As with almost any quality headset, it's a good idea to occasionally wipe-down the ear cups with a damp cloth. The human head, and human hair, give off plenty of oils. Those oils are all too happy to accumulate, soak-in, and wear-down the memory foam and surrounding fabric, resistant or otherwise. With the occasionally wipe-down, the faux leather exterior ought to be able to get the ear cushions to last as long as the rest of the hardware.
Plausible 5+ Year Lifespan
When headsets perish, more often than not, it's the result of a short in the wire. With really exceptional audiophile equipment, sometime you'll find manufacturers who make their cables detachable. That way, when the cord croaks, the entire headset doesn't go with it.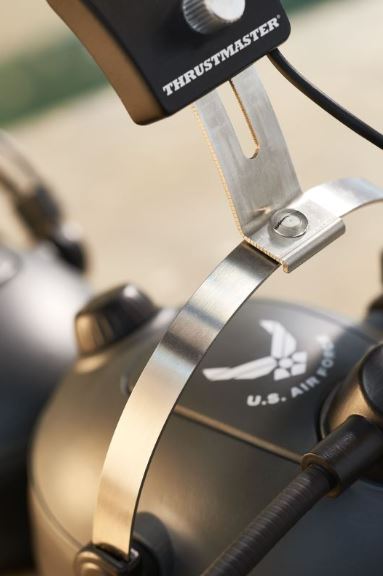 Unfortunately, that's something you really only see on top-end audiophile equipment. In the price range of the T.Flight U.S. Air Force Edition Gaming Headset, the more common strategy you see manufacturers use is to make their wire really thick. That's precisely what Thrustmaster has done with their headset.
Extra thickness to the wire does generally extend longevity considerably. You might expect a headset like this to survive well beyond five years, provided you don't go out of your way to yank on the cable. Certainly a bargain relative to their approachable cost.
Microphone Performance
The Thrustmaster T.Flight tries to replicate the mic quality of a pilot headset, where clarity is a matter of life and death. The microphone is built to target your voice, while its signal-to-noise ratio reaches down to 56dB, delivering your sound without ambient noise. And that's the key to effective communication.
You don't want to mimic a pilot's headset exactly. Many pilot headsets are made to prioritize nothing except clarity. Because in life-or-death situations, effective communication is all that really matters. On the T.Flight U.S. Air Force Edition Gaming Headset, you'll notice the microphone is fully adjustable; limited only by the fact you can't swap it from one side to the other.
Gamers are only playing with digital lives, and so most would really prefer to be able to hear the flavor of a person's voice. Inflections, subtle gestures that might otherwise have been stripped by more utilitarian equipment. And Thrustmaster had the wisdom to keep that in-tact within their microphone.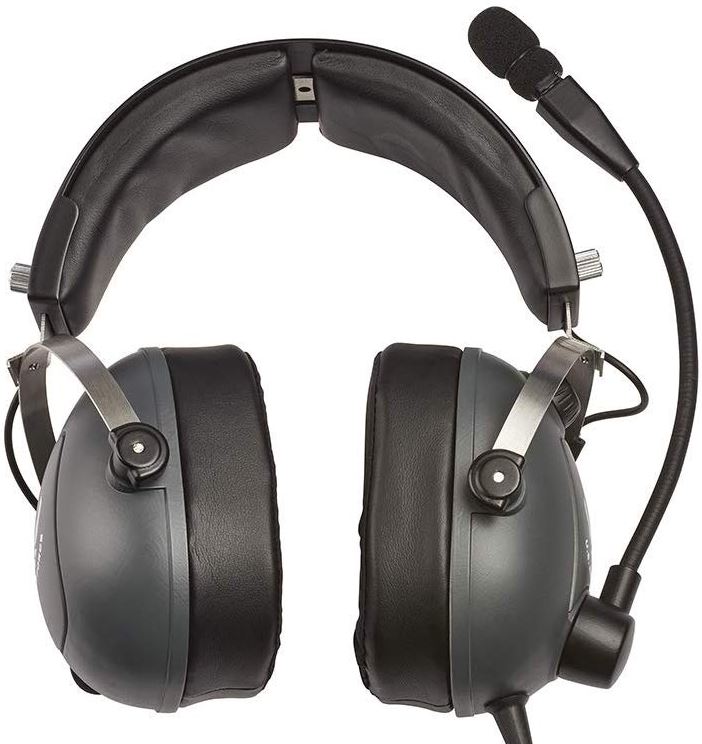 Other Considerations
This headset supports a wide range of compatibility. It handles the PS4, Xbox One, PC, and Mac. You can throw them into a Nintendo 3DS or Switch. You can connect to a PlayStation Vita, tablet, or smartphone. You can even get calling functions of your smartphone.
Like with many of Thrustmaster's gaming headsets, the T.Flight U.S. Air Force Edition Gaming Headset offers interchangeable faceplates. You can swap them out to customize the look of the headset, or if you're crafty, even design your own.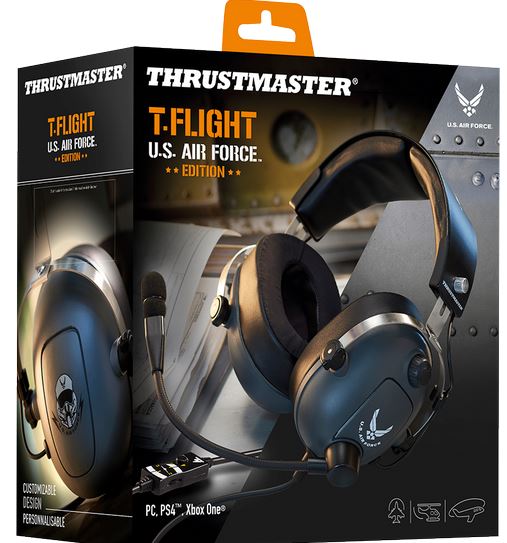 Who Should Choose the Thrustmaster T.Flight US Air Force Gaming Headset?
The Thrustmaster T.Flight US Air Force Gaming Headset might be a good choice for any number of reasons. It's comfortable, it's stylish, it's got a classic design. The inline controls are exactly what you need to stay in control as you move from one game to the next. The microphone is among the best you can find from a single microphone setup.
The noise cancellation within the microphone isn't particularly special, but again, this headset is ready to assume that you're not sitting directly adjacent to a roaring engine. Whether you're a fan of flight sims or games more widely, it's easy to see how this headset can be put to the task of conquering your enemies in digital terrain. It's worth a close look for anyone who's looking for sturdy gaming headset with years of life ahead of it.