We have all likely seen those videos of Russian scammers jumping out in front of vehicles. As funny as those are and as blatant as the fraud is, with people diving onto stopped cars, if it happened to you and you didn't have a dash cam you wouldn't be laughing. Insurance fraud is no joke and getting caught at the bad end of a scam like that can get you into some serious hot water unless you can prove your case.
On top of that we have all passed a police officer on the highway going a little too fast without realizing it (or for you aggressive drivers out there perhaps you were fully aware of your speed). That rush of adrenaline when you first see the officer and realize you might get pulled over is never the kind of rush you want. Why waste all that money on tickets and increased insurance costs when you could be buying all the nerdy tech you desire?
Luckily there are dash cams to help with the insurance fraud, such as the Z-Edge Z3D. And there are radar detectors like the enKo that give you that little bit of heads up you need to make you aware of your clearly accidental criminal activities so that you have time to slow down and join the rest of the law abiding citizenry. However buying and hooking up two separate devices can get both expensive and complicated with the wiring and power.
Then for those that want a little bit more convenience you have companies like Cobra that have made two in one dash cam radar detectors. That way you can avoid the court appearances for both being the victim of fraud and being the perpetrator of violating traffic regulation. Seriously though you should adhere to all traffic laws and only use radar detectors as a backup alert system for when you were paying too much attention to the road and didn't notice the speedometer.
The Overview
The Cobra Road Scout is a dash cam radar detector hybrid with WiFi and Bluetooth capabilities. It has app integration with the Cobra iRadar mobile app, a heavy duty mount, and a high resolution camera. On top of the iRadar app that allows you to share and receive alerts from others drivers in the Cobra community, you also have access to the Drive HD app that allows you to view and edit videos from your smartphone in order to provide evidence easily.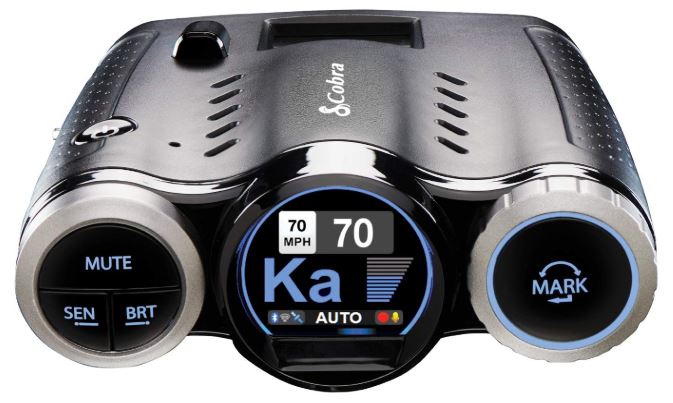 Design & Layout
The Road Scout looks like high tech night vision binoculars, at least it does to us. There is a full color LCD screen that displays the speed limit if you are connected to the cloud, and other relevant connection information. Then on one side you have the HD camera and on the other side you have the radar detector. Overall the design looks cool so it wont be an eyesore for you or your passengers.
The mount is an EZ Mag Mount™ that uses a StickyCup silicon suction cup to adhere to the windshield. The fact that it is a magnetic mount makes it very easy to hook the Road Scout to the mount or remove it if needed. The magnetic mount is also strong enough to where there were no accidental disconnects with hard stops though we don't know what level of crash it would take to disconnect the device from the mount.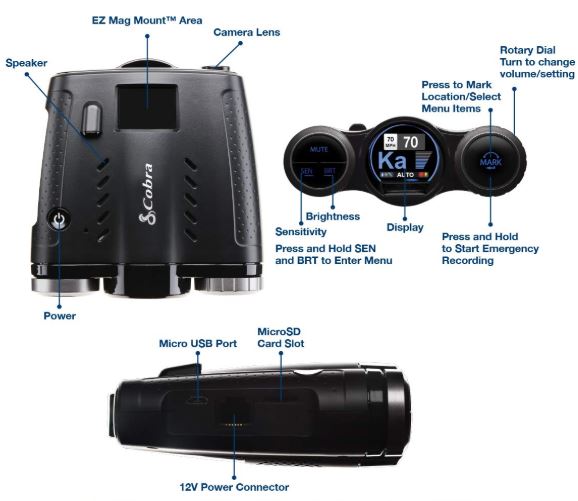 Aside from that concern the system is good looking and easy to set up. The two nobs that allow you to adjust settings are located conveniently in the front and the screen when connected to the internet provides useful information. It comes in at 8 ounces for the weight and measures 4.38 inches in length, 4.25 inches wide, and 1.63 inches in height. Making the Cobra Scout a pretty small and light setup.
App Support
As mentioned previously there are two apps you can use. The Cobra iRadar mobile app & the Drive HD mobile app. The iRadar app connects you to the community of cobra device users that report live police locations, red light and speed cameras, and even caution areas. Despite the ability to also participate in marking the mentioned items on the app if they were not already listed, we recommend you only do so when you have already safely pulled to the side of the road in order to avoid distracted driving.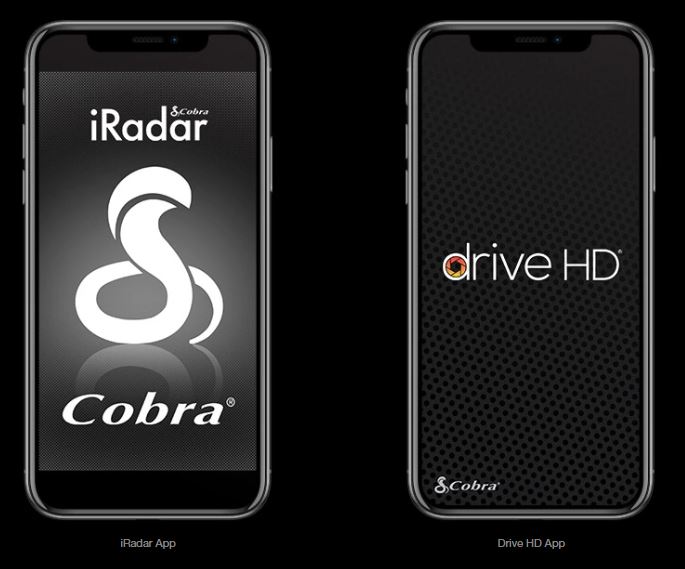 With an advertised user base over 3 million, the updates are frequent and useful. The app also allows you to get direction without leaving so you do not have to switch back and forth between your GPS and iRadar. Another neat little feature is it's ability to mark where you parked every single time you leave your vehicle. So no more wandering around the parking garage wondering if you were on D3 or C3.
The Drive HD app is a simple dash cam video player and editor app. It lets you view and edit your footage with GPS, G-sensor, and compass data intact. That way you can show the acceleration and compass information to your insurance to provide evidence that it was indeed the other car that caused the accident and you were by no means violating any traffic laws.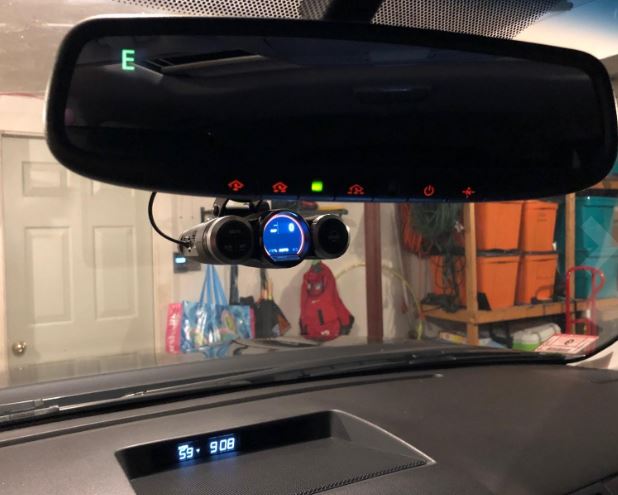 Detection
The detection accuracy on the Road Scout is where it starts to stand out. You can adjust the sensitivity for the radar and while on default mid range settings there were no false positives experienced. It utilizes a superheterodyne receiver which is a type of radio receiver found in basically all radar detectors. It uses frequency mixing to take a signal in and convert it to a fixed intermediate frequency to process the signal. This in combination with the Digital Signal Processing allows it to scan, and filter signals faster than devices that do not have DSP.
The signal band indicator can display X band which commonly is associated with false alerts, K band which is utilized by police radar though will sometimes be from a false alert, Ka band which is always from a police radar, as well as laser which is also from the police. The strength meter displays the strength of the signal for how close it is.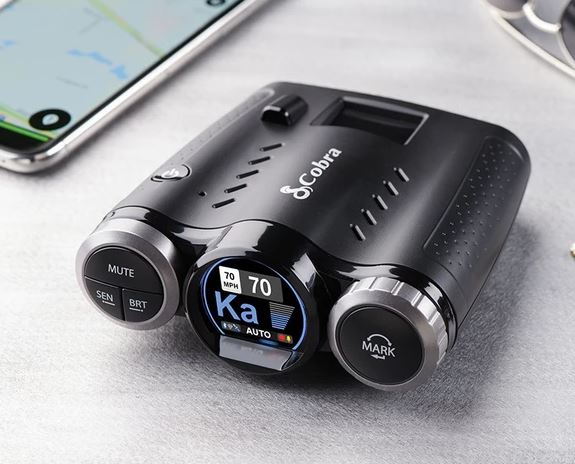 In the Cobra Scout's auto sensitivity mode the range is affected by the speed you are moving. The slower you are going the shorter the detection range for both X and K radar types. If you want to maintain maximum radar distance at all times you have to put the device into high sensitivity mode. What is nice however is that despite the sensitivity mode you set, Ka radar is always set for max range due to it being primarily used by the police.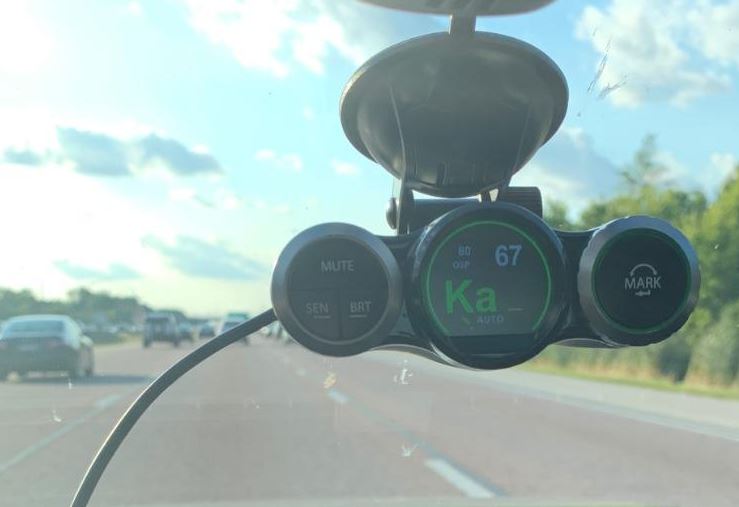 Subscription Service
There is an optional subscription service available that hooks you up to the Defender Database. This subscription is where the up to date speed camera and red light camera features come from. So without it you will not get the latest location updates.
The subscription fees are inexpensive and sold by either 1 year or 3 year packages, however regardless of the low cost it is still a bit unfortunate that a membership is required for what is largely user created data points.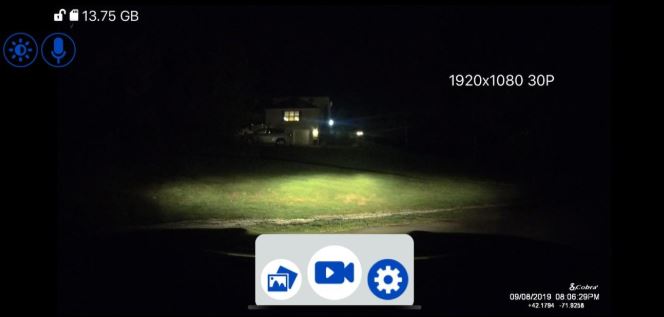 Ease of Use
Aside from the quality of the device functionality the biggest factor in a product like this is it's ease of use. For the Cobra Radar Scout everything is easy about it. From adjusting settings to simply understanding the output the screen and voice features make it incredibly easy to use.
If you go beyond the speed limit for the area you are in the display speed will turn red and a voice will clearly tell you "over speed". This only works with updated speed limit data if you are connected to your in car WiFi hotspot or to the Cobra iRadar app via Bluetooth. If you are not connected to the app or WiFi it will only alert you if you go beyond the default speed of 70 or if you change that max and then exceed it.
Camera
On the display screen you have a recording indicator that if grey is not recording, if a red circle is recording, and if a red triangle is set to emergency recording. Next to that is the camera microphone indicator.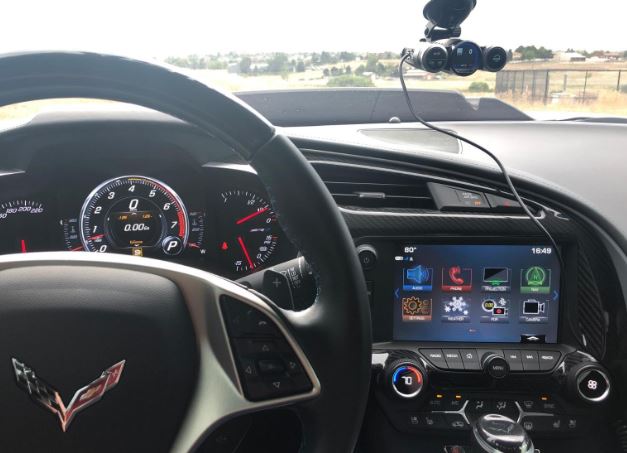 The cameras max video resolution is 1080p Full HD and the microSD slot supports up to 64GB. The field of view for the camera is 154 degrees so you get a decent view but wont be getting in peripheral footage from the camera lens. Footage is recorded in .mov format so compression isn't the best but record speed and quality are maintained. Despite this we recommend you upgrade to a UHS micro SD to ensure every moment is recorded flawlessly regardless of how much is going on in the camera.
Other Considerations
Under the hood you are running a fairly standard Ambarella A12 processor in the camera which eets you full HD at 60FPS and has solid noise filtering and auto-exposure features. So Cobra didn't skimp on the internal power. Speaking of power the Cobra Road Scout takes a 12VDC negative ground connection and comes with a SmartCord USB.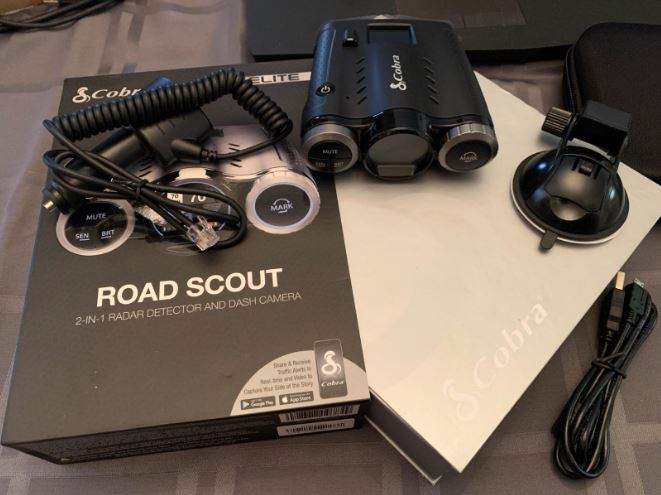 Beyond specs however it comes down to whether you as a drive will be utilizing both the radar detection features as well as the dash cam features. There are plenty of other dash cams on the market that you can get for a much smaller investment, like the Thinkware Q800 Pro. There are also many other radar detection units that are time tested and have proven reliability like the Beltronics StI Magnum. Here however you are getting the convenience of having both in one which is fairly rare at the moment. If you decide to check this product out make sure to drive safely so that you have the insurance of having what you need, but hopefully never have to use any of the features.