If you're looking for a portable monitor, you need a device that provides a variety of features. On the one hand, you need something that's lightweight enough for travel, and can connect via USB. On the other hand, you want a monitor that provides a clear display, with colors that are just as true as your primary monitor.
This balance can be hard to achieve.
Entire Mobile Pixels. The startup's team includes engineers and computer scientists from a variety of backgrounds, and they set out to create the best portable monitor on the market. Essentially, they wanted to create a lightweight, portable monitor with the image quality of a beefier monitor.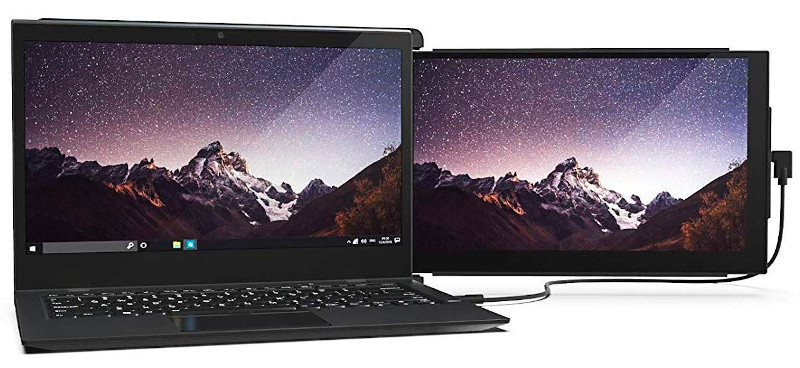 They ultimately won MIT's backing for the Duex Pro, a portable, foldable secondary monitor that's designed to be used with any laptop. During their 35-day Kickstarter fundraiser, Mobile Pixels raised over $850,000 in funding, and in January, 2019, they won a 2019 Edison Award for the Duex Pro.
This monitor attaches to the back of your laptop with a pair of magnets, which are included in the package. It's lightweight, can be mounted on either side of your monitor, and is compatible with virtually all operating systems. But how does it perform?
Let's take a closer look?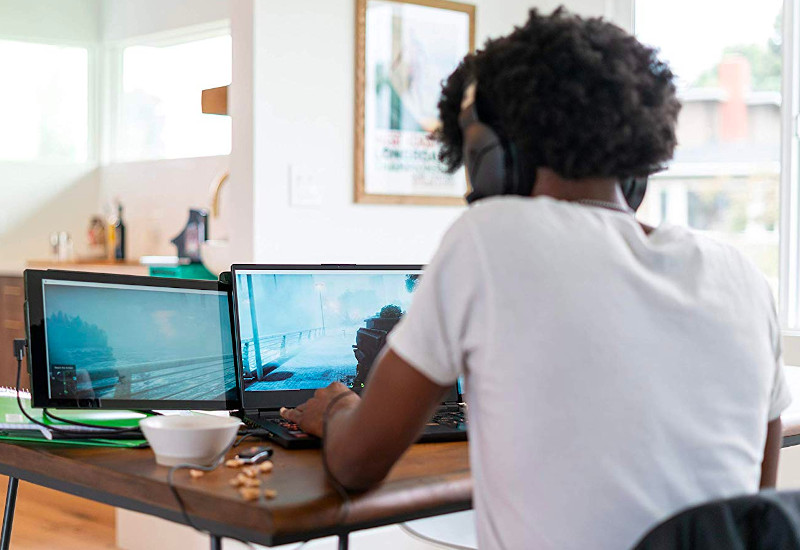 Design & Features
The first thing you'll notice about the Duex Pro is how lightweight it is. It tips the scales at only 1.5 pounds. By way of comparison, a 13-inch MacBook Pro weighs 3 pounds, and the MacBook is known as a lightweight laptop. You're not adding much to your backpack, briefcase, or carry-on bag. The monitor is just under half an inch thick, which makes it small enough to carry in most laptop cases.
One thing to be aware of while you're setting up your monitor is that the metal adhesive plates have a 3-hour curing time. It's important to let them cure for the full 3 hours, or they may fail. Furthermore, even when they've been fully set up, they're not designed to support the monitor on their own. You'll need to have the Deux Pro braced against a solid surface, such as a desk or table, in order for it to stay in place. This makes it a poor choice if you like to work in bed or on the couch.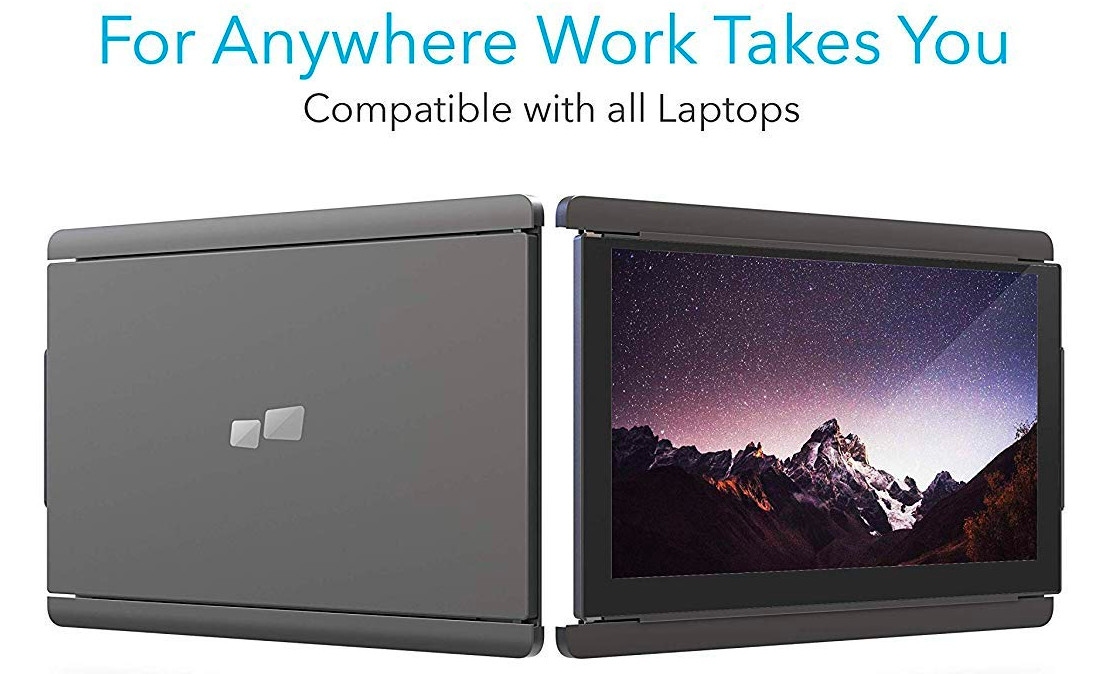 The Deux Pro can be rotated 270 degrees, which means it can rest parallel to your primary monitor, facing you, or be turned around to sit with its back against the back of your primary monitor. This makes it a great choice for presentations, particularly in an intimate or ad-hoc environment where a projector is not available.
Video Quality
The Duex Pro's screen is a 12.5-inch LCD that runs in 1080p. This may not sound that impressive. But when considering video quality on any monitor smaller than 24 inches, it's important to distinguish between resolution and pixels per inch (PPI). Why is this?
"Resolution," as commonly used, means the dimensions of the screen in pixels. A standard 1080p HD screen is 1920 pixels wide by 1080 high, or 1920×1080. This is fine for most applications. However, as TVs have gotten bigger and bigger, 4K resolution has grown in popularity. That's because the bigger the screen is, the fewer pixels will occupy a single square inch of screen space.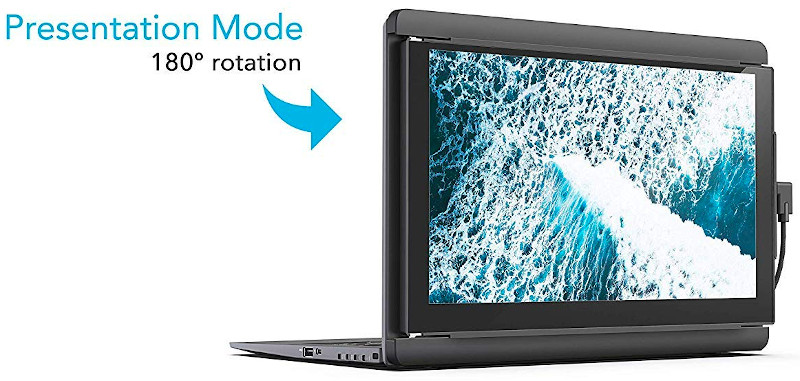 A 24-inch 1080p screen looks good. A 42-inch 1080p screen looks alright. A 70-inch 1080p screen is starting to look a tad fuzzy. And anything larger than 80 inches needs more PPI in order to fill in all that space and not get blurry. Conversely, a 12.5-inch screen looks significantly sharper than a 24-inch 1080p screen. We can determine how much sharper by using math.
A 24-inch screen is 20.9 inches wide. If we divide 1920 pixels by 20.9, we get ≈92 PPI. Conversely, a 42-inch LCD TV only offers about 53 PPI. Meanwhile, the 12.5-inch screen on the Duex Pro serves up an impressive 176 pixels per inch. To put this in perspective, a 42-inch 4K screen has 106 pixels per inch.
In other words, the Duex Pro's screen is very sharp.
Another thing we should mention is that this monitor's display uses IPS technology. This hardware is the gold standard when it comes to field of view, allowing for clear viewing from almost any angle. This is a helpful feature on any secondary monitor, since you're not likely to be staring at it 100-percent head on.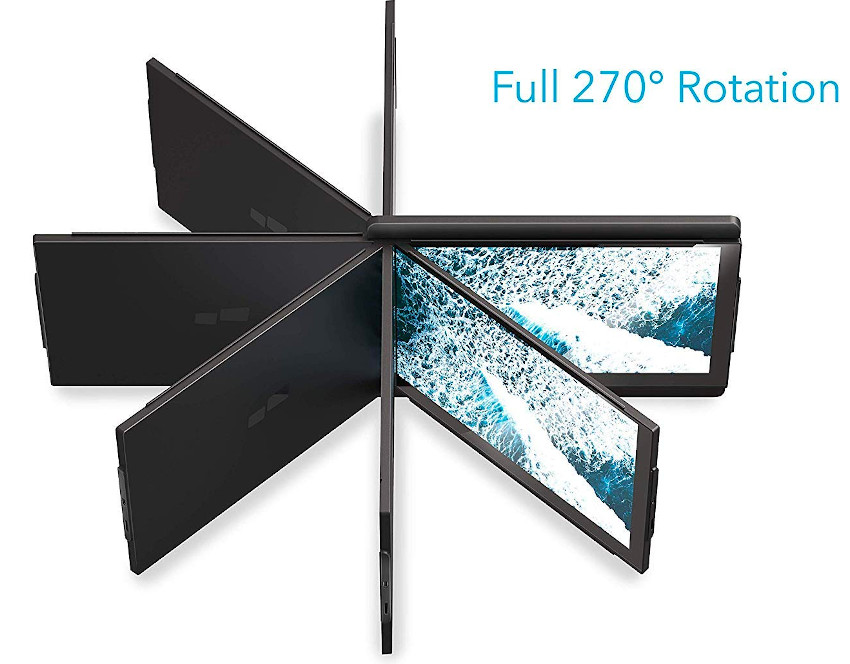 Accessories & Compatibility
Every artist loves his or her tools. Whether you enjoy the performance and reliability of a Mac, the easy compatibility of a Windows machine, or the myriad custom options of a Linux box, you want a monitor that's compatible with your operating system.
The Duex Pro is compatible with all of these operating systems, although Linux users and users of older Windows and Mac OS versions will need to download some codec packs to get the monitor up and running. Chromebook users can also use the Duex Pro; it's compatible with both Chrome OS and Android.
If you have a more powerful laptop and want to go the whole hog with a 3-screen experience, the Duex Pro is compatible with that option. All you'll need to do is use two pairs of magnetic adhesives, and slide one monitor onto each side of the screen.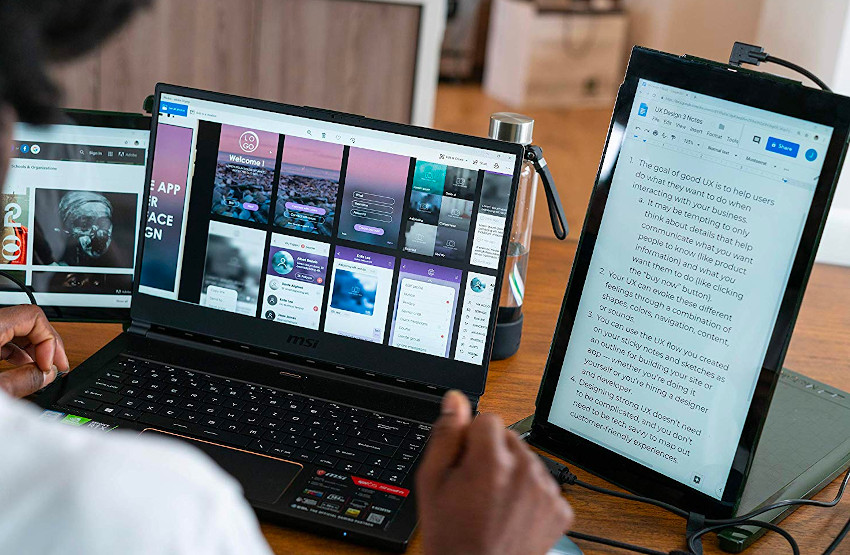 One thing users of older computers – and some modern computers – should be aware of is that the Duex Pro is designed to be connected with a USB-C cable. One of these is included in the box. If your computer only has a USB-A cable, you can use the included adapter. However, you may experience some flickering if you're connecting via USB-A. This becomes worse the higher your framerate is.
What's in the Box?
There's no way to evaluate any product if you don't know what you're supposed to be getting. Here's what we found inside the package.
12.5-inch LCD display
12 magnetic adhesives
3-foot USB-C cable
USB-C to USB-A adapter
User's manual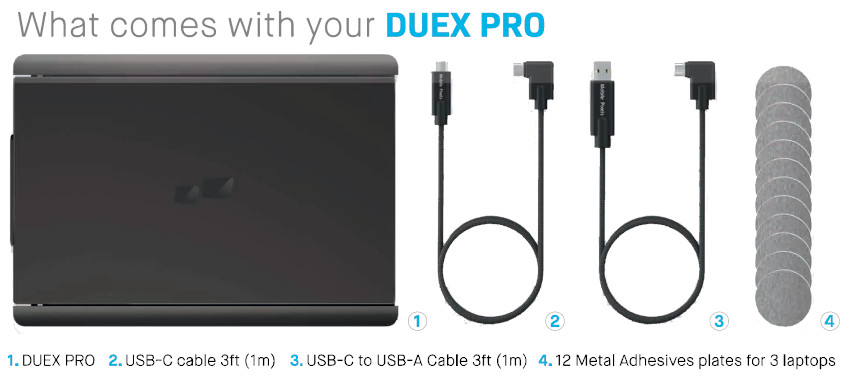 Technical Specifications
Here's a quick look at how the Duex Pro stacks up from a technical perspective.
12.5-inch screen
1080p IPS LCD display
270-degree rotation
Compatible with Windows, MacOS, Linux, Chrome OS, and Android
Measures 12.8 x 8.6 x 0.48 inches
Weighs 1.5 pounds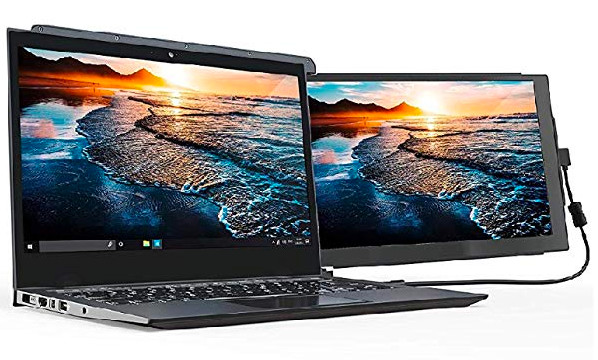 Quick Summary
For those of you who skipped to the end to find a quick summary, here's an overview of what we liked – and didn't like – about the Duex Pro.
Pros:
Compatible with all laptops
Wide viewing angle
Easy to mount
Rotates to face forward or backward
Lightweight and portable
Can be used with multiple laptops
Upgradable to 3 screens
Cons:
Needs to be supported by a desk or table
Works best with USB-C

Final Verdict
So, what are we looking at here? Is the Deux Pro a good buy? Or is it an over-hyped MIT project?
To begin with, it's very well designed. Considering the mid-tier price point, the fact that the screen is constructed with IPS technology is very impressive. It's not every day that you see an affordable portable monitor with this wide an angle of view.
Another thing we appreciate is the USB-C connection. We understand why some people might be bummed out about that design choice, but the fact is that USB-C is the way of the future. By utilizing USB-C, Mobile Pixels has future-proofed the Deux Pro's design. Furthermore, USB-C is just plain faster than USB-A. In the absence of a second HDMI cable, it's the best way of delivering high-quality video in real time.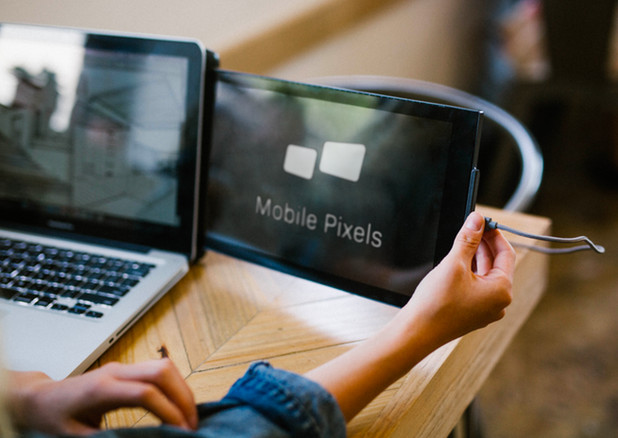 One thing we really didn't like was the fact that the magnetic bracket is strong enough to support the screen. Essentially, you need to support it on a desk or table. On the other hand, the magnetic adhesive pieces dry quickly, allowing for you to use your monitor without having to wait overnight.
All in all, this monitor is a sharp, clear display that weighs next to nothing and is easy to install. It works with just about any computer, and can be rotated for use in presentations. We consider it a great bargain, especially if you need good color clarity from any angle.
Good Alternatives
Just because the Duex Pro is a high-quality second monitor doesn't mean it's going to be the right choice for everybody. Maybe you need more features. Or maybe you need fewer features, and want to spend a little less money. We understand that not everybody's needs are the same.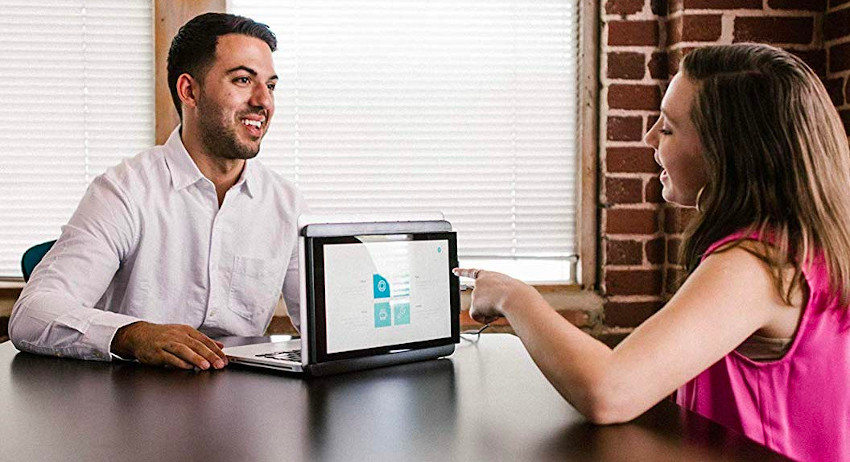 In that spirit, here are a few other portable monitors we've reviewed in the past. Maybe one of them will be a good fit for you.
The AOC i1601fwux. Like the Duex Pro, the AOC features an IPS-style LCD display, which allows for an exceptionally wide viewing angle and vivid color clarity. This makes it a great choice for creative folks, or if you sometimes have your second screen set off to the side. On the downside, it requires a USB-C connection, which means it won't be compatible with many older computers and even some new ones.
The GAEMS Sentinel Pro XP. This unique monitor is designed specifically to be used with gaming consoles. It's built like a suitcase, and opens up to reveal a large 17-inch 1080p screen. The thick base is designed to house your game console and carry a pair of controllers, and is thickly padded for travel. In addition, the case includes a pair of built-in speakers, so you'll be fully equipped for taking your game console on the road. Sadly, the weight and size of this monitor make it a poor choice if you're just trying to add a second screen to your laptop.
The ASUS ZenScreen MB16AC. This 1080p monitor features an intelligent design, with a large hole at the bottom corner of the screen. If you want to set the monitor up separately from your PC or laptop, just insert a pen into the hole and you've got yourself a stand. This monitor is also compatible with both USB-C and USB-A. The only thing we didn't like were the lackluster black levels, which may be a downside for artists.
Regardless of what you choose, we hope our guide has been informative, and helped you become a more educated customer. The more you know, the better equipped you'll be to find the best monitor for your needs.