Consoles are fairly portable. Televisions and monitors aren't. Game companies have been trying to work around this problem for decades. One of their earliest solutions was actually a version of the PlayStation with a small screen built into the lid of the console. Not an entirely bad idea, though there have certainly been better ideas in the time since.
GAEMS Sentinel Pro XP Portable Gaming Monitor
Most people haven't seen anything like the GAEMS Sentiment Pro XP Portable Gaming Monitor. The Sentinel is a self-contained gaming environment intended to house gaming consoles. The general idea is pretty simple, it's like of like transforming your console into a laptop.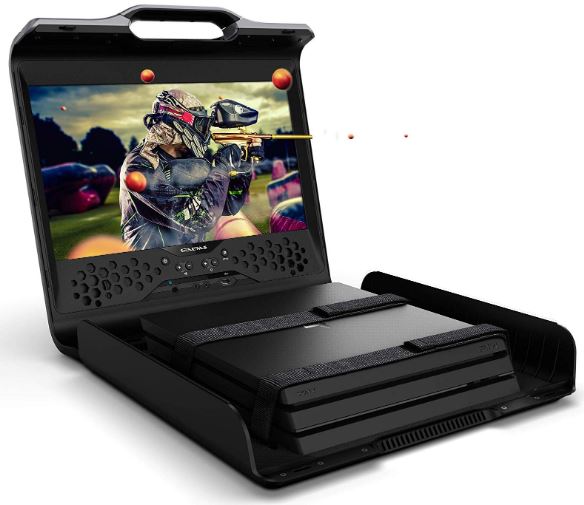 But unlike a laptop, the Sentinel Pro XP isn't nearly as portable. Its dimensions are similar to a suitcase or travel bag. That bulky size does provide ample room for your console and controllers. And the EVA foam base allows you to generate customized padding for the different consoles you might want to stick inside.
Being able to customize the foam base makes it possible to achieve a more secure fit, and without affecting the ability to store the rest of your games and peripherals. It's hard to summarize the GAMES Sentinel Pro XP because there's almost nothing else like it. For people who wish their console had a screen built-in to its topside, the GAEMS Sentinel Pro XP is certain to be worth a look.
Build & Design
The box itself is pretty plain looking, everything is contained inside a black shell that's mostly unidentifiable. The only distinguishing feature is the GAEMS logo written in white across the center of the box. Though if this logo happens to bother you, nail polish remover seems effective at removing it.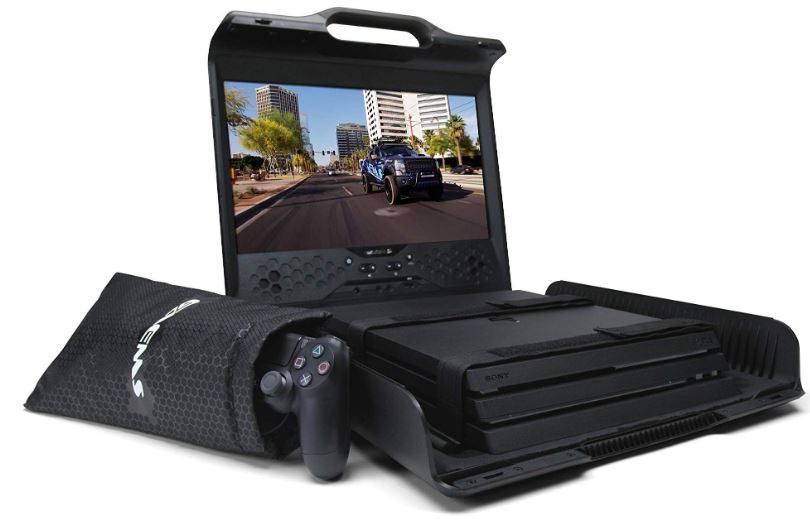 The chassis of the Sentinel Pro XP is composed of a hard-shell ABS plastic. Cracking it open, the topside of the Pro XP opens up like a briefcase. And the monitor hidden under the lid works as a kickstand for the rest of the device, a pretty simple but effective design. Unfortunately, there's nothing to lock it open.
If something accidentally bumps the backside of the Sentinel Pro XP while it's open, there's room for disaster to strike, depending on how the screen lands. This isn't a fatal design flaw, especially because of the deep angle at which the lid rests, making a snap-shut scenario very unlikely. But it's something to be wary of while using the Pro XP.
Carrying Capacity
When you've got it closed up, the Sentinel Pro XP measures 16.90 x 4.20 x 16.70-inches. The internal dimensions are only slightly smaller, offering enough space to fit an Xbox One, Xbox 360, PlayStation 4, and so on.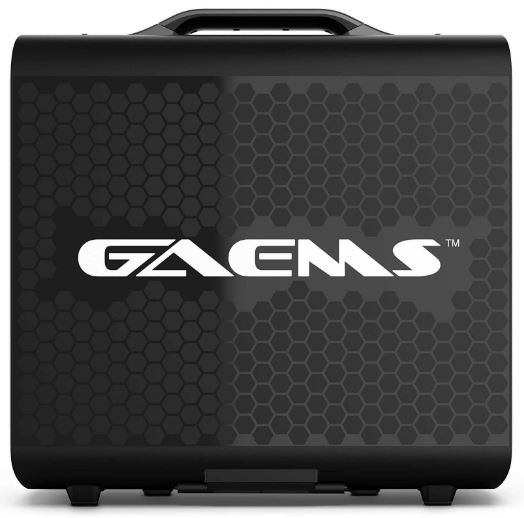 You can actually stuff a PlayStation 3 inside as well, though it's a pretty tight fit, and can make it harder to keep everything together in a compact manner. When you're trying to make these tight fits, the most worrisome factor is the height of the console rather than its length of depth. The 4" ceiling of the Sentinel Pro XP doesn't provide much wiggle room if you intend to carry games as well.
Two Velcro strips run across the top side of your console to keep it locked in place. The Velcro needs to be pulled firmly to get your console to stay in position, and you need to use both straps. Once secured, your console shouldn't be able to move around, even if the case happened to be tipped over.
Durability
If there were any damage to the case, you should be more concerned about the monitor than anything else. Look inside a monitor, you'll find it's not exactly full of moving parts. That's a good thing. But it's basically a couple of lightbulbs behind a piece of glass, and that's not a good thing. Because it means the monitor will always be about as fragile as your console.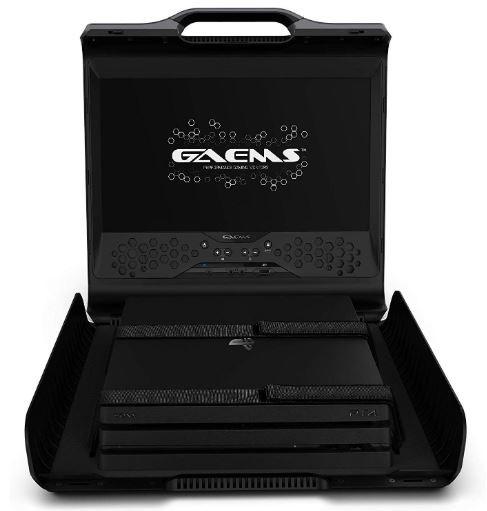 If you wouldn't want something to happen to your console, you wouldn't want it to happen to the GAEMS Sentinel Pro XP Portable Gaming Monitor. The extra shock-proofing provided by the foam inlay will stave off a disaster, and the plastic shell is protective. But not to the point you'd want to test those protections, or treat the Pro XP any differently from a large gaming console.
Added Accessories
Inside the Sentinel Pro XP, you'll find an accessory bag, where you can store controllers, power supplies, cables, and so forth. The bag is large enough to fit about two Xbox controllers. The Sentinel Pro XP also includes an HDMI cable, a DC power adapter, and IR remote control.
Control Panel
At the base of the monitor, you'll find the GAEMS Sentinel Pro XP has a control console. LED backlit buttons provide a little extra style, and visibility in the dark. There's a pair of volume buttons, brightness buttons, a power button, and a menu button. Pretty standard layout for a PC monitor, except about a thousand times more usable for people who aren't used to adjusting monitor settings.
Beneath those buttons, you'll find a 12V DC jack, a pair of headphone jacks, the IR sensor for the remote, and one HDMI port. Not only can you carry at least two controllers, you have two audio jacks so everyone can play. Very good design.
That makes the GAEMS Sentinel Pro XP actually have a few advantages over most PC gaming. With a great gaming laptop, you'll still have a tough time playing with a friend. The GAEMS Sentinel Pro XP leaves multiplayer possibilities a little more open. You could even carry more than two controllers, though you'd have to start storing them outside of the case.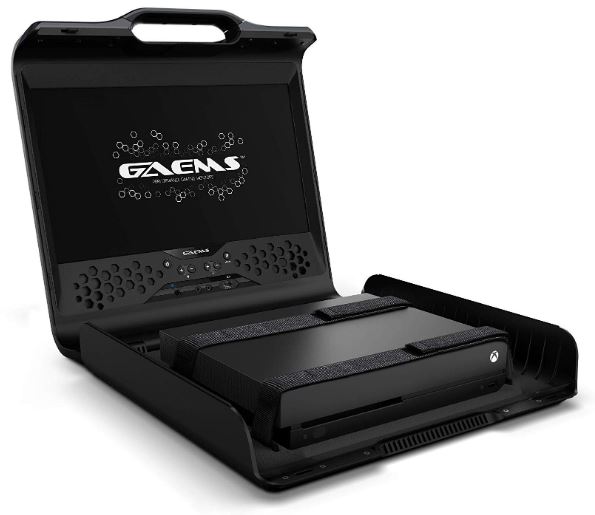 Audio Quality
There's one thing the Pro XP does better than regular monitors. While nearly all modern monitors will use speakers on their backside, the Pro XP has front-facing speakers. They're adjacent to the control buttons on the front side of the Sentinel Pro XP.
It's great the speakers are positioned properly; it actually helps them sound much better than they would otherwise. But at the end of the day, the Sentinel Pro XP was still constructed with 3W stereo speakers, and that means they sound almost the same as any other 17" computer monitor.
You'll get far better audio by swapping a pair of headphones and connecting to one of the 3.5mm audio ports with a headset.
Gaming Features
This case is really about the 17.3" monitor inside. It's advertised as a gaming monitor, but that's a deeply questionable claim. It's a gaming monitor in the sense this monitor was made to play games. But there are no gaming features whatsoever.
The GAEMS Sentinel Pro XP Portable Gaming Monitor operates with a 60Hz refresh rate. And it's becoming hard to call consider any panel a gaming monitor unless it's up towards 144Hz, or makes use of some kind of dynamic sync technology.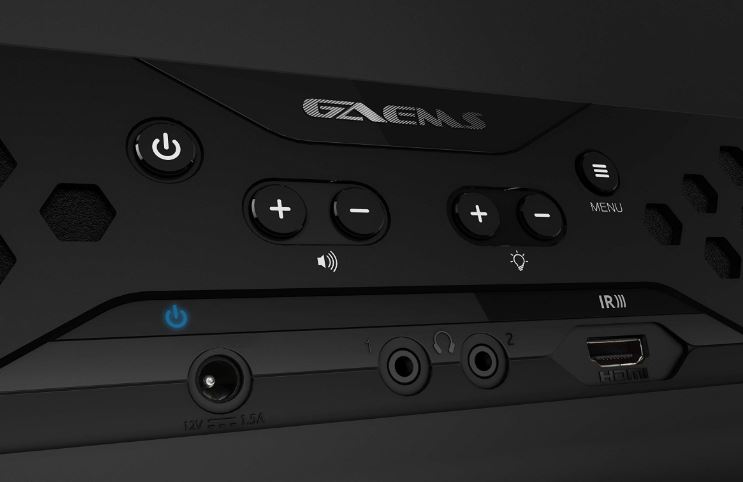 Video Quality
It's fair to say the GAEMS Sentinel Pro XP looks pretty good. The display is carefully calibrated for the viewer to be fairly close to the panel. Certainly within six feet, but more likely closer to three.
It was built with an IPS panel and an anti-glare matte finish. IPS panels provide far greater viewing angles and color vivacity than the TN panels most gamers are familiar with using. They even provide better color reproduction than many of the less impressive 1080p televisions that are still in common use.
Even a fairly ordinary monitor like the one used inside the GAEMS Sentinel Pro XP is far better than nearly all televisions. And in more ways than one. When you're considering resolution, think about it relative to screen size. Because it's all about pixel density.
Using 1080p resolution on a 1" screen would indicate insanely high pixel density, while 1080p resolution spread across a giant 200" screen would indicate terribly low pixel density. The native screen size for 1080p is pretty close to 24". That means anything smaller than 24", and you're going to end up with pixel density that's closer to approximating the look and feel of UHD content.
Ease of Use
The buttons on the monitor are easy to use. They're backlit, well labeled, and fairly large compared to most monitor buttons. The whole thing is pretty intuitive. But what makes navigation of the Sentinel smooth is mostly its IR remote. The remote does essentially the same things as the buttons on the panel, which makes this portable gaming monitor feel more like a television.
Because it's an infrared remote, you'll need line of sight with the GAEMS Sentinel Pro XP 1080p Portable Gaming Monitor, specifically with the sensor near the base of the monitor.
Other Considerations
The dimensions of the box are large enough that even as future consoles are released, it seems likely they'll be able to fit inside the Sentinel Pro XP. Even older retro consoles can fit inside with plenty of room to spare, which is why those Velcro straps can come in handy.
The GAEMS Sentinel Pro XP Portable Gaming Monitor includes a one-year warranty, which is a low-average duration for a computer monitor. Many monitors in the same price range offer a 3-year warranty.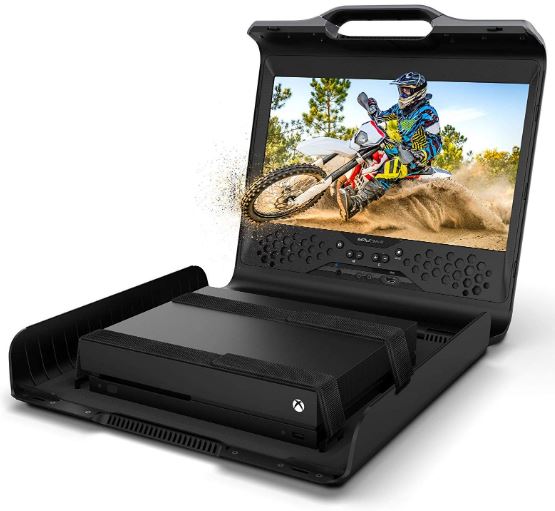 Who Should Choose GAEMS Sentinel Pro XP Portable Gaming Monitor?
Liking the Sentinel Pro XP is about taking advantage of its portability. Because this device is basically a way to transform your console into a gaming laptop. Its outer shell is sturdy enough to protect your console, and its inner sanctum is cushioned enough to provide a smooth ride for all your hardware.
Unfortunately, this monitor is terribly expensive because of the way its packaged. You could find a 17" monitor for $100 in about ten seconds, or a 20" monitor for that matter. But they're not crafted into hard shelled carrying cases, built to be carried around like laptops, or store gaming console equipment.
Just about the only thing to dislike about the GAEMS Sentinel Pro XP is the price tag. But it's about a thousand dollars cheaper than buying a gaming laptop. For someone who wants to make their consoles more portable, it's easy to see the appeal.
Meet Derek, "TechGuru," a 34-year-old technology enthusiast with a deep passion for tech innovations. With extensive experience, he specializes in gaming hardware and software, and has expertise in gadgets, custom PCs, and audio.
Besides writing about tech and reviewing new products, Derek enjoys traveling, hiking, and photography. Committed to keeping up with the latest industry trends, he aims to guide readers in making informed tech decisions.