When you're in motion, securing earbuds inside your ear can be tough. For athletics, the most secure designs are typically ear hook designs. The idea is to make it harder for the earbuds to slip out of your ear. That way you can focus on running, and not on readjusting your earbuds every few minutes. They let you get security without uncomfortably tight earbuds.
Even if an earbud happens to wiggle its way out of your ear canal, the ear hook makes sure it doesn't get far. Though audio manufacturers rarely seem to take advantage of the opportunity, you can use the ear hook design for other purposes as well. Those hooks should let you carry a little extra weight, shouldn't they?
Treblab XR700 Bluetooth Earbuds
The Treblab XR700 are athletic sports headphones with a small twist. With only a glance at comparable headphones, you'll find the XR700 and its ear hook design are among the best. Certainly among the best at their price point. They're built with a slightly greater emphasis on comfort, and the difference between the XR700 and most other athletic headphones is really that simple.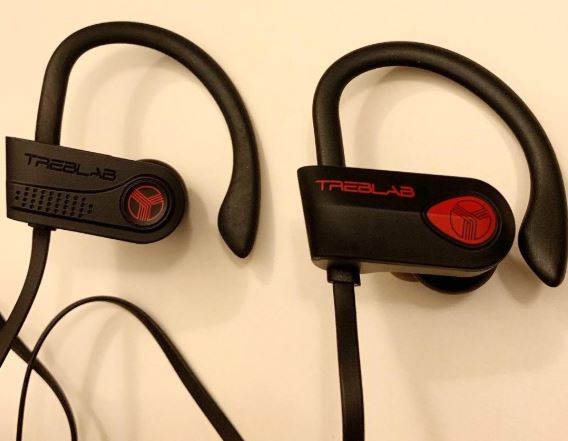 When you turn to the rest of its features, you'll find the XR700 performs about average. Outside of comfort, there's almost nothing truly phenomenal or unique about these earbuds. The other features don't disappoint; they simply don't inspire the imagination, or go the extra mile.
Build & Design
Aesthetically, the XR700 look like fairly ordinary earbuds. Apart from a couple of red highlights, they're almost entirely black, which give them a generic appearance. At least until you notice each earbud is about 30% larger than normal. That's because each earbud is connected to a fairly large black console, with the Treblab name etched along its side.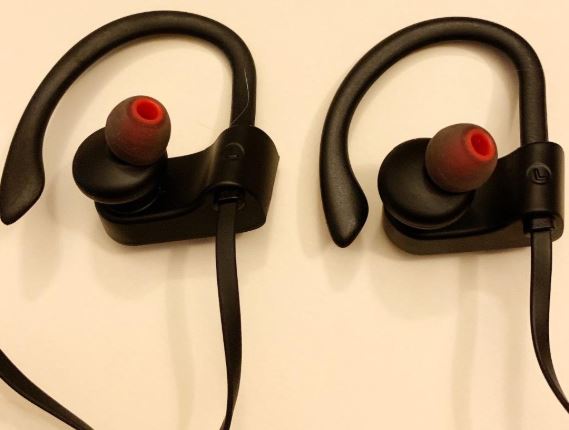 The ear-tips are projected from the end of the console. Each ear-tip is angled in a way that makes it possibly to quickly and intuitively put the earbuds in your ears. In spite of being somewhat larger than similar athletic earbuds, the XR700 still weighs about two ounces. Held in your hands, their weight feels indistinguishable from smaller pairs of similar earbuds.
One more thing to keep in mind. The cable that connects the Treblab XR700 earbuds together is flattened to be tangle-resistant. Flattened wires are much easier to handle, carry, and store away. But with a tendency to catch the wind, they can also become more annoying if they're not secured before you go for a jog.
Waterproofing and Touch Operation
It's fairly common for Bluetooth earbuds to have some degree of waterproofing, especially when they're made for athletic activities like the XR700. But that waterproofing is usually on the lower end of the scale, more appropriate for a light drizzle. The XR700 has an IPX7 certification, indicating it's ready for a couple of feet of submersion. You probably don't want to go testing fate by dunking your earbuds into water, but you could hop in the shower without a worry.
There's a total of five multifunction buttons. Clicking between them, you can turn the headset on and off, start or stop music, skip between tracks, change volume levels, and even change their mode. Most of these controls are self-explanatory, apart from the mode change. A better name for the mode change button would be a bass boost button. If you press it once, and you enjoy what you hear, you'll probably never revert to the previous setting.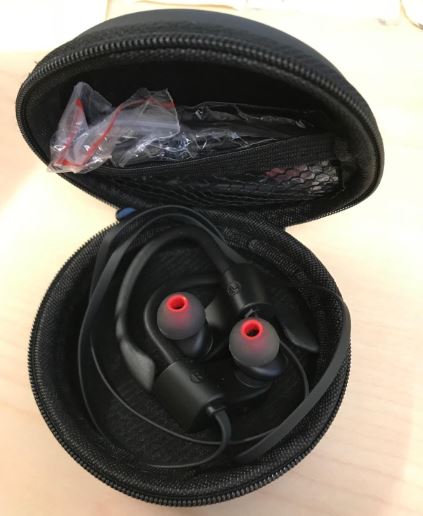 Battery Life
The Treblab XR700 supports a maximum capacity of about nine hours. That's high-average for a pair of earbuds like these, which is partially possible because of their slightly larger size and weight. Nine hours ought to be enough for most people who are choosing earbuds for athletic purposes, even if you don't feel like recharging the earbuds on a regular basis.
Battery estimates are always tough to make. They can change depending on how cold it is outside, and what kind of music you're listening to on any given day. But the nine-hour estimate is pretty close to accurate, outside of extreme circumstances.
Recharging the battery is possible through the micro-USB port, positioned on the underside of the left earbud. Replenishing the battery takes about two hours. Unfortunately, there aren't any special quick-charge features to help you get back to service faster. But once again, two hours is pretty close to average.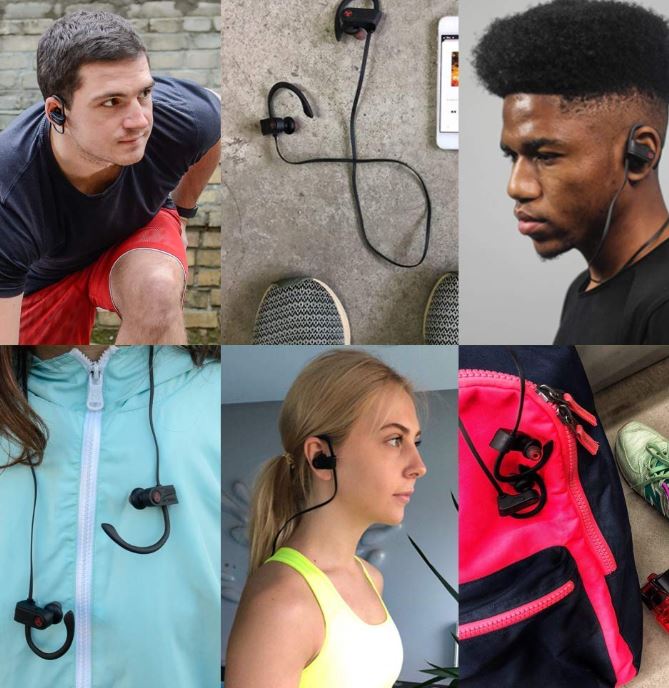 Wireless Connectivity
The XR700 makes use of Bluetooth 5.0, which really lays the groundwork for all the connectivity features that follow. Though Bluetooth 5.0 is the latest and greatest, the XR700 can still only provide about 33-feet of connectivity. For most people who want athletic earbuds, that's bound to be more than enough distance. But it's something to keep in mind for someone who's not broadcasting music from a smartphone in their pocket, on an armband, or otherwise directly on their person.
Noise Isolation
The ear-tips are built to provide a layer of passive noise cancellation, roughly 11dB. The noise isolation isn't great until you turn on some music. But once the music is playing, you can drown out outside noise fairly effectively, and without completely preventing yourself from hearing emergency sounds like sirens.
But if you want to get real noise isolation, you need to switch to the included memory foam ear tips. They expand into your ear canal, and provide much closer to the 30dB protection you'd get from an ordinary pair of earplugs. It's a good idea to be careful when you have them in, however. They're good enough at blocking sound that you'd want to be extra cautious around traffic.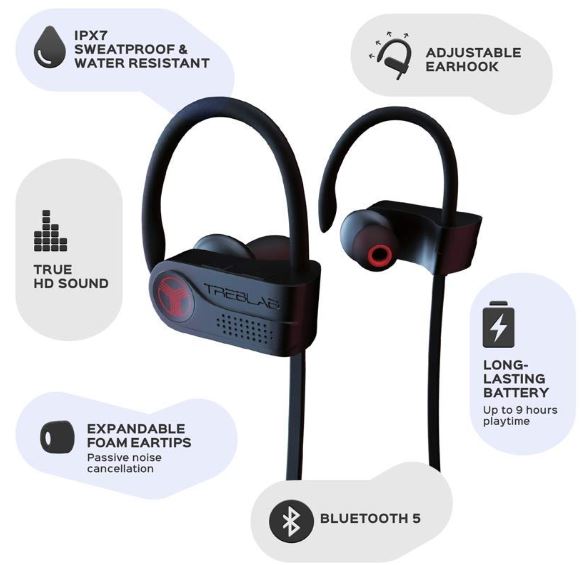 Worn Comfort
Most headphones in this price range do not have an adjustable ear hook. The Treblab XR700 makes use of a highly adjustable ear-hook. That's a big difference. The hook wire itself can be slid up or down, giving you more or less slack to work with.
For people who've had mixed experiences with ear-hooks in the past, the XR700 is a remedy worth trying. Its ear hook excels in every way. The end of each hook is made of a soft and bendy silicone that can shape itself to better fit your ear. Apart from only comfort, it's great for ensuring the XR700 stays with you even if you start making sudden motions.
Get up, run around, start lifting weights. Once you have the hooks positioned, the silicone ear-tips really shouldn't wiggle out of your ear. And the rest of the headset is just as protected from wobbling while you're in motion, even the slightly larger chassis of each earbud. You really don't feel the extra weight.
The wire may be resistant to tangles, but it can still have a tendency to bounce or flap around during motion. If that kind of thing bothers you, the XR700 includes a cord-minder clip you can use to help keep the motion down.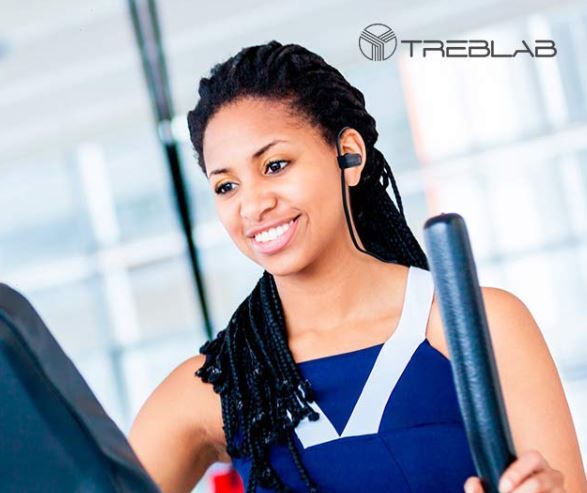 Audio Quality
Athletic headphones almost never attempt a neutral soundscape, the XR700 are no exception. They've augmented the sound profile of these headphones to be suitable for the kind of music people usually listen to while they're exercising.
That basically means there's a little bit of boost to the bass, and a little more pop sprinkled into the higher treble range. Everything is supposed to sound a little more vibrant, energetic, and alive. It mostly works. Though because of this tuning, the character of human voices may sound slightly different than when listening to them with similar pairs of athletic Bluetooth headphones.
The difference is mid-tones isn't really a good thing or bad thing, it's more like a subtle flavoring of the sound. Consequently, though pretty clearly made for athletic activities, the XR700 seem to work almost just as well for podcasts and movies. Though if you were primarily interested in stationary use, then you'd have no reason to be looking for ear hook earbuds.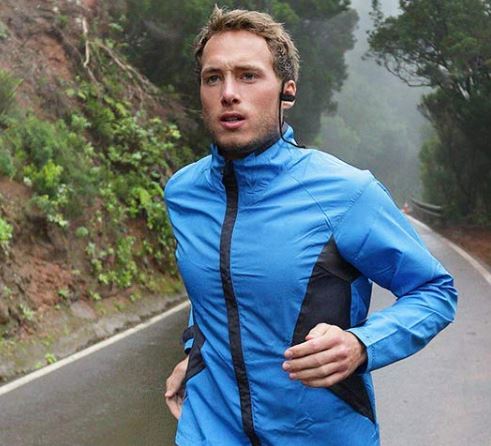 Microphone Quality
The built-in microphone is terribly average. It doesn't have any special features to speak of, including no noise cancelling technologies. If you're looking for a headset that's made specifically for calling, this isn't it. Nor will you find native support for voice assistants.
The calling features you'll find on the XR700 seem more like an afterthought, tacked onto these athletic earbuds because it would be strange if they didn't have them. The included microphone isn't bad, it's just not special. You'd have a hard time picking it out from hundreds of similar devices.
Other Considerations
The XR700 is compatible with Android, iOS, and Windows platforms. It's essentially compatible with any device you can connect with the XR700. Treblab XR700 Bluetooth Earbuds include a one-year warranty. They also include a carrying case, a pair of replacement ear tips, foam ear-tips, a cord-minder clip, and a micro-USB charging cable.
The included case is small and circular, about the size of a mini-CD GameCube disc. Though hardly four inches across, the case has nearly an inch of depth, which provides ample space for the XR700, its replacement ear tips, and a couple of additional small items. Unlike the earbuds themselves, the case doesn't really provide any protection from water. But it does have a smartly designed zipper that makes opening and closing the case have little risk of snagging the cable.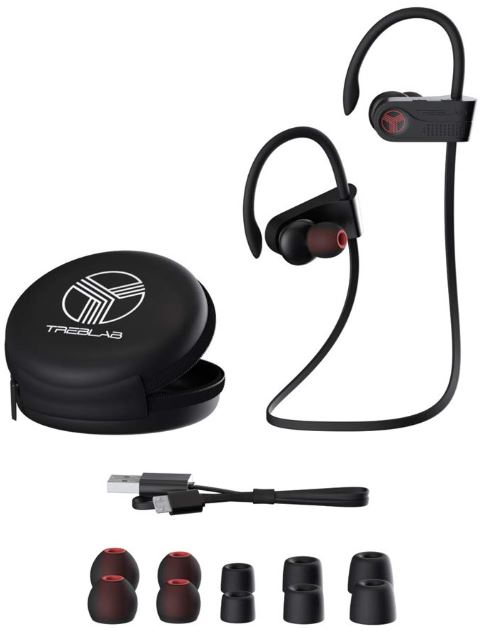 Who Should Choose Treblab XR700 Bluetooth Earbuds?
If you've had trouble keeping Bluetooth earbuds in your ear while you're exercising, you'll like the extra secure fit from the XR700. The ear hook is fully adjustable, which makes these earbuds equal parts secure and comfortable.
With respect to its audio quality, the Treblab XR700 is about average. Their soundstage isn't neutral; it's built for athletic activities. Most people will like that. Unless you're willing to shell out hundreds, it's hard to improve on this level of sound quality in any significant way, only to change the character of the sound in little ways. If you want to take it a step up, but don't want to pay a whole lot more, it may be worth looking into Treblab's other options such as the X2 or J1 model.
Ear hook adjustability isn't common in this price range. One-size fits all models work fine for most people in most circumstances. But that might not include you. Which makes the XR700 a good choice for someone who cares about comfort, and cares about security during motion.