Athletic Bluetooth headphones are a dime a dozen. You can find several hundred unique pairs within the $20 to $40 range, and that's only counting headphones made in the past couple of years.
One benefit to that higher level of competition is Bluetooth headphones have been getting better. Almost like clockwork, the underlying sound technologies have improved, battery life has improved, and design quality has improved.
It's also how you can get an excellent pair of headphones today for only about $20. With equivalent features, many of these headphones would've cost closer to $40 or $60 only a few years ago. And a few even have features that didn't exist until quite recently.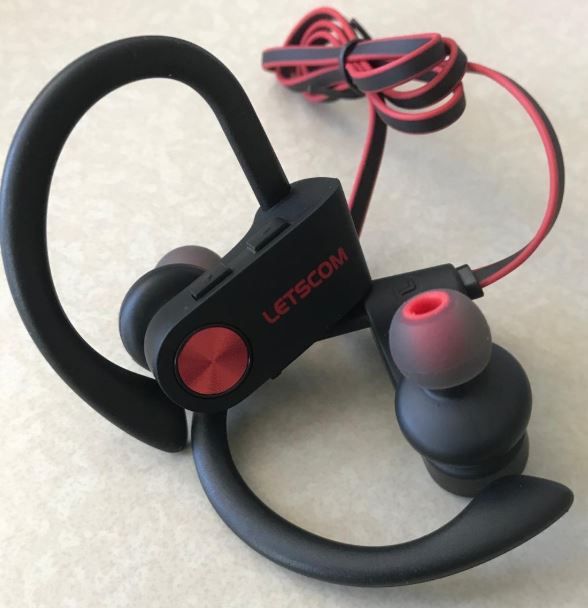 LETSCOM U8I Bluetooth Headphones
LETSCOM U8I Bluetooth Headphones are in-ear headphones with an ear-hook design. The general idea is to provide the kind of redundant holding forces necessary to keep the buds inside your ear during motion. But they also achieve this kind of security without making grave sacrifices to comfort.
Whenever you're choosing inexpensive Bluetooth headphones like the LETSCOM U8I, you're bound to have to make sacrifices in some areas. In this case, those sacrifices are actually pretty small. For example, this headset makes use of Bluetooth 4.1 instead of fully modern Bluetooth 5.0. To most people, these kinds of differences really amount to very little.
Build & Design
LETSCOM U8I Bluetooth Headphones are constructed with an IPX7 certification. That's actually one of the higher waterproof protection ratings you'll find on a pair of headphones. It indicates they're protected from up to one meter of submersion in water. In other words, you can take them in the shower with you and not have to worry they'll survive.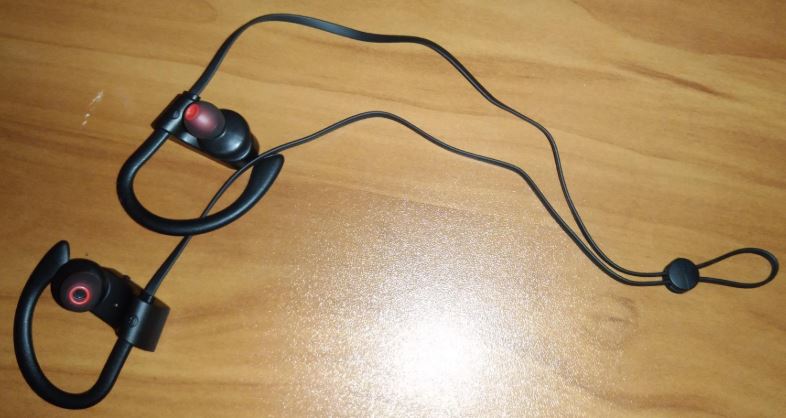 You'll notice the U8I makes use of flattened wires for a tangle-resistant design. The cabling itself is relatively short, providing just enough reach to loop around your neck and across your ears. This also means you probably won't have to deal with a cable clip, though the option is always there.
Aesthetic is a high point for U8I Bluetooth Headphones. Unlike most headphones in this price range, which make use of the same monotone gray-and-black color schemes, the U8I are actually available in a number of different colors.
You can find them in black, blue-gray, green-black, pink-gray, and red-black. The highlighting encompasses both the earbud and its cabling, so color selection is actually pretty significant in terms of visual differences.
Audio Controls
On top of the right earbud, you'll find a command console. From here, you can control literally anything else the LETSCOM U8I can do for you. The raise and lower volume buttons serve two functions because they can also be used to skip tracks. And the button that separates each volume button is capable of pausing, playing, or handling calls.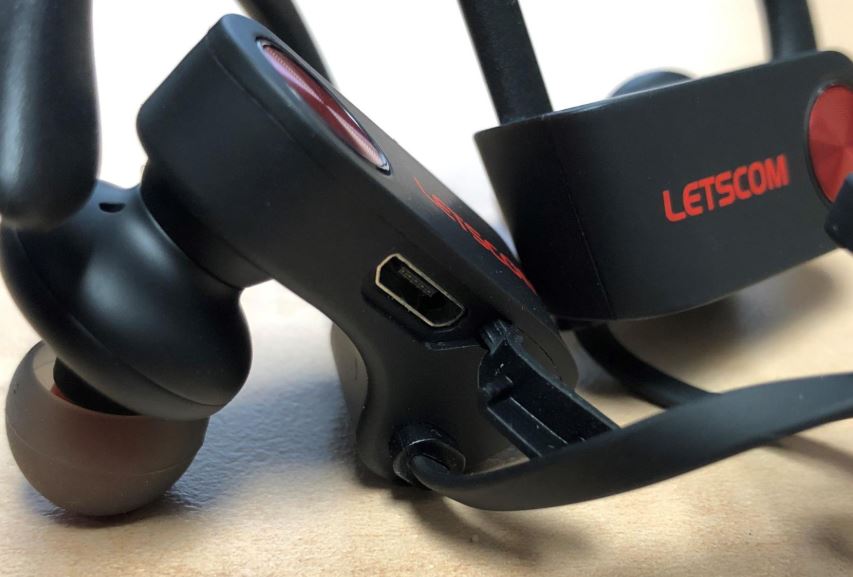 Though single-button operation is becoming increasingly popular for devices like the LETSCOM U8I Bluetooth Headphones, some people will always prefer to have the simplicity of a familiar multi-button interface. And managing three buttons isn't terribly challenging, though admittedly each button is somewhat small.
There's also a bit of a learning curve involved with remembering which button does which command, and how many times you have to tap. But the whole interface is simple enough that even if you forget what you're doing, you can generally guess your way to find the right combination of commands pretty easily.
Worn Comfort
Finding comfort from in-ear headphones isn't as tough as it used to be. LETSCOM Bluetooth Headphones combine in-ear buds with an ear-hook design, which helps to disperse the responsibility of securing the earbuds across multiple components. If you start running or springing, those hooks provide great stability. And if the earbuds do happen to pop out of your ear canal, they won't go far.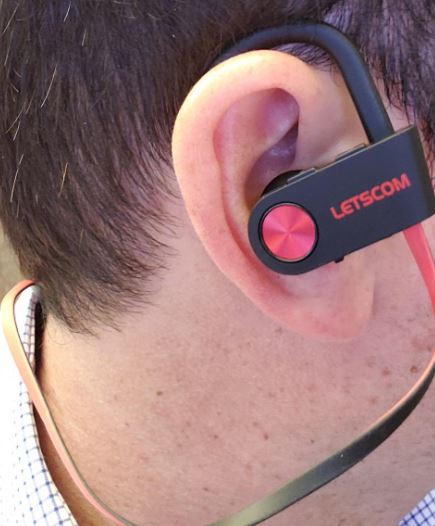 The ear hook manages to keep U8I Bluetooth Headphones right up against your ear, even as you make sudden movements. Though the ear tips themselves aren't really anything special, they're not worthy of scorn either. Being made from the same silicone as almost any pair of similar headphones, they tend to meet expectations more than exceed them.
The ear hooks actually make carrying around the LETSCOM U8I Bluetooth Headphones much simpler. You can just lay the hooks over your fingers and carry the headphones with no hassle, and really no need to get a carrying case involved.
Unfortunately, because these are budget headphones, you cannot change the size of the ear hooks. That's not nearly as important as being able to switch between ear-tip sizes, especially because the included universal hook size will work for most people.
But young children and people with small ears may not be able to get the ear hook to sit correctly. This shouldn't greatly detract from comfort, though it would make the LETSCOM U8I Bluetooth Headphones less suitable for use during athletic activities.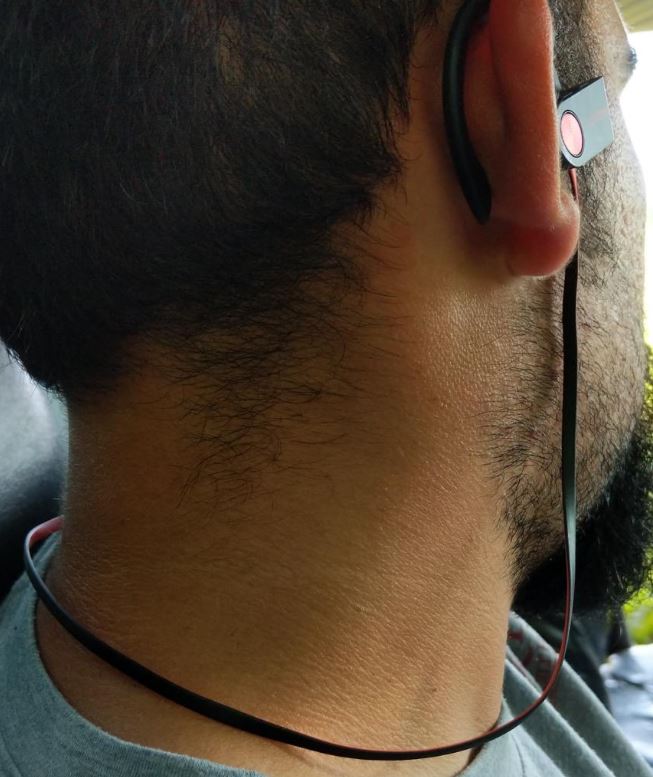 Audio Quality
LETSCOM U8I Bluetooth Headphones are built around fairly large 11mm audio drivers, and are backed by a CSR chip to help generate a high fidelity audio experience. When you're shopping for headphones around this price range, you can forget about flawless sound quality. What you're really looking for is to make sure there isn't any obvious or heavy distortion.
You might find that kind of thing as you raise or lower the volume of the headset, as you hit the extreme ends of the tonal range. The LETSCOM U8I actually does an amazing job of keeping distortion down. Though much of this is because of digital technologies like Bluetooth 4.1, which guarantee certain levels of sound fidelity.
Apart from getting the essentials right, LETSCOM U8I Bluetooth Headphones makes use of digital amplification to create slightly richer bass. It's important to temper your expectations, relative to the fact these earbuds are still earbuds, which have never been particularly good at recreating bass tones.
Though the amplified bass used by the U8I Bluetooth Headphones doesn't have much kick to it, it does provide a smoothness that's often lacking from headphones which use boosted bass.
Microphone Quality
These days, even a microphone that has no features can perform pretty well with Bluetooth. But the LETSCOM Bluetooth Headphones and its built-in microphone are not totally without noteworthy features.
Perhaps most notably, its microphone puts CVC 6.0 digital noise cancelling technologies at your disposal. Though when you start talking about noise cancelling technologies in the context of headphones, people tend to become confused. The general idea of CVC 6.0 is to reduce noise and distortion within your microphone signal.
For the person who you're talking with, it sounds as if there's a consistent ambient noise surrounding you at all times. And the quantity of this noise reduction isn't small. Though the potency of its effects are circumstantial, it can actually be quite noticeable because it can reduce noise by about 30dB.
For the sake of comparison, a good pair of foam earplugs will block about 32dB. It's not quite the same as having a cone of silence around you, but it's unquestionably great for making calls. And it's certainly far better than having no noise cancellation features at all.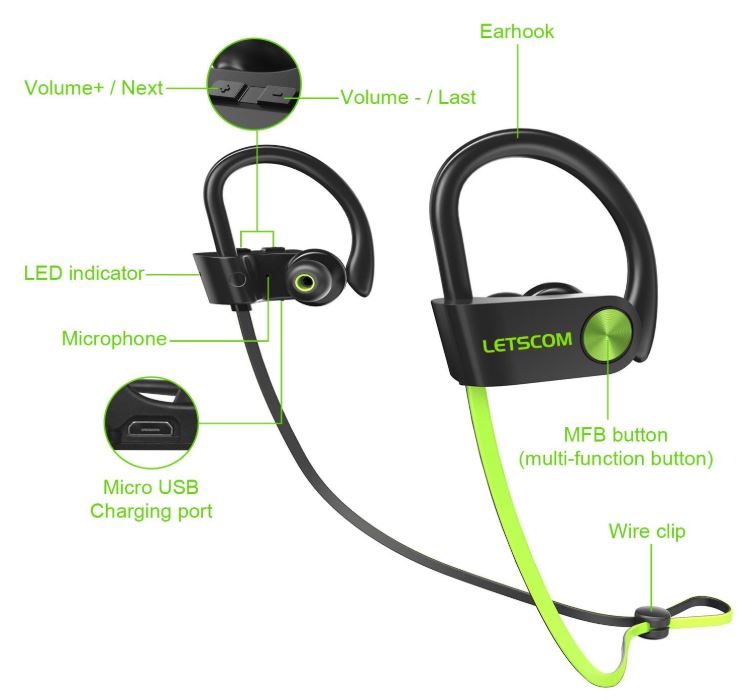 Battery Life
LETSCOM U8I Bluetooth Headphones are made with a built-in 100mAh 3.7V lithium-ion battery. It allows your talk and music playtime to end up in the neighborhood of six or eight hours. But unfortunately, these types of estimates vary depending on many different factors.
Even heading outside while it's cold could end up dragging down your battery performance. But assuming you're sitting inside and not listening to your music at full-blast, the six to eight-hour estimate is really quite accurate.
LETSCOM U8I Bluetooth Headphones don't offer any special recharging features. It takes about two hours to completely restore an empty battery, which is about average for headphones like these. Once you've got a battery charged up, it can safely sit around on standby for up to one week.
Wireless Connectivity
As mentioned earlier, LETSCOM U8I Bluetooth Headphones make use of Bluetooth 4.1 for their wireless connectivity. This allows the U8I to provide 33-feet of distance for its connections, provided there are no obstacles between yourself and the source.
It also ensures you get some basic auto-pairing technologies associated with the more recent versions of Bluetooth. All in all, very little to complain about.
Other Considerations
Though you can get by without a carrying bag pretty easily, the LETSCOM U8I includes an EVA bag. The bag is actually close to being a carrying case in its own right. It's small, circular, and about the size of a CD. It helps protect the headphones from scratches, but it really won't do much when it comes to fluids.
In addition to the bag, LETSCOM U8I Bluetooth Headphones includes ear-tip replacements in three sizes, a micro USB cable, wire clip, and user manual. The wire clip probably won't see much use because of the relatively short cable.
But if you're someone who's deeply bothered by a little movement from the wire, the cable clip is worth using. It's a very simple black clip that does not have a tough time blending in.
Finally, LETSCOM provides 24/7 email support and a lifetime warranty. Though it does seem unlikely you'll need to make use of either.
Who Should Choose LETSCOM U8I Bluetooth Headphones?
The LETSCOM U8I are clearly headphones for people on a budget. With three sizes of ear tips to choose between, comfort basics are covered. Their generally sturdy waterproof design is ready for athletic activities. But the U8I has more to offer than the basics alone.
CVC 6.0 noise cancelling technologies are really what help set these headphones over the top, especially compared to other headphones within this price range. Of course, those kind of benefits aren't for everyone.
If you don't care about taking or receiving calls, you could probably find a pair of headphones more uniquely suited to you. But if you have any special interest in making or receiving calls at all, the LETSCOM U8I Bluetooth Headphones are unquestionably an excellent value.