Throughout the past several years, Treblab has evolved from an unkown startup to one of the most trusted and reputable, budget-friendly choices when it comes to portable audio. We initially reviewed their XR100 and XR500 headphones and absolutely loved them. We didn't think they were going to be that impressive, but we thought wrong.
This year, they released a few newer models like the X11, RF100 and J1 earbuds. In addition, they even produced two fantastic portable speakers, the HD55 and FX100. Overall, we've always been quite impressed with their designs as each one has lived up to our expectations, time and time again.
Just a week ago, Treblab released another model to their lineup, the X2 Bluetooth Earbuds. From first glance, we noticed a lot to get excited about. Equipped with first-time features like beryllium speakers, improved fit and better battery life, we knew we were in for a treat.
The look and style of the earbuds aren't all that's changed. There's a real meaning behind the "X2" model name. Treblab gave them this name based on them having two times the ability of previous models. Ultimately meaning better sound, battery life and more "life enhancing" features.
Without testing them for ourselves, we could only assume these things to be true. Today we're going to take a closer look, test them out, and give them a run for our money. Let's see if they live up to the hype or fall short and make us wish for more.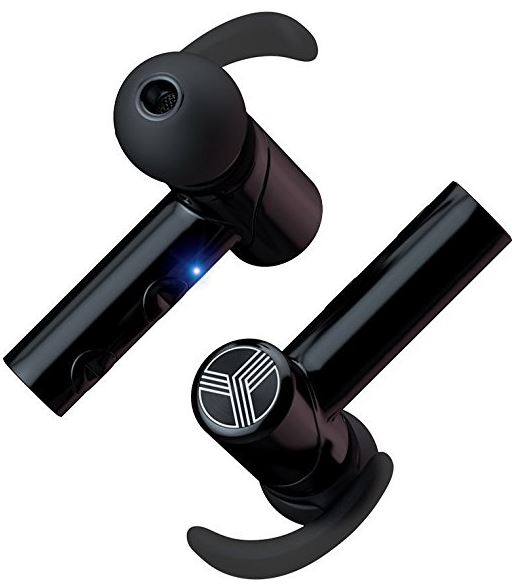 First LooK
Taking a single look at the Treblab X2 Bluetooth Earbuds, you can tell that their design is quite different than previous models. Boasting a true wireless setup, there's no cables or wires to get tangled up. Each earbud is independently powered and structured in a way that looks quite unique and a bit futuristic. A small rod sticks out and connects to the tip that secures into your ear canal, which is accompanied by a "wing" that bends inward to keep them stationary while they're being worn.
In addition to the earbuds themselves, a charging case is included. It's a small rectangular box that has two ports – one for each earbud to slide right into. On the front is a charge button with 3 LED indicators that clearly show the current battery life. The case connects via the included micro USB cable and allows for a quick and simple way to charge them and bring along with wherever you end up. In addition, you get a total of five eartip sizes and three wing sets to select from.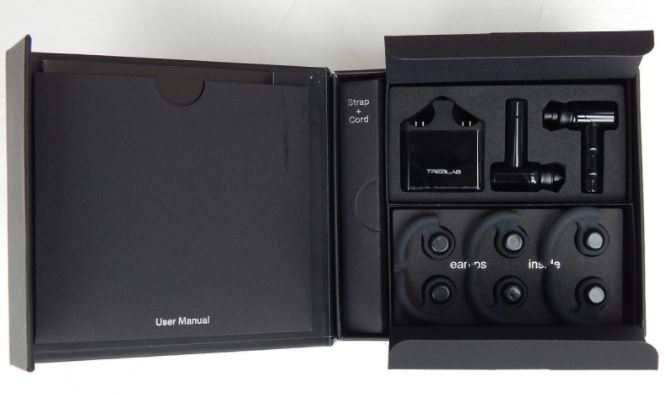 Comfort
Placing the X2 earbuds into our ears for the first time, we were pleased to find a perfect fit right out of the box. Although Treblab includes a wide variety of tips and wings to interchange, we didn't need to adjust the fit whatsoever. Each earbud slips right in – the cylinder points downward with the winged tip sticking upwards, behind the first fold in your ear. With a wedge-like shape, you'll need to make sure you achieve a tight fit, but not too tight that they'll cause pressure points. If you find that they feel too snug, take a minute and switch out the tips or wings until you settle on a more comfortable fit.
We felt like they were well thought-out in regards to the fit they provide. As independently wireless earbuds, it can be risky wearing them if they're loose or not snug enough. After all, there's no wire attached, so if they fall out, they're likely going to drop all the way to the ground. Acquiring a proper fit cannot be stressed enough.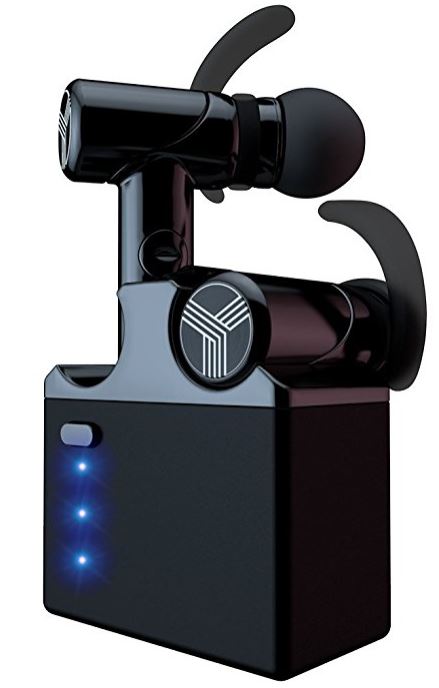 Throughout the first week that we tested them, the X2's never once fell out or gave us issues with their fit. We're actually quite in love with the way they go into your ears and stay there until you manually remove them. The rubber on the tips and wings is soft, plyable and not too rigid. In addition, it seemes to bead-off moisture and sweat in a very effective way. Even with an hour-long run or extended duration at the gym, we never felt like they needed to be adjusted. We could easily wear them for half the day and leave them alone the entire time. No fidgeting necessary – we loved the way they fit!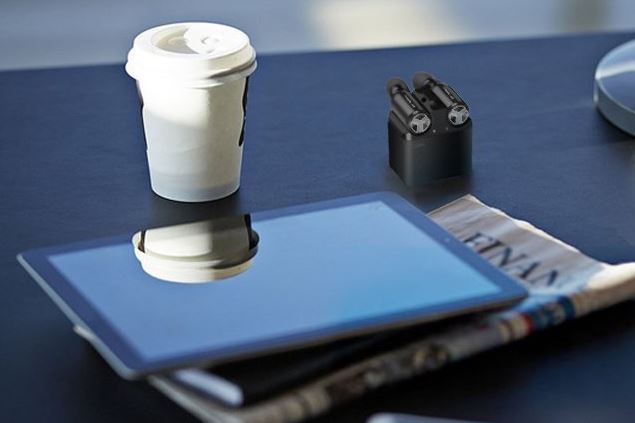 Sound
As with any pair of wireless earbuds or headphones, the sound quality is arguably the most important feature. What sets the Treblab X2's apart from the competition is their new and improved internal construction. Inside each speaker, they've equipped them with beryllium to enhance and improve upon the sound quality in a noticeable way. What exactly is beryllium? According to WikiPedia, it's "a relatively rare chemical element that's found in the universe. It usually occurs as a product of the spallation of larger atomic nuclei that have collided with cosmic rays." In other words, it's found in stars throughout the galaxy around us. Pretty incredible!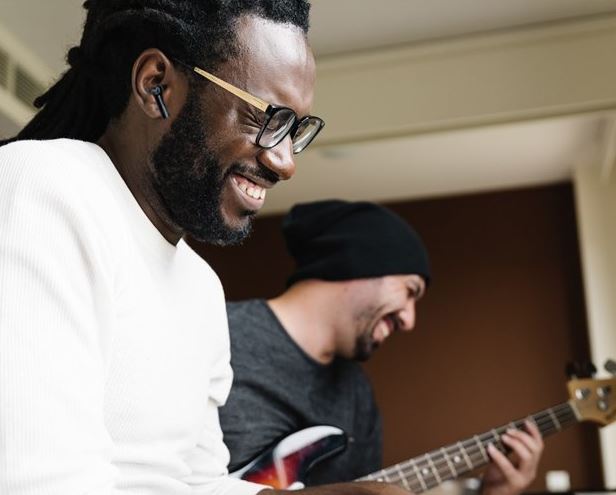 Question is – how much beryllium is found in each earbud and how is it applied in a way that makes them sound better? This is something that isn't exactly clear, but we'll take Treblab's word for it, since we noticed a huge different in sound clarity right off the bat. In comparison to the Treblab X11's, we could immediately notice the vibrant sound and richer vocals shine through without any slight bit of distortion. Certain songs, one's that were vocally rich or full of fast tones, sounded life-like and more realistic than we initially expected. The improvement was clear as any song or genre of music we tested them with seemed beautiful.
The bass was acceptable, but not totally impressive. Although the bass didn't add any distortion or unwanted effects, we felt that it was a bit lacking when it came to the deeper sounding rhythms and tones. Some may have no issues with it, but those who call themselves "bass heads" may want to look for an over-ear set of headphones that are more geared towards studio-listening and less towards working out.
Overall, the sound clarity was phenomenal! Yes, the bass made us wish for a bit more, but it definitely wasn't terrible. Was the sound truly twice as good as the X11's? In most regards, yes it was, but this is quite hard to conclusively say since there doesn't seem to be a real improvement in the bass.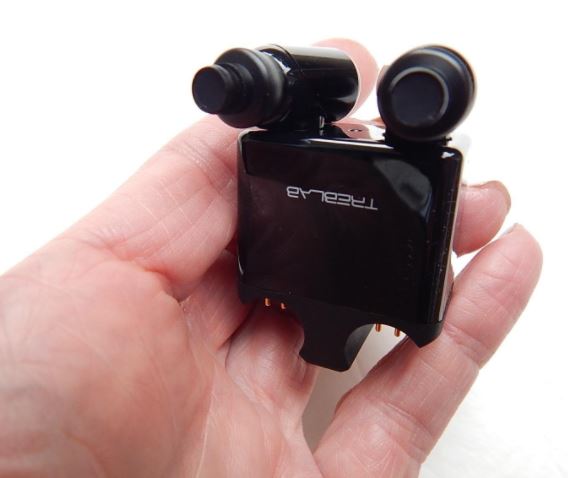 Noise Cancelling
Although the X2's aren't equipped with "active" noise cancelling, the integrated "passive" noise cancelling is something to get excited about. Shielding your listening from the outside, each ear tip will seal the listening experience and keep out unwanted background noises. We found this only to be true if you achieved a proper fit from the start. As long as there's a good, snug fit, you can take advantage of the passive noise cancellation.
Although not quite as effective as active noise cancellation, passive noise cancellation is essential if you plan on using earbuds in any public environment. Scenarios where you're on the bus, at the gym, or just walking down the street will benefit from this.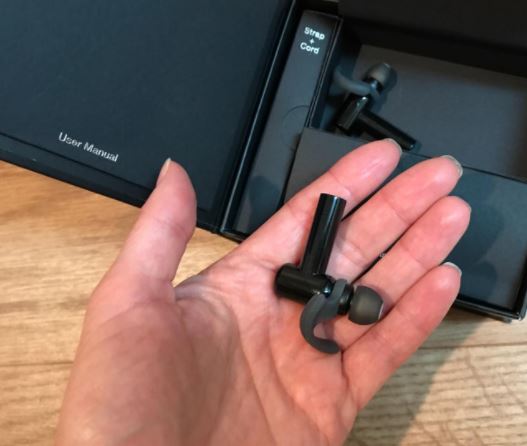 Battery Life
The life of the internal battery is a crucial feature that needs to be considered. Most Bluetooth earbuds are connected with a wire between the two, but not independent, true wireless earbuds like the X2's. Each earbud is powered by its very own lithium-ion battery that's built right into the design. Because of this, you'll need to attach them to the included charging dock before taking them out for a day of use.
After only 3 hours, we achieved a full battery and were ready to use them consistently, for as long as we could. With a moderate volume level and continuous play-time, it was 9 hours until we were notified of a low battery. After 10.5 hours, they died on us and were ready to be charged again.
The advertised ten hour battery life seems to be quite accurate, but keep in mind that a few factors may affect the actual battery life. Cold weather, loud volume or a long wireless transmission range could have a negative effect on the duration of the battery.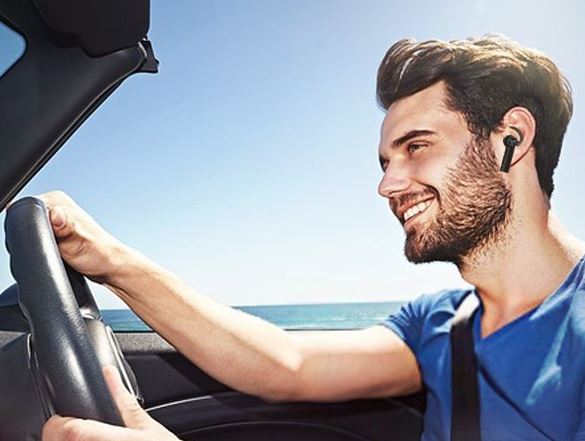 Durability
As the X2's are designed toward the active individual who works out or relies on wire-free listening throughout the day. Because of this, Treblab took extra time in the design by making them IPX4 water resistant and sweatproof. This means that each earbud is sealed against drops of moisture, but cannot be fully submerged in water. In other words, you can wear them in the rain or during a sweaty workout, but you probably won't want to wear them in the pool.
As far as build-quality goes, we were pretty happy. Treblab seemed to build them in a way that doesn't feel "cheap" or "tacky". Each earbud feels well-made, solid, yet lightweight and not fragile at all. We weren't afraid to toss them around or drop them on the ground. In fact, we drop-tested them from 4, 6 and 8 feet onto the hard gym floor and they held up just fine!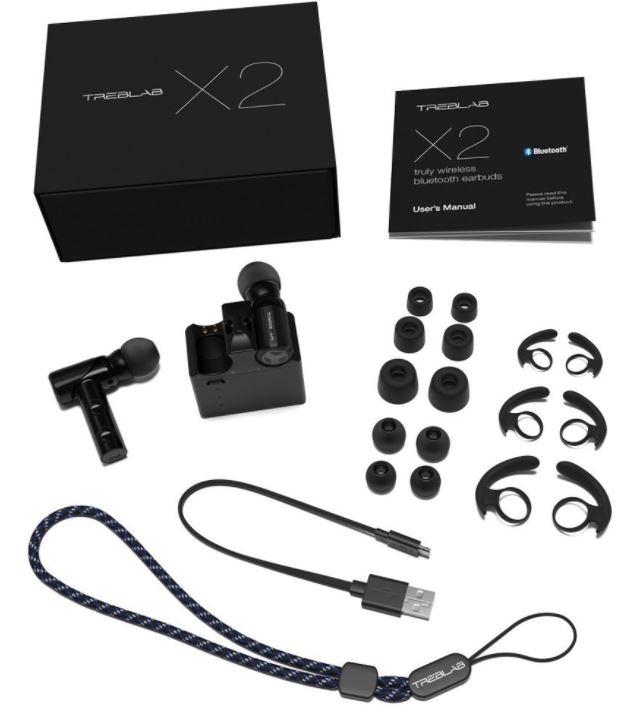 Final Thoughts
Throughout our week of testing the new Treblab X2 Bluetooth Earbuds, we found them to perform exceedingly well in all regards. Initially, we sort-of expected the new use of beryllium to be somewhat of a gimmick, but were surprised to find that it seems to really make a difference in the overall listening experience. Although the bass doesn't seem to be much-improved, the clarity and realism is what took us by surprise. While it's not clear how they integrated this rare element into the speakers, we have to give Treblab a lot of credit for being very innovative at a time where budget-friendly headphones seem to constantly copy each other.
The comfort they provide is spot-on and the build quality is fantastic. Other than the bass, we noticed improvements in all regards with this latest release from Treblab. Best of all, they're a company that stands behind their product by providing exceptional customer support with a lifetime warranty and 30 day return policy. We're happy with the X2's and excited to see what the future holds for such an innovative, up and coming company.