With all the fascinating new technology that gets released on a regular basis, it's not often we take a look at the humble printer. While printers were once a significant investment that home users and businesses paid to maintain and repair, over time manufacturers have released significantly less expensive options. While this may simply be a result of reduced production costs, many suspect that the manufacturers decide to take a loss selling printers knowing they can still make a tidy profit with higher margin ink sales.
The lower purchase price seems nice when it comes time to buy, but increased ink costs and potentially lower quality products increase the total cost of ownership overall. Manufacturers have compensated for this by cramming in lots of bells and whistles. Features that were once premium add-ons, like Wi-Fi support, integrated scanners, and touch screen displays, have gradually evolved into standard features at all but the lowest price points. This makes a very crowded, challenging market where manufacturers have a difficult time getting their products to stand out above the crowd.
Given these challenges, is it still possible to create a new and exciting printer or have printers become completely commoditized? If anyone has a shot, it's HP. One of the most well-known and respected names in home and business printing, HP has a very long history of creating generally good quality printers.
The HP ENVY Photo 7855 All-In-One Printer brings a host of convenient features looking to capture what you need a printer to do today. If you're in the market for a new printer, let's take a look and see if the ENVY 7855 has what you need.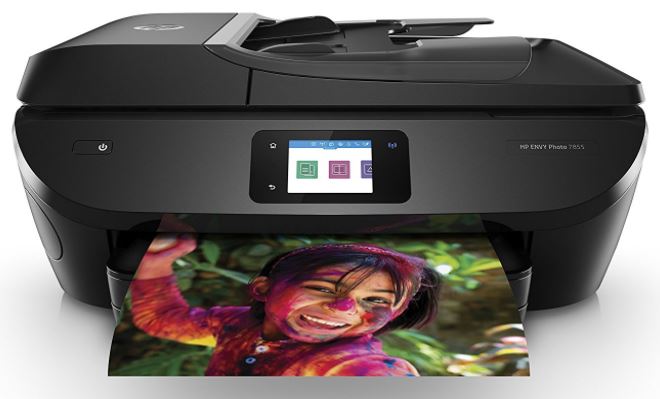 Overview
The HP ENVY Photo 7855 All-In-One printer is a compact desktop multi-function printer designed to do it all. While it's certainly not an industrial workhorse, HP looks to show it understands the printing needs of the modern home. While most home users aren't printing reams of paper daily, they do want the ability for multiple people to easily connect multiple devices for printing documents and photos.
HP clearly wants to emphasize photo printing with the ENVY 7855. Consumer photography has changed dramatically over the last 20 years. Most of us still remember the days of film cameras. Loading canisters, winding film, snapping a few shots, paying for development, and waiting anxiously to see if any shots turned out well seems downright archaic compared to the quality and convenience of modern digital cameras.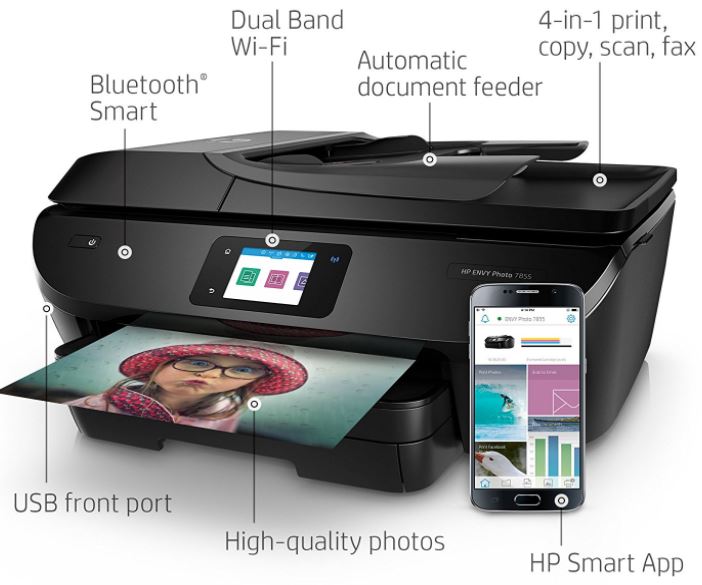 Despite all the advancements in digital photography, we often hear people lament the loss of printed pictures. Sure, you can certainly print as many as you want, but with so many photos stored on our computers and phones we often just don't think to do it. While social media serves as a digital album, many people long for the shared experience of sitting down a flipping through a physical album with friends and family.
The ENVY 7855 enables convenient, inexpensive photo printing with a host of helpful options. WiFi and mobile support allow for instant printing from the convenience of your smartphone, while integrated SD card and USB ports allow you to quickly print from your digital camera without needing to sync photos.
Overall, it's a solid printer, but the most interesting aspects have more to do with the overall HP ecosystem than the printer itself.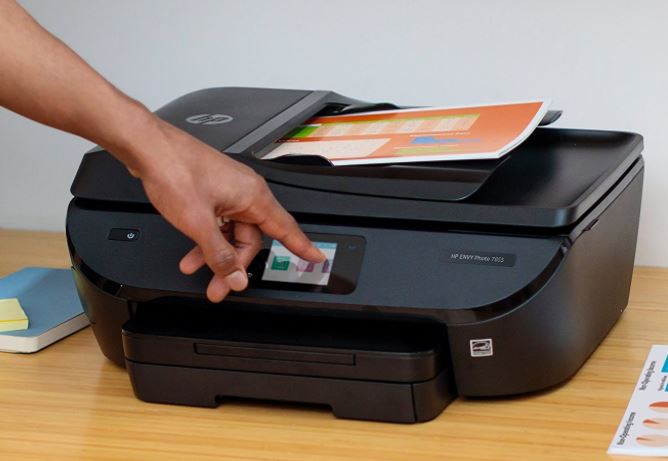 Specifications
Before we dive into the features and supporting software, let's first take a look at the hardware specifications.
The HP ENVY 7855 measures 7.6 x 17.87 x 19.33 inches and weighs 16.72 pounds. While this certainly means it isn't a portable device, as desktop multifunction printers go, it's relatively compact. With a primary paper tray and secondary photo tray, the ENVY 7855 accepts a wide array of paper types and sizes but is limited to a 125-sheet maximum capacity. The automatic document feeder can handle 35 sheets for multi-page scanning.
Printing quality is high with a 1200 x 1200 dot per inch black resolution up to a 4800 x 1200 dpi resolution with appropriate HP photo paper. While quality may be good, you will need to wait for it. HP claims a black print rate of 15 pages per minute while color dips to 10 pages per minute. On top of the relatively slow rate, HP lists a Recommended Monthly Page Volume of only 300 to 400 pages.
For most home users, 300 to 400 pages may sound perfectly adequate, and HP is counting on that fact. If you print the occasional photo or school project, you'll find it works just fine, but don't even think about it for office use or any other higher volume application.
The ENVY 7855 uses two ink cartridges, 1 black and 1 Tri-color. While this dual cartridge setup is common for small and lower budget printers, if you plan to do a large amount of photo printing you may want to look elsewhere. Higher-end photo printers will typically separate the colors into multiple individual color cartridges. With a Tri-Color cartridge, if you're printing photos of a blue whale in a blue ocean with a blue sky, as soon as the blue segment of the cartridge empties you'll need to replace the whole thing even if the other colors are completely full. That could mean a lot of wasted ink and dollars.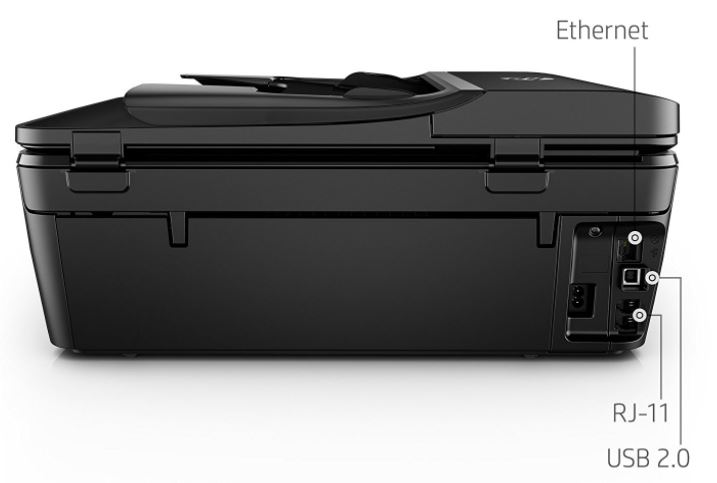 Enhanced HP Features
While printing may not sound particularly exciting, HP has added a few additional elements designed to enhance your experience while using the ENVY 7855.
The HP Smart app, formerly known as HP All-in-One Printer Remote, adds a host of helpful features designed for use by your Android, Apple, or Windows mobile devices. It allows you to easily configure and manage your HP printer while also enabling print, scan, and share features from your mobile device. With easy integration into cloud and social media services like Dropbox, Google Drive, iCloud, and Facebook, printing and sharing your photos or documents couldn't get much easier.
The HP Smart mobile "scanning" feature actually just takes a photo from your smartphone's camera, but the instant conversion to PDF, image cropping and enhancements, and quick printing access still make it worth using the app compared to just taking a standard photo.
Also, the HP Smart app allows you to change printer settings, perform maintenance tasks, check supply levels, and order new supplies. While we didn't really expect to need this feature, we did find it far easier to navigate the app than it typically is to dig through menus on the small integrated touch screens of most printers.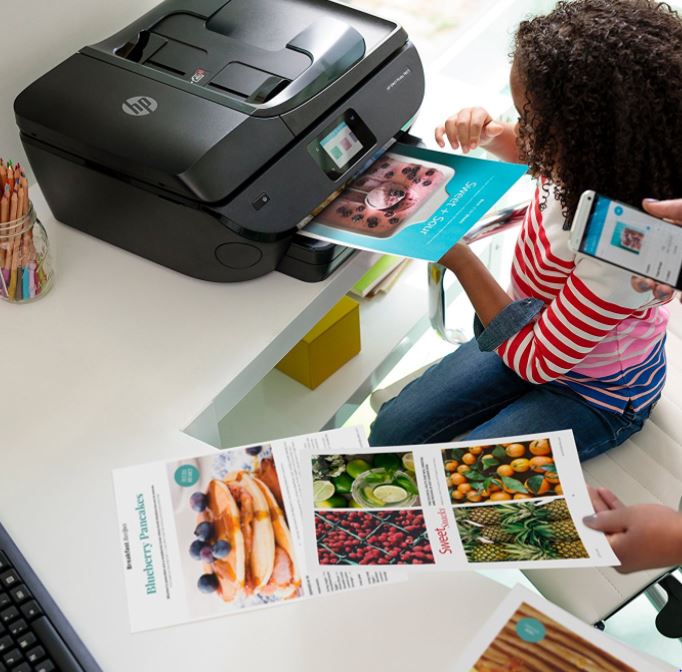 HP Instant Ink
Along with the HP Smart app, HP has developed the HP Instant Ink program in order to enhance customers' ownership experience. At least that's the optimistic view. Some might argue it's an attempt to extract further payment from their customers. We'll lay out the details here and you can decide for yourself.
Printer ink is notoriously expensive. The HP Instant Ink program is essentially a subscription service based on printed page count. This model has trickled down from business managed print services, but we're not convinced that consumers will accept the model with open arms.
Essentially, you sign up for a subscription package based on your estimated pages per month. Current packages are 50, 100, or 300 pages per month. You are charged a flat fee that includes all ink costs and shipping regardless of how many pages you actually print. The service requires an internet connection so HP can monitor your ink levels and automatically ship replacement cartridges when they detect you're running low.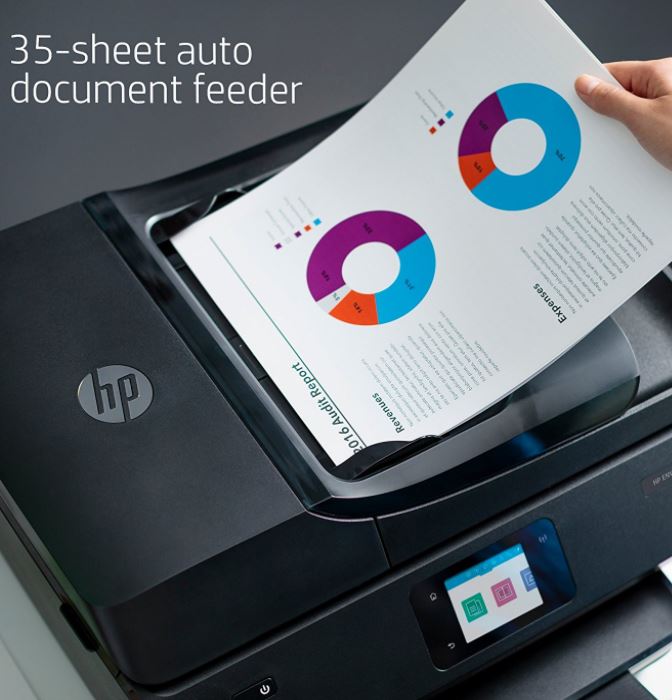 This is a big departure from the standard practice of simply buying new cartridges when you run out. While you may feel an aversion to the automatic subscription process, you may want to at least consider it depending on your usage profile. The biggest advantage lies with heavy photo printers. Since most print cartridge page count estimates involve a relatively small amount of ink coverage, printing photos is a surefire way to drain your ink rapidly. In the HP Instant Ink program, 1 page counts as 1 page regardless of size or ink coverage.
This can be a double-edged sword. If your document spits out one character on a second page, HP counts it as one page. If you print a full color legal-sized poster, HP counts it as one page. HP doesn't distinguish between color and black and white either. Basically, if you do a lot of color printing you can definitely come out ahead, whereas if you just print the occasional document, you're probably better off managing cartridges yourself.
Conclusion
At the end of the day, the HP ENVY 7855 is a good printer. We found document and photo quality impressive enough, while scanning from the flatbed and auto document feeder worked as expected. Most people don't find themselves in the market for a new printer until their old one dies. It's just not a product that has a lot of exciting features that would compel you to upgrade an existing, functional model.
For their part, HP has tried to enhance the printing experience. We did feel that the HP Smart app enhanced our experience. It improved the setup process and made it easier to interact with the printer settings. We also felt it freed the photos "trapped" in our phone and cloud storage. While we didn't have an opportunity to test the Instant Ink program, we are considering it. Having a set amount of prints per month at a fixed cost could encourage us to print more photos without the fear of burning through expensive ink cartridges.
Given the changing environment around photos and printing in general, the HP ENVY 7855 feels like a "jack of all trades, master of none," and there's absolutely nothing wrong with that. Modern users want the ability to do whatever they need done from any device even if they plan to do it infrequently. HP exchanges the decreased duty capacity of the 7855 for the increased flexibility and ease of use of their mobile app and Instant Ink service.
While far from the most capable printer in the world, the HP ENVY Photo 7855 is a well-rounded printer that provides a host of helpful features for light use.