Bose built a reputation, and a tremendously successful company, by doing things differently. Founded in 1964, Amar Bose based his company on the principal that most contemporary speakers failed to account for the acoustic properties of the room or the actual listening experience of the user.
While many speakers followed a "bigger is better" philosophy, Bose crafted smaller products that managed to create a big sound. Bose also pioneered the first consumer noise-cancelling headphones and still makes arguably the best pair despite many imitators.
Bose looks to add a new product to their mold-breaking legacy with the SoundWear Companion Speaker. While noise cancellation and the Wave radio had a huge impact in the market, the SoundWear Companion may be a bit of a harder sell.
Here's the basic pitch: We all love bringing our audio with us. Whether you listen to music, podcasts, or audiobooks, it's great to have the ability to move freely without leaving the range of your speakers. Typically, this means either wearing headphones or lugging around a portable speaker. While headphones may work well for many applications, they aren't always comfortable for extended use and not ideal if you need to maintain awareness of the world around you.
The Bose SoundWear Companion Speaker is a flexible, wearable speaker designed to drape over your shoulders. The upward facing speakers project sound directly into your ears, and Bose's waveguide technology produces sound that is full and rich to you but relatively quiet to those around you. With nothing covering your ears you can still hear the doorbell, phone, your kids, or anything else in your environment.
With such a dramatically different design, let's look and see if the Bose SoundWear Companion Speaker can convince us to ditch the headphones.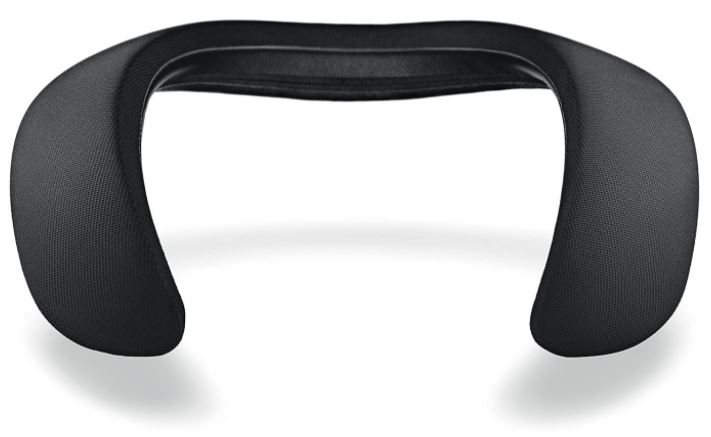 Design
While we typically make note of general design and style before digging into the meat of a review, the SoundWear really demands a different focus. While audio quality obviously matters on any device that produces sound, the biggest factor determining whether you purchase the SoundWear is whether you like the core principal and design of the product.
The SoundWear, unlike a standard pair of headphones, drapes around your neck and rests on your shoulders. Stylistically, it's U-shaped, covered with relatively plain matte black, and has speaker grilles on each end. This makes the SoundWear look more like some sort of futuristic, stealth boomerang than a listening device.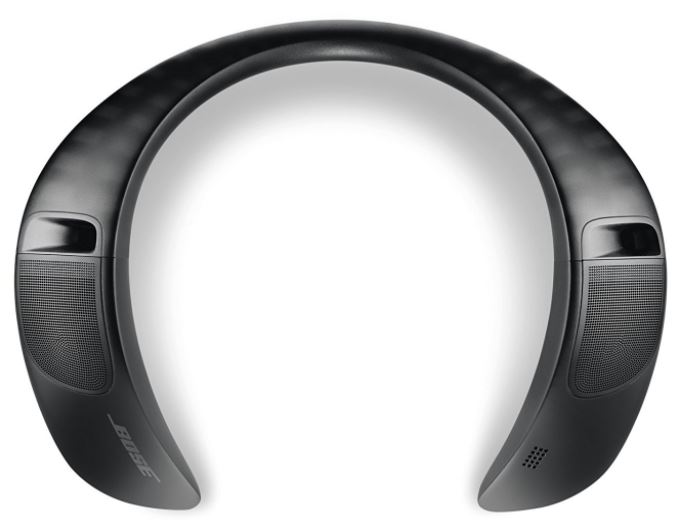 The SoundWear measures 7.5 x 7 x 1.75 inches and weighs in at a very trim 9.4 ounces. We initially thought we'd find it uncomfortable to wear, but soon found that the light weight and ergonomic design almost made us forget we had it on. One of our main concerns was with stability. The SoundWear's design made it feel secure enough on our shoulders that we didn't feel it would fall off with normal activity. Walking and even casual biking didn't cause it to slip or fall, but we wouldn't recommend using it during more strenuous activity. Anything involving jumping or running would keep us in constant fear of the device bouncing off of our shoulders.
Bose also developed fabric covers custom fit to the SoundWear. Stretchy and durable for a snug fit, Bose claims these covers are "acoustically transparent" so they won't interfere with your audio in any way. Additionally, the static free design keeps hair and clothing from clinging to the covers. While we didn't particularly mind the appearance to begin with, the covers do help the SoundWear blend in a bit more with clothing instead of just looking like a plastic scarf. Bose includes a black cover in the box, and you can separately purchase Heather Gray, Midnight Blue, or Dark Plum colors.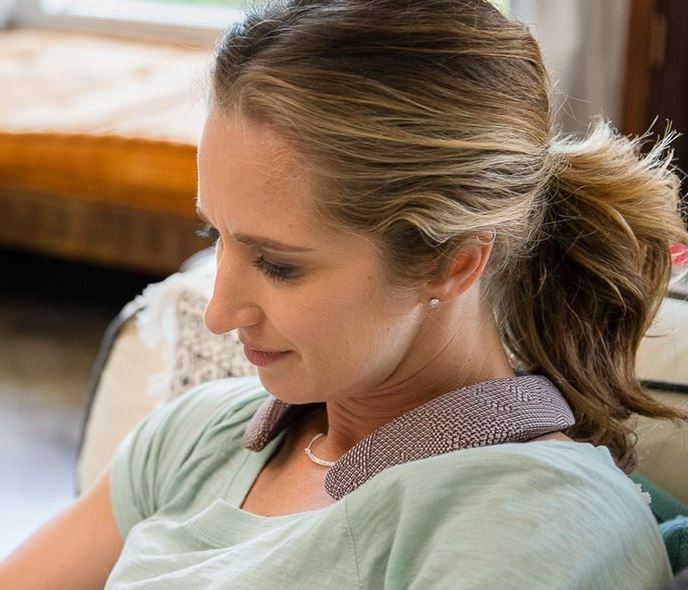 Features
The SoundWear Companion, while focused mainly on sound, does have a few other noteworthy features.
Unsurprisingly, the device connects via Bluetooth to your smartphone or any other compatible source. Per Bluetooth standards, connectivity range stretches to a maximum of 9 meters, or 30 feet. Walls or other objects can interfere and reduce maximum range. While some Bluetooth headphones or speakers require you to remember the connection procedure or refer to the manual, Bose added convenient voice commands so you'll never struggle to pair the SoundWear with a new device.
Knowing that most users will choose to connect via smartphone, Bose smartly elected to include a microphone for hands-free calling. Bose dubs this the "Advanced Microphone," and while they don't exactly explain what this means, we did find voice quality very crisp and clear during test calls. The SoundWear also vibrates with incoming calls which keeps the ringer discrete in public settings while also preventing your ears from getting blasted whenever a call comes in.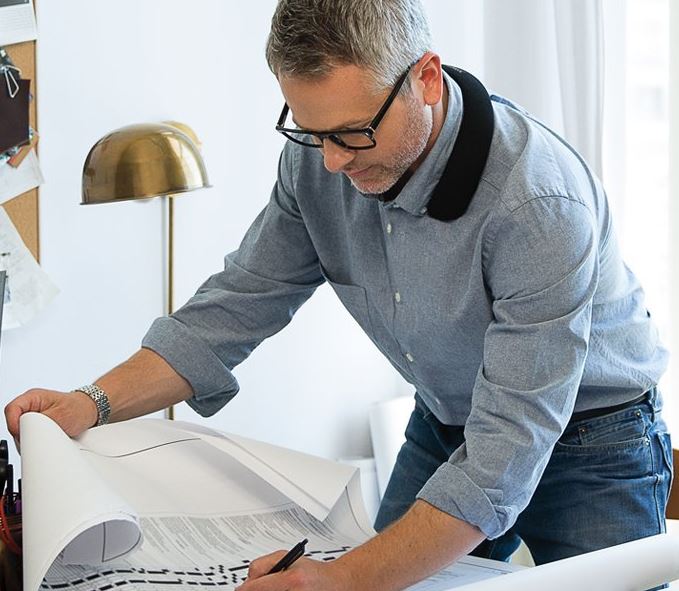 We weren't entirely sure whether to discuss the SoundWear's flexibility as a design or a feature. Since Bose takes special care to highlight this element on the product page, we felt it made sense to consider it a core feature as well. Bose designed the SoundWear with special "bend and stay" steel wire covered in medical-grade silicone. These elements combine to create a comfortable, custom fit with a slight amount of torsion that allows it to rest securely against your shoulders. This flexibility really feels critical to the success of the product given that everyone has a different shape.
Bose also states that the SoundWear can handle the elements. The product page states "Sweat and Weather Resistant. Don't worry about a little rain or a lot of sun. This wearable can take it." While we do appreciate any added durability, this nebulous statement doesn't give us too much information. Without an IPX water resistance rating, it's difficult to say how much moisture the SoundWear can tolerate, so we advise exercising caution.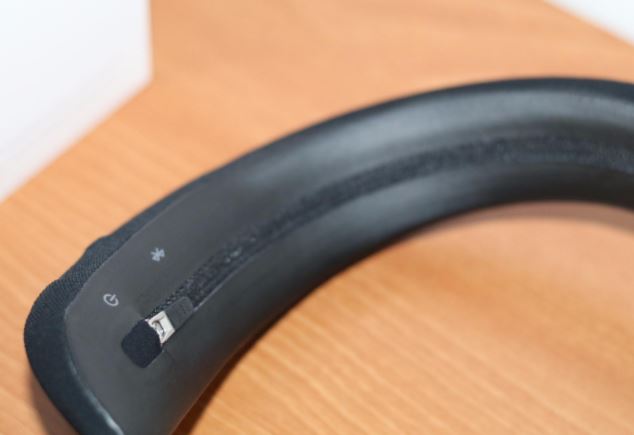 Audio Quality
It's always a bit interesting to test a product in such a unique category. While other wearable speakers do exist, even some similar over the neck models, it's still a very small pool of competition to draw from. In the case of the SoundWear, quality and performance should be compared against not only other wearables but traditional headphones as well.
Bose always pushes the limit of what audio can do. For the SoundWear, they drew upon years of experience with devices like the Wave Radio. Since deeper frequencies require space to create air vibration, it's often a challenge to produce a rich sound from small speakers.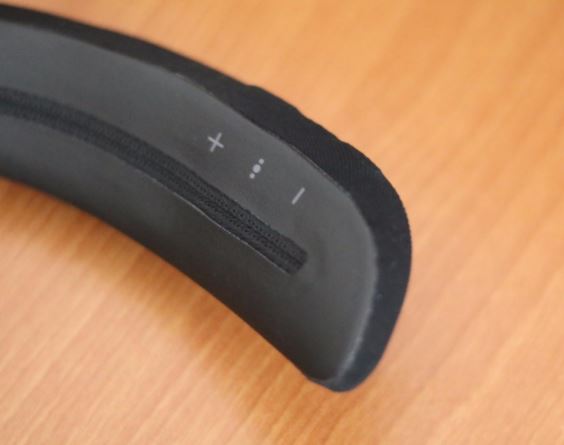 This is where the SoundWear's main innovation comes in. Bose routed two 11 inch waveguides through the flexible neckband and out of audio ports on the opposite side. This way, the drivers have significantly more room to create deeper tones than if they just projected directly upward. This makes the flexibility of the neckband all the more impressive knowing it isn't just for keeping the device over your shoulders.
While unique technology always captures our attention, the true test lies with the end result. In this case, the end result delivers more than we expected. While we've come to expect quality from Bose products, we anticipated the odd design would leave us underwhelmed. The SoundWear Companion handled music and voice with remarkable depth and clarity. Also, while other people in the room could hear it, they found it relatively quiet and not particularly irritating. Now, we can't advise playing music in a coffee shop or on an airplane, but you won't have to completely isolate yourself from the world around you.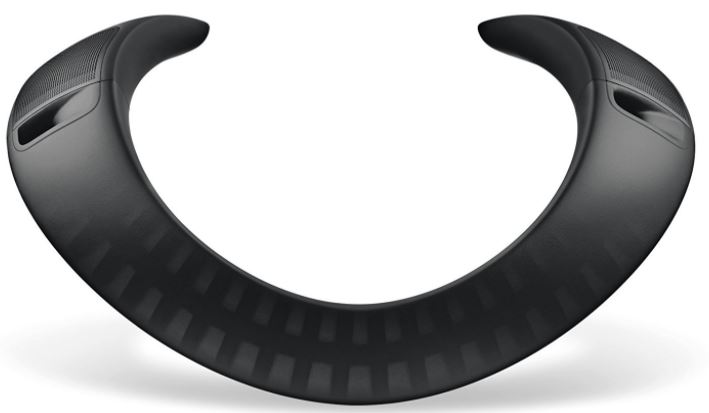 Usage and Battery Life
The Bose SoundWear Companion proved quite easy to use. Pairing was a simple process utilizing the side buttons. After successfully pairing, we did not experience any audio dropping until we left the range of our phone.
Speaking of the side buttons, the 3-button control allows for volume up, volume down, play, pause, answering calls, and initiating Siri or Google Assistant voice commands without the need to touch your phone.
For enhanced functionality, simply download the Bose Connect app from the Android Play Store or iTunes. This app can control your speaker's Bluetooth connections, adjust audio levels, and personalize settings.
Multi-point technology can maintain two different Bluetooth connections simultaneously. This comes in handy if you're watching a video on a laptop or tablet and you receive a call. Without disconnecting and pairing to your phone, the SoundWear will automatically pause the video and switch to the call on your smartphone, then switch back and restart the video when the call ends.
While Bluetooth has enabled a host of small, wire-free listening devices, poor battery life can ruin an otherwise great experience. Some wireless Bluetooth earbuds have just three hours of listening time. While this might work for short commutes or workouts, it's hopelessly inadequate for all day listening or extended travel.
The SoundWear charges via USB cable for an impressive 12 hours of audio playback which makes it more than adequate for all day usage. Even better, a short 15-minute charge provides up to three hours of playback so you barely have to stop listening at all.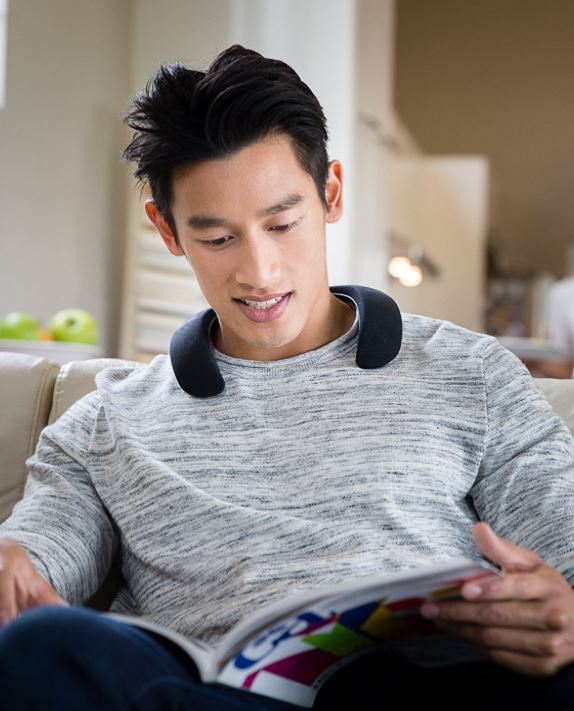 Conclusion
The Bose SoundWear Companion Speaker falls into the odd zone of being absolutely fantastic if it fits your needs, but relatively useless if it doesn't. People who generally sit at a desk shouldn't have a problem listening to audio via speakers. Those who listen in close proximity to others will need the sound isolation of a traditional pair of headphones. Anyone trying to fully appreciate an album or focus on an intense gaming session won't want the intrusion of outside noise.
While many scenarios exist in which the SoundWave wouldn't work well, we can imagine a niche of people that could benefit from the unique design. We were surprised at the quality of sound produced while maintaining the ability to hear outside noises. During an extended day of working at the computer and around the house, we soon took for granted the convenience of having audio everywhere we went.
As expected, when we wore it around other people they were initially quite puzzled. We got a few strange looks and questions, but after explaining, most people seemed intrigued by the concept and wanted to try it for themselves.
Once again, Bose has crafted an exceptional product that defies the status quo. The SoundWear Companion Speaker must be experienced to be appreciated, and while it may not meet everyone's needs, you just might find you like it more than you expect.