If you look at all the latest product releases from headphone manufacturers, you'd think cords were headed the way of VHS tapes and payphones. While we still think you can make a strong case for a pair of quality, reliable, corded headphones, clearly the market shift toward wire-free is here to stay.
Wireless headphones have existed in various forms for a number of years but often required a base station and transmitted on common frequencies that could experience interference from wireless home phones or other devices. A few changes over the past decade have brought wireless headphones mainstream.
The rise of the smartphone has seen these multi-function pocket computers overtake all other forms of personal portable media consumption. Previously, portable media players dominated, stretching all the way back from the classic Walkman through portable CD players and ending with the groundbreaking iPod. While Apple's iPod changed the game and ushered in a new era of digital music, its dominance was broken not by a competitor but by Apple's own iPhone. Few people saw the need to carry a smartphone with full music capabilities and more plus a separate music-only device.
This shift meant that rather than comparatively simple music payers, people were listing on sophisticated smartphones with Bluetooth already included. Bluetooth capabilities expanded over the years to add increased data transfer rates, more reliability, and less power draw, so the shift toward Bluetooth headphones was inevitable.
Skullcandy has produced a range of headphones, wireless speakers, and accessories with a bold, in-your-face style targeted at the action sports market as well as regular consumers. While some products received criticism for focusing more on style than quality, the new Hesh 3 wireless headphones are quite a mature product offering that offer the major headphone names some big competition.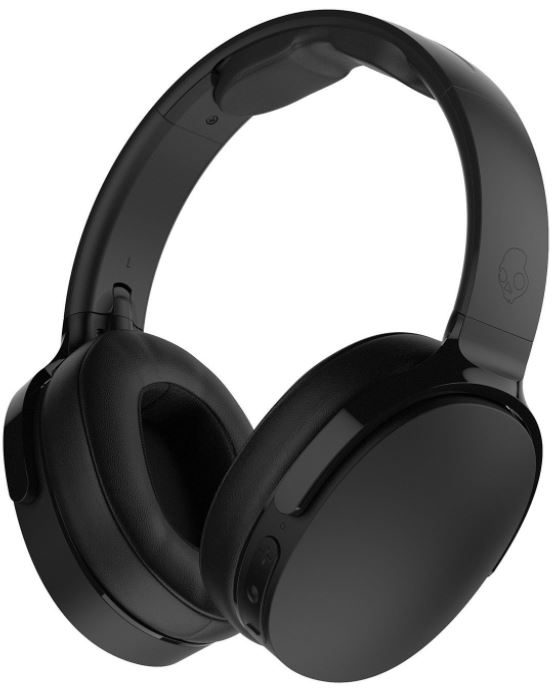 Overview
If you're familiar with Skullcandy products, the first thing you may notice about the Hesh 3 Wireless headphones is how little they look like a Skullcandy product.
While previous offerings generally feature bold colors, designs, or prominently place the skull from the Skullcandy logo, the black Hesh 3 wouldn't stand out at all in a lineup of headphones from other manufacturers. It has a matte finish and while the skull logo still makes an appearance, it's in a very understated, line-drawn style rather than a bold color. If you're not looking for it, it's actually quite easy to miss. Skullcandy hasn't completely abandoned their unique style, so if you'd like your headphones to make a bit more of a statement, you can choose from red, blue, or gray instead of black.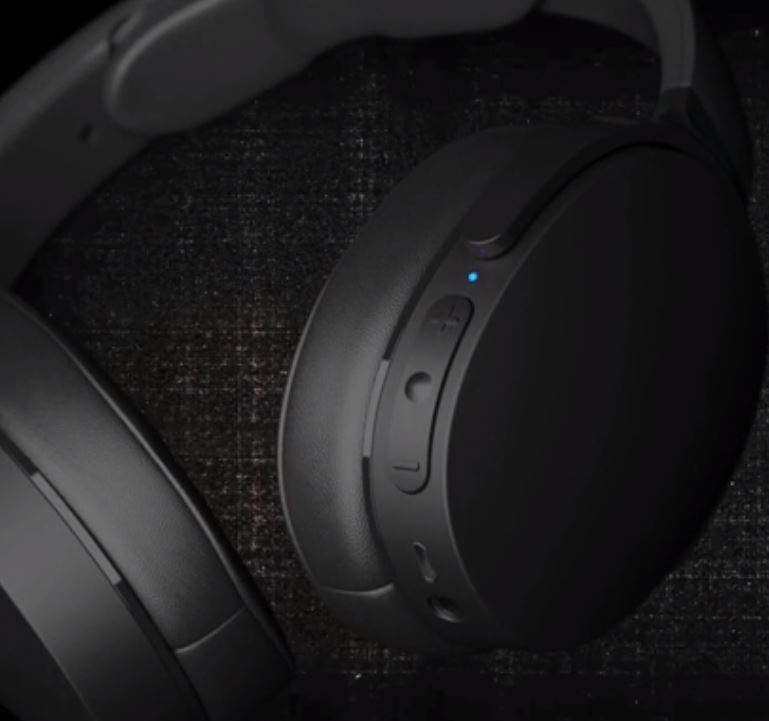 Skullcandy clearly designed these headphones with portability in mind. The Hesh 3 features multi-folding hinges for each earpiece allowing you to collapse them into a compact size for carrying and storage. This feature enables you to have the full headphone experience but still keep the Hesh 3 in a backpack, bag, or purse that may not fit a full unfolded pair.
While wireless earbuds seem to have all the buzz recently since the launch of Apple's AirPods, we can find many compelling reasons to choose more traditionally sized headphones, like the Hesh 3. Let's take a deeper look at what Skullcandy put into these cans.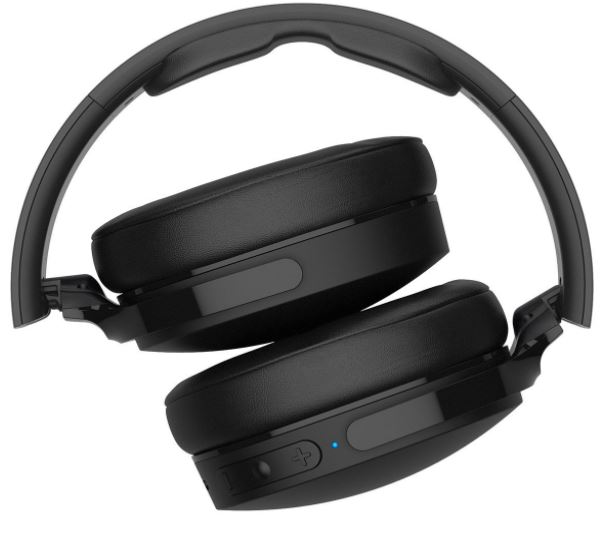 Specifications and Design
The Hesh 3 measures 1.7 x 7.3 x 7.8 inches when fully extended. By using durable plastic materials, Skullcandy keeps the weight down to a mere 8 ounces. Although very slightly heavier than the Hesh 2, we still found them extremely light and comfortable, and we practically forgot we were wearing them even during longer listening sessions. The increased weight likely results from heavier padding in the earcups and larger capacity batteries, since the Hesh 3 ditches the metal understucture for an all plastic design. We weren't able to perform any stress testing, and although we always question the durability of plastic parts, the Hesh 3 feels solidly built. We can't imagine any problems with standard usage.
While the Hesh 2 featured 50mm audio drivers, Skullcandy has trimmed those down to 40mm drivers in the Hesh 3. Generally, larger drivers allow for richer sound since they can produce larger vibrations. This rule certainly isn't set in stone, as high quality speakers can more than make up for smaller sizes.
A few significant design changes distinguish the Hesh 3 from the previous Hesh 2. The biggest change, of course, comes from the foldable design. Additionally, the earcups have changed from the circular design common with previous Skullcandy products to a more elongated shape for a more ergonomic, over-ear fit. The ear cushions also get an upgrade to memory foam. This creates not only a more comfortable fit but a more effective seal against outside noise. While they don't have any active noise cancellation, we found the Hesh 3's did a more than adequate job keeping outside noises out and our audio in. We were able to listen at a reasonable volume without disturbing others in the area.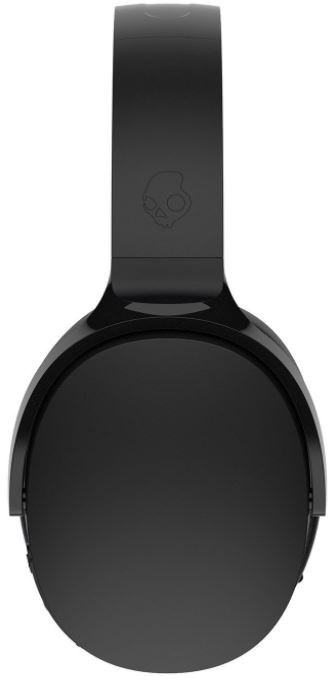 Features
Though the folding hinges are arguably the most distinguishing feature of the Hesh 3, Skullcandy has added a few more intelligent features to enhance functionality and convenience.
One advantage to the multi-folding hinges, the fully articulating earcups allow for a more convenient fit regardless of head size or shape. Having a large head, we've experienced a number of headphones in the past that just don't feel comfortable for more than limited usage, but the Hesh 3 fit like it was custom made. Also, the earcups can pivot to lay flat against a table or around your neck if you take them off of your ears.
Bluetooth paired quickly and easily with the help of integrated voice notifications. While common in other Bluetooth headphones, the inclusion of a microphone for voice calls is always welcome. Integrated buttons allow you to adjust volume, change audio tracks, and take calls without needing to remove your device from your pocket or bag.
The Hesh 3 doesn't have any particular features that stand out in a crowded market. There's nothing you'll find here that doesn't exist elsewhere. That said, Skullcandy has brought everything together in a package that does the job well. It's a great balance of comfort, quality audio, useful features, and reasonable price.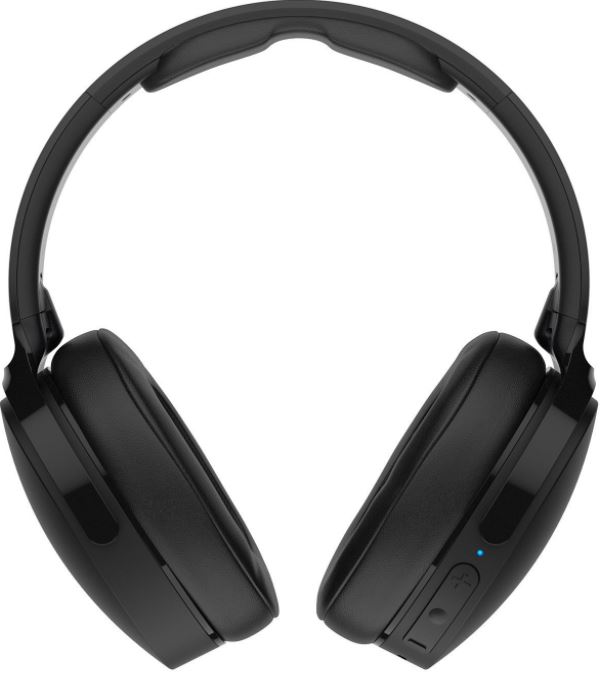 Audio Performance
As mentioned previously, while most features take a step up from the Hesh 2 to the Hesh 3, the audio drivers did shrink from 50 millimeters down to 40. While size certainly isn't everything with speakers, we did want to make sure audio performance didn't suffer with the new smaller size.
For their part, Skullcandy claims the new custom-tuned 40 millimeter drivers combined with a digital amplifier and noise-isolating fit create "Best In Class" audio. While that all sounds good as a marketing pitch, it's a very nebulous statement that really can't be confirmed or denied.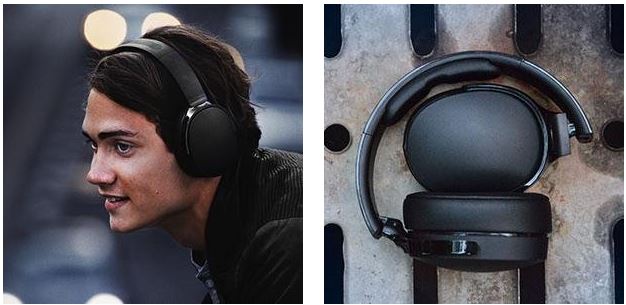 We found the Hesh 3, even with the smaller drivers, produced a loud, rich sound. We definitely noticed an emphasis on the bass common with many consumer-focused headphones. Heavy bass makes for an impressive, exciting sound to the casual listener, but audiophiles or professional users prefer a "flat" sound that keeps an even reproduction across all frequency levels.
The noise-isolating memory foam earcups definitely help. By blocking outside sounds and preventing noise leakage, we were able to hear good detail in our test tracks at all volume levels.
Ultimately, while we would never mistake these for professional grade equipment, the Hesh 3 produces some great quality sound for mid-range headphones and represent a major upgrade for anyone using a cheap set currently.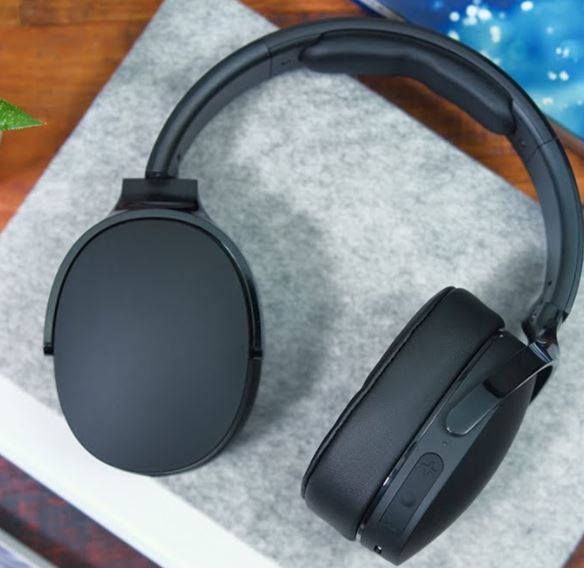 Battery Life
The Skullcandy Hesh 3 made significant strides in battery life. While the Hesh 2's 12 hours of playback was respectable, it still wouldn't get you through a long day of listening or travel without plugging in. The Hesh 3 bumps the battery life up to 22 hours for all-day usage. We consider this critical to choosing a set of primary headphones. While wireless earbuds gain in popularity, they really have horrendous battery life which is unsurprising for their tiny size. Some can only achieve 3-5 hours per charge! While manufacturers have cleverly crammed batteries inside carrying cases for recharging on the go, it's still hard for us to imagine choosing primary headphones that couldn't even last through an average length plane flight.
The Hesh 3, on the other hand, represents a viable alternative to a primary corded pair. With 22 hours of playback, we'd easily get through average-use days even if we forgot to charge it a few days in a row. Extended playback or travel would still be a breeze as long as they were charged nightly.
If that isn't enough, the Hesh 3 features Rapid Charge technology that can rocket you up to 4 hours of playback in just a brief, 10-minute charge. If 22 hours and the Rapid Charge still aren't enough for you, Skullcandy also includes a removable auxiliary cable for power-free listening.
These power features make the Hesh 3 a nearly foolproof cordless alternative to traditional corded headphones. Unless you lose or damage your cords, we can't imagine a scenario that you'd ever find yourself unable to listen to audio whenever you wanted.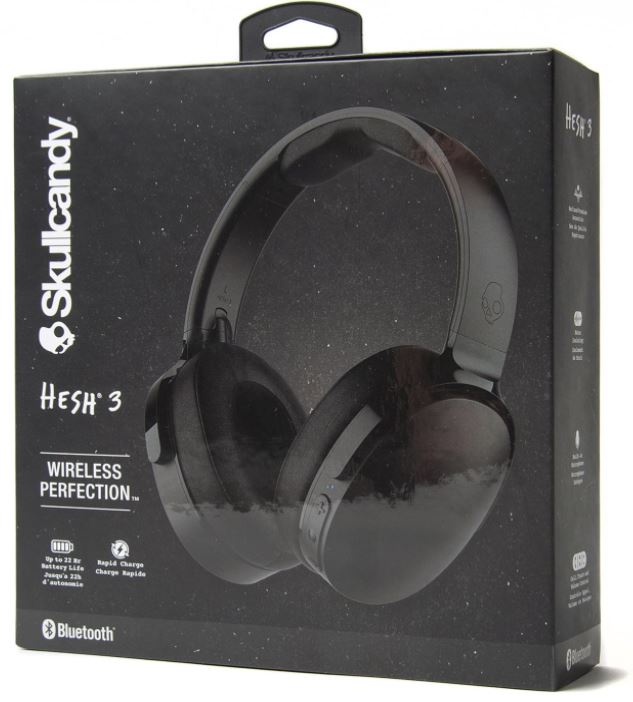 Conclusion
The Skullcandy Hesh 3's are no-compromise wireless Bluetooth headphones that deliver on all fronts. The continued evolution of the Hesh product line shows that Skullcandy can adapt and evolve in a changing market.
The original Hesh was a cordless, round, bubbly pair of headphones with a bold style. While the Hesh 2 added wireless Bluetooth capabilities and a microphone, the Hesh 3 takes that further with more mature styling, foldable ear cups, and impressive battery life.
Skullcandy knows that most people will connect these headphones to a smartphone. We all love our smartphones for their versatility, and the Hesh 3 packs versatility to match. The comfortable design, hands-free calling features, and extended battery life might have you wearing them all day long.
If active noise cancelling is a must-have feature, you'll have to look elsewhere, but the Hesh 3 is well-positioned in the market and priced significantly less than the Bose QC 35 or Beats Wireless offerings.
Unless you need the ultra-portability of wireless earbuds, we'd much rather have a pair of headphones that can get us through an entire day without constant recharging and the fear of losing or dropping a tiny earpiece.
The Skullcandy Hesh 3's impressive design and audio performance makes it an excellent choice for full-featured wireless headphones.