While we generally focus on consumer electronics, today we're taking a look at the Canon XF400 Professional camcorder.
Canon has long been a leader in the video and photography market but recent changes in consumer buying patterns have forced all manufacturers to make some adaptation. The rise of highly capable smartphone cameras has caused digital SLR and consumer camcorder sales to plummet to multi-decade lows. It's understandable that many casual users would choose the "good enough" smartphone already in their pocket over expensive second and third devices.
Regardless of consumer behavior, the professional market will always require top quality, dedicated video. Canon developed a unique solution to address the problem of the dwindling consumer market.
The professional XF400 and XF405 share internal parts and specifications almost completely with the consumer-focused VIXIA GX10. While the pricing gap isn't huge between them, Canon distinguishes between the models mostly by form factor and supported inputs and outputs.
This interesting strategy results in two cameras that straddle the line between consumer and pro. Most consumers would consider the VIXIA GX10 quite high-end, while most professionals would likely consider the XF400 and XF405 at the lower end of the spectrum for pro-grade gear. Canon benefits by releasing products into two different market segments while saving significantly on research and development and production costs.
While 4K recording certainly sounds like a killer feature, the pros know that much more goes into making quality video than simply the number of pixels on the screen. Will video professionals find the Canon XF400 delivers everything they need at a reasonable price? Let's look closely at what this compact 4K shooter has to offer.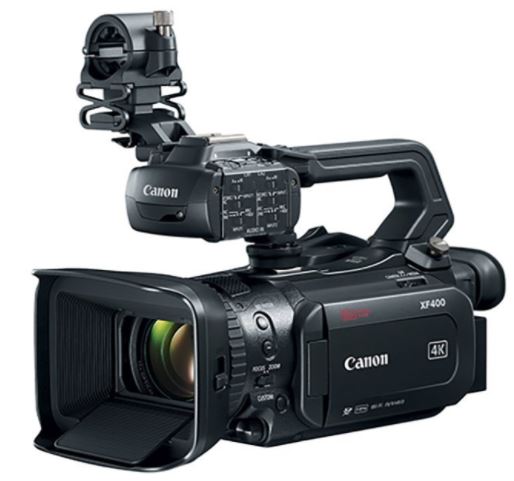 Overview
Any time we review professional-grade equipment, the details and specifications matter significantly more. Consumers might judge based on appearance or the few features they understand, but the pros will dig into every last detail before making a purchase. Before we get too deep into the weeds, we'll take a quick look at the XF400 and XF405 to determine general information about the cameras and Canon's intended market.
The XF400/405 are compact handheld camcorders. While the camera body itself looks nearly identical to the VIXIA GX10, for the XF series Canon adds a detachable handle. Aside from just adding additional grip options, this handle connects to the hotshoe of the camera to pass power and data. This allows for many more inputs, controls, and lighting options that we'll discuss shortly. The handle does remove for easier storage or basic operation when the additional features aren't required.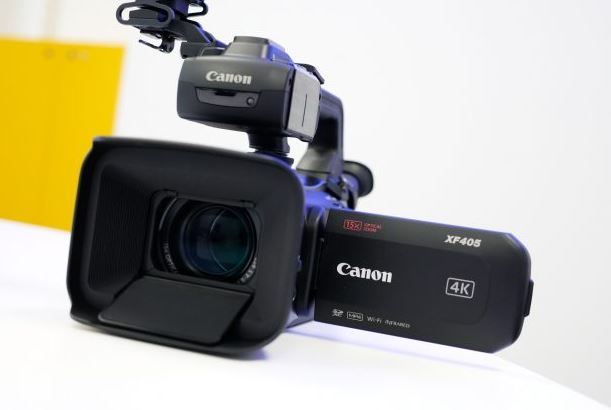 We do need to take a minute to clear up some confusion Canon caused with their naming convention. Canon has kept the XF designation from the XF100/105 through the XF200/205 and XF300/305. As a result, it would seem quite natural and logical to assume the XF400/405 followed in the footsteps of the previous generations of similarly named products.
Unfortunately, Canon made either a strange or deceptive choice. They've stated publicly that the XF400/405 include the "4" to indicate their support for 4K video, not that they're intended as
a replacement for the XF300/305. If this has you puzzled, don't worry. We were scratching our heads as well.
The XF300/305 remain extremely popular amongst video professionals, broadcasters, and mobile news crew for a few primary reasons, mainly the support of broadcast compliant video standards. The XF400/405 not only do not support the same standards, but Canon has eliminated the 3 lens rings for convenient zoom, focus, and brightness adjustment and substituted a single ring. Before we look at the consequences of those choices, the brief summary is that the XF400/405 removes some key features that made their predecessors popular for professional video.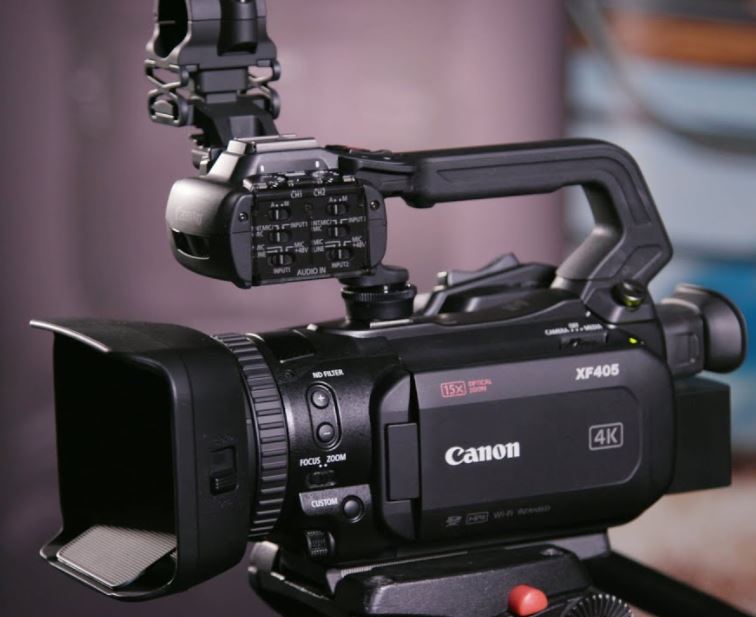 Specifications
If you're familiar with Canon's previous products in the XF family, you'll immediately notice the reduced size of the XF400. The XF300 measured 6.0 x 9.3 x 15.0 inches without lens hood and eyecup and weighed 6.5 pounds fully equipped. The XF400 trims both physical size and weight. Measuring 3.8 x 5.3 8.4 and barely tipping the scales at 3.7 pounds, this camera looks and feels quite small.
Size and weight don't matter much if you typically use a tripod, but the reduced dimensions may provide a benefit if you typically shoot while holding the camera for an extended time. Some videographers might find the small size impacts stability, however that's a matter of personal preference.
The XF400 has a 0.24 inch viewfinder with 1.56 million pixels and an approximate 100 percent field of view. Many users may prefer the flip-out LCD screen which is 3.5 inches wide. It also features a wide viewing angle, anti-reflective surface, and wide color range.
Canon includes a host of audio, video, and data ports. USB mini-B with Hi-Speed USB allows for data transfer off of the camcorder. An HDMI mini connector provides video out while you can input audio via 3.5 millimeter stereo mini jack or two channel XLR 3 pin jacks. Also, a Gigabit ethernet connector allows easy transfer over computer networks.
A dual SD card slot supporting up to SDXC compatible cards allows for either simultaneous backup or relay recording with dual cards.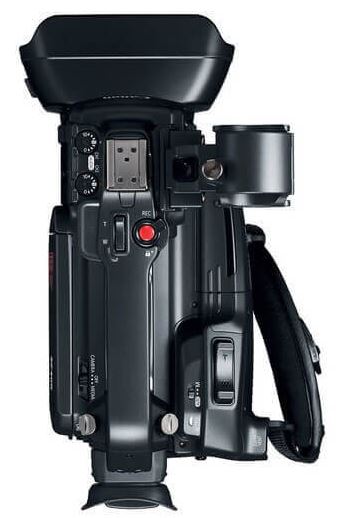 Video Features and Details
At the heart of the XF400/405, as well as the VIXIA GX10, lies Canon's new 1 inch CMOS image sensor. While it may not match the XF300/305 in terms of broadcast readiness, this large CMOS chip makes for some great video. For cameras, light means detail. A smaller image sensor can't let in as much light, so while daytime footage may appear good, low light scenes will end up very dark without adequate detail.
The XF400 supports 4K, Full HD, and 720 resolutions at 24, 30, and 60 frames per second with progressive scanning. 4K at 60 fps is a nice feature considering some 4K cameras in a similar price range limit 4K footage to 30 fps. While many may not notice the difference, additional frames per second make for much smoother footage particularly during scenes with quick motion.
Additionally, 120 frames per second shooting mode allows for dramatic slow-motion shots but only at 1920 x 1080 full HD resolution.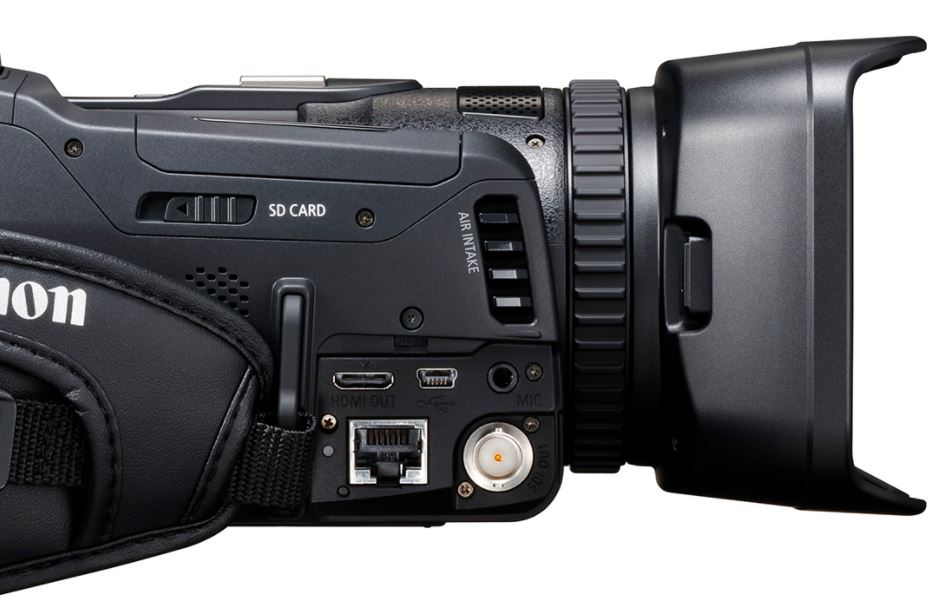 Canon has a reputation for exceptional optics, and the XF400 includes a new lens structure designed to maximize performance while keeping a slim, compact, light profile. Boasting a 15x optical zoom, the new lens maintains optimal clarity and color over the entire 1 inch sensor and throughout the full zoom range. Canon's Dual Pixel Autofocus and 5-axis image stabilization greatly improve steadiness, reduce vibration, and stay locked on to your subject even during dynamic scenes.
We found the video we shot with the XF400 stunning. 4K resolution on a 4K screen looks amazing, and the fact that we can shoot video with higher resolution than broadcast TV and Blu-Ray discs still seems mind-blowing. In low light settings, the large image sensor stole the show. Video was clear and detailed without crushed blacks or extreme ISO noise present in a lower quality camera or our smartphone test shot.
Missing Features
While the XF400 certainly takes great quality video, the features it's lacking are making a bit more noise in the community than the features it includes. As we mentioned earlier, the XF300/305 were extremely popular among professionals for compact, easily portable yet top-quality video. Despite what the naming convention would imply, the XF400 does not serve the same segment of the market.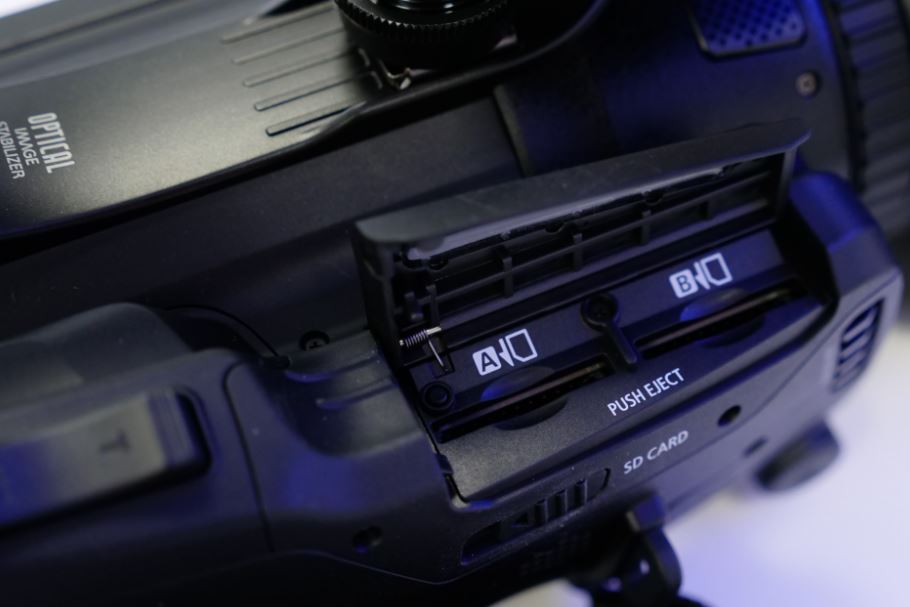 The first glaring difference is the presence of only a single lens adjustment ring. Typically, professional cameras will feature lens rings to quickly adjust zoom, focus, and brightness without requiring the camera operator to take any hands or eyes off of the camera. The decision to include only a single adjustment ring seems very puzzling. There are buttons on the side of the camera to switch the function between focus and zoom, and a separate manual dial that can be assigned to aperture, shutter, and gain. While you can adjust these to include the settings you change most often, we can't imagine any professional videographer or camera operator feeling comfortable without instant access to all of these settings. Toggling back and forth between zoom and focus would get incredibly frustrating.
The other major difference falls more on the technical side. One of the reasons the XF300 achieved such popularity lies in the onboard 50Mbps 8bit 4:2:2 codec. If this sounds like gibberish to you, you're probably not the target audience for the camcorder. In layman's terms, the XF300 and 305 are fully broadcast compliant. The XF400/405 only include a more compressed 8 bit 4:2:0 codec.
Also, some new cameras include compliance with HDR broadcast standards for improved color depth and brightness control. The absence of this feature may not seem too critical to some users, but as time goes on and more cameras and displays support HDR, the lack of support may impact the XF400's longevity.
The only difference between the XF405 and XF400 is the 405's inclusion of 3G-SDI output, so make sure to choose the correct model if you require this feature.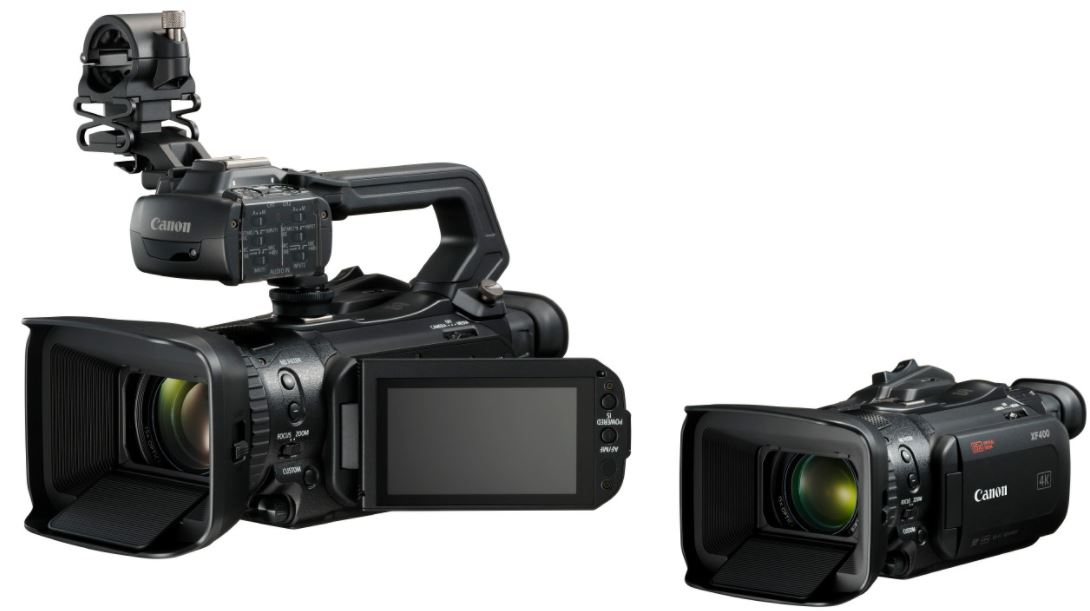 Conclusion
The Canon XF400 and 405 seem to suffer from a bit of an identity crisis. While previous generation XF300/305 models were true portable broadcast cameras, Canon seems to try to capitalize on the popularity of the name while stripping away a few key features.
Don't get us wrong, the video we shot was exceptional. While we'd be thrilled to shoot on the XF400 for our personal use and family videos, the VIXIA GX10 includes the identical quality image sensor at a fairly large cost savings. Most of the additional inputs and controls wouldn't be necessary for a regular consumer. On the flip side of that coin, most video or broadcast professionals need more than the XF400 has to offer. The lack of broadcast compatibility and limited manual controls would have most pros looking elsewhere.
Essentially, Canon must intend to position this for the narrower segment of pros and semi-pros that need more than a consumer shooter but aren't concerned about the absent features. We could imagine wedding videographers, lower budget documentary filmmakers, and other similar users might fall in the sweet spot. Many pros expect Canon may release a more worthy successor to the XF300/305 in the near future to fill the void of a broadcast-ready 4K camcorder.
Ultimately, as long as the fewer manual controls and lack of broadcast-compliant codecs aren't deal-breaking features for you, the XF400 is an excellent choice for smooth, stunning 4K video.