Whether you're a casual or avid listener, owning your own portable speaker is a great idea. Allowing you to enjoy your favorite music at a moments notice, there are so many scenarios where one could be enjoyed.
Nowadays, Bluetooth dominates the portable speaker market, and for good reason. Allowing full wireless freedom, this technology seems to be improving year after year. Gone are the days where tethering your MP3 player with a cable to your speaker was required.
Needless to say, finding a good balance between portability, wireless freedom and audio quality is a must. However, it's much easier said than done. Take one look, the market seems to be littered with thousands of different makes/models. It's no wonder why so many consumers become overwhelmed by the vast assortment of choices.
Here at NerdTechy, we've always had a knack for quality, yet budget-friendly Bluetooth speakers. We truly believe you don't necessarily need to spend more to enjoy more.
Recently, we were invited to review the new Sbode M400. It's a freshly released outdoor-oriented portable speaker that promises a whole lot. But can it live up to the hype, and does it really work as well as expected? We've spent the last three days thoroughly using it – listening, testing and determining if it's a worthy investment. Today we're going to finalize our research and help you learn more about it.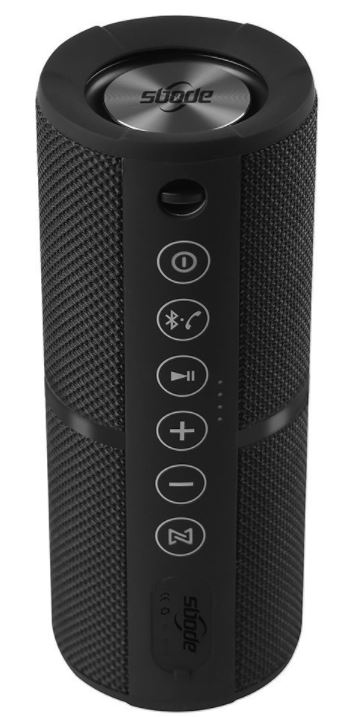 First Look
Upon placing our order for the Sbode M400 Bluetooth Speaker, we were pleased to have it arrive in just one day, thanks to Amazon Prime's free one-day shipping option. When we opened the box, we found the speaker, a micro USB charging cable, aux cable and user manual all packed nicely together.
Holding the speaker in our hands for the first time, we immediately noticed a unique and awesome feel to it. Covered in a woven mesh-like material and built with a solid, rugged feel, we knew we were in for a treat. Measuring about 7.5 inches tall and 2.7 inches in diameter, it imitates the size and shape of a tall-can energy drink. Weighing in at around 16 ounces, the weight seems to be right where we like it as well.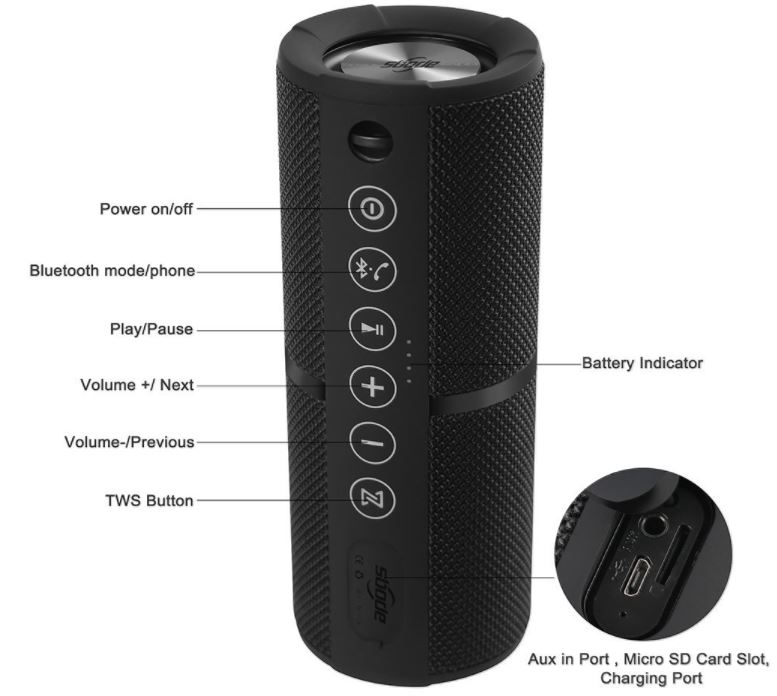 Along the length of the speaker, you'll find an assortment of buttons that tie right into the functionality. These include the power, call, play/pause, next/previous and true wireless buttons. Right beneath that, there's a sealed rubber flap that flips open to expose the aux-in port, micro sd card slot, micro USB charging port and a small reset hole. Most notably, you'll notice two passive bass radiators on each end. These are one of our favorite inclusions as seem to really make a difference in the overall listening experience. More on this in the "sound" section below.
Pairing
Although you can always plug-in the included auxiliary cable for wired listening, most people will want to take advantage of the wireless freedom that Bluetooth offers. Getting this initial process configured is known as "pairing" and it's pretty simple to do.
First, long-press the power button for 2 seconds. You should hear, "Power On, Bluetooth Mode" and see the power button blink intermittently. From here, the speaker will immediately begin to look for a Bluetooth device to connect to. At this time, make sure you have Bluetooth enabled on your smartphone, tablet or other supported device. Next, select "M400B" from the list of nearby connections on your device, and tap it once. That's it! You should hear, "device paired" and the power button will now be a solid-blue color.
Best of all, your device and the speaker will automatically remember each other. Meaning that when you turn the speaker on again, the pairing process will complete on its own. Easy enough!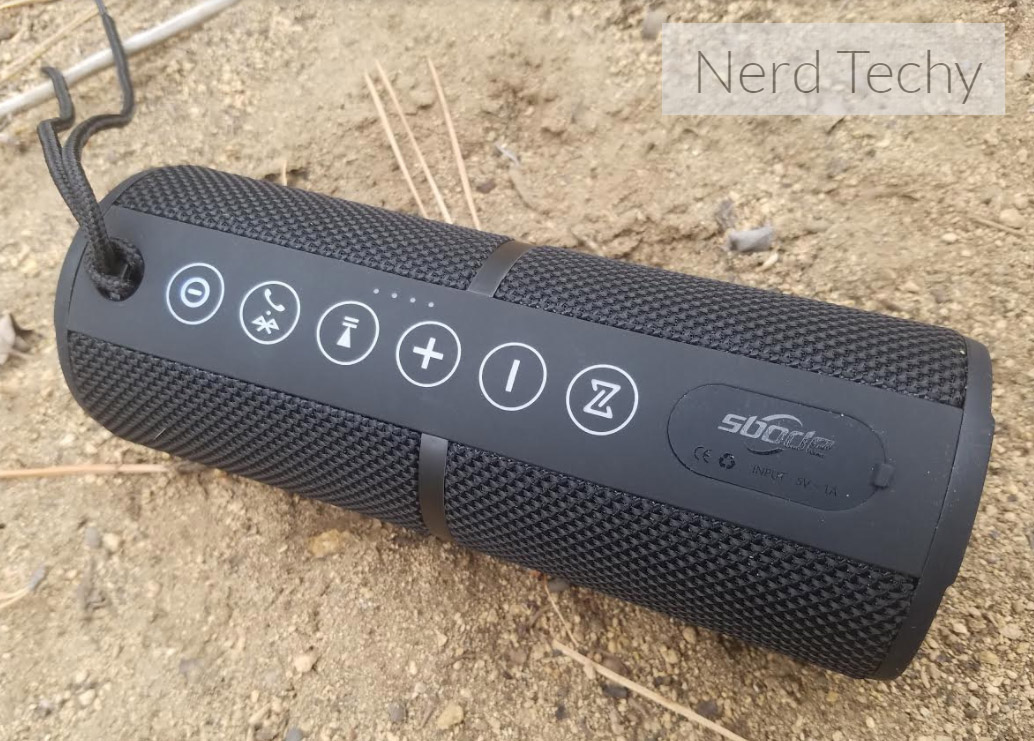 Sound
Whenever we test out and review a budget-friendly speaker, we don't really know what to expect. A lot of lesser-known brands have notoriously skimped out on quality in the past, so we're always a bit reluctant. However, to our pleasure, we didn't find this to be the case with the Sbode M400.
No matter what kind of music or style of tunes we played through it, the M400 seemed to perform excellent. With the integration of dual acoustic drivers and passive bass radiators, mids, highs and lows were all a pleasure to our ears. Surprisingly, crystal-clear sound was all that we heard. Never once did we hear a blip of distortion – even when the volume was cranked up to its maximum.
Rap, rock, hip-hop, country and even classical music sounded fantastic. The lyrics never seemed to become overshadowed by overwhelming bass as there seemed to be a perfect balance between high-end harmonies and thundering lows.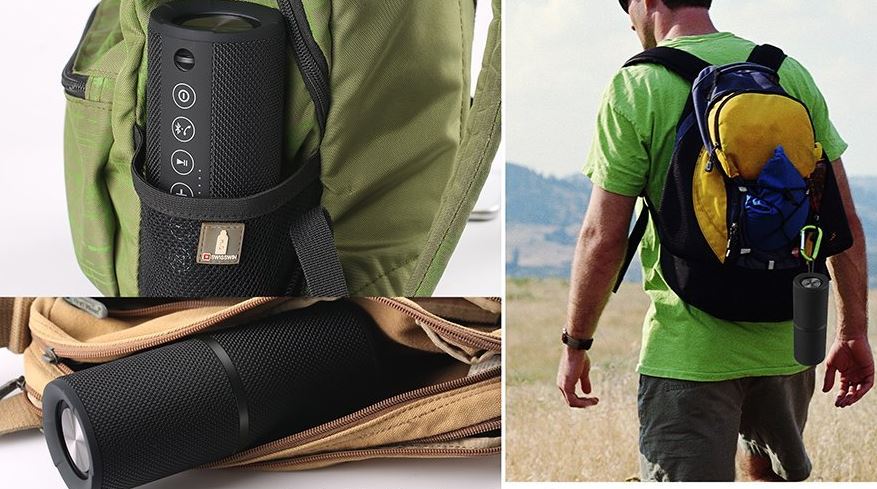 True Wireless Stereo
The last button on the side is known as the "TWS" button. Also known as "true wireless stereo", it lets you sync two M400 speakers together. What this does is mimic the effect of an actual stereo system by delivering dual-channel (right and left) audio. In the right situation, this could make a realistic difference. Unfortunately, we only have one speaker and not two, so we're unable to actually test this feature out in-depth.
Durability
Another important consideration to take into account is the durability. Namely, how well does it hold up to a real-world listening environment? Advertised as a "waterproof outdoor speaker" we knew that the Sbode M400 should be able to handle conditions just fine. But would it really?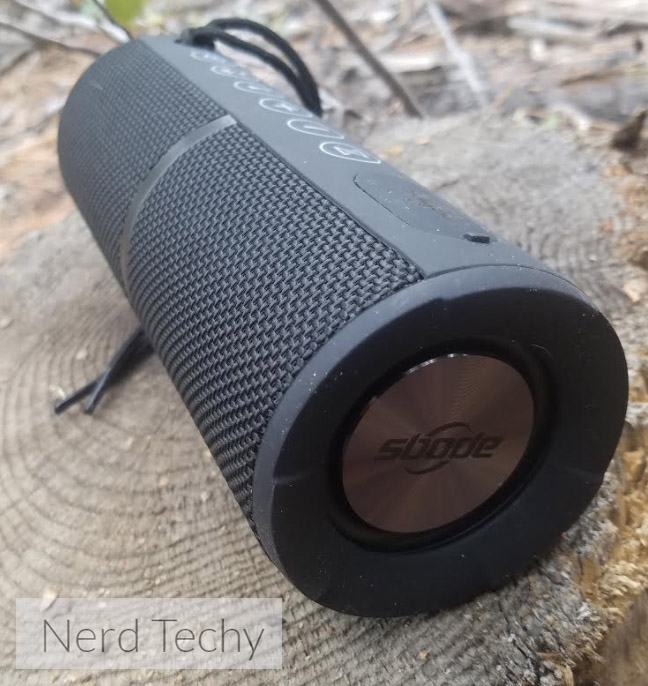 Sbode seemed to take an extra step on making sure that the M400 could handle the outdoors without any issues. We say this because they've given it an IPX6 rating. An IPX6 rating means that the speaker has been thoroughly and specifically tested to withstand both water and dust, but isn't safe to be submerged into water. In other words, you can take it out in the dirt, rain and wind, but you shouldn't dip it in a pool or puddle of water. Ultimately, it means that the speaker is completely sealed from dust and water-spray in all directions. Knowing this, we needed to actually test the durability.
After using the speaker for multiple hours at the beach, we got home and sprayed it with a hose. The jet of water was spraying it down while we played Pandora non-stop for five minutes. Throughout that whole time, there wasn't a single amount of trouble. The speaker sounded just as well and seemed to function without any hiccups. Pretty awesome!
The durability of the M400 surely impressed us. Even with the fragile-like bass radiators on each end, the speaker has held up 100% like-new throughout our week of testing it.
Phone Calls
Right beneath the power button, you'll notice a second button with a phone on it. This lets you take advantage of the hands-free calling feature by a single press of a button. It's not a feature that we think we'd use that often, but it's nice to have and definitely worth trying.
If you've paired your smartphone and you're in the middle of listening to music, you can use the phone button to answer an incoming call with a single short press. Don't feel like taking the call? Simply long-press to reject it. Changed your mind? double short press the dial back the last person who called.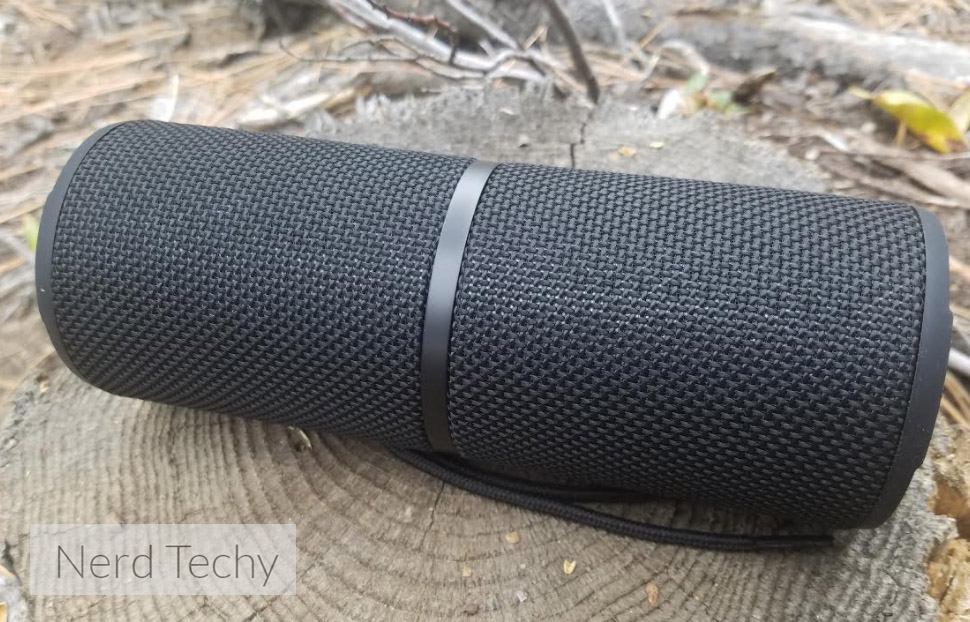 Phone calls made through the speaker seemed to work perfectly well. The functionality is all really easy and there's nothing confusing about it. The incoming caller sounded perfectly clear and the outgoing sound from the integrated microphone seemed just as nice on the other end. No issues at all!
In addition to call functions, this button also lets you switch the Bluetooth mode with a short press or disconnect the current Bluetooth connection with a long press.
Battery
Inside the Sbode M400 is a rechargeable lithium-ion battery that offers a decent amount of listening before requiring a charge. Throughout our week of constant use, we found the battery to last roughly 6 to 8 hours depending on the use. Volume levels, wireless transmission distances and cold temperatures seemed to have a negative effect on the lifespan of the battery. Whereas a more moderate volume and ideal environmental conditions seemed to make the battery last closer to 8 hours.
Recharging the battery was easy. Opening the small rubber flap beneath the buttons exposes the micro USB charging port. Simply plug-in the supplied micro USB cable and let it charge for 2-3 hours. That's all it took for us to top-off the depleted battery.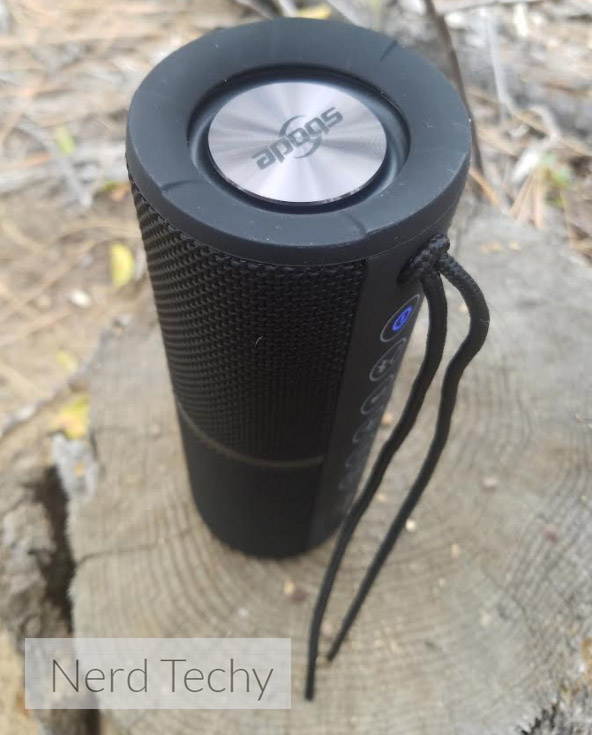 Conclusion
Overall, we're huge fans of the Sbode M400 Bluetooth Speaker. It's got a lot going for it with excellent audio quality, a hefty amount of bass and plenty of durability for any real-world situation. Although it's not the cheapest portable speaker on the market, it seems to be a healthy combination of both quality and affordability. Exactly how we like most portable-audio products to be!
It's unfortunate that we weren't able to test out the "True Wireless Stereo" feature, but we're sure it would make the listening even better. Even as a singular speaker, the audio-quality shines above most other speakers in its class. Highly recommended for those needing a blend of impressive audio and affordability.
Meet Derek, "TechGuru," a 34-year-old technology enthusiast with a deep passion for tech innovations. With extensive experience, he specializes in gaming hardware and software, and has expertise in gadgets, custom PCs, and audio.
Besides writing about tech and reviewing new products, Derek enjoys traveling, hiking, and photography. Committed to keeping up with the latest industry trends, he aims to guide readers in making informed tech decisions.