At NerdTechy, we're always looking for the next great pair of headphones. While some products are able to qualify and lump into categories of "good" and "bad", headphones are an entirely different ballgame. Your music is a deeply personal experience, and the headphones you choose should be designed to suit your unique personal tastes.
While Treblab isn't the most popular headphone manufacturer in the world, our review of their XR100 HD Blueooth Earbuds found that the company made a great pair of earbuds for an excellent price. When we found out that Treblab released the X11's, we had to try them out for ourselves. In this review, we'll be putting them to the test. We'll look for their strengths, their weaknesses, and help you decide if these are the next set of buds you'll be using to help you power through your workout.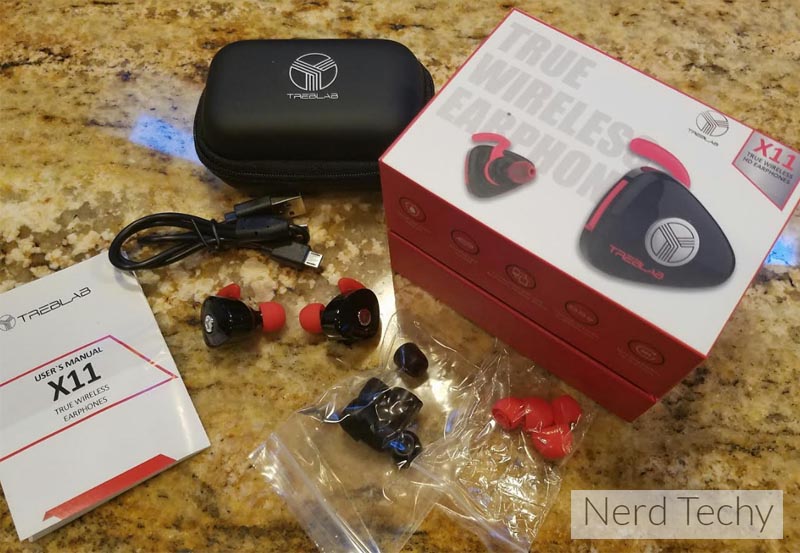 First Look
The first thing we noticed about the Treblab X11 True Wireless Bluetooth Earbuds is that they are very small. We've honestly seen earplugs bigger than this pair of headphones, so the size is simply striking. You might be wondering what Treblab means when they describe these earbuds as "true wireless". Generally wireless just means that there is no cable connecting your headphones to the 3.5mm plug on you media device. But many Bluetooth headphones still have a wire connecting one earbud to the other. This saves manufacturers a lot of money, since they only have to use one receiver and battery instead of two. But the X11 earbuds are technically independent units. This means that there is no wire connecting them, making them one of the few low-impact headphones on the market.
Design
With something as compact as the X11, there isn't a lot of room to create a unique design. Fortunately, the manufacturer still managed to create something unique. The X11 are triangular in design, with the pointing end facing forward. Although the headphones are black, the focal point of each earbud is the round Treblab logo. Below it they've accented the earpiece with a red logo, something that stands out thanks to the red accent along the back and the ear clip.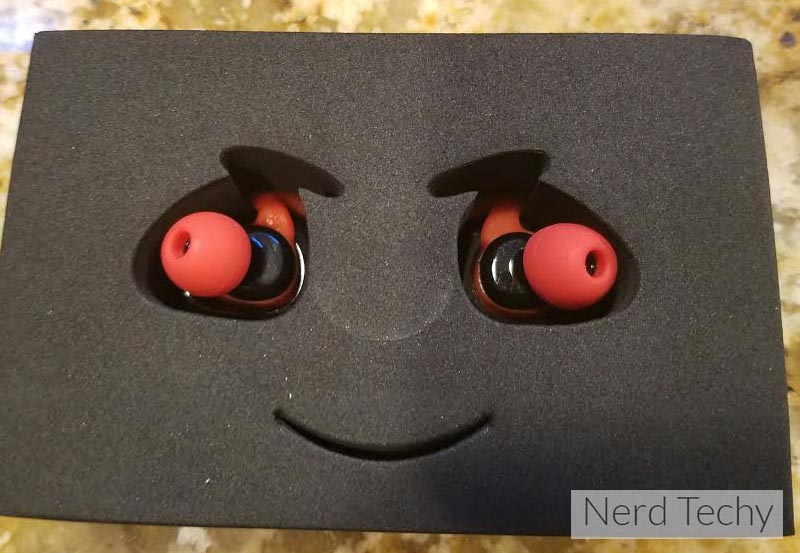 Fit
When you've got a pair of headphones that are designed to go anywhere, you also want to be able to enjoy them without any kind of discomfort. In this regard, the lightweight design of these headphones plays a huge benefit. They only need a very small ear clip to stay sturdy in place. Once you start wearing them, you'll barely notice them. There is only a tiny amount of pressure on the ear itself, with most of the support coming from the small rubber earpiece. We noticed that the ear piece was just a little larger that some earbuds we've used, so they do fit a little snug. But the result is something that will remain in your ear even when you're running or jogging.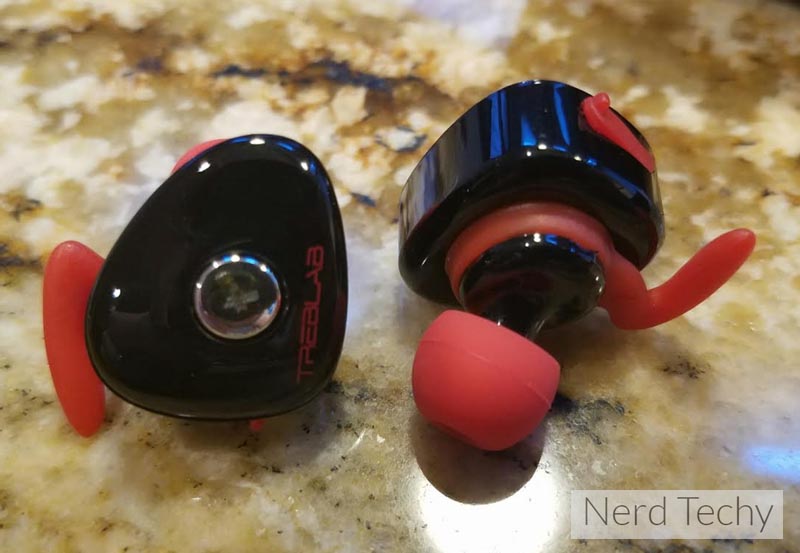 Sound Quality
One of the most important things about a pair of headphones is how they sound. When testing the Treblab X11, we noticed that they had a very peppy sound to them. There is lots of punch to the bass, and the mid-range is nice and smooth. The thing we liked most about the earbuds was that they were very harmonic. Chords don't just blend together into a muddled mess like many headphones in this price category. Instead, they manage to remain clear and separate, but still blend together into something that is greater than its parts. This makes your music appear to come alive. They're best for music with a lot of bass. The headphones are very punchy, so kicks are felt as much as they're heard.
Connectivity
These headphones use the latest Bluetooth 4.1 EDR. EDR stands for extended data rate. This standard exchanges range in favor of high speed data transmission. This has two key benefits. First, your audio will be transmitted uncompressed. This way, there is no loss of audio quality when transmitting your sound files. The one disadvantage is that you need a modern device that supports this standard, but any phone made after 2011 should work find.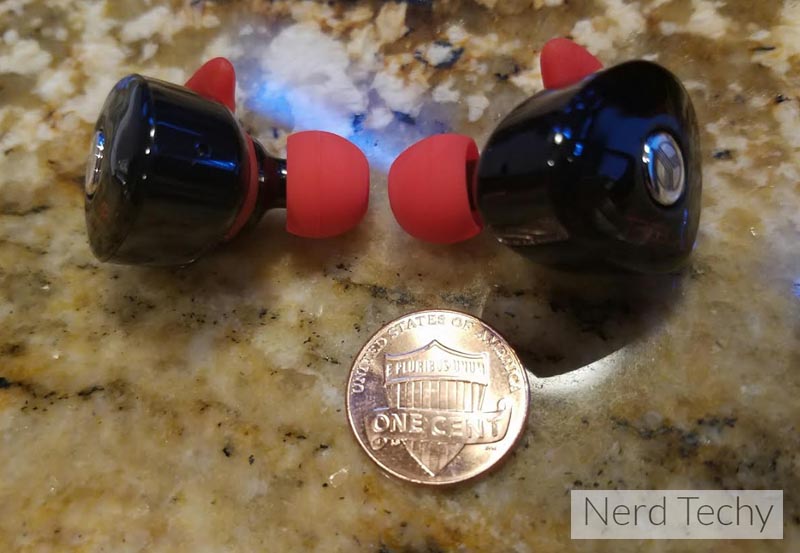 The next benefit of EDR Bluetooth is that you don't have to worry about sound cutting out. The headphones are able to buffer the sound, which works a lot like anti-skip technology that used to found in portable CD players. When you're playing back a song, your headphones are actually streaming the audio 1 second in front of what you're hearing. If your connection cuts out, you've still got a bit of data in the buffer, so your music won't skip or jump.
The total range of these headphones is about 30 feet. In our tests, we found that this is in ideal circumstances. With our phone connected to the headphones, we'd be able to walk around the room freely without losing the connection. But as soon as you start putting walls in between yourself and the source, that's when you'll begin to notice dropouts. Basically, we'd recommend these headphones for anyone who's going to be carrying their music source on them. Phone in your pocket, or in a backpack? No problem! In the other room? These might not be your best option.
Durability
The lightweight nature of these headphones is instrumental in keeping them durable. Even if you drop them, they're light enough that they won't be hiding the ground hard enough to cause any damage. Plus, since they fit so snugly in your ear, they're unlikely to fall out anyway. But dropping them isn't the only harm that could come to your headphones. When you're working out, they may be exposed to moisture in the form of sweat or weather. Fortunately, these earbuds are completely sealed. This allows them to be exposed to moisture, with almost no repercussions.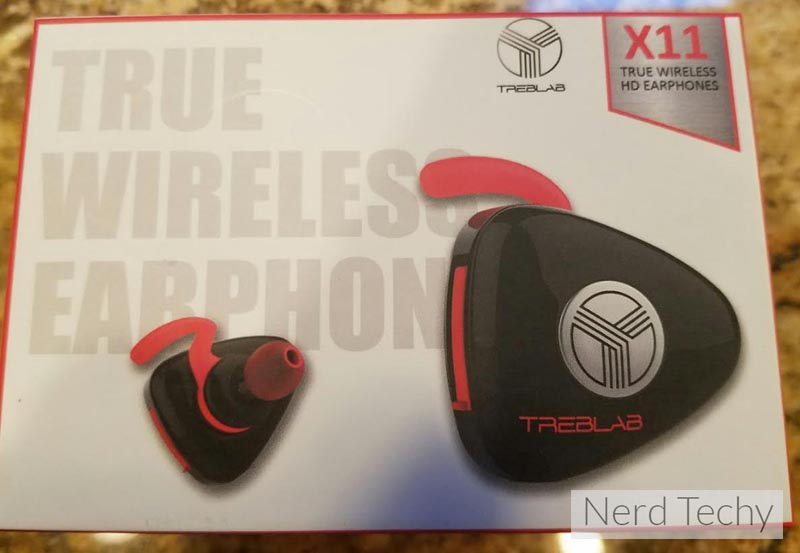 Features
You're not just buying a set of earbuds. You're also getting all-in-one Bluetooth communications devices. The logo is actually a touch sensitive button. If you're receiving a call while wearing the headphones, all you have to do is touch the logo. A tiny built in microphone allows you to talk, making them a perfectly suited pair of Bluetooth earbuds.
Disadvantages
We're very happy with the X11's, but that isn't to say that there aren't a few disadvantages. We noticed that the microphone in the earbuds wasn't great. They're fine for taking the occasional calls, but we wouldn't recommend them for use as fully time Bluetooth earpieces. The sound quality is also pretty specific. It's ideal for peppy music, or anything with a bit of punch. Pop, electronic music, and hip hop all sound great. But if you're looking for something to enjoy classical music or smooth jazz, these aren't the headphones you're looking for.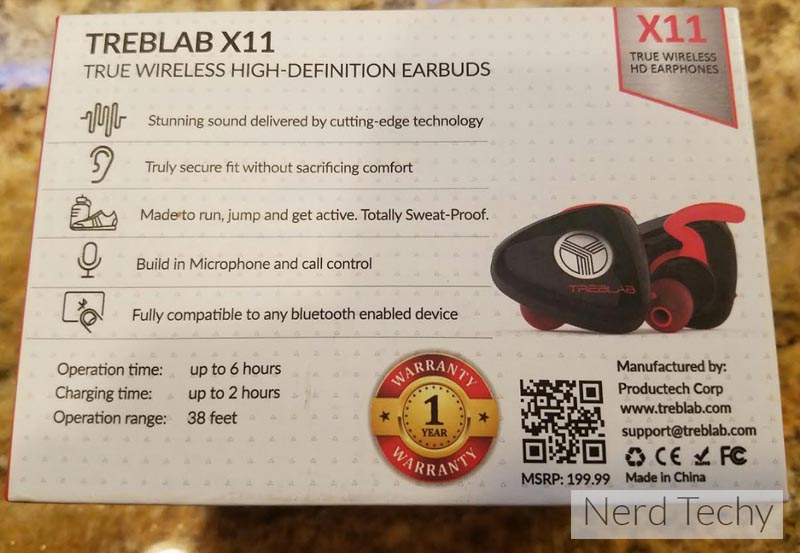 Final Verdict
We've always reviewed Treblab's products favorably. The models we've seen so far are designed to appeal to a wide audience, making them great all-around headphones. But the X11 True Wireless Earbuds are a little different. We recommend these earbuds specifically for people who want a great pair of truly wire-free fitness headphones at an affordable price. They're durable, and they sound great for any kind of music that gets you going. But if you're looking for a pair of headphones that put sound quality above all else, you may enjoy the XR500 much more. They do have a cord joining the earbuds, but they still sound great.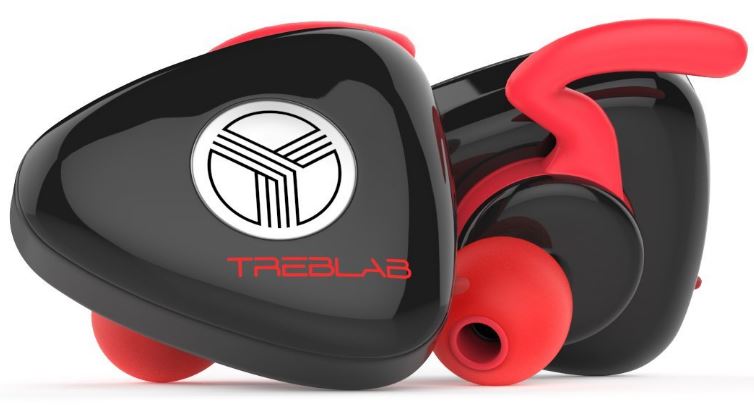 But there is something to be said for the ultra-compact design. They hold themselves in your ears very well, and the fact that they're sweat resistant is a huge plus. We've reviewed many Bluetooth fitness earbuds before, and we think that these ones are the best bang for your buck.
Even though they're not the cheapest Bluetooth fitness headphones you can buy (the Axgio Backfit wears that crown) we think this is the best price point between quality and cost. In our opinion, they're several times better than anything you can find for under $50. But when you start shopping for high end headphones, you'll find yourself spending several times more just to get a marginal improvement in performance.
That being said, if you are looking for top tier headphones, you'll probably want to move away from earbuds. For another great set of "bass" headphones, you might want to check out the Skullcandy Crusher Wireless. Alternately, if you're shopping for headphones that produce a top tier sound quality, you might want to consider a pair of full size Bluetooth headphones like the Photive HF1. They're a little larger, but produce a sound quality that you can't find with earbud headphones.
Meet Derek, "TechGuru," a 34-year-old technology enthusiast with a deep passion for tech innovations. With extensive experience, he specializes in gaming hardware and software, and has expertise in gadgets, custom PCs, and audio.
Besides writing about tech and reviewing new products, Derek enjoys traveling, hiking, and photography. Committed to keeping up with the latest industry trends, he aims to guide readers in making informed tech decisions.