As a homeowner, you're always looking for ways to keep your home well maintained. The last thing that any of us want is an unexpected repair bill. But things aren't always as simple as we'd like them to be. The unfortunate reality is that big, expensive repair bills are often something we could have prevented, had we known about the issue sooner.
With the exception of natural disasters, there are very few things in the world that can damage our homes more than water. A leaky pipe can drip into walls for months before we notice it. By the time we do, the only solution is to gut the room at our own expense. Until recently, the best way to prevent this was by regularly inspecting our pipes and keeping everything up to snuff.
But as technology becomes ingrained into our homes, new hardware has evolved that allows us to detect unwanted water leaks before they become a problem. By outfitting your home with a simple, inexpensive sensor, you'll have the ability to detect water leaks and correct the problem before damage occurs. But not all sensors are alike. Each of them are designed to work differently, and need to be configured alongside different systems. We'll be taking a look at the three best sensors on the market. We'll explore how they work, and explain everything you need to know to get one of these handy little sensors set up in your own home.
Samsung SmartThings Water Leak Sensor
Samsung is one of the most well respected brands in the electronics industry. Statistically speaking, you're likely to already have at least one Samsung product in your home. They've created their own water leak sensor which is designed to operate within an existing SmartThings home automation system. Whether you've already got one set up, or are just toying with the idea, the SmartThings Water Leak Sensor is a great place to start for anyone looking to protect themselves from water issues.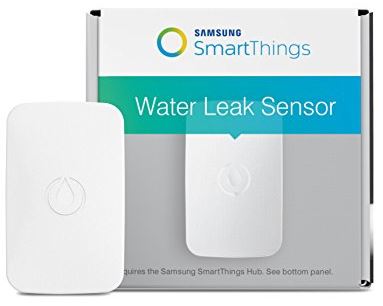 Functionality
Samsung's SmartThings ecosystem has been very highly rated. With so many competing smart home systems on the market, what makes their stand out? The main difference is that Samsung products are designed around simplicity. While some companies work to make the most advanced, fully featured components possible, Samsung takes a different approach. They have released countless sensors, each of which are designed to perform one single purpose, and they serve that purpose well.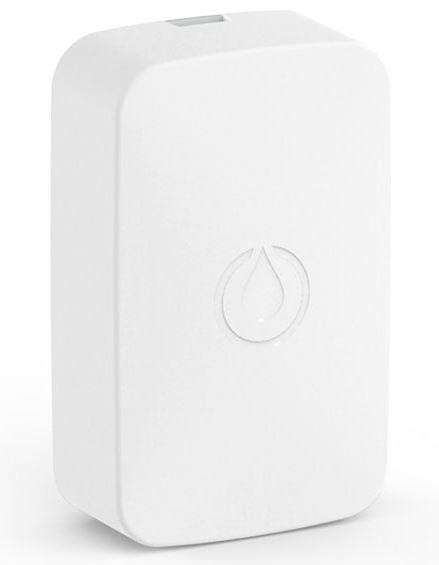 As you've probably guessed, the water leak sensor detects water. When the sensor is tripped, a signal is sent back to your SmartThings hub. There is almost no configuration required on the sensors end, so you'll need the SmartThings hub and a few other devices if you really want to take full advantage of everything this sensor has to offer.
Water Detection
It's important to distinguish the water leak sensor from a flood sensor. Flood sensors are much cheaper. On paper, it might seem like they do the same thing. But you'll pay a bit more for Samsung's water leak sensor, and for good reason. Flood sensors are only triggered when they are physically exposed to water. But this leak sensor is actually looking for a change in humidity. Let's say that you dropped a cup of water near the sensor. It's possible that not even a single drop got on the sensor itself, but the quick change in humidity would trigger the alarm. This is very important. If the sensor had to wait until it was submerged or splashed, you'd likely only get an alert in severe situations.
In our tests, we found that it was pretty easy to trigger this sensor. Spilled water, splashing water out of a sink, and spraying it with a misting bottle all triggered a notification. Some might find that this sensor is a little too sensitive. There is a pretty good chance that you'll encounter a false alarm at least once over the course of ownership. That being said, it's likely better to be safe rather than sorry, and its sensitivity means that it is suitable for detecting water leaks anywhere in the room where it's placed.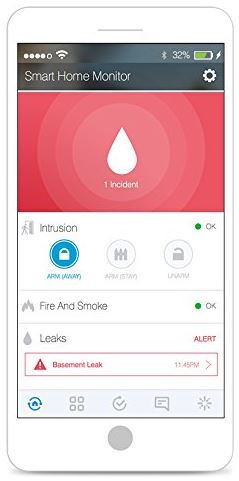 Integration
To understand how this sensor factors into your smart home, we have to look at more than just its individual functionality. We need to know how it operates within the entire SmartThings ecosystem. Some systems are highly advanced, letting you control virtually every aspect of the operation, at the expense of ease of use. Others are simpler to use, but don't give the user much control. Samsung's SmartThings system falls somewhere in the middle. You do have some configuration options, but the possibilities are limited.
Their system puts your smartphone at the center of attention. No matter how you configure it, you'll always be notified when a leak is detected. Beyond that, you can also configure it to trigger a light or siren. This is useful if you find that you've got drainage issues in a basement, or want to keep tabs on that flakey sump pump.
Fibaro Flood Sensor
Have you read your home insurance policy lately? If you have, you've likely noticed a few stipulations. For example, fire damage is generally not covered if smoke detectors are not installed. This is common knowledge, so every home is outfitted with a smoke detector. But very few insurance policies cover any flood damage at all. The Fibaro Flood Sensor is designed to help homeowners out with this problem. Just like the smoke detector, it's something that you may never have to use. But for a low price, it could save your home.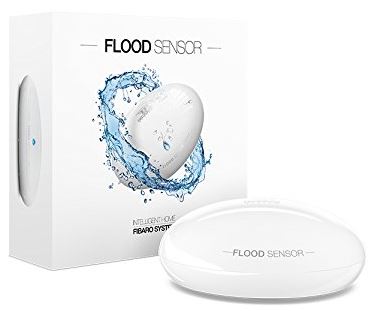 Functionality
The one thing that all smart sensors have in common is that they use some kind of wireless communication system to communicate with a central hub. Many use WiFi, others use Bluetooth. But the Fibaro Flood Sensor uses something called Z-Wave technology. Although you don't often hear this promoted, its actually extremely common. Most smart hubs on the market support Z-Waves, including solutions from both Apple and Samsung. Z-Wave technology is great because it's well suited for low speed data transmission with very high reliability.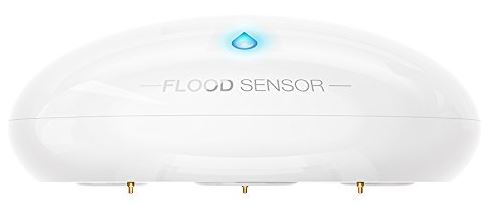 But the unique thing about the Fibaro Flood Sensor is that it's compatible with any Z-Wave hub. Syncing the device is simple. You just hold down the button on the base of the sensor, and have your smart hub search for devices. Once you select it, you can then place it anywhere in the home where water might be detected. The switch is a simple on / off model. It sends a signal back to your hub to say "everything is good! No water here!" If moisture is detected, no signal is sent back. This is what they call a "fail open" system. This allows the sensor to send an alert even if it is damaged. Considering how poorly electronics and water go together, this is important. If the sensor is submerged, your smart hub will still know that something is wrong.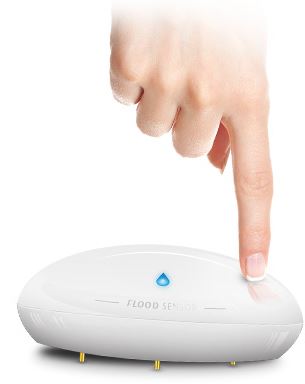 Water Detection
Like the Samsung sensor, this model works by detecting humidity, not just physical moisture. This particular one is calibrated to detect larger leaks. It requires a decent amount of humidity to be triggered. There are two situations where it works well. The first, obviously, is large leaks. If a pipe bursts sending water everywhere, you'll know almost immediately. The second scenario includes small leaks where water is starting to build up. For example, lets say you've got a pipe slowly dripping water into your walls. Before long, moisture will start to build up. The sensor can detect this as well. It's not exactly an immediate alert, but any alarm indicates that there is a problem that needs to be looked at. You'll always know that there is an issue before problems like mold or rot start to develop, but you won't have to worry about false alarms.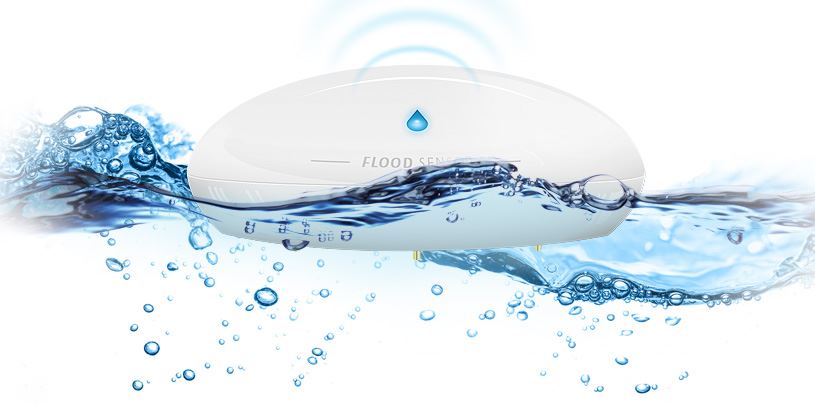 Integration
Because this system can be integrated into almost any smart home system, the level of control you get with it depends on which system you use. With an advanced smart hub, you can do things like use the presence of humidity to activate other devices. This could be something as simple as a bathroom fan. When the air is too humid, the fan will turn on to vent out the humid air. You can also set it up to control a sump pump. If you regularly have water issues in your basement, this can make sure that the pump is turned on anytime water is present, and will prevent you from running your pump when dry.
D-Link DCH-S160 WiFi Water Sensor
Considering that D-Link's business is focused primarily on home networking equipment, we first expected this to be a sensor that uses advanced communication to integrate itself with your smart home. Instead, they've come up with something a little different. This unit is an all-in-one device. All you need is the DCH-S160 WiFi Water Sensor, and you can keep your home protected from moisture without any additional components.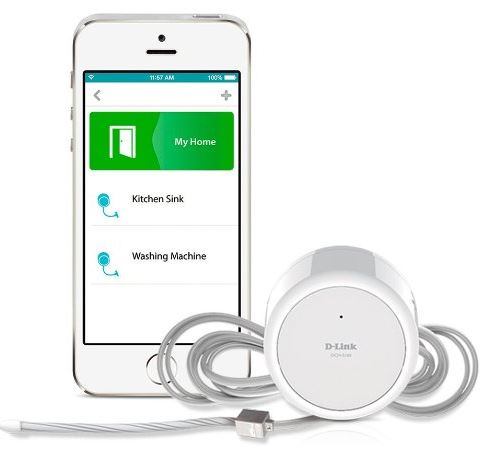 Functionality
There are tow parts to this water sensor. You've got the round, stylish base that serves as the brains of the unit. It communicates through wired (Ethernet) or WiFi, and is configured using an app on your mobile phone. Attached to the base is a 3.5 foot cord that's connected to a 1.65 foot long sensor. When the sensor comes into contact with water, it sends a signal back to the base that sound a built in alarm, send you push notifications, or communicate with other D-Link devices.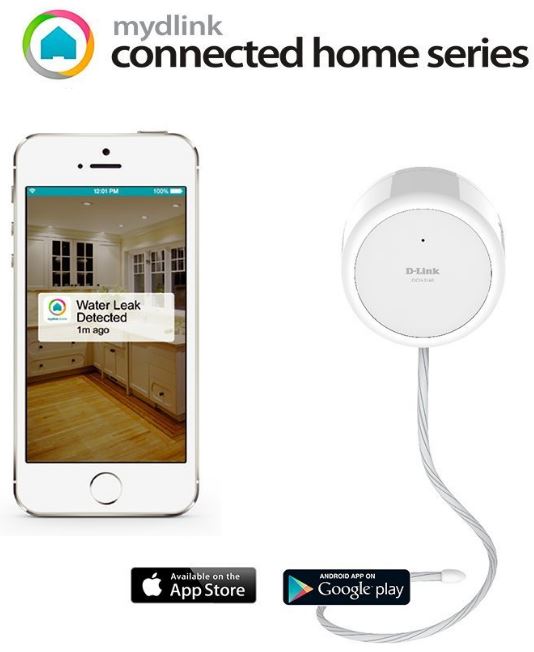 Water Detection
Instead of relying on humidity to suggest the presence of moisture, this sensor is a lot simpler. It needs to physically come into contact with water to be triggered. This makes it ideal for use in a laundry room, kitchen, bathroom, or anywhere you're worried that equipment failure could result in standing water. It does require that you guess where water would pool up, but most rooms are designed with some kind of a drain or low point so that water can accumulate. The simplicity of this design makes it incredibly reliable, with almost no chance of failure.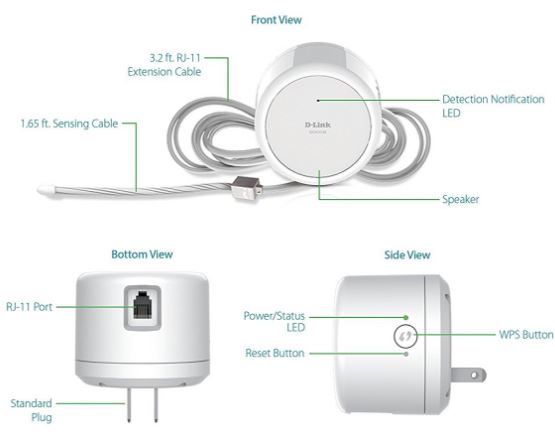 Integration
Despite being an all in one unit, D-Link offers a surprisingly high number of ways for it to communicate with other systems. Like most brands, it's fully compatible with their MyDlink system. These devices are highly configurable, making it simple to set it up to control literally anything you can connect it to. If that's not enough for you, IFTTT integration means that you can sync the sensor up with many other modern smart devices. For example, you could have it shut down all the electronics in your home if a water leak was detected. You could even go so far as to have it tweet your boss asking for the day off if your basement floods. New tools are being added to IFTTT every day, so the possibilities are virtually endless.
Which Smart Water Leak Sensor is Right for Me?
All of these sensors are great at what they do, and the prices are pretty similar. But if you don't have a smart home system in place, you might be stuck paying extra to get that set up as well. If you aren't committed to any one particular system, our recommendation would be for the D-Link DCH S160 WiFi Water Sensor. This one is compatible with the most services, and it tends to favor open source software as opposed to forcing you into their own ecosystem. For new users, this is a huge benefit.
Perhaps you're looking to build a new smart home system. In this case, we highly recommend Samsungs Smart Things ecosystem. The SmartThings Water Leak Sensor is just as good as any one our list, but it's very easy to use and set up.
Do you already have a smart hub from another provider? In that case, you should pick up a Fibaro Flood Sensor. This sensor is fully compatible with almost all smart hubs on the market, so you wont have to replace any of your expensive equipment.