These days, headphones are expected to be much more than just an audio device. The line of Beats by Dre products started the trend of headphones as a fashion accessory. Many well established players in the mobile audio market offer a line of audiophile grade headphones that provide a premium sound quality normally reserved for expensive home stereos. Finally, portable Bluetooth products appeal to customers who want a product that's both convenient and easy to use.
Generally, headphone manufacturers only target consumers who are looking for one of these qualities. Furthermore, these products tend to alienate frugal consumers. Beats by Dre product cost hundreds of dollars, and the sound quality is no better than mid-range offerings available elsewhere. Audiophile grade headphones are overkill for most purposes. You need specialized audio playback devices and hard to find FLAC audio files to take full advantage of their performance.
The majority of Bluetooth headsets are designed for athletic users. Generally, they sacrifice functionality in favor of size and durability. Since the Photive HF1 perform reasonably well in all of these categories, some may state that it's in a class of its own. More accurately, we feel that it's in every class at the same time.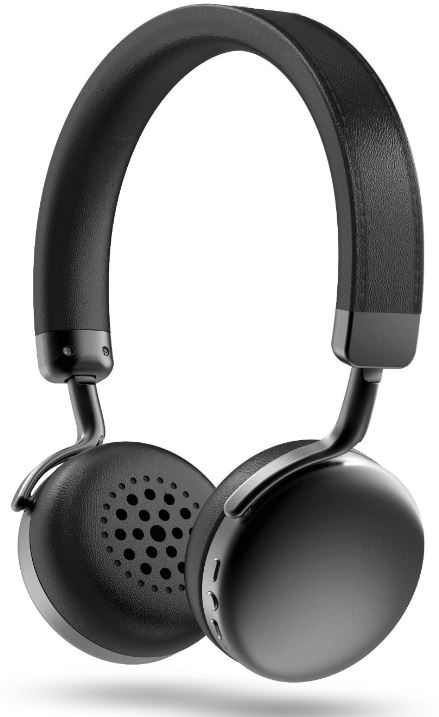 When designing the HF1, Photive clearly spent a lot of time studying the most popular features in all of the best-selling headphones. They look great, featuring a contemporary design that's pleasing to the eye. It is made from high quality components that are both durable and effective, providing sound quality a notch above the majority of consumer products. Finally, it's highly portable. With Bluetooth technology, it's a fully wireless solution – convenient for on-the-go users. Let's take a detailed look at these all-arounders, and see what makes them such a great choice.
Design
The design of the Photive HF1 Wireless Headphones is both pleasing and unassuming at the same time. It has simple, elegant shapes that work well together. The perfectly rounded ear cups contrast well with the sharp, straight edges of the headband. Meanwhile, the smooth texture of the brushed aluminum looks great against the natural topography of the faux-leather accents.
While the vibrant plastics used in some of the more aggressively fashionable headphones are selected to stand from the crowd, the HF1 is a subtle product that can be quietly appreciated. The design does a great job of projecting the universal appeal of these headphones, as it can appeal to the senses of almost any consumer.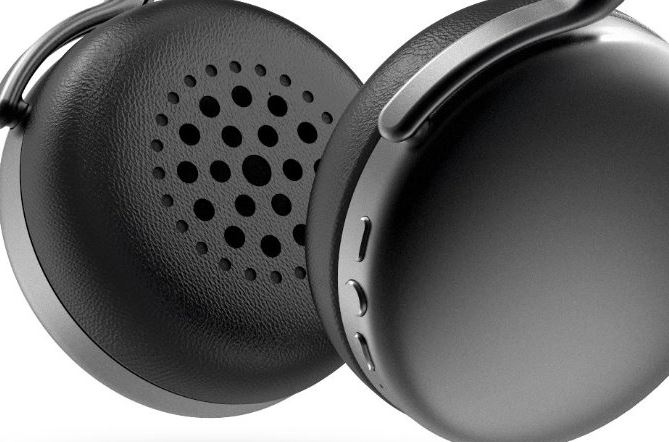 Build Quality
For the price, this is one of the most well-made pairs of headphones on the market, within its price range. Both of the moving parts (the hinge for the ear cups and the adjustable band) are made from steel. The headphones feel solid in your hand. They do not creak when under stress, and the motion feels smooth. Unlike the touch buttons used in athletic headphones or the squishy rubber dome buttons on economy models, the buttons on the side of Photive's HF1 have a solid, tactile click.
It's apparent that they are built to last, and shouldn't develop any of the dead-zones that plague rubber dome actuated buttons. The fake leather is the only point of concern with this unit. Although it's moisture resistant and tends to last quite a long time, the coating has been known to strip from this material. When storing the headphones, taking time to ensure they are not pinched or crushed by heavy items will go a long way to protecting the soft material found on both the headband and the ear cups.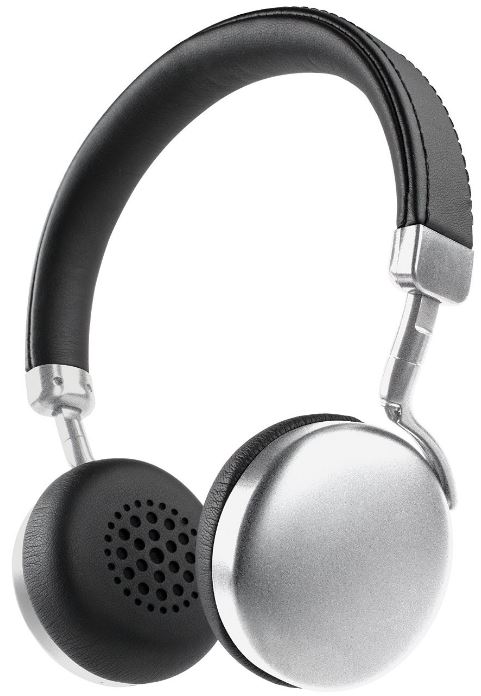 Portability
Thanks to the use of aluminum, these are probably one of the lightest metal headphones available in an over-the-ear form factor. Weighing in at 5 ounces, they are light on your head and do not create any unnecessary pressure. They are just heavy enough to feel solid, but not so heavy as to be uncomfortable – even after long periods of use.
Unfortunately, they do not fold like some of the other models on the market. Some users want to have their headphones on hand at all times, but don't want to wear them around their neck. In this case, you'll probably want to be carrying around a messenger bag or backpack. If portability is very important, you might be better off going with an in-ear headphone that can be carried around in your pocket, or even a folding model that will take up less space in your bag.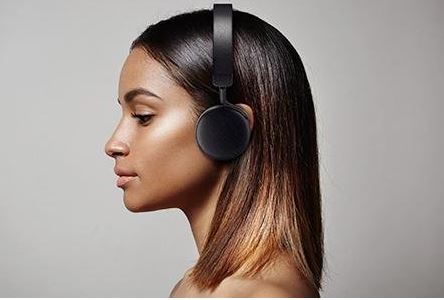 Comfort
The HF1's are comfortable to wear, even for extended periods of time. They grip your head well enough to stay on, but don't put any unnecessary pressure on the ears. There's one small trade off to this design, since there's only so much force they can withstand. While they will remain in place while walking or even running, we're certain you'd be able to knock them off your ears if you were to jar them around.
Consumers who want a product to use during highly active athletic events might want to use the compact in-ear models that plug directly into your ear canals. But for day to day use, the soft material and padding used on the ear cups and headband address all of the main pressure points, preventing you from getting fatigued or uncomfortable.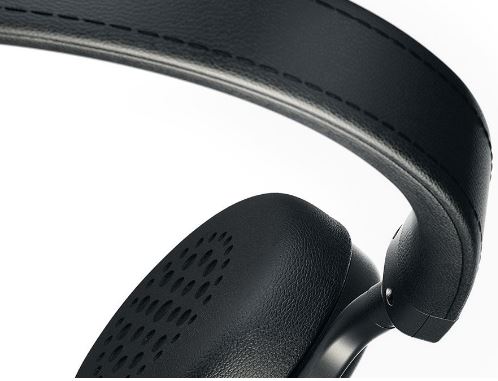 Audio Quality
"Neutral" is the best way to describe the sound produced by the Photive HF1 headphones. The highs are crisp without any hint of distortion or sharpness, the mid-range is buttery smooth and harmonic, and the bass is encompassing and well defined.
We sampled a large range of music styles including Twenty One Pilots, Pink Floyd, Andrea Bocelli and The Chainsmokers. The HF1's did an excellent job ay accurately representing everything we threw at it. Performance was markedly improved compared to entry level models like the iPhone earbuds or Panasonic IEMs.
While they did do an excellent job at reproducing many different styles of music, their neutrality may leave some people disappointed. You're not going to get the slamming, pushy bass hits that the $500 Beats studio headphones produce. They probably won't recreate the subtle nuances of a masterfully performed concerto like the AKG K701. If you're currently using a highly specialized pair of headphones designed for one specific type of music, you'll probably want to stick to those kinds of products.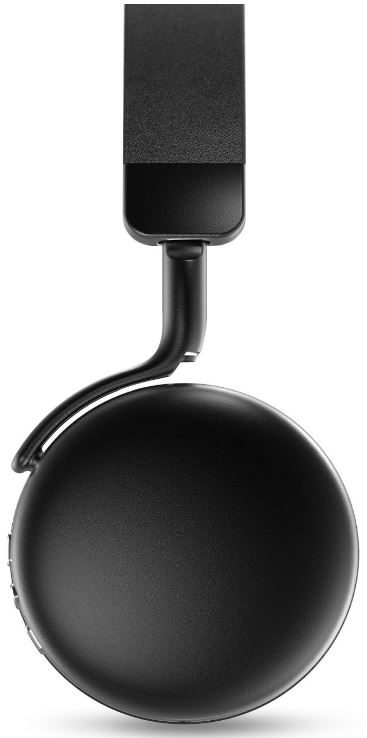 But for consumers who like some variety in their music and use services like iTunes, Spotify or Soundcloud, these headphones will provide a significant improvement to your listening experience. You're not going to see much of an improvement to your audio quality without buying specialized equipment and sourcing your music from an audiophile quality store.
Battery Life
Listening at a moderate volume, the battery in these headphones will pump out audio for 12 hours. This is a little diminished if you like to have your music on full blast at all times, but you should still get 9-10 hours of continuous use out of them. Even if you're going to be out for an extended period of time without access to a charger, there's an included aux cord that will allow you to plug them into any standard headphone jack. With the cable plugged in, the headphones switch into passive mode and take advantage of the built in amplification of your media device just like any standard headset.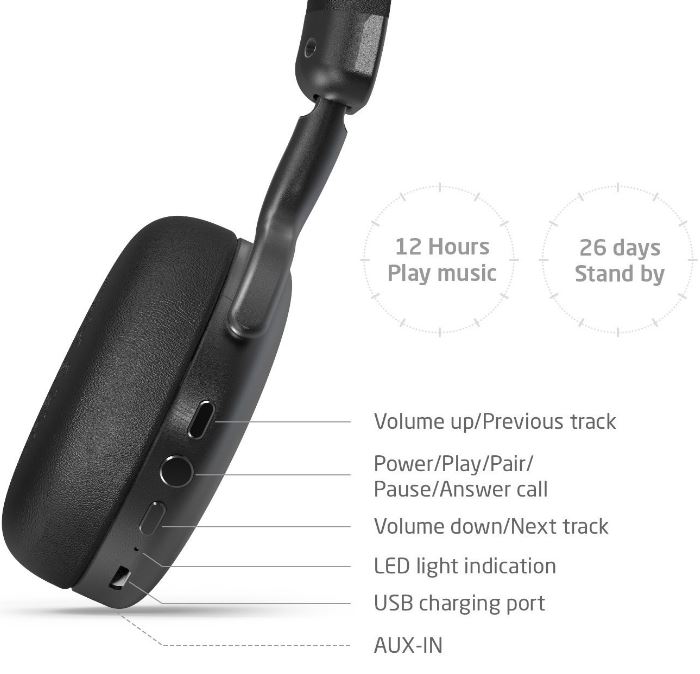 Compatibility
If you can play music from it, these headphones can connect to it. There are, however, a few considerations. These headphones take advantage of the APTX codec available on Bluetooth 4.0. This compresses your audio files with a lossless algorithm, so the sound you hear is just as good as the original media file. This compression also prevents the sound from cutting out, even if you briefly lose connection with your device.
APTX is supported on any smartphone manufactured in 2009 or later. Older devices will only support the original standard for compressed Bluetooth audio. It will work, but there will be degradation in the audio quality and range. If you are using an old device, it might be worthwhile to use the included AUX capable to take advantage of the sound capabilities of the HF1.
Final Verdict
The Photive HF1 Wireless Headphones are one of the most well rounded choices we've come across in this price range. Whether you're getting them for yourself or purchasing them as a gift for someone else, there are very few pairs of headphones that we can recommend as confidently. Unless you have incredibly specific needs, there's a good chance these headphones will check off all of your boxes.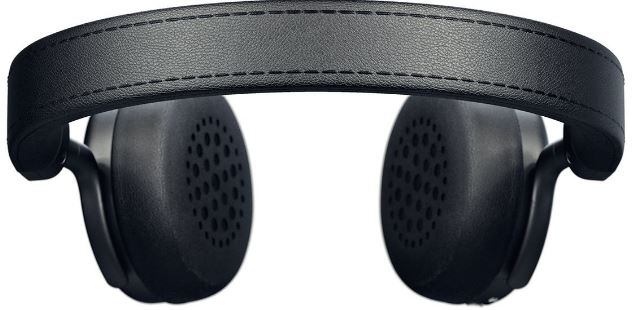 Photive is not exactly a trendy brand, so people whose primary interests lay in making a fashion statement may want to look elsewhere. If you only listen to a single type of music, then perhaps you'll be more interested in a product designed for your specific tastes. But if you want an all-around great set of headphones, this is likely your safest bet.