For mobile users on the go, keeping your devices charged is one of the most challenging tasks. Whether you're just commuting around the city or taking a break from it all during a nature walk, you're not always going to have access to a power outlet. The HP Powerup Backpack contains a massive 22,400 mAh battery pack, which should provide plenty of juice for even the most demanding mobile user. Although it's not going to be released for another month (Sept 14th), let's take a look at this unique product and see what it has to offer.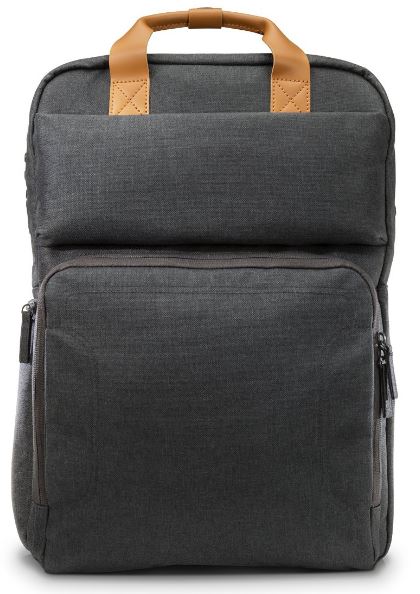 First Impressions
At first glance, the Powerup just looks like a standard backpack. The gray canvas finish has a very modern, stylish design. It's not until you open it that you see all of the nice little design touches HP has thrown in. Ventilated pockets prevent your laptop from heating up the backpack if the fan is running. There are all sorts of cable organizers inside to keep everything neat and tidy. The pockets are very well padded, so all of your expensive devices can be held safe and sound.
Upon opening the package, you'll find a few things included. You get the 22,400 mAh battery which is a little smaller than a VHS tape. There are three cables included. One for charging your HP laptop, and two micro-USB cables for android of windows phones. There are also two little adapters, which allow you to connect different laptops to the charger. Finally, there is a rain cover for keeping everything dry.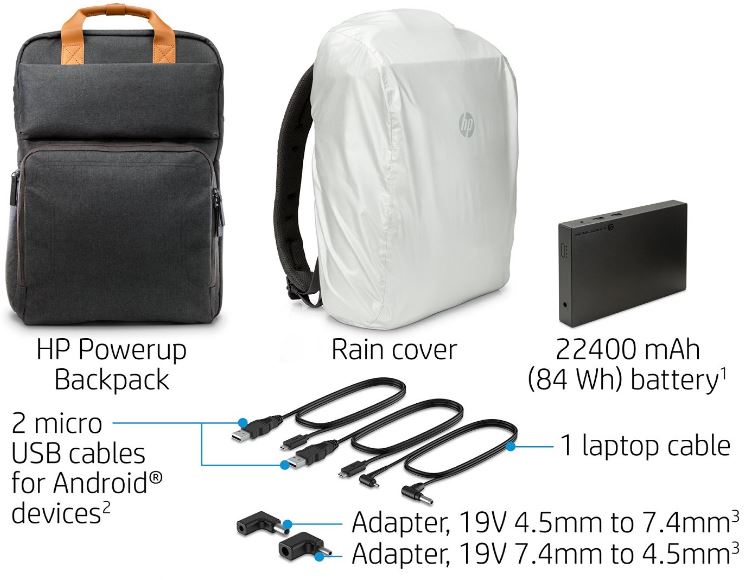 Design
The design is absolutely one of the coolest features of the HP Powerup Backpack. It looks very well made, and manages to pack a lot of features into an attractive package. There are 3 main pockets. The top opens up to provide access to the bulk of the storage space. Your laptop will fit in here in it's own dedicated sleeve, while there is still plenty of room for books, snacks or whatever else you might want to carry with you.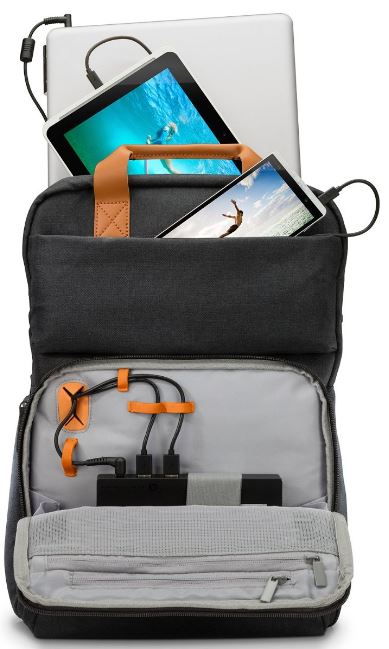 The next pocket contains the extra battery, and several Velcro straps to keep your cables neat and organized. There is a yellow rubber grommet that allows your chargers to pass through, so you'll be able to neatly route them to whichever device you want to charge.
Finally, there is the main side pocket. This has a larger stretchy pocket that will hold your laptop charger, which is also used to charge the battery pack. There is another pouch on the front of the backpack that does not zip up. While it could be suitable for placing a book, it's probably not a good idea to keep any electronics in an unprotected area.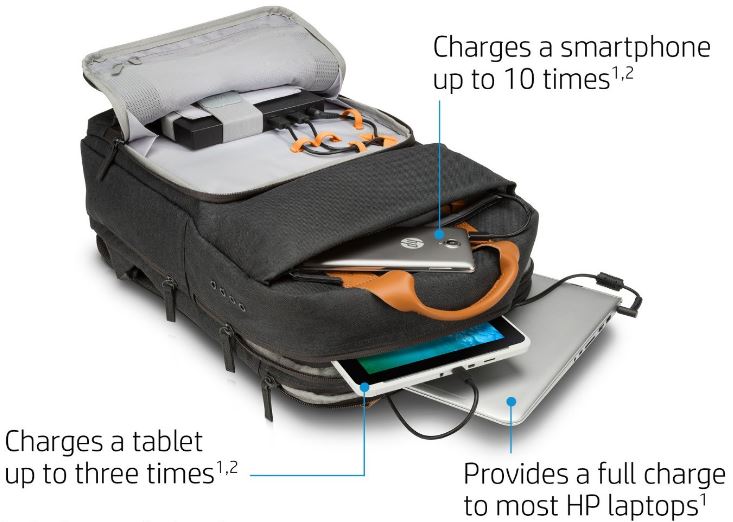 Another neat feature in the design of this bag is the three cables holes coming out the side. You can pass an Android charger through to use your phone even while it's charging. You can also run your headphones into the backpack, to play some music off one of your devices even while it's stored away.
Compatibility
The 22400 mAh battery provides enough juice to charge most smartphones up to 10 times. The included micro-USB cables are suitable for charging Android devices. There's no reason that Apple products couldn't also be charged, but you'll need to supply your own cable. The USB ports have two different outputs on them. The first port provides 2.4 amps of current at 5v. The second one provides the standard 2 amps of output. This will charge most Android smartphones, and fast charge some of the Apple products. But if you are using an iPad or any phone that features the "fast charger" from Samsung or LG, this will not support high speed charging.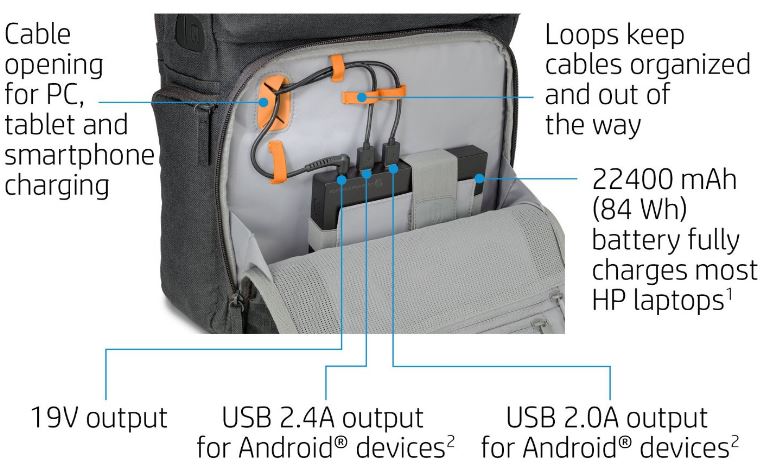 The one restriction with this product is that it must be used with an HP computer. Not only is the charger compatible only with HP laptops, but you need to use your laptops charger to juice up the battery. This is not included, so if you don't own an HP charger you are unable to take advantage of the most important part of this backpack. The product description doesn't state exactly what HP laptops are supported, beyond stating that most laptops up to 17.3″ should work.
We did a little digging and found out that compatible laptops must have a 4.5mm or 7.4mm barrel connector. There's not a lot of data saying how many of HPs laptops use these connectors, so it's necessary to consult your manual before purchasing it.
Although USB type C has only just hit the market, many devices are starting to be released that use this cable. The HP Powerup backpack is not compatible with USB type C, as it requires a higher charging voltage.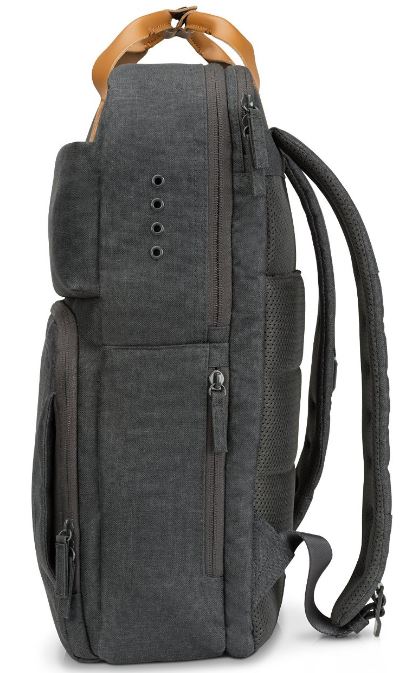 Functionality
The battery lets you select the order that you would like to charge devices. If you want to guarantee your phones are kept juiced up at all times, you can select them as priority number one. Then the battery will only charge the laptop if your phones are already at 100 percent.
Setting the laptop as priority number one is probably not advisable, as they can take a lot of power. If your computer is completely dead, you will use the entire battery attempting to charge it up to 100 percent. Mobile devices, on the other hand, use a lot less power. 22,400 mAh should charge any phone 10 times, or you could charge up your iPad or tablet 4 times.
One really impressive feature of this backpack is the heat protection. With all of these devices charging up, a lot of heat can be generated. This is actually quite bad for your devices, and can cause the battery to burn out quickly. There's a built-in heat protection circuit that will shut off the charging circuit if the temperature gets too high. This will protect both your gadgets and the battery, regardless whether the heat is environmental or simply caused by charging many devices at once.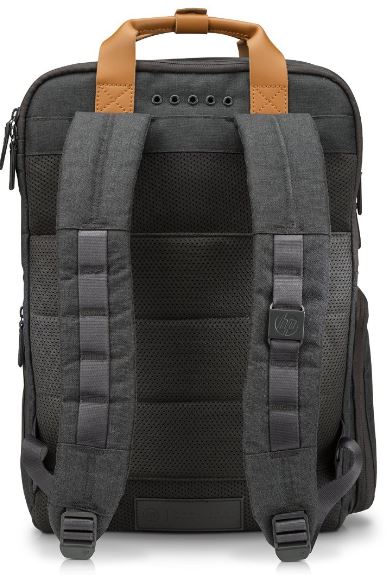 Travel Features
If you're catching a flight, the TSA has strict requirements regarding the size and contents of your carry on baggage. By keeping all of your cables and chargers organized neatly, the security agents won't make a mess of your backpack when doing a manual search. The laptop pouch is also isolated and very easy to access, so it takes no extra effort to pull out the computer before going through the x-ray.
If you're adventuring into the great outdoors, you don't want to get caught in a downpour that could soak your valuable gadgets. The included rain cover tucks neatly into the backpack, but provides essential waterproofing necessary for anyone who takes their life on the go.
Build Quality
With the outside being made from a durable canvas material, there's no doubt this backpack will stand up to the abuses of day to day life. The inside of the bag is made from a slip proof vinyl material, so even if your water bottle leaks or something from your lunch spills, the mess should be contained. The entire backpack is machine washable, so keeping the backpack fresh isn't too much of a chore.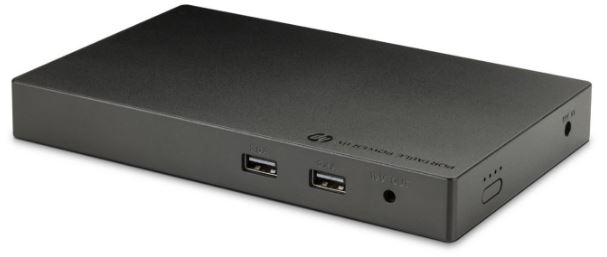 Stitching on this backpack is very high quality. Especially on the straps and carrying handle, where most of the weight will be distributed. Although the handle is a little small, it's made from a leather material and stitched twice. No matter how many books you are carrying, we find it unlikely this bag will fall apart like some of the more inexpensive products on the market.
Final Verdict
This is a very unique product from HP that combines one of the best portable batteries with a very high quality backpack. Having built in cable routing and dedicated slots for every type of mobile device is essential to keeping your backpack neat and tidy, and the high quality stitching and materials leads us to believe that this is a backpack that will last a long time.
Unfortunately, the fact that an HP charger is required to use this device limits usability to users who have bought into the HP brand. If you own another type of computer, or replace your HP with a different model you won't be able to take advantage of the HP Powerup Backpack's best features. A lack of common fast-charging features and USB type C support means that newer smartphones might not work, so the expected lifecycle of this device is a little lower than we would like.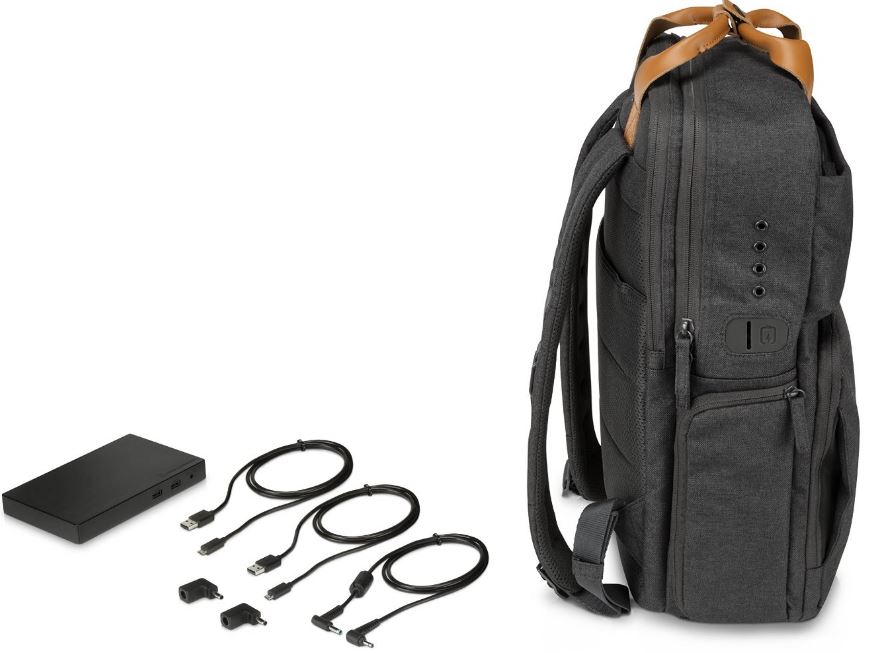 Regardless, if you're an HP user and your devices all meet the compatibility requirements of this backpack, this is one of the best products on the market for people who want to have their technology accessible at all times.