In today's fast-paced world, everyone values products that are easy to use and designed for the on-the-go individual. Everything from our meals to our outfits can be customized and purchased online. Our work day meals and take out lunches are designed for people on the move. And, more than ever, we are connected through our phones, tablets, computers and even our music.
The portability of our music has made daily, menial tasks like walking to work that much more personalized and enjoyable. It has also enhanced and motivated our more vigorous activities like working out at the gym or taking the dog for a hike. We're even able to make and receive phone calls, all through our smartphones and headphones, regardless of where we are or what we're doing. Portable audio equipment now seems as much a part of our daily lives as our morning coffee.  
For most people, the best product available for on the go music is a good set of portable earbud headphones. Not only are they lightweight, compact and extremely transportable, they are also by far the most convenient and easy to use headphones for any situation. As a result of their success and popularity as a product, the market for wireless earbud headphones has exploded.
It's no longer enough for earbud headphones to simply be an ultra-compact headphone, with audio quality often being the sacrifice for portable size. Users now have much higher expectations on their earbud headphones. Most good headphones are now wireless and come with technology that optimizes their sound quality to a degree that was previously not possible in such a small speaker. They are also compatible with a wide range of devices, and more often than not, even come with a built-in microphone making it easier than ever to manage phone calls in between music playlists.
With so much weighing on our ability to take our music, podcasts and audio files with us wherever we go, it's no surprise that consumers have such a hard time selecting wireless earbud headphones that will live up to their needs. That's why we make it our duty to find the best products out there and make sure the right user find them.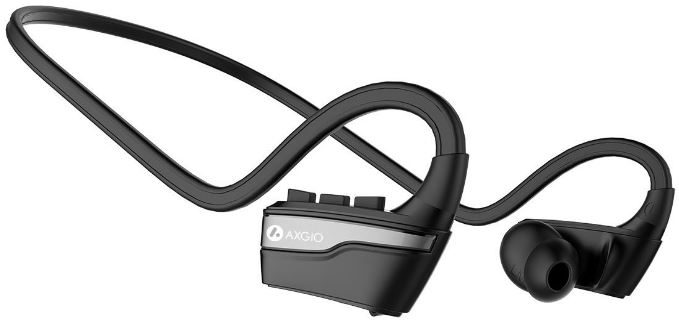 The AXGIO Backfit sports Bluetooth Earbuds are the perfect budget earbud for sports enthusiasts and generally active individuals. The Backfit is designed specifically to fit easily into your lifestyle with as little resistance as possible, while delivering solid sound quality and useful functions. The Backfit is more than just an average earbud headphone. They're perfectly designed for a discreet, comfortable fit that you can enjoy while walking, biking, exercising, or any other daily activity. With the most recent Bluetooth technology and compatibility with almost any device, they seem to be the perfect go-to earbud headphone for users on a budget. We were lucky enough to receive a free Backfit in order to thoroughly test it out and give our honest opinion in this review. Let's get started.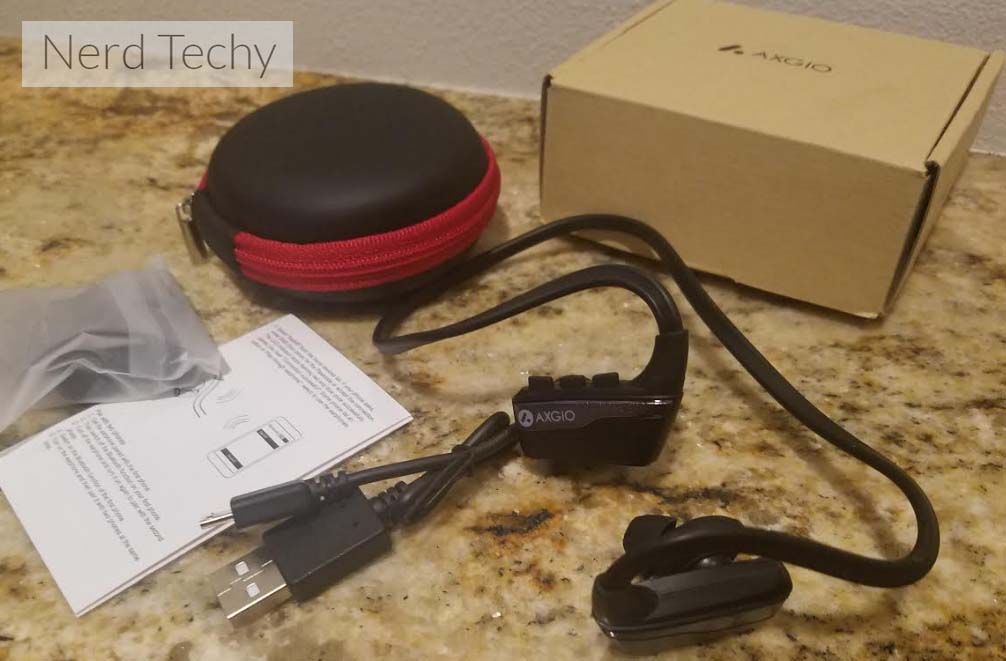 First Look
The AXGIO Backfit has a rather unassuming look at first glance. The ultra-compact earbud headphones are black and silver, a fairly typical color scheme for headphones/audio equipment. They are neither flashy nor particularly bland, hitting that crowd-pleaser sweet spot. We appreciate the eco-friendly packaging, which is minimal despite the fact that it comes with a few extra items. These include extra ear tips, a USB charging cable, a carry case for storing, and a user manual.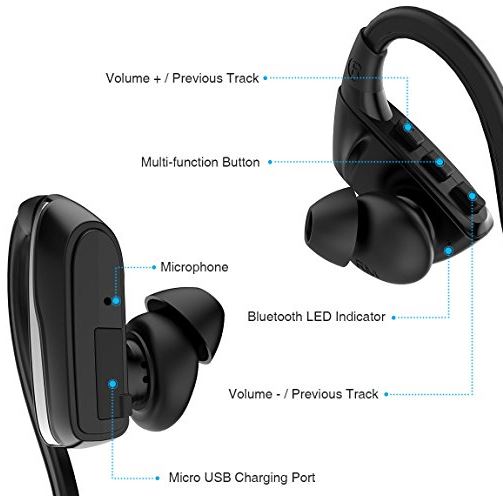 Most of the functions/electronics can be accessed on the right earbud. The onboard controls include volume control, track change, a multi-functional button, and a Bluetooth LED indicator. The left earbud has the USB charging port and mic.
The overall design of the Backfit is straightforward, with a flatter than usual earbud housing and a connective cable is shorter and sturdier for a snugger fit. While there's nothing glaringly impressive about the first glance, they certainly feel and look like a good product that we're happy to put to the test.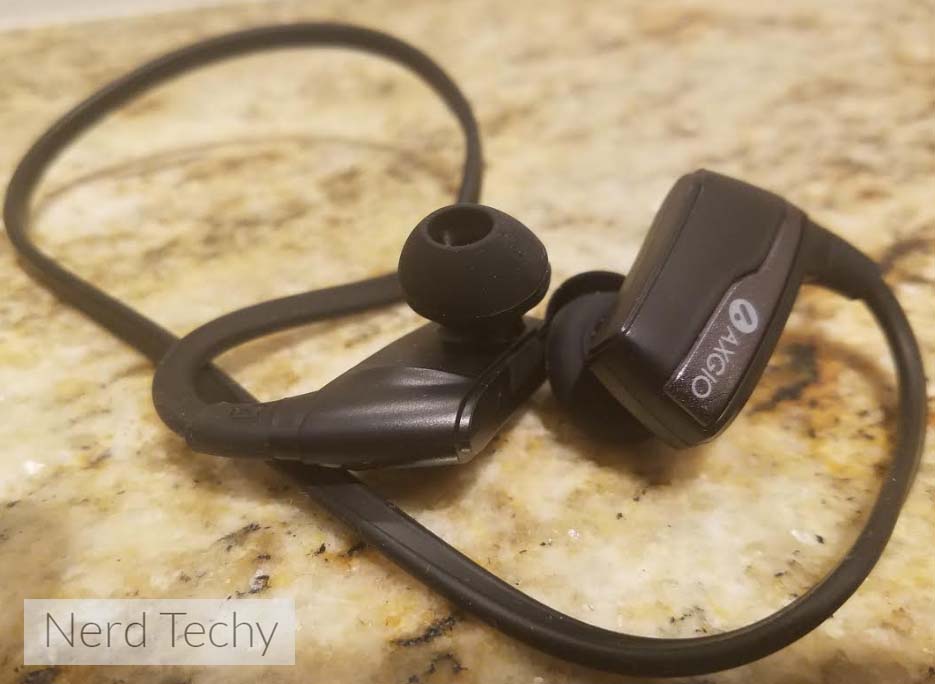 Build Quality
Because wireless earbud headphones are designed specifically for on the go use, the built quality is extremely important. This is especially true with a product like the Backfit because it is designed to be used during sports and other high intensity activities. The concise design is rather modest, but that doesn't mean the build quality is. The connective cable is specifically designed to sit like a headband against your head, unlike most wireless headphones that have a looser cable. This is not only more comfortable, but also allows the headphones to stay put more easily. This reflects the fact that they are built for increased flexibility and less resistance while working out.
The headphones also have an IP rating, which is a great sign of a durable headphone. They're rated as IPX4, meaning they can withstand splashes of water from multiple directions and can easily function no matter how much you sweat. This is a must have feature for anyone who wants to use their wireless headphones during high exertion activities. However, you won't want to submerge them into water.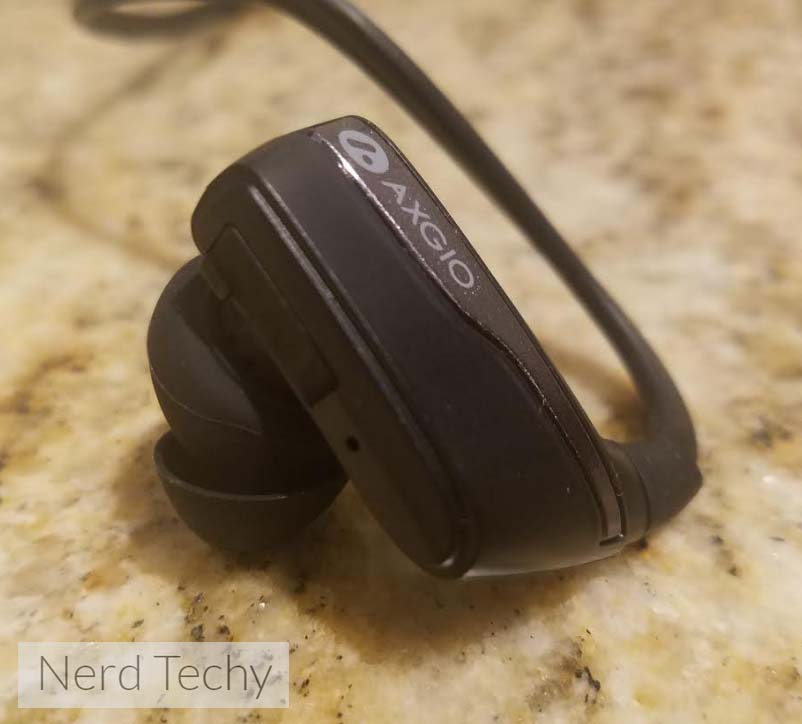 Sound Quality
Any good set of wireless earbud headphones should deliver where it matters most – sound quality. On one hand, there will always be an inevitable loss in quality over a wireless transmission, and combined with the limitations of a compact speaker, it can be difficult to find a product that does your music justice. Thankfully, technology has advanced enough that most good wireless earbud headphones have a much greater sound quality than they used to. The AXIGO Backfit Sports Bluetooth Earbuds are no exception.
The Backfit includes a passive noise cancellation feature, which helps reduce outside noise and let you focus on your audio. The noise cancellation also allows you to enjoy clear sounding voice through the mic during hands free calling. With advanced Bluetooth V4.1, the Backfit also delivers crystal clear treble, impressive mid ranges, and a solid bass frequency. While these headphones are no competition to your full sized speakers, they are undoubtedly impressive, and are sure to please users who need a solid set of earbud headphones they can use on the daily.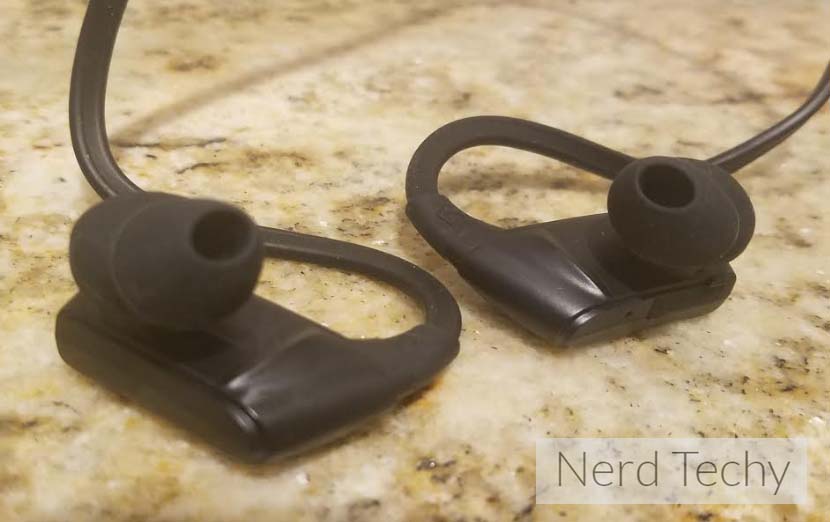 Comfort
As a sports oriented headphone, you can be sure the AXIGO Backfit is built with comfort in mind. AXIGO intentionally designed a headphone that can be used during any activity. For starters, the headphones are extremely lightweight. At only 0.6 ounces, they are light enough that you'll hardly notice you're wearing them.
They also have a nice snug fit thanks to the headband and ear tips. Since it includes three different sizes of soft silicon ear tips, any user can fit them to their unique ear size. The ergonomic ear hooks are also built for comfort. They keep the earbuds in place to avoid jostling. The rectangular shape of the earbud housing is not just stylish, but also perfect for multi-functional use. The flat shape of the housing allows you to comfortably wear the headphones under any hat or helmet, so your activities are not limited by them.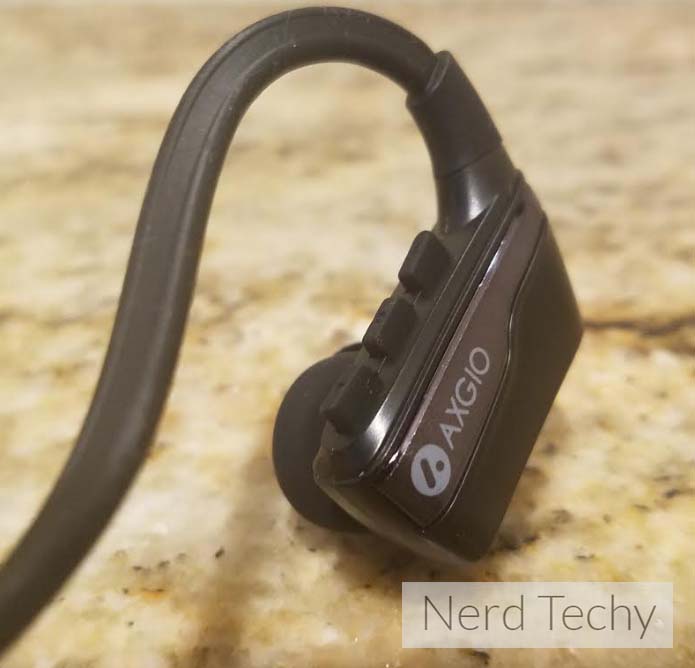 Battery Life
For a pair of wireless earbud headphones to really live up to users' needs, they need to boast some important functions that make using and maintaining them a breeze. For the most part, this means having a good battery life. There's nothing worse than finding your headphones have run out of batter just as you walk through the gym doors, or hit the halfway mark on your run. Thankfully, AXGIO does not leave their users wanting in this regard.
AXGIO claims the Backfit headphones boast a 6-hour battery life, which, when tested, certainly lived up to expectation. The headphones easily played 6 hours of continuous music on a single charge, meaning you can get nearly a full day's use out of them before they'll need a recharge. They also have a "battery low" warning when the juice gets around 10%, so you'll never have to worry about those sudden, unexpected shut offs.
Plus, when the time does come to charge them up, they can go from 0% to 100% in less than two hours.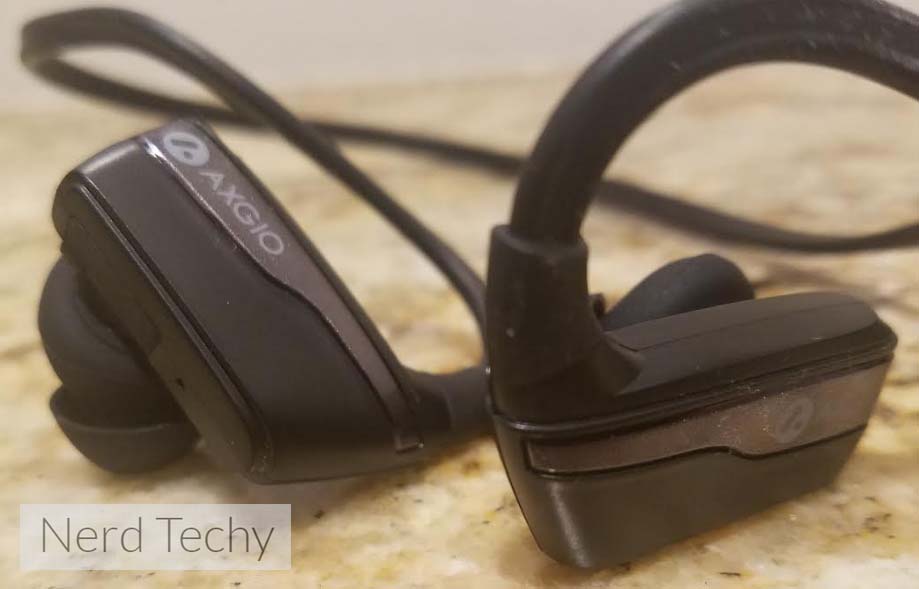 Compatibility
Wireless headphones are only useful if you can actually pair them with your device. In order to get the full benefit of a wireless product, said product needs to boast a high level of compatibility so any user can take advantage of it. Luckily, the Backfit can pair with almost any Bluetooth device you own, including your phone (Android or Apple), laptop or tablet. You can even pair the headphones with more than one device at a time. This allows you to pair with your phone for music, then instantly switch to your computer for a YouTube video, and back to your music with the click of a button. For those who don't like clutter, you can even clear your entire paired device list whenever you want.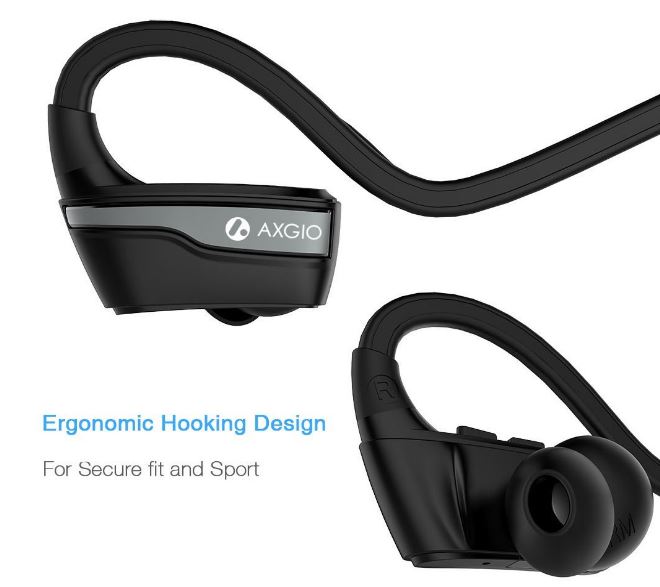 Should I Try the AXIGO Backfit?
As far as value goes, the AXIGO Backfit Wireless Earbud Headphones are a great bang-for-your buck product that anyone on a budget can afford. If you want a solid pair of wireless headphones, but are somewhat disenchanted with complicated, over the top features and settings, the Backfit will bring you back to basics. They deliver on every front that's important in a wireless headphone: comfort, good sound quality, durability, a long battery life and wide compatibility. They're easy to use, and their ergonomic shape is actually rather unique and more widely applicable than many higher end products.
Meet Derek, "TechGuru," a 34-year-old technology enthusiast with a deep passion for tech innovations. With extensive experience, he specializes in gaming hardware and software, and has expertise in gadgets, custom PCs, and audio.
Besides writing about tech and reviewing new products, Derek enjoys traveling, hiking, and photography. Committed to keeping up with the latest industry trends, he aims to guide readers in making informed tech decisions.