We've been singing the praise of Bluetooth locks ever since the Kwikset Kevo was released. Having the ability to quickly get into your home without having to fumble around with a set of keys is a small luxury, yet a notable one. Opening locks is one of those minor annoyances that we generally accept as a fact of life. But once you've experienced how much nicer it is to avoid it, you'll be thankful every time you open your door.
But when it comes to outdoor locks, Bluetooth is even more impressive. How many times have you been unable to open up your garden padlock because you couldn't remember where you put the key? Or trying to remember the combination for a lock you only open once in a blue moon? Even worse, think of all the bikes we've seen, long forgotten, chained to some object the owner clearly didn't intend to make permanent. Bluetooth locks are able to address all of these problems. Today, they're more plentiful and affordable than ever. Let's take a look at the best ones on the market.
Master Lock Bluetooth Outdoor Padlock
Anyone who's attended public school is familiar with Master Lock. While they're known best for securing the lockers of schools everywhere, their product range is much more diverse than that. They make everything from high security industrial locks to affordable suitcase locks. With years of experience as Americas number one padlock manufacturer, it's no surprise they decided to try their hand at a Bluetooth enabled model.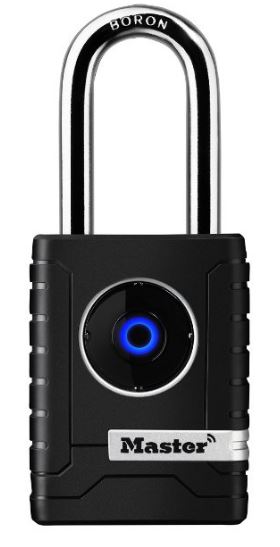 Ease of Use
The Master Lock Bluetooth Outdoor Padlock is even easier to use than a keyed or combination model. In order to control it, all you need is to quickly install their mobile application. It's compatible with both iOS and Android, and can be found in the Play Store. From your smartphone or tablet, opening the app will show you a list of all your locks that are within range. Just tap the icon, and the lock will pop right open.
Setting it up is just as easy. When you first turn the lock on, it'll be unpaired. You can then open the app and enter in a few quick details to sync the lock permanently with your account. The fact that it's account-tied is essential. If you lose your phone, you can log in from another device and retain access to all of your locks.
If you don't have your phone with you, you can still open the lock using the directional code. Directional codes require moving the lock face either up, down, left, or right in a certain order. If you grew up playing video games, this should come naturally to you.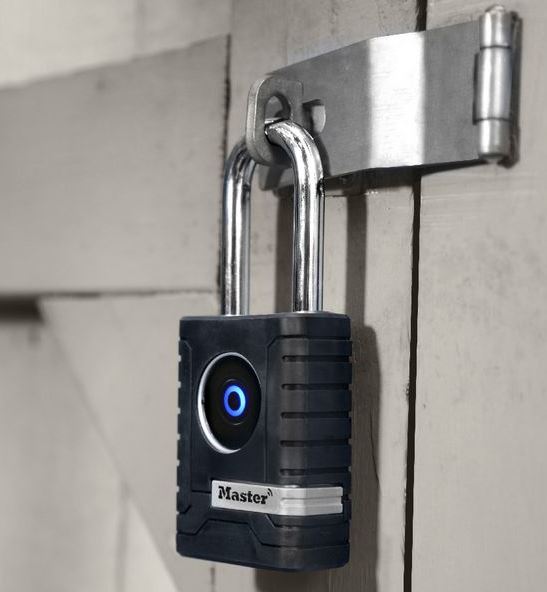 Durability
From the outside, the rubber face gives it an unintimidating appearance. But the rubber shell is only there for looks and to prevent chipping if it's dropped. Underneath you'll find that the lock is made from a solid piece of metal. The shackle is made from boron-carbide, and extremely hard alloy that is almost impossible to cut. To top it off, the entire thing is weather sealed. Even if you live in a rainy area, you're not going to get any rust on this tough lock.
Security
Thanks to its incredible build quality, this lock isn't going to be something that thieves can simply slice off with a pair of bolt cutters. It's also got a special anti-shim design, so lock-pickers can't get their hands in it either. In the event somebody does try to tamper with your lock, you'll receive a notification on your phone the next time you open it. Finally, another layer of protection is added on the digital front. All Bluetooth communication is encrypted using a military grade system, so nearby people can't listen in on your broadcasts.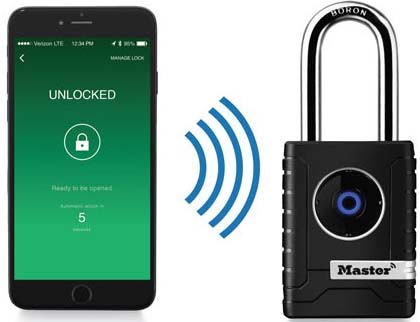 Bonus Features
Keys can be shared, so Master Lock recreated this feature with their handy application. You can quickly send a temporary code to your friends or family, giving them digital access to your lock for a set period of time. You can also set temporary directional codes as well.
The batteries are protected with a special reserve system. If the batteries go dead, just push the directional pad up. This taps into the reserve power, providing you with enough juice to unlock it 10 more times.
Nulock Keyless Bluetooth Lock
Nulock isn't the most famous company on the market, but they've certainly made a statement. With their keyless Bluetooth lock, they've managed to take all the convenience of the system and add on an additional layer of security. If you're worried about bike theft, this is hands-down the lock to get.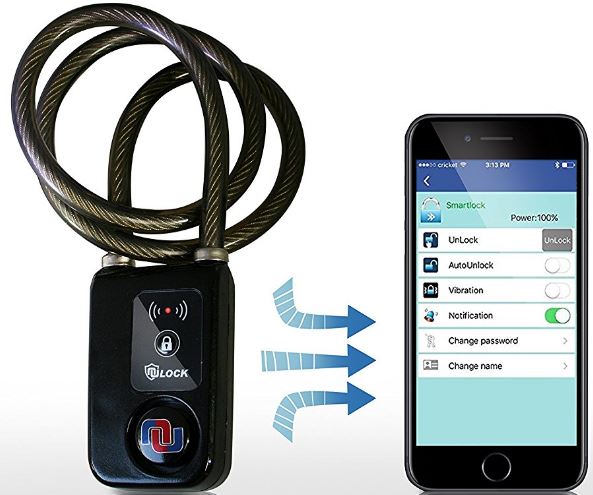 Ease of Use
Although the Nulock Keyless Bluetooth Lock takes a little longer than some to setup, this actually ends up making it easier to use. Nulock has a large number of options that let you control how your lock behaves, helping you find the perfect balance between convenience and security. By default, you'll need to use the included app to open the lock. Just quickly open it up, touch the lock, and it will easily open for you. Even if you've turned off Bluetooth for one reason or another, the app will re-enable it briefly in order to actuate the lock.
If you're after convenience. You can set the lock to open automatically just by you getting near it. This prevents you from having to take out your phone, and is great for commuters.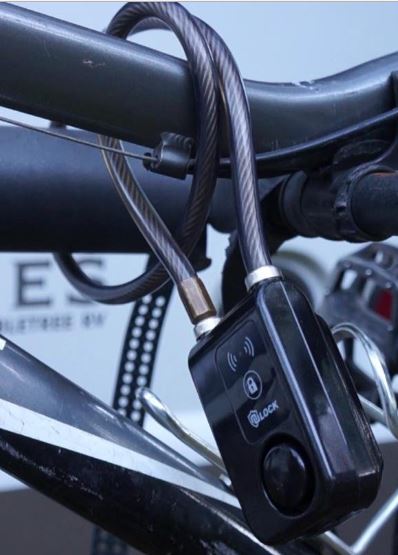 Durability
The Nulock is made from the same braided stainless steel chain that's used on top tier bicycle locks. These locks give you the benefit of being extremely difficult to cut or break, while remaining lightweight and flexible. This means that you can use this lock on everything from a BMX bike to a smaller motor bike. Although stainless steel doesn't generally rust, it's possible that daily use can ding it up a little, eventually leading to it wearing out. They've coated the entire thing with a rubber sleeve to make it last much longer. But perhaps most importantly, the entire electronic section is IPX certified, allowing it to withstand any environmental variable.
The batteries are also designed to be long lasting. The three AAA batteries give you up to 6 months of usage, so you'll rarely need to change them.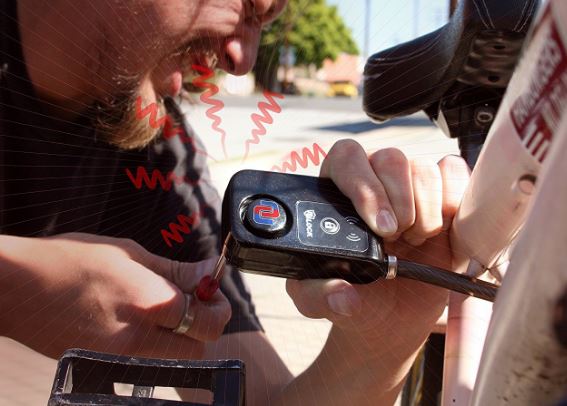 Security
This is where the Nulock really stands out. There are a number of sensors installed that can detect and deter theft. First, it can sense vibration that would be present if anyone tried to cut or saw their way through the cable. It's impossible to get a clean cut with braided cable, so even bolt cutters would trigger the alarm. Disassembly and wire sensors give two ways for the device to protect against tampering. And if anything is detected? It will trigger a 110db alarm. This is nearly as loud as the sound of an airplane taking off, and we're pretty confident it will stop any thief in his tracks.
Noke Padlock
Although they focus exclusively on Bluetooth products, Noke is more than just a one trick pony. They're currently focusing on a number of popular consumer products, taking something simple and making it even easier with the inclusion of powerful Bluetooth radios. While they're still a new company, they've still managed to draw attention to their business through high quality consumer goods.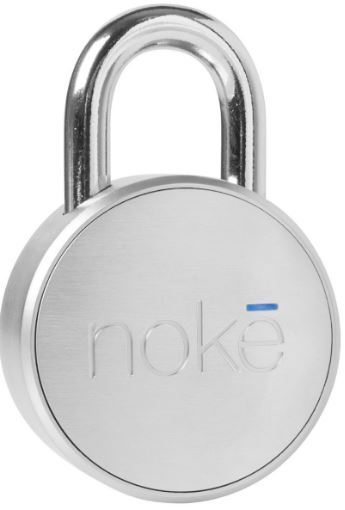 Ease of Use
Of all the Bluetooth locks we've used, the Noke Padlock has the best app we've seen. The interface isn't just easy on the eyes, it's easy to use too. Adding the lock to your phone is a simple two-step process. Open the app, and wait for it to detect nearby devices. Then, you pick a name for it. There are plenty of pre-filled fields for things like your locker, shed, bike, and more. When you open the app, you'll see a large grid that shows you all the locks you've got. If a lock is in range, you'll see a big green button on the right you can tap to unlock it. It really couldn't be any more intuitive.
The lock itself has a simple, plain design. The only indicator on the front is a slim blue LED that lets you know it's locked and has battery. If you want to unlock it without your phone, you can do so with a simple tap code. It works a bit like morse code, of the secret knock you used to use at your best friends house when you were young. You can pick that code yourself, or choose a pre-filled one. Would-be thieves won't even know that there is an alternative method of opening the lock.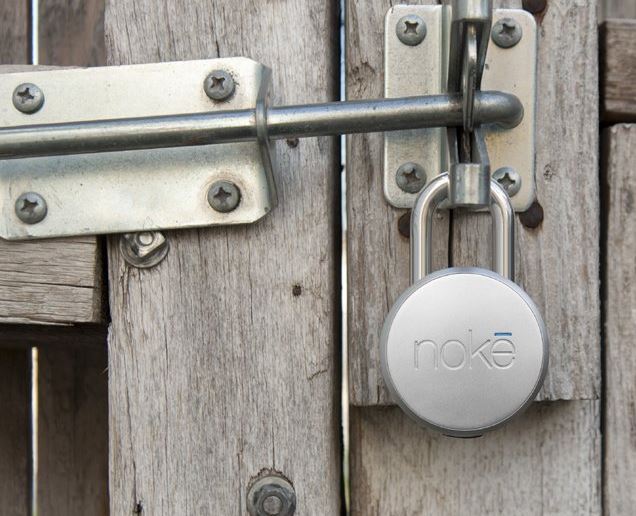 Durability
As you'd expect, this lock is incredibly durable. It's machined entirely from stainless steel, with the only hint of plastic located on the bottom. This little tab is used it access the button cell (CR2032) battery. Even if it dies, you just need to swap that out and you'll be back in business. But just a single cell can last an entire year, so this won't be a regular occurrence. To top it off, the most sensitive part of the lock is coated with boron, so it won't rust if it gets wet.
Security
This lock is well protected from almost every angle. The reinforced body means that cutting or breaking it just as hard with the Noke as it is with professional grade locks. The unique tap code isn't something we've seen before, so you've got a bit of security through obscurity there. Even in the unlikely chance somebody wanted to try and crack it, they likely wouldn't know where to begin.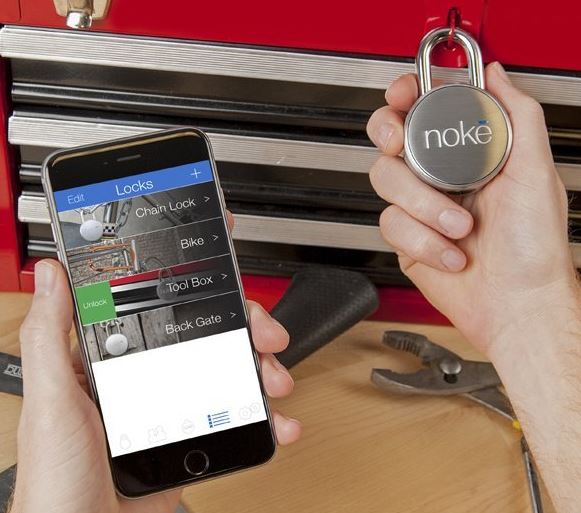 Bonus Features
The Noke Padlock also has a sharing feature, so you can give your friends and family access when needed. You can send them a Bluetooth unlock code, provided they download the application. Or, you can set a custom tap code for them and transmit it over SMS, right from the app.
Which Outdoor Bluetooth Lock Should I Own?
Trying to decide which one is for you? Depending on what you want, each of these locks have some unique features that you might appreciate.
Our first recommendation would be the Master Lock Bluetooth Outdoor Padlock. This solution is meant for mission critical situations. Its reserve battery means that even if you're caught without any power, you can still get into your lock. But the built in low-battery notifications means that this will likely never be needed.
For style and simplicity, the Nulock Keyless Bluetooth Bike Lock is one of our favorites. It's easily the most attractive product on our list, and the unique tap to open system is simple to use and effective security.
Of course, if you're security a bike you're going to want to use a chain. No matter how advanced your lock is, the chain will always be the weak point. In this case, the Noke Padlock is the only one on our list that includes a vibration sensor to prevent thieves from trying to cut through it. Overall, these high-tech locks have added a whole new layer of security to the things we care about.