If you've been searching the market for a high-performance portable outdoor speaker, you're not alone. Just about everyone can see the benefit of owning a compact speaker that's designed with an active lifestyle in mind. Regardless of the specific genre of music you enjoy, we're all fans of high-fidelity audio. But with the overwhelming amount of options to choose from, which one will provide the perfect balance of affordability and high quality?
In your search for your next speaker, you may have come across a brand called Treblab. Here at NerdTechy, we've reviewed several of their products in the past. Namely, the XR100, XR500, X11, RF100 and J1 earbuds.
It hasn't been until very recently that they've released the next product to their line – the Treblab HD55 Bluetooth Speaker. Being the first portable speaker they've created, we had very high hopes. Each one of their earbuds are top-rated choices among consumers, so we figured their HD55 speaker would likely be just as nice. Does this speaker have what it takes to "wow" the audience? Is it a perfect blend of affordability and high quality? We took it upon ourselves to find out. Let's have a closer look.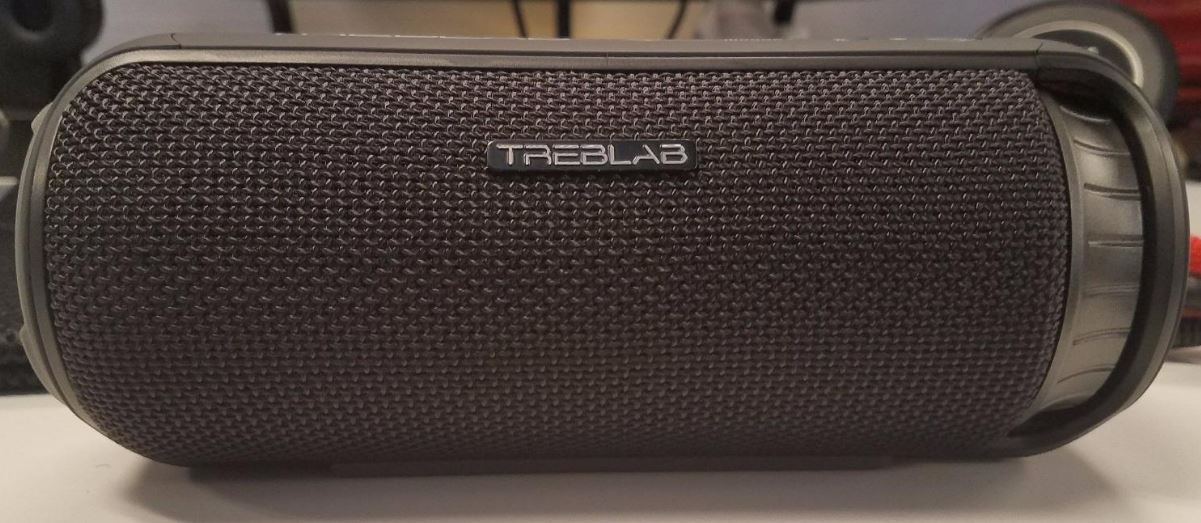 First Look
Being a brand new release and having quite high expectations, we were very excited to finally get the chance to thoroughly test out the HD55. Upon its arrival, we opened the box and were pleased with what we found. A compact, cylindrical speaker measuring just under 10 inches in length and roughly 4.5 inches in diameter. On one end you have the volume and track controls, with the other being a fully featured bass radiator. Along the length of it, there's a control bar that has a microphone, mode button and power button. Not to mention, the entire body is the speaker itself, covered in an interchangeable panel, featuring true 360 degree audio.
Being compact, it's naturally lightweight, weighing in at just over 1 pound. Feeling it in your hands, it feels solid, well-built, and void of anything that gets in the way. In addition, there are several accessories included. The carrying case is a soft, drawstring enclosed bag that gives you a safe place to store it while not in use. In addition, you're given a USB charging cable, auxiliary cable, instruction manual and two replaceable (interchangeable) panels.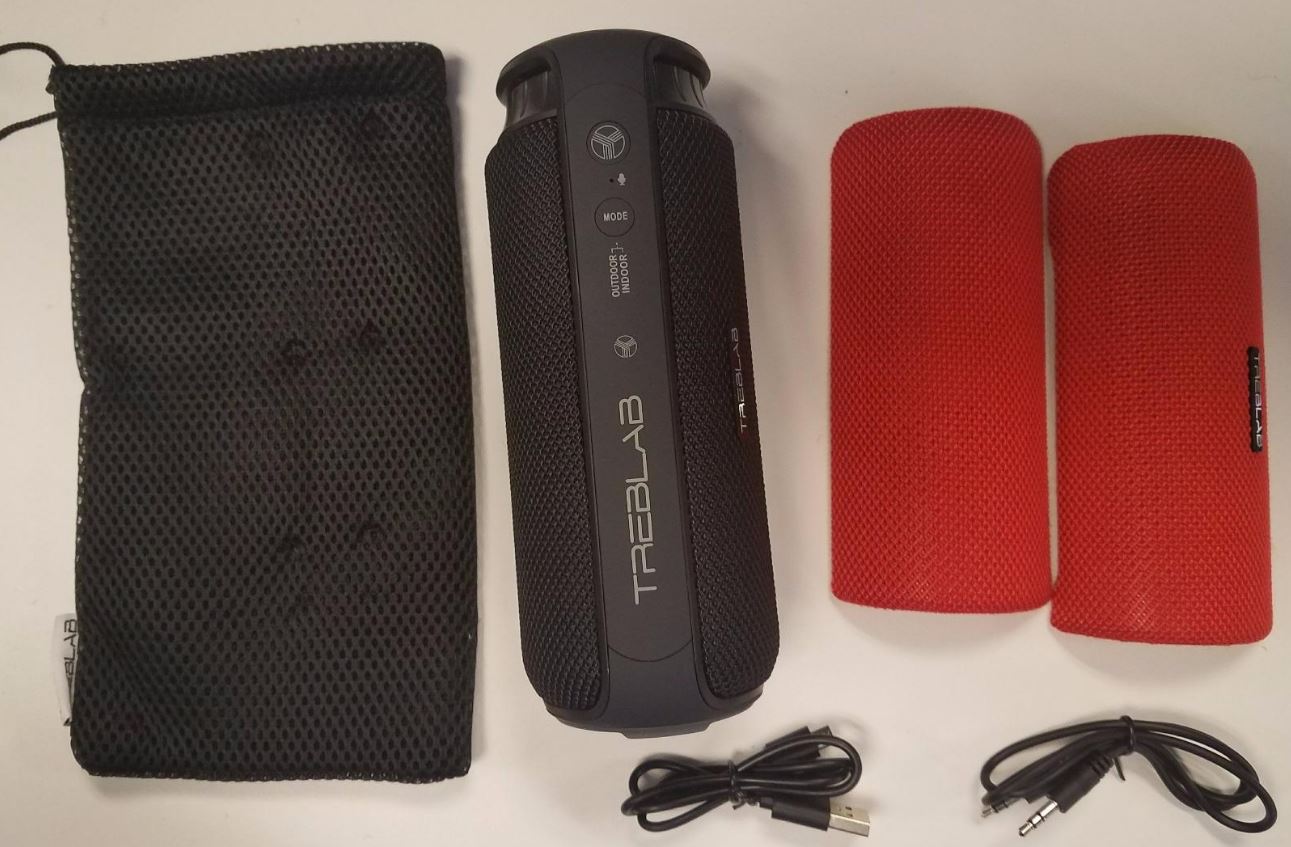 Setup
The Treblab HD55 is a wireless (Bluetooth) speaker that's capable of pairing with just about any device (smartphone, tablet, laptop, etc.) that supports a Bluetooth connection. To complete this process, simply press and hold the power button until it emits a small blinking LED. This will let you know that it's actively looking for a device to pair to. Make sure Bluetooth is enabled on your device, and view the nearby available connections. You should see "Treblab HD55" come up. Simply select it and give it a few seconds. When completed, the LED will stop blinking and become a solid glow. It's a pretty self-explanatory process.
If you're someone who doesn't want to use it wirelessly, just plug in the included auxiliary cable and enjoy it that way. The choice is yours, but the simplicity of wireless is hard to beat. Once you've completed the pairing process, you won't need to do this again, unless you want to use the speaker with a different device.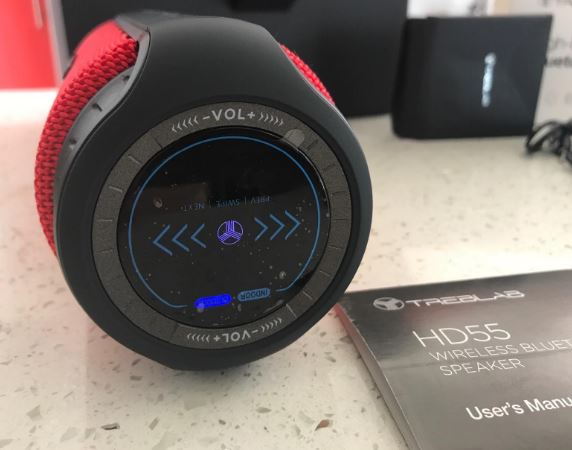 Sound
Quite possibly the most important factor of a quality Bluetooth speaker is the sound it's capable of producing. When we cranked up the volume and played some audio tracks through the Treblab HD55, we were pleasantly impressed. Utilizing dual 12 watt drivers and a double bass radiator, we had a good feeling that the speaker was going to have no sound-related issues whatsoever.
First we played a popular track off the Billboard Top 100 – That's What I Like by Bruno Mars. The song starts out with some pretty distinctive bass-popping rhythm with a wealth of lyrics to make it a bit more complex. The HD55 excelled! Beautiful, rich, vibrant sound, even when we cranked up the volume to the maximum level. It didn't have any trouble with the consistency of the song and there was never a moment that left us unimpressed.
The next song that we played was from a different end of the spectrum. Highway to Hell by AC/DC. Most people know this song – it's packed full of crazy guitar riffs and a huge range of unique sound. It was a "live" version so we didn't have that high of expectations. Truth be told, it sounded fantastic on the HD55. The recording quality of the track we played wasn't the best, but the speaker still made the most of it. No distortion, no graininess – really nothing to complain about!
We're huge fans of the 360 degree sound. Most Bluetooth speakers simply emit music in one direction. Treblab thought over this a bit better and decided to take advantage of the cylindrical shape by placing speakers around it, rather than on one side. It's not the first speaker that's done this before, but it's definitely a nice inclusion.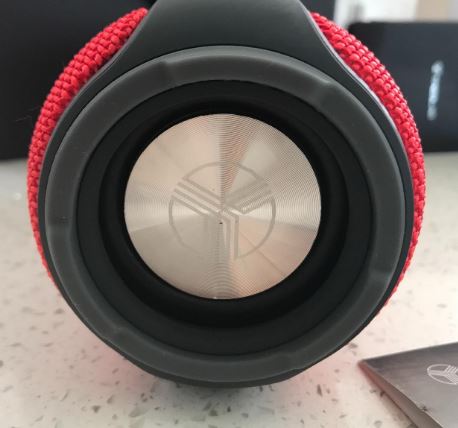 Outdoor vs. Indoor Mode
Something that's really cool about the Treblab HD55 are the two modes it comes with. Located on the side is a small round button that lets you swap between outdoor and indoor mode. What this does is create a better sounding experience when there's a noisy background getting in the way. Press the button for outdoor mode and the speaker will play a bit louder and still keep the crystal clear effects with less than 1% of distortion. Quite impressive for such a small speaker! It's not crucial that you select a specific mode, but it's a nice addition to better suit certain listening preferences.
Wireless Range
As with any Bluetooth speaker, the wireless range can be a crucial factor. The thing is, this is where most speakers are similar. Bluetooth is limited by its own technology and is only capable of wireless transmission of up to 10 meters (33 feet) or so. At this distance, we noticed some slight difficulty with transmission. A bit of distortion and cutting in and out. However, the moment we stepped closer to the speaker with our (paired) smartphone in hand, the signal quality immediately got better.
We highly recommend keeping a clear sight between the speaker and whatever device it's paired with for best results. You definetely have some mobility, but try to keep it under 30 feet for best results.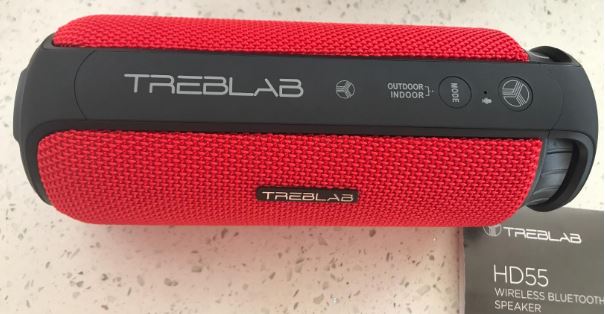 Battery Life
Internally, the Treblab HD55 is equipped with a 4000 mAh battery that keeps it independently powered. The actual battery life is determined by a multitude of factors including the volume level, wireless range, song choice, etc. However, you can expect up to 10 hours of battery life on a full charge. This is the best case scenario, as we sometimes experienced only 8 hours of battery life, but it's a good estimate. If you're one who enjoys music on a lower volume or you have virtually no distance between the paired device and the speaker itself, you should be able to hit that 10 hour mark much easier.
To charge it up, Treblab has included a micro USB charging cable. Simply plug it into the speaker and into any available USB charger or port that's available on your laptop or desktop computer. Within about 4 hours or less, the speaker's internal battery will be topped off and ready for another lengthy listening session. Keep in mind that Treblab reccomends you do not keep the speaker charging for over 5 hours as it can have a negative effect on the battery's longevity.
Durability
Taking a quick glance at the Treblab HD55, you wouldn't think that it's very durable, but it actually is. Being that it's IPX4 rated, you can splash water on it and not worry about it having a detrimental effect. Now don't go ahead and throw it in a pool of water – it's not designed for that. Simply feel free to expose it to some moisture and splashing, but you don't want to submerge it.
One thing to keep in mind is that it's not "drop tested" or able to withstand too much abuse over time. As with any electronic, you shouldn't expect it to be that durable, but it does have a nice, solid feel to it. There's no indication of it being super rugged, just able to withstand a bit of water/moisture.
Drawbacks
One of the biggest downsides that we encountered had to do with the battery. We feel that the battery life is overly sufficient, which is a great thing. However, there's no indicator that lets you know the current charge or batter level. This can become problematic if you're away from your charger for a while, but not a huge issue if you mentally keep-up on the last time you plugged it in.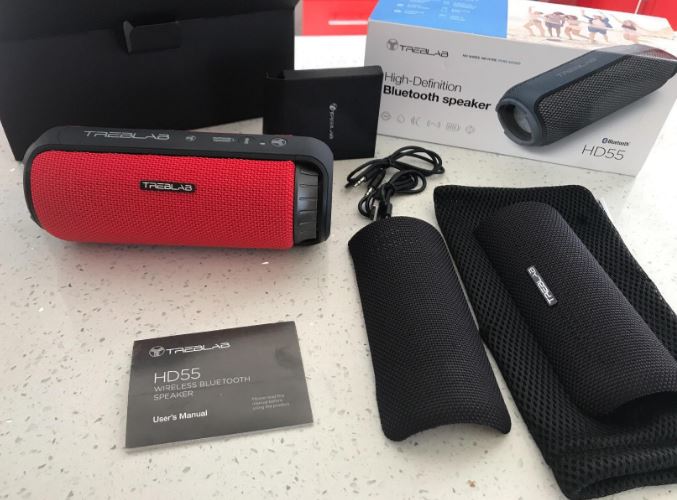 Final Thoughts
The Treblab HD55 is a refreshingly wonderful Bluetooth speaker that seems to cover all the aspects of a top rated choice. The high-fidelity audio sounds great, no matter what kind of music you play through it. On top of that, it's designed smart and takes many important considerations into factor. Durability, battery life and sound quality all seem to be top-notch as we've had several weeks of personal use with it to come to this conclusion.
The pairing process is painless and the sound is downright phenomenal (especially for the price). In addition, the battery life is fantastic – up to 10 hours on a single charge is a definite bonus in our opinion. Best of all, Treblab will literally refund your money if you're not happy with them. They offer it as a "Risk-Free purchase" and include a Lifetime Warranty as well. They're a company that isn't quite as popular as Sony or Beats, but they're surely making a name for themselves with each new product they release.