Have an iPhone XR? You'll probably be using it for a couple of years. But one accident is all it takes. Suddenly, you find yourself spending two years staring at ugly scratches, permanently etched into your previously beautiful XR display. A shattered display is terrible, but partial fractures and minor scratching can feel just as bad.
Choosing a Privacy Glass Screen Protector
Finding a decent screen protector is actually pretty simple, if you follow a couple of easy guidelines.
Made Specifically for the iPhone XR
Many phones have similar or identical screen sizes. But for selecting a screen protector, even tiny differences matter. You want a protector made specifically for your iPhone XR.
In a worst case scenario, mismatched screen protectors could make your smartphone more vulnerable to certain types of damage. They can impede your ability to use your iPhone XR and its touch controls, especially towards the edges of your display.
In a best case scenario, an improperly sized selection will still look ugly. You don't want to take an XR screen protector and use it on an iPhone XS or XS MAX. If you're using an iPhone XR, then you want a privacy screen protector for the iPhone XR, and should risk no substitutes.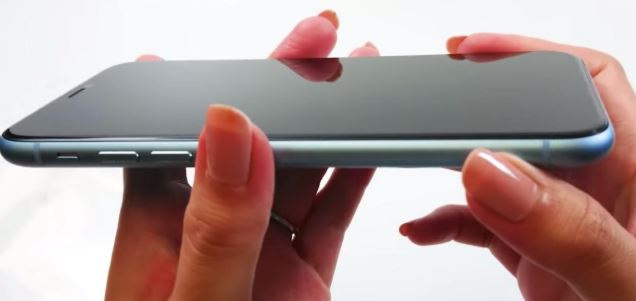 Glass Hardness
The screen protectors you want to use will be rated with 9H hardness. The 9H hardness test is actually pretty unimportant. It indicates the glass can hold up to the hardness of a 9H pencil. This isn't an extremely practical test. It's not like many people are using their phones as a clipboard to fill out documents. And certainly not with the hardest pencil that's manufactured.
But having 9H hardness does tell you the manufacturer bothered to test, and 9H isn't all that different from the hardness of a dull knife. As you consider different screen protectors, you may find slightly greater or lesser protection between them. But it's pretty difficult to discern without independent testing because the 9H test isn't very descriptive.
Glass Thickness
One way to try and discern the amount of protection you're getting is by looking at the thickness of the protector. If the glass was too thick, it would prevent your fingers from controlling your iPhone XR. If the glass was too thin, it wouldn't be protective.
There's a happy medium, and it happens to be about 0.3mm. Slightly thinner glass is better equipped to be used with thick phone cases. Even differences as small as 0.03mm might become an issue if you're using a metallic case. But for people using ordinary cases, anything in the ballpark of 0.3mm ought to do the trick.
Installation Process
Installing a screen protector can be nerve-racking. Some screen protectors include installation kits that can help move things along. Of course, not all installation kits are created equal. Some include an applicator to help you aim the screen protector. Some include an alcohol wipe, dust removal sticker, or microfiber cleaning cloth.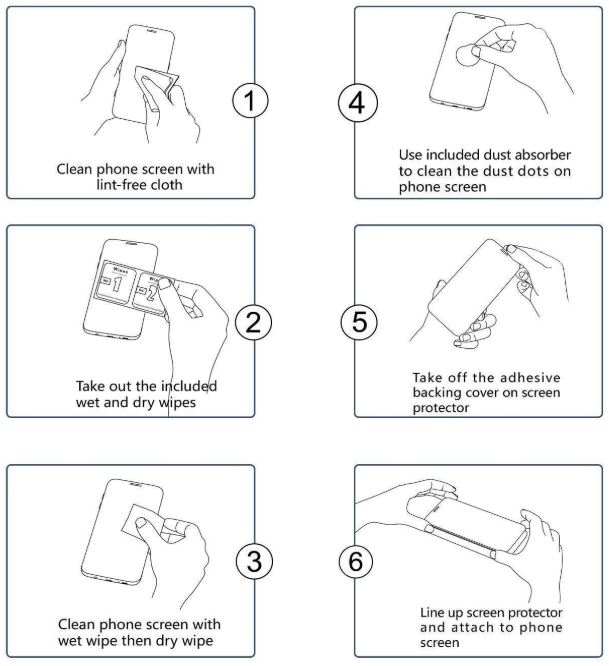 These extras can be particularly useful for replacing an existing screen protector. Most of the best privacy screen protector kits will include two screen protectors. The second often serves as a backup in-case something happens to the first. In either case, for someone replacing an existing screen protector, the materials of an installation kit can be essential.
Privacy Protection
The best privacy screen protectors for the iPhone XR don't just protect your screen, they protect your privacy from onlookers. This is done by calibrating the glass to reduce the viewing angle of the display on your XR.
How far do you want to reduce the viewing angle? Screen protectors are usually made to reduce the viewing angle anywhere between 45 and 90 degrees. It's possible to extend that protection a bit further by reducing the brightness on your phone.
How much light needs to be blocked to achieve the protection you want? Some screen projectors block more light than others. The differences are rarely night and day, but are often worth observing, especially if you normally run your smartphone on lower brightness settings to save power.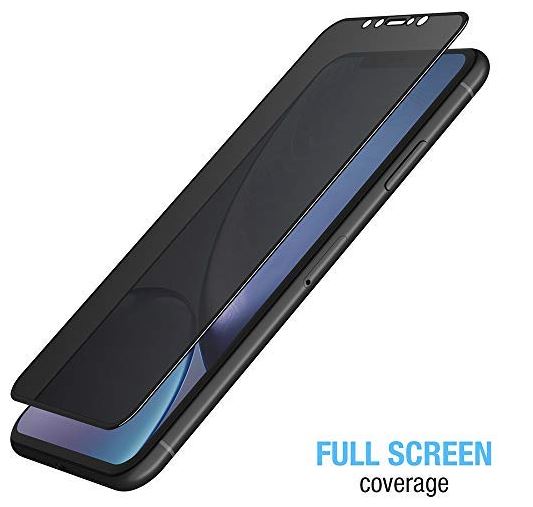 FlexGear iPhone XR Privacy Glass Screen Protector
The FlexGear iPhone XR Privacy Glass Screen Protector is a near-perfect screen protector. It's been designed for the iPhone XR specifically. Consequently, it won't get in the way of the XR's best features. Their Aura Shield 3D glass is compatible with FaceID technology, as well as biometric technologies. With two screen protectors and a basic installation kit included, it's easy to see why people like these FlexGear protectors.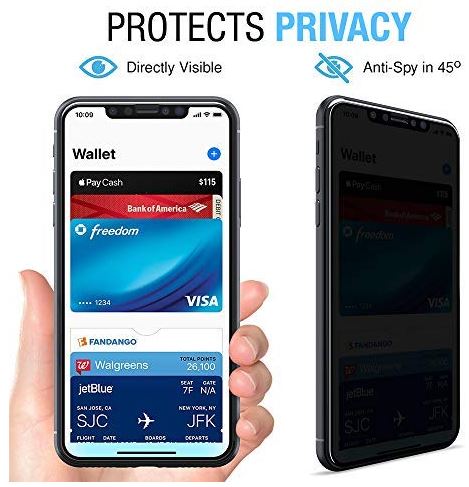 Build & Design
FlexGear tempered glass has been cut to 6.1", uniquely sized to the XR. Its anti-spy design keeps your screen protected from the sight of onlookers, at least when viewed from a 45-degree angle. However, this privacy protection only works when you're using the screen vertically. If you switch horizontally, the glass will no longer provide the same types of protections.
Being roughly 0.3mm thick, this protector is compatible with nearly any smartphone case you might try to throw at it. The FlexGear iPhone XR Privacy Glass Screen Protector is rated for 9H hardness. Additionally, the screen protector is covered in a fairly effective anti-finger print coating. It's also holds up pretty well against dust and light amounts of moisture, though FlexGear doesn't seem to point that out.
Other Considerations
The installation instructions include a YouTube link, giving you a visual demonstration. For people who aren't confident in their spatial abilities, these have to be among the best instructions you'll find from any installation kit. In addition to the somewhat basic installation kit, FlexGear includes a lifetime warranty for their privacy glass screen protector.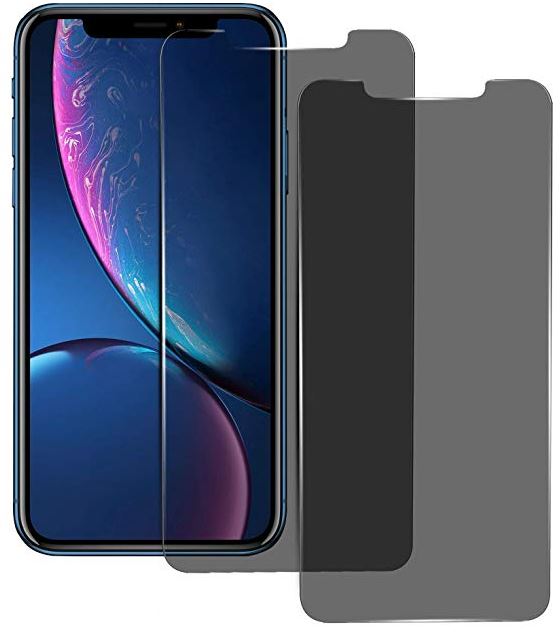 Blitzby iPhone XR High Grade Privacy Screen Protector
The Blitzby High Grade Privacy Screen Protector has a heavy emphasis on visual privacy. Screens are visible only to people who are sitting directly in front of the phone. People who are looking for heavy levels of privacy will also find this protector keeps your iPhone XR looking its best, only slightly reducing brightness.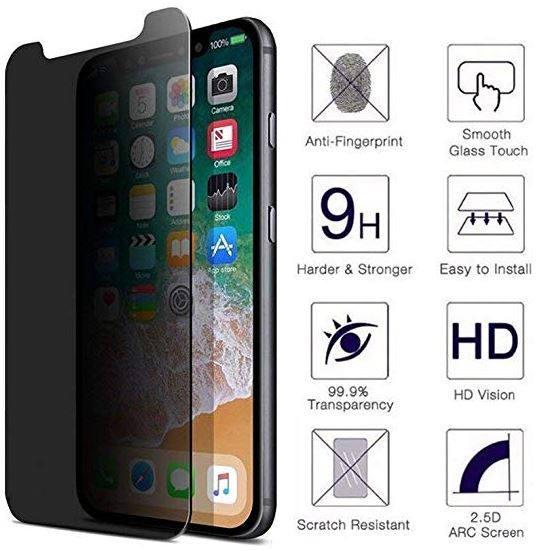 Build & Design
Though this protector is not technically MFi certified, it was designed following Apple's guidelines to make it compatible with 3D-Touch technologies. Like similar protectors, the Blitzby High Grade Screen Protector is constructed from a 0.33mm slab of tempered glass.
The edges are smoothly rounded and sized specifically for the iPhone XR. The protector weighs a little over half of an ounce, which is about average for a chunk of tempered glass. The glass enjoys 9H hardness, which ought to be able to hold up to a dull knife, or the keys in your pocket.
Though quite hard, it's also smooth to the touch, and uses a potent anti-fingerprint spray. The spray is equally effective against dust, but you will need to wipe down the glass eventually. And the included one-push applicator makes installation certain to be bubble-free.
Other Considerations
This screen protector provides higher levels of privacy. People who are expecting less privacy protection may end up with more than they bargained for. Exactly how much light is blocked by the glass depends on a bunch of different factors, but this screen protector's privacy is ideal for both low-lighting conditions and high-lighting conditions. You may have to adjust your brightness, however.
Often times, you have to turn your brightness all the way down for screen protectors to work very well. But even when the brightness is set to normal levels, this glass seems as though the actual dimming of the screen is as little as 5%. You hardly need to touch your settings at all, under most circumstances.
This pack includes two screen protectors, a cleaning cloth, dust removal sticker, and some installation instructions. The instructional booklet is pretty useless, unless you've never attached a screen protector before. Blitzby also includes a lifetime warranty. But as long as the screen protector doesn't arrive at your door shattered, you shouldn't have to worry about a warranty for this type of product.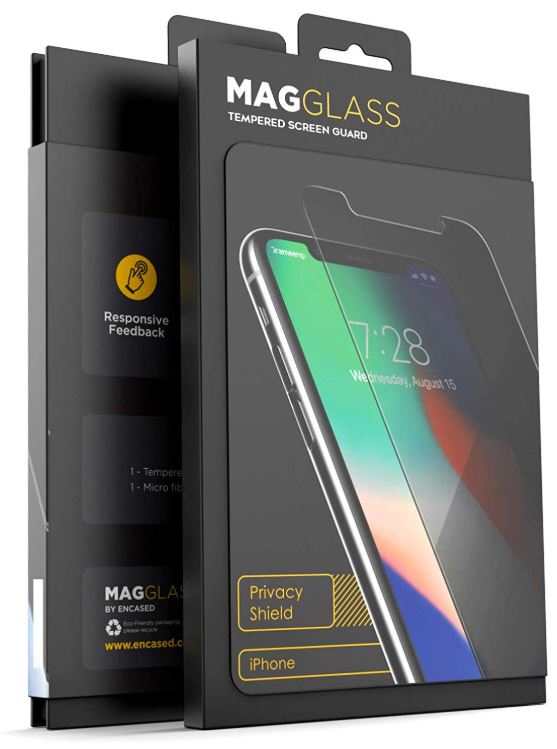 Magglass iPhone XR Tempered Glass Privacy Screen Protector
Similar to the other screen protectors on this list, the Magglass XR Privacy Protector makes use of an anti-spy display, and is made specifically to be compatible with a wide number of iPhone cases. However, this pack only includes a single screen protector. Instead of providing a second protector, Magglass provides you with all the tools necessary for an idiot-proof installation.
Build & Design
Made specifically for the iPhone XR, this tempered glass has been cut to match. Being made to perfectly fit the XR, this screen protector allows your iPhone to retain its original levels of responsiveness. This is partially possible because the glass is 0.3mm thick. That's actually marginally thinner than the other protectors on this list, but the difference should be totally inconsequential to nearly all people.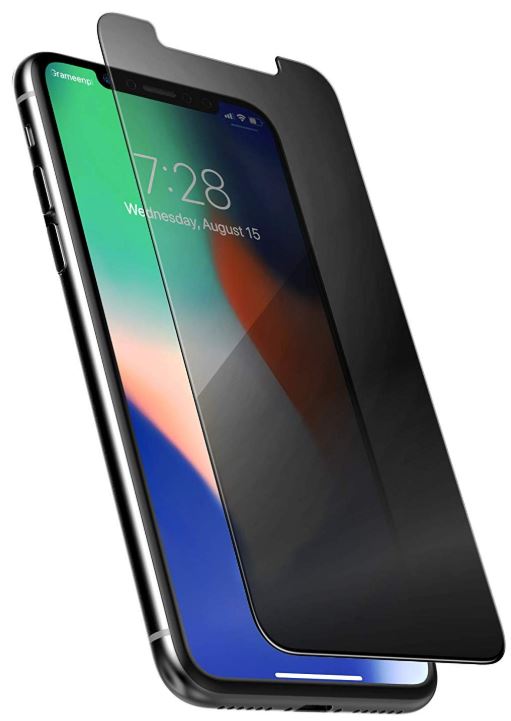 The Magglass protector is built to provide 9H hardness and a reinforced shatterproof design. And it's been built to survive structural impact from a distance of about six feet. Even a very tall person dropping their phone onto concrete shouldn't end up distraught over the results.
When you throw on this protector, screen brightness will be reduced by about one third. You'll need to increase your brightness after the screen protector is in place. Once placed, you'll find your screen is visible within about 90 degrees.
That provides some protection, but it's on the lower side. Having less protection can actually be beneficial because you can always lower your brightness settings to create more privacy. But if you have reasons to keep your phone visible at closer angles, like you often show videos to a friend, then you might prefer a privacy protector like this.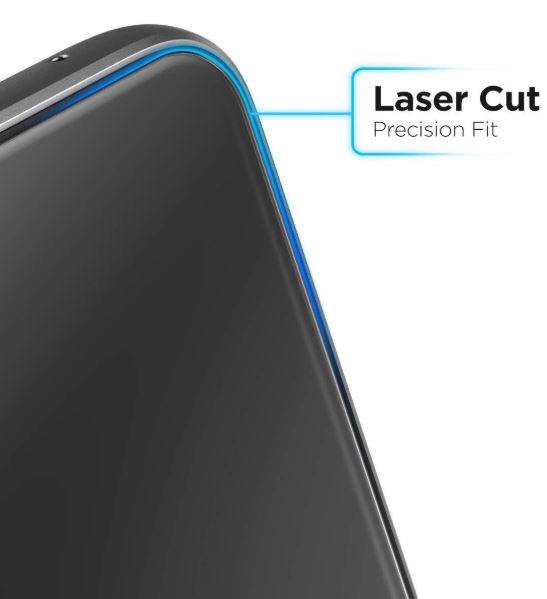 Other Considerations
In many circumstances, it's not that bad if your mess-up your installation. After all, most of these kits include two screen protectors. Because this kit only provides only protector, it's nice to have the included applicator, which can guarantee your one shot works. The applicator makes installation about as simple as dropping a square-shaped object in a square-shaped hole.
This kit includes a microfiber cleaning cloth, dust removal sticker, alcohol pad, and that handy drop-in alignment applicator. It also includes a lifetime warranty from MagGLASS.
Choosing Between 3 Great Privacy Screen Protectors for the XR
The Magglass protector has the best chance of fitting with any style of case. The glass is fantastically protective, from both damage and prying eyes. But your screen brightness will be considerably dimmed, and to fix that, you'll probably end up chewing through a little more battery life. You're also paying a little extra for the alcohol wipe and alignment applicator. But if you want to guarantee a perfect installation, that applicator is key.
The FlexGear iPhone XR Privacy Glass Screen Protector is a cheap and simple solution for someone who's looking for value above all else. The only issue with this screen protector is the installation kit is lightweight. It basically only providing you with enough cleaning supplies for one of the two included screen protectors. But if that doesn't bother you, the FlexGear iPhone XR Privacy Glass Screen Protector is worth picking up.
Last but not least, Blitzby screen protectors are the right choice for someone who's looking for privacy above all else. This screen protector can reduce the viewing angles of your screen as low as you would ever want them. Being any dimmer would be totally impractical. And somehow it manages to do this without greatly reducing the brightness of your display. Though any of these screen protectors work well at protecting from physical damage, the Blitzby protector really emphasizes privacy.