Choosing a router is actually pretty easy. Once you've decided on a modem/router combo, there are only a few questions left to ask. Do you have any special requirements for security features, or any reason for an unusually high number of Ethernet ports? If not, then you really only have to think about bandwidth. And that makes things much simpler.
ARRIS Surfboard SBG7600AC2
The ARRIS Surfboard series always had their own distinctive style. Unfortunately, the SBG7600AC2 largely lacks that style. It looks more like an ordinary home router than almost any other Surfboard. It only retains a glimmer of that distinctive style when you turn to its backside. From a hardware perspective, this router is a continuation of the widely popular SB6121.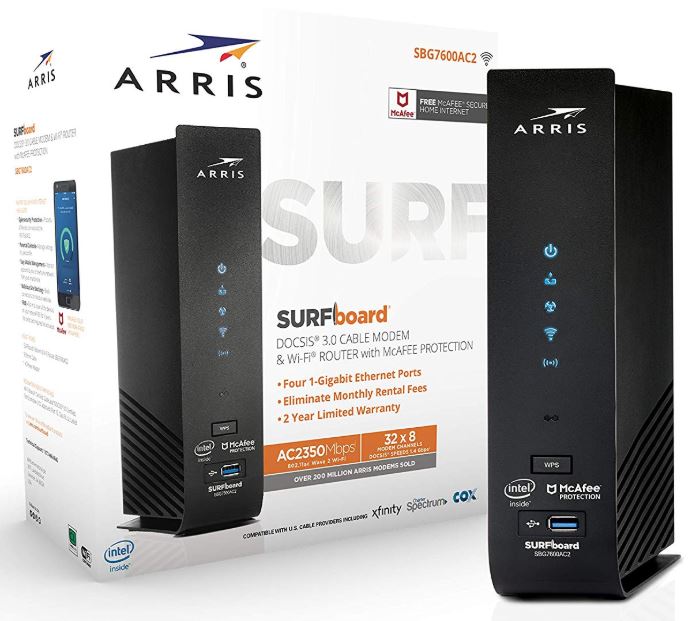 Putting aside a tragic loss of unique aesthetic, the Surfboard SBG7600AC2 is actually a pretty impressive piece of equipment. It's packed with the latest versions of the latest technological formats, giving it a forward looking design that ought to allow it to be compatible with future technological improvements in Internet speed.
Perhaps most importantly of all, the router is combined with an equally effective cable modem. Though being attached to a cable modem does put a handful of limitations on the router portion of the device, it also makes installation and network maintenance much simpler. For people who are looking for a simple one-device solution, the Surfboard SBG7600AC2 has plenty to offer.
Build & Design
The SBG7600AC2 measures 6.4 x 2 x 8.7-inches, and weighs about one pound. Were it not for the fact its name is written across the top of the chassis, you could hardly spot this ARRIS device out of a lineup of similar equipment. The front display looks terribly generic, right down to the usual five LED icons. Those icons give you information about the network that you can use to diagnose issues. Beneath them, you'll find a WPS button and a USB slot.

But the backside looks very little like any router besides an ARRIS Surfboard. It's been redundantly color coded and labeled to the point anyone should be able to work with the Surfboard, both when it comes to installation and when it comes to troubleshooting. The backside also has four Ethernet ports, each capable of one gigabit of traffic.
If you're looking for design complaints, there aren't any options for mounting the Surfboard. But that's not unusual for a home router.
Network Speed
The SBG7600AC2 is capable of streaming with DOCSIS 3.0. That's about eight times faster than DOCSIS 2.0. Download speeds rocket towards 680Mbps per channel on the AC2350 2.4/5.0 GHz dual band connection. For further sake of comparison, that's about twice as fast as the SBG6700AC. And AC2 is several times faster than wireless N routers, which most people are still using.
Like its name suggests, the ARRIS Surfboard SGB7600AC2 32×8 supports 32 download channels and 8 upload channels. It basically means this router was made to deliver blazing-fast download capabilities, and above-average upload capabilities. Moreover, having these extra channels allows the router to communicate more efficiently with several devices on the network.
As homes begin to fill up with voice activated assistants and Wi-Fi tea kettles, routers have to serve double-duty. Though these devices may not require much bandwidth, their cumulative needs can still weigh on a router's abilities to deliver data to the right places in the right order. It's why an otherwise healthy network can suddenly slow down if half a dozen friends start using your Wi-Fi on their smartphones.
Though this is a slight oversimplification, the 32×8 support is suitable for about eight high-bandwidth users, and a few dozen smaller devices. It's worth remembering that these speeds will ultimately depend on your ISP. If your internet provider isn't giving you 10Gbps of bandwidth, the Surfboard isn't going to either.

Speed Caveats
While the Surfboard will spread your signal across both the 2.4GHz and 5.0GHz band, achieving the best possible speed is only possible through the 5GHz band. Your fastest wireless devices will more-or-less need line-of-sight with the Surfboard, as well as any other devices that hope to make use of that band.
Provided you're within line of sight, you'll find the bandwidth you enjoy is as fast as you could possibly want from a commercial router. When you're outside of line of sight, beamforming steps in to help, but ultimately you'll be refined to what the 2.4GHz band can bounce over to you.
If you're creating a network in an environment that has plenty of obstacles for the signal, you may end up needing to use a mesh router to help spread your network to areas with impaired connectivity.
Network Coverage
In addition to the speed and efficiency of the network, you'll want to think about coverage features. The ARRIS Surfboard 32×8 Cable Modem uses Wi-Fi beamforming to help spread your network across a larger area, for optimal coverage. It can spread reception of your network throughout a broad area, but the Surfboard SGB7600AC2 isn't built to provide coverage to a massive 10,000 square foot warehouse.
It's made to provide coverage for something closer to 3,000 square feet. Your actual coverage depends on the obstacles positioned around the router, so it can be difficult to predict with precision. Even though it uses beamforming, to really take advantage of the best possible speeds the Surfboard can offer, you should take a moment to consider its placement.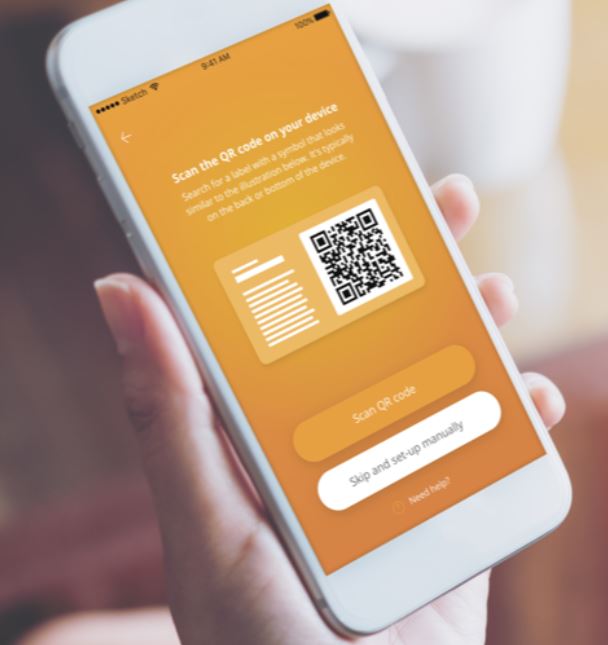 Security Features
ARRIS outsourced most of their security issues to people who know how to handle security. That's why the Surfboard includes MacAfee Home Security. MacAfee is a pretty big name in the security industry, and they have some pretty compelling app support to help you monitor your network from anywhere. They can also help protect your network from new threats as they emerge, and without your need to micromanage those protections.
However, the MacAfee support cuts out after three years. Three years of free support isn't bad, but you will need to find a replacement for security when that time is up. For people who aren't interested in complicated solutions, the MacAfee service isn't terribly expensive to continue using.
The Surfboard SBG7600AC2 32×8 Cable Modem + Router Combo includes many of the same parental support features that have found their way onto almost any similar home router. You can setup user profiles and outline limits on how they can access the net, created blacklisted or whitelisted sites, and so forth.
Apart from keeping an eye on the traffic of people who you want on the network, the Surfboard SBG7600AC2 can be configured to send you alerts about outside security threats. You can get instantly alerts for suspicious activity, or alerts for users who are trying to circumvent the parameters of their user account.
Cable Router Combo
Are you confident in your networking skills? Are you also willing to take on the burden of placing a second router-sized object next to the router in your home? In that case, you should consider getting your modem and router separately.
If your modem breaks, you can replace it. If your router breaks, you can replace it. If the modem in your modem/router combo breaks, you're going to end up replacing both parts. If the router technology in your modem/router combo ages quicker than your modem technology, you run into similar problems.
Though admittedly, using AC2 and DOCSIS 3.0, there's little chance of speed being an issue anytime in the foreseeable future. These formats are prepared for UHD content and so they're here to last. It's quite fair to say the Surfboard SBG7600AC2 is a future-proof device.
There's nothing wrong with playing the odds that you'll never encounter an issue with your hardware. Because most people shouldn't encounter an issue. But anyone choosing a modem/router combo should be aware of all their options, and know that simplicity does mean making a small trade-off in flexibility.
Other Considerations
The SBG7600AC2 supports IPv4 and IPv6, covering both legacy standards and modern standards. It's compatible with every US cable provider. Speaking of cable providers, this is a cable modem. Consequently, it means you can only use this device to connect to cable internet providers. That might include Cox, Affinity, Comcast, and so forth.
You won't find support for Verizon, CenturyLink, or ATT. If you decide to switch to satellite, DSL, or another non-cable technology, then you'll need a new modem to match. Suppose you did switch providers. You could still make use of the router portion of this device while not using the modem portion, but only in some circumstances, and only with great difficulty. In other words, it's a good idea to be sure you're married a cable internet connection before choosing a cable modem.
The ARRIS Surfboard SBG7600AC2 includes a two-year warranty. That's about average for a router these days, and certainly enough time to ensure you didn't receive something that was broken. ARRIS doesn't have the same extensive technical support resources as brands like NETGEAR. But their consumer support is still quite formidable, and largely US-based.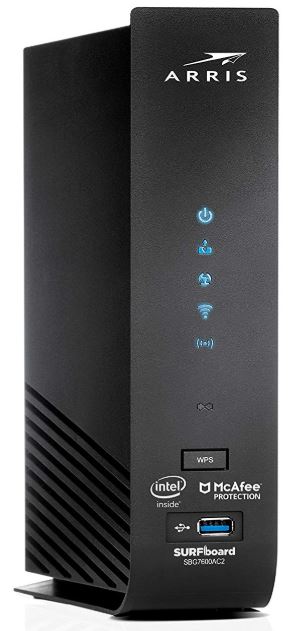 Who Should Choose the ARRIS Surfboard SBG7600AC2?
It can be a good idea to use a router and modem combo, like the ARRIS Surfboard SBG7600AC2. If you're someone who's looking for something simple, it can make things simple. It's as easy to setup as any modern router, and it's nearly as powerful as commercial grade equipment.
Over the next few years, as new technologies continue to emerge, there's really no reason to think this router will fall behind. It's designed to adapt, change, and update for the future. That's possible with a combination of modern software and powerful hardware combined to create a deeply powerful cable modem/router combo.
The capabilities of that hardware are ideal for someone who expects to make pretty heavy use of their bandwidth. That makes the SGB7600AC2 a good choice for someone who expects several people on the network to be using large chunks of bandwidth, and people who have several smart-home devices connected to their router. The future-proofing is really just a cherry on top.
Meet Derek, "TechGuru," a 34-year-old technology enthusiast with a deep passion for tech innovations. With extensive experience, he specializes in gaming hardware and software, and has expertise in gadgets, custom PCs, and audio.
Besides writing about tech and reviewing new products, Derek enjoys traveling, hiking, and photography. Committed to keeping up with the latest industry trends, he aims to guide readers in making informed tech decisions.