With the increasing popularity of mobile devices, and the increased availability of solar technology, portable power stations are becoming more common as well. Whether you're thinking about day-to-day applications, or you're thinking about emergency situations, there are plenty of options out there.
When you're outdoors, a power station means you don't need to go without power. Any decent power station can provide a full range of AC, DC, and USB ports. When well-constructed, they're as easy to carry around as a lunchbox, which makes them quite portable. With one at your side, it's far easier to keep all your various devices powered up, so you're connected with the world.
When you're indoors, a power station can mean something else entirely. Indoor application tends to be more about emergency conditions or blackouts. But whatever reason you might want portable power, you want to be certain the power station you select can service every one of your needs.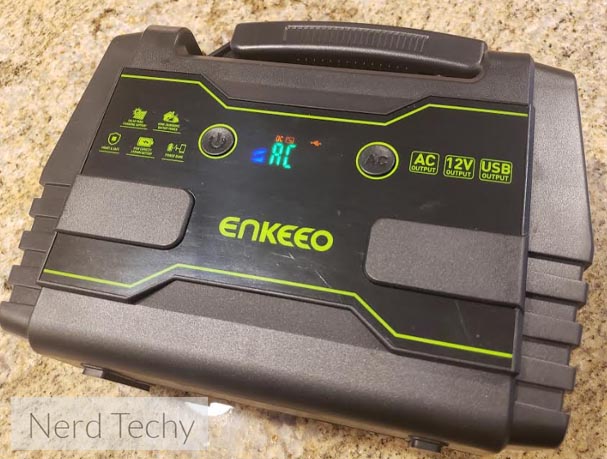 Enkeeo S155 Portable Power Station
Enkeeo makes a variety of durable camping and sporting gear, from snorkel masks and ice cleats, to bike mounts and longboards. It shouldn't be too surprising that a company which specializes in outdoor gear can make a battery that's dressed for the outdoors.
The S155 Portable Power Station was more or less explicitly made to be taken camping. In terms of its capabilities, it's generally suitable for two or three people, especially if there are fewer than 5 devices you want to power. Provided that you don't grossly exceed those guidelines, the Enkeeo S155 Portable Power Station should be able to provide the vast majority of what people are looking to get out of a power station.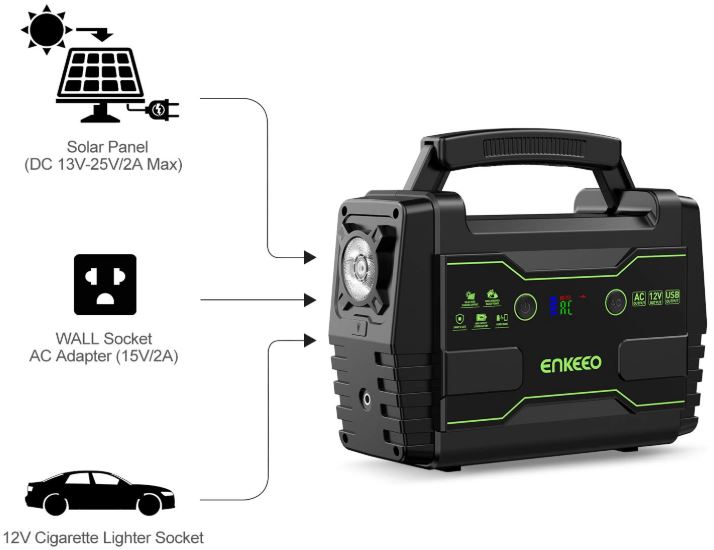 Build & Design
For starters, the ENKEEO S155 is about as portable as a handbag or a child's backpack. It measures 8.3 x 3.6 x 4.6-inches, and it weighs just short of four pounds. It actually resembles something made from the 1980's, a boxy aesthetic with slim neon highlights.
The topside features a very sturdy carrying handle, firmly anchored on both sides of the battery. The handle is texturized to help make for a smooth grip in colder weather. The handle can also be pressed into a storage position, helping make the Enkeeo S155 more compact. And when you pick it up, the handle extends to its full length.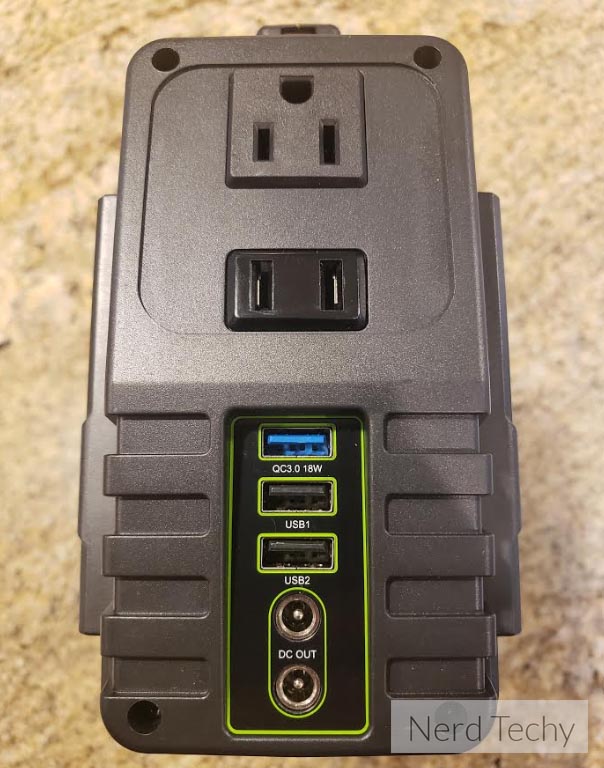 Connectivity Options
At the heart of any good portable power station is a wide set of connectivity options. In fact, it's almost the defining feature-set for this type of product. If you're expecting one or two people to connect to the power station, then you'll need a station appropriate for that kind of throughput. But when you're expecting two people with six devices, or twelve people with one device each, suddenly it's important to start looking at port availably. And eventually, battery capacity.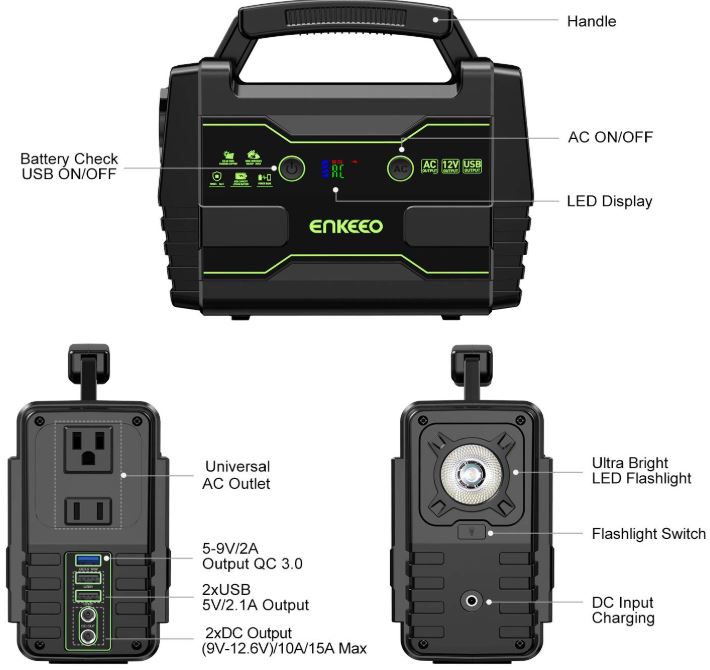 The Enkeeo S155 Portable Power Station makes use of multiple input methods. Among them, you'll find three types of input ports. The first is a single AC port. The second type is a pair of DC ports. The third is the USB format, represented with one QC 3.0 USB port, and two USB 2.0 ports.
Additionally, the front side of the S155 Portable Power Station features a solar panel input, a DC 13V-25V 2A port, AC wall plug, and a 12V cigarette lighter socket. Support for QC 3.0 makes the USB 3.0 port ideal for phone tablet and laptop connections.
Power Limitations
And the Enkeeo S155 Portable Power Station is designed to be able to power all of these devices simultaneously without issue. As long as you're not using any single device that's a giant power hog, you'll never encounter a problem.
What kind of devices would that include? The Enkeeo S155 Portable Power Station supports anything under 100-watts. That means you'll have no issue plugging in electric fans, digital cameras, laptops, drones, and even some small refrigerators. But you do want to be careful about not plugging in things like hairdryers. Safety features will prevent you from doing too much harm, but we'll get to those later.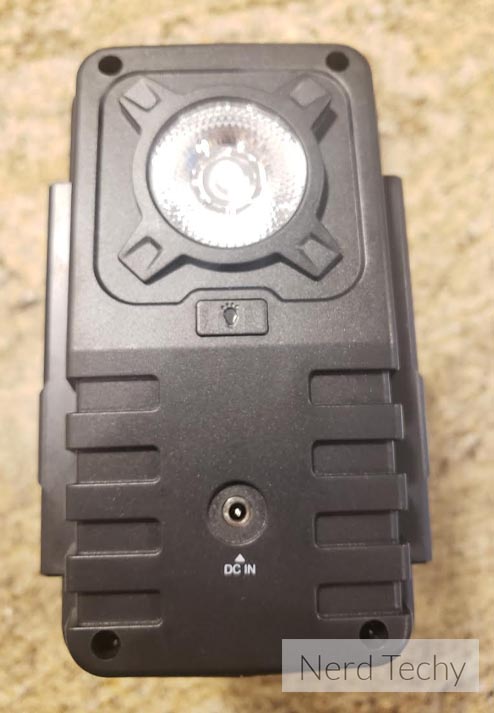 Ease of Use
Nearly any portable power station worth its salt will use a LED or LCD view-screen. For the Enkeeo S155 Portable Power Supply, that screen is embedded on the front face of the unit. It's fairly minimalistic, and almost designed to be invisible to the inattentive eye. It provides basic information about the various outputs being used at any given moment, and the remaining energy inside the battery.
Unfortunately, because the display is somewhat small and not very descriptive, it will not provide you with actual time estimates. You have to use guesswork because the S155 will only tell you how many bars of battery are left in storage. But this isn't a terrible flaw for small scale power station like the Enkeeo S155, it's only a minor inconvenience.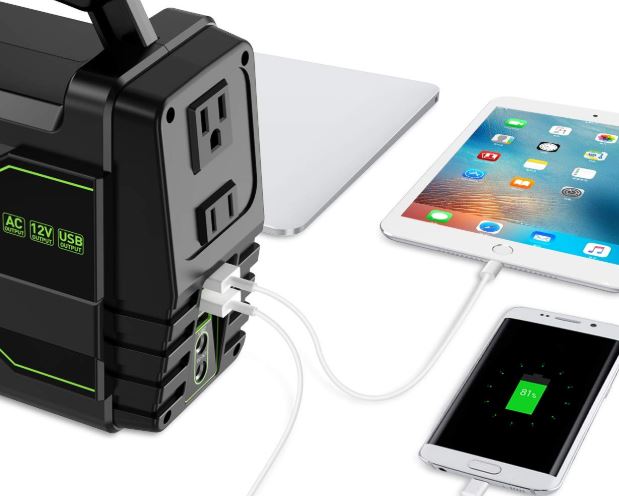 Battery Power
The Enkeeo S155 Portable Power Station is constructed with a 155Wh battery. That's equivalent to 42000mAh, which makes it capable of recharging several mobile devices, time and time again.
Some of the largest smartphone batteries are about 5000mAh. As a result, the S155 is capable of providing about eight smartphone recharges. Your actual results depend on any number of factors, ranging from the phone you're using to the temperature of the batteries involved.
But because these estimates were made assuming some of the largest batteries you might want to charge, the eight charge estimate is extremely conservative. You can expect a similar number of recharges from power hungry tablets and laptops.
The time required for fully recharging the battery depends on how you do it. Using the wall socket, you can expect the charge to take the better part of a day, or about eight hours. If you're trying to use a USB cable to recharge the S155, you'll find it takes closer to a literal day, meaning 24 hours.
If you're planning on recharging on the grid, using a wall plug is definitely the way to go. When you're recharging with the help of a solar panel, your charge time literally depends on the weather. But you can expect the total charge time to be around eight to ten hours with good conditions.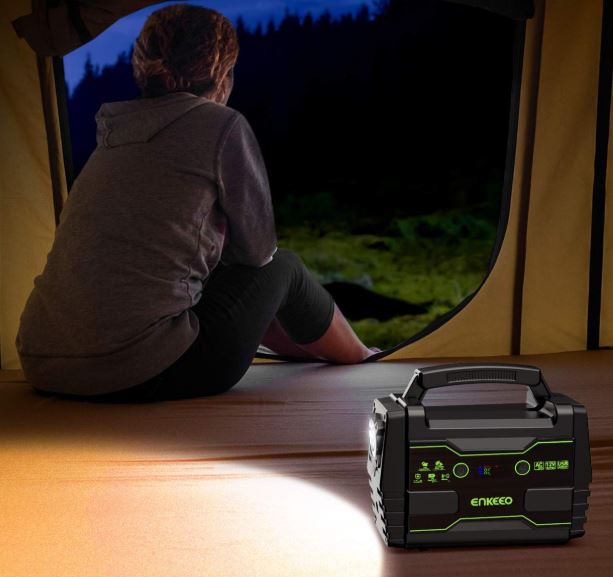 Safety Features
The front face of the Enkeeo S155 Portable Power Station makes use of a powerful emergency torch that can be used to light up the area around you. Torch is really the best word to describe it. Plenty of portable battery stations are built without this kind of feature, and that's really a shame. You don't necessarily need this kind of thing on a portable power station, but it takes so little to add, and it can always come in handy unexpectedly.
The LED can be switched into either SOS mode or repetitive flashing. The blinking mode doesn't come close to approximating a strobe light, but does help capture more attention than the light alone.
Though running this powerful light will gradually drain the battery, the LED based design ensures that throwing on the light for a while isn't going to tank the battery quickly. But leaving it on overnight certainly would, and there doesn't seem to be any feature that will automatically turn off the light after an extended period of time.
With respect to its internal design, the Enkeeo S155 Portable Power Station includes over-charge protection, short circuit protection, and overheat protection. It's important to have those kinds of protections at your disposal, and to use reputable brands like Enkeeo. Because again, portable lithium-ion batteries are basically small bombs. If something goes wrong, you it can go very wrong, very quickly. At least, without the right protections.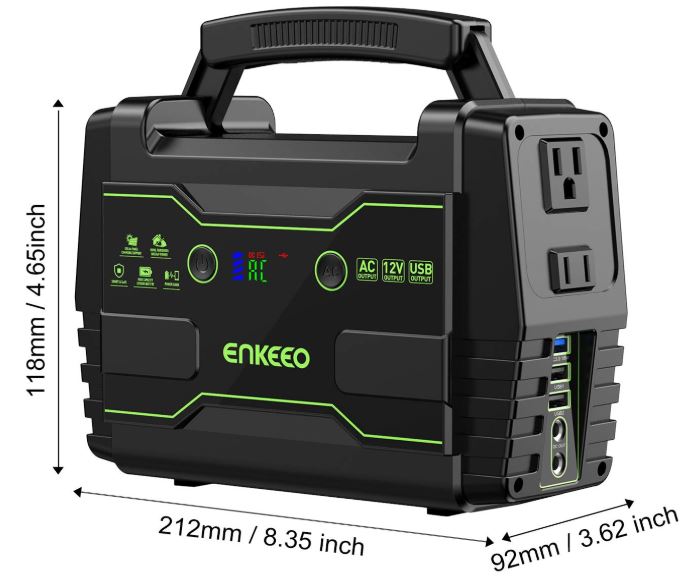 Other Considerations
The Enkeeo S155 Portable Power Station includes a 15V/2A power adapter, a car charger, cigarette lighter adapter, and a cable adapter between MC4 to DC35135 connections. It also includes a basic user manual. In other words, just about everything you need to get started. Though the manual doesn't provide you with much useful information, unless you've never taken care of a battery before.
When you take reasonably good care of rechargeable batteries, you can extend their lifespan by quite a bit. The number of recharges you'll get from a rechargeable battery depends on a variety of different factors. But as a general rule of thumb, you're going to lose around 10% of your total charge capacity within your first year of use. Depending on how often you're using the battery, the rate of decay can accelerate or decelerate.
If you were using the Enkeeo S155 at a frantic pace, charging and recharging it on an almost daily basis, then you could probably expect it to last for about three years. With something that resembles more average rates of use, the S155 should be able to last between five and eight years.
Who Should Choose the Enkeeo S155 Portable Power Station?
Sometimes, portable power stations will claim to be portable, but only deliver on portability through size. The Enkeeo S155 was built by a company that understands half their products will end up being used for camping. The S155 is designed to be fairly rugged, and is well shielded from the elements.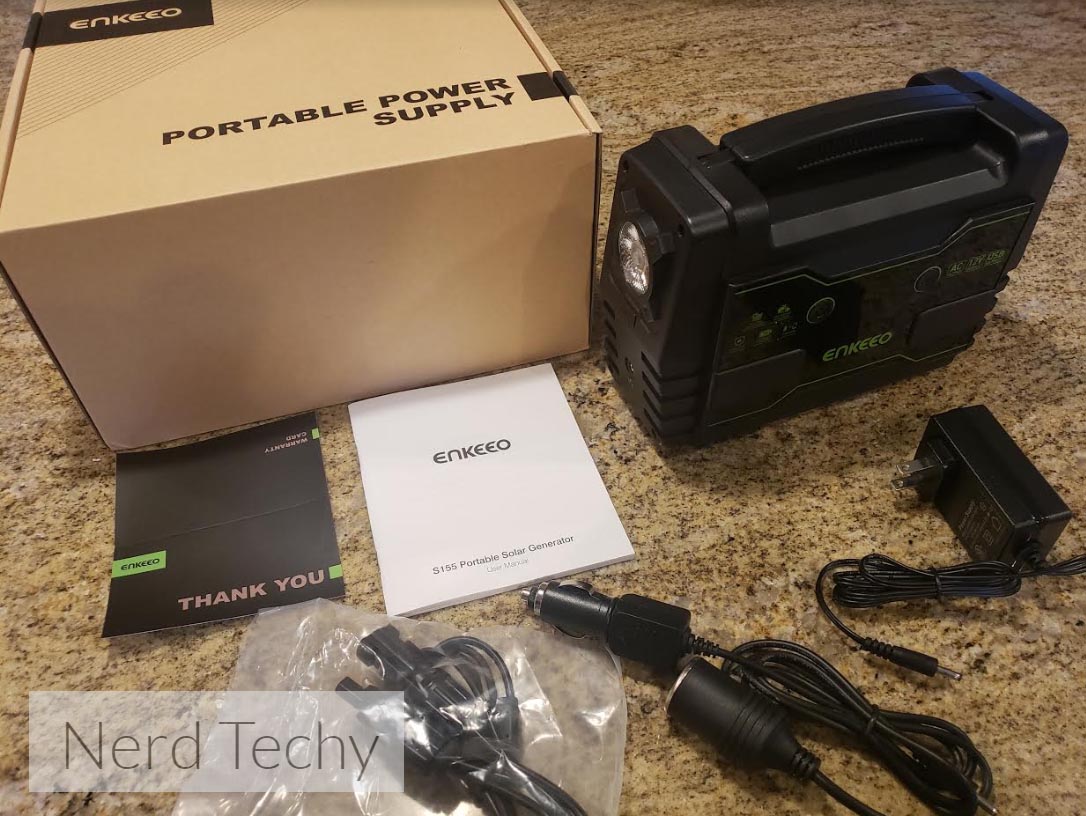 The maximum power capacity of 155Wh is equally well suited to emergency situations, power outages, and camping. In fact, versatile design is no small part of what makes the S155 great for both indoor and outdoor use. You could use the Enkeeo S155 as an emergency power unit, or even as a central power backup unit that sees service on a regular basis.
Sometimes you really do need a portable power station that goes above and beyond, something with a gross excess of port connections. The Enkeeo S155 is closer to providing the bare essentials of a good portable power station.
If you're trying to recharge 15 devices simultaneously, this station isn't going to solve your problem. But short of that, the Enkeeo S155 Portable Power Station is a great choice for nearly anyone.