We spend a lot of time looking at earbuds, and earbuds are great for exercise, commuting on mass transit, and any time you just want to be alone. But there are times you want to enjoy music in a social environment. Parties, barbecues, and camping trips are all times where some music can enhance the atmosphere, but is also meant to be shared. You may also want your ears free for safety – for example, if you're supervising a small child.
In any of these situations, a Bluetooth speaker is a great way to enjoy your favorite tunes without missing time with your friends and family. And since several of these events involve spending time in the great outdoors, you're going to want a Bluetooth speaker that's waterproof and weatherproof, and tough enough to handle a few bumps and bangs.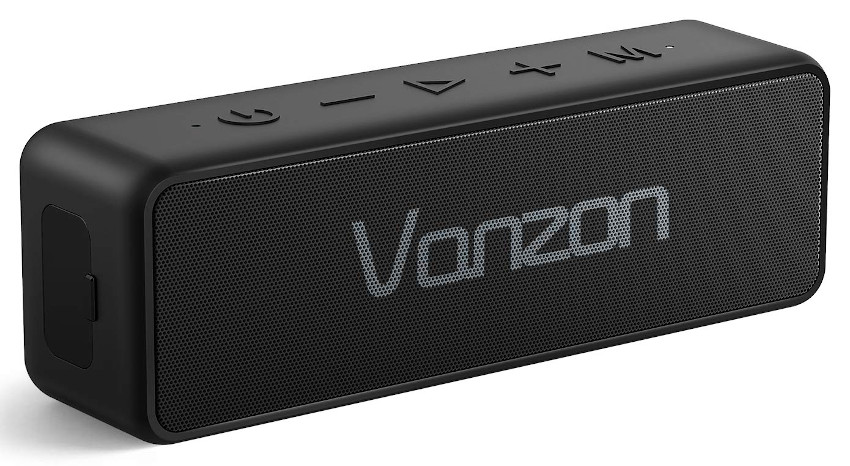 Today, we'll be reviewing the Vanzon X5 Pro (Climber-Z). This is a small, lightweight speaker that's engineered specifically to be portable. It's also waterproof, just as we'd expect from an outdoor speaker. It offers 24 hours of playtime, with a Bluetooth 5.0 connection and a pair of 10-watt speakers.
So is it worth the purchase price? Or is this inexpensive speaker just full of hot air?
We're about to find out.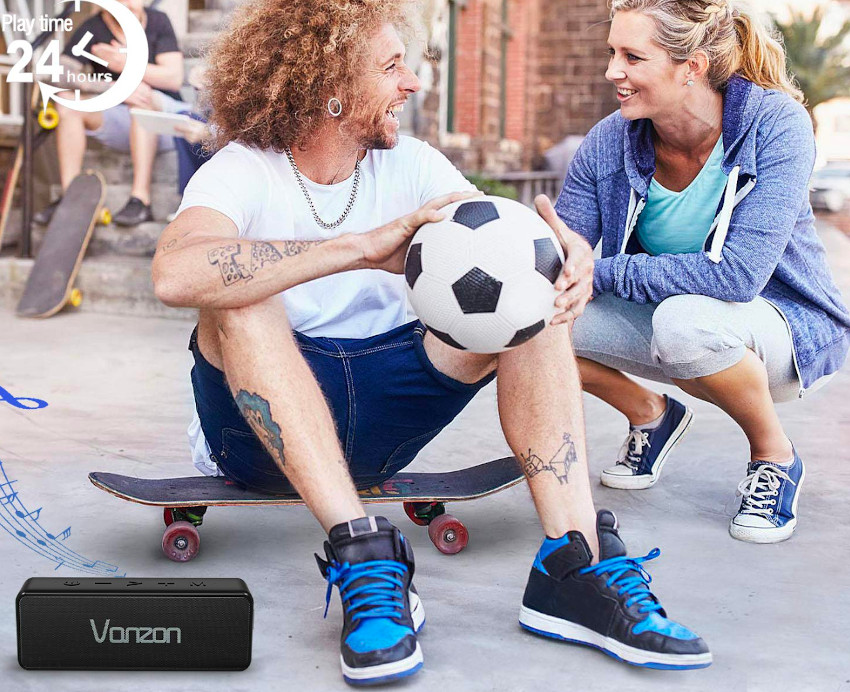 Specifications of the Vanzon X5 Pro Bluetooth Speaker
As we prepare to take an in-depth look at the Vanzon X5 Pro, let's stop for a second and take a look at the specifications. That way, we'll be better prepared to evaluate each individual feature.
2 10-watt speakers
24 hours of playtime
Bluetooth 5.0-compatible
Front and back charging ports
66-foot Bluetooth range
Waterproof
TF card slot
USB-C and 3.5mm Aux inputs
Measures 7.32" wide x 2.44" high x 1.94" deep
Weighs 1.16 pounds
As you can see, this speaker is compact and lightweight, with plenty of battery life. Let's find out what it's capable of!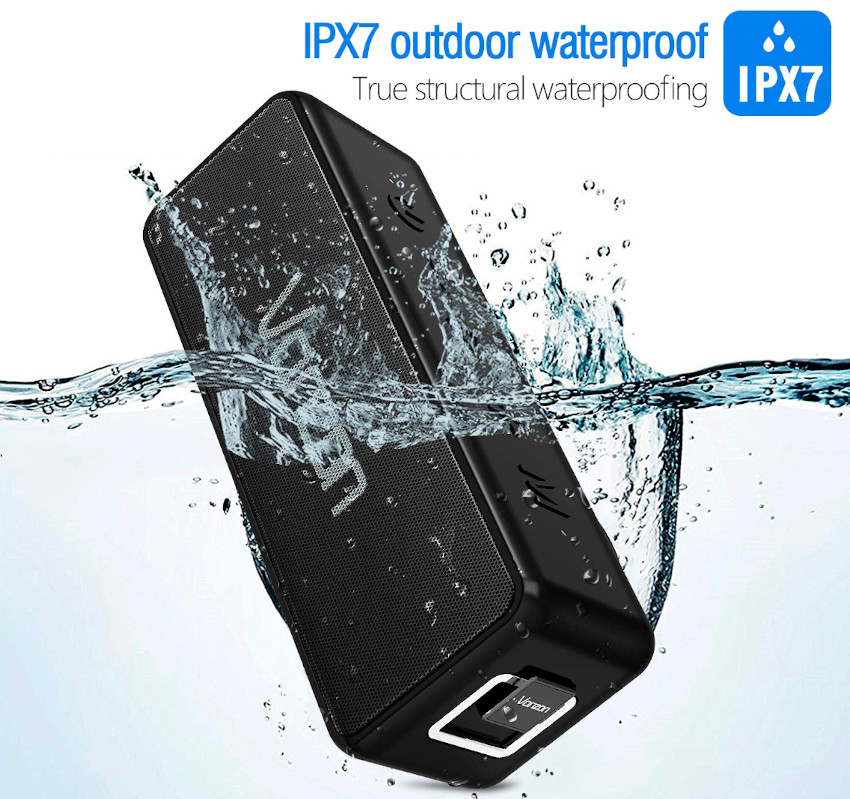 What's in the Box?
There's not much going on here in terms of accessories. That said, what you do receive is well designed, and it's everything you need in order to get started. Here's what comes in the package.
X5 speaker
Zippered nylon carrying case
USB-C charging cable
User's manual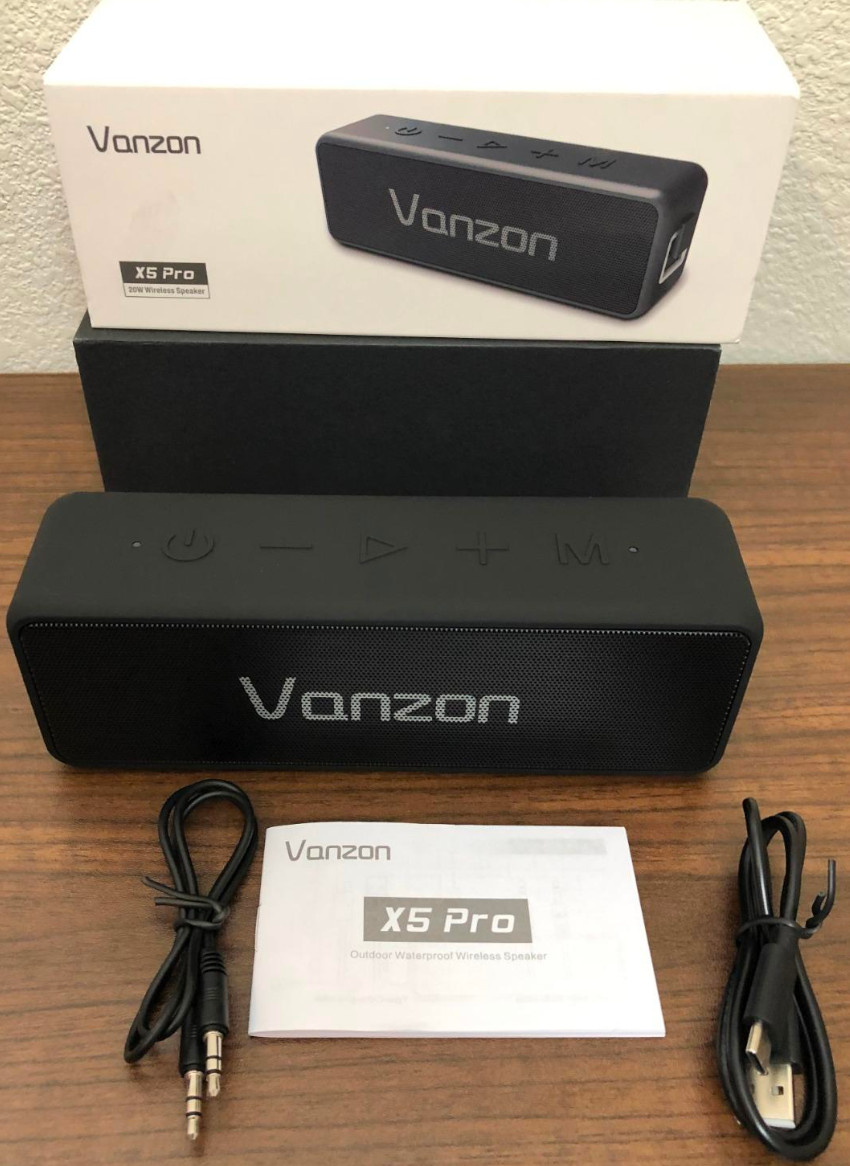 Design & Construction
This speaker is designed to be small, lightweight, and sturdy. It measures just over 7 inches wide, and it's less than 3 inches high, making it easy to slip into a backpack or even a purse for easy transport. The nylon carrying case isn't going to win any awards for beauty, but the weave is sturdy enough to take some abuse, and the zipper is fat and strong enough that you won't accidentally break it just by tugging it too hard. The case is made easier to carry with a sturdy carabineer, which can be used to latch the speaker to the outside of a backpack, or even to your belt loop.
The case itself is constructed from solid but slightly flexible silicone, which is waterproof enough to stand up to the elements, but also durable enough to get dropped on a tile kitchen floor or slammed into a tree. The top, bottom, back, and sides of the case are solid, with stubby rubber feet on the bottom to minimize vibration. The front of the case is a silicone mesh, which looks like a classic metal speaker mesh at a fraction of the weight.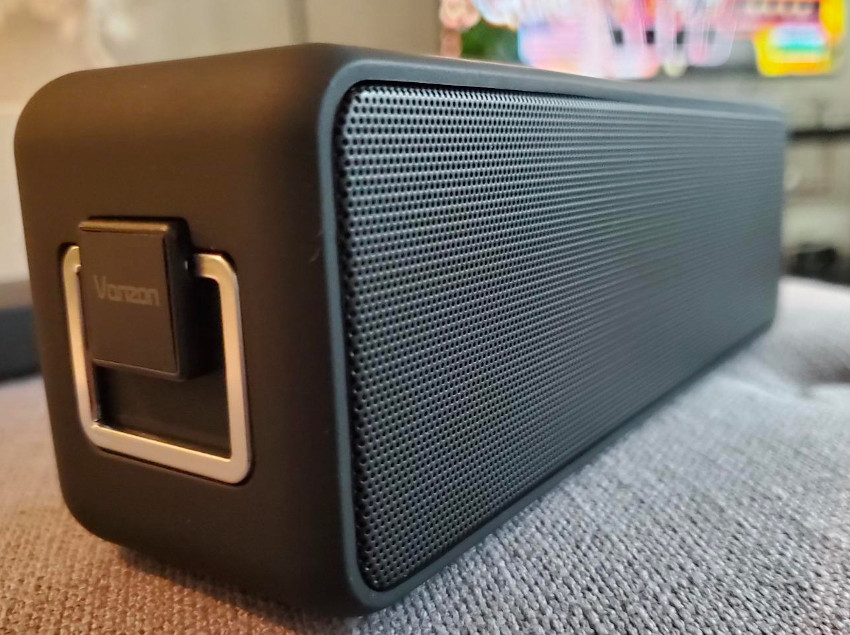 The only features on the black case are a grey "Vanzon" emblem that's printed on the front, and rubbery black control buttons on the top, which virtually blend into the design. Inputs are concealed behind a flap on the rear of the box, so unless you're plugged into a charger or an Aux input there are no visible ports of any kind. It's still kind of ugly and boxy, but that's what we'd expect from a Bluetooth speaker at this price point.
Compatibility and Interface
The X5 Pro comes with several worthwhile features that are worth discussing, both when it comes to device and format capability and when it comes to the interface itself.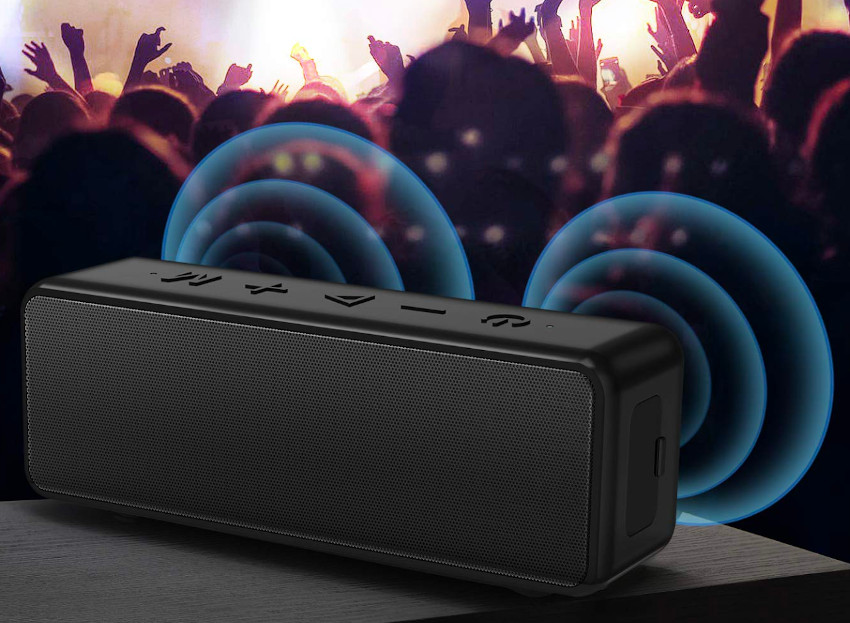 First, let's talk about compatibility:
The speakers utilize TWS technology, which allows you to pair two speakers with the same phone, laptop, or tablet and use one unit each as the left and right channel. This allows for a true stereo experience that's as portable as can be.
The X5 Pro supports WAV, FLAC, APE, and MP3 formats for compatibility with just about any kind of playback. You can listen to everything from iTunes downloads to streaming media to free tracks you've shared with your friends.
You can plug a microphone into the 3.5mm Aux port, to use the X5 Pro as a public address system for parties, corporate events, and other suitable occasions.
Calling features allow you to pair the X5 Pro with a Bluetooth microphone, for hands-free calling around your home or office.
Now, let's talk about the interface:
The Vanzon X5 Pro charges via USB-C, which allows for a fast, 5-volt charge that's 400 percent faster than a standard 1-volt USB charger.
The top buttons are easy to use, with a soft, rubbery touch. This makes them perfectly usable even if your hands are wet and slippery from swimming or walking in the rain.
This speaker is rated for a range of 66 feet. Obviously, this will be shorter if there are obstructions in the way, but it still offers impressive performance if you're walking around the area wearing your phone on a belt clip.
Sound Quality
When assessing sound quality on any small speaker, it's important to keep things in perspective. These speakers are designed for portability and use with multiple devices. They're not meant to be mounted on your wall, or positioned on a speaker mount for use in a top-tier home theater system.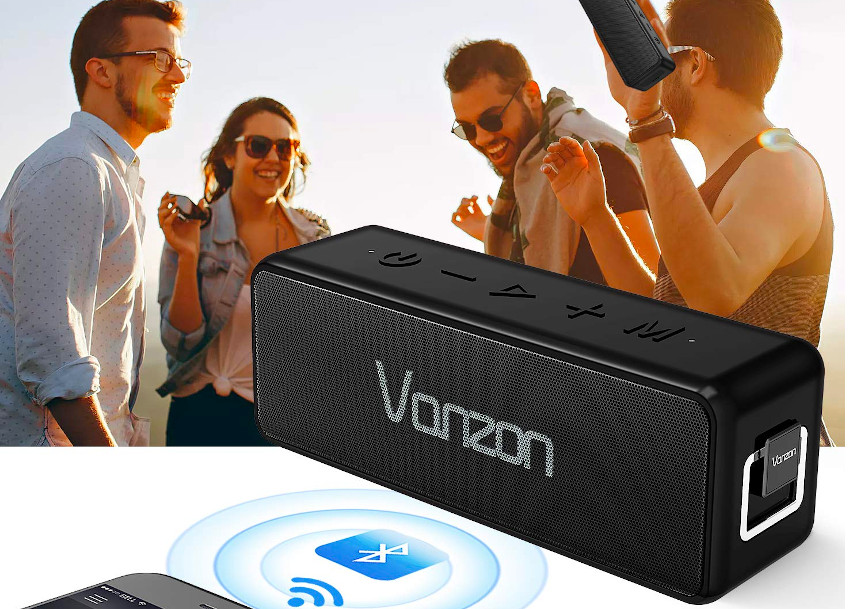 That said, we're still looking for some measure of quality. Just because a speaker is portable doesn't mean it should be shoddily constructed, or that it should rattle when loud sections of bass come up on the playlist. So how does the X5 Pro stack up in terms of overall sound quality?
This speaker lands squarely in the middle in terms of overall quality, which is impressive considering the low price tag. Mids and highs are clear and crisp, with minimal distortion, although there's some muddiness in the mid section, which can cause vocals to sound hollow if you've got your bass turned all the way up.
Bass response itself is relative. It's present, by which we mean you can clearly hear the bass line in any well-mixed song. That said, it's not very loud, and it doesn't have a lot of depth. This is due to the lack of subwoofers, without which you're just not going to get a ton of bass out of any speaker system.

All of that being said, our main complaint about the X5 Pro is that it doesn't offer much volume. Even if you've got it cranked all the way up, you can barely hear it from two rooms away. This makes it a good choice for small gatherings, but we'd use a more powerful speaker if you need sound for a big party.
Pros & Cons
Now that we've taken a deep dive, perhaps it would be a good idea to sum up the pros and cons of the Vanzon X5 Pro. That way, we'll be well-equipped to come to a fair, balanced conclusion.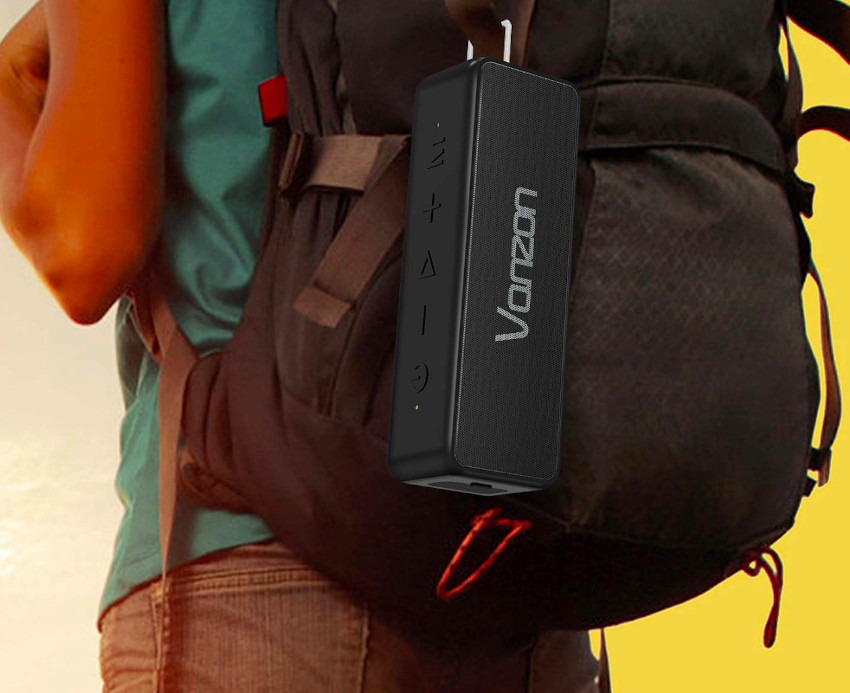 Pros:
Compact and lightweight
Waterproof design
Front and back charging ports
Can be paired for true stereo playback
Affordable
Cons:
Limited volume
Unattractive design
Final Verdict
So, after everything we've looked at, is the Vanzon X5 Pro (Climber-Z) worth buying?
It depends on what you're looking for.
On the one hand, this is a well-engineered, rugged speaker, especially considering the fact that it's priced very affordably. It's compatible with virtually any device, and the Bluetooth 5.0 connectivity and USB-C charger provide plenty of future-proofing, so you won't need to buy new speakers just because the next new wave of technology has rolled out.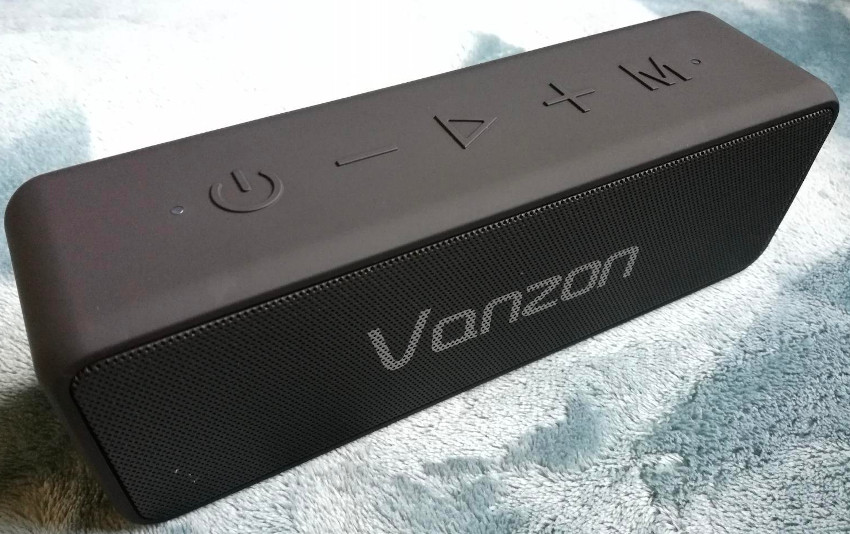 On the other hand, it's not very loud, and the bass is flat-out unimpressive. If you're looking for extreme sound quality, prepare to open your wallet a little wider and spend more money.
For an inexpensive speaker, the X5 Pro puts out good quality sound. It's weatherproof, it's portable, and it connects to virtually any device. If you're in the market for a Budget-friendly Bluetooth speaker, consider giving it a try!
Alternative Options
We understand if the X5 isn't up your alley. It's not the most powerful speaker, nor does it deliver the pinnacle of sound quality. If you're willing to pay a few more dollars for a better-performing Bluetooth speaker, we've reviewed several options in the past that might work well for you.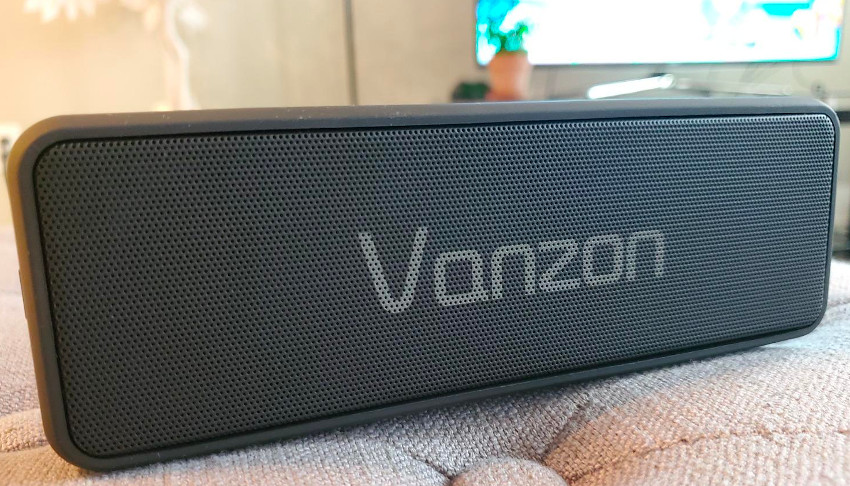 Here are three we recommend:
The Braven BRV-XL. This is a big, heavy-duty Bluetooth speaker that packs some serious punch. It's hard to beat if you're looking for powerful bass, with a pair of dedicated 30-watt subwoofers that will rattle the walls of a small house. Considering the usual expectations you'd have for a Bluetooth speaker, that's a lot of power. On the other hand, you're looking at an 18-pound unit, so don't expect to be carrying it anywhere with ease.
The Tivoli Home Audio Music System. This system isn't waterproof, so we wouldn't use it for camping or other outdoor use. But wow, is it beautiful! It has a retro, 1940s look that will really stand out, while its neutral colors ensure that it will match with almost any décor. If you're looking for a quality indoor speaker (with FM receiver!) this is a great choice.
The Tronsmart T6 Plus. This is a compact little speaker that's ideal when size and weight are at a premium. It features a pair of 20-watt speakers, but no subwoofers.
At the end of the day, no single Bluetooth speaker is right for everybody. The most important thing is to understand the features that are being offered, and to make an informed decision. We hope our review has helped you to do just that.