If you want to bring your music with you into the great outdoors, it's not enough just to have the latest smartphone. Barbecues and camping are social activities, and music is meant to be shared. That said, you'll need to be aware of rain in these kinds of conditions.
In the search for a quality set of outdoor speakers, we've seen the Braven BRV-XL come up on several occasions, so we decided to give this waterproof speaker a closer look. Here's what we found.
What Are the Features?
Before we take a deep dive, here's a quick overview of the main features the BRV-XL has to offer:
16 hours of playtime
Easy NFC and Bluetooth pairing
3.5mm AUX input
3.5mm microphone input
4 speakers and a built-in subwoofer
Bass, treble, and balance adjustments
15,600mAh battery
Water and dust resistance
Rugged, durable body
Easy-carry strap
1A USB charging port
Construction and Controls
One thing that's not apparent just from a glance online is just how large the BRV-XL really is. It measures 18 inches long, 9.1 inches high, and 7 inches deep, and it weighs over 18 pounds. That's a significant amount of weight, as much as 9 Bose Soundlinks or even 3 JBL Extreme speakers. So why is it this heavy?
There are two reasons. The first is that this monster speaker is packing five speakers underneath the metal grill. Two speakers face in each direction, and a built-in subwoofer points directly downwards. This provides some serious sound quality, which we'll talk about later in more detail. The other reason for the weight is the powerful, 15,600mAh battery, which is designed to keep the tunes going for as much as 16 hours.
The XL's exterior shell is exceptionally rugged. It's manufactured from thick plastic, which wraps securely around the top, sides and bottom of the unit and contains the speaker screens. The top of the shell includes a long top handle, with brackets on either end for mounting the shoulder strap, and the bottom corners are rubberized for shock resistance. In terms of drop protection, this speaker is well designed.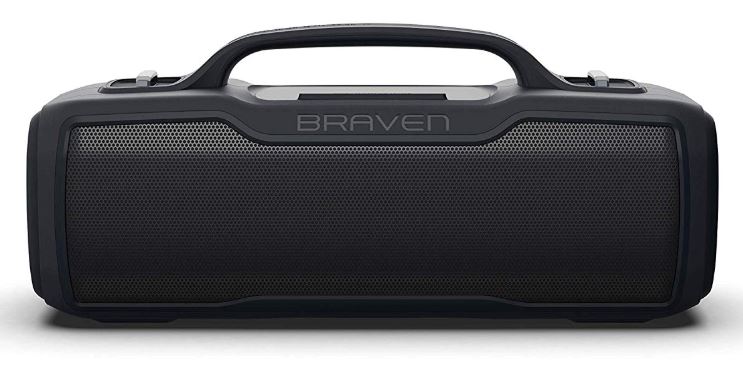 The XL's controls are located in one panel that's positioned at one end of the case. Backlit power, play/pause and volume buttons occupy the bulk of the display, with additional buttons for adjusting the bass and treble independently. Blue LED lights indicate the volume and tone adjustments, so you can easily keep track of your settings.
The single display is used for adjusting basic volume control, as well as bass and treble controls. All you have to do is tap the power button to cycle through the various types of controls. These controls supplement any output settings on your phone or tablet, so keep that in mind if your tempted to crank up the bass from the get-go.
Be aware that the backlighting on the buttons isn't very strong. This wouldn't be a problem if there were other markings, such as white printed symbols. But there are no other markings at all on these buttons, which makes them hard to see in twilight.
By default, the BRV-XL is designed to connect to your wireless device with fast, short-range NFC pairing. Alternatively, you can pair with the speaker via USB, which is great if you're pairing your phone and would like to carry it around your home, patio, or campsite.
Alternatively, you'll also find basic 3.5mm audio input, as well as a secondary 3.5mm mic input. This is a great feature for weddings, company parties, or other group events, since it allows the XL to double as a PA system.
The last port is a simple 1-amp USB charging port. This lets you use the XL as a backup power source for your phone or tablet. It's certainly not worth buying this speaker for the charging feature alone, but it's a nice extra feature. And the XL's battery can handle it, under almost all conditions.
The final design element is the battery indicator. This is displayed with four bright blue LED lights that are positioned just above the in and out ports.
Sound Quality
When we talked about the BRV-XL's weight, we gave a lot of emphasis to the speakers. As a result, you might expect it to be louder than other speakers in its class. In terms of overall volume, this isn't actually the case. It's modestly louder than a pair of Bose Soundlinks, at most.
The difference between this speaker and most other Bluetooth speakers is in the bass. The powerful subwoofer is powerful enough to be heard from several blocks away if you've got it all the way turned up. That's some impressive performance, although in reality you're probably not going to want to turn it up this high.
This is why the BRV-XL is so popular. In the world of portable speakers, there aren't many options available that will provide this much bump for your party. This makes it a good choice for outdoor weddings, bar mitzvahs, graduation parties, or any other event where you want a loud, thumping bass to enhance the experience.
Something else we appreciated about this speaker was the fact that it doesn't rattle or move around in its case like you'd expect from a lighter weight speaker. The sturdy frame comes to the rescue once again, keeping vibration noise to a minimum. The rubber feet also do an excellent job of transmitting noise, so you'll only hear a bare minimum of buzz and vibration.
That said, we wouldn't recommend turning the bass up all the way. There's simply not enough separation between the subwoofer and the main speakers, so the bass will quickly interfere with and muddy the middle and high tones.
Even at 50 percent power, the bass on this speaker is plenty loud. You can adjust as needed from there, but to be honest the factory settings are a great starting point. Once again, be careful about pre-judging any speaker settings if you're using an AUX input. In those cases, you'll need to make sure any weird balance isn't coming from your phone's settings.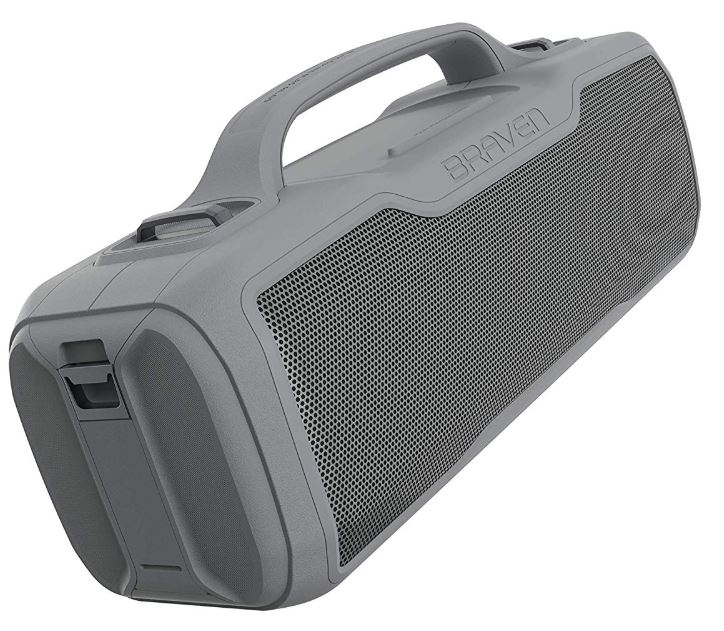 While we've talked a lot about bass response, we should be clear; this is an excellent speaker for any genre of music. Bass response isn't only important for dance music. It brings new depth to classical music, and makes jazz pop as if you're sitting and listening to it in a live club. Good sound quality is good sound quality. That's the truth for all styles of music.
One last thing we appreciated about the BRV-XL is the dual-oriented speakers, which are angled slightly outwards on each side. This gives excellent stereo separation, while filling both sides of a room equally. Meanwhile, the bass also distributes exceptionally well, since it points straight downwards. This makes it a solid choice if you want a centrally-located speaker for a party or event.
What's in the Box?
To begin with, let's take a look at what you'll find when you open up the BRV-XL's packaging. The package includes:
The 20.25" x 8.25" x 9.5" speaker, which weighs in at 18 pounds including the internal battery
A charging cable with a large power block
Adapter cords for international travel
A shoulder strap for carrying
A removable phone bracket
The Extras
Besides the speaker itself, there are a few other things in the package we should take a look at. The first is the power supply. At first, it looks cumbersome, with a large power supply block that's not very portable. On the other hand, it's designed to charge a large, 15,600mAH battery that will play all day, so there's really no reason to carry the charging cord anywhere.
Another additional feature of the BRV-XL is the collection of adapter cords for international travel. On the one hand, this is a nice touch. On the other hand, we couldn't help but laugh at the idea of taking this monster speaker on an international flight.
One nice feature of the BRV-XL is the removable phone holder on top of the unit. This is essentially a small silicone flap, which provides a raised edge along one side of the speaker top. It creates a surface for your phone or tablet to lean against. Be careful, though. The phone holder is easy to knock loose while you're carrying the speaker. We recommend carrying it separately, or you may end up losing it.
Finally, this speaker includes a shoulder strap. This is a common feature on larger Bluetooth speakers, but it's not often that you'll find yourself actually using one. Considering how heavy this Braven speaker is, you'll appreciate the relief a shoulder strap offers.
What Are Some Alternatives?
If you're looking for a quality speaker but you're not feeling the Braven's vibe, there are plenty of alternatives on the market, and we've looked at a few of them in the past.
If you're looking for a small, classy unit for your home, the Tivoli Audio Home Music System is a solid choice. This stereo has a classic, 1940s-style look, with a circular display that reminds us of an old-school dial. Of course, it's not waterproof, so you won't be able to use it outdoors reliably.
For portable outdoor speakers, the BUGANI Outdoor Bluetooth Speaker and the NYNE Boost are both a good bet. These speakers are weatherproof, and are compatible with most Bluetooth devices. On the other hand, neither one has the size necessary to push a lot of bass.
The Solice V7 is a good choice if money is a major consideration. This compact, affordable Bluetooth speaker is very powerful for its size. That said, it's not as rugged as it could be, and it offers a weak bass.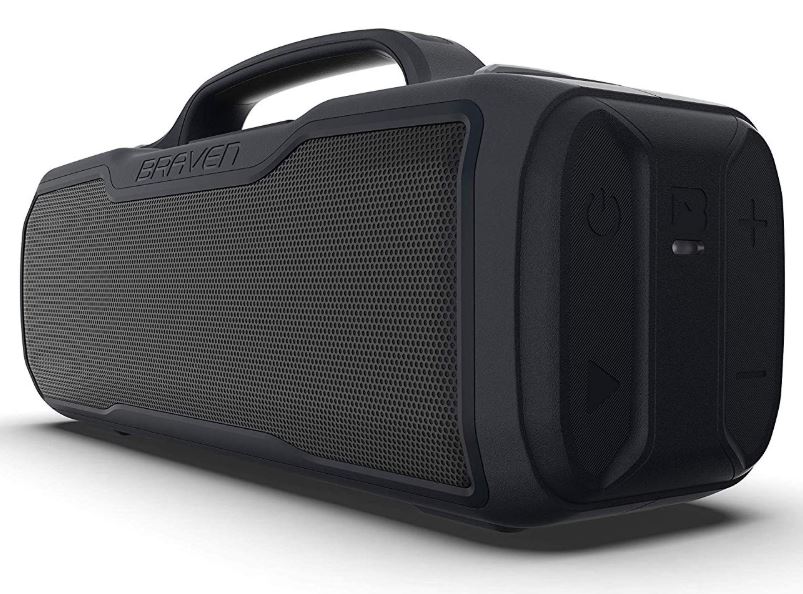 Final Verdict
The Braven BRV-XL is a durable, well-designed speaker. It's waterproof, and it's big enough to put out plenty of bass. There aren't many speakers on the market that offer this much bass response in this small a package, although you'll definitely feel the weight when you're carrying it.
There are lighter speakers on the market, and there are more powerful speakers on the market. But there aren't many that provide this combination of size and power. If you're looking for a beefy outdoor speaker, it's a great choice.
Meet Derek, "TechGuru," a 34-year-old technology enthusiast with a deep passion for tech innovations. With extensive experience, he specializes in gaming hardware and software, and has expertise in gadgets, custom PCs, and audio.
Besides writing about tech and reviewing new products, Derek enjoys traveling, hiking, and photography. Committed to keeping up with the latest industry trends, he aims to guide readers in making informed tech decisions.