For Bluetooth speakers around the $30-40 price range, excellence in one aspect of their design just means another attribute will be taking a hit. For example, excellent battery life can mean a heavier speaker, which translates into worse portability. Having to balance a dozen different factors, picking a good pair of Bluetooth speakers can be tricky. Especially if you care about more than portability.
Solice V7 Wireless Bluetooth Speaker
Finding the right balance of those various attributes can be pretty important. How did Solice balance their wireless Bluetooth speaker? Interestingly, they've mostly prioritized sound quality and battery performance. That's not to say the remainder of its features are lesser or worse, but they've certainly gone out of their way to emphasize some things more than others.
This speaker can still provide all the essential things people have come to expect from similar equipment, like take on calls, or move between a couple of different sound modes. But it also takes things a couple steps further and provides stuff you often don't see packaged with similar equipment.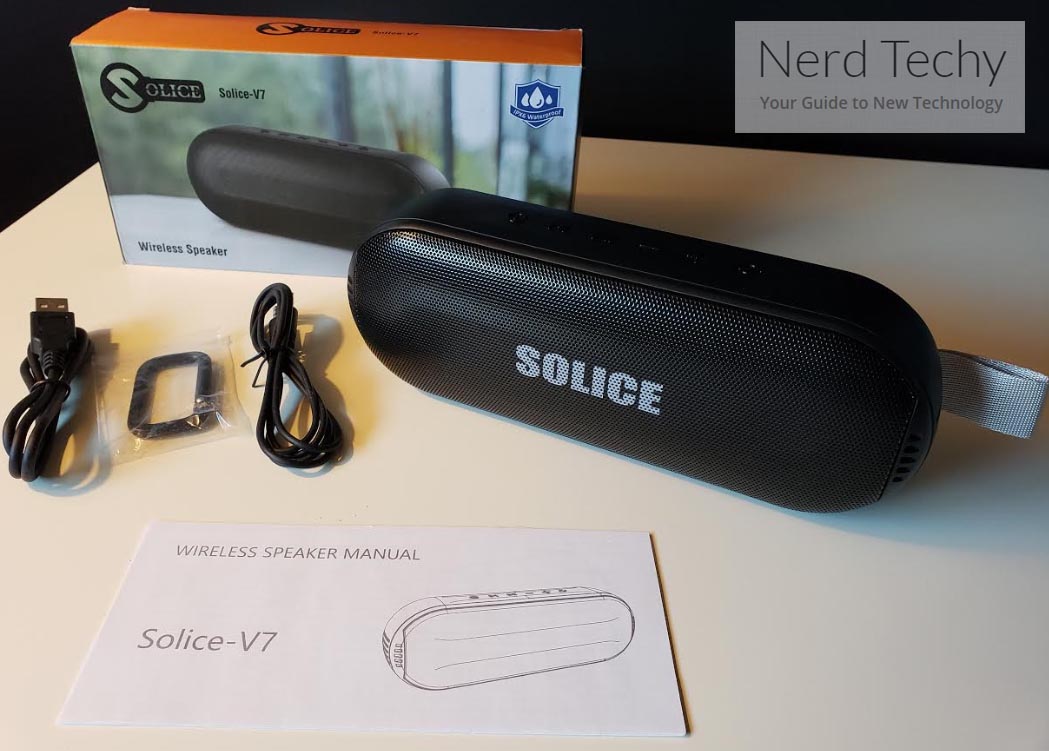 For instance, Solice includes an onboard equalizer. It's a tad bit limited compared to an app-based equalizer, but it can be entirely controlled from the physical speaker itself. Pretty handy. Speaking of handy, Solice also constructed their speaker with a built-in lanyard, and they've ensured you have at least three options for connecting your stuff.
Build & Design
The Solice V7 Wireless Bluetooth Speaker is pretty compact, measuring 8.1 x 2.1 x 3 inches. Weighing about 12 ounces, it's fairly lightweight, though a bit too lengthy to be placed inside most pockets. Rather than shoving it inside of a pocket, it would probably better be carried with the included strap. Because the right side has a short red cloth lanyard built-in to the chassis.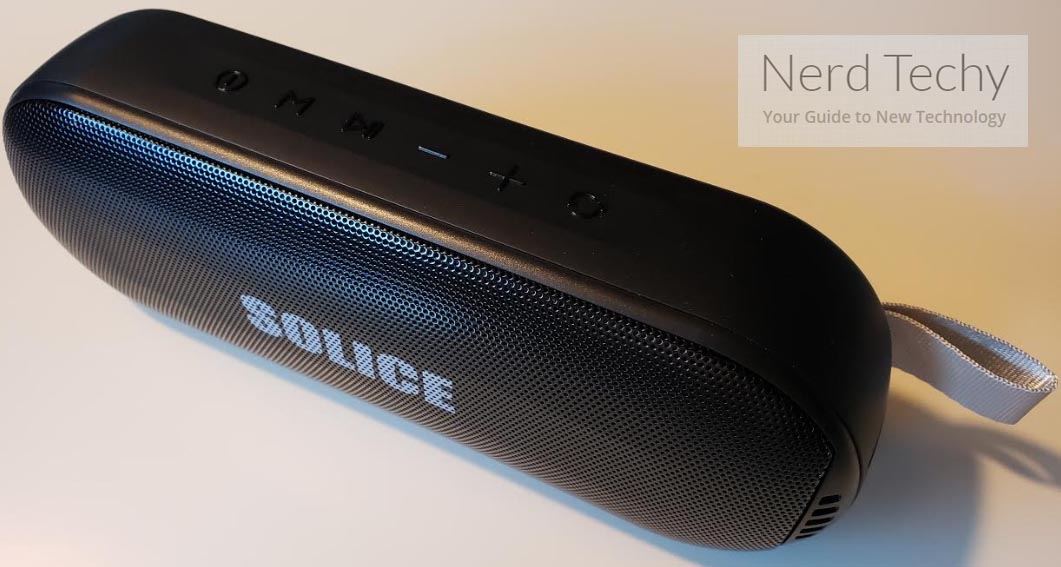 Quite useful for hanging or carrying. And the rest of the speaker is equally versatile. For instance, Solice's speaker is IPX6 water resistant. That ensures the chassis is effectively defended against rain, sand, dust, snow, and sweat.
Pretty good for taking to a beach, or throwing in your car for a road trip. You don't want to submerge the speaker for more than a couple seconds. You do have to make a small effort to keep the I/O particularly protected from moisture, but they don't make that challenging.
I/O Options
Speaking of the control interface, the topside has a number of analogue controls. Those controls are competed with tactile buttons, so it's possible to use the speaker in the dark without having to worry about being able to find what you want.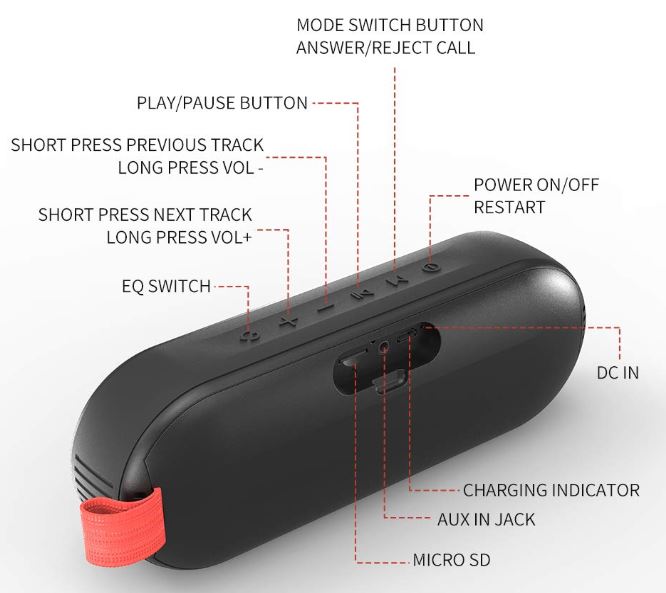 If you've used Bluetooth speakers before, then the control interface should be pretty intuitive. If not, it's not too difficult to learn the few buttons which aren't totally obvious at first glance. Between the six buttons at your disposal, you can turn on/off the speaker, switch between modes, reject calls, play/pause tracks, lower/raise volume, skin between tracks, or initiate the equalizer settings.
On the backside of the speaker, there's a sealed panel that can be removed to reveal three input ports. That includes a micro SD port, aux-in jack, DC-in and a charging indicator. The charging indicator is basically a small LED that's present to let you know how the battery is doing.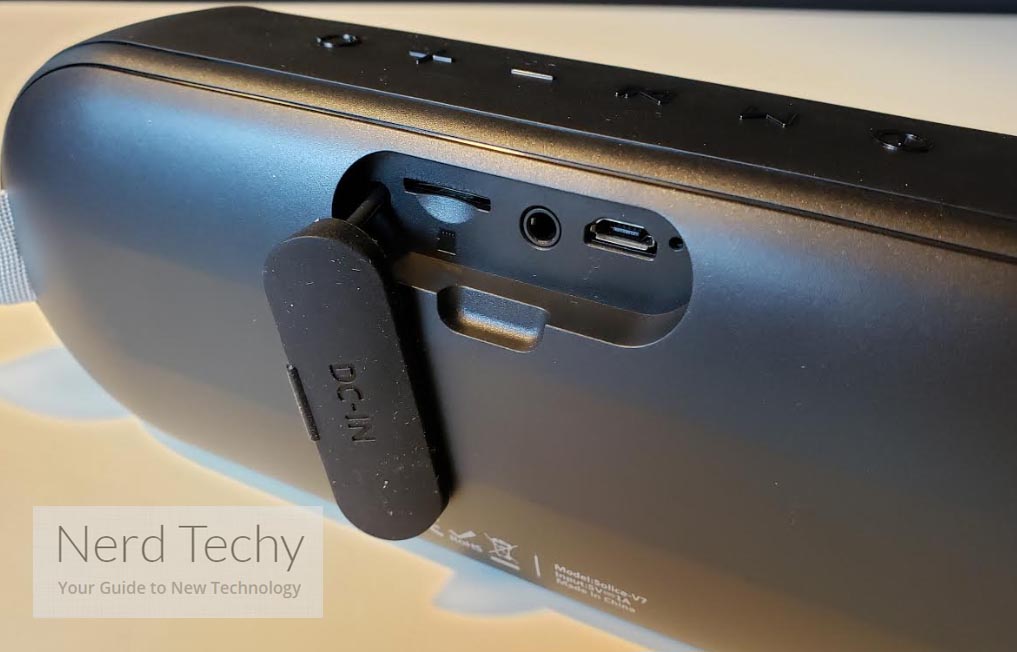 It's important to remember to keep these ports covered. At least, if you want to maintain the waterproofing of this speaker. Because a little water in the wrong places could totally kill one of these input ports, which would be a real drag. Thankfully, the panel is pretty easy to seal properly with the included snap-off plating, you don't have to remove a screw or anything to access inside.
Audio Quality
Though this speaker faces plenty of limitations, partially due to its smaller size, it's also capable of achieving quite a bit. The unit is powered by a pair of 8W drivers, helping to deliver a total 16W stereo sound output. For the sake of comparison, on the backside of an ordinary 24" computer monitor, you might find a pair of 3W speakers. The Solice V7 Wireless Bluetooth Speaker is several times as powerful.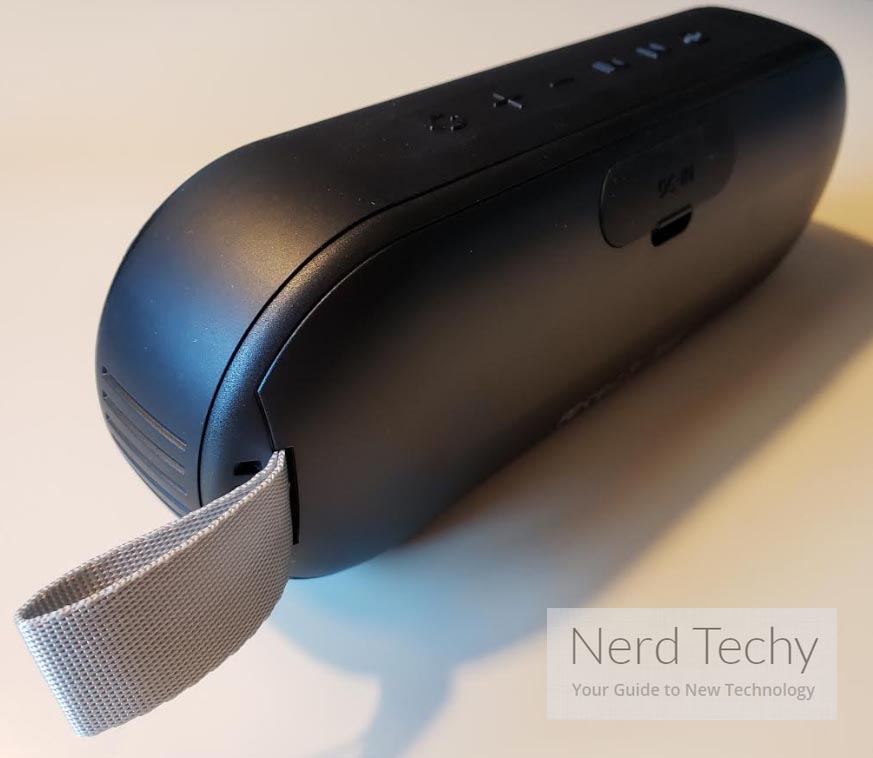 The hardware itself is pretty ordinary, delivering a frequency response between 80HZ – 20KHZ. That range is a little shallow on the bass end of things, but that's somewhat unavoidable when you're trying to draw bass tones out of a relatively small chassis like this. If you wanted serious bass performance, you'd have to pick up a significantly larger speaker with more dedicated bass components.
The audio drivers are pretty impressive 52mm pieces, actually a bit larger than the sort of thing you'd find inside of over-ear headphones. They were made to provide clear treble tones, crisp mid-tones, and an especially rich bass section to help make up for the slightly shallow range of bass tones. Since one type of driver is doing most of the work here, their ability to act dynamically is pretty important.
And they do a reasonably good job. Of course, dynamic drivers will never have the same characteristic sound as specialist drivers like tweeters or subwoofers. But within the realm of realistic expectations, it's fair to say the Solice V7 Wireless Bluetooth Speakers sound pretty good for this price range.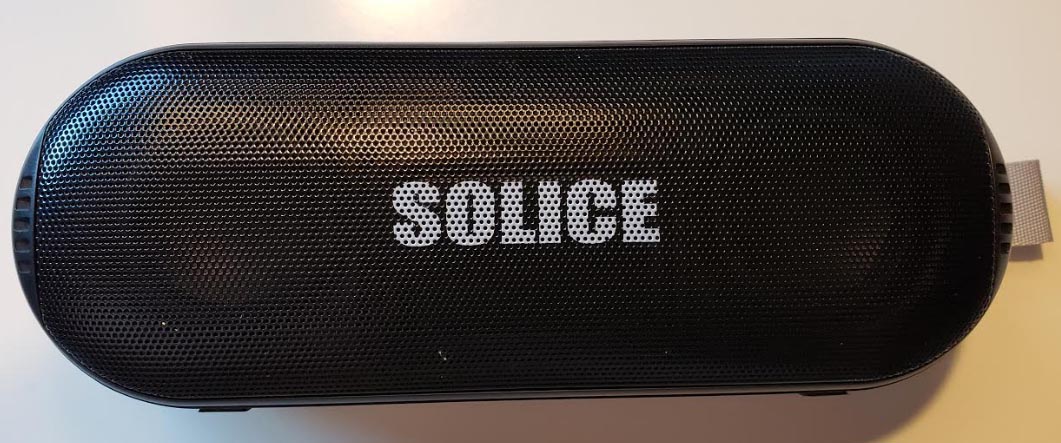 Expansion Options
One more thing to note about the audio. Because these speakers take advantage of TWS technology, it's actually possible to pair two separate Solice devices. Using Bluetooth, and syncing two speakers together, you could do some pretty interesting stuff.
For instance, one speaker could be used as the left channel, and the other as the right channel. The result would be effectively the same as providing real stereo output. It would also allow you to reach around 32W of total output, which would be enough to fill some pretty large spaces. Not quite the same thing as real surround sound, but it comes close.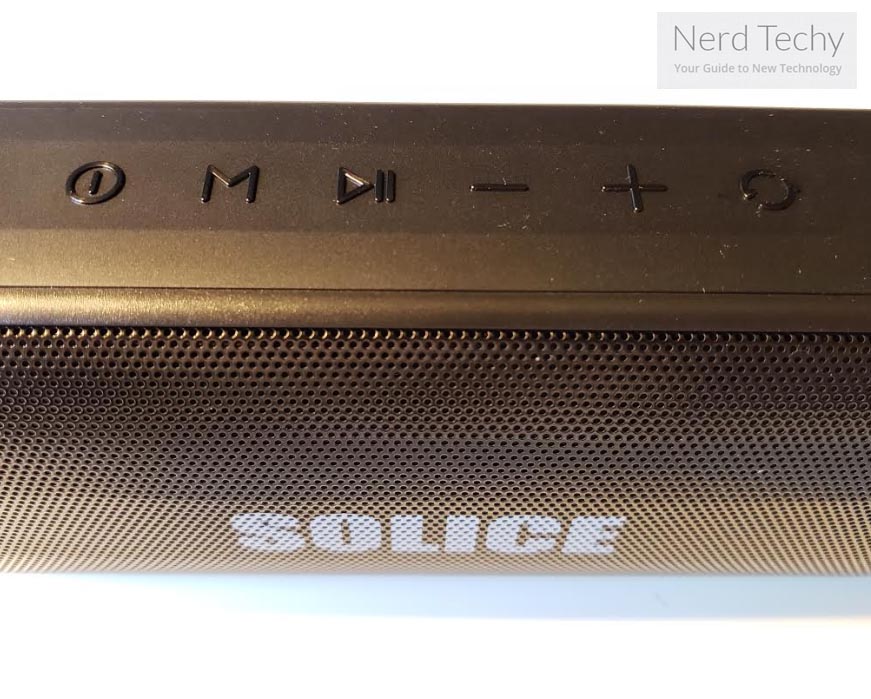 Wireless Connectivity
This speaker connects through Bluetooth 4.2, which is mostly a good thing. It ensures wide compatibility with basically every platform you might want to interact with. Including iOS phones, Android phones, Windows phones, Google phones, and so forth. You'll also have no trouble connecting with tablets, laptops, or PCs either.
As long as whatever you're trying to connect with has support for Bluetooth, you'll find the pairing pretty fast and painless. And the effective connection range is about 33ft. Pretty average, though it's worth keeping mind that range will drop off if there are physical barriers interrupting your signal.
In addition to the wireless connection option, Solice includes a 3.5m audio cable which can be connected with the audio-in jack. The cord is only a couple of feet long, which means it's pretty good for portable usage. Deciding to disable Bluetooth and enter the wired mode can extend the battery life of this speaker by about 20%. Not bad.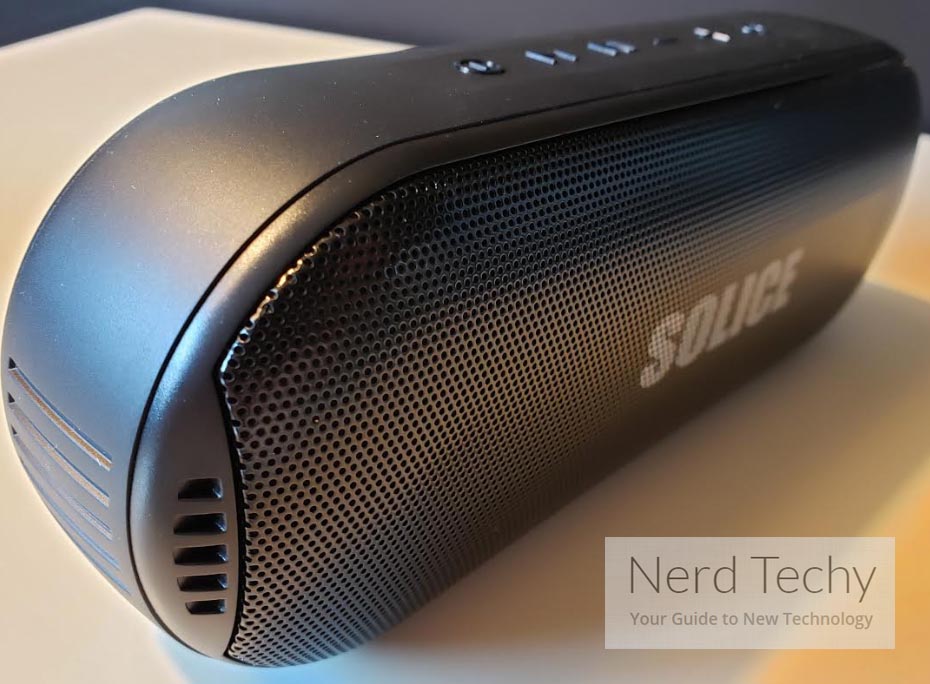 Battery Lifespan
But imagine you don't want to use the wired connection. If you're relying entirely on the onboard battery, you probably won't be disappointed. Because the battery is a reasonably large 2200mAh lithium-ion cell. It's comparably to the kind of battery you'd find inside many different types of smartphones.
In order to refill a battery of that size, it actually takes pretty close to three hours. Once again, similar to the amount of time necessary to fill a larger smartphone. Of course, it does depend slightly on how you charge the speaker. If you charged from a weaker power source, like a 1A USB port on an older laptop, you could see the charge time for the Solice V7 Wireless Bluetooth speaker increase slightly.
How much playtime does that 2200mAh cell provide? With 60% volume consumption, it's supposed to be able to provide about 18-hours of playtime. When you've raised the volume to its maximum setting, it can then provide about 13-hours of playtime. A bit of a drop-off from the 18-hour mark. But that drop can be alleviated by pairing the speaker with another Solice V7, using the wired audio cable, or keeping your volume closer to half.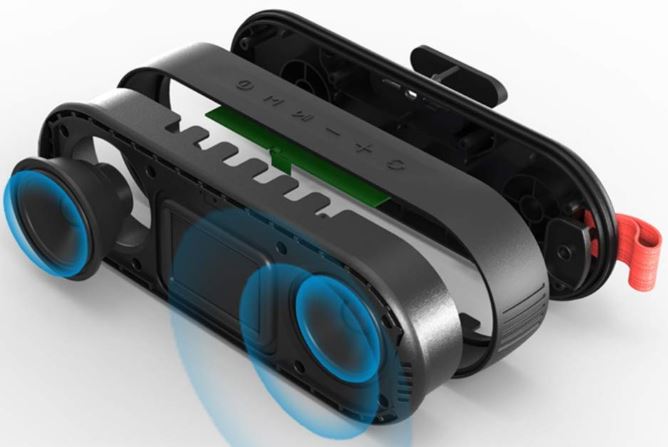 Thoughts About Longevity
One thing that helps expand the potential lifespan of this equipment is support for TWS. Because if there comes a time when this speaker isn't putting out quite enough volume, or is underperforming slightly, fixing that would be incredibly easy by adding another unit.
Nevertheless, the Solice V7 has a finite lifespan. That lifespan runs about three years of heavy use, or five years of casual use. Because the built-in battery wasn't made to be replaced, and after 3-5 years of use that battery will perform a fraction as well as it used to. Still, 3-5 years is about average, and certainly not bad.
Other Considerations
The Solice Wireless Bluetooth Speaker includes a USB cable, 3.5mm audio cable, user manual, and a one-year warranty. You probably don't need to sweat the warranty since speakers rarely encounter issues. They also provide tech support, but once again, it's pretty unlikely that you'll need tech support to use a speaker like this.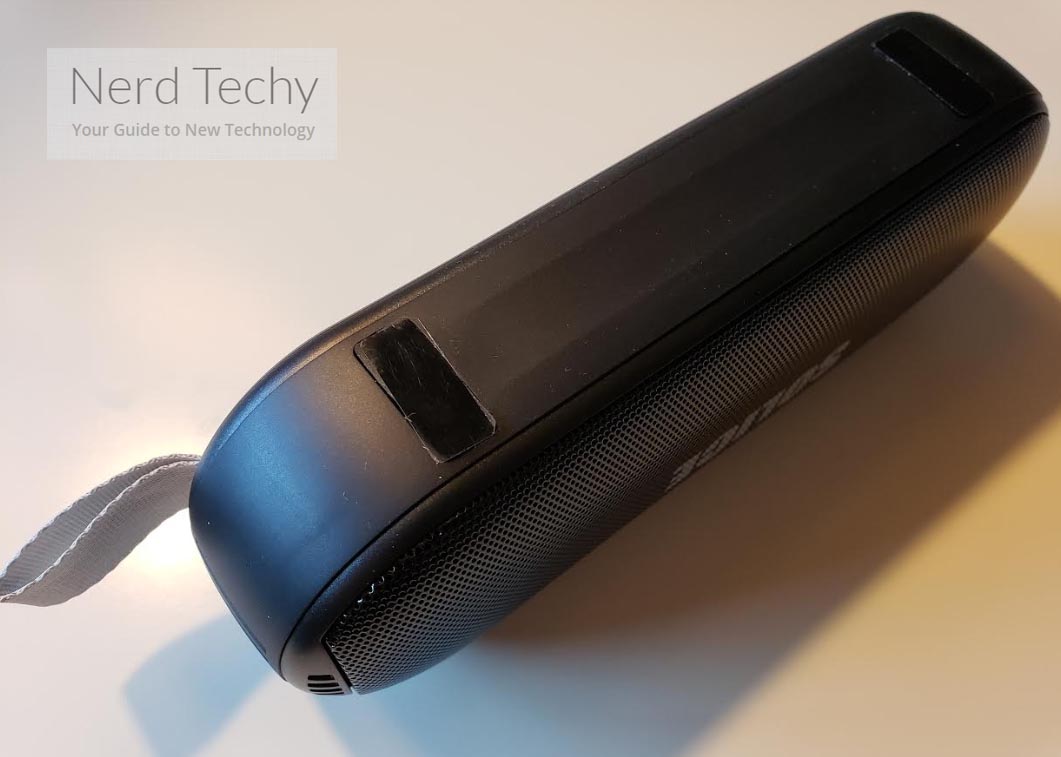 Who Should Choose Solice V7 Wireless Bluetooth Speaker?
The Solice v7 Wireless Bluetooth Speaker is a good choice for a variety of portable needs. It can be paired up with other units, which gives you options for expandability. It's pretty easy to use because the analogue interface is very intuitive, and the fact each button has a tactile design ensures this speaker can be used in the dark.
Use the discount code "VUOMIVTI" to receive a 30% off when you order the Solice Bluetooth Speaker on Amazon
If you're looking for portability, this speaker is a tad on the lengthy side. But if you can forgive that, its lightweight design and the built-in lanyard strap go a long way towards rectifying any portability concerns you might have. With respect to battery capacity, you can scarcely do better around this price. Being able to reach 18-hours of playtime is almost best in class.
All in all, the Solice V7 is probably a good choice for an active person who wants to take their sound on the go.