Wireless earbuds are getting pretty popular, but there are advantages to keeping your buds wired. With that physical connection linking each earbud, your audio equipment doesn't have to spend any battery power or computational energy trying to keep both buds in sync. With a wire, you can take advantage of a larger shared battery. And that quickly translates into a more enjoyable listening experience.
TREBLAB xRun Prime Sports Wireless Earbuds
The TREBLAB xRun Prime Sports Wireless Earbuds are wireless in the sense that they connect through Bluetooth, but each earbud is wired together. Like their name suggests, these earbuds have been given a redesign.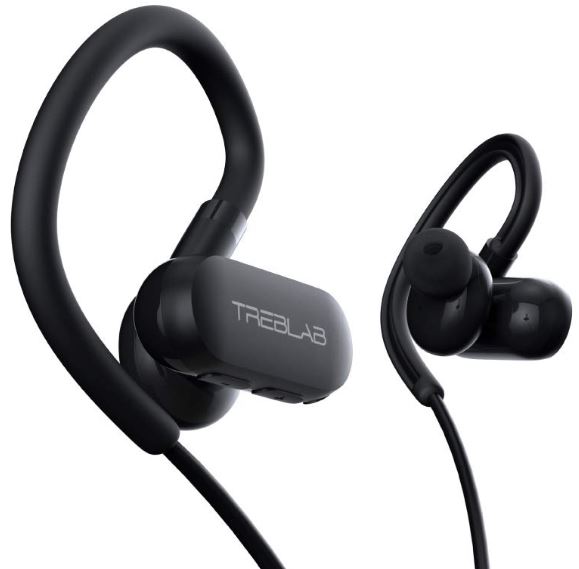 Why the rebuild? Well, the original version had a pretty solid foundation. But there were a number of small issues, specifically related to the microphone performance and the length of the battery. Though the upgrades for this version aren't exactly a night and day difference, they do represent a steady improvement.
The design of these earbuds is supposedly ultramodern. From a style perspective, that's probably not accurate. Instead of using a touch control panel, these buttons make use of a more typical pair of analogue buttons. But putting aside the nitpicking, Treblab xRun were pretty clearly made to be gym oriented headphones, and are therefore built for that purpose.
That's not to say you couldn't take these headphones outside of the gym. But between their noise isolation and wireless connectivity features, it's pretty clear these headphones were made with athleticism in mind. However, whether or not they'll actually suit your specific needs depends heavily on individual circumstances.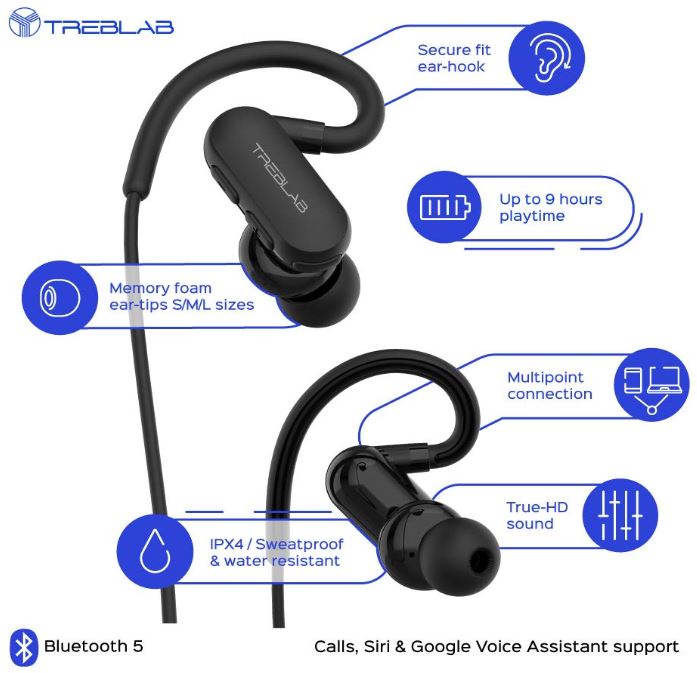 Build & Design
Stylistically speaking, these earbuds look a bit generic. Their matte exterior could be mistaken for thousands of different earbuds, were it not for the TREBLAB logo being etched on the outside of each earbud. Though xRun Prime are available in both black and white, which does provide a little wiggle room for style.
The buds weigh less than a single ounce, so you can hardly tell when they're on you. Even though you might typically expect ear-hook headphones to weigh slightly more than their hook-free counterparts, the general sense of weightlessness is probably even greater because the weight can be better distributed across your ear.
In terms of ruggedness, you'll be pleased to know these earbuds were made with IPX4 water resistance. That's essential for athletic activities, however it's actually one of the weaker waterproof ratings. It basically indicates you're safe from rain and sweat, but no more. You wouldn't want to run them under a faucet if they were dirty, for instance. Similar to a pair of headphones without waterproofing protection, you should use a damp cloth to wipe them down as needed.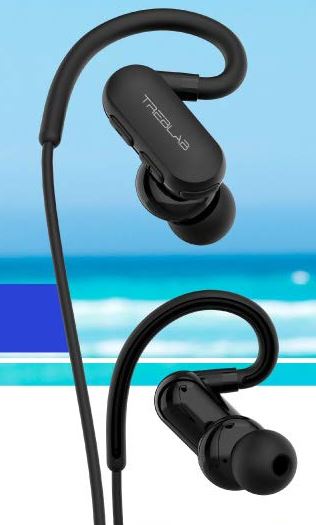 Audio Quality
Inside each earbud, you'll find a single small 8.2mm audio driver. In spite of their small body, these drivers have a lot of kick. Much of that kick is delivered on the software side of things. For instance, the xRun headphones were completed with a bass boost function, and the ability to accelerate that bass as needed.
When you're working out, you probably listen to workout music. Energetic music, upbeat music, or music that gets you ready to take on the next mile while running. xRun Prime Sports Earbuds were made specifically with those kinds of tunes in mind. The treble range lacks a certain clarity, but it has some real punch. Combined with the boosted bass, these earbuds can be a real pleasure to workout with.
It would probably be an exaggeration to say these earbuds help bring your music to life, but they certainly help make upbeat music sound its best. However, not all of the credit for their sound quality can be attributed to the drivers. A fair amount of the credit actually goes to their clever use of Bluetooth and the latest wireless codecs associated with it.
Wireless Connectivity
xRun Prime Sports Wireless Earbuds get their wireless connectivity with the assistance of Bluetooth 5. If you're not keeping up with the changes in Bluetooth, version 5 is the latest and greatest iteration of the format, and it comes with a number of advantages.
For instance, it has far more comprehensive automatic pairing features, and it helps reduce battery consumption. But as always, there are a few areas with room for complaint. Here, the complaint is particaurly small. These earbuds have a signal range which taps out at 33ft. Fairly average for earbuds of this type. But it could become a barrier if you started to add objects between the xRun and the device they're paired with.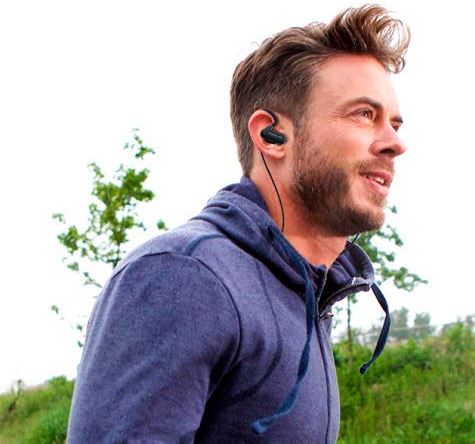 Calling Features
As part of their upgrade, Treblab's xRun Prime Sports Earbuds were constructed with cVc 6.0 noise cancellation. If you're not familiar with that technology, it's a microphone feature which basically supplies some steady ambient noise behind your voice. Instead of the person on the other line hearing background noise, they'll hear a sort of neutral white noise that can help emphasize clarity in your voice.
This tech is pretty good at eliminating up to 30dB in ambient noise. So not quite enough to run through a busy airport terminal undisturbed, nor not quite enough to be used for a pilot's headset. But pretty close to it. It's about the best you can do without starting to implement multiple microphones to coordinate more expensive noise cancellation features.
Battery Lifespan
The xRun Prime Earbuds have a battery lifespan which reaches out to about 9-hours. To put that in perspective, it's about three times better than many entry-level true wireless earbuds. However, that 9-hour estimate is assuming you're listening to music at around 50% volume.
If you increase the volume up to 100%, you might find your battery lifespan creep down towards the 6-hour mark. Still, offering between six and nine hours is substantially superior to most alternatives. Especially when those alternatives are true wireless earbuds with independent batteries.
There's really only one thing to dislike about their battery — it takes about two hours to charge. Of course, that's assuming a number of things. It's assuming you're using a full speed USB connection, for instance. As such, there are a few scenarios where you might expect that recharge time to be as much as 30-minutes longer.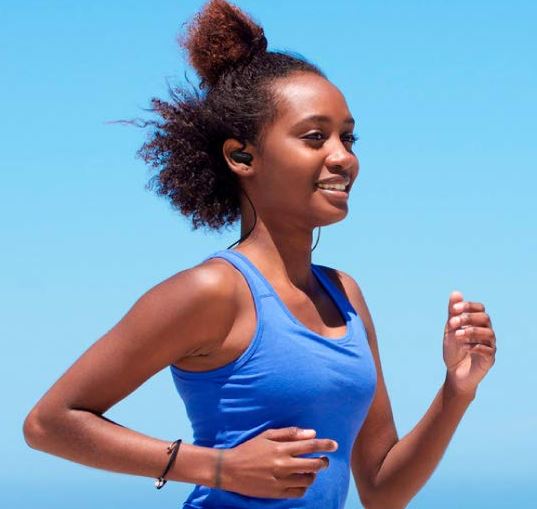 Comfort Considerations
When you place a high emphasis on comfort, and you're involved in athletic activities, then ear hook headphones are typically your best bet. Because they don't have to work as hard to stay in your ear. They're also basically impossible to lose while you're busy being active. An earbud can't exactly pop out of your ear and fall off, now can it? Not with ear hooks.
The ear hooks themselves are made from some soft and flexible silicone. Nothing too fancy, but it gets the job done. More pertinently, if you're looking for a snug fit, these ear hooks can help accommodate that. And when it comes to the ear-tips, you'll find much the same is true. The xRun Prime Sports Earbuds are one of the more secure types of wireless earbuds out there.
This kit provides three size options for silicone ear tips, a pretty standard range for earbuds in this price range. Even used independently from the ear hooks, the ear-tips provide a pretty effective passive noise cancellation seal. Quite good for eliminating background noise, at least, if you take the time to pick the right fit.
Additionally, if the default ear tips aren't enough for you, it's possible to swap over to memory-foam ear tips. The memory foam alternatives help you block out noise similar to a pair of foam earplugs. In short, they're ideal for blocking out noisy streets or gym environments, and great for helping you focus on your music and finish your workout.
Interestingly, similar to the silicone tips, Treblab includes a total of three size options for their memory foam ear tips. That's actually pretty uncommon. Usually, manufacturers only give you a single pair of memory foam ear tips. But these tips have been getting more popular as people have been warming up to them.
Other Considerations
In addition to the ear-hooks, standard silicone ear-tips, and memory foam ear-tips, this kit includes a small circular carrying case. It also includes a 6" USB charging cable, a short user manual, and a one-year warranty.
Unlike a big brand like Sony, Treblab does not have their own app you can use. That's a minor disappointment because it means you're your own should you want to use an equalizer. It's not tough to find a good free equalizer app online, so this isn't much of a concern.
With respect to their longevity, Treblab xRun Wireless Earbuds were constructed to provide approximately three years of heavy use, or five years of casual use. After a couple years, you'll find the maximum battery capacity will start to drop slightly, at which point you'll want to think about replacing the xRun. But getting up to five years isn't bad for earbuds, not by a long shot.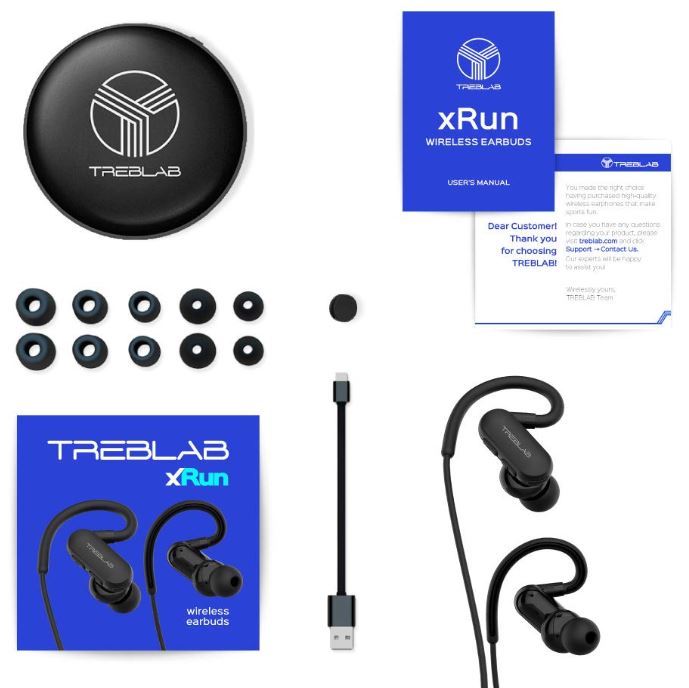 Who Should Choose TREBLAB xRun Prime Sports Wireless Earbuds?
The Treblab xRun Prime Earbuds were made for people who are active. As such, their construction seems to be pretty sturdy. It would be nice if the waterproofing was stronger, or at least strong enough so that you could take these earbuds into the shower with you. Short of that, there's not much room for complaint about their design.
Being able to choose between two style options is pretty cool. Even if they don't have an ultramodern touch interface, having so many different upgrades working together really helps these earbuds feel ultramodern. For someone who prefers the security of ear-hook earbuds, the xRun certainly provide a modern feel.
More than anything, their sound isolation is quite good for a pair of earbuds without ANC, which really helps them sound their best. That makes the xRun Prime Sports Wireless Earbuds a good choice for someone looking for inexpensive athletic earbuds with strong noise isolation and a fantastic battery life.