It's possible to gain competitive advantages by playing with a good gaming monitor. Even if you're just looking to have a good time, a gaming monitor can make your games look much smoother, making it much better for immersive play. With the right monitor, those benefits to immersion stick around even when your GPU is struggling to keep up with your game, or even if your GPU is putting out 120fps.
Acer KG241Q Pbiip 23.6″ Full HD Gaming Monitor
The difference between a gaming monitor and an entertainment monitor can be huge. An entertainment monitor may only need to display content at 30 frames per second. That's about as many frames as you need to watch a movie. An entertainment monitor may or may not have greater input lag. But for gamers, you need higher refresh rates, you need less input lag, and you may even need faster response times.
The Acer KG241Q is an attempt to wrap a bunch of gaming features into a single monitor, and without making the price unbearable. They've mostly done a good job. As recently as three years ago, it's undeniable that the Acer KG241Q would have been about 30% more expensive. Which makes this panel have an exceptionally high price to performance ratio.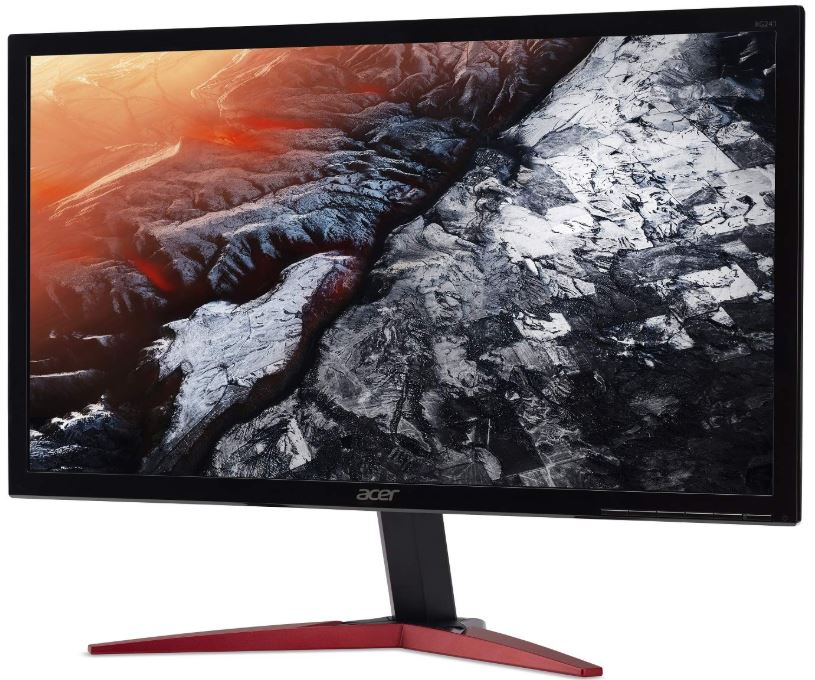 Is this screen right for everybody? No. If you're not on a tight budget, there might be reasons to look for other panels. But for gamers who are looking for a budget build, the Acer KG241Q Pbiip 23.6" Gaming Monitor is probably one of the best options out there right now. It really depends what kind of player you are.
Build & Design
The KG241Q Pbiip Gaming Monitor measures 22.3 x 13.2 x 2.3 inches, and it weighs just under 9lbs with the stand included. You'll quickly notice the KG241Q makes use of a rather distinctive style. That's because the matte black chassis is basically a clone of Acer's Predator series. From the thin bezel to the V-shape of the stand, almost everything is identical. It makes your monitor look like it cost twice what it does.
Similar to the last generation of Predator panels, along the bottom of the chassis, you'll find a strip of control buttons. The buttons are tactile, so you can feel where they are without having to look at them. Each press also returns a loud clicking noise, so you don't have to question whether you're activating the button with each press. Navigation is pretty smooth. Because there's six buttons instead of two or three, you don't have to deal with confusing multi-function buttons.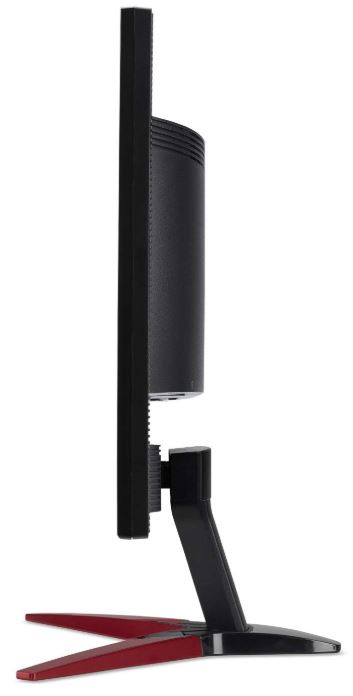 Monitor Stand
As mentioned earlier, the KG241Q Pbiip Gaming Monitor is basically a clone of 2016-style Predator monitors. That includes a red/black V-shaped stand. Some people love the look as being unique, others think it's a bit gaudy. Regardless of where you happen to fall on that issue, there's no denying the design is good at supporting the panel.
Even though this is an entry-level gaming monitor, this high-end design ensures it doesn't look or feel entry-level. However, the stand doesn't actually perform as well as one you would get with a Predator monitor. It actually only offers 20-degrees of tilt. There's no swiveling available and no height adjustment. Unfortunately, those are features you really don't see on built-in monitor stands until you start spending closer to $500.
If you don't care to use the basic stand that comes with this monitor, you can pop it off, and make use of the VESA mount on the backside. Acer aren't amateurs when it comes to making their screens adaptable for VESA mounting. You'll notice the VESA plating bulge has nice depth, which makes it easier to get a flush installation when mounting the panel against the wall.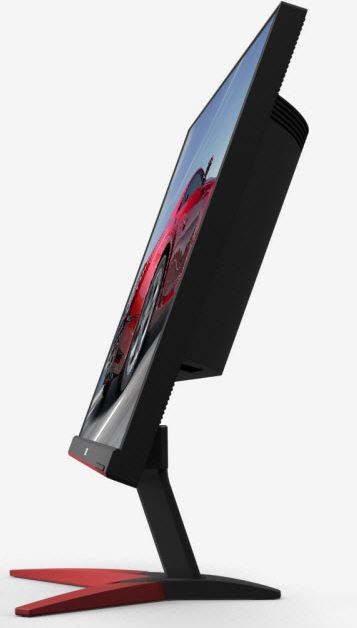 Onboard Speakers
The KG241Q includes some built-in speakers, but they're predictable weak. There are two speakers so you can get stereo sound, but they are only 2W each. They sound a bit like a first generation smartphone that's been stuffed inside a cereal box. Not impressive.
However, if the speakers were good, that would actually be a bad sign. Because it would mean you were spending extra for speakers, when you probably want all your value focused on visual qualities instead. Nearly all gamers will have a headset or separate speakers they can use alongside this monitor, so the speakers are a bit of a non-issue.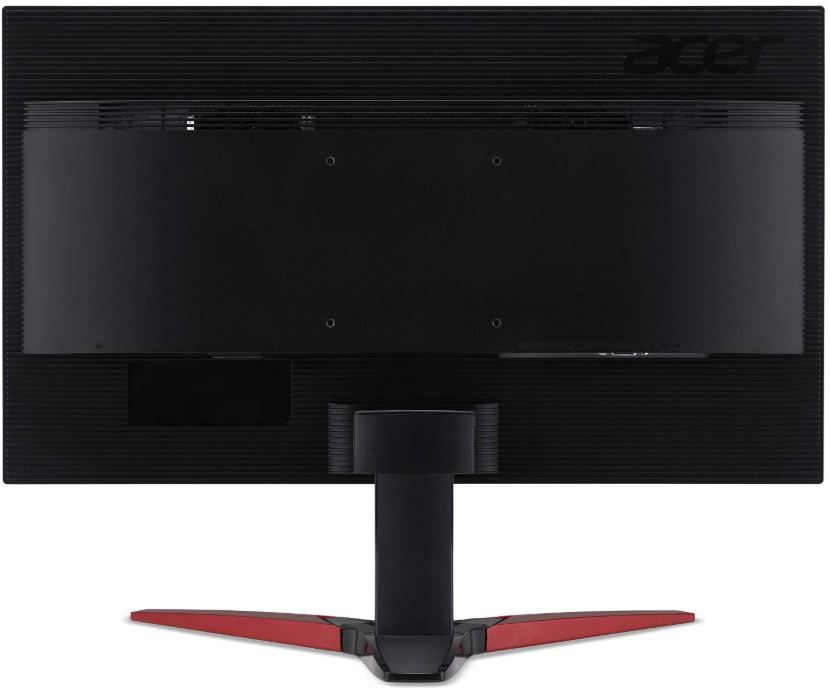 Port Options
For inputs, you can choose between a pair of HDMI ports and a single DisplayPort. The previous version of this panel actually supported a VGA port instead of a DisplayPort, but those legacy standards are unable to take advantage of 144Hz transmission. So they're really not worth using for a monitor like this, anyway.
The ports are positioned so that cords run away from the panel in a downward position, which is good design for someone who's considering alternative mounting options. But if you do encounter an issue with the angle of the port, it would be fairly simple to fix with some right angle HDMI adapters.
While it's easy to forgive this panel for not including legacy ports, it's harder to forgive it for not including USB ports. These days, it's getting pretty common to throw a pair of USB ports into the mix. But the absence of those ports is related to the price of this equipment. So if you're looking for something affordable, their absence is probably a good thing.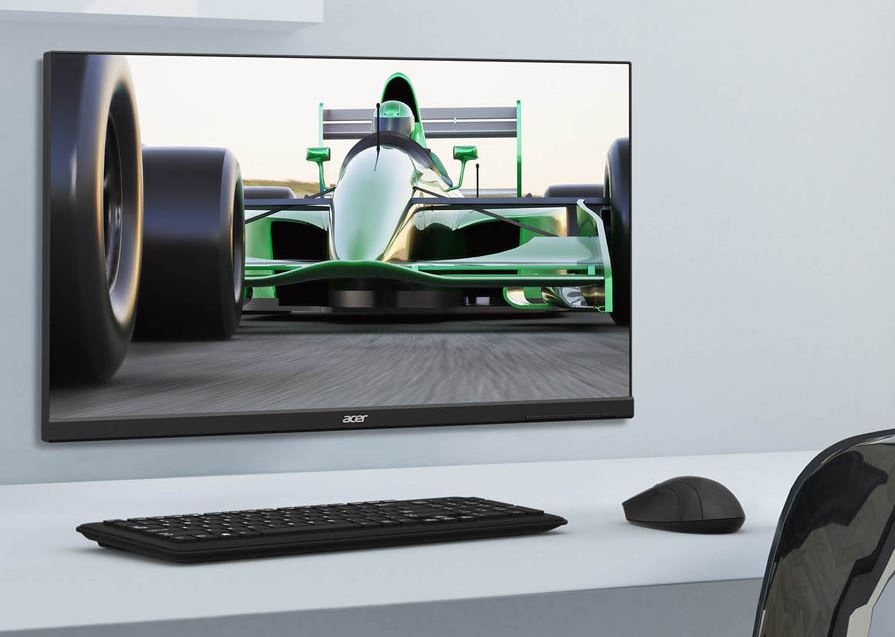 Video Quality
You can take 1080p and stretch it to 27", and it will still look pretty good. But the sweet spot for 1080p content is generally considered to be around 24". In other words, a 23.6" monitor like the KG231Q is ideal for 1080p content. Even though higher resolutions are starting to slowly be adopted, 1080p will continue to be the most appropriate resolution for most displays around this size.
Where is there room for improvement? The KG241Q is constructed around a twisted neumatic (TN) panel. For many years, TN panels were considered the only viable options for gamers to choose. These days, more colorful panels are starting to replace TN. But going to a VA panel or IPS panel will still increase the cost of your screen by as much as $80.
The colors on TN panels look a little dull compared to alternatives. But TN panels are cheap to make. The sRGB score works out to be 92%, not bad for gaming. But a little lackluster if you only cared about playing streaming videos from sites like YouTube. At that point, you'd want to consider using a monitor built for color capacity instead of refresh rates.
Another thing to keep in mind is that its contrast ratio of 1000:1 is low-average. That's highly typical of TN panels like the KG241Q. Over the next three or four years, we'll probably see color standards continue to rise on gaming monitors, and even see HDR become more widespread for gaming. But getting those types of features right now would drastically increase the price of this monitor.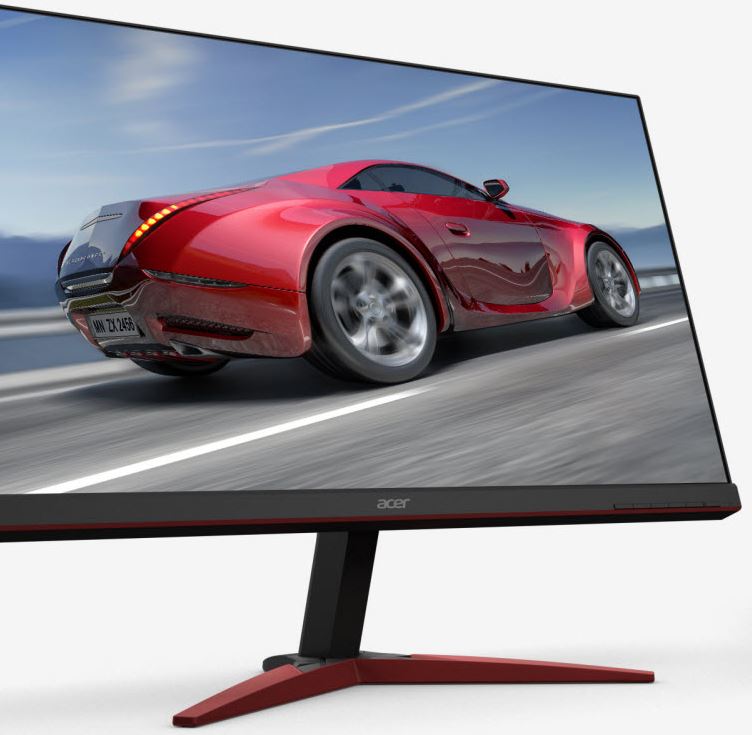 Gaming Features
Speaking of visual qualities, the KG241Q is constructed to provide 1080p resolution alongside a reasonably impressive 144Hz refresh rate. That's a nice boost over the standard 60Hz most monitors in this price range will provide. It's a good boost over a half-measure like 75Hz as well, which has become a very popular option for cheap gaming monitors lately.
When you're actually getting near 144 frames of output from your GPU, your screen will look butter smooth. What about when you're getting closer to 40fps? For those instances, Acer has included FreeSync.
Presumably, someone who's picking up a budget gaming monitor probably won't have a monster PC that's capable of sustaining 144 frames at all times. People building budget gaming PCs are also more likely to end up with a GPU from AMD, which makes FreeSync make a lot of sense.
Response Time
One more thing to note. The Acer KG241Q offers a 1ms response time, so you don't see any interlacing or ghosting effects while playing. Frankly, response times aren't very important for most casual gamers. It's something that can be hard to see, even when you are playing the fast-paced games where you may be able to see differences in response time.
But for people who do appreciate those differences, Acer has done an excellent job here. The credit goes to their selection of TN panel. There are no noticeable issues with motion blur or input lag whatsoever.
Other Considerations
The KG241Q Pbiip Gaming Monitor comes with built-in VisionCare technology, too. That's basically a built-in blue light filter you can switch on to reduce eyestrain. It's a fairly simple way of dealing with blue light exposure, but it's also a fairly standard feature you'll find on almost any similar monitor.
Acer includes a three-year warranty with all their monitors. Being one of the largest names in the gaming monitor niche, their US-based customer service is pretty respectable as well.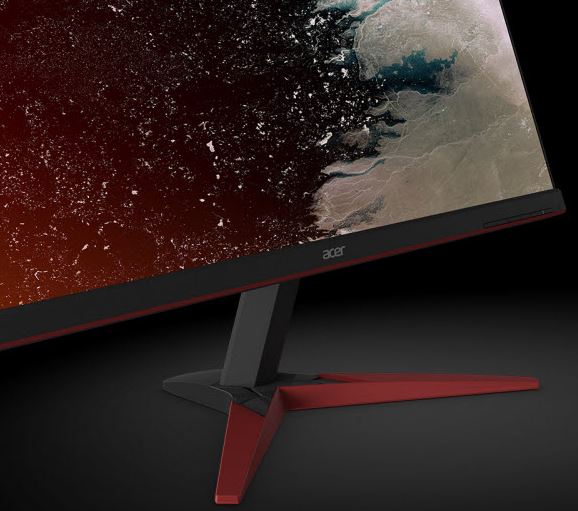 Who Should Choose the Acer KG241Q Pbiip 23.6″ Full HD Gaming Monitor?
The Acer KG241Q Pbiip 23.6″ Full HD Gaming Monitor has many attractive features. Physically speaking, it looks almost identical to a $600 Predator panel. It's probably because Acer had some last-generation Predator bezels laying around in a warehouse, and they wanted to get rid of them. Whatever the reason, if you don't mind knowing that you're using 2016's monitor fashion, this panel looks great.
It performs pretty great, too. If you're looking for an inexpensive gaming monitor that provides you with every essential gaming feature, the Acer KG241Q wants for almost nothing. People who are willing to expand their budget by another $70 or so could pick up some improved color features. But not many people are willing to almost double their budget so colors can look a little different, which is understandable.
Would have been nice if the stand included height adjustment, similar to the Predator panels that the KG241Q was made to look like. But everything this screen lacks is entirely related to cost. It doesn't have a stand with height adjustment because that would raise the cost. It doesn't have an expanded color space because that would raise the cost. But it does have every essential gaming feature, which makes it a pretty good choice for gamers on a tight budget.
Meet Derek, "TechGuru," a 34-year-old technology enthusiast with a deep passion for tech innovations. With extensive experience, he specializes in gaming hardware and software, and has expertise in gadgets, custom PCs, and audio.
Besides writing about tech and reviewing new products, Derek enjoys traveling, hiking, and photography. Committed to keeping up with the latest industry trends, he aims to guide readers in making informed tech decisions.