Trying to enjoy a movie? Your monitor adds a lot to the experience. Color contrast, vibrancy, resolution, and other elements all combine to create a greater immersion in media. Many people end up focusing too much on resolution, but it's the combination of several separate factors that really help generate a first class visual presentation.
HP Pavilion 5DQ99AA 27" Quantum Dot Display
Not to oversimplify things, but the HP Pavilion 5DQ99AA is basically a new way of creating a monitor. The world already has colorful 1440p LED monitors. But similar to the difference between two pairs of headphones, or the difference between two cars, the details of how things get done can be incredibly important.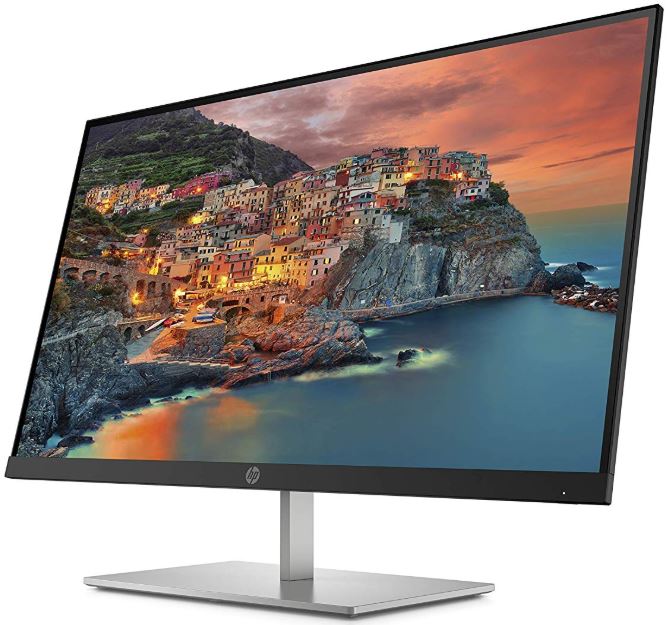 The 5DQ99AA isn't just another colorful monitor. It was constructed with special Quantum Dot technology, aimed at providing lifelike colors without the sort of artificial software tricks designers sometimes rely on to achieve those effects. The results really speak for themselves, this panel provides vivid color that looks truly unique.
A quantum dot display uses special nanocrystals to produce lights. The resulting images are supposed to have similar color gamut and contrast capabilities to an OLED screen. That's a pretty high standard. But really, these displays are almost like an entirely different experience from a regular LED monitor.
Build & Design
Like its name suggests, the Pavilion 5DQ99AA 27" Quantum Dot Display offers a diagonal viewing area of 27". For people keeping track, the actual length and width of the panel is 24.2 x 2.2 x 14.3 inches. A fairly standard build for the most part, except for the razor-thin nature of the panel itself.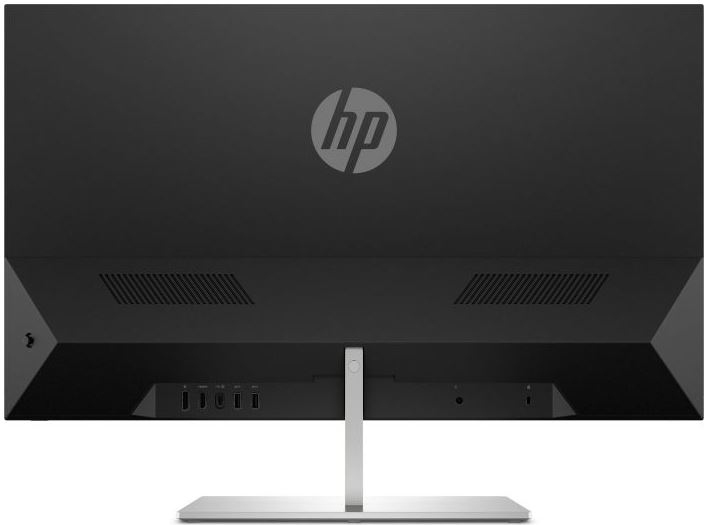 In fact, the panel extends out to 2.2" only because the back portion of the display has to extend and make contact with the stand. For a wall-mounted installation, this is easily one of the thinnest panels you'll be able to find. Great for sitting flush against a flat surface.
The 5DQ99AA weighs about 7.5lbs, which is fairly light weight. That's largely because the power brick wasn't built into the panel. Some people will like that, some people won't, and some people won't care. The power brick provides a little bit of clutter near the cable, but this difference isn't a big deal under most circumstances.
Along the bottom side of the chassis, you'll find a number of analogue control buttons have been hidden away. You can feel them by touch. Because you don't have to operate these buttons on a normal basis, it's probably okay that they're hidden away. But it does make them slightly more difficult to use than a front-facing interface.
The controls themselves are pretty intuitive. HP has been making monitors for a while now, so they understand how to keep their menus simple and to the point. From within those control windows, you can adjust the brightness, input color, power management options, and so forth. Fairly ordinary stuff. But having access to adjustable color settings is actually marginally more important for a panel like this, so it's worth pointing out.
Monitor Stand
The Pavilion 5DQ99AA was built with a wonderfully simple stand. Often times, these higher-end stands are made with some kind of gaudy appearance to help highlight how special they are. In this case, the stand is a fairy ordinary gray square. And it doesn't hog too much desk space because it's thin and level, allowing you to place other objects on top of it.
The stand also provides a pretty good range of adjustability. The tilt angles are nothing special, spanning the usual 20-degrees of control you'll find from almost any similar monitor. But the height adjustment is something else entirely. You can raise the screen by about five inches, or even spin it side to side. Though you do need to raise the screen up a bit to make room for some of those motions. All in all, a solid stand.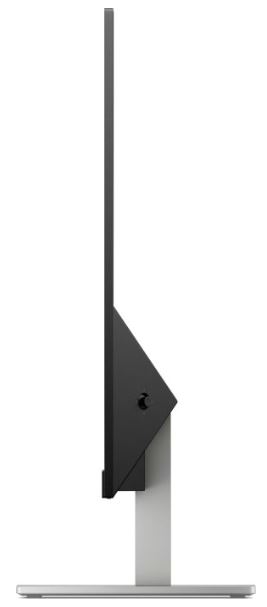 Video Considerations
The Pavilion 5DQ99AA was constructed with a native QHD resolution of 2560 x 1440, more commonly known as 1440p. That's pretty much the perfect resolution for a 27" monitor. Though it's possible to tell the difference between a 4K monitor and a 1440p monitor at this size, the perceptual difference is so small that most people feel they're essentially interchangeable.
Some people think 27" screens are pretty big. But a panel of this size is not technically an ultrawide monitor. Nowhere is that more clear than in the fact this panel runs a standard 16:9 aspect resolution. So you don't have to worry about black bars cropping up on the edges of your screen while watching movies.
With respect to color, this panel supports DCI P3 90% color space. That makes it slightly more color-rich than similar panels in this price range, but not quite color-rich enough to be used by designers. Though its HDR support means it could be used for the development of HDR content.
What type of screen is this, exactly? The 5DQ99AA was actually made from a very special type of PLS panel. It's a design comes with numerous interesting benefits. For instance, it ensures excellent viewing angles, allowing you to see images in a 178° range both vertically and horizontally.
Brightness comes in at 400 cd/m². That's slightly brighter than a standard 27" LED panel, the roughly 25% brighter than many entry-level panels. Those differences in brightness are only partially felt in your contrast ratio. In one sense, the HP Pavilion 5DQ99AA provides a pretty standard 1000:1 static contract ratio, which is very close to what you'd find from an entry-level monitor.
However, with technical wizardry and the power of Quantum Dot technology, the contrast ratio extends out towards 5000000:1 using dynamic settings. That's everything you need for an effective home theater presentation, and at a fraction of the cost of many HDR panels.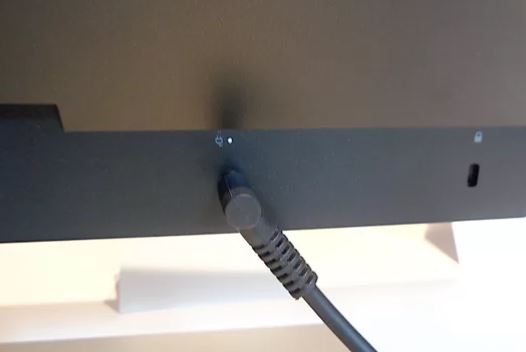 Performance Features
Response time comes in at 14ms, which isn't really going to appeal to gamers. But it's important to remember that LED and QLED panels don't have the exact same problems with motion blurring, and Quantum Dot tech brings its own advantages to the table. These responses don't look quite as blurry as you might expect when moving around with a typical LED panel.
Another aspect of this screen which will not excite gamers? The refresh rates. Those come in at a standard 60Hz. For people who are used to using non-gaming monitors, and people who are looking to enjoy movies and streaming content, that's no big deal. It's not even a big deal for console gamers. But some PC players will find it subpar. Once you've tried 144Hz, there's really no turning back.
But there's one redeeming factor that helps smooth things over, literally. The 5DQ99AA provides support for AMD FreeSync technology, so you can sync the framerate of your monitor with the output of your GPU. It makes your display free from stuttering and input lag, and means you don't have to run V-Sync settings on your games anymore. Since this panel only runs 60Hz anyway, it's a really nice addition.
Port Options
Your port options are pretty wide, too. You'll find ample support for HDMI, DisplayPort, USB-C, and USB. More specifically, there is one USB-C port, one Display Port 1.4 port, and two USB 3.0 ports. Those USB ports can deliver a maximum 2.2W.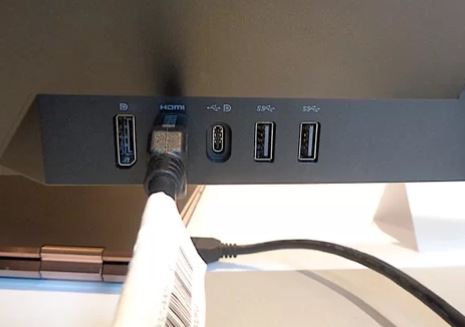 That means you're not going to be able to operate a laptop out of those ports, but they're perfectly adequate for recharging your phone, or powering smaller peripherals. The HDMI port supports the latest and great HDMI format, version 2.0a. It also includes HDCP support for both the DisplayPort and the HDMI port, so you can play copyright protected content on the display without issues.
Other Considerations
This screen was given an anti-glare finish. Most people prefer that to a glossy finish, but given how so much attention was paid to color vivacity, this type of screen is one example of where a glossy finish might make some sense.
It was constructed with standard 100 x 100 VESA mounting spaces, as well as an included accessory bracket. Near the VESA plating, there's a locking port as well. For people who are placing the panel in a public area, or in an office setting, that can be pretty handy.
The operating range for equipment like this maxes out around 95°F. It's not that your display will shut down the moment your room reaches 96°F, but you're going to be putting heavy wear and tear on the panel when operating at that pace.
This monitor includes a power cable, external power supply, HDMI cable, VESA adapter, and a short user guide. They also include two years of warranty support. Usually, among all your PC components, monitors are one of the least likely to die.
But sometimes the failure rates of new technologies are slightly higher, especially when they're first hitting the market. Quantum Dot displays are still pretty close to cutting edge technology, so it's nice to know HP's warranty is pretty strong.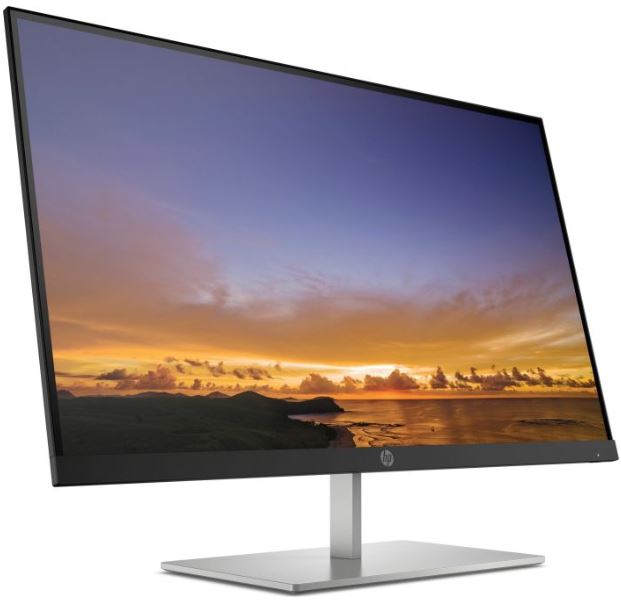 Who Should Choose the HP Pavilion (5DQ99AA) 27 Quantum Dot Display?
The HP Pavilion 5DQ99AA 27" Quantum Dot Display is a curious device. People aren't really familiar with quantum dot displays, so for some, it's hard to really know what you're getting into. Suffice to say the screen looks fantastic, but there are always a few caveats.
The 5DQ99AA was made primarily for entertainment purposes. It's for watching YouTube, streaming Netflix, and playing Blu-ray discs. This monitor wasn't really made for hardcore gamers. However, it has plenty of features that casual gamers will love.
Under the right circumstances, it's easy to appreciate the differences in vibrancy and life brought to the table with a QD display. The 5DQ99AA is actually one of the first times this kind of technology has been made available at such an approachable price. Which makes the 5DQ99AA an excellent choice for someone who spends lots of time watching media on their monitor.
Meet Derek, "TechGuru," a 34-year-old technology enthusiast with a deep passion for tech innovations. With extensive experience, he specializes in gaming hardware and software, and has expertise in gadgets, custom PCs, and audio.
Besides writing about tech and reviewing new products, Derek enjoys traveling, hiking, and photography. Committed to keeping up with the latest industry trends, he aims to guide readers in making informed tech decisions.