Trying to get wireless in your apartment? Then you probably don't need a router capable of blasting your signal across the street. For years, entry-level routers had entry-level features. But lately, it's getting much easier to find cutting edge wireless features on cheaper equipment. For two or three people living in a regular sized home, that makes it much easier to upgrade your network speeds with modern standards.
TP-Link Archer A6 C1200 Wireless MU-MIMO Gigabit Router
The A6 C1200 is actually the second version of this particular Archer router. This newer version combines 802.11ac alongside 2×2 MU-MUMO. Combined, these types of technologies provide a pretty compressive approach to wireless. The general idea is to pack those modern-features alongside hardware that's been scaled down, intended to be used by two or three people.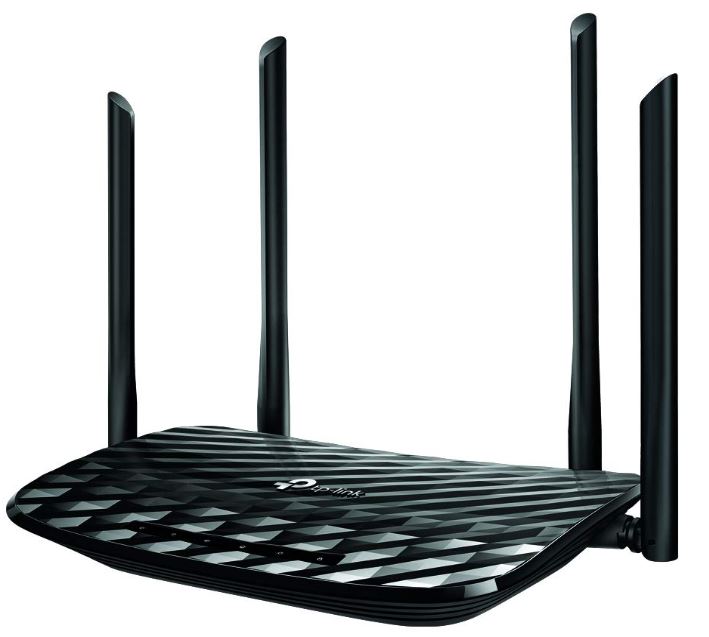 Because the A6 has its hardware scaled down to power these more modestly sized environments, it's constructed with hardware proportional to those tasks. Compared to other routers, this hardware looks a little weak. But none of that weakness is felt in performance, and its part of the reason why this equipment has its priced eased down to such a comfortable level.
There are many different kinds of routers. In the AC1200 niche, you'll find a particularly large number of different options because it reflects the network capabilities that people need most. For two or three people in a two room apartment, the A6 is pretty much perfect. The only hard limit to keep in mind is that 2×2 MU-MIMO isn't 4×4. So this equipment is only effectively capable of emulating two separate networks instead of four.
Build & Design
The Archer A6 measures 9.1 × 5.7 × 1.4 inches and weighs about 2lbs. Fairly ordinary for a router of this type. Somewhat less ordinary, the A6 is made from glossy black plastic, with a pleasant wave-like texture ripple echoing across its entire body. It's a pretty stylish and distinctive design.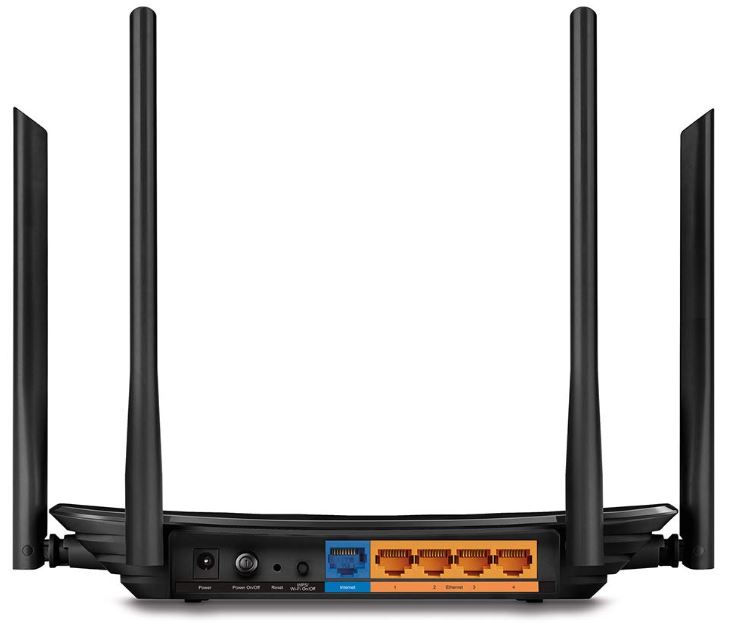 They probably worked hard at making this router pretty because it's almost impossible to hide it. In the interests of keeping a strong signal, you need to position this router so the antennas can bounce around information. Positioning is even more important if you expect to pull data from the 5G band. Unfortunately, it's not possible to wall-mount this equipment. Which is probably why it's a good thing they made the chassis so attractive.
Getting back to the chassis, you'll find six LEDs along the front. As per usual, they indicate the status of your network. That includes information about the power, Ethernet cable connections, WPS, and connections on the 2.4 and 5GHz bands. Thankfully, the LEDs are not very bright, so they don't become disturbances for people in dark rooms.
Antennas & Ports
Along the back end of the router, you'll find four antennas, which extend directly up into the air above the router. These antennas are suitable for sending a wireless signal across roughly 1,500 square feet. Pretty average for an AC1200. But they're actually non-detachable antennas, which is unfortunate for a number of different reasons.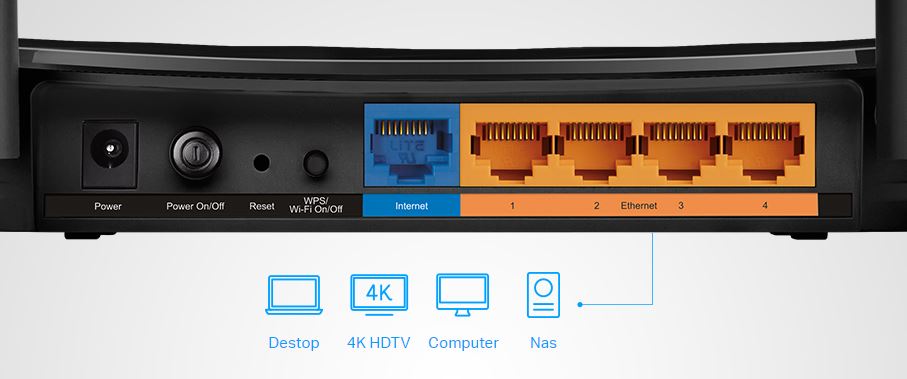 For starters, it means you can't upgrade them with stronger antennas at a later time. It also means you can't pop one off for different types of hands-on installations. But provided you don't have some strange installation placement in mind, that shouldn't be a big concern.
For ports, the backside of the Archer A6 hides away four Ethernet ports and a WAN port. Each of those Ethernet ports is capable of hauling a full gigabit of bandwidth. Though were you to start drawing that much power over Ethernet, you'd find the 2.4GHz band would have slowed in speed by about one third. Apart from those ports, there is also a power button, reset button, and WPS button. Fairly standard stuff.
Networking Hardware & Speed
With respect to its hardware, the Archer A6 is built with a single core processor. It's a Qualcomm QCA9563, which runs at a modest 775MHz. Certainly one of the less impressive processors you'll find in a router these days. Why is it so seemingly weak? Because it's only as strong as it needs to support a network of this size. It was made to expect only three or four people interacting with the network, and only two high-bandwidth connections.

That's not to say this equipment is handicapped or slow. Like any AC1200, the theoretical bandwidth potential of this hardware is 1167Mbps. In this case, that connection would occur with 300Mbps across the 2.4GHz band, and then an additional 867Mbps across the 5GHz band.
Whether or not you actually achieve those speeds or not depends on many factors, including the placement of your devices. But for its part, the Archer A6 does an excellent job of carrying your connection. The fact you can't remove the antennas is really the only cloud in this particular sky.
Security Issues
Surprisingly, the security options are pretty impressive, too. Typically, all you end up with is some kind of basic firewall provided by TP-Link, and then the usual gamut of parental controls. Of course, in this case, all those basics are still present. But then you get a little bit of extra stuff that's actually more characteristic of business-quality security features.
As any modern router should, the A6 provides the usual range of parental controls and guest network options. That includes the ability to dictate specific hours when certain people can be online, how long they can spend online, what websites they can visit, and so forth.
The guest panel also lets your setup a separate network which guests can use independently from the primary network. Apart from all the various parental controls you could apply to this secondary network, it's also worth noting you can establish bandwidth allocation as well. That way, the guests on your network can never interfere with your own streaming experience.

In other words, the next time someone takes out their smartphone to browse the web while you're watching a movie together, their connection is less likely to interfere with the streaming video on your TV.
Apart from that more rudimentary stuff, the TP-Link Archer A6 includes some solid support for VPN configuration. Whether you're extra-concerned about security, or you're trying to setup your own private network among company devices, that can be pretty handy. Small scale VPNs are excellent for security, whether you're a business or an individual.
Setting up the Network
Setup is pretty simple and smooth. You're guided through a setup wizard which asks you to create a password for your network. You don't actually have to set a password, but of course it's a good idea to do so. You're then taken step by step through the rest of the installation process, step by step.
By the end, the setup wizard will ask if you're connected to the internet. If you are, the wizard is complete. If you're not, it will start helping you tweak your settings to fix things. Pretty straightforward, and hard to mess up.
Another thing that's easy to appreciate is the approachable the customization windows. When you're setting up your network settings, even beginner users should be able to navigate through the advanced settings tab.
Which is helpful because that's where they've hidden away a number of useful options for making the A6 a bit more functional. For example, it's where you'll find your most sensitive wireless settings, the ability to setup a guest network, parental controls, NAT forwarding, VPN server options, security settings, and so forth.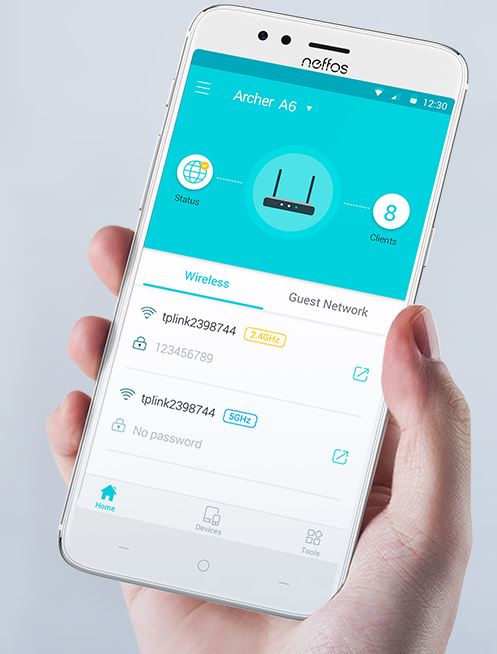 Other Considerations
Oddly enough, this equipment will not automatically seek out new versions of firmware. That's a pretty common feature for many routers lately, even other TP-Link routers. Though new firmware does not come out that often, so this isn't something to be terribly concerned about.
Some people who are zealous about security will probably appreciate their updates aren't done automatically. But the firmware is only available in English, even though the rest of the app has great multi-lingual support. That's a minor letdown.
The A6 does not have its own USB port, so you can't use a thumb drive to send data across all the devices in your network. It's a feature that most people don't actually need, but can be super handy for the few people who do. The lack of a USB port is mostly related to price, so if you don't need that port, you can look at its absence as another way of saving you a few bucks.
This equipment supports Linkx, NetWare, Mac OS, and Windows systems. Basically anything you want to connect with the TP-Link Archer A6 will find compatibility isn't an issue. That includes more obscure connections, like hooking up with a Raspberry Pi B+. The A6 includes a two-year warranty from TP-Link. They also include 24/7 technical support.
Who Should Choose the TP-Link Archer A6?
The TP-Link Archer A6 C1200 Wireless MU-MIMO Gigabit Router was made for people with smaller or medium-sized apartments. Even though this is a smaller piece of equipment, made to be used on a smaller scale, it's able to provide modernized Wi-Fi networking standards and all the benefits therein.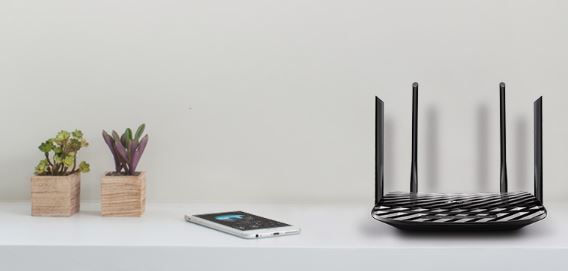 What isn't included with this router is also pretty clear. There isn't a USB slot, or any sort of multi-gig slot. This router doesn't have built-in modem, nor any kind of phone jack. The MU-MIMO is restricted to 2×2, which is fine for two high-bandwidth connections, but would be prohibitive for three or more.
This router only becomes a little subpar once you start to expect more than 10 wireless devices making a connection to the network, or once you expect to broadcast beyond four or five rooms. In other words, this might not be the right choice for a café, or even a business with more than 4 employees.
But it's an excellent choice for people in smaller homes and apartments, especially on a relatively low budget. Because even though it provides all those modern standards and bleeding-edge features, its price is highly competitive.
Meet Derek, "TechGuru," a 34-year-old technology enthusiast with a deep passion for tech innovations. With extensive experience, he specializes in gaming hardware and software, and has expertise in gadgets, custom PCs, and audio.
Besides writing about tech and reviewing new products, Derek enjoys traveling, hiking, and photography. Committed to keeping up with the latest industry trends, he aims to guide readers in making informed tech decisions.