Not having to mess around with wires is a blessing. Though wireless charging began as a bit of a novelty, it's quickly become an essential part of life for many people. Once you've become accustomed to the convenience of wireless charging, it can be hard to go back to worrying about wires.
But sometimes chargers aren't as simple as placing your smartphone and walking away. Unless every little thing goes right, they can start becoming more hassle than they're worth. However, since wireless chargers are becoming more popular than ever, it's getting much easier to find some pretty impressive units.
CHOETECH Dual Wireless Charger
More often than not, wireless chargers end up being placed on a nightstand. When your nightstand only has one device to worry about, running wires isn't so bad. When you start to charge more than one device? That's really when cables start to stack up into a cluttered mess.
Of course, the idea of a wireless charger being able to handle more than one device isn't novel. For instance, we recently reviewed the Belkin Powerhouse, which can charge the Apple Watch and an iPhone at the same time. But most brands are still focused on making single-device chargers. Being able to power up two phones at the same time is still pretty unique.
And that's exactly what the CHOETECH Dual Wireless Charger is capable of doing. While similar devices tend to require that you're locked into a single ecosystem, like the Belkin Powerhouse, this charger is widely compatible with any Qi enabled devices. That might include any number of popular smartphones like the iPhone 8, Samsung Galaxy Note 9, Google Nexus 7, and so on.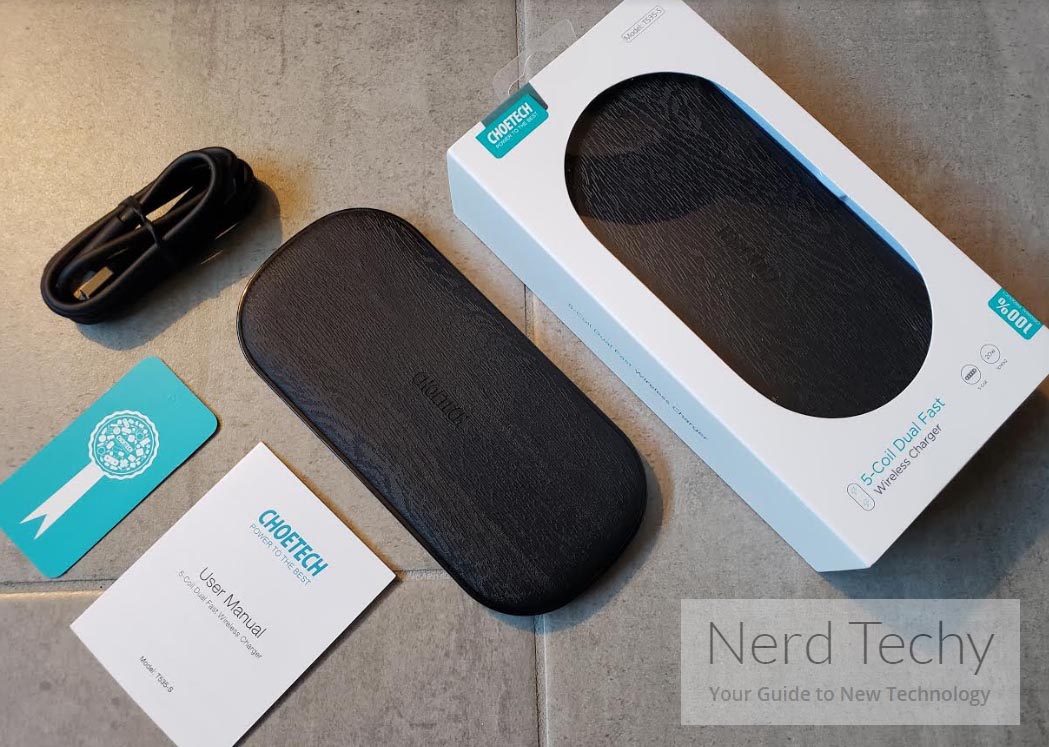 Build & Design
Because these chargers often end up on a nightstand, they tend to be made pretty small and compact. This particular charging platform measures 6.7 x 3 x 0.5 inches, making it no exception to the rule. It's pretty thin, and just scarcely large enough to host two full-sized smartphones.
Even though you don't need this kind of charger to be particularly sturdy, it's worth noting this charger does feel about as solid as a rock. The only thing that doesn't give the impression it could survive a heavy blow is the fairy lightweight nature of the platform, weighing about 12 ounces.
That weight partially contributes to its stability, but it's mostly stabilized by being rubberized on the bottom of the unit. You don't really have to worry about the pad sliding around, even if both phones decide to start vibrating at the same time. Even when you're using this charger on a glass surface, stability is pretty stellar.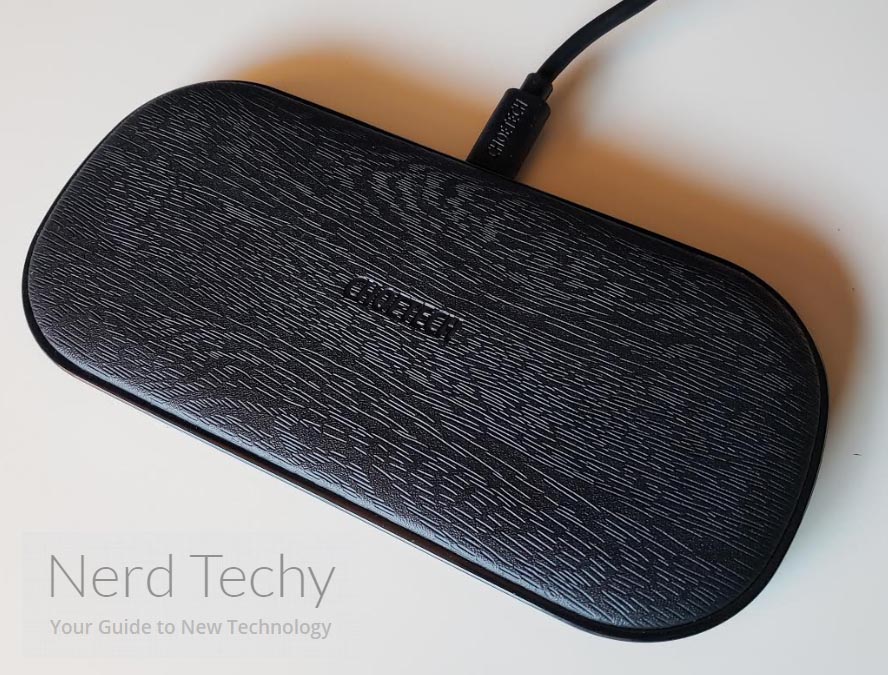 From an aesthetic perspective, the platform looks a bit like a flattened speaker. It's covered in a texturized grating that looks similar to audio speakers, but there's no hidden secrets here, it's really just a cool style decision. Sometimes chargers include large LCD display screens and other visual attractions, but those tend to be counterproductive when you're not placing the charger inside your office. And even then, they can be a bit distracting.
This charger is powered through a standard USB-C connection. For that purpose, it includes a DC wall charger that terminates in a USB-C cable. One problem you might encounter is that the included cable only runs about four feet in length. Fortunately, the cable is actually removable from the included charging socket, so you can replace the cable with a lengthier option as needed.
Status LEDs
Two bright blue LEDs give you visual feedback about the status of your charge. If you're currently drawing a charge from the platform, then the blue LED beneath that device will be blinking. If the charge has finished, the LED becomes solid. Terribly intuitive – you won't need to crack open the user manual to remember that one.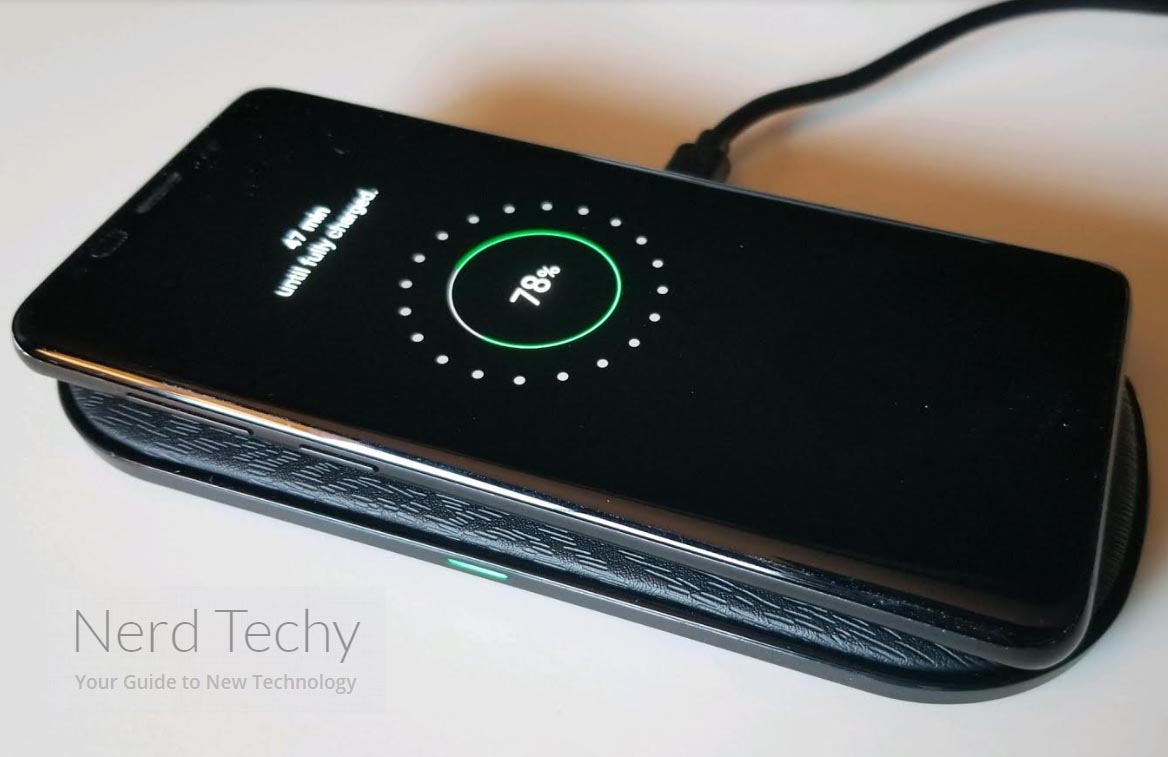 Moreover, the CHEOTECH Dual Wireless Charger made their LEDs wonderfully dim. Once again, that's useful for people who place their charger on a nightstand. With the wrong charging platform, the status LEDs can be as bright as a nightlight. It's great CHOETECH didn't make that kind of mistake, though it only requires some tape to fix.
At some point in time, CHOETECH will have to develop a wireless charger that's capable of handling more than two phones at the same time. Two spaces are a good first step, but with only a couple more inches, this pad could be expanded to four devices. As wireless charging capabilities become more common, that kind of expandability could be a great thing. Of course, if they made it any larger, they might as well put some legs on it and make it a table.
Using the Charger
With charging platforms, sometimes it can be tough to position your devices correctly. In fact, that's probably the toughest part of using any wireless platform. The earliest generations of these devices were notoriously bad at it. But fortunately, the CHOETECH platform isn't nearly as finicky as those types of devices.
After you have some experience placing your phone on the charger, you can pretty much do it without looking. The only way your phone doesn't start charging when you place it down is if you've done a horrible job misaligning it. You only need to have a vague idea of where the battery is in your phone, and then plop it down near either side of the center of the platform.
Some docking stations give you physical indication of where your phone ought to be. Darkened circles, indentations, or other signs that help let you know. But the CHOETECH charger is packed with five powerful coils, allowing you to charge from virtually any portion of it lengthy surface.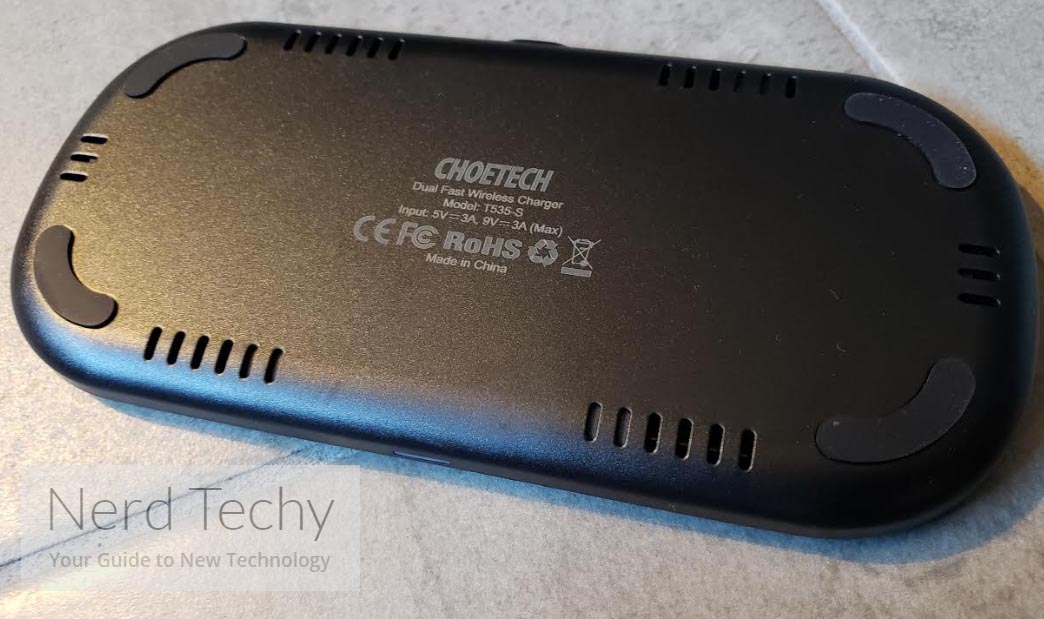 Wireless Charging Speeds
Some cutting-edge phones are capable of running wireless charging speeds that are faster than others. This charger is capable of supporting the latest and greatest speeds, including support for the iPhone XR and its 7.5W rapid charging capacity. That's pretty much the golden standard for wireless charging right now. Once again, we start bumping into the benefits of a 5-coil design.
This charging pad is capable of delivering a full 2.4A from the platform. Of course, there's one common sense caveat in that statement. You have to connect the wireless charger to some type of power source. If you plug it into a wall outlet, you'd have no issues. But if you powered the charger with a weaker source of current, like 1A, then you would find your wireless charging speeds would not exceed that limit.
How long does it take to recharge a bigger phone like an iPhone XS or Samsung S10+? Pretty much the same amount of time as it takes when you're using a wired connection. And without wires? That's fairly impressive. It's somewhat surprising that they're able to offer the latest and greatest charging speeds without a price that makes you want to gouge out your eyes. But that's probably a good thing.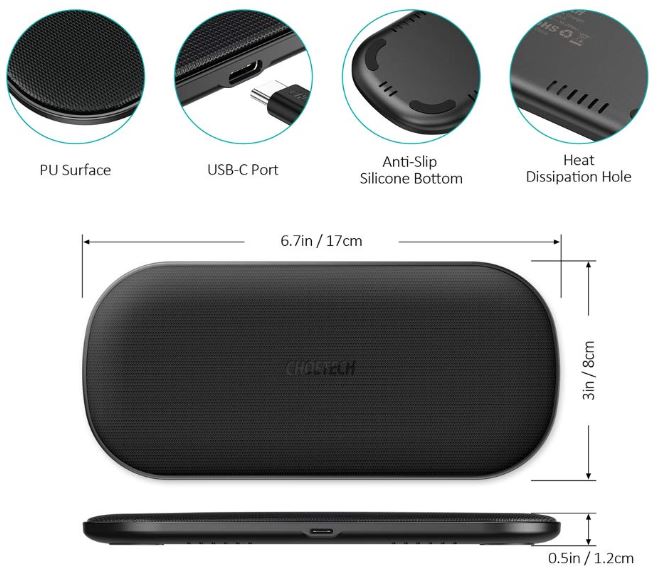 Charging Through Cases
For any wireless charging, in order to maintain efficiency while charging, you should remove your phone case. It's not absolutely necessary for charging to work with this wireless charger, but it will definitely speed things up by a little bit. How much of a difference are we talking about?
It's actually not night and day. With your typical phone case removed, you might be able to shred 10-minutes off your charging time. That's really only the kind of thing you can appreciate if you're trying to get a couple of minutes on the charger before grabbing your phone and heading out the door.
Mostly, you don't have to worry about case thickness. In fact, the maximum thickness of a case is about 6mm, which is much thicker than most cases ever get. But you will encounter some issues if you're using extremely thick casing, at which point you'd have to remove it for certain.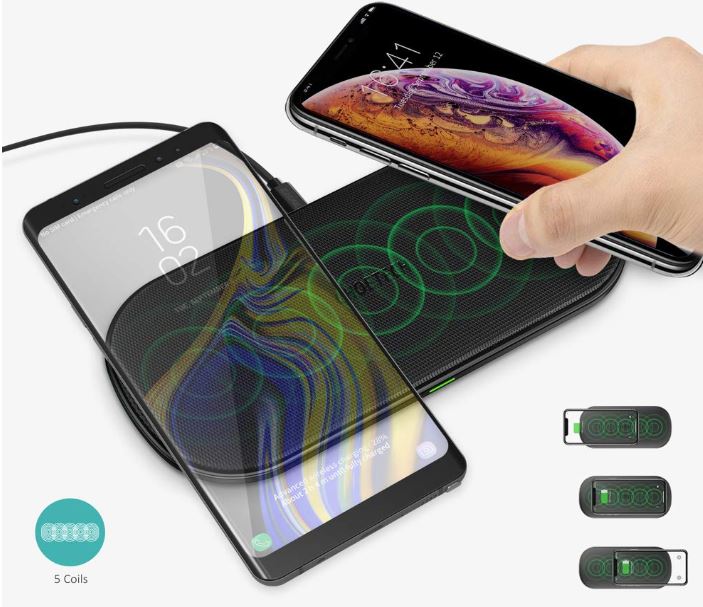 Other Considerations
This charger is not actually capable of working with the iPhone — even though "iPhone" is in the title description on many of its listings. Because this charger doesn't work for devices that aren't able to use Qi features, like the Apple Watch or Air Pods. You need a Qi-enabled device, like an iPhone 8. It can't charge an iPad, or any other device that does not happen to be Qi-enabled.
For people who are concerned about safety, you can rest easy. CHOETECH made their dual wireless charger to follow international safety standards, including RoHS, CE, and FCC certifications. That way, you don't have to worry about over-charging and over-temperature problems. Nor worry about over-charging your batteries and wasting electrical energy.
In addition to the charger, this kit includes a USB-C cable and a power adapter. It also includes an 18-month warranty alongside tech support. If this charger has one real weakness, it's CHOETECH's tech support isn't English based. That's a pretty small problem because it's pretty unlikely you'll need to deal with their tech support at all.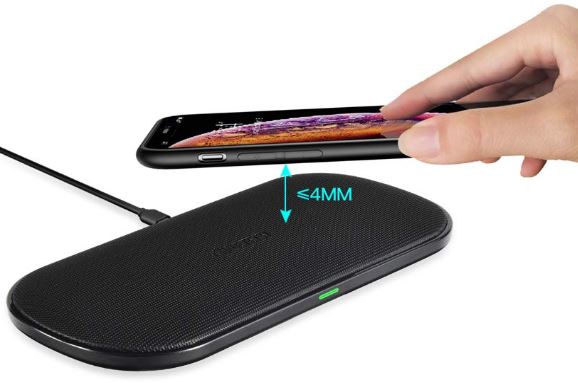 Who Should Choose the CHOETECH Dual Wireless Charger?
The CHOETECH Dual Wireless Charger was made for a specific type of person. If you don't actually have two Qi-enabled devices you need to charge, then this is probably the wrong the wrong choice for you. Because even though charger is competitively priced compared to some higher end single-device chargers, you could certainly save a few bucks if you only needed to charge one device.
If you do have two devices that need charging, there are very few wireless chargers that begin to compare with this one. From a technical perspective, it keeps wireless speeds blazing. It doesn't require you to fiddle with smartphone placement because it's totally intuitive to use. And it was smartly designed, so it won't overcharge your devices or ruin your batteries if you sleep in while your phone is charging.
What matters more than anything is this charger can move power around. It's got enough raw power to rapidly charge a pair of 4000mAh Samsung Note 9's. And at the same time. Someone who needs to power up two devices at the same time will find the CHOETECH Dual Wireless Charger a fantastic value and a fairly natural choice.