You can get a minimalistic charging station for about $20. It'll look and feel like cheap plastic. It'll only charge one of your devices. Unless it was made specifically for your device, there's a good chance your phone won't even fit well on the station. For people who want something better, there are always better options.
The ways one charging station outperforms another really comes down to detail. It's in the detail of how quickly things get recharged, the visual angles at which your devices are held, and even the weight of the device. Sometimes this is fairly easy to see, but it almost always requires a close examination to get right.
Belkin Powerhouse Charge Dock for Apple Watch
As the name suggests, the Powerhouse Charge Dock can charge both an iPhone and Apple Watch. It does so simultaneously by combining a wireless charging platform for the watch with a Lightning connector for the iPhone. Like most stations, the dock keeps your watch and iPhone above the surface of your nightstand, which can help protect them from scratches.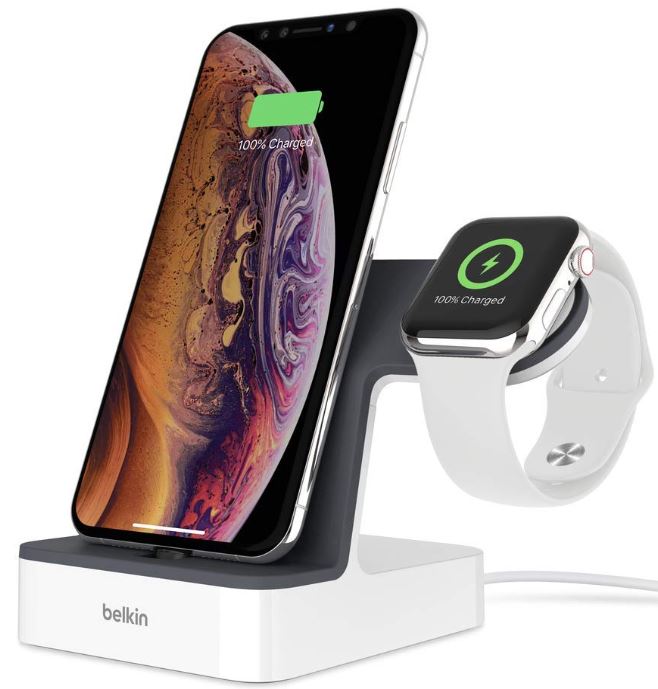 What's the difference between one charging station and another? It's similar to the difference between the iPhone and an Android. Though both do essentially the same thing, small details can count. The Powerhouse Charge Dock is aimed specifically at Apple fans, and so made with the intent of providing a station that feels high-end in every detail.
Overall, it would be accurate to characterize the quality of the Belkin Powerhouse as well above average. This charging station seems to aspire to be just as high quality as the products to which it's connected.
It does that not only in terms of function, but also aesthetic and ease of use. Nowhere is that more clear than in the MFI certification of the Powerhouse Charge Dock, indicating it meets or exceeds performance standards set out by Apple.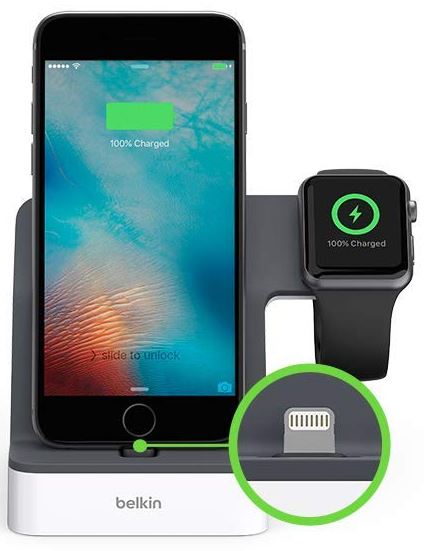 Build & Design
The Belkin Powerhouse Charge Dock for Apple Watch is actually stunningly small and compact. Measuring only 3.75 x 3.2 x 3.7-inches, and weighing just over one pound, it can fit comfortably in your hand. Its weight is shifted towards the bottom of the charging station, mostly in the interests of stability.
The Powerhouse's fairly small size means the physical footprint of the dock is great for environments with minimal space. Whether you're using a small nightstand, or you only have a finite amount of space left on your nightstand, you can fit this tiny charger almost anywhere.
Its weight actually gets closer to two pounds once you've loaded it up with your iPhone and Apple Watch. That makes it actually a bit on the heavy side, ensuring it won't slide off your table at the first provocation. The bottom also has been rubberized to ensure it firmly sticks against almost any surface. It even does well against glass surfaces.
For instance, the charging dock itself is white, matching Apple's own aesthetic. The layer where you place your devices is actually a distinctive shade of Belkin gray, though this gray is largely covered when your devices are positioned on the dock.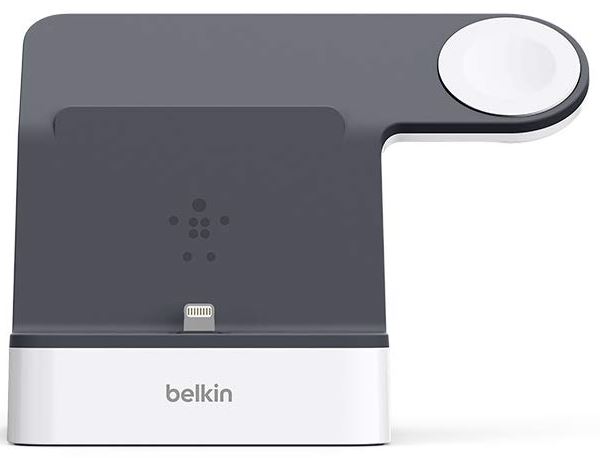 Wired Connection
Your iPhone connects with the help of a versa case dial. This dial-based adapter connection allows the connector to be raised or lowered, and that's key for making a charging station that can help fit most phones with most cases.
Because the dial is spring connected, you can lean your phone forward 30-degrees as though you wanted it to fall to the floor. Once you release it, your phone springs right back into positon. You probably shouldn't do this over-and-over, but it's nice to know how securely your phone is connected to the Belkin Powerhouse Charge Dock for Apple Watch. A few bumps against the nightstand won't lead to a terrible disaster.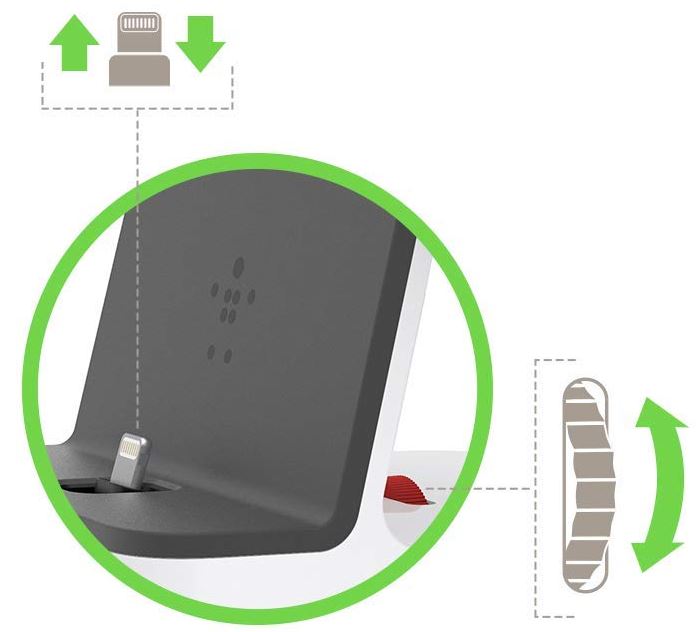 Wireless Watch Charging
Making wireless charging platforms work well can be tricky. Fortunately, Belkin has plenty of practice. From the start, it's clear the magnetic charging module is the circular portion of the device. When your watch is securely in the charging position, near the outer edge of the charging arm, which makes it easy to grab-and-go.
When placing an Apple Watch onto the recharging arm, you don't need to be particularly careful about positioning it. Though it is possible to push your watch too-far towards the phone platform, at which point the charge will be interrupted. This is actually convenient if the watch reaches 100% charge, but you don't want to take it off the platform. You can stop the charge, which is good for the battery, by sliding the watch slightly to the left.
The recharge platform doesn't have any mechanisms to hold your Apple Watch in place. Instead the platform has been angled to accommodate the approximate length of the timepiece, which lets gravity to do the rest of the work. And the upward angle of the charging plate makes it easier to see the status of your charge, regardless if you're viewing from a low angle or a high angle. Again, an excellent design for a nightstand.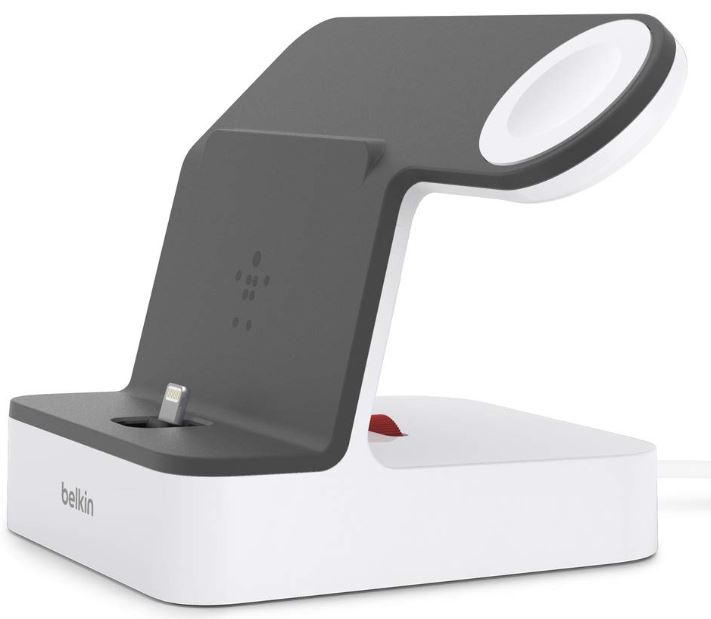 Charging Speeds
The Belkin Powerhouse Charge Dock can offer a total power output of 3.4A. You manage to arrive at that figure with 1A of current delivered to the Apple Watch, and 2.4A delivered to the iPhone. That's fast enough to take advantage of rapid charge features, and get your iPhone from empty to full in as little as two hours.
2.4A output also ensures even if you get a phone with a larger battery, this docking station will be able to keep up. It's fairly safe to say the Belkin Powerhouse Charge Dock for Apple Watch is futureproof. When it comes to longevity, the only things you have to worry about are the age of the formats involved with this docking station.
With new generations if the iPhone and Apple Watch, for the next couple of years, it's overwhelmingly likely they'll continue to use the same connector ports. Maybe in 10-years, we'll all be charging our devices wirelessly from a lightbulb plugged into the ceiling. You never know where technology will go.
You'll probably be able to make use of this docking station for about as long as Lightning Ports and wireless watch charging continues to be used. Eight or ten years wouldn't be a totally unrealistic expectation for longevity.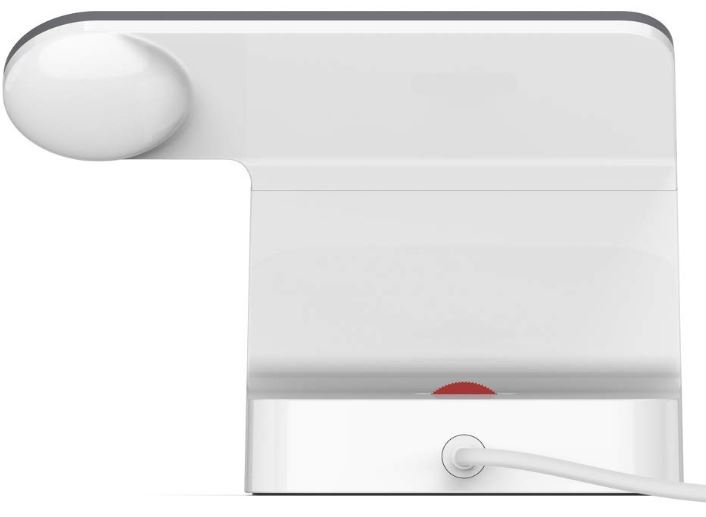 Potential Problems
The Belkin Powerhouse Charge Dock includes an AC adapter, allowing you to connect the charger to a wall outlet. The problem is the included AC adapter is very short, scarcely longer than 3.5ft. Power outlets that are far from your nightstand will certainly be difficult to reach without the help of an extension cable.
There's one more minor criticism to be made. Apart from the cable being short, the portion of the cable that connects to the wall is actually very large. Once you've got it connected, it can block other portions of your outlet, depending on how you position it. A minor flaw, but one that can be agitating when you find two products that both want to be in the bottom wall socket.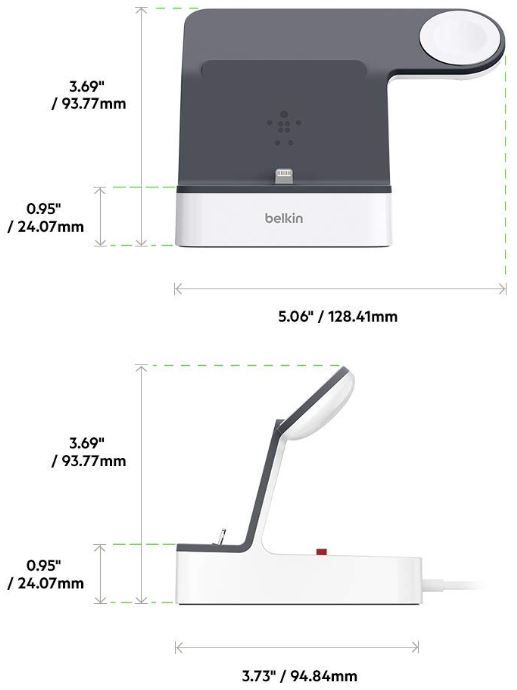 Other Considerations
The Belkin Powerhouse was made specifically for Apple products. That allows it to be compatible with the iPhone XS, XS Max, X, 8, 8 Plus, and absolutely any other iPhone that happens to have a Lightning connector you can use.
Belkin brings their own experience to the table when it comes to safety standards. They make use of safe zone operating temperatures, voltage control features, and similar protections to ensure your iPhone is never placed at risk. This type of thing can be easy to overlook because people are willing to take for granted that their electronics are protected. But without these kinds of protections, you can end up in hot water fast.
With the Apple Watch, you'll find compatibility for series one through four. There's really no reason to think Apple will make a drastic change in format for future iterations of the Apple Watch, either. At least, not until we see some amazing breakthroughs in wireless charging technology. Consequently, it's easy to imagine this charging station will continue to be useful for future iterations of both the Apple Watch and iPhone.
Unfortunately, Belkin's warranty depends on your location. In most places, you'll find a lifetime warranty for nearly all equipment similar to the Belkin Powerhouse Charge Dock for Apple Watch. If you're living outside of the United States, you may find those warranties closer to 2-years, or otherwise made to be in-line with regional law.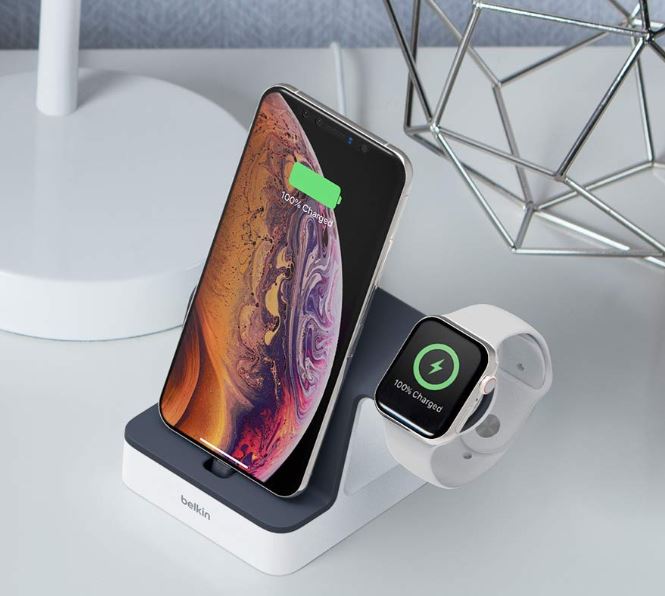 Who Should Choose the Belkin Powerhouse Charge Dock?
The Belkin Powerhouse Charge Dock for Apple Watch has many things going for it. It's at least three quarters of the way to being a perfect charging station, and it's well-worth all the love it's received from people who have tried it. Just about the only thing to really dislike about this charging station is the price.
It is on the pricey side, but paying a little extra for excellence is well-within the ethos of the Apple brand. Consequently, it's hard to hold that against the station. If you're looking for excellence, you usually have to be willing to pay for it.
With respect to its charging speed, it's everything you could expect from a charging station. Belkin knows what they're doing with this type of peripheral, and this certainly isn't the first time they've made gear specifically for Apple products.
Though the arm could be used to hold other things with a little imagination, if you don't have an Apple Watch, this charger is somewhat suboptimal. But people who have an Apple Watch probably already have an iPhone. And the Belkin Powerhouse Charge Dock for Apple Watch really makes sense for someone who has both.