Designers need different monitors than ordinary people do. When you're developing digital content, you need to know the way an image looks on your screen is also the way it looks on someone else's. Which means you need to be able to move through different types of color space.
Unfortunately, a rich color space is one of the most expensive features you can get on any panel. Fortunately, after you've found it, the right equipment can be worth its weight in gold.
BenQ PD3220U 31.5" 4K HDR Monitor
It's true, 4K monitors aren't exactly cheap. However, they've certainly become far more affordable over the past few years. And they're finally at a level where ordinary people can upgrade to 4K without taking out a second mortgage.
The BenQ PD3220U comes close to being a future-proof monitor. Combining 4K content with other cutting edge technologies, there's little to criticize about this panel apart from its price. And with respect to cost, the BenQ PD3220U is about average for this type of panel. But that's not entirely accurate because it's hard to find other panels that truly compare to the PD3220U.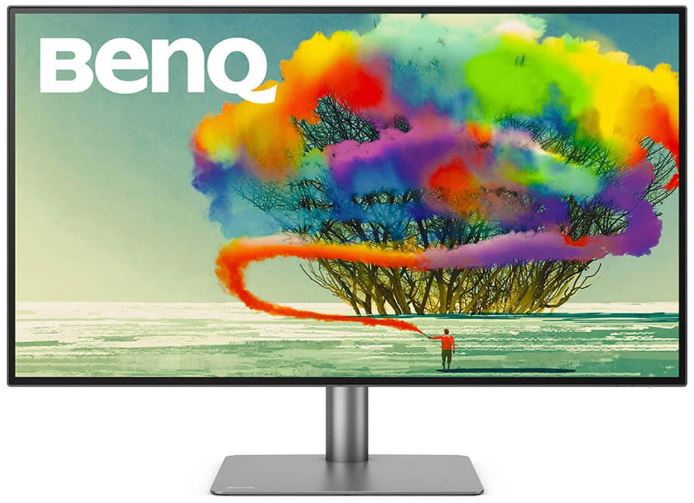 Sure, there are other panels out there with similar features in separate bodies, but few monitors with so many features in one place. For instance, the PD3220U can support nearly all types of color gamut which are used by any professional today.
Being able to run every popular color format isn't totally novel, but the DualView mode takes things to the next level by letting you experience two separate color spaces at the same time.
Along with some basics like Thunderbolt 3 connectivity, a built-in KVM switch, and a hardware hotkey puck, the PD3220U certainly provides plenty of options to keep you in control of the presentation of your display.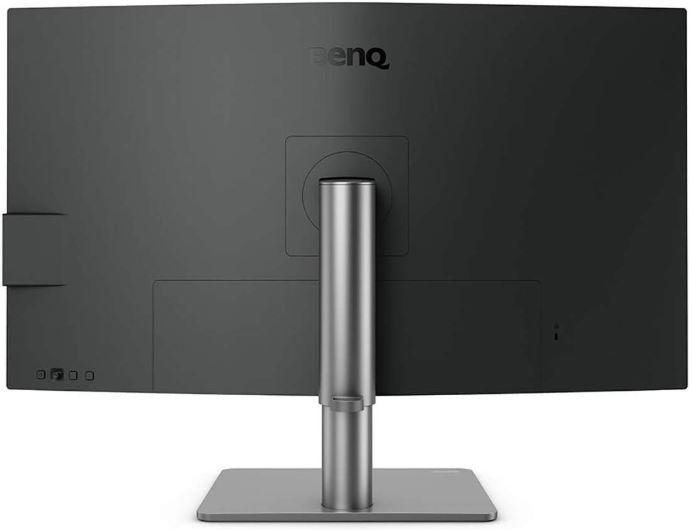 Build & Design
Like all 31.5" panels, that screen size measurement is taken diagonally. The actual screen area measures 27.45 x 15.44 inches. By modern standards, this monitor has a pretty ordinary design. The bezel is thin as can be. But BenQ's marketing department probably realized people don't care that much about bezel thickness anymore, so they don't mention it.
The backside of this monitor provides little in the way of distinction or decoration. The black casing is only highlighted by the silver steel stand. Speaking of the stand, the BenQ PD3220U weighs about 23 lbs. once you include the stand.

If you plan on using a VESA mount, then you can discard the stand and drop down to 17lbs in the process. Still pretty heavy, but not enough to get in the way of basically any third-party monitor stand designed to hold a panel of this size.
Will you need to change to a third party stand? Perhaps not. The included stand has swivel adjustment that lets you move in a free motion of about 60°, meaning about 30° in either direction horizontally. The tilt adjustment runs between -5° and 20°, which is considerably greater than most monitor stands. But admittedly, it's not totally as versatile as a third party stand.

Ports & Connections
On the backside of the panel, you'll discover two Thunderbolt 3 connections. The strongest of these ports is capable of pushing as much as 85W, which is good enough to power even sizeable 15" laptops. You won't be able to power up massive gaming laptops, however.
You'll also find a DisplayPort 1.4 connector positioned next to a pair of HDMI 2.0 ports. That covers almost all of your bases. Then, things are rounded out with three USB 3.1 ports, which are next to a USB-C port and headphone jack. Though you won't find support for older monitor cords, that's nothing an adapter can't fix.
Hardware Adjustments & Sound
In addition to the panel, the BenQ PD3220U includes a hotkey puck. Often times, these types of extras end up crammed in the bottom of a drawer. But the hotkey puck is actually very handy for people who need to make adjustments to their panel on the fly.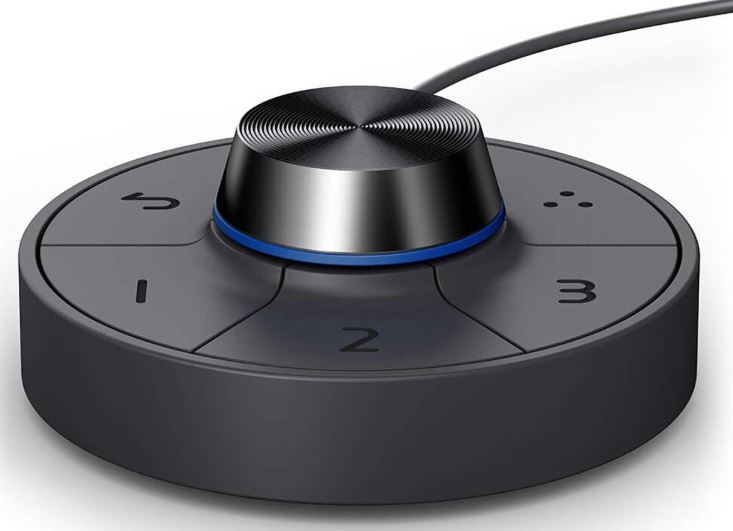 It's built around three function keys and rotation key, which allow you to adjust contract, brightness, and so forth. Just move the dial on the pick, and if you don't like your change, tap the return key to go back to your previous settings. Pretty convenient.
The bottom of the bezel also hides away a pair of 2W speakers for a total audio output of 4W. Monitor speakers are rarely impressive, and this panel is no exception. If you don't have a headset around, these speakers can help in a pinch. But it would be a shame to have to rely on them for regular use because they sound like someone stuffed a smartphone into the bottom of a coffee can.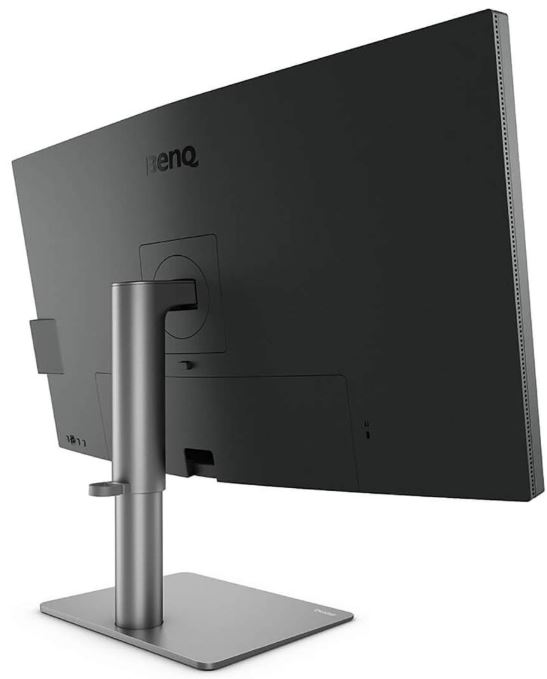 Display Quality
When your screen size reaches out to 50" or larger, it can be tough to appreciate 4K content. Because it comes out looking so similar to 1080p or worse. But when you're working with a 31.5" panel, you're positioned to help see 4K at its best. Pixel density works out to 138ppi, which is pretty fantastic for any typical viewing distance.
The display is centered around a 31.5" IPS panel which delivers 10-bit color. The 3840×2160 resolution is quite suitable for that screen size. Because it's an IPS panel, you get great viewing angles out to about 180°. The screen is complete with a highly practical anti-glare coating. Though some designers might prefer a glossy finish, matte is certainly the more practical and common choice for people who don't have total control over their environmental conditions.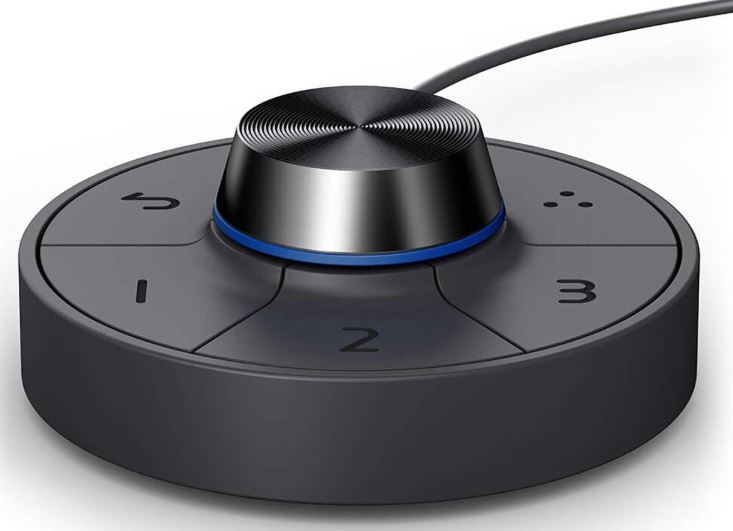 Color Quality
The PD3220U is a professional display that was made specifically for designers. If you need to work in rich color spaces, this panel can almost do it all. It covers 100% of sRGB and Rec. 709. It also covers 95% of DCI-P3 and display P3. Similar to most other LCDs made specifically for designers, the PD3220U is capable of replicating 1.07 billion colors.
Another thing that makes panel a little unique is that it can offer so many choices for color space options, including Adobe RGB, DCI-P3, sRGB, and Display P3. It should almost go without saying that this panel has HDR support.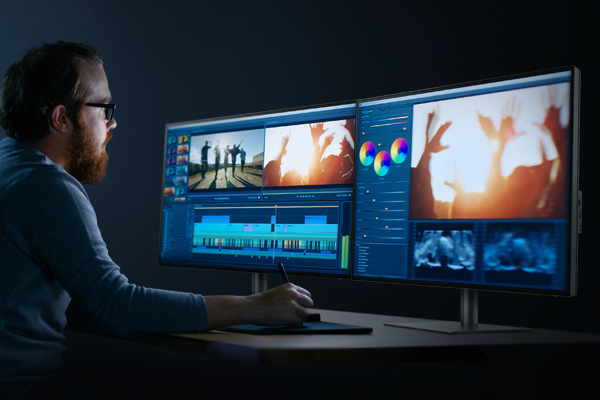 For brightness, you're looking at 300 nits. That's not bad, it certainly helps the colors shine and stand out. But it's a little for certain niche projects. You're not going to use this monitor for post-production on HDR content.
All these color features are thanks to BenQ's proprietary AQColor technology. You also end up saving a lot of time because the PD3220U is shipped with factory calibration. It looks good out of the box because they actually took the time to help adjust the colors, ensuring you don't have to spend an hour fixing it yourself.
Added Video Modes
The PD3220U was given a couple of cool video modes specific to designers. For instance, there's a specially tuned animation mode, which can be used to make dark areas a bit enhanced without overexposing other parts of your image in the process. There's a darkroom mode, which can be used for post-processing environments. If you find yourself doing some video editing, it can be pretty handy to seeing true to life colors.
The CAD/CAM mode can be used to enhance the contrast. As explained earlier, the DualView mode lets you display images inside two different color spaces at the same time. And speaking of seeing multiple color spaces, the built-in KVM switch is highly effective for more than one PC on a display.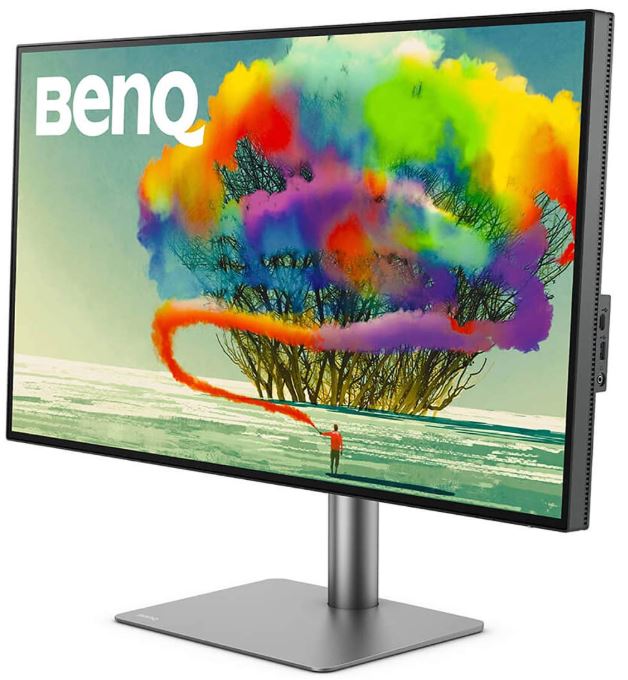 Thoughts About Gaming
The PD3220U isn't exactly a gaming monitor. Running 5ms response time isn't a significant barrier, but 60Hz refresh rates makes this monitor subpar for certain types of fast-action games. Being able to explore new world with an expanded color space is fantastic for enjoying a cinematic gaming experiences, but having standard 60Hz refresh rates isn't. On the other hand, neither of those things get in the way of enjoying this panel for movies and other types of media.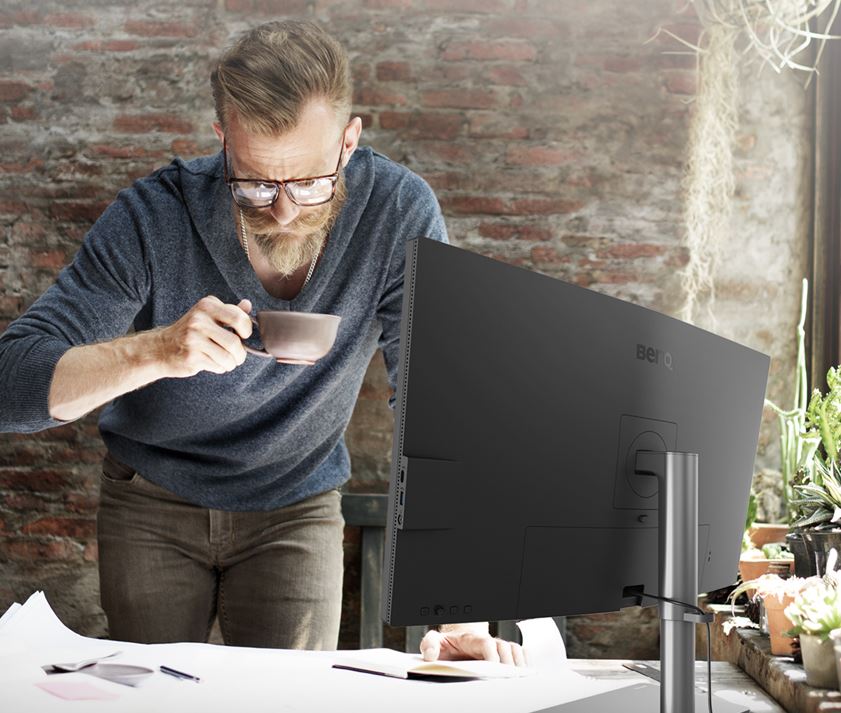 Other Considerations
It's becoming pretty common for monitors to include features that protect you from blue light. For someone who's using this panel as their daily driver, BenQ Low Blue Light Technology can be pretty handy at avoiding eye fatigue. Unfortunately, people who are experienced working in the color space will generally be unable to take advantage of those modes. But they might consider blue light glasses to help when possible to wear them.
It supports HDCP 2.2 for copyrighted content. Additionally, BenQ included an ICCsync feature which can help designers match various ICC profiles while moving between several monitors and PCs. That way, you can make color adjustments without having to undergo half a dozen separate steps. Very convenient when paired with the included hardware pick.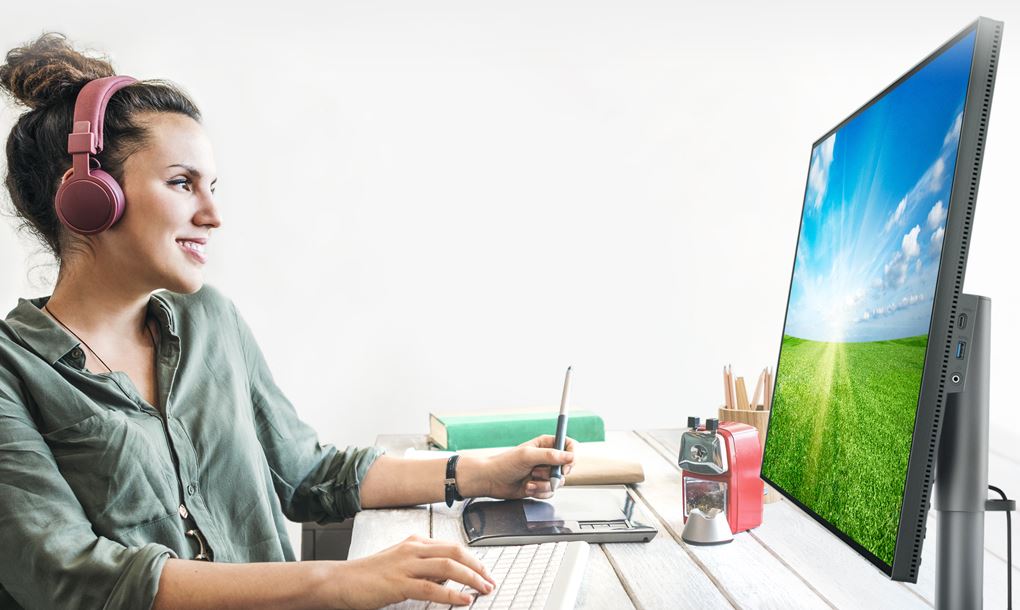 Who Should Choose the BenQ PD3220U 31.5" 4K HDR Monitor?
What's to love about the BenQ PD3220U 31.5" 4K HDR Monitor? How easy it is to work with. Especially because you can run two different instances of two different color spaces at the same time. That doesn't exactly preclude the need for a second monitor, but it certainly does lot to ensure you can get almost everything done on one.
If you don't need to be able to view several different color spaces, and you didn't need to do visual work, then you'd be better off picking a monitor made for entertainment, like the AOC AG322QC4 Gaming Monitor. Because finding another panel with a high HDR certification and respectable color space options could help you save hundreds. But professionals can't take those kinds of shortcuts.
This monitor doesn't have to try hard to distinguish itself. With the built-in KVM switch, darkroom mode, and all the other numerous video modes, you've got lots of tools for creation at your disposal. Supporting HDMI 2.0 and USB-C is pretty forward looking. Consequently, it's easy to imagine being able to get a decade of consistent professional use out of a panel like this. Which makes it a good choice for people who have to pay attention to detail when working with color, and who can therefore appreciate the investment.
Meet Derek, "TechGuru," a 34-year-old technology enthusiast with a deep passion for tech innovations. With extensive experience, he specializes in gaming hardware and software, and has expertise in gadgets, custom PCs, and audio.
Besides writing about tech and reviewing new products, Derek enjoys traveling, hiking, and photography. Committed to keeping up with the latest industry trends, he aims to guide readers in making informed tech decisions.