Wireless audio can be a like a dream come true, but it can also be like a nightmare. It all depends how well your earbuds sync, how long their batteries last, and how comfortable it feels while you're using them. Finding a good pair doesn't have to be tough when you know exactly what you're trying to get.
EOZ Air Premium True Wireless Earphones
EOZ Air are pretty dynamic headphones. Though not explicitly made for athletic activities, these headphones could easily be taken to the gym or worn for a jog. Though not made specifically for movies, they're fantastic for using alongside your smartphone, tablet, or other devices to help enjoy media. In other words, they're generalists rather than specialists.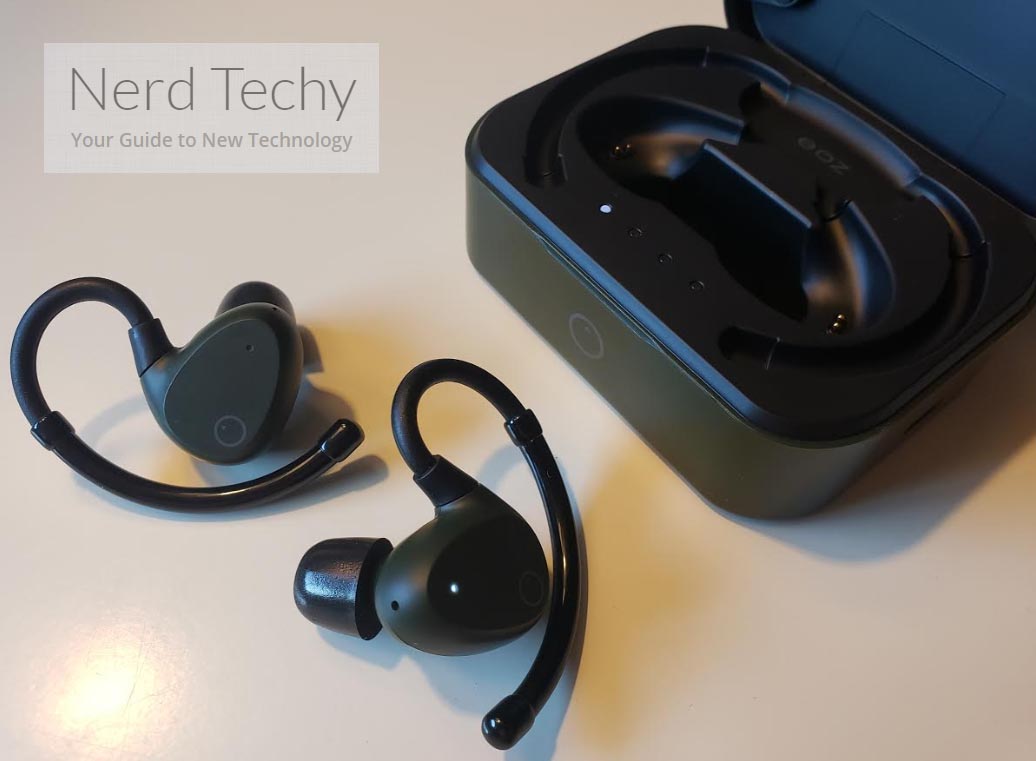 Is there anything that makes the EOZ Air special? Certainly their battery capacity. After accounting for their charging case, these earbuds have some of the best battery performance you'll find around this price point. They also have some above-average noise isolation and comfort options. And when it comes to audio quality, EOZ Air Premium aren't exactly a disappointment either.
But there's only so much technology you can pack into a single pair of earbuds around this price point. After loading up the battery so well, another element of their play has to pay the price. In this case, that element is actually pretty hard to find. But not impossible.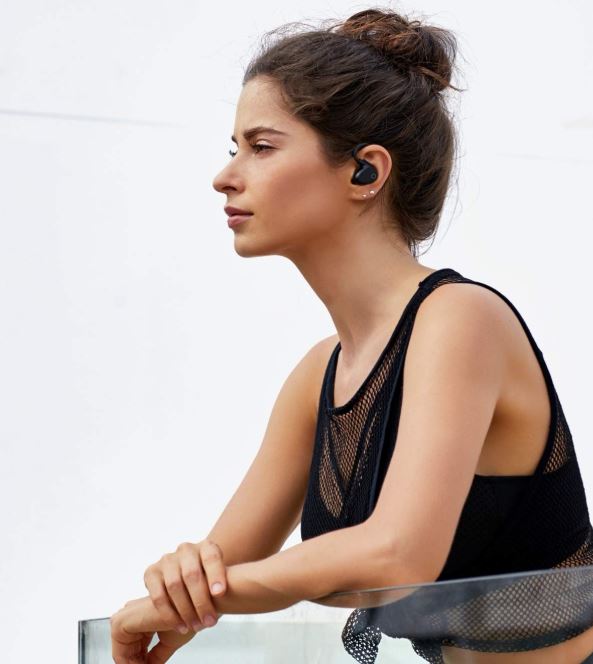 Build & Design
EOZ Air Earbuds are built from a combination of nano-coated ABS plastic and aluminum. It's certainly an interesting mix of form and function. Though people have the intuition that all-metal earbuds would be cool, using ABS is really the way to go for portability and comfort. Because it's terribly lightweight, but still quite sturdy.
The metal portion of these earbuds is actually PVDed aluminum secure-fit tubes. They do more than just look pretty – they actually have a pretty important role to play with respect to your wireless connectivity and microphone. But we'll get to that later.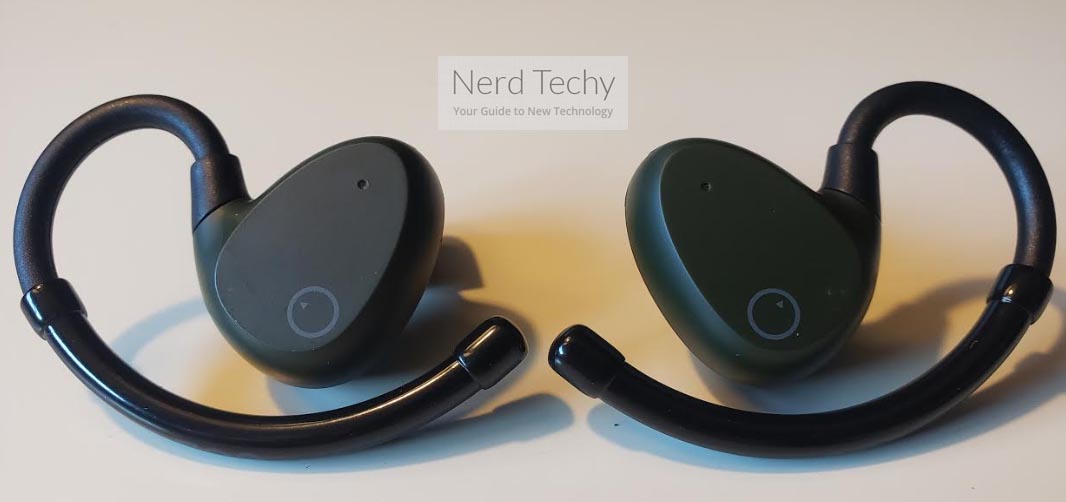 EOZ Air's entire surface is covered with a protective nano coating, ensuring these buds can supply you with an IPX5 waterproof certification. However, that's one of the lower waterproof ratings. It indicates these buds are safe from sweat, rain, and similar sources of wetness. But you probably wouldn't want to go for a dip with these earbuds in, nor would you want to take them into the shower.
Concerned about keeping your earbuds in one place when they're out of the case? EOZ Air includes a vegan leather leash that can help you do just that. Responsibly sourced, this leather leash is intended to help keep your buds from becoming separated, and making them a bit easier to physically handle.
The leash runs about 21" in length, and the material feels about as smooth and natural as leather can feel. It doesn't look bad, either. Speaking of style, these earbuds are available in five color options.
Those options include black, black and silver, black and gold, rose and white, or green and silver. In each case, the base of the ear stem is made from the same aluminum components, ensuring their signature style isn't disturbed as you move from one set to the next.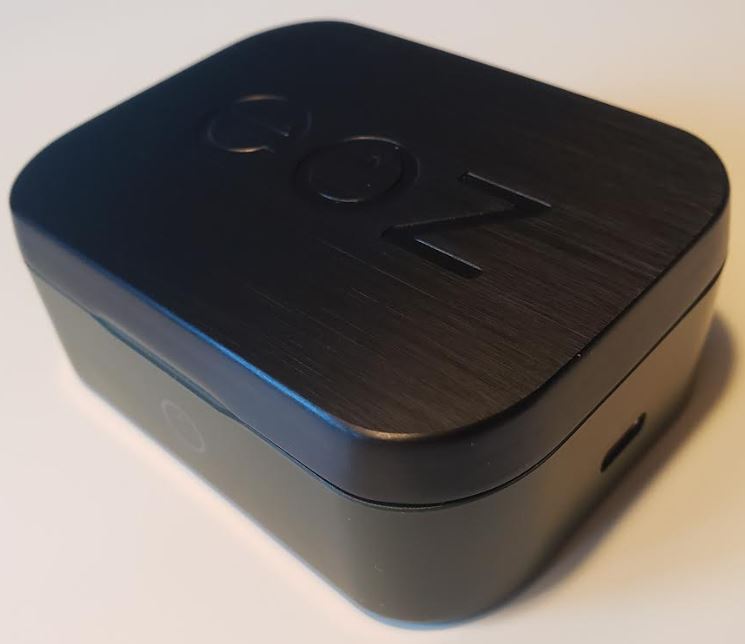 Charging Case
The charging case is probably one of the smaller setups you can find on the market currently. The case measures only 2.4 x 3.1 x 1.1 inches, making it wonderfully compact, and especially slim. From an aesthetic perspective, the case doesn't feel as high-end as the earbuds. It looks a little generic, even though it was clearly constructed specifically for the unique shape of them.
Tucked away on the backside of the case, you'll find a USB-C charging port. Taking advantage of USB-C helps ensure you end up with some pretty fast charging speeds. Also related to charging speeds, you'll notice the charging pins are gold plated to help resist corrosion. It doesn't hurt that the gold helps these earphones look pretty high-class, too.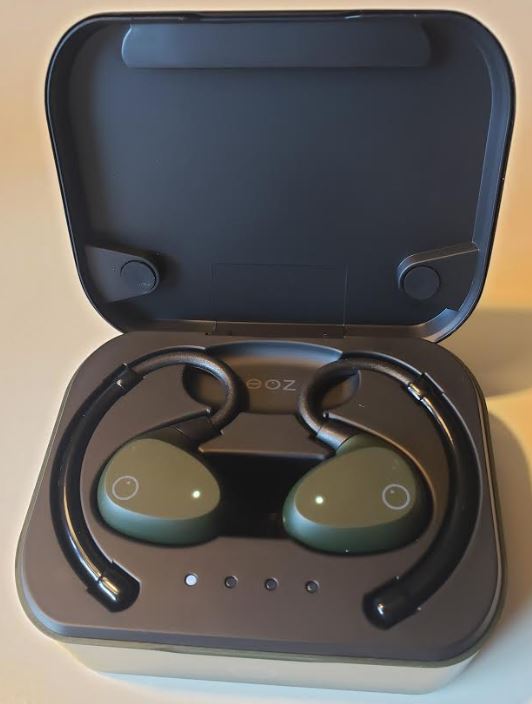 Audio Quality
EOZ Air have their audio created with the help of 8mm drivers. Those drivers have been nano-coated with some pretty sophisticated acoustic technologies, but the electro-dynamic output isn't really unique by any measure of the imagination. In fact, the 20-20,000Hz frequency range is pretty standard for equipment like this.
But experientially, these earbuds really do have a nice kick to them. Both the bass and treble seem to be a bit boosted. The mid-tones weren't given any special boosting, but instead seem to be focused more on delivering clarity. That's probably a wise decision because it translates beautifully into podcasts, vocal music, and taking calls with the Air Premium.
Earbuds may never be truly great when it comes to delivering deep bass tones. That's because they only have a small amount of air to manipulate around your eardrum. But the EOZ Air do a respectable job without causing their boosted bass to sound too heavy or bloated. Pretty solid stuff. And if you do find the bass is a little heavy for your taste, it's not too hard to back it off with an equalizer.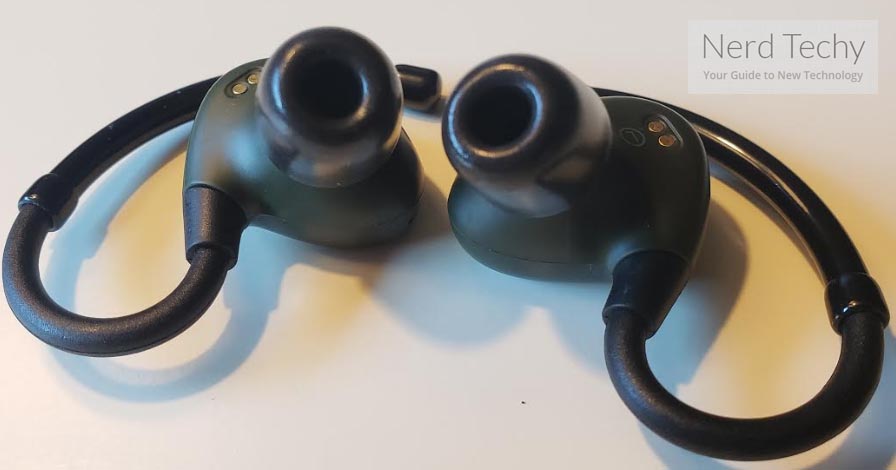 Comfort Concerns
These earbuds come with three silicone ear tip sizes. Fairly standard stuff. Being able to choose between three sizes provides you with an almost certain chance you'll be able to find a nice snug fit. People who have had significant issues finding a good fit in the past are really the only exception.
Beyond the basics, you'll find the EOZ Air also include two sizes of memory foam ear tips. Memory foam ear tips are becoming an increasingly common part of headphone kits like this one, but getting two separate sizes is actually pretty uncommon. Often times, you only get one pair in one size.
Which isn't too bad because memory foam is good at expanding to fit different ear sizes. But for people who actually expect to use those memory foam tips, it's pretty handy to have a smaller and larger size available. Both in the interests of comfort, and in the interests of noise isolation, having more options is clearly better.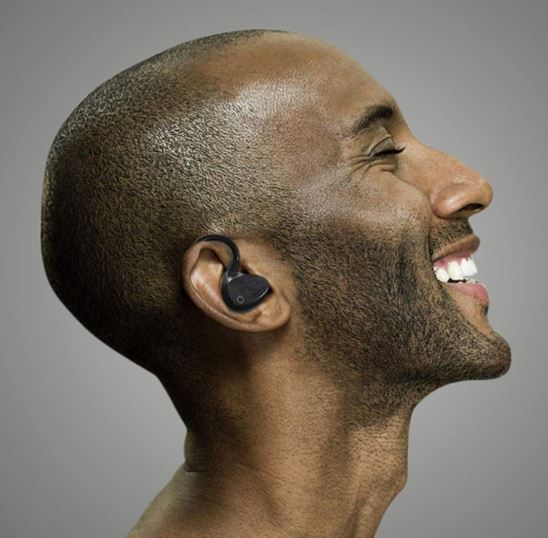 Battery Capacity
When all is said and done, the EOZ Air are able to deliver about 90-hours of battery life. But it takes a while to reach that point because each earphone is powered with a 50mAh battery. Those fairly small batteries are capable of delivering around six hours of playtime each.
In order to expand beyond that 6-hour mark, you'll need to start tapping into the charging case. The battery used inside the charging case is pretty large. It's a 2200mAh lithium-ion cell, sized similarly to a smartphone battery. Once you've emptied the case by recharging a few times, that's when you finally reach that 90-hour mark.
How about replenishing everything? A full charge of the case takes about 90-minutes. Fairly quick, almost entirely thanks to the USB-C design of the case. But that quick speed can be reduced if you go out of your way to start using a weaker charging source, like a 1A USB socket on an old laptop.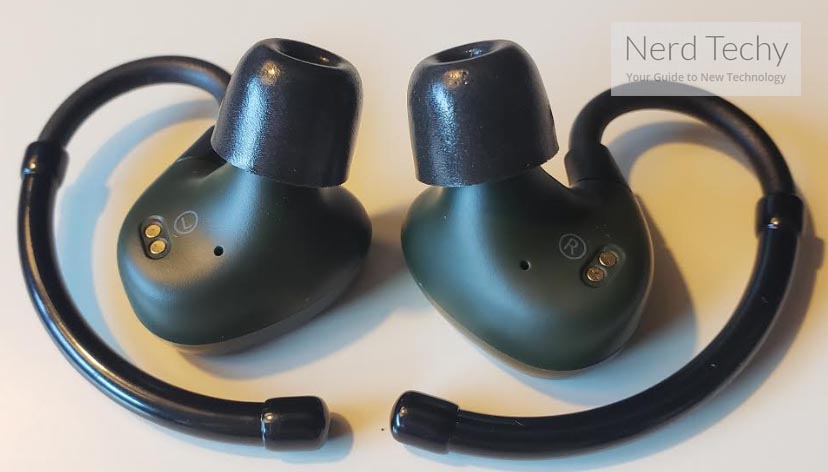 Call Quality
A significant portion of the EOZ Air design was made to help better accommodate calling. Which is why these earphones were constructed with a pair of separate beamforming microphones. Having separate microphones allows them to perform a more intelligent version of ambient noise reduction, distinguishing between your voice and background noises in your vicinity.
For whatever reason, EOZ Air Premium Earbuds aren't marketed as delivering business-quality calling. But it's fair to say they're capable of doing exactly that. It doesn't matter if you're trying to call someone in a busy supermarket or an active city street, these microphones are fantastic at helping carry voices with crystal clarity. There are always things that might have a negative impact on call performance, but you won't have to point any fingers at the mic.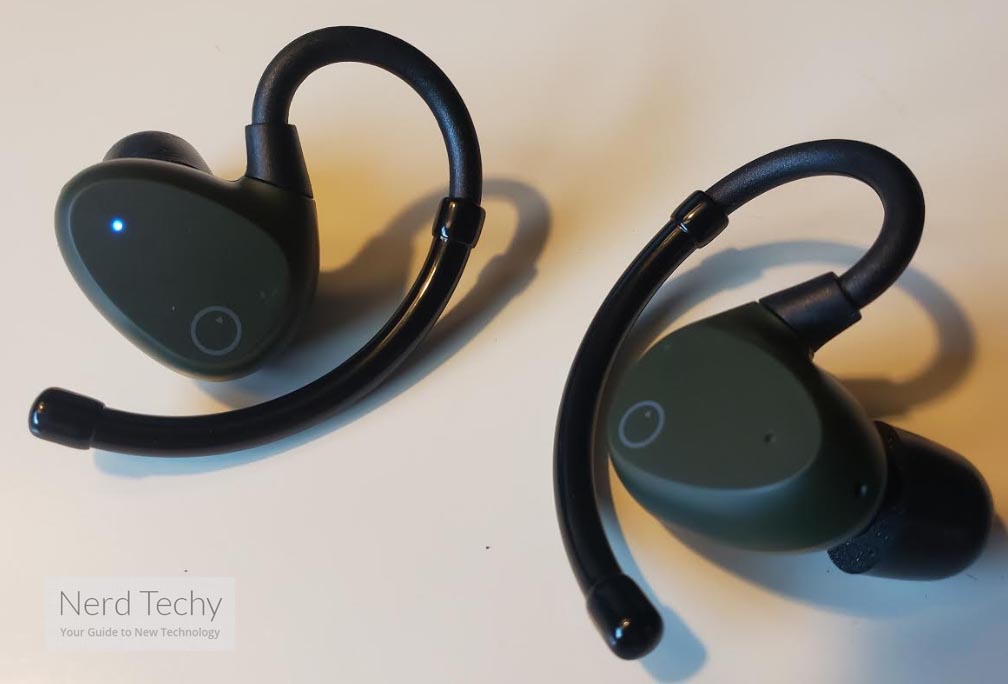 Wireless Connectivity
Part of that battery performance is due to the existence of Bluetooth 5. The difference between Bluetooth 5 and earlier versions isn't often night and day, but it's actually a pretty big difference for true wireless earbuds.
Because the advantages of Bluetooth 5 include automatic pairing, which also helps translate into better pairing between your buds. After an initial setup, you're able to remove the earbuds from their case and start using them immediately thanks to automatic pairing. Bluetooth 5 is also the way to go for ensuring the buds are allowed to maintain synced together over time.
Other Considerations
EOZ Air include a USB-C charging cable, vegan leather secure leash, three pairs of silicone ear tips, two pairs of memory foam ear tips, an EOZ membership card, and the EOZ charging case. It's a pretty all-inclusive kit. You can still shove all of that stuff inside of the charging case, too, so portability never becomes a concern.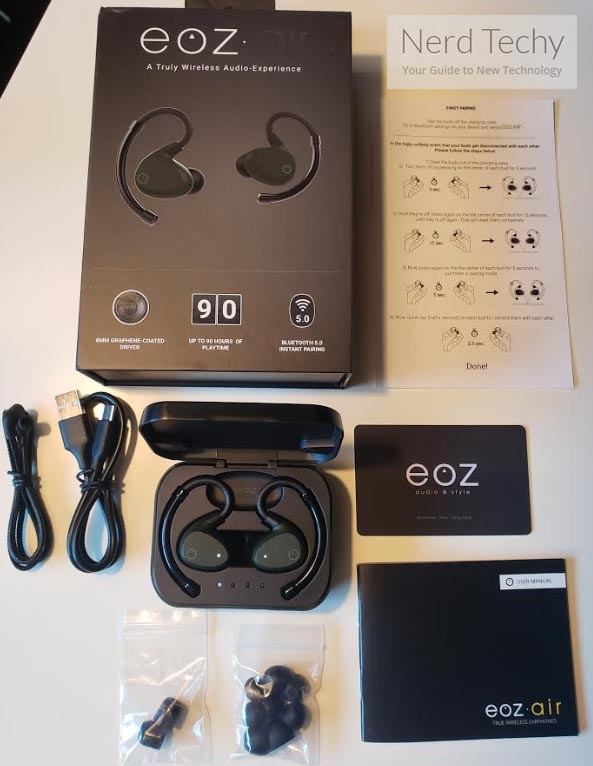 Who Should Choose the EOZ Air Premium True Wireless Earphones?
EOZ Air aren't right for everyone. Because these headphones have a lot of high end features packaged into one place. They combine cutting edge Bluetooth connectivity with the latest USB format, for some pretty compelling connectivity and battery lifespan opportunities. And if you're looking for something cheap and simple, EOZ Air Premium Earphones are probably not it.
Even being premium buds, there are things these earbuds still can't provide. For instance, they weren't given any native support for voice assistant features. And from a stylistic perspective, the charging case isn't much to look at. However, if you don't care about what's missing, there are plenty of reasons to you might like the EOZ Air.
They're enormously compact, and they carry a huge battery charge. The partially metallic construction of the earbuds looks fantastic, and helps them give off a high-end sort of vibe. That feeling only continues when you pop them in your ears and start listening, or when you start taking calls. For someone looking for solid mid-shelf headphones, EOZ Air are probably worth a shot.
Meet Derek, "TechGuru," a 34-year-old technology enthusiast with a deep passion for tech innovations. With extensive experience, he specializes in gaming hardware and software, and has expertise in gadgets, custom PCs, and audio.
Besides writing about tech and reviewing new products, Derek enjoys traveling, hiking, and photography. Committed to keeping up with the latest industry trends, he aims to guide readers in making informed tech decisions.