Connecting every source of audio in your home can be tricky. Not only is it sometimes technically challenging, it's often difficult to do without having a huge impact on decor. Audio systems tend to be made with a dominating black chassis that commands attention in a room, and then have countless wires running out the backside that make things even more complicated. But with the right set of wireless features, things can be a bit simpler.
Tivoli Audio Home Music System
Sometimes, appearances count. When it comes to a device that's supposed to be taking a prominent position in someone's home, a little attention to décor isn't uncalled for. And that's pretty much why the Tivoli Audio Home Music System was made with such great attention to detail. There's no denying the Home Music System looks high-class. And it's not just appearances because every one of these materials is pretty high-end. From the rubberized feet on the metallic legs, to the wood paneling of the unit itself, this thing is rock solid.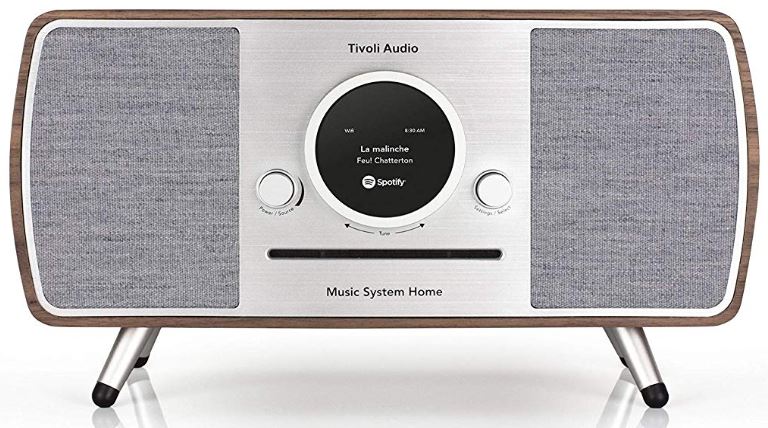 The Home Music System has several main features. But foremost are its playback features. The Tivoli Audio Music System lets you stream CD quality music from basically any streaming service. That might include Spotify, QQ, Deezer, or even your own home network of audio files. You can also play FM or AM radio, CD, DAB, or Bluetooth connections. So basically every kind of music media imaginable is included and supported for playback.
And of course, there's more to good audio than looking nice. How does the Tivoli system work when it comes to actually integrating your audio signals? The answer to that question will partially depend on the kind of devices that you need to connect to the network. But for a certain type of listener, this system is almost certainly going to have a strong appeal. It seems to have been made for people who value audio quality the same degree which they value good design.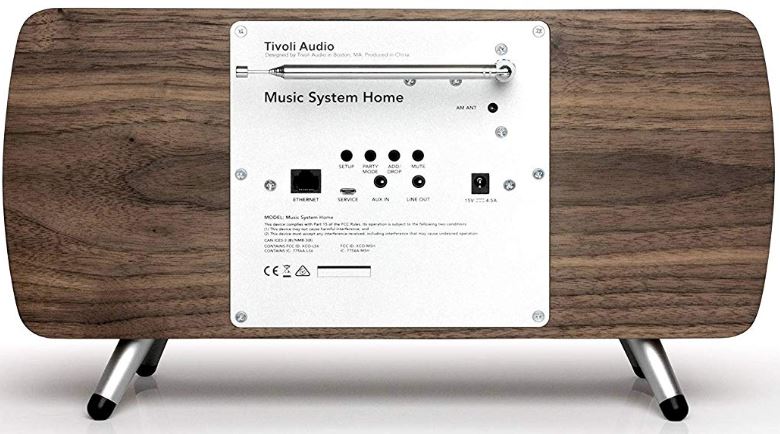 Design & Layout
The Home Music System measures 16 x 6.5 in x 8.75 inches. That's reasonably full sized. Though admittedly, if you decide to pop off the legs, it can be made a little more compact. Because it drops down by 1.75" when you remove the legs. In either case, virtually any place where you would be able to positon a radio, you should be able to position this system.
The whole thing weighs a bit more than 11lbs. That's comparably heavy when you're looking at systems with an aluminum exterior. Wood paneling helps make this thing a little heavier. But it's not so much that it becomes a problem to move it around as needed.
The Home Music System was made with a wood veneer cabinet finish. Instead of using something that only looks like wood, or using some kind of imitation wood, they've constricted it with real wood. Keeping things high-class, the fabric grill was specially made not only for its audio properties but for its durability but its fantastic presentation. For color options, you can find the Tivoli system in three variants: black on black, white on gray, and walnut on gray.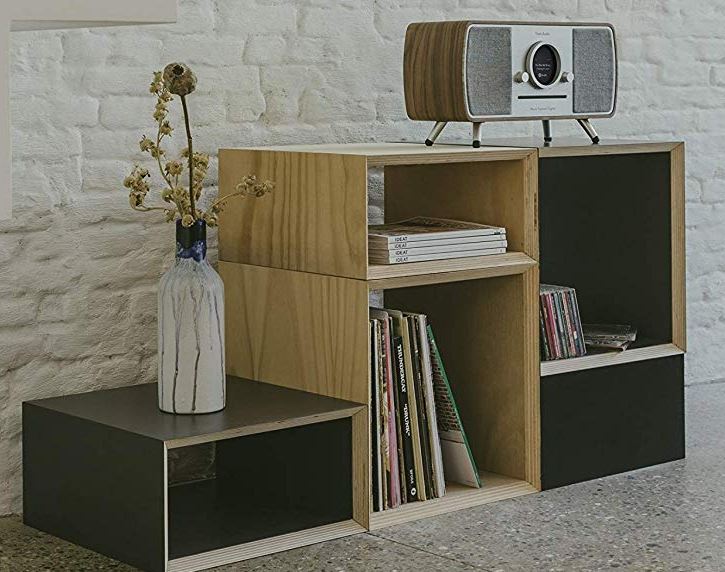 User Interface
The center display is circular and roughly the same size as a CD. It will display the time, the current source you're connected with, and information about the artist you're listening to. On either side of the display, there's a power/source switch, and a settings and selection switch. Tuning the radio is as simple as turning the circular ring around the display. Since the ring is so large, again, about the size of a CD, it provides slow and consistent incremental changes.
After having put so much effort into looking good on its front and sides, the back portion of the Tivoli Audio Home Music System is really utilitarian and bland. About half of the backside still uses the nice wooden chassis. But the center panel has to offer a lot of different audio ports, and it's always tricky to hide away a bunch of ports. Here is where they've played the Ethernet cable port, the 15V 4.5A power port, the line in-out aux connections, and a couple of control buttons.
The control buttons being placed here is a little surprising. Because they're not highly accessible placed on the backside. But in any case, one of them lets you enter the setup screen on the display. Another is a mute button. And the remaining two allow you to enter or leave sound modes that help change the tuning of the audio drivers. It's a pretty ordinary control interface, even if it is positioned oddly.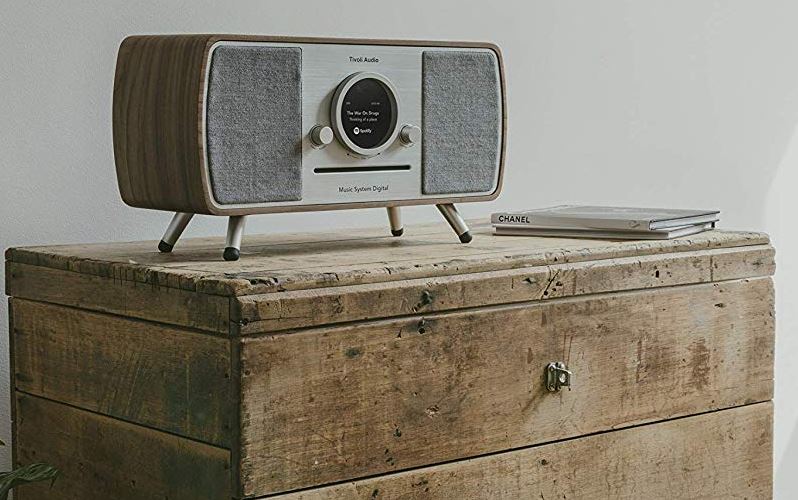 Wireless Connectivity
As you might expect, this system is Wi-Fi enabled, which is what allows it to access online services like Spotify. Of course, you might not want to use a wireless connection. That being the case, there's also an Ethernet jack on the back side. Pretty futuristic, right? But then, this system allows you to start integrating older formats. For instance, you can tap to move between an AM radio station and an online streaming service.
In addition to Wi-Fi, there's support for Bluetooth 4.1. So for connecting Bluetooth headphones, earbuds, or additional speakers, that can be very handy. The pairing process isn't quite as instant as with Bluetooth 5, but it's almost just as easy. And Bluetooth 5 is backwards compatible with Bluetooth 4. So if you're running a pair of earbuds on the 5th version, you don't have to worry about them working.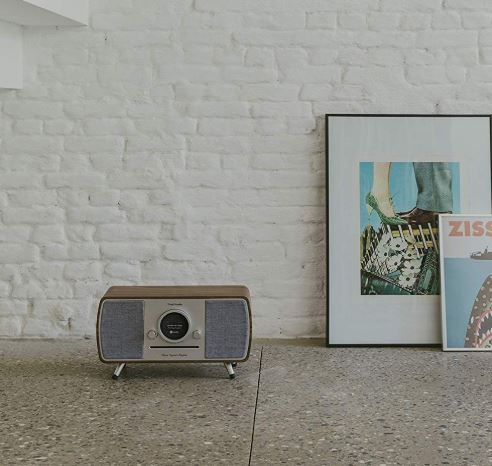 Another thing worth pointing out is how this device has native support for Amazon's Alexa. So if you use Alexa, then you can enable support for it from their free app. Additionally, the Home Music System can be used to play older analogue inputs. You can play CDs, and there's also a 3.5mm input and output port. That can be used to help you move audio signals from one device to another rather simply.
How do you manage all of this chaos? How do you maintain control over all of these options? Well, the user interface on the device itself does make things pretty straightforward. But many of the most convenient control options are actually crammed away inside of the free Tivoli Audio Wireless App.
That app allows you to setup the various playback options and sources at your disposal, and then basically use your smartphone or tablet as a remote control. Except since your smartphone isn't limited by the connection distance of infrared, it's far more powerful than a remote.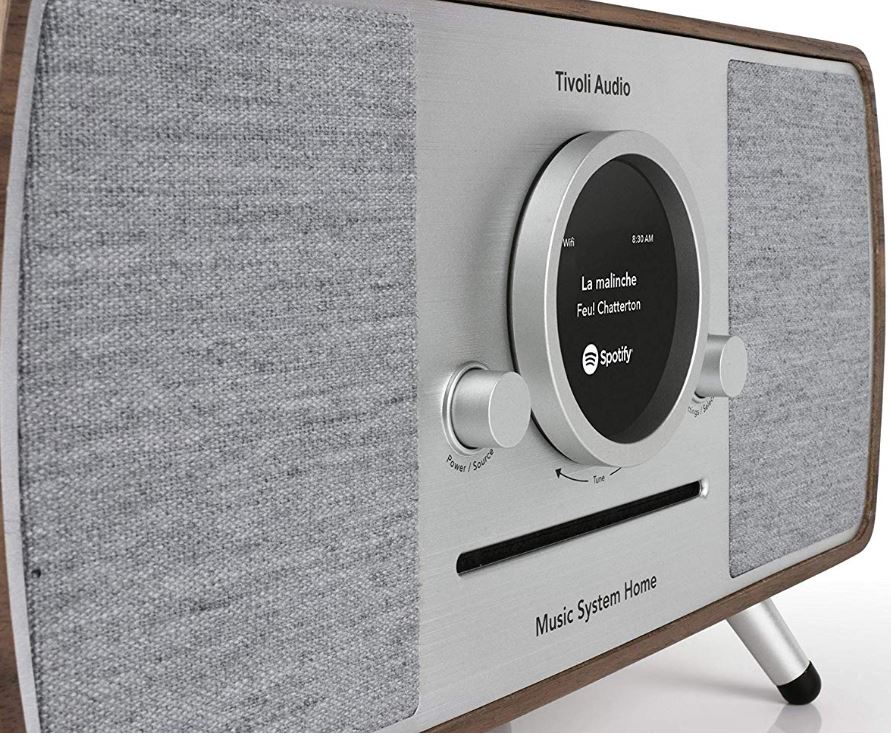 Audio Throughput
This machine has four front-drivers, helping to build balanced audio signature. And there's surprisingly deep bass considering they haven't built subwoofers into this system. But a lot of what this machine does for audio is done in background processes that are hard to appreciate. In other words, a lot of the best features are things like codec support, so you can guarantee low latency connections between your wireless devices, and effortlessly carry high resolution audio files across your network.
Those kinds of things aren't something that is easy to appreciate from afar. But when you start to listen to your music and everything just works, that's when it's easier to appreciate what the Home Music System can do for you. Still, this system does have a few sound limitations. It's not designed to carry surround sound signals, for instance.
Since the speakers don't have separate drivers for each part of the tonal range, like an included subwoofer or tweeter, the soundstage isn't as wide as you might expect from such an otherwise high quality sound system. But in a fair comparison against other stereo setups of this kind, these speakers do perform quite well.
It may also be important to remember that the speakers on this system are not the point. The speakers are just one more supporting part, one dimension of how this system is able to direct and redirect sound to the places where you want it.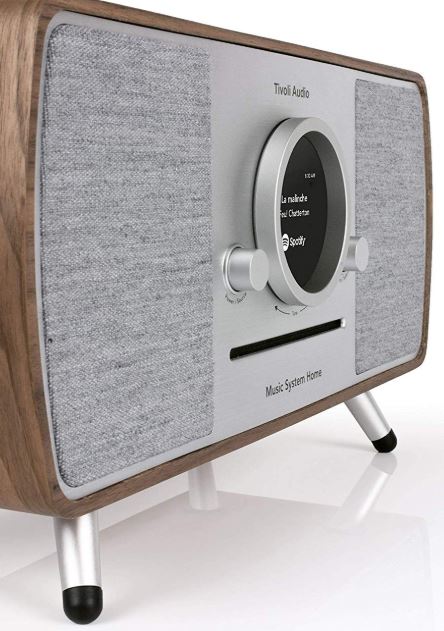 Other Considerations
Setup is pretty simple. Between Bluetooth and Wi-Fi, configuring this thing for a wireless network should take about two seconds. The connections on the backside are no more difficult to work with. And because so much is being handed by the wireless, there aren't that many wires on the back either.
As mentioned earlier, this system has app support. And wisely, the Home's Music System app can be operated on both iOS and Android devices. So there's virtually no limit with respect to the kind of devices that you can connect to the Home Music System.
Though this kit doesn't come with a bunch of extras, it does give you everything you need to get started. For instance, the Home Music System comes with a power supply, four metallic feet, one antenna, a remote control, a battery for the remote control, a quick start guide, and the system itself.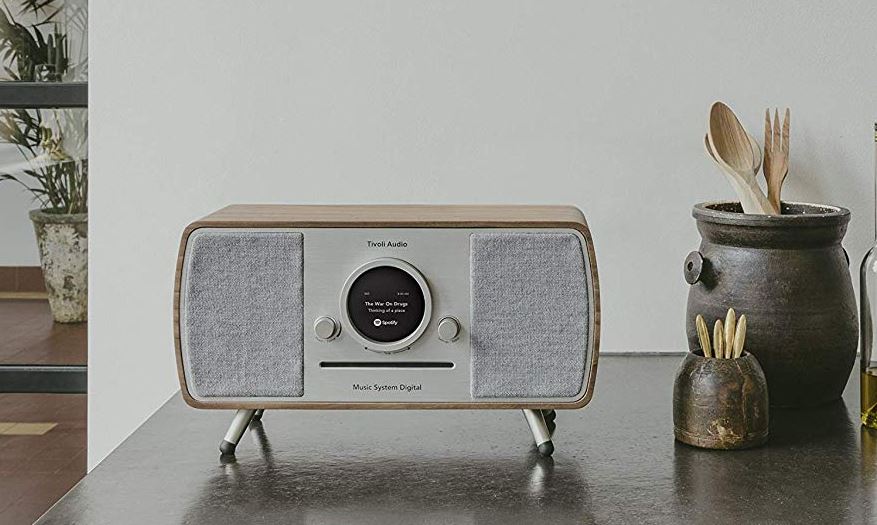 Who Should Choose the Tivoli Audio Home Music System?
You can find a lot of different audio systems out there. Some of them are really impressive. Part of what makes the Tivoli Audio system a little unique is because they've taken such care to make it a beautiful device. Though beauty is in the eye of the beholder, if you like wood, then you'll probably end up liking this system.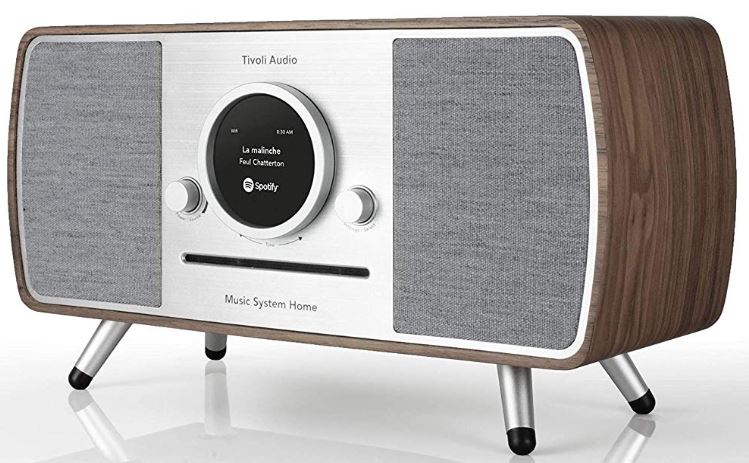 When it comes to audio performance, they haven't forgotten that at the end of the day, this thing needs to sound good. So the speakers do perform pretty well. They just don't defy the kind of limitations you should expect from a speaker system without a tweeter or subwoofer. Provided that you're connecting this system along with other audio devices, that shouldn't be an issue.
For organizing multiple data signals and data streams in your home, you can hardly find a classier way to do things. The backside might not be as pretty as the front, but it's easy to work with, easy to setup, and generally easy to appreciate this system.
Meet Derek, "TechGuru," a 34-year-old technology enthusiast with a deep passion for tech innovations. With extensive experience, he specializes in gaming hardware and software, and has expertise in gadgets, custom PCs, and audio.
Besides writing about tech and reviewing new products, Derek enjoys traveling, hiking, and photography. Committed to keeping up with the latest industry trends, he aims to guide readers in making informed tech decisions.