Picking the right portable speakers requires carefully weighing which types of options will work best for your unique circumstances. Sometimes you'll want to focus heavily on battery performance. Other times, you might need a greater connection distances from the Bluetooth.
And of course, sounding good is always important. But it's only after you've weighed all these factors together that you can really find the right sound equipment for you. It's also helpful if you can avoid speakers with some kind of fatal flaw in their design, but that tends to be a little less common.
BUGANI Outdoor Bluetooth Speaker
The BUGANI Outdoor Bluetooth Speaker was almost specifically made for people who are working at worksites, and people who want to take their speaker out camping. It's got a rugged outdoor friendly design which is supposed to be trustworthy for taking on trips with you. And it's hard to miss the enormously loud speakers, especially when you're looking at units which are around relatively the same size.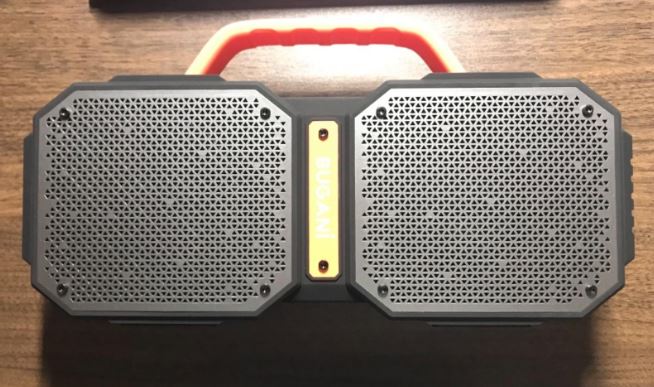 But power comes with drawbacks. That's particularly true when that power is well supported with a strong battery. Because it means you end up working with a significantly heavier speaker. That's not going to be the right choice for everyone, especially people who are thinking about carrying their speaker for a prolonged period of time. But it does make an appealing choice for someone who need their speakers to be loud.
And for the most part, you really do want to pick the largest audio equipment that's still reasonable for you to carry around. Because bigger drivers can generally deliver better performance, a larger chassis can carry a larger battery, and so forth. Provided you don't get burdened in the process of adding all that stuff.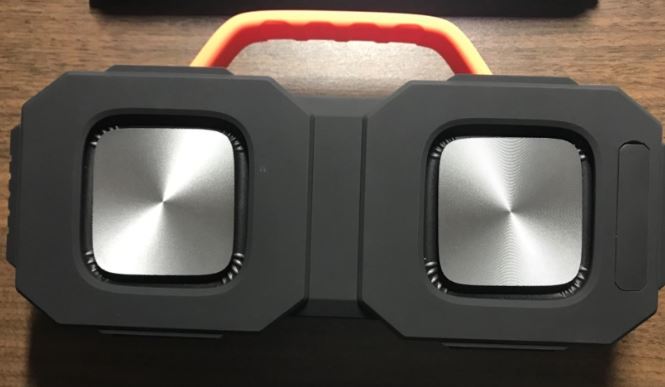 Design & Layout
The BUGANI Outdoor Bluetooth Speaker measures roughly 12.7 x 6.7 x 4.4 inches and weighs around 4.4 lbs. That makes it around the size and weight of an old boom-box, and a little bit heavier than some people are going to want to haul around. It may be worth noting the black and orange chassis was made with high visibility in mind, making this design useful for a number of different workspaces.
BUGANI has their logo printed between each speaker, but it's pretty low-key placement. The branding is easy to ignore, yet the speaker doesn't feel like it's too generic or without its own style. That's a really nice balance.
For controlling the unit, you'll find the interface is pretty approachable. On its side, you'll find a play/pause button, a mute button, a power button, and some +/- buttons that can be used to adjust volumes or skip around between tracks. You probably won't need to break out the user manual to figure out how to manage this thing. Additionally, the fact they've made all of the buttons quite large, and bright orange, makes them readable and easy to use.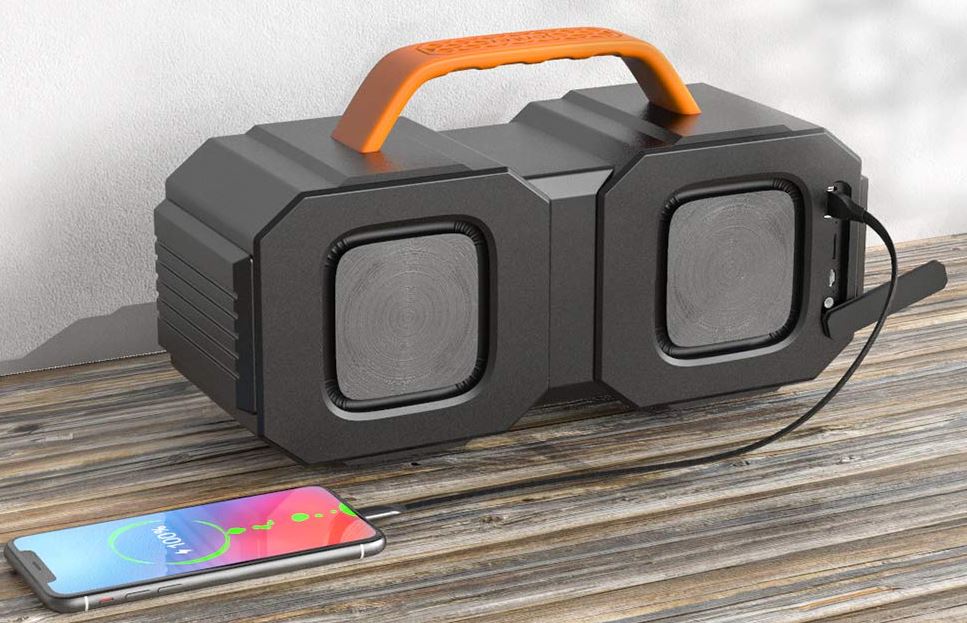 The IPX5 waterproof design of these speakers is actually one of the weaker waterproof ratings. You can expect these speakers to handle rain without an issue. They're also protected against dust and sand. But you wouldn't want to submerge them in water, nor would you want to try washing them down in the sink. Basically think of them are resisting water instead of being immune to it.
Battery Power & Wireless Connectivity
BUGANI speakers make their wireless connection through Bluetooth 5.0. You can also use micro SD cards, but it's really the Bluetooth that helps define this unit. Even though the best benefits of Bluetooth 5 aren't felt on a speaker like this, it's always easy to appreciate a stable connection.
The battery inside these speakers is a massive 8000mAh. Pretty proportionally sized to the size of the audio drivers. Actually, the battery can also be used as a portable power bank, allowing you to recharge your smartphone or similar small devices. Assuming you don't do that, it's supposed to provide about 40-hours of total playtime, though it lasts closer to 12 hours when you've got the volume playing on full blast.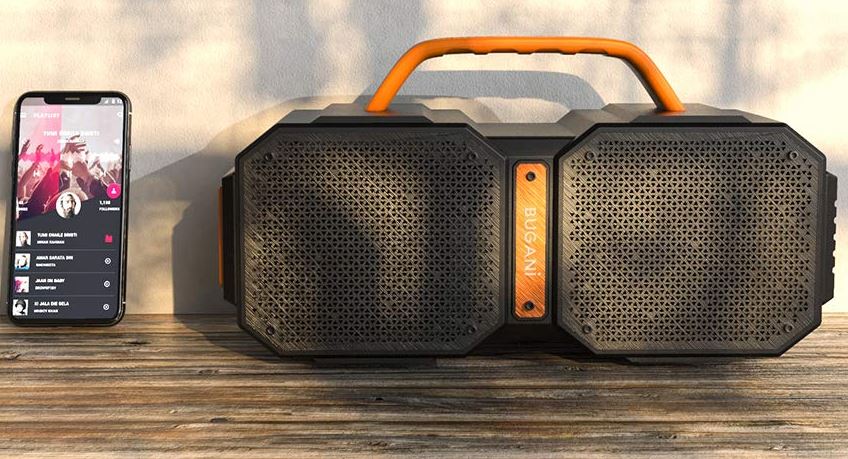 Audio Quality
You're looking at a total of 40 watts behind these speakers, and that promises quite a bit of volume. Though the relationship between volume and wattage isn't linear, there is a relationship. And with such a large battery, you can actually power these audio drivers for quite a while.
The bass is strong enough to shake whatever surface the speaker is placed on. Even though this speaker is still pretty small, it actually sounds much larger than it is. Though it ultimately faces the same limitations you'll find of any dynamic drivers in this price range, there's no denying the audio quality is pretty clear and crisp here. Much credit probably goes to Bluetooth.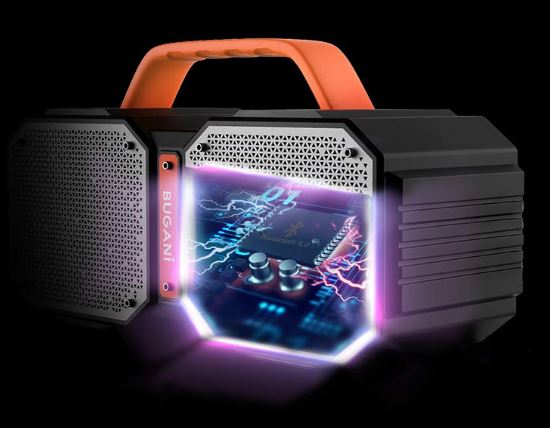 Other Considerations
Another thing to keep in mind is these speakers use a TWS feature, allowing you to use two separate BUGANI speakers. With one serving as the left channel, and one serving as the right channel, you can end up with more true-to-life stereo output.
The BUGANI Outdoor Bluetooth Speaker includes a micro USB charging cable, an AUX cable you can use to get around the Bluetooth connection, and a quick start guide. The user guide isn't very useful, but it does provide some insight on how to take care of the battery. BUGANI also includes a one-year warranty, and endless customer support.
NYNE Boost
The Boost is quite compact, measuring roughly 8.3 x 3.5 x 3.5 inches. This little thing hardly weighs 2lbs, making it dramatically more portable than the BUGANI Outdoor Speakers. Additionally, the NYNE Boost is available in two styles, black and gray. They look pretty similar because the black isn't that black, and the gray is fairly dark to begin with. But having options is always cool.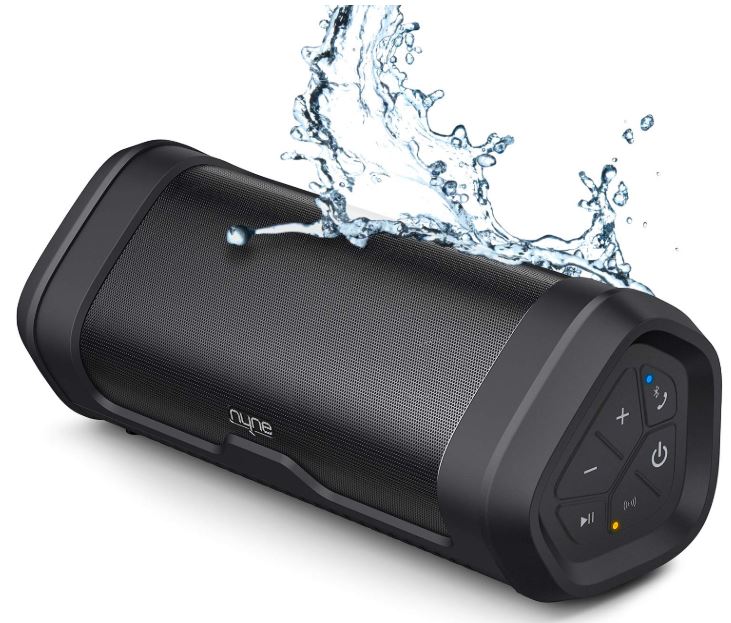 Similar to the BUGANI speakers, the NYNE Boost provides waterproofing protection. In this case, you'll find it uses an IP67 waterproof design. That's actually much stronger than the BUGANI waterproofing, allowing you to resist water for one meter of depth, for around 30 minutes. In other words, this chassis is ready for a pool party, and then some.
Battery Power & Wireless Connectivity
For wireless connectivity, Bluetooth 4.2 makes pairing pretty easy. Even though you're not working with Bluetooth 5, like the other speaker on this list, that difference really doesn't matter here. In both cases, you end up with a pretty stable connection. Though on difference that will matter to some is connectivity distance. These speakers allow Bluetooth connectivity within a range of 100 feet.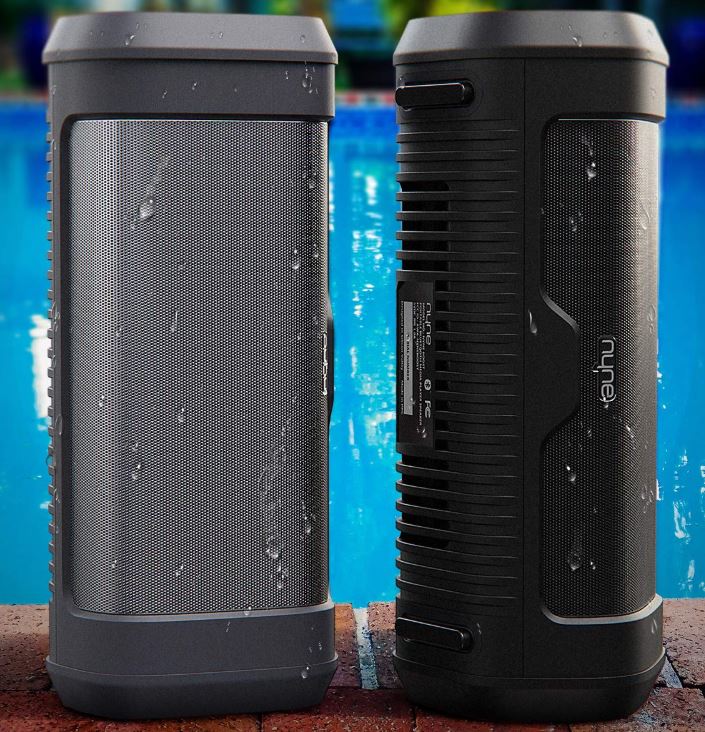 That's about three times larger than the more standard 30ft range of BUGANI's speakers. But like those speakers, you can still swap over to a 3.5mm aux-in line and skip the Bluetooth connection, if you wish. That allows this speaker to connect to devices that aren't Bluetooth enabled, and it allows you to save battery power by not having to operate the Bluetooth connection.
Since these audio drivers are a little more modestly sized to begin with, the 2200mAh capacity of this battery isn't actually as small as you might otherwise think. The internal battery capacity is can run a grand total of about 20 hours. In more practical terms, that works out to something like 400 songs or a dozen movies. Compared to BUGANI's speakers, this battery is about a quarter of the size. But that's also why this speaker is drastically lighter and more portable.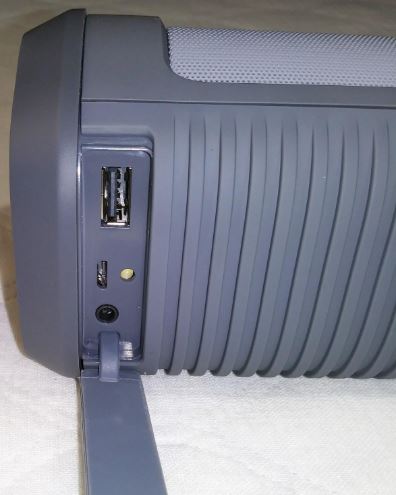 Audio Quality
The NYNE Boost is built around a Nyne Surround Speaker System, which is basically a fancy way of saying this device is good at projecting sound in a way that makes it seem a little more dynamic than it really is. Like the BUGANI speaker, this one is ideal for connecting to basically any type of device through Bluetooth. That includes tablets.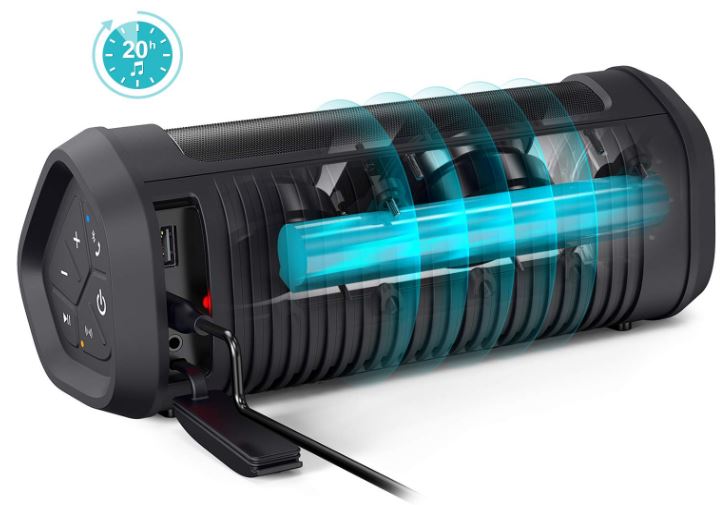 The audio is powered by a pair of 2" dynamic drivers, which are small but fairly strong. These drivers technically allow you to deliver stereo sound instead of mono sound. To help round things out a bit, there's also a single passive radiator to help provide a more rounded stereophonic sound.
Compared to the BUGANI, you'll find not quite as much volume potential from these speakers. There's also general less emphasis on bass tones, and more emphasis on delivering treble and maintaining clarity. If you're looking to fill a giant room with sound, this probably isn't the right choice for you. But if you're doing basically anything short of that, these speakers are likely to serve you well.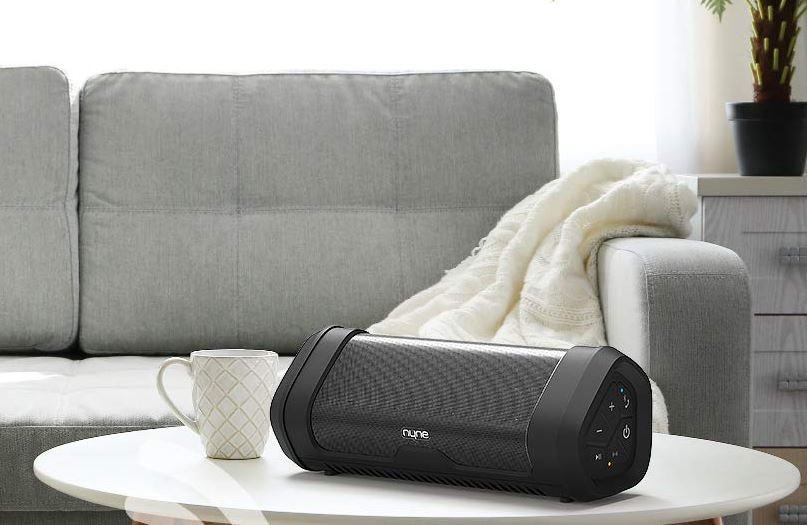 Other Considerations
The NYNE Boost doesn't come with a whole bunch of handy extras. Even though it's a tad more portable than the BUGANI Outdoor Speaker, it doesn't include a lanyard strap or anything like that. But it does include a quick user guide and a one-year warranty.
BUGANI Outdoor Speaker vs NYNE Boost – Which is Better?
The BUGANI Outdoor Speaker is a good choice for someone who is looking to emphasize battery lifespan. It has literally twice the battery potential of the NYNE Boost, even after the size of its drivers have been accounted. As such, it's capable of becoming much louder. It's also much more expandable, with solid TWS support and the ability to add micro SD cards for hard storage. That makes this clearly the more powerful speaker between these two models, and the better choice for someone who cares less about portability.
However, more power isn't always the right choice. Big batteries are heavy, which is why the NYNE Boost is better for someone who places greater emphasis on portability. It weighs literally half as much as the Boost. That's mostly because it has half as much battery capacity. But someone who plans on carrying this speaker in their hands for any duration of time should be wary of equipment that weighs much more than the Boost. The Boost also has superior waterproofing, making it a better choice for someone who plans on takin their equipment into aquatic environments.