It's not hard to see the appeal of an entertainment projector. It's like a totally different experience from watching on a TV. It's certainly much more portable than trying to haul around a 100" screen. The extra immersion of such life-sized screens is hard to beat, too.
But picking between projectors can be tough, especially when you're working with a tighter budget. Because even though the pricing on projector technology has been falling over the past few years, it hasn't been falling at the same rate as televisions. So people who want to get their hands on higher-end features still have to be willing to pay for them.
Choosing between inexpensive entertainment projectors, a lot of people end up comparing the Vankyo Leisure 3 and the Apeman Mini Portable. Even though Vankyo has many different projectors, their Leisure 3 represents the sweet spot for a lot of people, a point between portability and power. Meanwhile, the Apeman Mini is a comparable machine that's got a slightly different emphasis among its feature set.
Vankyo Leisure 3
Between the countless projectors made by Vankyo, the Leisure 3 is one of the most popular, and for good reason. It's an excellent balance of adaptable features and portable form. Though this projector isn't well suited for business purposes or running PowerPoint, it is suitable for console games, movies, and other forms of entertainment media.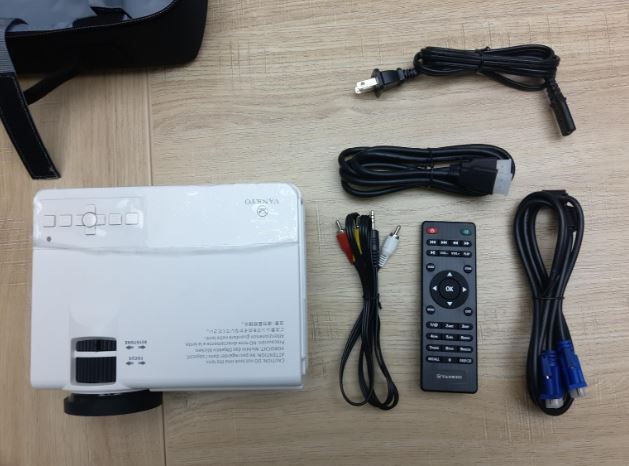 Design & Layout
The Leisure 3 measures 7.9 x 5.9 x 3.1 inches, and weighs about 2lbs. That's a fairly small and compact form, ideal for being taken from place to place. Along with the carrying case, transportation and storage is actually pretty simple.
It feels like every Vankyo projector looks almost identical. The Leisure 3 is really no exception. It uses a blank white chassis that's fairly professional looking, but not especially interesting to stare at. But the topside of the unit has everything you need to control the projector. That includes menu buttons, arrow keys, an OK button, a power switch, and so forth.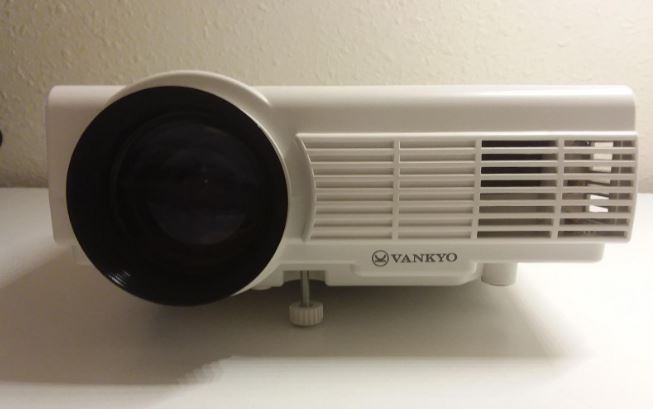 All keys are reasonably well labeled, too. Likewise, along the backside you'll find a number of input ports, including HDMI, VGA, TF, AVI, and USB. Basically everything short of hard storage options. It would be nice if there was support for DisplayPort, but that's really only something you'll find on higher powered equipment that can take advantage of greater refresh rates.
Two speakers are built-in to the chassis. They sound like a pair of monitor speakers, nothing to be impressed with. You might consider replacing them at some point if you were serious about having more substantial audio quality. A good pair of Bluetooth speakers would go a long way towards helping round out this projector.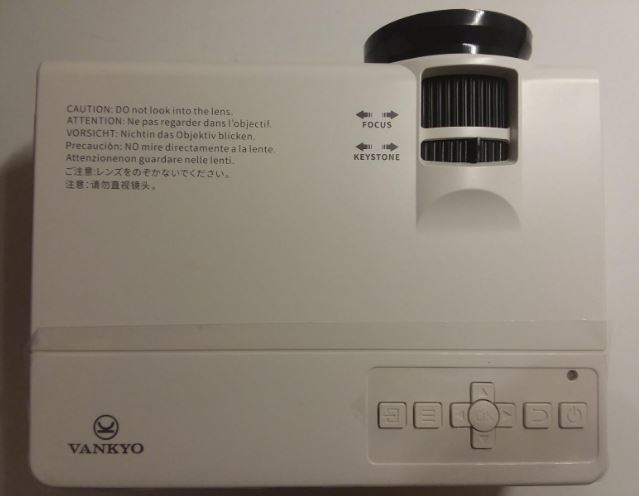 Video Presentation
The Leisure 3's screen size can be stretched out to a maximum distance of 170", which is pretty good for a projector like this. The smallest setting is 32", which still is pretty good. That's the size you'll want to use if you'd like to take advantage of the native resolution of this equipment. You've got the option of sitting the projector anywhere between 4.9ft and 16.4ft from the wall it's playing on, though the minimum suggested viewing distance is about 6ft.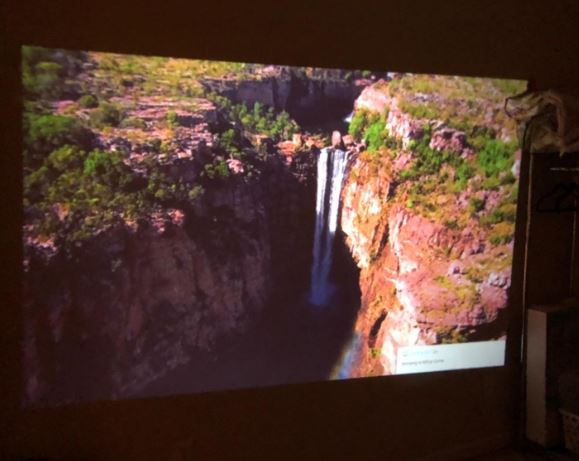 The Leisure 3 uses the MStar Advanced Color Engine, which was last upgraded in 2018 for brightness and vivacity. Its brightness compares quite favorably with a number of similarly priced projectors. Again, you have to keep in mind the native resolution for this projector is 800 x 480. The Leisure 3 Mini Projector can be used to play 1080p content, but it will come out looking like 480p content because that's the native resolution.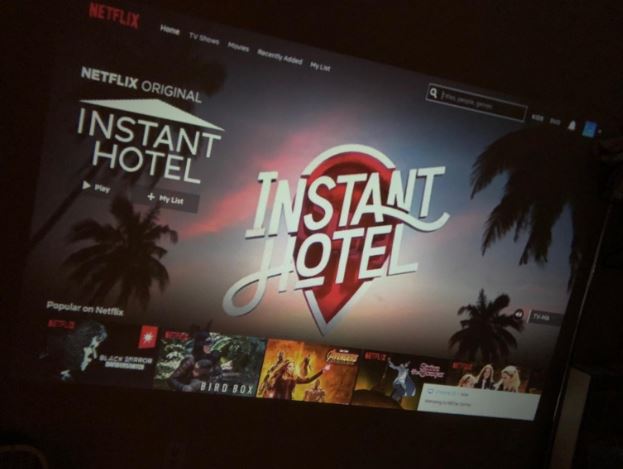 However, full HD shots are bolstered with a 2000:1 contrast ratio, which is far better than the 1000:1 ratio you'll find on many entry-level projectors similar to this one. That makes the Leisure 3 pretty great for a variety of different home entertainment centers. But that's also why it's less ideal for PowerPoint presentations or similar professional presentations.
The brightness of the display caps out at 2400 Lux, a reasonably impressive degree of brightness. But you'll still want to run the unit from the comfort of a darkened room, similar to basically any projector around this price range.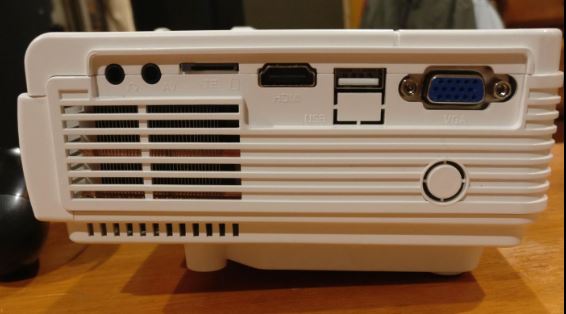 Other Considerations
The Leisure 3 provides keystone correction in a range of 15 degrees, up and down. Not bad, and certainly appropriate for a projector similar to this one. This projector is supposed to deliver 40,000 hours of LED lifespan on the lamp life.
And like many of the Vankyo projectors, the Leisure 3 is equipped with a fan noise suppression system aimed at helping to suppress noise during operation. Compared to not having the system, you're basically looking at a reduction of half the noise.
The Leisure 3 includes a large zippered nylon carrying bag, which makes this project a bit easier to store or carry. It also includes a miniature tripod that can be used to help stabilize it.
Additionally, it includes an HDMI cable, power cable, AV cable, user manual, remote control, and a three-year warranty.
Apeman Mini Portable Projector
It's a bit of an exaggeration to call the Apeman Mini Portable Projector a mini device. Sure, this is a smaller portable projector. And it's quite portable. But it's not really a mini projector because it's still several times larger than the smallest projectors you can find.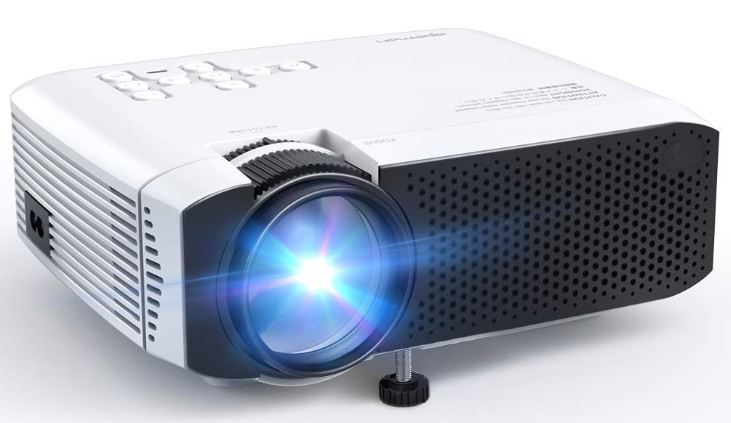 But with that said, the Apeman Mini is surprisingly powerful, and much stronger than anything you'll be able to find inside a much smaller form. And you can really appreciate that when it comes to brightness output. However, any relatively inexpensive projector like the Mini will have its limits.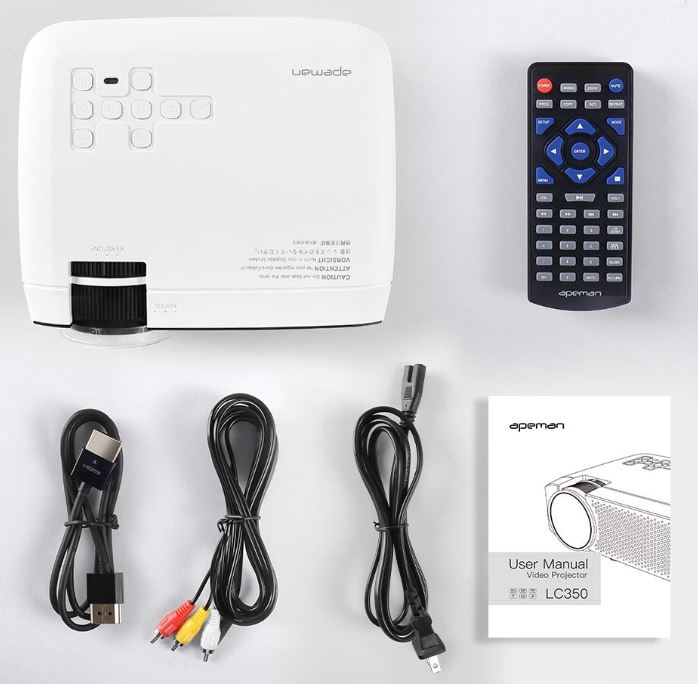 Design & Layout
Similar to the Leisure 3, the Apeman Mini measures 7.7 x 6.5 x 2.3 inches and it weighs about 2lbs. Reasonably small and portable. The base of the unit has an adjustable foot pad, which can be turned to raise or lower the angle at which the projector looks at the wall. The Mini is also ready for a ceiling installation, though it doesn't come with any ceiling mounting hardware of its own.
Similar to the Leisure 3, the Apeman projector is made with a pair of two built-in speakers. They're able to get quite loud, but like any pair of speakers crammed into such a small space, you're better off using independent equipment instead. Because these just don't have the power or size you want for a home theatre type audio experience. Especially if you end up positioning the projector behind you, where the direction of the sound could become disorienting. However, they will work in a pinch.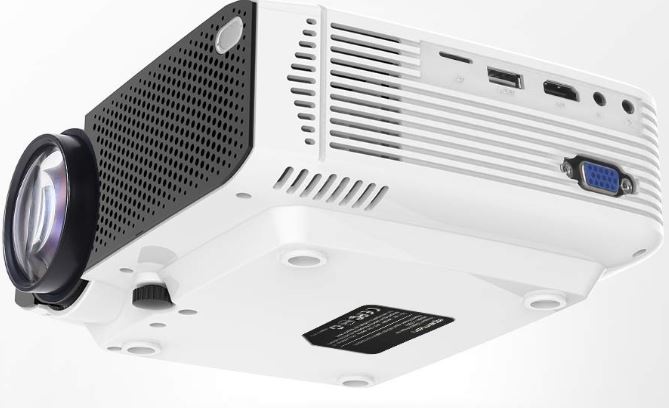 The Apeman Mini supports a number of video connections, including HDMI, VGA, USB, micro SD, and AV. Similar to Vankyo, they load you up with cables as well. That includes an HDMI and AV cable, ensuring you can connect basically any TV or game console you might want. It's a shame there's no DisplayPort connection, but the inclusion of HDMI means you probably won't encounter any serious difficulties.
Video Presentation
The Mini can project a total of 3500 lumens, making it quite formidable and nearly twice as bright as many similarly sized devices. It's pretty bright, and even capable of being used in areas that don't have the best lighting conditions. Similar to the Leisure 3, the Mini supports 1080p content. But its native resolution is actually at 800 x 480, which basically means 480p.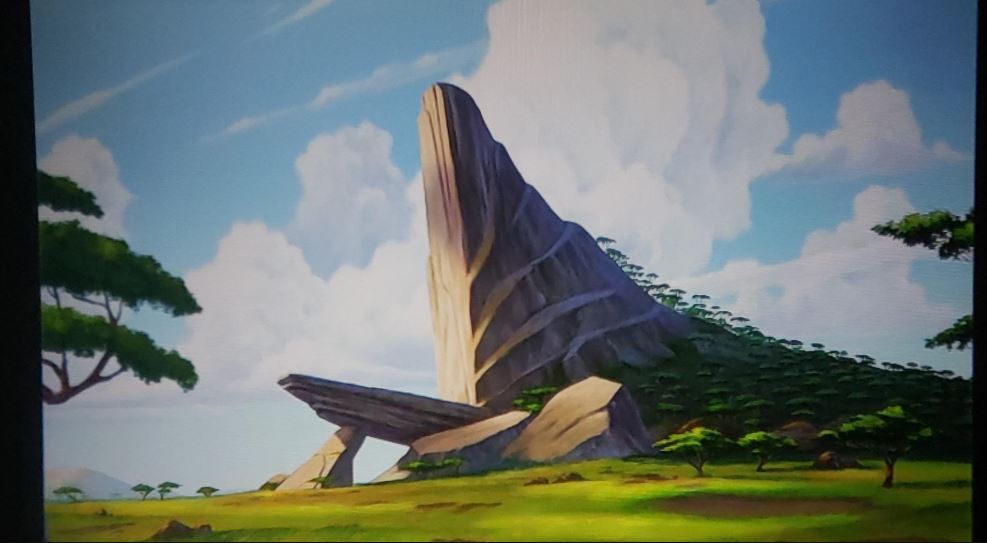 That's a slightly above-average resolution for this price range. If you wanted a projector that really delivered native 1080p, you'd need to be willing to pay literally five times as much. With screen sizes that are proportional to its resolution capabilities, the Mini supports a 34" screen at the smallest.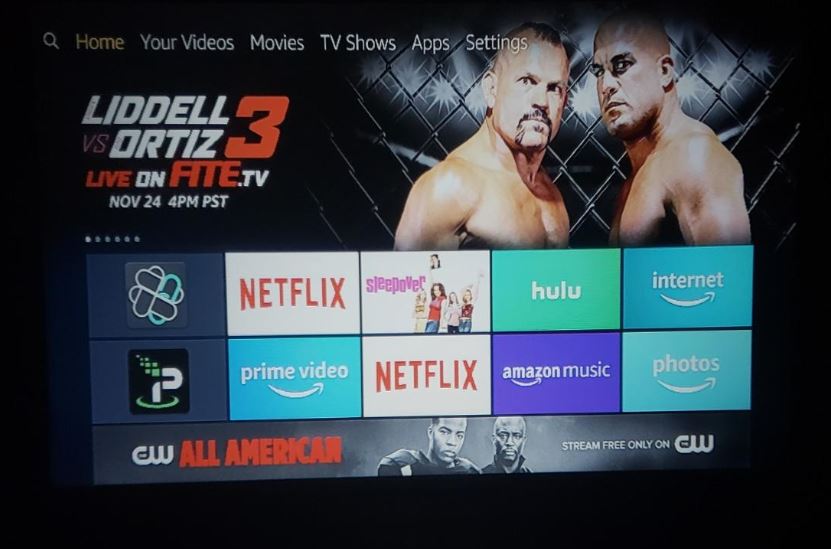 The largest it can be projected is 180", though at that point you're really pushing the limits of the brightness of the screen. If you plan on going out to 180", you really do need to be in a perfectly dark environment. The 2000:1 contrast ratio is good enough for home theater experiences, too. Which helps make the Mini a reasonable choice for a variety of settings.
Other Considerations
Manual keystone correction of ±15° is possible. The recommended display range is 50" and 120". The projection distance is between 3ft and 12ft, but running 3-9 would give you the best results. Between all that adjustability, it's quite easy to find a nice picture with a little time.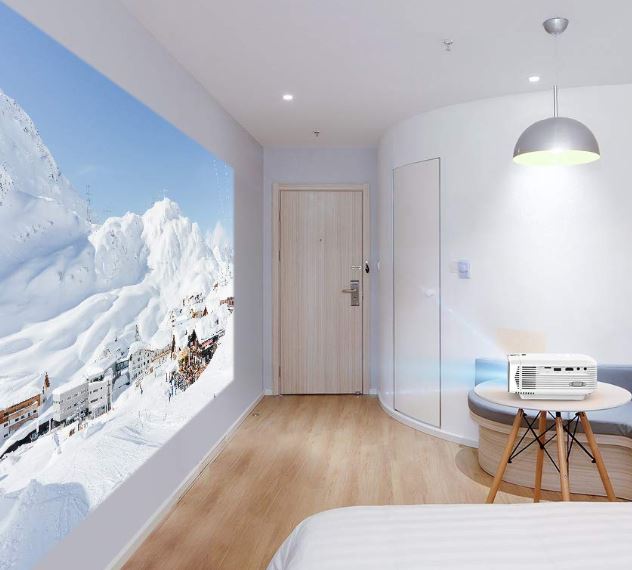 Speaking of time, the bulb is supposed to last for 45,000 hours, making it slightly longer lasting than the 40,000 lifespan of the Leisure 3's bulb. In real terms, that basically means you can play this projector for a decade and not have to worry about swapping the bulb.
In addition to the previously mentioned media cables, Apeman includes a one-year warranty with their projector.
Choosing Between Vankyo Leisure 3 vs. Apeman Mini
You can find plenty of similarities between the Leisure 3 and the Apeman Mini. For starters, they have basically the same form factor and weight. They have basically the same connectivity options, and even their brightness output is basically the same. Technically speaking, the Leisure 3 supports marginally smaller screen sizes. But for most people, those differences won't be felt.
When all is said and done, the Vankyo Leisure 3 is a good choice for someone who prioritizes portability. It's got a nylon carrying bag and all the cables you need to get started enjoying some movies. It's well suited for watch movies, streaming video, playing games, and basically doing anything except professional presentations.
Ironically, that makes the Apeman Mini a better choice for someone who has less portable use in mind. It's almost just as portable as the Leisure 3, but without the nylon bag, you're left to work out transportation and storage for yourself. The Apeman Mini is otherwise an excellent substitute.
Meet Derek, "TechGuru," a 34-year-old technology enthusiast with a deep passion for tech innovations. With extensive experience, he specializes in gaming hardware and software, and has expertise in gadgets, custom PCs, and audio.
Besides writing about tech and reviewing new products, Derek enjoys traveling, hiking, and photography. Committed to keeping up with the latest industry trends, he aims to guide readers in making informed tech decisions.