If you're driving between cities, then you probably don't need more help with navigation than you can get from your smartphone. When you're staying on the known roads, things tend to be much easier. But how about people who are out on lesser known roads? How about unmapped roads that are only used by locals? And how about people who are off the road altogether?
For times like that, for people who are traveling where cell reception may not be available, navigational assistants can be a really big help. Because even if you're traveling where there are no roads, that doesn't mean a good map can't help you along in your adventures. And with the right satellite support, being off the grid doesn't necessarily mean being out of touch with the rest of the world.
Garmin Overlander
The Garmin Overlander is pretty close to the fanciest multipurpose navigator that Garmin has ever put together. Like you would expect from basically any similarly powered unit, this device is capable of giving you turn-by-turn directions of the road ahead of you. That includes on-road navigation and topography maps when you're taking things off the road. Nothing too surprising about its GPS and navigation features.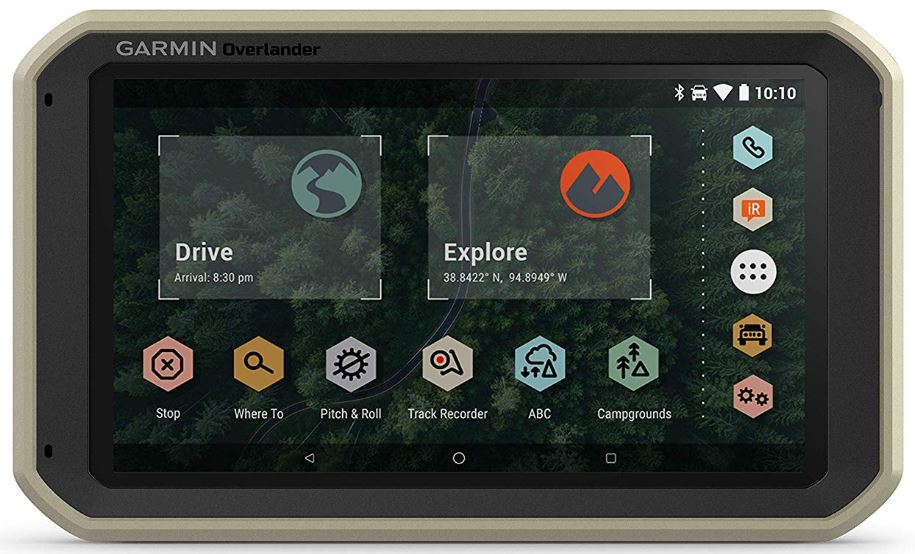 But what you may not expect is that Garmin is prepared to help you do just a little bit more than navigate across terrain far and wide. Though it is exceptionally good at doing that, with innate maps covering both North America and South America, and with how the Garmin Explore app lets you download additional maps as needed. With a total of 64GB storage at your disposal, you can pretty much carry a cartographer's treasure trove full of maps with you.
But it's not just those navigational features that help make the Overlander so cool, it's the ability to carefully track the motion and direction of your own vehicle. It's how you can sync all your data between various devices, and access cloud connectivity to make everything just a little bit easier. Between the gigantic set of features and the reasonably strong execution of each one, there's actually quite a few things to like about the Overlander.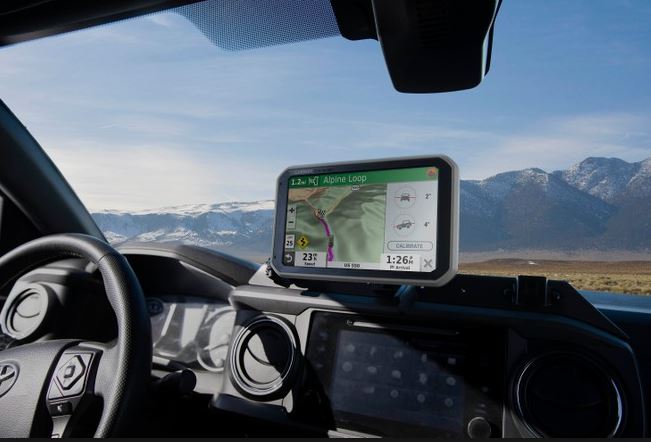 Design & Layout
The Garmin Overlander uses a 7" touchscreen display. As you might hope, the display is full color, and gives you an on road or off road topographical view of the land. Since this is a touchscreen, as you can imagine, using it is quite simple. You don't need to fumble around with a bunch of small buttons, and the most common features are right up on the front menu for easy access.
The actual chassis of the unit measures 7.8 x 0.9 x 4.8 inches. only slightly larger than the 7" display, with a generally thin design that isn't all that different from a smartphone. Though the body weighs just shy of one pound, a pretty hefty little device. That's still not enough weight for it to become difficult to install in various places throughout your vehicle.
Since most of the control is done through the touchscreen display, the backside of the unit is a little bit sparse. You'll only find some zooming buttons that allow you to navigate through the maps on the screen, a storage port for your SD cards, and a mount you can use to stick the Overlander to a fixed surface.
For installation options, you'll find the Overlander is again pretty standard for a device like this. You can mount it almost anywhere you'd like within a vehicle thanks to the inclusion of a magnetic mount and suction cup. There's a RAM compatible adapter that really helps you along, too.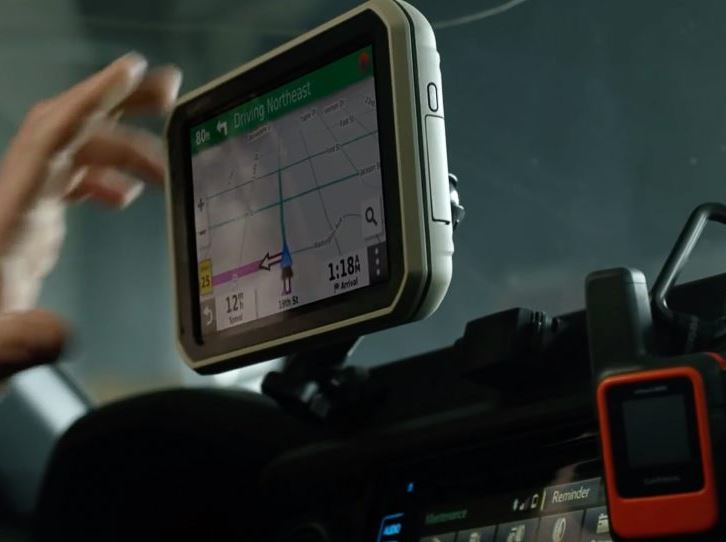 Navigation Features
The Overlander comes preloaded with a variety of point of interest locations highlighted on maps. It also includes what they're describing as the ultimate guide to free and inexpensive campsites. Whether you end up needing that kind of expansive mapping, it's nice to be able to access that data without needing cellular signals to do so.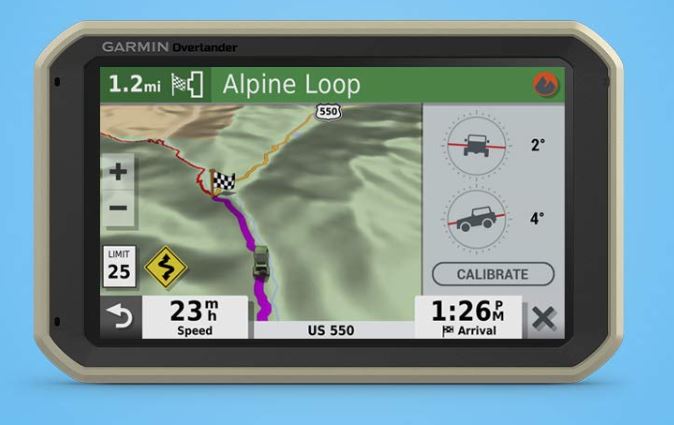 As mentioned above, the Garmin Overlander features topographic maps along with public land boundaries clearly outlined among them. Additionally, the routes created by the GPS are based on the weight, length, and height of the vehicles which are using the Overlander. So the unit won't try and take your vehicle to places where it's not tough enough to go. Though as with any device, it does help to exercise your own common sense while taking guidance from it.
You will need to download the Garmin Explore app separately to really make the most of the mapping system. You don't need the app to make use of the pre-loaded iOverlander map system, which is basically a universal database of public campgrounds, free campsites, and other spots of interest. But you will need a connection to the system if you want to find maps which are not included in the default databases.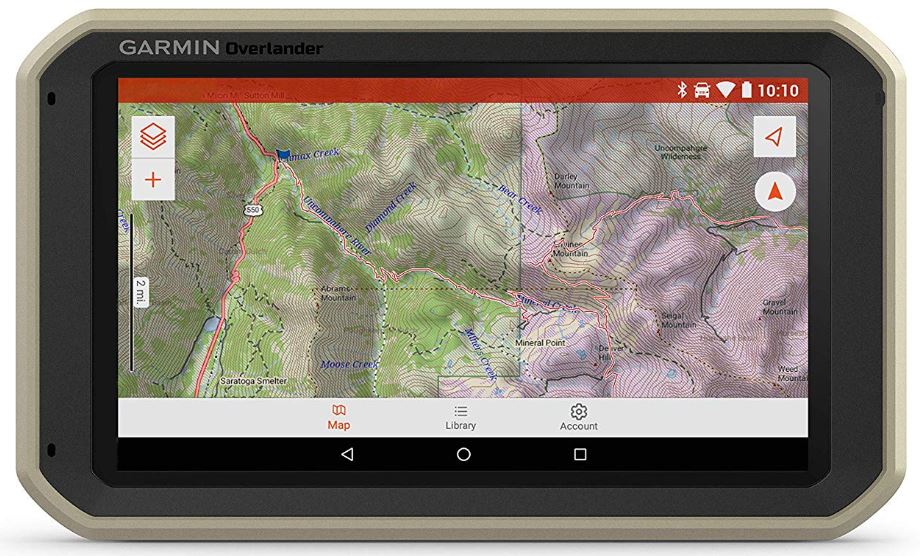 Satellite Connections
Since this device is inReach compatible, it can be paired with any inReach satellite communicator. Active satellite subscription services are required to access the inReach service. This should be pretty common sense, you can't access the internet without an internet service provider, and you can't access a satellite network without some kind of subscription to that network.
An inReach subscription is typically pretty cheap, but the price of these sort of things usually depends on how often you end up using the connection. Still, most people should be able to find a subscription that's suited to their needs. In any case, once you've got a satellite subscription in place, you'll find that you've also got the option of two-way texting, an interactive SOS, and access to weather forecasts. Pretty handy for going into areas of the while where there's no cell reception.
Installation Options
The RAM mounted option allows this device to be positioned with a magnetic mount that comes with its own suction cup. Additionally, it can be paired with BC35 backup cameras. Though those backup cameras are sold separately, they're great for maneuvering a larger vehicle. Being able to use more than one in particular can help you get a full view of the area around you. On the road or off the road, that kind of thing can be pretty useful.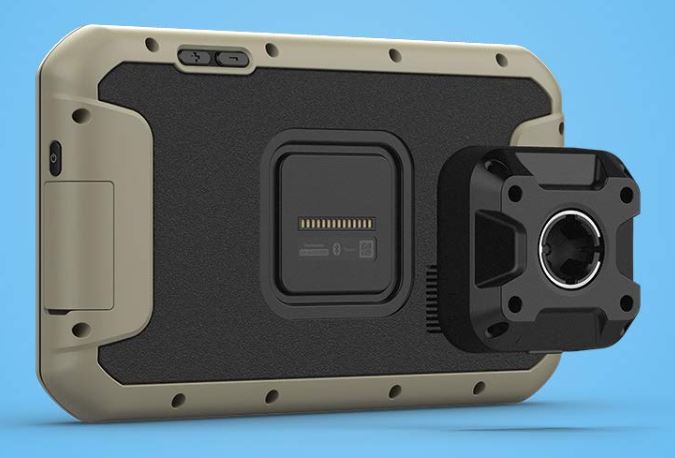 The Overlander can be mounted basically anywhere with a powered magnetic mount which comes along with a suction cup or RAM compatible adapter. The Multi-GNSS support allows you to access GPS, GLONASS, Galileo support for more challenging environments being accessible. Basically, you can use the Overlander anywhere you'd like, and in any fashion you'd like, both on the hardware front and the software front.
Garmin's User App
Using the 7" color touchscreen makes the app pretty approachable. On the first menu screen, you'll find your most commonly used features placed right up front. You can stop the GPS from giving you directions, tell it where you want to go, search for campgrounds, start tracking your travels, or otherwise interact with the Garmin Overlander for guidance.
Since it's a touchscreen, you don't have to worry about feeling around for a bunch of little buttons. The view you get of the screen is pretty good, too. It's a wide viewing angle of around 140-degrees. That means you don't need to be directly in front of the screen, giving it your full attention in order to view it. Of course, it's always important to pay attention to the road and drive responsibly. But suppose you're off road or parked somewhere. Having the screen be viewable from an angle is essential.
Other Considerations
Satellite communicators are sold separately, should you want to add them to your kit. Like you'd probably expect from a brand that specializes in this kind of equipment, Garmin actually has a number of different accessories and expansion options for the Overlander. Which really promises good longevity for this device, provided you take reasonably good care of it in exchange.
Actually, one of the things the Overlander has going for it is the fact it's by a bigger brand like Garmin. Not only does Garmin have a pretty good reputation when it comes to this kind of equipment, they've also got close business relationships with some of the biggest satellite providers in the world. It's how they're able to provide such major league coverage with the Overlander, which is essential to its multipurpose design.
Though you can probably expect this device to last for much longer than a year, Garmin includes a one-year warranty alongside the Overlander. Garmin also has some reasonably good tech support to help people who run into issues. Though devices like the Overlander are straightforward enough that you shouldn't encounter any problems that you can't overcome on your own.
Who Should Choose the Garmin Overlander?
The Garmin Overlander isn't a minimalistic guidance system. It's packed with basically every type of technology an off-road driver could ever want. In terms of ease of use, it's fair to say that the touchscreen delivers basically all that's necessary for smooth control of mapping. And the display lets you find boundaries on topographic maps whether you're traveling public land or somewhere off commonly treaded paths.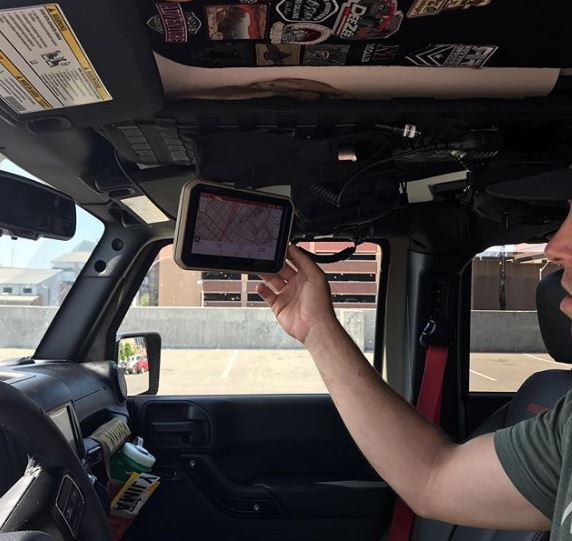 The Overlander supports an expansive built-in data base, which can be built further through the SD storage card options. Along with the cloud support and satellite communication options, you'll find the Overlander should be able to do basically everything you would expect from this sort of device. It can even be turned into a backup camera system with only a few simple additions.
That makes the Overlander a good choice for someone who's looking for a navigation assistant that really can do it all. It does mean you have to be willing to pay for all those extra features. If you were really only looking to use two or three of the many things this system can do, you'd probably be better off with something a little less heavy duty. But for a navigation assistant with all the trimmings, the Overlander is tough to beat.