It wasn't long ago that getting a home security system installed was a real headache. You had to set an appointment, meet with the vendor, agree on where sensors would be placed, and set a date and time for installation. Then the installer had to run wires through your house, drilling holes in your door trim and turning your front windows into a Terminator-style mess of wires.
Nowadays, you don't need to spend the price of a small car on installing a home security system. Do-it-yourself wireless kits are more affordable than ever. And while installation can sometimes be time consuming, it's nowhere near the nightmare of having an old-school wired security system installed.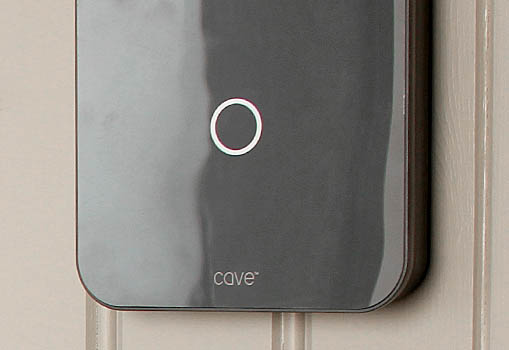 Today, we'll be taking a close look at the Veho Cave Smart Home Wireless Security Alarm System. This nifty kit provides full control of your home security system from a simple smartphone app. You can enable your alarm, disable it, or toggle individual sensors all without having to use a manual control panel. With the optional IP cameras, you can also view a live feed of your home or business from anywhere in the world.
What's in the Box?
Like any out-of-the-box home security, the Veho Cave can only do so much. It's impossible to predict how many motion sensors, cameras, or contact sensors you're going to need. As a result, what you get with the base Cave package is essentially a starter kit. This includes:
The Cave security system hub
System hub wireless remote
1 Cave motion sensor
1 Cave contact sensor
Honestly, that's not much. And we're not talking about the small quantity of supplies. We get that this is a starter kit, and there's plenty to add later. We'll talk about that in a bit.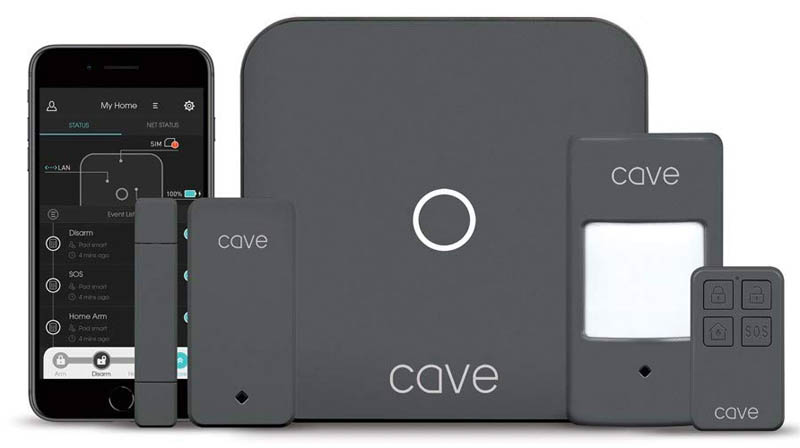 But it's frustrating that there's no IP camera included in the kit. The price doesn't really justify one, but no modern security system is complete without a camera. If you want to install one, that's a fair amount of extra money that's not included in the base purchase price.
Other than that, this is a solid starter kit. It's enough to install the sensors and verify that they work. More importantly, it's an opportunity to try out the mobile app and see if the functionality is worth expanding to your entire home.
Features
So, why would you buy this kit as opposed to any other home security option on the market? Here are a few things that make the Veho Cave worth considering.
No subscription required
Fully modular system
Easy to control from your cell phone
Optional wired installation
Low base price
Set-Up
Setting up the Veho Cave kit is simple. Since this is a starter kit, you simply need to determine which entrance you want to monitor. We recommend putting the contact sensor on your front or back door, but your mileage will vary considerably depending on how your home is set up. If there are multiple entrances, you're ultimately going to want sensors on all of them. For now, the point is to see if you like the hardware.
The contact sensor itself mounts easily on a pair of small screws that are included in the kit. It's powered by a watch battery, which can be changed by popping the cover off of the sensor with a small standard screwdriver.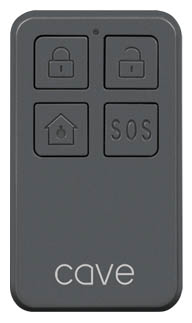 The motion sensor is similarly easy to mount. Once again, put it near a major entrance, but there's no need to be too picky, since you'll ultimately want more sensors to cover all entrances.
The hub itself can be located anywhere in your house. For best performance, the manufacturer recommends positioning it near the center of the building, but in our experience it has a long enough range to reach across most homes with no problem.
When you turn the hub on, follow the manufacturer's instructions to pair it with the sensors. This is an important step, since otherwise your hub will not be monitoring anything. This process will involve using the mobile app, which we'll talk about in a minute.
Durability
All parts of the Cave system are designed strictly for indoor use. As a result, it's not a good choice if you're ultimately going to need to mount an IP camera on the outside of your home or business. That said, most of the components, such as the motion sensors and contact sensors, wouldn't necessarily be useful outdoors to begin with.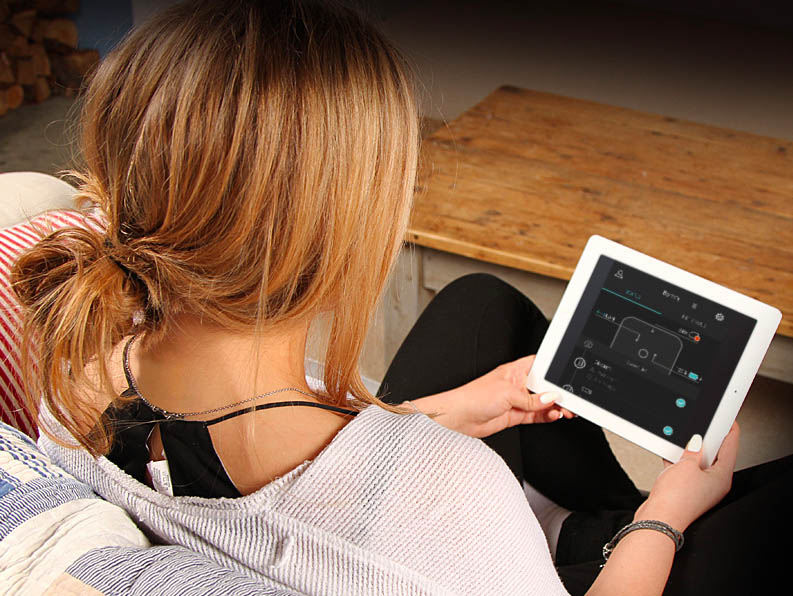 Provided they're used indoors, this system will provide you with years of trouble-free use. While some users report going more than two years without needing to change any batteries. Veho recommends changing them once a year just to be safe, which is a good idea. The last thing you want is for your home security system to fail due to a dead watch battery.
Security
We've talked a lot about how easy the Cave is to use and set up. And that's all true. In mere minutes, you can have this system up and running over your WiFi network. For most people, that should be good enough. Your average neighborhood burglar doesn't run around hacking WiFi systems, and the Cave's encryption is enough to prevent casual attacks.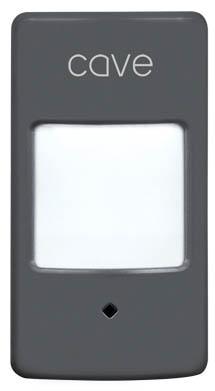 That said, there's a time and a place for enhanced security, and no wireless connection will ever be as secure as an old-fashioned Ethernet connection. If you want maximum security and have no problem hauling reels of Cat-5 cable around your home or office, the Cave does support wired installation. Just make sure to have your stapler and some wire guides handy if you decide to go this route, because it's a pain.
This security system doesn't come with a subscription. As a result, it won't alert your local police department if someone breaks in. An alarm will sound, and your phone will get an alert, but you'll have to call the police on your own.
Veho's mobile app unlocks with a PIN entry, or with a fingerprint on compatible phones. Ultimately, the app itself is only as secure as your phone is, so make sure to protect your phone just as you would protect your keys or your driver's license.
Ease of Use
Speaking of the mobile app, it's the heart and soul of Veho's home security system. Besides a basic on/off function, the hub simply serves as a wireless receiver for the sensors – and as a loud, audible alarm in the event of a break-in. Other than that, all functions are performed through Veho's mobile app.
The app is easy to operate, and allows you to turn individual sensors on and off, or to group sensors into zones that can be turned on or off together. This is a useful feature, for example, if you want to leave your upstairs windows open while you're out to dinner, but still want to be alerted if a downstairs door or window opens.
Veho's app doesn't just control their security system. If you use other Veho devices like smart plugs, you can also turn them on and off through the same app. And if you've added IP cameras to your kit, you can use the app to view their live feeds.
Expanding Your Kit
As we've just about beaten to death by now, the Veho Cave is just a starter kit. Unless you live in a windowless house with only one door, you're going to want more from your home security system. That means a contact sensor on every door, as well as on every window that's big enough to climb through.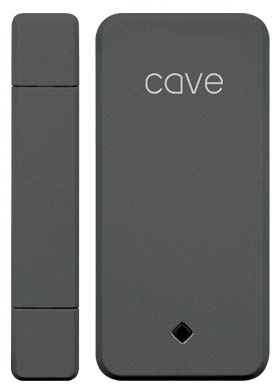 This can be a significant investment. And while we're big fans of the Cave system, we recommend starting with the base package. No two people's preferences are alike. And one person's favorite app can be another person's nightmare interface. If you decide you like the Cave, you can always buy more. If not, well, at least you'll only have one box to return.
In terms of expansion, you aren't just limited to contact sensors. As we've mentioned, you can also add IP cameras so you can watch your home while you're away. Finally, additional motion sensors are also available.
What Are Some Alternatives?
We've reviewed several home security systems before, and some of them are more comprehensive than this. If you're looking for a well-engineered camera system that's more than just a starter kit, check out our review for the TP-LINK Kasa Spot. Not only does this camera kit provide excellent visibility of your home, the cameras double as a two-way intercom. You can use them to talk to your kids while you're on the road, making them a great choice for working parents.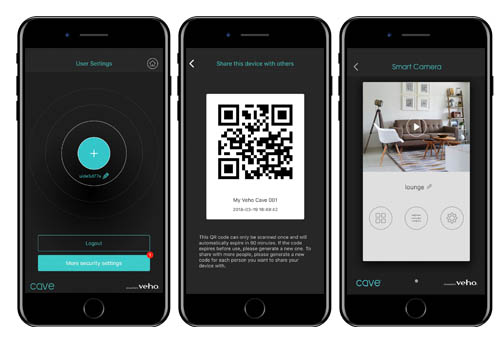 The Litmor Battery Cam is another excellent choice. These cameras can be used as an intercom, just like the Kasa Spot. But they're also durable, so they're a good choice for use outdoors. Set them to record on motion detect, and you'll quickly catch that elusive squirrel that keeps getting into your bird feeder.
For the most secure camera system possible, consider the Defender 4K. These cameras offer exceptionally high resolution, up to 4K under the right conditions. They're also hardwired, so they're virtually un-hackable. The downside is that they're significantly harder to install than a wireless system, and not a lot of people need the added security of a wired system.
Final Verdict
So, what's the final word on the Veho Cave?
It's a slick system, with easy-to-install components. We also like the fact that it's scalable, since you won't have to waste money on any extra parts that you don't need. That's a much-appreciated feature, especially on a device like a security system, which you're inevitably going to need to customize no matter what comes in the box to begin with.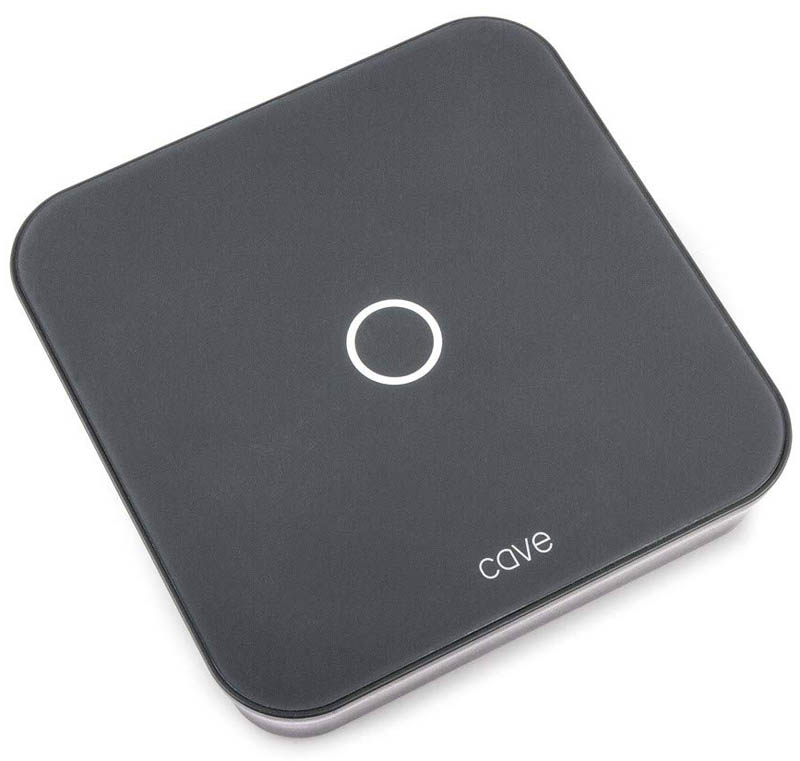 That said, the starting price is a bit steep for what you get. It looks attractive at first, but by the time you add a few more motion sensors or cameras you'll be paying as much as you'd pay for any premium kit. It's still a solid bargain, and does a good job of protecting your home. But be aware that it's not quite the insane bargain it appears to be at first.
Meet Derek, "TechGuru," a 34-year-old technology enthusiast with a deep passion for tech innovations. With extensive experience, he specializes in gaming hardware and software, and has expertise in gadgets, custom PCs, and audio.
Besides writing about tech and reviewing new products, Derek enjoys traveling, hiking, and photography. Committed to keeping up with the latest industry trends, he aims to guide readers in making informed tech decisions.