Back in April, Sony made a splash by registering a new set of wireless earbuds with the FCC. These earbuds, the WI-XB400, remained mysterious for a few months, even as rumors and press leaks continued to build hype. The headphones went on sale on September 9th, 2019, and we got our hands on one of the very first pairs.
Oftentimes, big releases from name brands like Sony get overpowered by hype. This is the way marketing works, and it's done by design. By the time a product comes out, whether it be a pair of headphones or a new game console, people are so excited that they're virtually guaranteed to like the product. So when we looked at these headphones, we tried to analyze them solely on the basis of how well they perform.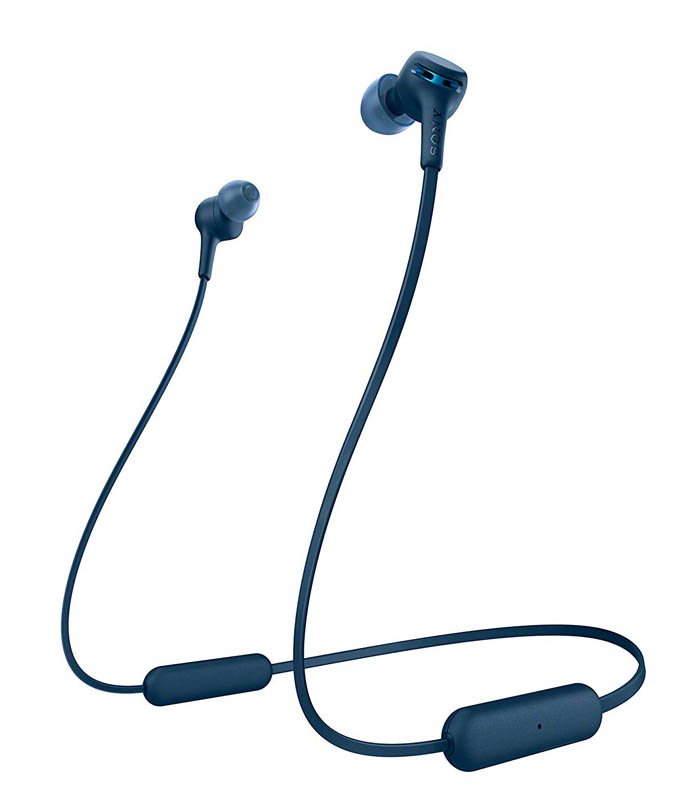 But what does performance mean when it comes to a pair of headphones?
It depends on what you're trying to do. Obviously, swimmers and divers will have different needs than a runner or hiker, for example. But there are certain features that are important on any "general purpose" earbuds that we'd like to see whenever we buy a product from a brand like Sony.
Specifically, we'll be looking for reliability, bass response, battery life, and overall comfort. Let's begin!
What's in the Box?
Before we take a deep dive into our review, let's take a look at what comes with the WI-XB400. Here's what's in the box:
Earbuds
Soft fabric carrying bag
USB-C charging cable
3 extra sets of ear tips
As you can see, this is a relatively complete kit for a pair of earbuds. But that alone doesn't justify the price. We'll have to see if the actual features are worth the investment.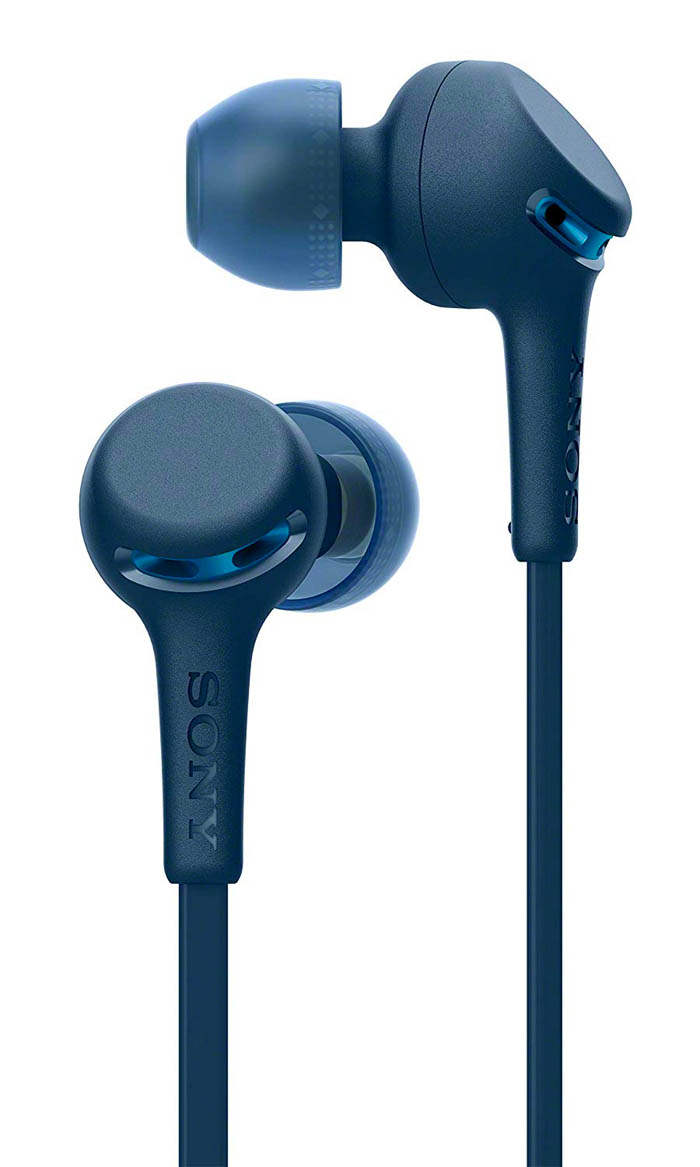 Features
So what is it that makes these headphones special? Here's a quick look at the specifications and their benefits:
Wired Bluetooth design is easy to wear but hard to lose.
Voice-assist and hands-free compatible for safety.
Magnetic heads help prevent your wires from tangling.
15-hour battery life for all-day operation.
10-minute quick-charge gives you 60 minutes of use in an emergency.
Large, 12mm drive units for powerful bass.
As you can see, there's a lot to recommend these earbuds on their surface. But enough of our top-down overview. It's time to take a close look at everything these earbuds have to offer.
Overall Design
These earbuds have a wired Bluetooth design. This means that there's no wire connecting the earbuds to your phone or iPod, but there is a short cord connecting the earbuds to each-other. This cord serves two purposes: first, it supports the battery packs, allowing for longer life than truly wireless earbuds. Secondly, it allows you to easily take one or both earbuds out and let them hang. This is a useful feature when you're going through a checkout line and you want to take an earbud out to make the transaction.
The earbuds themselves are on the large size. This accommodates beefy 12mm drive units, which we'll talk about in a minute. However, it makes them too fat for people with smaller ear canals. Using the smaller ear tips can help alleviate this, but at the end of the day we're talking about an unusually wide set of earbuds.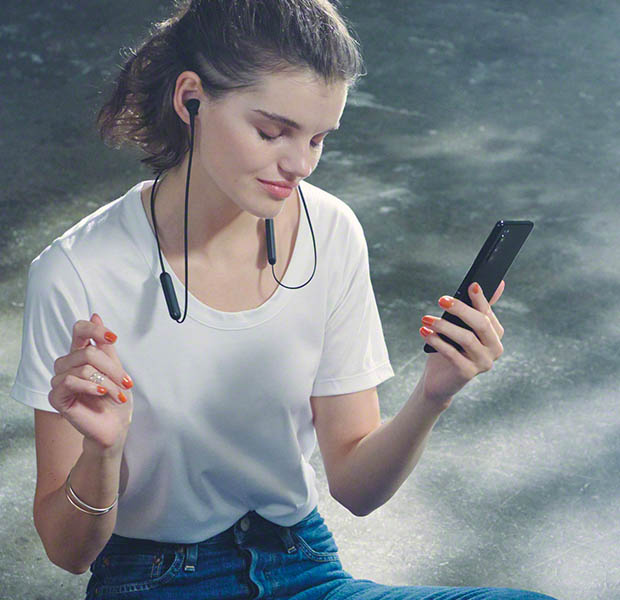 One nice feature of the XB400 is the magnetic heads. These heads cling together when they're in their case – or crammed in your pocket – so you'll experience minimal tangling. Or at least any tangling you do experience won't involve having to untangle the heads from each-other. These earbuds are available in two colors: black and deep blue.
Battery and Charging
Wireless earbuds have added a whole new level of complication to the modern person's battery charging routine. Not only do you have to make sure your phone or iPod is charged, now you also need to make sure your earbuds stay fully charged as well.
The XB400 makes this easy. It charges via a USB-C cord, which plugs into the right-side battery pod and fully charges both battery pods in about 3 hours. When fully charged, it offers 15 hours of listening time under normal conditions. These earbuds also won't leave you high and dry if you suddenly find yourself with a dead battery; they offer a 10-minute quick charge feature that gives you an hour of listening time after just a few minutes of charging.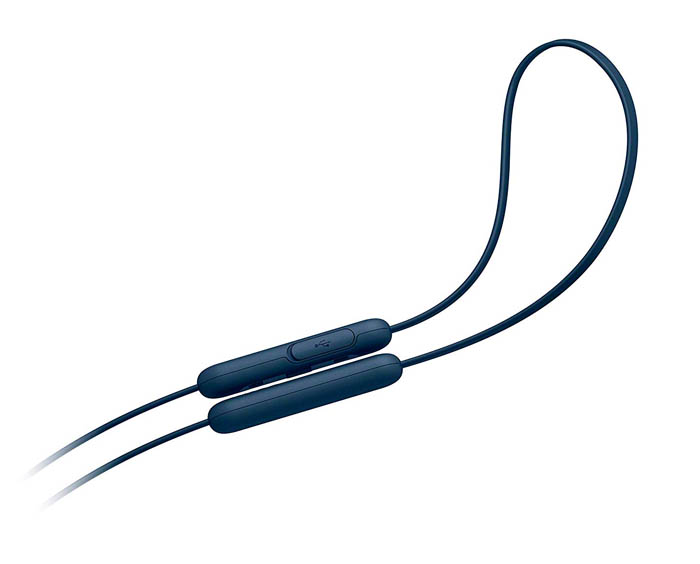 In terms of portability, the WI-XB400 is a bit of a mixed bag. On the one hand, it offers more battery life than your average set of wireless earbuds, making it a superior choice for day trips. On the other hand, most wireless earbuds have a portable battery pack for charging, which makes them easier to deal with when you're traveling. Depending on your needs, this may make the XB400 more or less desirable.
The Extras
No electronic device is complete without some accessories to round out the package. We've already hinted at a few of these features, but let's take a look at the parts of the kit that aren't actually attached to the earbuds.
To begin with, the USB-C cable is functional, but that's about it. It's 3 feet long, which is enough to plug into a PC or a countertop power outlet, but not long enough to stretch across the room. The extra ear tips are similarly functional. They're crafted from comfortable, hypoallergenic silicone – no complaints there! But they're ultimately limited by the large size of the earbuds themselves. Even with the small tips, you're still dealing with a massive pair of drivers.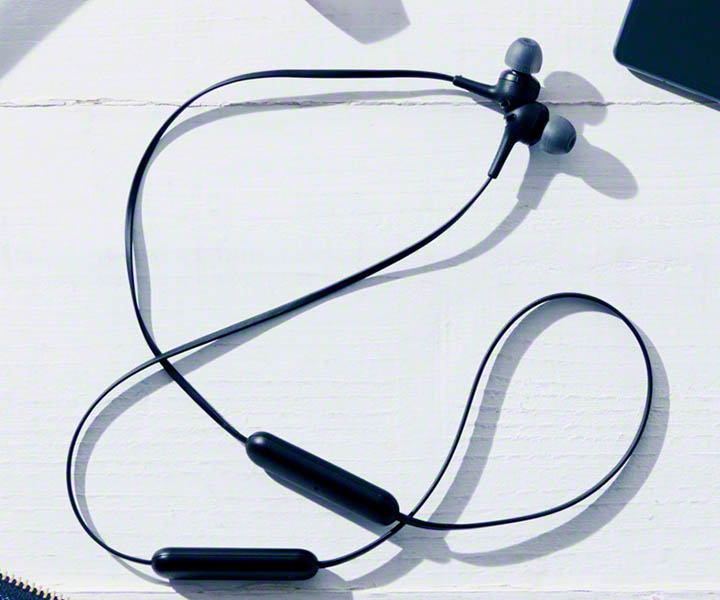 That said, we don't want to sell these earbuds short on comfort. If you have medium to large ears, the drivers won't give you any issues, and the earbuds are flexible and comfortable enough to fit most people without any issues.
One thing we really liked about the XB400 was its ability to handle calls. The hands-free button is easy to operate with a click of your thumb, and works with most Apple and Android phones. The microphone is also compatible with both Siri and Google Assistant. Connect via Bluetooth, and you're good to go.
Sound Quality
The real reason to invest in these headphones is for their sound quality. Specifically, the superior bass response. The problem with bass quality is that it's inherently limited by the size of your speaker driver. The smaller the speaker, the less bass it can produce. That's why even the best compact earbuds oftentimes sound like a knockoff pair of Chinese headphones when it comes to bass quality.
As a result, we were excited to get our hands on a pair of earbuds with a 12mm driver. Wow! The bass is superb, much better than other, compact earbuds. Of course, you'll need to temper you're expectations. We're still talking about a set of earbuds, not speakers with room for a proper sub-woofer. Still, the bass is excellent for a pair of earbuds.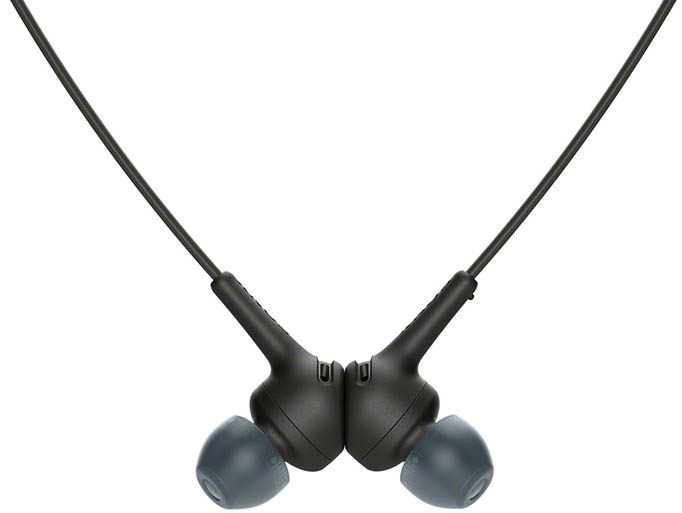 Mids and highs are nice and clear, with no muddiness in the mids. Play with your cell phone or iPod settings to get them right for your ears, but for us it worked best to leave the EQ mostly level and roll back the highs just a hair. Your mileage may vary.
What Are Some Alternatives?
Of course, just because you want a quality pair of Bluetooth earbuds doesn't mean that the Sony WI-XB400 is the right pair for you. Maybe you want to ditch the behind-the-neck design for a truly wireless experience. Or maybe bass response is less important to you than a small, comfortable fit?
We've reviewed many sets of earbuds over the years. Here are a few recent entries we think might be up your alley:
The TronSmart Spunky Pro. These wireless earbuds offer the best bass quality you're likely to find in a set of buds this small. If small size is a winning feature for you, it's hard to go wrong with the Spunky Pro. That said, with the drive unit taking up as much space as it does, the small battery will limit you to a maximum 3 ½ hours of music.
The Axloie Magic. These tiny earbuds are another solid choice for anyone whose ear canals run on the smaller side. They're designed for a secure fit, and feature easy, one-touch operation for phone calls and cycling through your playlist. While battery life is limited, they come with a portable charge pack that offers a total 130 hours of playtime. On the downside, the sound quality isn't the best.
The Axloie Attitude XP9. Like the Magic, these earbuds include a charge pack that provides enough juice for 130 hours of playtime. That's a lot of power, but what makes these beefy buds impressive is their underwater performance. They're rated to keep on working down to 33 feet of depth. That's enough for swimming or diving, although you'll experience the same humdrum sound quality as the Magic.
The Final Verdict
So, are these earbuds worth buying?
They're certainly not a disappointment, and that's saying a lot when you consider how much effort Sony puts into building anticipation for their gear. That said, whether or not they're worth the price depends on what you're trying to do.
On the one hand, the WI-XB400 is fantastic in the sound department. For jogging, hiking, or everyday around-the-house wear, it's hard to beat the powerful, driving bass you'll hear from these buds. They're also reasonably comfortable, and they offer enough battery life to wear them all day without the need to carry any accessories.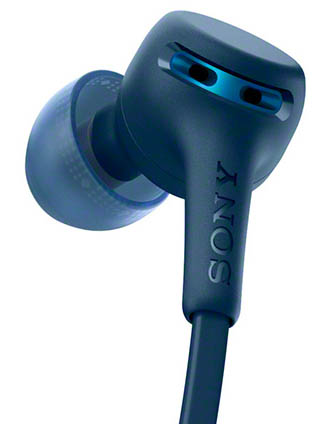 On the other hand, these earbuds are very large. They can be too big if you've got very small ears. They're also not waterproof, which makes them a poor choice for water sports, or even for running during a thunderstorm.
In the end, we loved these earbuds. Provided you're not going to get them wet, there's no reason not to buy them. And the sound quality is fantastic, which is what you'd expect from a brand like Sony. Still, it's nice to see them living up to their name. If you're looking for fantastic sound and battery life, check out the XB400.
Meet Derek, "TechGuru," a 34-year-old technology enthusiast with a deep passion for tech innovations. With extensive experience, he specializes in gaming hardware and software, and has expertise in gadgets, custom PCs, and audio.
Besides writing about tech and reviewing new products, Derek enjoys traveling, hiking, and photography. Committed to keeping up with the latest industry trends, he aims to guide readers in making informed tech decisions.