Finding the right earbuds is no easy task. There are a ton of factors to take into account when making an educated decision, from comfort, to sound quality, to price. For some, it may be worth sacrificing crystal clear audio for a comfortable, go-anywhere option for earbuds. For others with a more particular ear for audio, sound quality may be paramount to things like battery life or other features like a waterproof design.
Ultimately, it's about finding the right balance, and choosing a pair of earbuds that is not only dependable, but one that can perform well in a variety of different settings.
Axloie Magic True Wireless Earbuds
The Axloie Magic True Wireless Earbuds are an affordable option that can certainly hold their own against competitors. In fact, it's their versatility and balance of sound quality, battery life, and convenience that allows them to be a contender against other earbuds in a similar price range.
The Magic Earbuds could find their place with users who want a portable, long-lasting listening option for extended periods of traveling or commuting, or with fitness enthusiasts, who prefer something small and wireless that they can toss in their gym bag before a workout. It's clear that they were made with convenience in mind, which is especially apparent when considering the charging case they come with.
It's worth noting that these earbuds do have some limitations. However, none of these shortcomings seemed significant enough that they would deter someone on a budget from giving them a look.
Design
The most impressive thing about the design of the Axloie Magic True Wireless Earbuds is how sleek and streamlined it is. The earbuds weigh just 3.52 ounces, and measure 3.2 x 2 x 1.3 inches. The look of the earbuds is very minimal, and you won't find any buttons on them because they are operated strictly by touch control. Each earbud is black and devoid of any designs or logos, and comes with eartips already attached.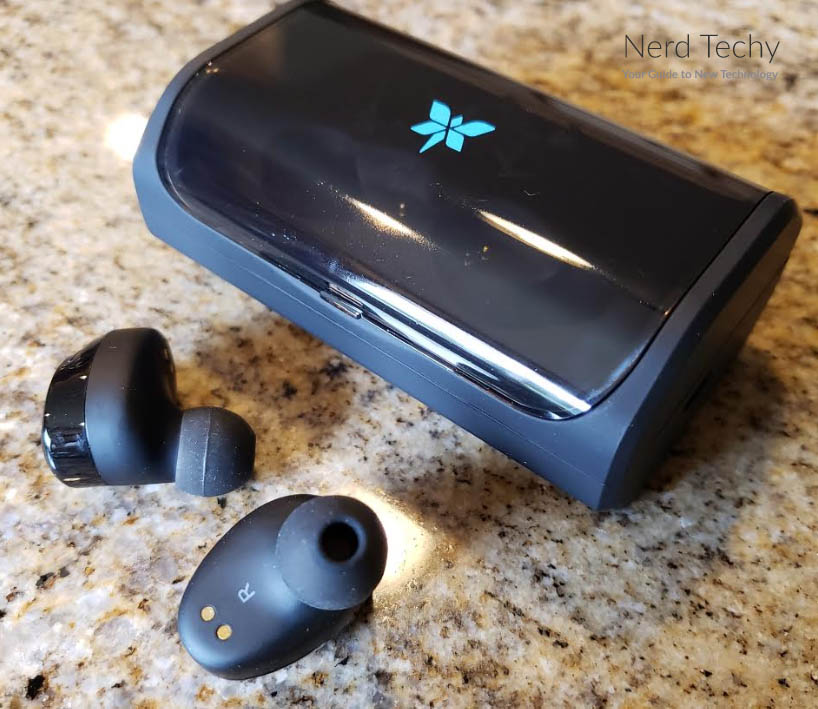 When in use they do light up in either blue or pink, depending on the color you choose. On the inside there are markings that indicate which earbud is left or right, but that's about it. The layout is truly stripped down, but considering what these earbuds can do when it comes to functionality, you'll find that you won't really miss those visual bells and whistles found on others in this price range.
The only logo you'll find is on the included charging case. The logo is printed on the inside of the clear lid, but can be seen on both sides. Much like the earbuds, the case itself is fairly basic in its design. While it is made of plastic, it feels sturdy enough to withstand traveling in a bag or briefcase, and appeared more than capable of protecting the earbuds when they aren't in use. On the right side of the case, you'll find a micro USB port for charging the case, and on the left you'll find a standard USB port that allows the case to act as a power bank for your phone.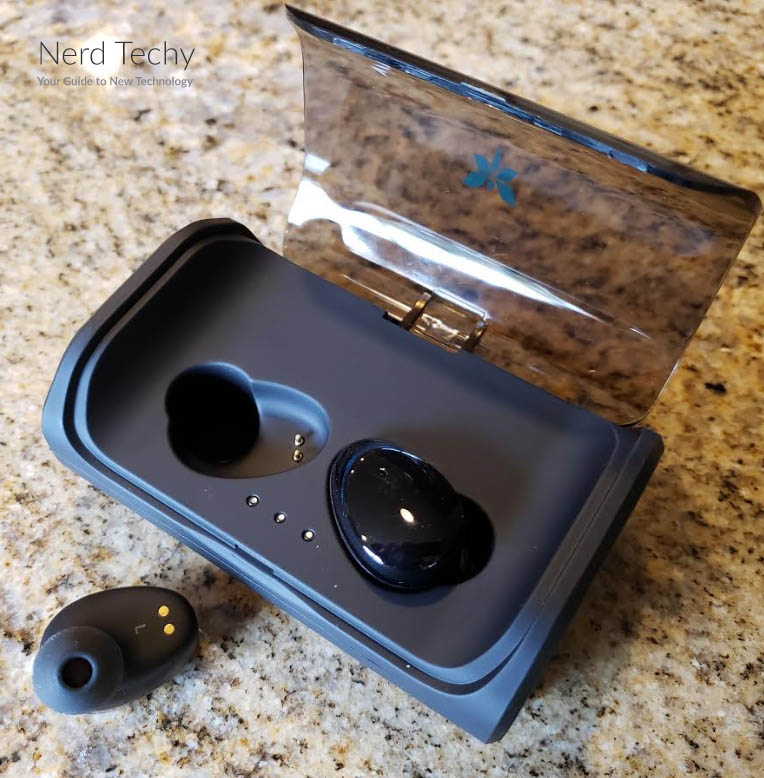 The earbuds fit snugly inside the case and are actually magnetized to prevent them from falling out. As soon as you drop them in, the three LED lights will turn on to indicate that they are charging and also provide an estimate of the case's overall charge. You can also click the lid to the case closed for added security of the earbuds while they're charging. One thing worth noting is that removing the earbuds from the charge case was slightly more difficult than placing them inside. Once they're placed in the case, they become difficult to grip. It wasn't a huge design flaw, but something to be aware of if you think you'll need them suddenly on a train or a public place.
At first glance, the Axloie Magic True Wireless Earbuds are discreet and, for some, a bit plain looking. However, their minimalist design actually adds convenience and functionality by swapping buttons for touch controls, and also makes charging and transportation incredibly simple.
Connectivity
The earbuds feature Bluetooth 5.0—the latest in Bluetooth technology. Connecting them to a smartphone is a one-step process, and unlike some other wireless earbuds, was extremely fast. There is nothing more frustrating than getting a Bluetooth enabled device, and being unable to connect it to your smartphone—something that seems to happen a little too often with more dated Bluetooth versions.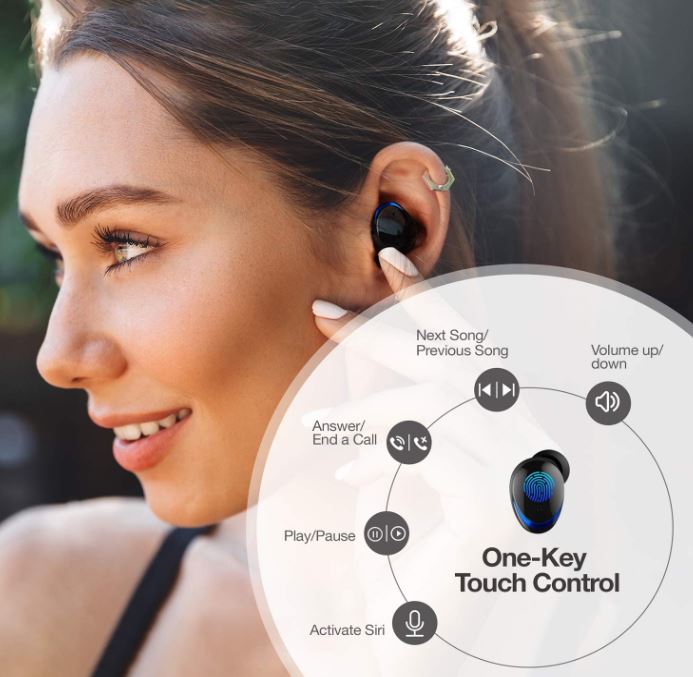 However, as soon as the earbuds are turned on, they will appear in your smartphone's Bluetooth menu under the name "Magic." Once connected, the signal stays strong with little to no inference or skipping.
The strong connection makes the Magic True Wireless Earbuds a strong option for those who may want to use one at a time for important phone calls, or as a hands-free device while driving.
Sound Quality and Comfort
One key thing to remember when first using these earbuds is that for the best sound quality, you'll want to choose the proper size eartips. The earbuds come with three different sizes, and using the right size for your ear is crucial to get the crispiest, clearest audio quality. The eartips are also made of rubber, and fit snugly and comfortably, whether you're using both earbuds or just one.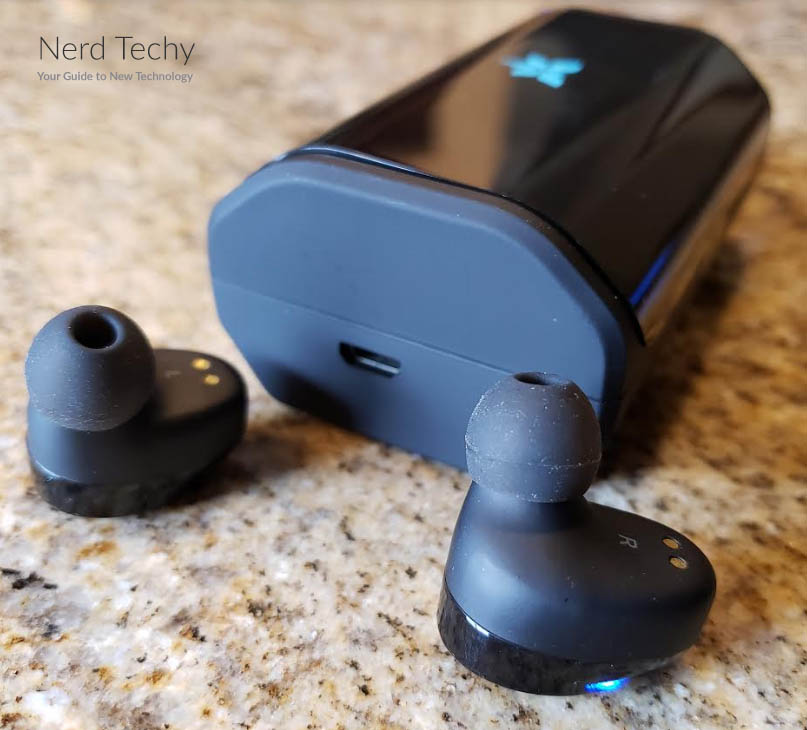 In general, the earbuds pack a lot of power when it comes to sound. The bass is punchy and heavy, with a balanced amount of highs and lows, and, while the mid is a bit light, this is to be expected from most wireless earbuds. The treble is also clean and clear and at high volumes, there is also very minimal distortion. You'll also find that the CVC 8.0 Noise Cancelling makes for an immersive, personal experience in just about any listening environment, whether you're listening to music or taking a call.
Charging Case
One of the most impressive parts of the Axloie earbuds is the charging case. Most earbuds come with a charge case, but this case doubles as a power bank. Considering that these earbuds connect via Bluetooth, the fact that the case can charge both a smartphone, as well as the buds themselves makes the overall package incredibly convenient.
The battery inside the case is 3000mAh, and can yield a whopping 130 hours of play time for the earbuds when fully charged. The case is sturdy, but is made out of plastic. You'll likely be able to carry it around in a bag or backpack and keep the earbuds safe inside, but you definitely don't want to drop anything heavy on it—especially since the top lid is a bit on the thin side.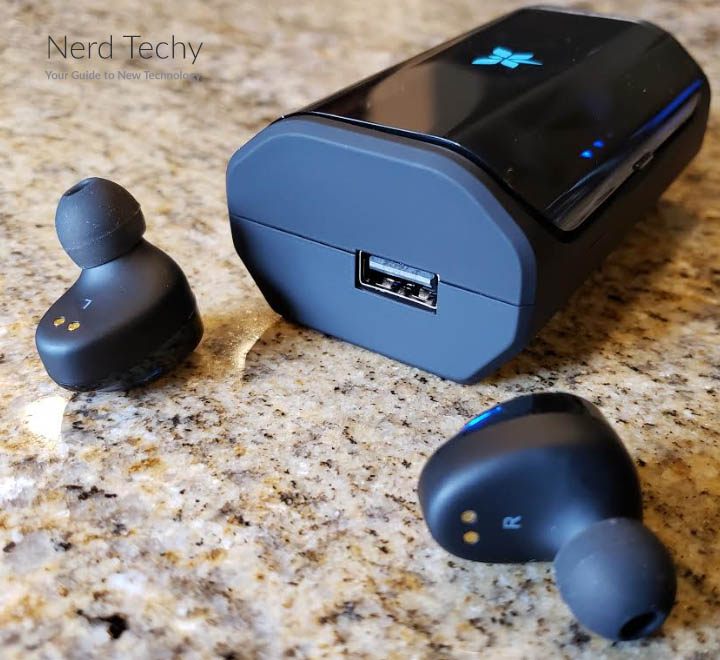 Battery Life
The Axloie Magic True Wireless Earbuds have a battery life of about 4 hours, which may not seem like a lot, but it is actually longer than a lot of other earbuds in this price range. With 3 hours of play time being on the lower end for wireless earbud battery life, and 5 hours being in the upper range, these earbuds are right in the middle.
However, what catapults them above the rest, is the capacity of the charge case. The charge case allows you to continue recharging the earbuds every time you aren't using them, and will yield a total of 130 hours of play time. This seems especially useful for travelers, who may not want the burden of having to constantly recharge their wireless earbuds.
Other Features And Accessories
Two features of the Axloie Magic True Wireless Earbuds worth mentioning are the IP65 waterproof rating, and the built-in, microphone. The earbuds can withstand light moisture like water droplets or sweat, making them perfect for the gym. However, you won't be so happy if you accidentally drop them in the sink or submerge them in water. They are water-resistant, not fully waterproof.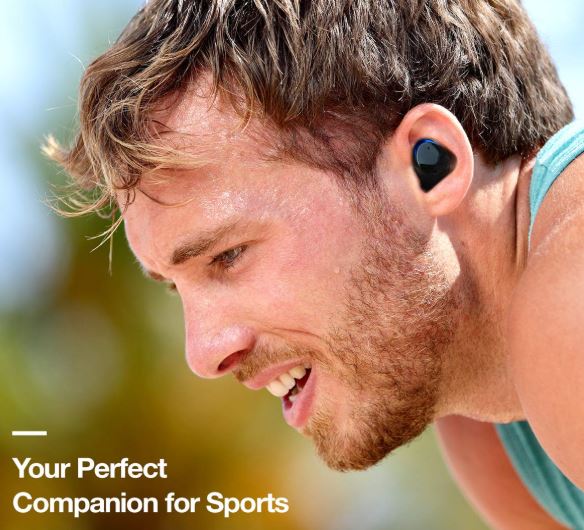 The built-in microphone allows you to use the earbuds as a hands-free device while driving or just taking calls while listening to music. Due to the strong Bluetooth connection, the microphone enables you to have clear conversations with similarly impressive sound quality to just listening to music alone. You can also use one earbud at a time and leave one in the case.
The earbuds also come with packed with a few useful accessories. You'll find an included USB charging cable, three sizes of eartips, as well as a small drawstring bag that can fit the case with the earbuds in it for added protection.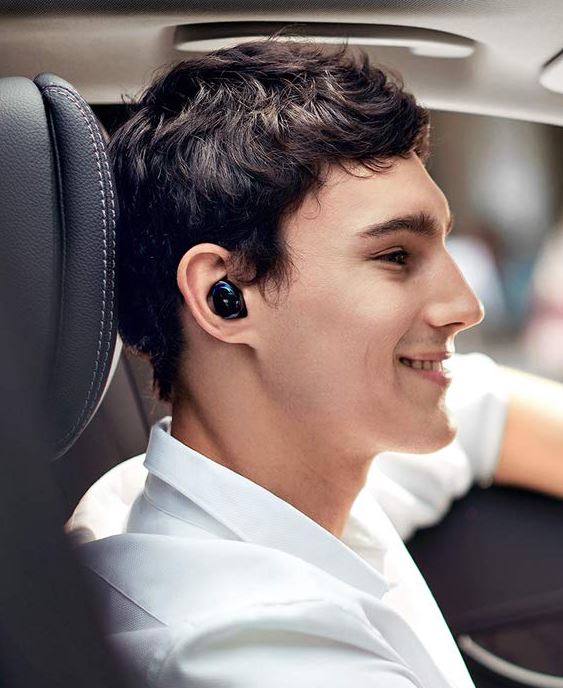 Drawbacks
One of the main drawbacks of the Axloie Magic True Wireless Earbuds is actually also one of its built-in features. While the touch control interface makes the design sleeker, it isn't exactly user friendly. It's easy to lose track of which command you're activating because there are no designated buttons. You have to basically guess and keep pressing the earbud until you've activated the right command. Buttons may make the design a bit clunkier, but they do make it easier to navigate between things like changing songs, increasing or decreasing volume, or answering calls.
Further, with touch controls, there is always a risk of accidentally triggering a command by touching the earbuds. For example, you could be in the middle of a call and accidentally tell the earbuds to hang up simply by grazing the surface of the earbuds with your hand. The same is possible for changing songs, or accidentally activating Siri when connected to an iPhone.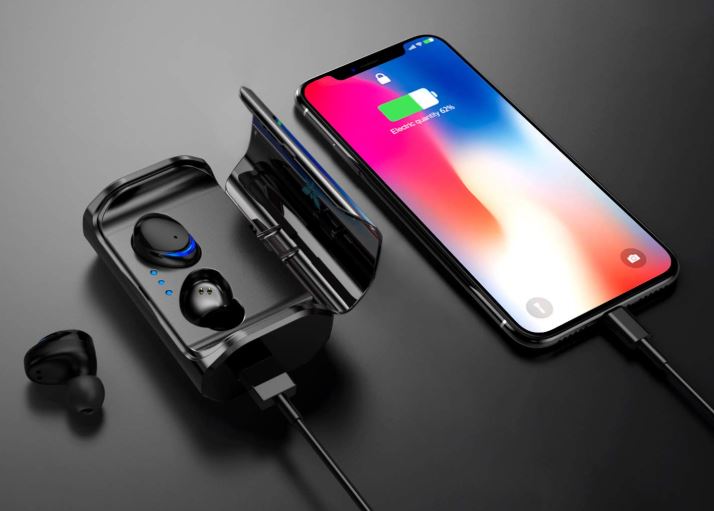 Final Thoughts
Overall, the Axloie Magic True Wireless Earbuds are an excellent bang-for-your-buck product that delivers good sound quality, sturdy, sleek design and incredible convenience in the form of their included charge case. They are a solid choice for exercise enthusiasts, travelers and even pickier music lovers who expect crispy audio.
The ability of the charge case to double as a power bank makes these earbuds a kind of all in one solution for listening on the go when connecting to a smartphone via Bluetooth. The touch controls are both an impressive design feature and a slight drawback when it comes to functionality, but in general these earbuds are undoubtedly a quality product that keeps the user's convenience a priority.
They can easily meet the needs of a variety of different users, and are, without question, a strong contender among other similarly priced wireless listening options.
Meet Derek, "TechGuru," a 34-year-old technology enthusiast with a deep passion for tech innovations. With extensive experience, he specializes in gaming hardware and software, and has expertise in gadgets, custom PCs, and audio.
Besides writing about tech and reviewing new products, Derek enjoys traveling, hiking, and photography. Committed to keeping up with the latest industry trends, he aims to guide readers in making informed tech decisions.