If you're in the market for a security system, there's a seemingly-overwhelming number of systems on the market. From simple Wi-Fi cameras that interface with Alexa or Siri, to advanced multi-camera rigs that can cover every entrance to your property, there's something for everybody's needs. Today, we're going to be looking at the Defender 4K (8MP) Wired Security System with 4 Cameras.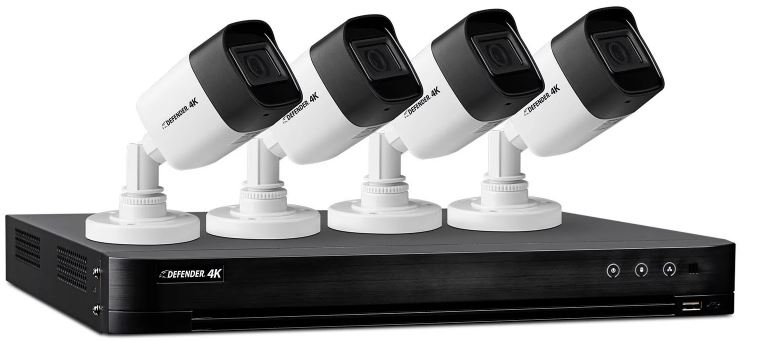 This security system is well-reviewed by users, but we wanted to get our hands on it to see how well it really performs. We looked at the quality of the video, and compared the DVR and mobile app features to other popular security cameras on the market. We also looked at the durability of the cameras themselves, as well as going over the installation process. Here's what we found.
What's in the Box?
Before we go any further, let's take a look at what's actually in the box. To begin with, you get a central DVR unit, which serves as your system's hub. This DVR connects to your TV or monitor with HDMI or VGA cables, and has an internal 1TB hard drive for storing your recorded video.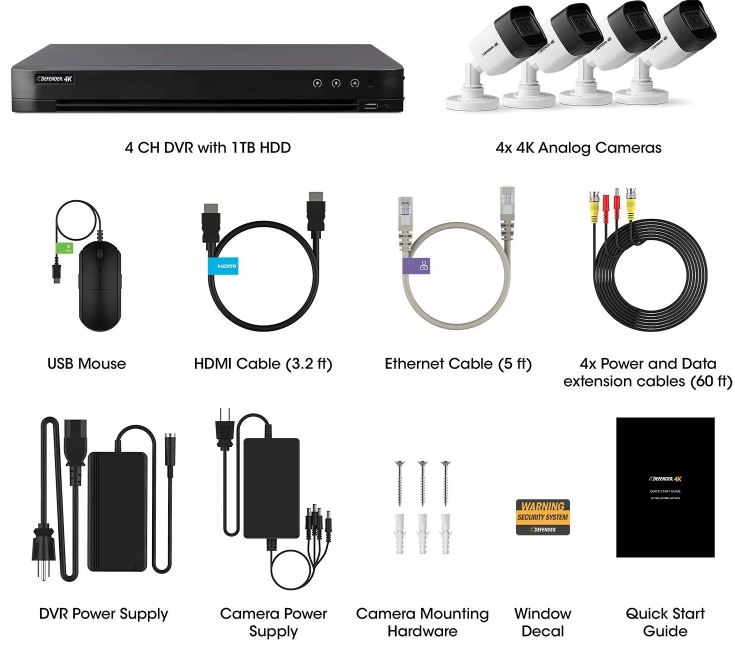 You also receive four cameras, which can output at up to 4K resolution. To get this kind of performance, these cameras need to be wired, so the kit includes four 60-foot cables that supply power and transmit video. If you need longer cables, Defender sells extension cables on their website.
Defender also has your mounting needs covered. You receive mounting hardware, including heavy-duty nails and masonry anchors. As far as extras, you get a USB mouse, power supplies for the DVR and the cameras, and HDMI and Ethernet cables. Finally, you receive an instruction manual, and a window decal to warn criminals that they're being watched.
Order Directly Through Defender's Website and Use Coupon Code "NERDTECHY20" for a 20% discount!
Installation
The downside of a wired security system is that you need to run the wires. This can require a lot of prep work, particularly if you have to run wires through brick or masonry. That said, the cameras only draw 4.8 watts, so most building codes will consider the wires to be low voltage. As a result, you shouldn't need to worry about running the wires through conduit. The cameras themselves are easy to mount, with either three screws for wood, or three nails and anchors for masonry.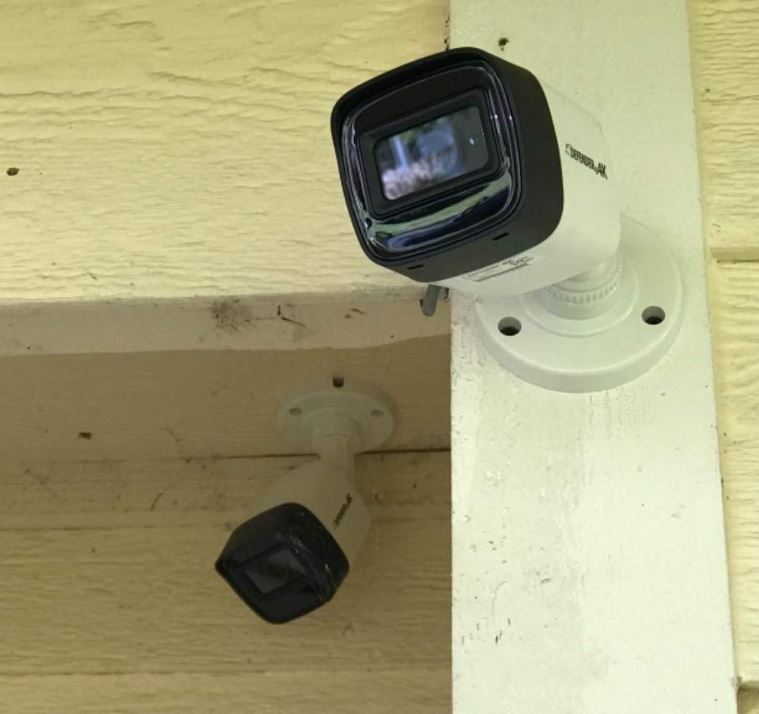 Once you've mounted the cameras and run the wires, you'll need to set up your DVR. Begin by plugging it into a wall outlet. Be aware that you'll actually need two open outlets, since there are separate power supplies for the DVR and the cameras. Next, use the HDMI cable or a VGA cable to connect the video input to your TV. Alternatively, it can be connected to an older computer monitor with a serial cable. Finally, if you want to use the Defender 4K's online features – and you should – you'll need to plug your DVR into an Ethernet port.
Now, plug in the cameras, plug in the mouse, and follow the prompts on the screen to configure your new system. It's a good idea to have your cell phone with you during this process. While you can always set up the mobile app later, what better time to pair your phone with your security system than during initial installation? All in all, configuring your system should take ten minutes or less, after you've mounted the cameras and run the wires.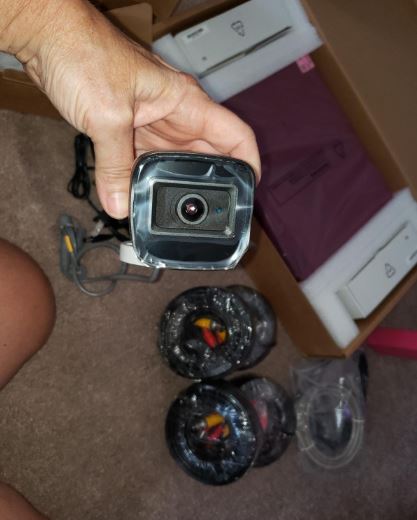 Durability and Weatherproofing
These cameras mount as securely as any quality outdoor fixture, with three screws or nails. This provides plenty of stability, and the base plate features deep screw pockets that make it tougher to pry loose than your average motion sensor or light. That said, it's still not what we'd call professional grade. If someone with a pry bar or hammer wants to get rid of your camera, they're not going to have much trouble.
In terms of weatherproofing, these cameras are 100 percent waterproof. Rain, sleet, and snow will pose no issues. That said, as with many cameras, they don't perform as well in very high humidity. It's not that muggy weather is a danger to the electronic. It's just that moisture will tend to cling to the lens when humidity is over 90 percent, which reduces image clarity.
Security
Besides image quality, another major benefit of a wired security system is added security. Without any kind of wireless signal to intercept, hackers and tech-savvy criminals won't have an easy way to tamper with your cameras. And with the DVR plugged directly into an Ethernet port, nobody is going to pick up a wireless feed from your hub either.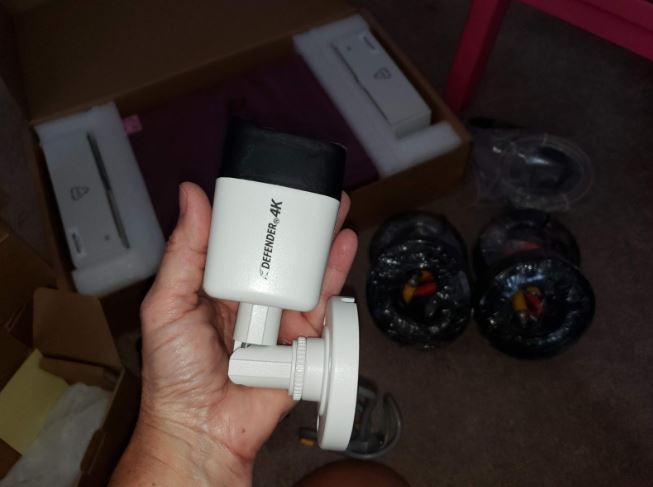 The app itself utilizes 128-bit encryption. This is the same level of encryption used by major banks, as well as Apple's "unhackable" phone encryption. If it's good enough for them, it's good enough for us. As long as you keep your password to yourself, you shouldn't have any security issues with this system.
Video Quality
Live video quality is 4K, although you can view at lower resolutions if you need to – for example, if you're viewing on your cell phone. Be aware that this system is a little deceptive. Only the first camera, the one plugged into Port 1, is going to run in 4K. All other cameras will display at a maximum resolution of 2K. If there's a particular camera where you need extreme accuracy – for instance, if you want to be able to read license plates – plug that camera into Port 1.
Some users have complained of haloing under certain lighting conditions. It's impossible to say whether that's going to be a problem for you, but Defender does sell side shields that can be attached to a camera and alleviate this problem. From what we've seen, this is an effective solution.
These cameras are capable of recording 24/7, and have an effective night-vision mode.
The infrared filter kicks in automatically whenever it's needed, and the image quality is reasonably good, although you do see a little bit of fuzz around bright objects. To get a better picture at night, these cameras utilize an infrared LED light that's invisible to the naked eye but provides illumination in night-vision mode. The light is rated for 100 feet. Obviously, this range gets significantly lower in hard rain.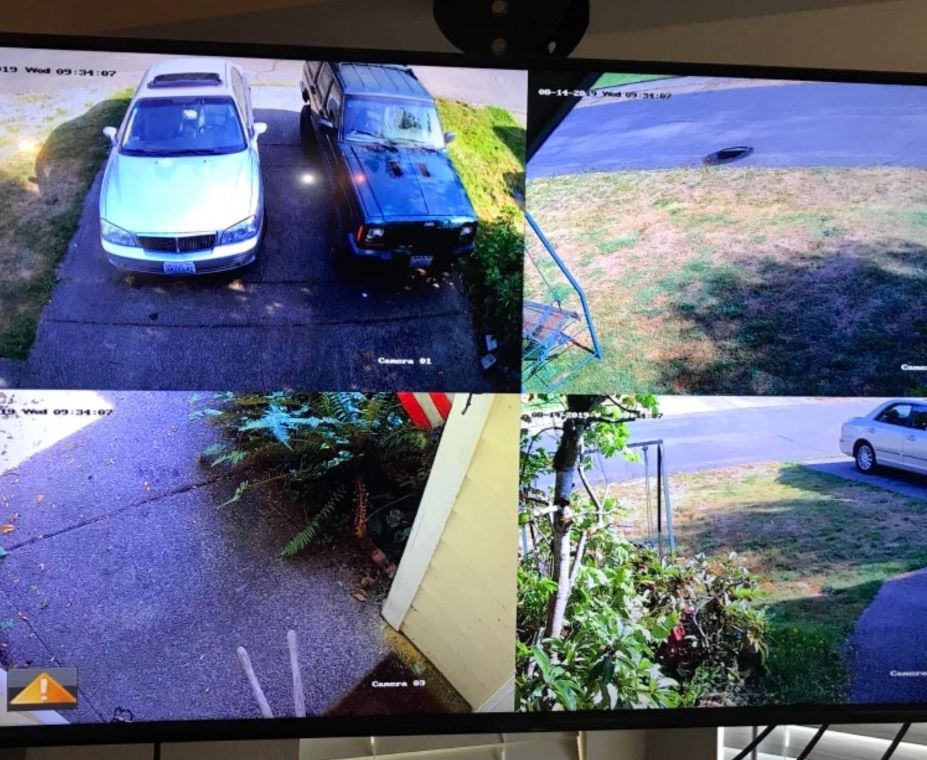 DVR Features
The DVR hub is easy to install, and the interface is user-friendly. It's controlled with a mouse, which is included with the kit. Depending on your setup, you may want to swap the original mouse for a wireless mouse, both to reduce clutter and to use the mouse from across the room.
This unit features three different viewing modes: single camera, quad, or synchronous, which means cycling through individual camera feeds every few seconds. You can set the rate of cycling in the system's user settings. In terms of recording, there are two modes: continuous, or motion-activated. In continuous mode, your cameras record 24/7, whereas in motion-activated mode they only record when something moves in front of them. In your settings, you can control how long they record for in motion-activated mode.
The DVR's hard drive will save up to 1 TB of video. Depending on how many cameras you're using and what mode you're in, you can capture anywhere from a few days to a few months of recording before anything overwrites. Image quality is directly related to how many frames per second (FPS) you're recording at. For crystal clear 8 megapixel images, you'll have to record at a relatively choppy 15 FPS. You can get 5 megapixels at 20 FPS. And you'll still get 4 megapixels at a DVD-quality 30 FPS.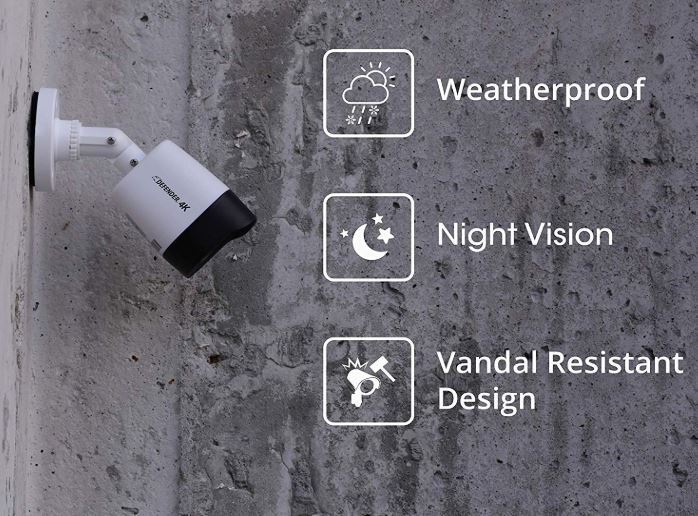 One other thing we should point out about this DVR hub: it can accept up to 16 inputs. If your needs increase, you can add more Defender cameras over time as needed. Alternatively, you can purchase the 8 or 16-camera set to begin with. These sets come with larger hard drives, so you'll be able to handle all the added video from the extra cameras.
Finally, keep in mind that this device has a hard drive and processor that are constantly running. This isn't a DVD player. Treat it as you would a PC or a video game console, and make sure it has enough clearance for cooling and airflow.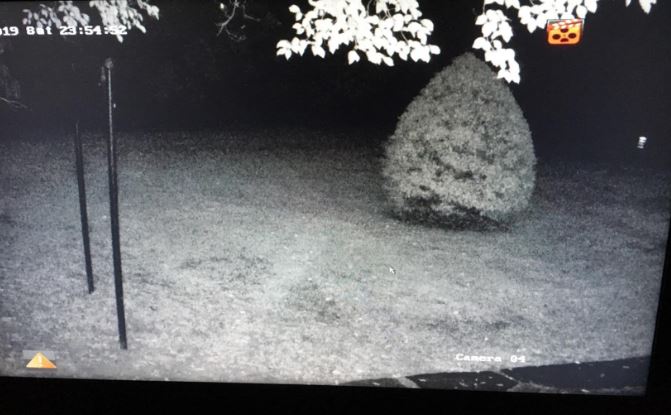 Mobile Features
Many security systems include a mobile app, but this one is exceptionally secure. As we've already mentioned, it utilizes 128-bit encryption ensuring that your video feed remains private. The interface is simple and straightforward. You can view live video feeds just as you would at home on your DVR: individually, four at a time, or sequentially. Quality on your cell phone can be as high as 1080p, provided your display supports that high of a resolution.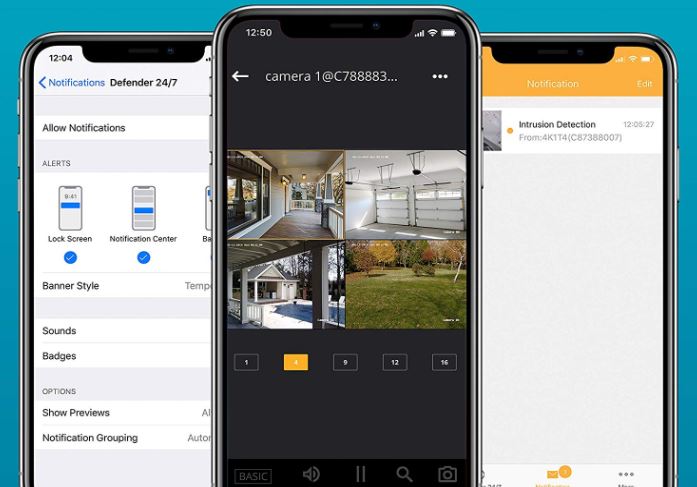 The Defender 4K also provides mobile alerts, right to your phone. This function works separately from your DVR. For example, you could set the DVR hub to record 24/7, and still receive motion-activated mobile alerts. You can also set a schedule for mobile alerts. For example, if your cameras are for your business and you're typically on-site from 9 to 5, you can schedule alerts to automatically disable during those hours.
Order Directly Through Defender's Website and Use Coupon Code "NERDTECHY20" for a 20% discount!
Final Verdict
We mentioned before that this isn't a "professional grade" kit. What we meant was that you'll probably want something a little more rugged if you're operating a bank or another high-volume cash business. In reality, this kit is more than tough enough for the vast majority of homes and businesses. These are high quality cameras, and the ability to add more cameras to the 4K hub provides a lot of added value. The mobile app is straightforward and easy to use, and the interface on the DVR hub also has an easy learning curve. And we especially appreciated the fully-wired design, which makes it significantly more secure than a wireless system.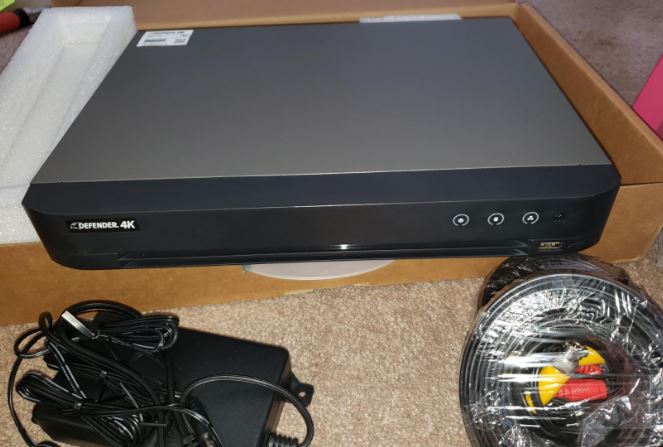 That said, there's no denying that a wireless security system is easier to install. If you're not concerned about getting hacked, and you'd rather avoid the hassle of running a bunch of wires, there are plenty of good options on the market. We recommend the TP-LINK Kasa Spot or the Defender 2K. These cameras can be set up in minutes instead of hours, and will get the job done.