In the world of high-quality home entertainment systems, there are two fast-emerging options for next-generation display systems. The first is a 4K LCD display. The second is a 4K projector.
Now, projectors look like a downgrade from a TV at first glance. To begin with, you need a flat, clean, bare surface to project the image on. With a TV, you can simply set it on a table or dresser, or mount it on the wall with a simple bracket. Not to mention, a quality projector costs three or four times what you'd pay for an equivalent LCD TV.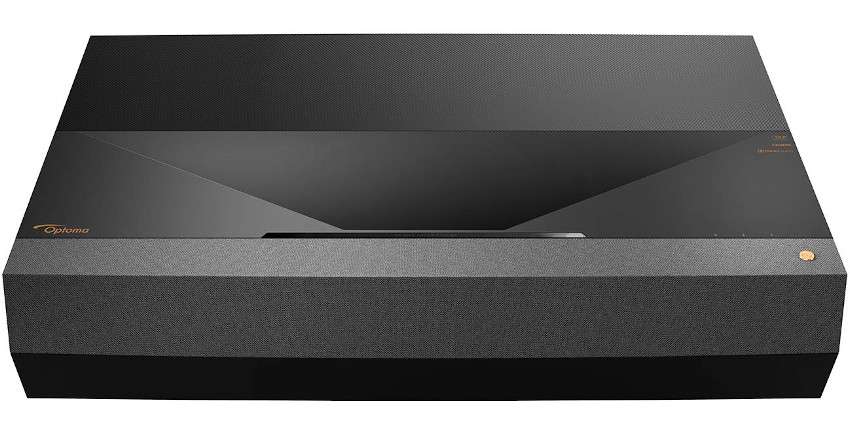 On the other hand, nothing beats the portability of a projector. Sure, you'll pay less for a 70-inch monster LCD TV than you will for a similar 4K projector. But once you mount it on your wall, you can forget about moving it to the next room for a party or special event. A projector, meanwhile, can be easily moved from room to room. Wherever you've got some bare wall space and an empty power outlet, you can watch a movie or put on a presentation.
Today, we'll be taking a look at the Optoma CinemaX P1. This powerful 4K projector pushes 3,000 lumens, so it can operate across a large room without any issues. Alternatively, the throw ratio can be adjusted as low as 0.25:1, allowing you to position it close to the screen or wall to allow for easy seating.
That's all well and good on paper, but how well does it stand up to real life use? Let's find out!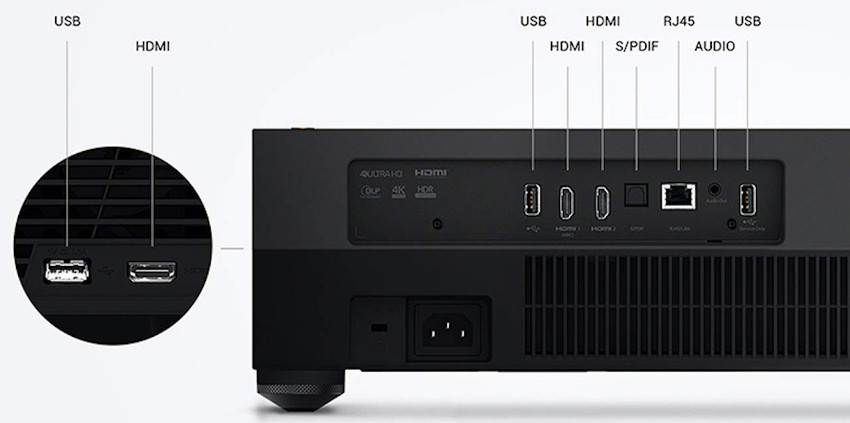 Specifications of the Optoma CinemaX P1
Before we take a deep dive, it can be helpful to take a quick, top-down look at the features of the Optoma CinemaX P1. Here's a quick, point-by-point overview of what this projector has to offer.
True 4K image
3,000-lumen light source
0.25:1 throw ratio
USB and HDMI10 inputs
Compatible with Alexa, Siri, and Google Assistant
Measures 22" x 15" x 5"
Weighs 24 pounds
Built-in 40W Dolby 2.0 sound bar
Now that we've gotten an overview of this projector – complete with sound! – let's take a closer look at some of the features.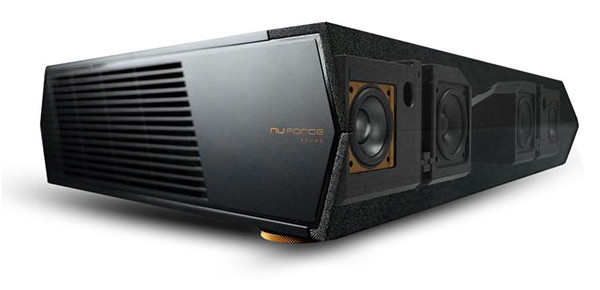 Image Quality
The image quality from this projector is just about as good as it gets. We're talking about crystal clear, 4K video that looks gorgeous even when it's playing at a full 60 Hz, although you can still play 30 Hz video without any drop in quality.
The reason the picture looks so beautiful and bright is that the illumination comes from laser lights, rather than traditional LED bulbs. This allows for exceptionally true colors, so you won't see any greens that look like blues or oranges that look like reds. That said, be aware that as with all projectors, your background color matters. If you're projecting onto a red wall, the color is going to look red.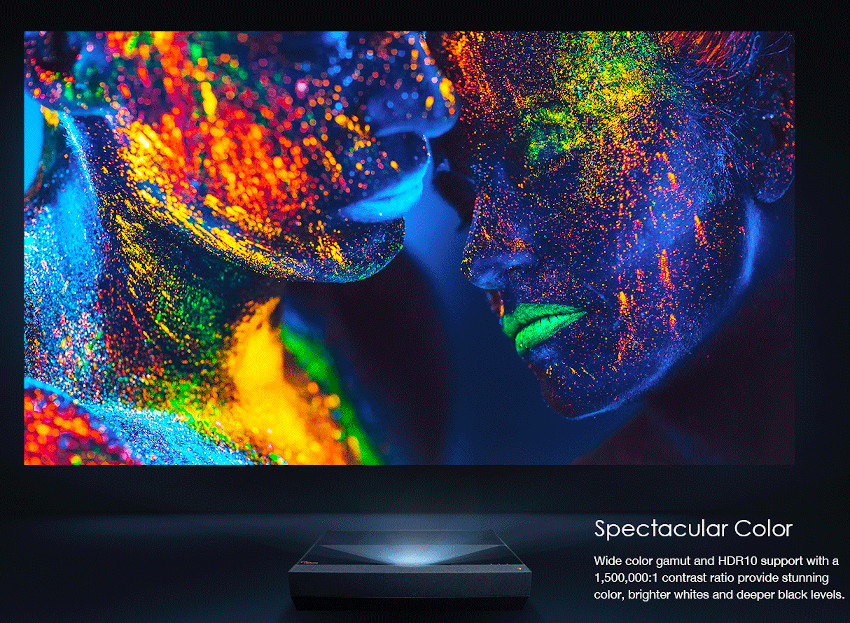 Focusing is easy, anywhere from 30 inches to about 10 inches from your projector screen or wall. The maximum throw ratio is 0.25:1, which allows for a 120-inch image even at the minimum focus distance of 30 inches. That's the size the projector is designed to throw, so try to focus with that size in mind. If your image appears significantly larger or smaller than 120 inches, you'll need to adjust it to around that size in order to get the focus right.
One issue to be aware of is that your image is only going to be as good as your input. If you're getting your video from a cell phone via a USB cord, chances are your video is not going to be in true 4K. On the other hand, if you've hooked up your Blu-Ray player via HDMI, you'll get a true 4K image.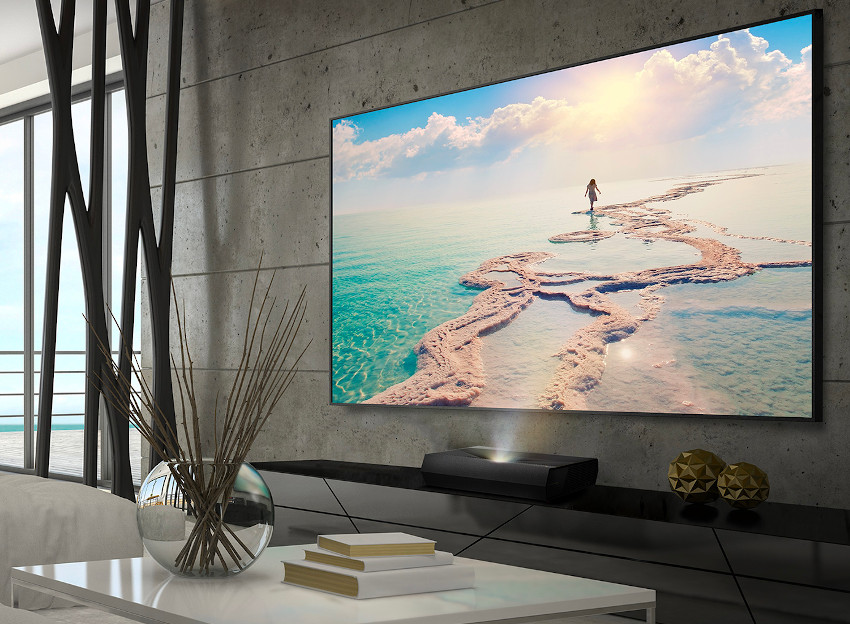 Sound Quality
We're talking about sound quality on a projector, so let's set our expectations at a reasonable level. This is not a surround sound system. This is a single device, about the size of a Blu-Ray player, that weighs 24 pounds. Outside of the projector lens, a large portion of that weight consists of speaker magnets, but ultimately you're still looking at a single box rather than multiple speakers.
The speakers themselves project well through a large room, and are nothing to sneeze at when compared to your average TV or projector speakers. The sound is in Dolby 2.0, and is crisp and clear, with none of the muddiness you'd expect from small speakers.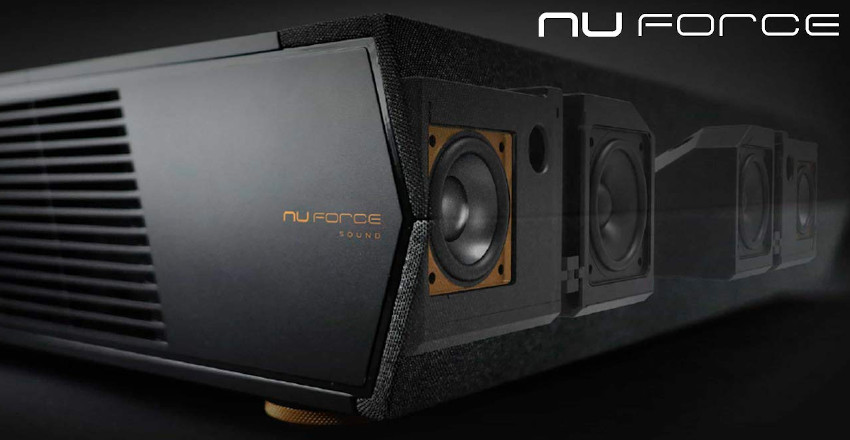 That said, you're still talking about a small pair of speakers, inside of a very expensive projector. We're guessing that anyone who's in the market for a projector at this price point already owns a quality surround sound system that far exceeds anything the CinemaX P1 can put out.
So why build these speakers into the unit to begin with? We're not sure why. The only plausible reason would be portability, so you'll get decent sound if you decide to move this projector from the living room to the dining room for a family event.
Device Compatibility
One feature we really appreciate about the Optoma CinemaX P1 is that it's compatible with just about any device. To start with, you can stream Netflix, Hulu, and Amazon video directly from your phone or tablet via your home's WiFi network. But there's no need to pair all your personal devices.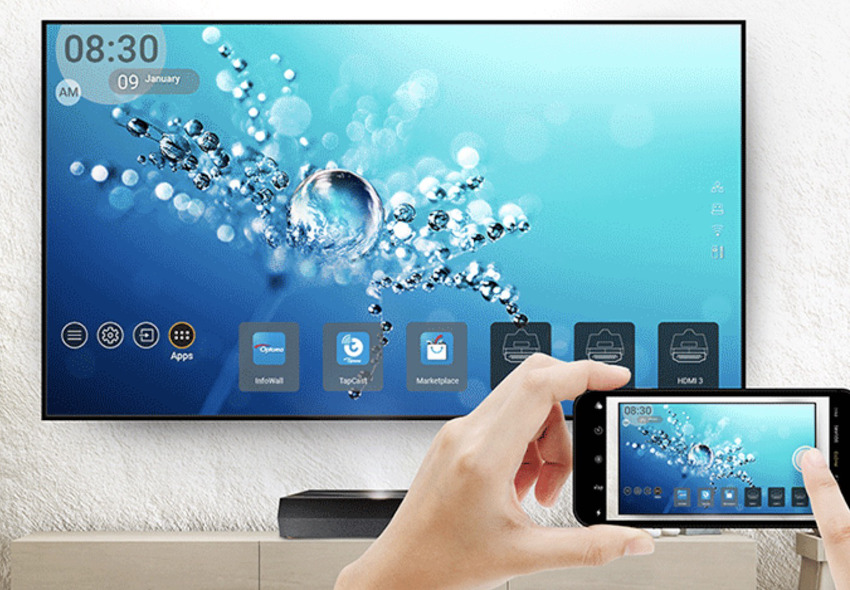 If you have a smart home device like Alexa or Siri, you can link your CinemaX to your network. Simply ask Siri to stream your favorite comedian's latest Netflix special, and it will light up your wall in just a few seconds.
Alternatively, you can connect to your CinemaX via USB with virtually any device. Stream your home movies, slideshows, or YouTube videos with equal ease, with the ability to transport your projector and stream in any location.
Finally, you can connect your CinemaX P1 via HDMI or HDMI10 cable. HDMI10 will give you the best possible picture, and it's really the only reliable way to get a consistent 4K image. HDMI will get you close. So will WiFi, although it's subject to the usual wireless hiccups. USB can barely keep up with 1080p. But HDMI10 will provide a consistent 4K image at 60 Hz, perfect for the needs of cinemaphiles and hardcore gamers alike.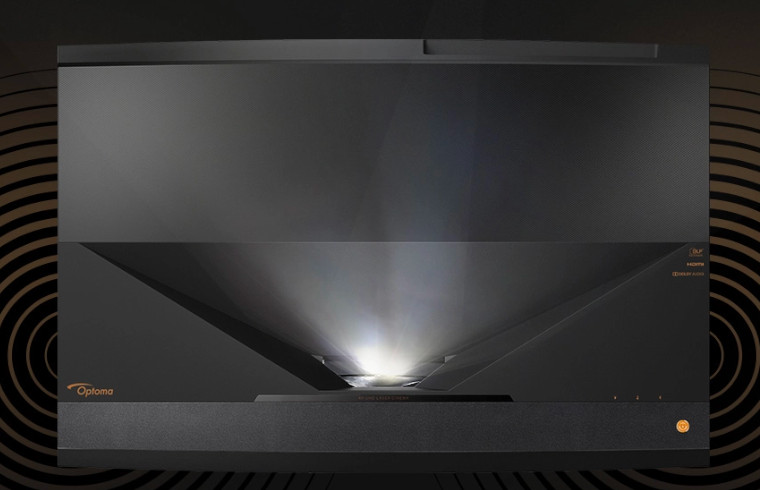 Features Wrap-up
Now that we've looked at everything the Optoma CinemaX P1 has to offer, it's time to give our overall opinion. Before we do that, though, let's take a look at what this projector does right, as well as where it falls flat.
Pros:
Crystal clear video
Multiple device compatibility
Works up close or far away
Quality built-in sound system
Cons:
Many redundant features drive up price
Heavy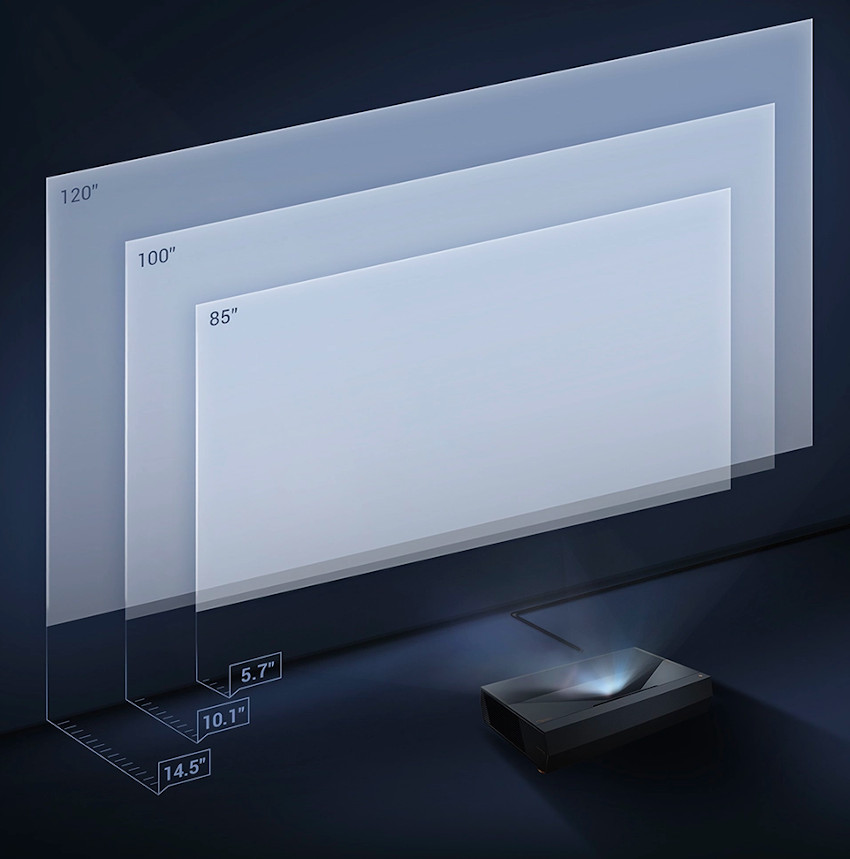 Final Verdict
As you can see, the Optoma CinemaX P1 is a quality projector, but it's not without its flaws. Depending on exactly what you're looking for, it may be an excellent choice, or it may simply not just be the best option for you. So why should you buy this projector? Or alternatively, why would you give it a hard pass?
Let's be real. This projector is designed for people who are willing to spend top dollar to build the best home theater system possible. The crystal clear 4K image is simply stunning, and even at 60 frames per second you won't notice any drop in quality, provided your input device is able to keep up.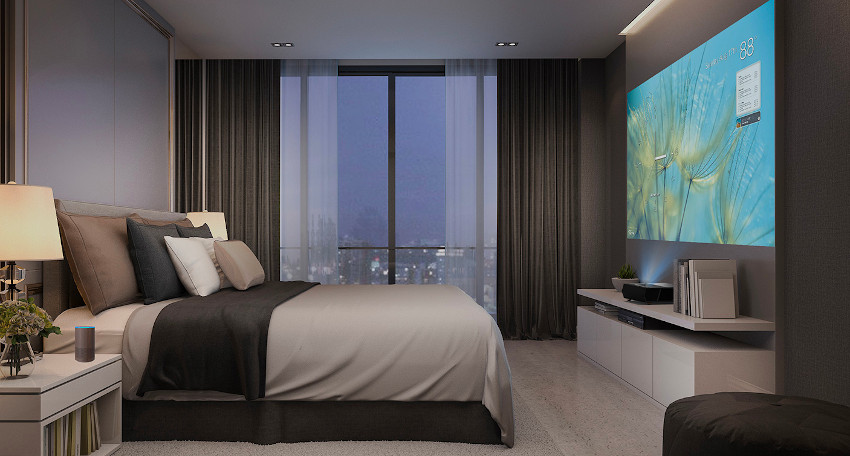 The device compatibility is also a nice touch. It can accept inputs via HDMI, or through USB or WiFi from your Android, Apple, or Windows devices. So whether you prefer Xbox Live, Google Play, the Apple Store, Netflix, or just a plain old Blu-Ray, you'll have no issues playing your video on this projector. Alternatively, you can play streaming video directly from the projector, using the native Netflix, Hulu, Amazon, and other streaming apps.
The speaker quality, too, is very good, at least for speakers that are built into your projector. But this leads us to the CinemaX P1's biggest problem: price vs. value.
While the beautiful, 120-inch display is mesmerizingly clear, it's hard to justify the price tag. And while many of the extras are nice, who doesn't already have Netflix on their phone, tablet, or gaming device? And considering the price tag, anyone who's in the market for this device already has a top-quality surround sound system. Optoma would have been better off leaving sound out altogether – or limiting it to a basic speaker – than integrating pricey Dolby 2.0 speakers that nobody is even going to use.
That said, this is one of the best projectors on the market. If money is no object and quality is everything to you, accept no substitute.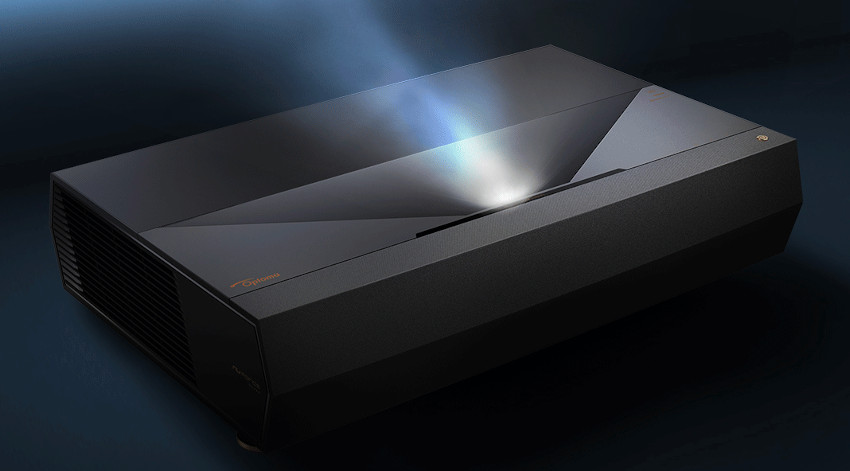 Alternative Options
So what if you still need a quality home projector, but the Optoma CinemaX P1 isn't right for you? Maybe you need something more portable. Maybe the CinemaX P1 costs too much. Maybe you'd rather put your money into crisp video, and leave the sound to your existing surround-sound system.
No worries. We've already reviewed several home video projector systems. Here are a few of the models we've looked at in the past, which might be right up your alley.
The Poyank TP-01 or Jinhoo WiFi Projector. These mini projectors provides a beautiful, clear picture in a compact package. The Poyank costs a tad more, but offers more adjustability options for different lighting conditions. That said, both projectors are a solid choice if size and portability are major concerns for you.
The Crenova XPE496 or RAGU Z498. These compact projectors cost significantly less than the Optoma or the others on our list. This is because they project in 1080p, not 4K. That said, if 1080p is good enough and price is an issue, either one of these projectors is a great choice.
The VANKYO Performance V600. This is a bright, 4,000-lumen projector that's designed for maximum illumination, indoors or outdoors. It also costs significantly less than any other projector we've mentioned today. On the other hand, it only projects a 1080p image, so you won't get the same clarity as you will with the CinemaX P1.
And that about covers it! Even if the CinemaX P1 isn't up your alley, at least one of these projectors should be just what the doctor ordered.
Meet Derek, "TechGuru," a 34-year-old technology enthusiast with a deep passion for tech innovations. With extensive experience, he specializes in gaming hardware and software, and has expertise in gadgets, custom PCs, and audio.
Besides writing about tech and reviewing new products, Derek enjoys traveling, hiking, and photography. Committed to keeping up with the latest industry trends, he aims to guide readers in making informed tech decisions.