Packing a projector into a small portable chassis can be tricky. Because it puts a ceiling on the kind of visual performance you can expect to draw from the unit. And that's not the least of it. There are implications for almost every element of design, from its power efficiency to its brightness. Which can make picking a mini projector somewhat tricky. But choosing between two similar units, like the Crenova XPE496 vs the RAGU Z498, can really help you narrow your focus on the features that matter most.
Crenova XPE496
The Crenova XPE496 Mini Projector says that it's able to support 1080p. That's a bit misleading because this projector doesn't have 1080p as its native resolution, it's simply able to play files of that type. But if you can forgive the misleading advertising, the XPE496 does have some pretty neat features.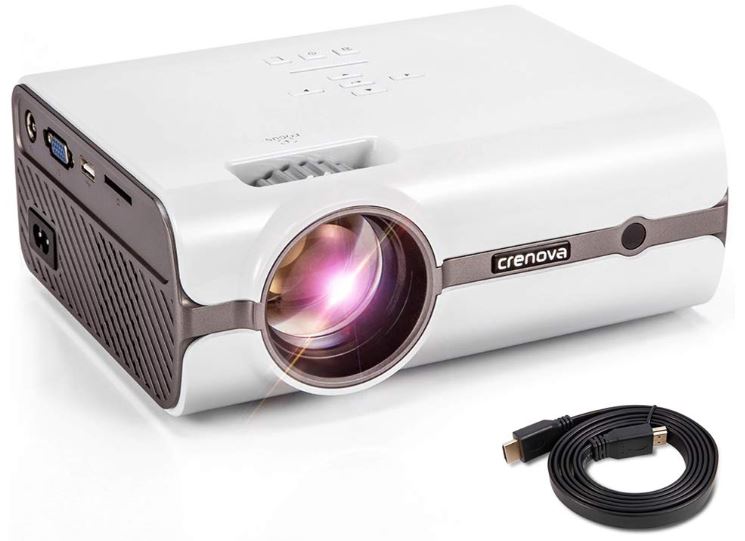 Though special features are not what you should be looking for out of a miniature projector in this price range. Rather, your focus should mostly be on trying to determine how well the unit is able handle essentials. And in this instance, the XPE496 does give you a good handle on things. For instance, you're able to connect with virtually any device. That includes mobile electronics like tablets and smartphones. It also includes platforms like Windows, Mac, and Android.
Design & Layout
The XPE496 is quite compact, measuring 9.84 x 6.3 x 3.15 inches. Towards the top of the interface, you'll find an HDMI port, IR receiver, AV port, and 3.5mm audio jack. On the next side, the port options continue. There's a VGA, USB, SD, and TV port. It's a little odd they didn't shove all these controls into one place because there's plenty of room remaining on the back side. But it's not inconvenient.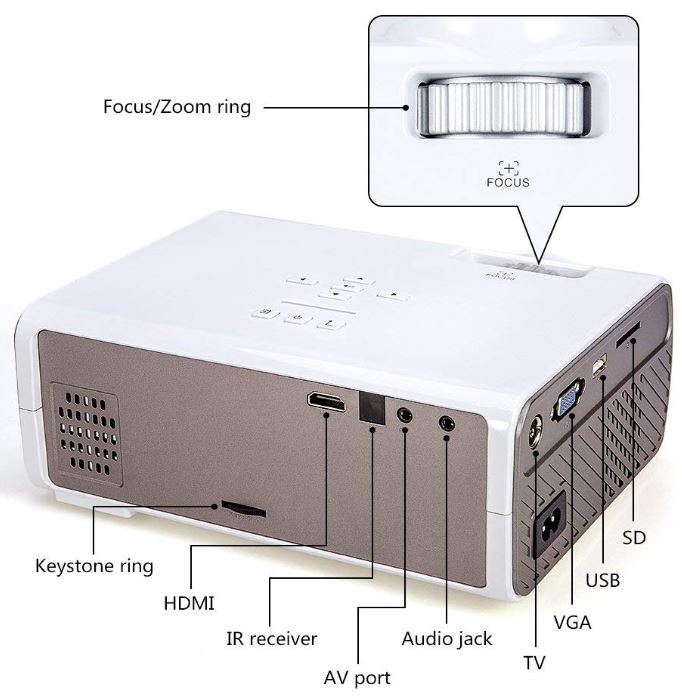 The topside of the projector looks pretty standard. They've moved the user controls to the center of the unit instead of shelving them towards the side. But the interface is totally intuitive. You won't need to crack open the user guide to figure out what the up-arrow button will do for you. The focus wheel is placed towards the front side of the unit, right in front of the lens. It's kind of hard to miss.
Though it seems counter-intuitive, it's small projectors that tend to be the loudest. Because smaller fans usually need to spin faster in order to be able to pull through enough air to adequately cool them. Here you'll find that the unit is large enough to be able to fit some medium-sized fans, and basically avoid nose problems altogether. The enhanced cooling fan system is supposed to generate about half the noise of comparably small projectors. Though it still puts out about 40dB during operation, which is something you can probably hear if there's no audio in the room.
Speaking of audio, there's a built-in speaker, which is a 5W system. It sounds like the kind of thing you might expect from a PC monitor. Not very impressive, but this projector is easily paired up with other audio equipment to resolve the issue. So this projector doesn't support extra-fancy audio formats like Dolby Sound. But you can connect a Bluetooth speaker pretty easily. The onboard sound is passable when you're in a pinch.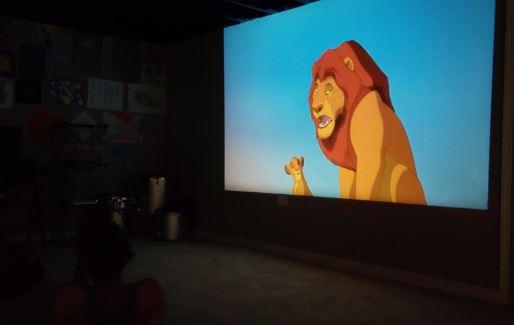 Video Quality
The XPE496 can stretch between 28" and 180". That's a pretty wide range of screen sizes, though you're much better off sticking below 100". Because the 2200 lumen output, or 220-lux peak brightness, is going to be small compared to a bulkier and less portable projector. By the standards of a mini projector, this is pretty bright. But that level of brightness gets worn down when it's stretched out towards 15-feet.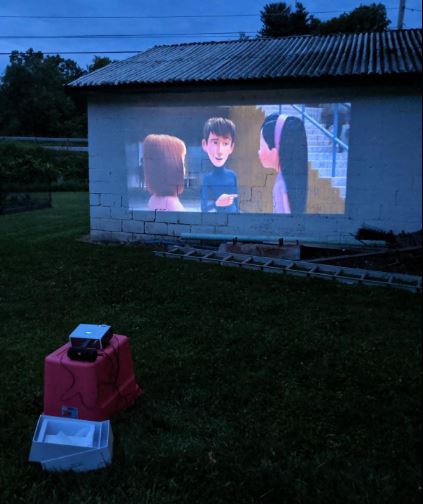 The native resolution, meaning the actual resolution of content, is 800 x 480. In other words, it's about 480p. That's the resolution standard of analogue broadcast television, so it's not terrible by any means. It's a blast from the past compared to 1080p, but moving to a projector with native 1080p resolution, while also keeping the miniature form factor of this device, would require you to greatly expand your budget.
The contrast ratio is 1000:1, which is exactly what you can expect to draw from basically any projector in this price range. Part of the restriction there is that, in spite of being fairly bright, this projector has a fairly limited color spectrum of 75% NTSC. It's respectable, but lacks the color vivacity of an LED monitor.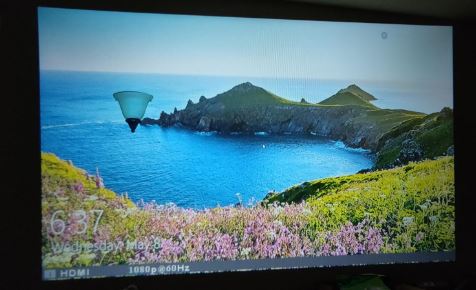 Other Considerations
For adjustment, the XPE496 is pretty decent as well. Keystone correction of 15-degrees in either direction provides you with some wiggle-room for installations or circumstances where the projector needs to sit close to a wall. And the throw ratio is 1.38:1, so you typically want the projector to be between 4ft and 18ft away from the wall it's projecting against. Plenty of room.
The lamp is LED based, and so it's supposed to last for about 50,000 hours. Put into practical terms, that means you can watch one movie per day for literal decades. Though you want to give the projector a break after 2-3 hours of use, let it cool down a bit to prevent overheating. And if you wanted to keep the brightness of the bulb in peak condition, you'd want to consider moving over to a new bulb around the 25,000-hour mark.
The box includes one HD movie projector, HDMI cable, power adapter, AV cord, user manual, and remote control. There's also an adjustable foot you can use to leverage the angle of the projector while providing stability in the process. Plus, Crenova includes a one-year warranty.
RAGU Z498
The RAGU Z498 is aiming to do many of the same things as the Crenova projector. For instance, they've designed this unit with extra brightness in mind. And they've made it to be as noise-free as possible. But there are some important differences between these two models, and those differences mostly come down to daily performance.
Design & Layout
Aesthetically, this projector's topside looks almost identical to the XPE496. You'll find a set of arrow keys, flanked by a set of menu keys. Adjacent to them, there's a focus wheel. Though they haven't bothered to label the focus wheel, this interface is still pretty much every bit as usable as the Crenova XPE496.
Once again, they didn't shove all the ports onto one side. But they are mostly stacked on the right side of the unit. That includes an SD card port, headphone jack, AV jack, HDMI port, and two USB connections. Turning over to the backside of the Z498, they've placed an IR sensor and a VGA connection, all positioned next to the power cable. It's a pretty straightforward design that shouldn't end up confusing anyone.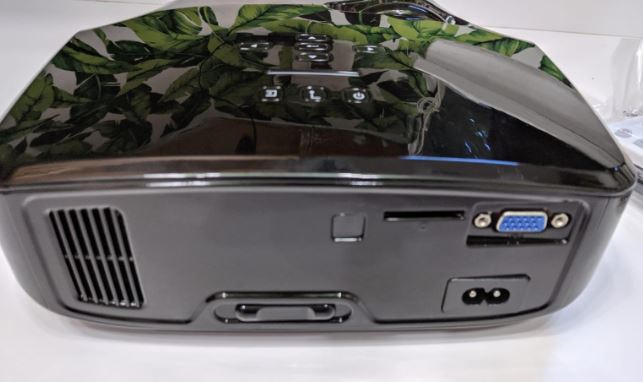 And again, this interface is shockingly similar to the XPE496. So between them, you can connect this projector with basically anything. That includes a USB drive, Mac/PC, game console, smartphone, iPad, TV, DVD, camera, and so forth.
Video Quality
When you look at video quality, there are some more distinct differences between these units. Though both share 480p as their native resolution, and both share a similar range of potential screen sizes. Because this screen size can stretch between 28" and 180". Though you want to keep the projector about 5ft or 16ft away from the wall whole getting those sizes.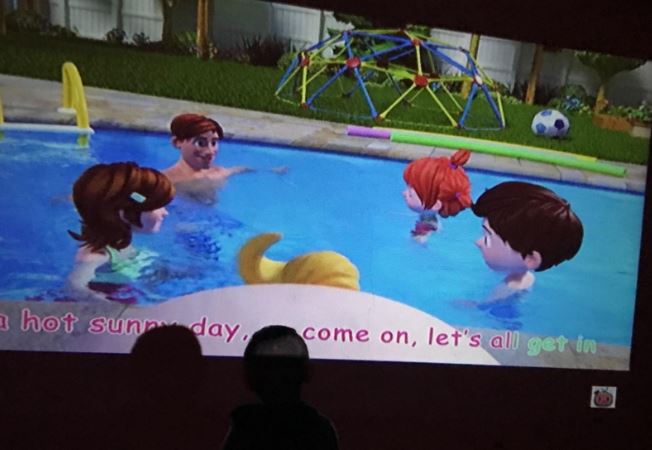 The ideal viewing distance is about 8ft away, while keeping the screen size to about 100". So the kind of circumstances where you'd want to use this projector are actually quite similar to the kind of circumstances where you'd want to use the XPE496. Surprisingly, both of these machines have similar ranges of adjustability as well.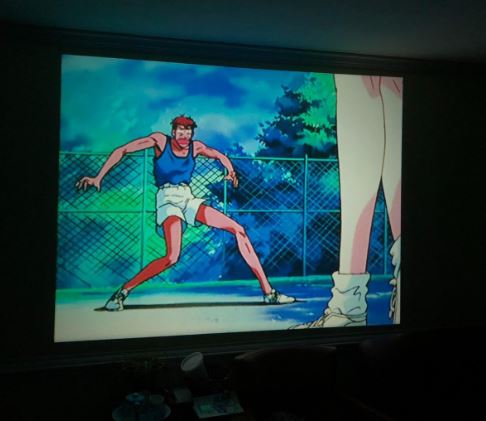 Neither of them comes with its own tripod to help keep them balanced. Tripod designs are pretty common on mini projectors, like another we reviewed recently, the Vamvo S1 Ultra. However, when it comes to color vivacity, the Crenova XPE496 is far ahead. It provides a 3000:1 contrast ratio, about three times as strong as the ratio you'll find from Crenova. That puts to shame the slightly dampened color capacity of its competitor.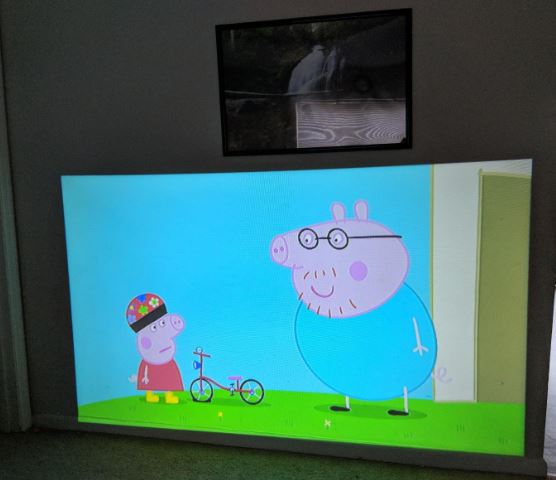 Other Considerations
RAGU includes a one-year warranty. As with most, the LED bulb inside this machine is supposed to last up to 50,000 hours. Once again, if you want to maintain performance levels of the LED, it may be necessary to swap it out around half of its lifespan. And it's a good idea to give the machine some breaks to let the bulb cool down.
Because while this device isn't prone to overheating, keeping the bulb going on a continuous basis is going to have the effect of driving down its lifespan over time. And when you don't have much brightness to spare to begin with, the loss of further brightness is something that will be able to have a visual impact on performance rather quickly.
Crenova XPE496 vs. RAGU Z498 Mini Projector – Which Should You Pick?
The Crenova XPE496 has a lot of strengths. And the RAGU Z498 has a lot of strengths. Amusingly, they share many of those strengths. Because both are basically the same size and weight, making them about equally portable. Both have support for nearly the same visual capacity, though the RAGU X498 has considerably better color contrast, giving rise to more vivid colors in its display.
While both units come with a couple of AV cables to help you get started, only the Ragu Z498 comes with a carrying case to help store and move it. The case isn't too special, but it's decently well-stitched, and it provides some extra storage space. And neither will work especially well for small text or professional presentations. These are supposed to be entertainment projectors, aimed at people who want to watch movies or potentially play games.
But for someone who's primarily concerned with portability and visual quality, the Ragu Z498 is going to be a better choice. And for someone who's looking for something cheaper and simpler, the XPE496 is very similar in almost every way that counts. It may not be quite as impressive as RAGU's machine, but it's pretty close.