Picking the right fingerprint padlock will depend on what needs protecting. It will depend on where that protection needs to take place. You might also need to think about giving access to several individuals. But for the most part, finding a good lock isn't that tough once it's known how you intend to use the device. You can see that rather clearly in a comparison of the Deep Dream L1 vs. the Koogeek Fingerprint Padlock
Deep Dream L1
In most ways, the DeepDream L1 is a pretty generic lock. You can hardly find differences between this lock, and the previous five generations of locks which came before it. There's only so much that you can improve a design like this, after all. But there are a few things that help make the L1 a little more unique. Most notably, support for Siri, and a battery that's almost twice as large as many similar locks.
Note: At no extra cost to you, we may earn a commission for purchases using our links. Learn more.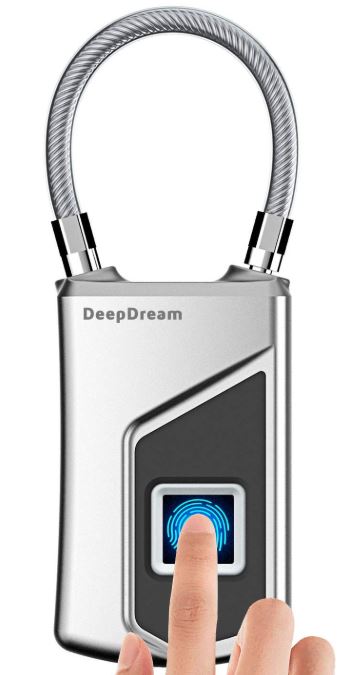 This design is dustproof, it resists corrosion, and it resists wear and tear from regular use. The lock is also pretty simple. As such, it's suitable for both outdoor and indoor use. So you might throw this lock on golf bags, school lockers, wardrobes, bikes, toolboxes, and so on. And you don't need to get any apps involved, or have to maintain a database of fingerprint data. You pretty much just touch the lock and you're done. Pretty simple stuff.
Design & Layout
The L1 measures 0.6 x 1.2 x 3.5 inches, and weighs about three ounces. That height is largely the result of the locking latch, which comes close to doubling that particular dimension. The exterior shell of the lock is composed of aluminum alloy. If you know anything about the strength of metal, then you know that's not too sturdy.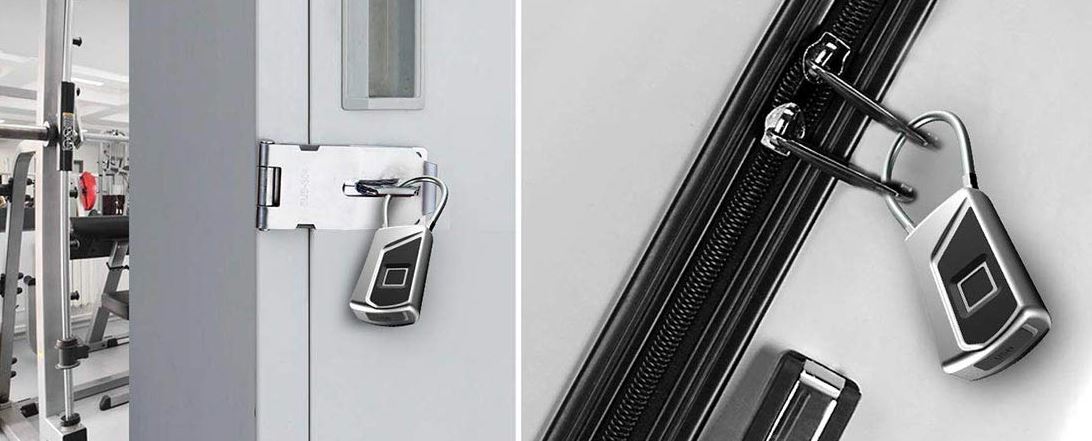 However, internally, most of the body of the lock is composed of zinc alloy. That's about three times stronger than aluminum, making it a much more suitable material for this particular job. And while also keeping the lightweight nature of the lock. Likewise, the locking mechanism is made from a much sturdier stainless steel. So when it comes to the parts that might be tampered with, this thing is as strong as basically any similar padlock.
Notably, there's also a plastic casing over the stainless steel locking latch, helping further protect the locking socket from moisture and tampering. The resulting design is a tad bulky, which is exactly why they've included a carrying bag. However, the somewhat bulky design is also essential to the security it provides. This lock couldn't be forced open with some wimpy wire-cutters. You would need a full sized pair of bolt cutters, and you'd need someone strong enough to force those cutters through the quarter inch thick steel bolt.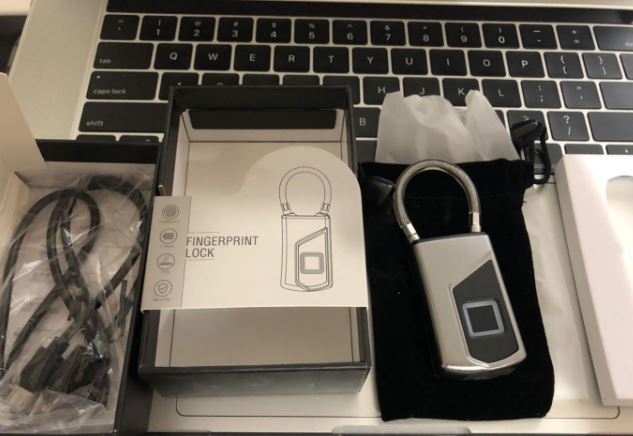 User Interface & Battery Lifespan
On the front face of the lock, the fingerprint reader hides away a small LED indicator. This indicator will flash green while access has been granted, blue while it's processing a request, and red if access is refused. Additionally, the LED can be used to display the charging status. The red light will remain on while the device is charging, and then flip offline when you've finished charging.
Turning to the battery potential, things look pretty good. The standby time runs for one year. So even if you don't use the lock on a frequent basis, the L1 does manage to hang in there. Because you can open the lock thousands of times between a recharge, you probably won't need to think about the lock between recharge periods.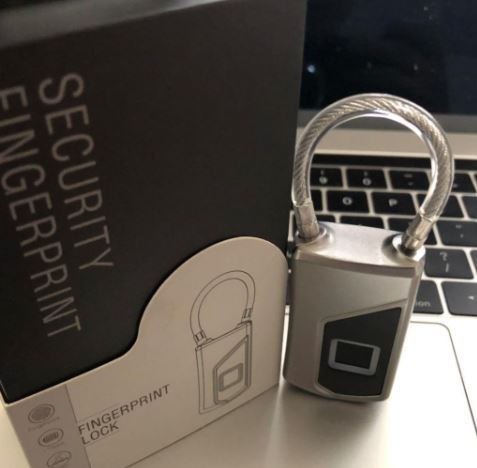 Other Considerations
The L1 is built with a fingerprint ID chip, which allows it to read fingerprints from all directions. So even if you touch the lock at an awkward 45-degree angle, it can still read your fingerprints. And it only takes about one second for the lock to take a reading and determine if it's going to pop open. All in all, there are a total of 10 fingerprints that can be registered for the L1. Technically, that means you could register ten fingers. But you might instead decide to register ten people's index fingers. It's all up to you.
With respect to security, this lock is about as good as you'd get from a regular padlock. The big difference is all about convenience. You're not likely to misplace your fingerprints, but it's easy to lose a key. The only thing you have to worry about is keeping the lock charged on a regular basis.
For extras, the L1 doesn't come with that much stuff. It does include a user guide, storage bag, USB charging cable, and the lock itself. The Deep Dream L1 also includes a one-year warranty.
Koogeek Fingerprint Padlock
The Koogeek Fingerprint Padlock has a couple of things going for it. One of those things is style. This is easily one of the most attractive fingerprint locks on the market. The gray on black design looks professional and intimidating at the same time. The front interface helps direct your fingerprint.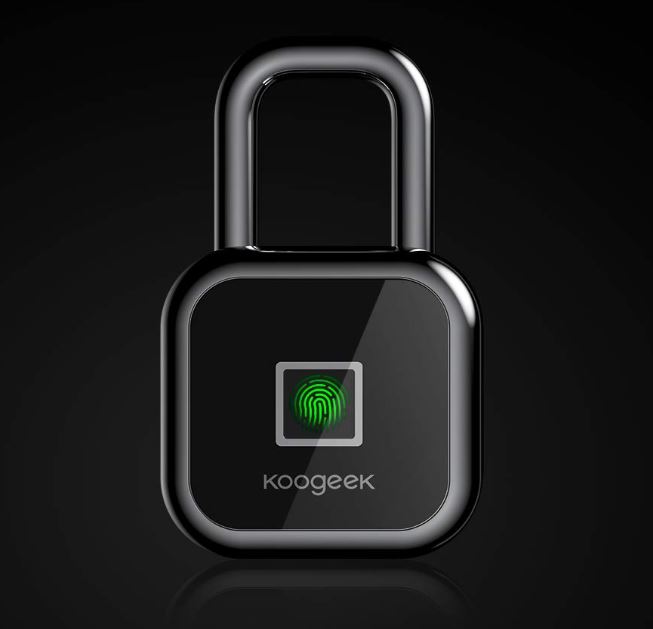 Another thing this lock has working in its favor is ease of use. It's got a pretty impressive battery capacity that ensures you don't need to micromanage the lock. And it's got an equally impressive memory, allowing you to store far more fingerprint data than the Deep Dream L1.
Design & Layout
But how do they compare when it comes to security? Actually, these two are fairly similar. The Koogeek lock measures 5.4 x 4.6 x 1.7 inches, and it weighs the better part of 8-ounces. Far heavier than the L1, meaning slightly less portable. But similar to the L1, it uses a waterproof design that resists spraying sources of moisture. You just can't throw this lock underwater for prolonged sessions of submersion.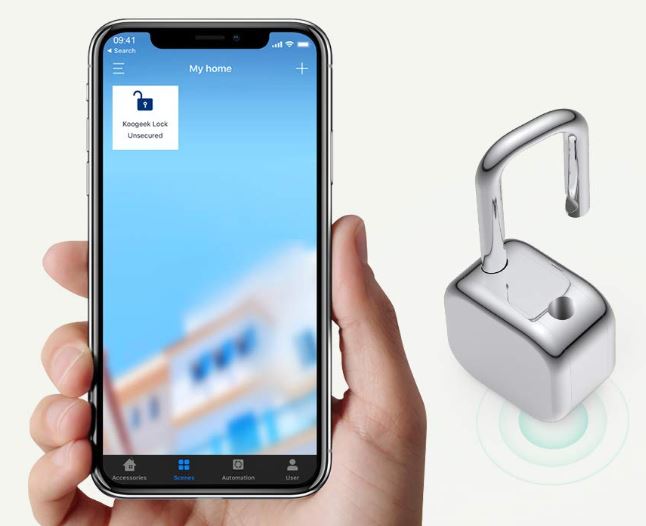 As with Deep Dream L1, this lock has a nice thick locking latch. The ¼" diameter latch is made from stainless steel. And the chassis of the lock is composed of zinc alloy, an almost identical build to the L1. It's only when you start to look at the software that things start to diverge a bit. Because the Koogeek Fingerprint Lock is able to store a total of 50 fingerprints.
Sure, that's an almost endless amount of storage for a lock like this. And sure, that's several times better than the L1. But how many people really need 50 fingerprints coded in? In any case, one thing you might find a bit more interesting is how the app lets you check the last 100 logins. So if you want to know who's been opening the lock recently, it's easy to find out. There's also an instant reminder alert system. Want to know each and every time the lock is opened? You can have an alert sent straight to your phone.
The Koogeek Fingerprint Lock also includes Siri voice control, allowing you to command the lock to open from your smartphone. Though this does mean your smartphone will be an intermediary security concern. But given that modern smartphones can often be fingerprint locked anyway, it's not something to be too worried about.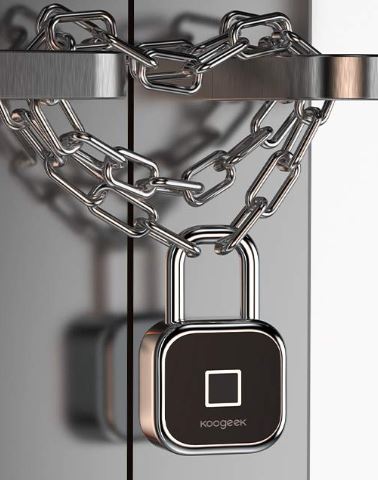 User Interface & Battery Lifespan
If you charge this lock for two hours, it will be ready to run for as long as a year. Though naturally, the kind of battery lifespan that you can expect will be a consequence of how you use the lock. If you're someone who's locking and unlocking this thing several times a day, every day, then you're going to end up needing to top off the battery after a few months.
The 280mAh battery is supposed to be able to accommodate about 30,000 lock/unlock operations. So you can interact with the device 30,000 times before you need to recharge. That makes it very suitable for golf bags, lockers, furniture, bikes, toolboxes, and so forth.
Once the time comes, the recharge is handled with a standard micro-USB port. That port is hidden away on the bottom side of the device. Recharging from empty only takes about two hours because the modest size of the battery, so you can get back on your feet pretty quickly.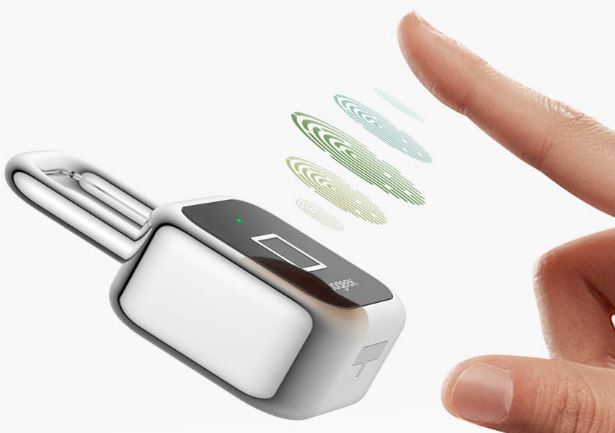 Other Considerations
This lock is a little slow. Because of the wireless connectivity features, you need to wait 30 seconds between locking and unlocking things. Otherwise, the lock might encounter issues with the app support. Again, while this lock doesn't come with a carrying bag, you do get a USB charging cable, and user guide. Plus, Koogeek provides a 1-year warranty.
Deep Dream L1 vs. Koogeek Fingerprint Padlock – Which is Better?
The Deep Dream L1 is a very solid lock. Looking at the construction quality and the materials they've used, it looks almost identical to what is used by the Koogeek padlock. When it comes to protecting you from theft or unwanted access, either lock will do that job well. They even have pretty similar battery performance. The big difference between these locks comes down to their accessibility options.
And that difference is rather stark. The Koogeek Fingerprint Padlock has far better accessibility options. Because the Koogeek lets you connect far, far more users to your network. It also has app support that lets you monitor who access the locks. To top it all off, they provide instant alerts for people who want notifications about access to their lock. So this lock is clearly more advanced than the Deep Dream L1. At the same time, it's somewhat more compact.
But if the more basic accessibility options of the L1 will cut it for you, it's a tad cheaper. And still manages to protect your valuables. For people who don't need to share access with other users, that means the L1 might make more sense. Because this lock provides much of the same functionality, it's just focused on a narrower user base. For people sharing access to their lock among more than two people, the Koogeek Fingerprint Lock is likely a much better choice. With two people or fewer, the L1 is likely your best bet.
Please consider sharing:
Note: At no extra cost to you, we may earn a commission for purchases using our links. Learn more.