Picking between similar earbuds can be tricky. But it can also be very illuminating. Because the difference between good earbuds and great earbuds mostly has to do with small details. A comparison between the Boltune and Falwedi earbuds can provide a pretty good example of how those details can add up.
Boltune True Wireless Earbuds
Boltune True Wireless Earbuds were not exactly designed to be someone's daily driver. These are earbuds with a very distinct slant to their design. And for the most part, that slant is in favor of calling clarity. Though many other aspects of their design are formidable as well, perhaps most notably their battery capacity. Still, every pair of earbuds has strengths and weaknesses. And Boltune's earbuds are no exception.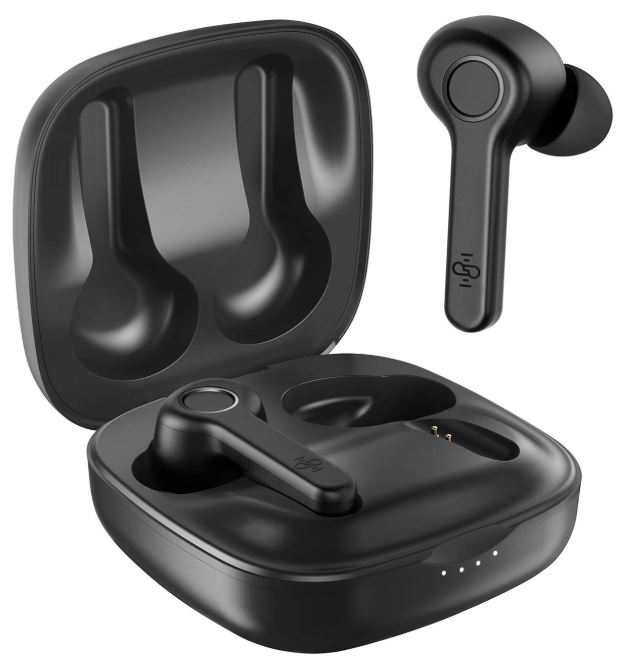 Design & Layout
A good place to start looking at these earbuds is their charging case. Because the charging case is really at the core of this design. And the case is reasonably compact, measuring roughly 4.2 x 3.5 x 1.5 inches. With everything packed inside of it, it weighs about 3 ounces. One bad thing you can say is that the charging case isn't very ergo-dynamic. It's almost as if they weren't trying to minimize the size of it at all. Then again, there is a pretty large battery inside.
The exterior of the case is made from simple plastics. The black exterior isn't going to turn any heads, but simple can be a good thing. And since the case is made from ABS, it's modestly impact resistant as well. So if you drop the case, you won't necessarily have to worry about damage. Though since it seals shut with a magnetic clasp, it is possible that with enough force, the top would pop open.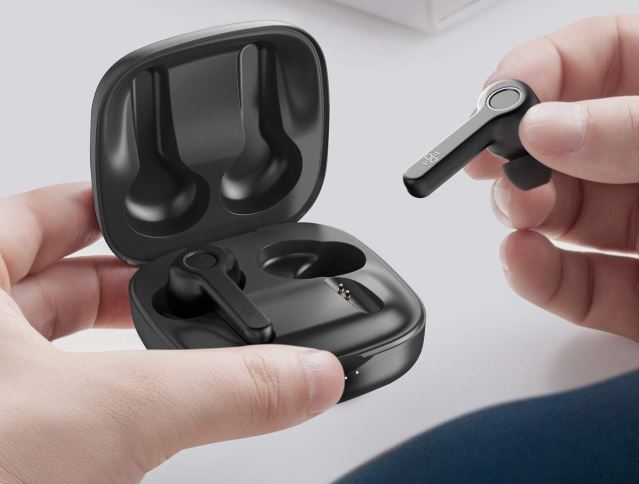 As you might expect, these earbuds are made with an IPX6 waterproof resistance. That means you can ignore rain and sweat with abandon. However, you're not protected from more powerful sprays, so you'd want to hesitate before taking these things into the shower with you.
Comfort Concerns
With respect to their comfort, there's not much to say about these earbuds. Boltune includes a standard array of 3 ear-tips. And virtually every similar pair of earbuds will come with a similar set of ear-tips, with the same number of size options.
One thing to point out is that these earbuds are designed to rest against the entrance to the ear canal. They are not supposed to penetrate inside the ear canal. That makes them generally more comfortable for long-term wear. They're also reasonably stable within your ear as you move, partially due to the elongated antenna design.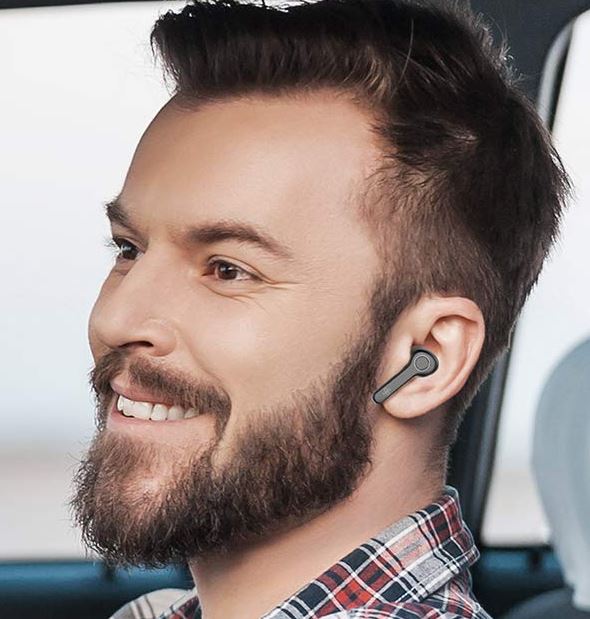 That elongated antenna can work as a counterbalance to help keep the earbuds right where they need to be. The kind of security you get isn't comparable to having ear-hooks or supportive ear-fins pushing against the inside of your ear bowl. But provided that you're not using these for jogging, the Boltune earbuds should stay secure.
Wireless & Calling
Wisely, Boltune decided to run Bluetooth 5 in replacement for the Bluetooth 4.2 they'd been using on the previous iteration of their earbuds. Transmission speeds are way up, so the stability of your connection goes up as well. That also means there's a one-step pairing process, so you don't need to undergo a bunch of involved configuration to get your devices connected.
The maximum connection distance you can get from these earbuds is far above the 33-ft average. You can blast a signal out across as much as 50ft. Not bad at all. For people who find the 33-ft average a little limiting, that extra distance can be quite comforting.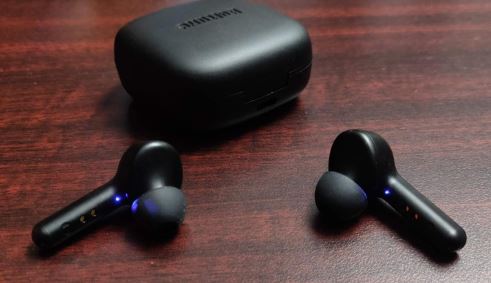 When it comes to taking and making calls, in-ear headphones have it tough. The positioning of their microphone doesn't always make it easy to get great call clarity. And then there's the added problem of needing the earbuds to sync between each other.
But there are some things you can do to improve this situation, and Boltune has taken those steps. Most notably, they have support for CVC 8.0, which allows you to reduce amount of ambient nose around you which leaks into your mic during calls.
Battery Lifespan
This kit is supposed to provide 4-hours of playtime from each earbud. That's assuming that you're running them around three quarters volume. So when you get the charging case involved, you can expect about 30-hours of playtime. Or at least, in idealized conditions. In practice, you might end up with closer to 25-hours.
Another praiseworthy feature is the adoption of USB-C. That allows you to make fairly quick recharge. It takes about 90 minutes to restore these earbuds to full from empty. The charging case takes a tad longer, running as long as 4-hours from empty.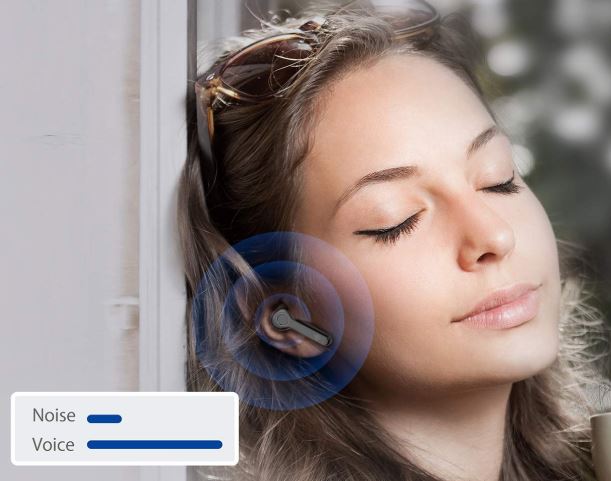 Audio Quality
Boltune earbuds are made from generic parts, and so they tend to sound a great deal like a thousand other pairs of headphones on the market. unless you're willing to spend hundreds of bucks, getting your earbuds to sound far better than average is pretty difficult. And since earbuds are fundamentally a disposable form of electronic device, intended to survive at most for five years, it doesn't always make a lot of sense to invest heavily into them.
In other words, building strong audio quality isn't exactly the point of these earbuds. They're supposed to be focusing on the features surrounding other aspects of your experience. That includes the battery lifespan, relatively quick recharge experience, and so forth.
Which isn't to say that average is bad. These days, even average sounding headphones are pretty good because a lot of the clarity is supported by universally shared factors, like the Bluetooth format. Of course, earbuds like these are never going to be able to offer a truly booming bass section, but they do reasonably good. Because any pair of headphones designed with clarity in mind, like the Boltune earbuds, are going to end up sounding good for most kinds of listening activities.
Other Considerations
This kit includes the earbuds, a charging case, two sets of replacement ear-tips in three sizes, and a 4" USB-C charging cable. Basically it's everything you need to get started listening to music in only a few minutes. Boltune also offers a 2.5-year warranty, if you take the time to register through their website after getting your earbuds.
Falwedi True Wireless Earbuds
Flawedi Earbuds are similar to Boltune in many ways. Yet the most important similarities are still less important than the differences. In this case, the differences mostly come down to comfort options. Though you can find some extra support for Siri as well, giving these earbuds a slight slant in favor of Apple and iOS fans.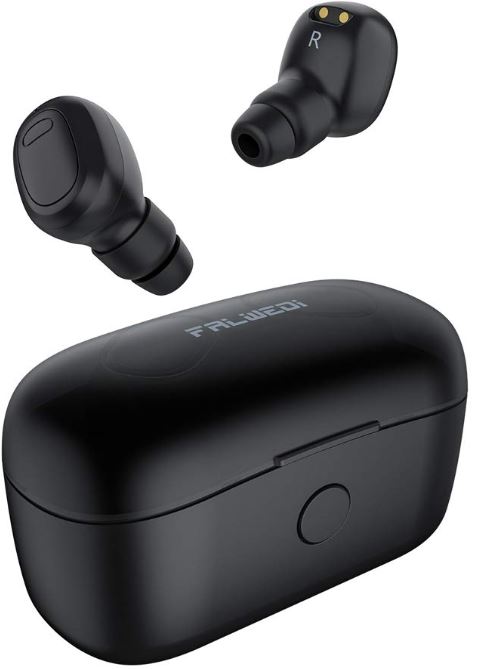 Design & Layout
In a superficial sense, these earbuds are quite similar to Boltune earbuds. With respect to their control interface, both buds operate in almost exactly the same way. A few taps allow you to move between hanging up calls, adjusting the volume, and moving between tracks. It does take some getting used to, but it's nothing you can't master after a day or two.
Aesthetically, these earbuds may not make their mark. But simple can be good. And the IPX5 sweat proof design is a little less water resistant than the Boltune earbuds. However, if you're only worried about rain and sweat, either rating will suffice. One is more likely to survive being dropped in puddle, and it's not the Falwedi earbuds.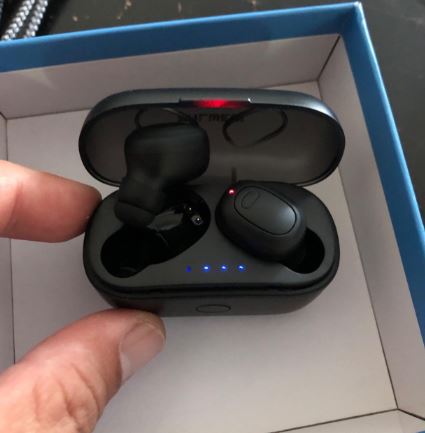 Comfort & Battery Lifespan
As mentioned earlier, one thing that helps these earbuds stand out is their wide support for comfort options. In fact, there's a total of 8 spare ear-tips inside the box. That's probably a little redundant for most people. But having those kind of options can essentially guarantee that you're going to end up with a comfortable fit.
It also means you'll end up getting better sound isolation. Because the difference between a pair of ear-plugs and ear-tips is really a matter of how firmly the silicone is going to push against your ear. And a complete seal allows for much better protection from noise, which is where those ear-tips can really feel valuable.
Additionally, the Falwedi True Wireless Earbuds make use of a fairly advanced battery lifespan. They utilize Bluetooth 5 to cut power consumption, so you're able to get above seven hours of playtime from each earbud. After you get the charging case involved, you can recharge those earbuds about five more times. As a result, total playtimes stretch out towards 40-hours.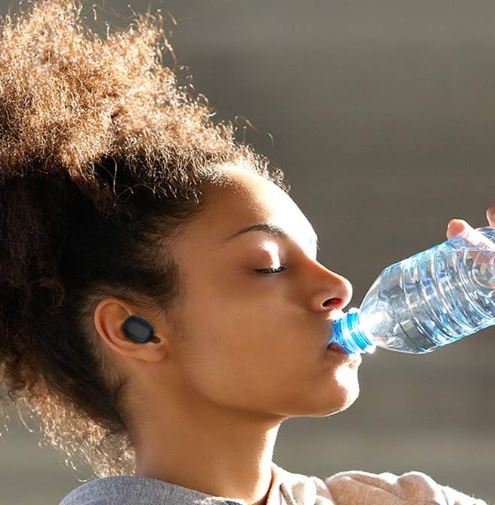 Wireless & Calling
As with the Boltune earbuds, Bluetooth 5 means you can get your hands on instant pairing features, and can guarantee faster connections. You end up with an ordinary 30-feet of connectivity as well. But the microphone is one area where you won't find any impressive features. The mic is as basic as basic gets, so you can really only expect it to perform about as well as your smartphone's microphone
Audio Quality
As is the case with the Boltune earbuds, these earbuds tend to sound pretty close to average. Because the hardware which they're based on is generic parts, the kind which is used by countless other audio brands. And once again, that's both a good thing and a bad thing. It's a good thing in that unless you're willing to wildly change your budget, you can't do much to affect the audio quality beyond basic levels.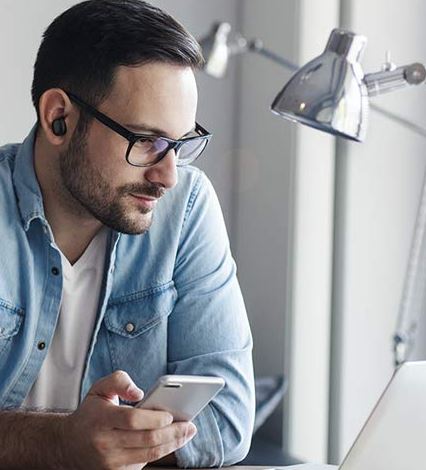 Which is why these earbuds are focused on developing the user experience more than advancing the sound in some way. For instance, offering 8 kinds of ear-tips means you can pretty much guarantee a greater level of noise isolation. And that does translate into a more enjoyable listening experience.
Still, every sound-stage does have a slant in one direction or another. And this soundstage has a slight slant in favor of treble. The treble range is quite clear, and it gives off a great sense of energy. That may make these earbuds a little more favorable for people listening to athletic, up-beat styles of music.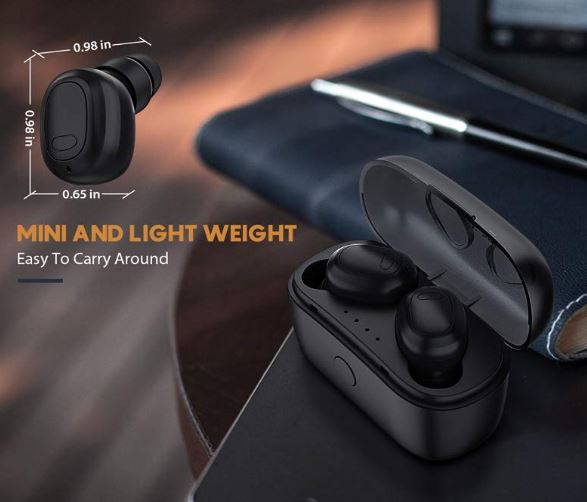 Other Considerations
The twin mode can be used to make mono calls. Actually entering the mono configuration is very simple, it has to do with the order in which you remove the earbuds from the case. Though this means that even if you don't need to use the mono mode, you have to be careful about the order in which you add or remove the earbuds to the charging case.
Apart from the wide array of ear-tips, Falwedi includes a 12-month warranty with their earbuds.
Boltune vs. Falwedi True Wireless Earbuds Review – Which Should You Pick?
If you prioritize call performance, then the Boltune Earbuds are going to make more sense. They've got CVC 8.0 to help smooth things out. And those earbuds are far superior when it comes to their transmission distance, allowing you to connect with devices as far as 50ft away from you.
If you value battery performance above all else, you might prefer the Falwedi Earbuds. They've got a more impressive mono-mode, as well as a generally higher battery capacity after the charging case has been accounted for. Though they're terribly similar to the Boltune earbuds, these earbuds are clearly much better for people who could care less about taking calls.