Braven speakers are known for being rugged. They were designed to keep working under the harshest of conditions. Now they have designed their smallest speaker yet, the Braven BRV-Mini. This speaker is truly a mini speaker in all senses of the word. Coming in at just 3.9 x 3.7 x 3.7 inches and weighing a total of 11.4 ounces you can fit the BRV-Mini in your pocket.
Surprisingly, despite the size, the little speaker is fairly powerful. With the manufacturers mission statement being "To Empower Bravery and Amplify Outdoor Adventure", it is no wonder all of their products tend to be rugged by design as well as pack a punch. Plus the latest tech is stuffed into this speakers tiny body. From Bluetooth 5.0 to environmental resistance engineering you get dynamite in the size of a firecracker.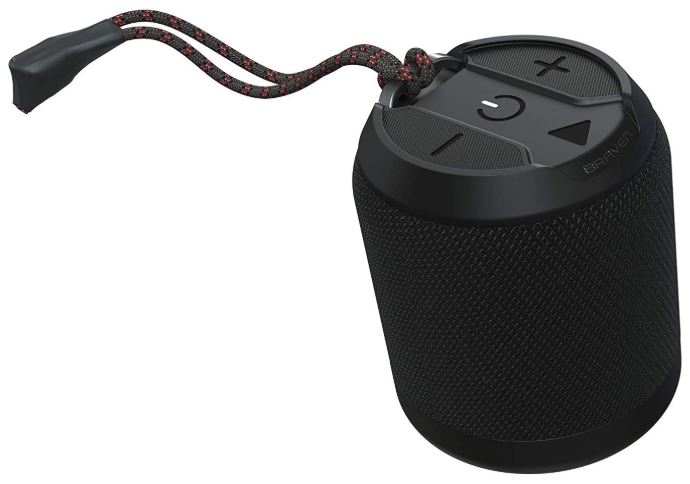 Design
As stated above the speaker is tiny. Being less than 4 inches in any direction you can shove the speaker anywhere. It even has a string clip that you can attach to something or use to keep the speaker safely in your hand by putting your wrist through. Nothing particularly special about the string slip, it's the same one you find on any outdoor flashlight or electronic that was meant to be hand held or clip on to a strap and dangle from your pack.
The speaker is cylindrical with all control functionality built into the top. You have a total of four buttons that include the volume up and down, the power button and the play/pause button. That is it, that is the extent of the speakers design. The BRV-Mini is not just mini in size but also minimalist in complexity.
Sound Quality
The sound quality on this speaker was surprising to say the least. When you see something so small you expect small performance but as many learned back in the 90's with the noisy cricket from Men In Black, small things can pack a big punch. Despite it's size you get the full range of audio from the high notes to the low bass.
What makes the speaker particularly great is that you can pair two of them together for a surround sound experience. That means when you are out in the wilderness camping and you bust out the portable DVD player or your portable projector (like the PIQO), you can now also have your home theater surround sound experience as well.
Waterproof Rating Explained
The Braven BRV-Mini has a IPX7 waterproof rating, but what exactly does that mean? The IP stands for ingress protection and the X7 is the specific rating. The number scale breaks down with the following ratings for water:
If an item is rated IPX0 it is not protected against water at all.
At IPX1 it can handle a few vertical drips but nothing more.
IPX2 can handle dripping water at a 15 degree angle with water equaling about 3mm rainfall per minute.
IPX3 is able to endure spraying water up to a 60 degree angle and the test ranges from 1 minute to 5 minutes.
With IPX4 you can expect your device to handle water splashing from any direction.
At IPX5 things start picking up because now the electronics can handle water jets from any direction.
IPX6 and IPX6K handle powerful water jets and jets with higher pressure accordingly, from any direction for about 3 minutes.
The endurance of the product increases the higher the rating number all the way up to 9K which protects against high pressure, high temperature jets of water and complete immersion in water.
Any time you see 'waterproof' instead of 'water resistant' you should be getting a device that is IPX7 rated or higher though you might see some manufacturers abuse the term waterproof with a lower IPX rating. The IPX rating is widely used in consumer electronics on everything from mobile phones, tablet computers and even cameras.
At an IPX7 rating the Braven BRV-Mini can handle being completely immersed in water up to one meter in depth. IPX7 tests the products being submerged in water for up to 30 minutes. That means you do not have to worry about dropping this speaker into a pool or a body of water as long as you try and get the speaker out, and the deeper the water the more quickly you will want to remove the speaker.
One important factor to understand IP rating is that the first digit (in the cases listed above X) is the solid particle protection. X implies there is no data available to specific specifics about dust protection. You could see a product rated IP69 displaying the highest dust protection and highest water protection. If a 0 is displayed in either of the two spots it means there is no protection from that elemental exposure.
Wireless Connectivity
Here you have a Bluetooth 5.0 connection. Being the latest rendition of Bluetooth you end up with increased efficiency for power consumption leading to a longer battery life. Also the dual audio function in Bluetooth 5.0 is what gives the speaker the ability to sync with a secondary speaker and your phone allowing you to get more sound with two devices.
With Bluetooth 5.0's increased speed and throughput you also get a higher quality audio stream from your phone or whichever devices you have the speaker hooked up to. To be specific with this newer version of Bluetooth you get up to four times the range, twice the speed and eight times the throughput capacity of older versions.
The BRV-Mini having this technology built in isn't surprising as Braven tends to pack their speakers with the most up to date features while making them as durable as they can. For a consumer electronics company they definitely stick to their brand mission of building technology that can handle coming on adventures with you.
Battery Lifespan
For such a small speaker there is a surprisingly long battery life here. You get 12 hours of total play time. This can of course depend on volume settings. That means you should be able to reliably utilize the BRV-Mini for however long of a hike, camp, or mountain bike ride you plan for the day.
Example Uses
You have packed your hiking bag and realize that there is no room left for a traditional speaker. You know the hike will be rough and packing on more weight is not ideal. In this situation you can either pawn off your speaker to another persons pack or you can grab the BRV-Mini which is small enough and light enough not to make a difference in your pack and can be tossed into one of the side water bottle slots.
If a friend of yours also happens to have a BRV-Mini you can sync together and get sound for the whole group front to back or side to side. Coming across a stream with shoulder deep water isn't a problem. You can cross without concern because of the IPX7 waterproof rating on the speaker. So whether while holding your pack over your head the speaker happens to fall into the water, or if you just keep the pack on your back and let it submerge on purpose, you will come out the other end of the crossing still blasting high quality sound.
With the long battery life your 5 hour trek to your campsite wouldn't have even taken half of the power reserves. That means there is plenty leftover for dinner and for the hike back in the morning. If it starts raining on the way back you know its not a problem because not even the river stood a chance the day before. Making it back to your car soaking wet, muddy, enjoying life, and still listening to your favorite songs.
That is the sort of situation the BRV-Mini was designed for. That is the type of person it was designed for.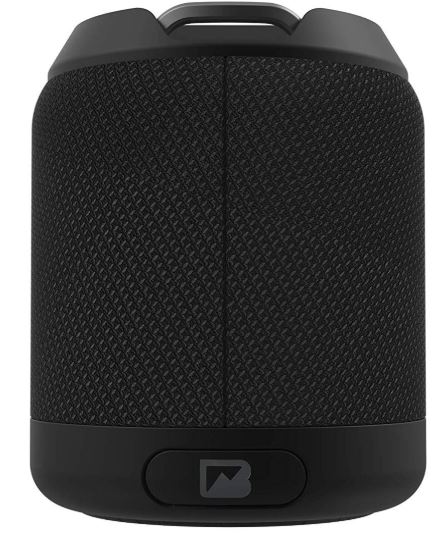 Final Comments
If you have tried and enjoyed any other Braven speakers then you will not be disappointed in the BRV-Mini. The speaker was designed to be a portable, easy to use, easy to travel with speaker that takes minimal space. Anyone that plans on enjoying audio outdoors would be safe with choosing the BRV-Mini as their portable speaker.
There are not many brands that tend to live by their companies mission statement but Braven does just that. They do not see themselves as just an electronics or audio brand, they are a lifestyle brand that sells products that specifically accomplish their mission statement. Even after being purchased by ZAGG Inc in 2018, Braven stuck to its original mission of building quality products for outdoor enthusiasts.
The best part about the entire thing is that Braven makes it easy to jump in and test their products because they come with a two year manufacturer's warranty. The warranty covers defects in materials and workmanship under normal use. So though they will not cover a rock falling and smashing the speaker they will give you enough coverage to know the only thing that will separate you from the speaker is an adventure that pushed your limits.
So the final verdict here is to know what you want. If you love the outdoors but love high tech products also. If you want to combine your two loves into one experience, then you are the target market for Braven and an ideal candidate to partner up with the BRV-Mini for some outdoor adventures.
With engineering like this it is easy to be a tech nerd and outdoor enthusiast all at the same time.