These days, we rely on our smartphones for everything. Want to get directions? There's Waze or Google Maps. Want to order a pizza? There's GrubHub. Want to play a game? The Apple Store and the Google Play store are packed with thousands of titles. Sharing photos with your friends? Social media apps abound. Ordering movie tickets? There's an app for that!
Oh, and you can also use your phone for texting and making calls.
This cell phone dominance has revolutionized our lives in ways that we couldn't have imagined as recently as the turn of this century. The average person now has more access in the palm of their hand than the largest library offered in 1999.
The downside of our dependence on these devices is that a dead battery can quickly turn into a major emergency. And running all the apps we talked about will cause your battery to drain faster than you might imagine, particularly on an older phone. If you're spending a long day without access to a power source, it's easy to get stressed out.
One solution to this problem is to carry a portable charger. Today, we'll be looking one of the more popular portable chargers on the market, the RAVPower RP-PB172. This backup battery can provide an extra charge – or more – so you can get yourself out of a pickle.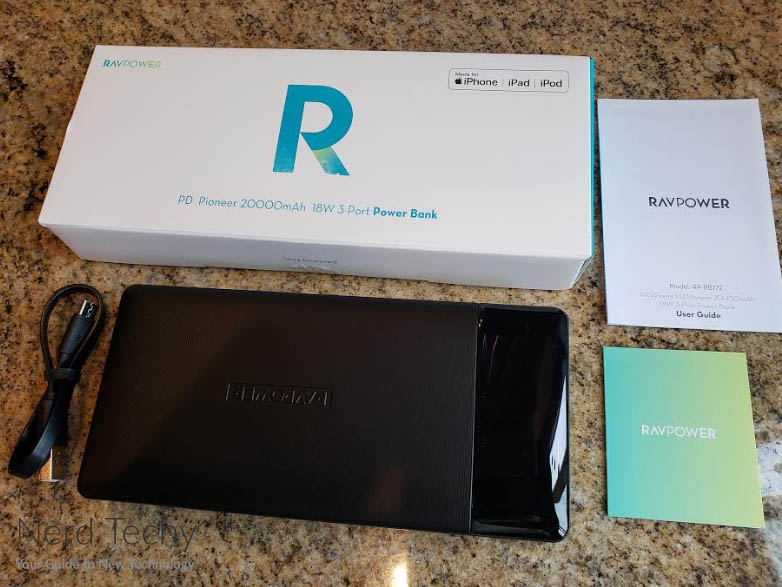 We'll take a look at the basic features, as well as the construction and how well it performs over time. Then we'll render our verdict. Let's get started!
What's in the Box?
Before we begin, let's look at everything that comes in the box. Admittedly, in the case of the RP-PB172, that's not much. But then again, there's not much to be expected. In the box, you'll find:
The 20,000mAh portable charger itself
1 PD cable (charging your mobile devices or the charger)
A user's manual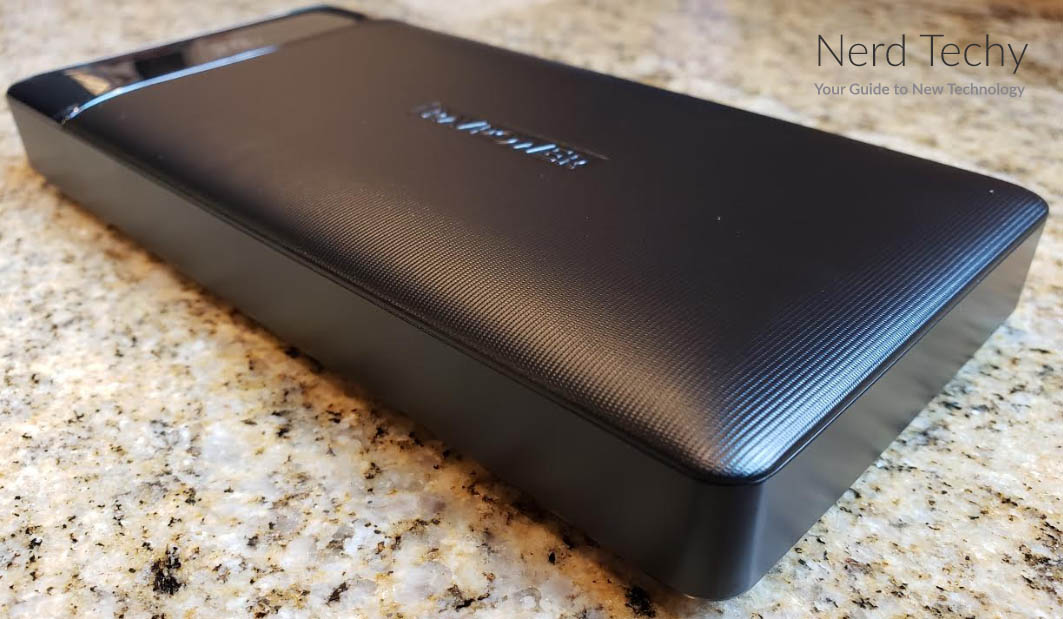 The only thing that disappointed us here is the lack of a USB cable, an AC adapter, or car charger. You'll need a USB adapter if you use an Android device. The same goes for most tablets, DVD players, GPS units, and other portable electronics.
What's more, even Apple users will need to provide their own AC or 12-volt adapters.
Battery Basics
The heart of any power supply is its battery. And the RavPower RP-PB172 offers 20,000mAh of power. To put this in perspective, the iPhone X battery takes up to 2,716mAh to fully charge, and the Samsung Galaxy S10 takes up to 4,000mAh. In other words, you're looking at six or more charges on an iPhone, or around five charges on a Samsung.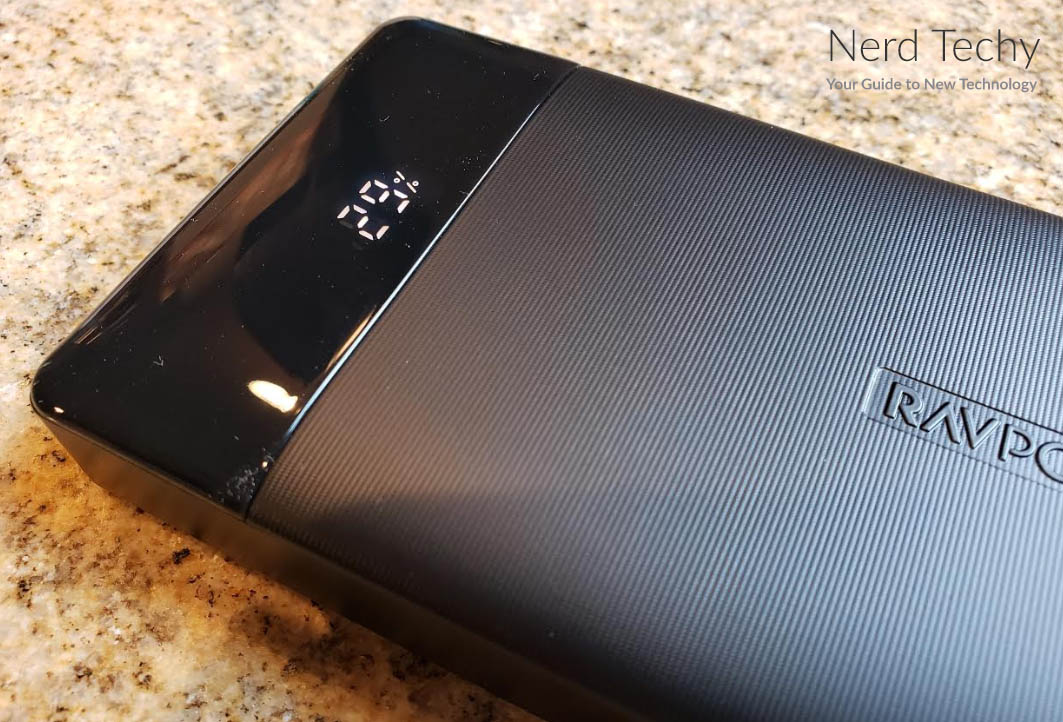 This makes the RP-PB172 a solid choice for camping, backpacking, and survival situations. It provides several days worth of power for your phone, or a single day's power for keeping everybody powered up on a weekend family camping trip.
This battery is rated at 74 watt-hours. This keeps it conveniently one watt-hour lower than the TSA's requirements for luggage, so you can take it with you on both foreign and domestic flights.
The entire package weighs just over 15 ounces, so it's a bit on the heavy side, but not inordinately so.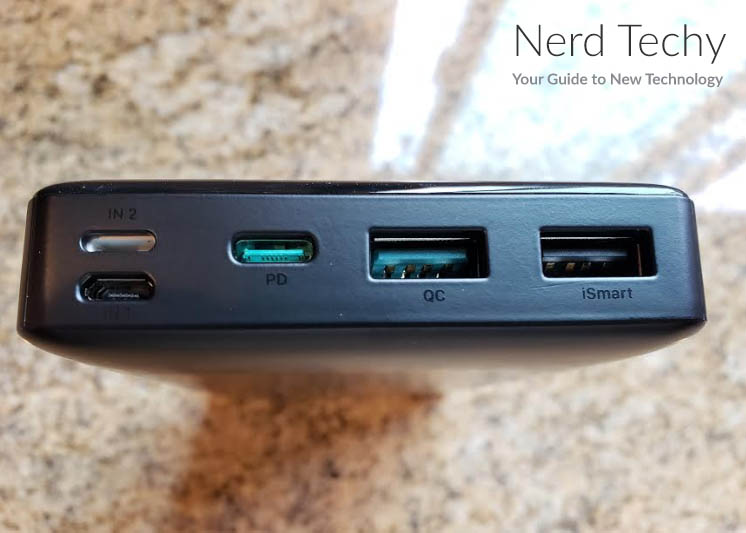 Focus on Features
Now that we've looked at the battery itself, it's time to take a closer look at the RP-PB172's other features. After all, the battery is only as good as the hardware that surrounds it.
So what does this charger have to offer? Let's take a look:
PD and micro USB input ports for charging the battery. This allows for charging from most power sources.
PD, lightning, and USB output ports allow for multi-device support.
All ports are compatible with Qualcomm Quick Charge and Type-C devices. Essentially, if your device is able to handle a higher wattage for a faster charge, the RAVPower will deliver it.
High-speed charging allows for up to 2.4 amps of power at up to 18 watts. This is compared to a standard USB port, which delivers only 1 amp of power. You'll be able to charge your device almost 250 percent faster than a standard port. For comparison, you can charge an iPhone X to 50 percent battery in 30 minutes, or 2 hours for a full charge.
Three different safety protection features. The first is a surge protector, which keeps your devices safe from sudden changes in power. The input ports are also surge protected, keeping the RP-PB172 safe while it's on the charger. The next protective feature is an overcharge/discharge protector, which prevents the battery from discharging excess power through one of your devices. The last is a temperature protector, which automatically shuts down the unit if it starts to overheat.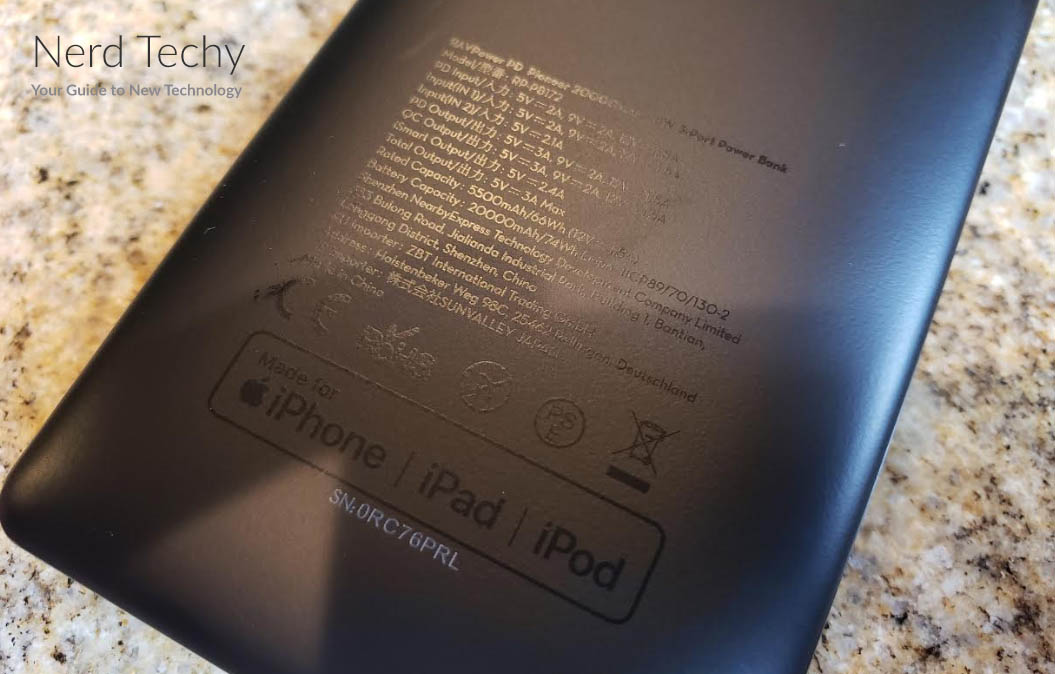 Detailed Design
The RAVPower is ruggedly built, with a solid plastic case that's designed to handle drops, bumps, and getting crammed into the side of a backpack. As far as crush and drop resistance go, the RP-PB172 is one of the toughest portable chargers that money can buy. This is fortunate, since you wouldn't want to take anything less durable out on the trail with you.
The battery pack features smooth, curved edges that won't snag on fabric. This makes it easy to slide into a backpack or a coat pocket, and ensures that it won't tear your jacket liner. It also means you won't get poked by surprise while you're fumbling around for it inside your backpack.
Another thoughtful feature is the arrangement of the PD and USB ports themselves. They're all aligned together on one edge of the device. This includes the inputs for charging the power pack itself, so you can keep the device fully wired without taking it out of a pocket. This design also minimizes tangled wires, making it easy to plug in and out in a hurry.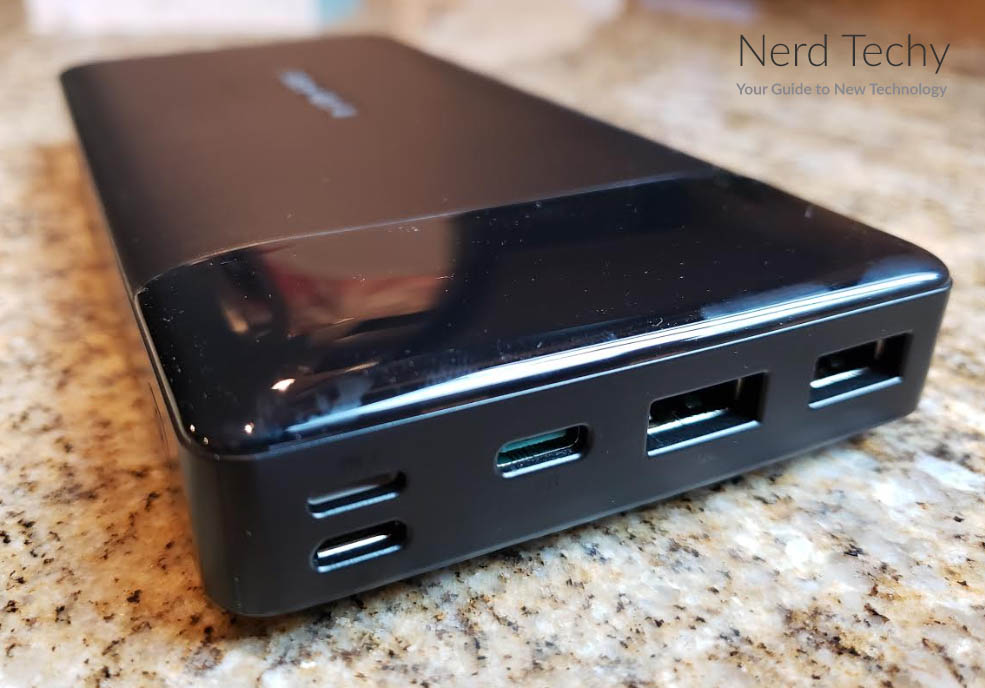 After the Purchase
RAVPower is well-known in the industry for offering excellent customer service. Customers report short wait times and prompt service on the one-year warranty. This is good to know, since any device is only as good as the company that backs it up.
Things to be Aware of
So far, we've been focused on the RP-PB172's strong points: its power, its durability, and the overall quality of the design. But no device is perfect.
To begin with, let's state the thing that's most obvious when you're looking at the RAVPower on the internet: it's more expensive than most power supplies in its class. But that's not necessarily a bad thing. This is a much higher quality charger than you'll get from a discount brand, and the price reflects that.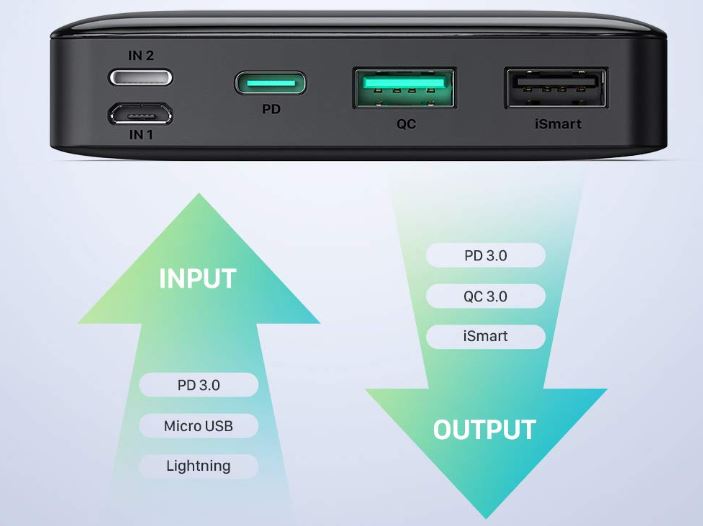 Another problem is the large size. We're not saying the RP-PB172 is too big to fit in your pocket. But at 6.2 inches long by 2.9 inches wide, it's about the size of an iPhone with a hard case. If you're looking for a smaller power supply, there are plenty of them on the market. But you'll be hard-pressed to find one that offers this much juice. At the end of the day, the RP-PB172's size is a necessary side effect of its large capacity.
The final drawback is the lack of any USB, AC, or 12-volt DC cable. On the one hand, we understand. This product is geared towards Apple users. On the other hand, it's long-lasting and durable enough for camping or survival use, and many cameras, GPS units, and other survival tools utilize a simple USB charger, and including a USB cable in the case would have been a nice courtesy.
The absence of an AC or 12-volt cable is also an annoyance for non-Apple users, since without a PD port you'll need some other way to charge the power supply. That's something that would have been easy to include, although we do appreciate RAVPower trying to keep the price of the overall package as low as possible.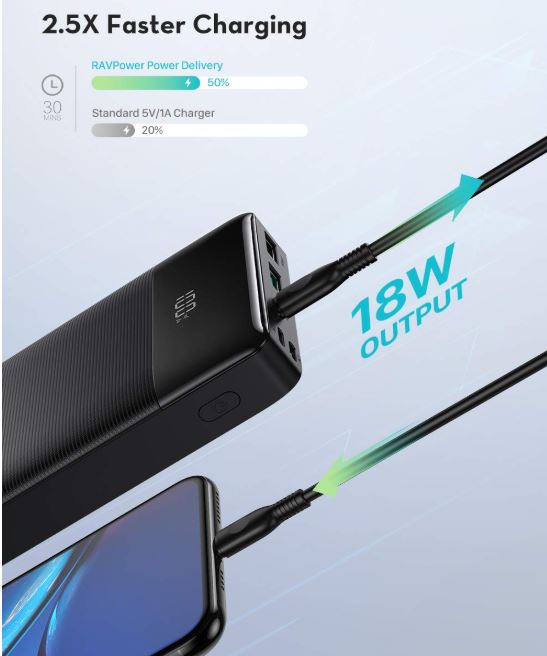 Other Alternatives
Of course, just because you need a power supply doesn't mean it has to be the RAVPower. There are plenty of good options on the market, and we've detailed several of them already. There are two options in particular that we think are particularly interesting.
The first is the iWALK Qi. This is a compact, wireless charging device that's designed to stick to the back of most smartphone cases. It's slim and compact enough that you can use it while you're talking on your phone without causing any kind of discomfort. That said, it's really a single-use device; at 3,000mAh, it's enough to get you through a work day, but not enough for a weeklong camping trip.
At the other end of the scale, there's the Enkeeo S155. This beefy power pack is portable in the sense that you can carry it around, but it's not something we'd like to carry every day. It's about the size of a lunchbox. This power pack features a 120-volt AC outlet, a 12-volt DC outlet, three USB ports, and a bright LED flashlight. It also supplies an impressive 42,000mAh of power.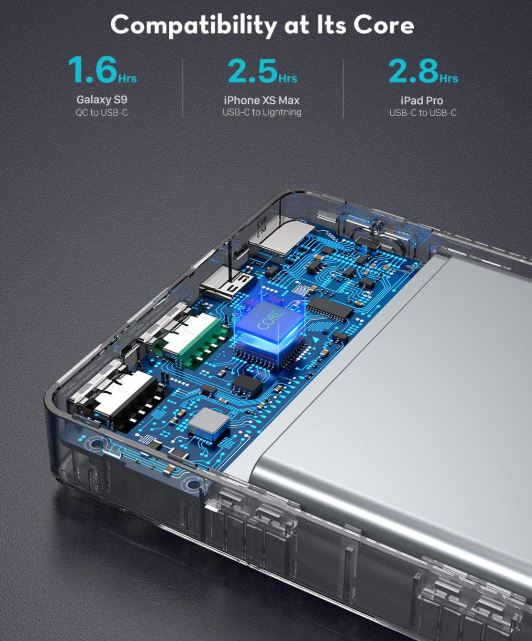 The Final Verdict
The RAVPower RP-PB172 ranks as one of the better portable power packs on the market. While it's on the large side, it's still small enough to slip into a coat pocket or the back pocket of a pair of jeans. The 20,000mAh battery is powerful for this class of power supply, providing enough juice for several charges.
Overall, this is a well-designed charger. The shell is durably constructed, with all the ports aligned on one side to make it easy to plug in multiple devices while you're carrying it in a pocket.
That said, RAVPower could have done a better job when it comes to compatibility. They include a PD cable for Apple users, but not a USB cable. Not only will Android users need to use a USB, but so will owners of most other devices like cameras and tablets. Then again, most devices come with their own cable to begin with, so this is a minor complaint in the grand scheme of things.
At the end of the day, the RP-PB172 is a great choice if you're charging multiple devices, or if you're going to need several charges without access to a power outlet. If you're willing to pay for a powerful supply, it's large, rugged, and up to almost any task.